On Wednesday March 9th we left Gila Bend and drove west on I-8 to the Rio Bend RV and Golf Resort just west of El Centro. We'd stayed there at New Years last year and enjoyed it so we thought that it would be a good place to hang out for a couple of nights to do the laundry and rest. It's a Passport America Park so we got our full hook up site for $25 a night. The only hitch is that this time they gave us a site (#435) that was right in the middle everything. The first afternoon we had a steady stream of folks going by headed to what turned out to be the Wednesday afternoon/evening Bingo game—which we could also hear because we had the windows open. In addition, everyone who came off the golf course came by our site. We had traffic from the staff in the morning (including mowers headed to the golf course) and then the second night we got to listen to the local talent do a show by the pool (just across from the us) as the crowd got drunker and drunker. Note to self, if we go back make sure we don't get site #435! The time before we had a quiet site over by a pond and the only noise was a territorial goose who honked from time to time. Ah well, live and learn.
We did have a nice sunset the first night.

On Thursday I did laundry my favorite way. I loaded up the washers and then swam laps (and had the 80 degree plus pool to myself). When I was done, I put the clothes in the dryer, had a shower and then folded it all. By the time I was done folding there were ten people floating around in the pool with their water noodles talking—my timing was perfect. By the time I was done with the laundry, the temperature was over 90, so we turned on the air conditioning and laid around all afternoon. That's the good life.
We even had a bit of a sunset.

On Friday March 11th, we headed west again to the San Diego area and Santee Lakes Regional Park, our favorite place to stay in the area. We had gotten one of their last openings for the weekend and it was in their least popular area where everyone is pretty much long term and it's all cheek by jowl. This really doesn't matter to us when we're in San Diego because we don't spend much time in the trailer while we're there. It was sunny and pleasant when we arrived but late in the afternoon, the clouds came in and it began to rain by about 4 pm. We had a heavy downpour from 4 to 5 and while it let up a lot, it was still raining lightly when we set out to drive up to Rancho Bernardo to meet our daughter, Tracy, for dinner. The traffic was heavy but we got there right on time. We'd only been in Pacific Time for a couple of days and since the time was changing Saturday night for Daylight Savings Time we decided to just ignore it all and instead pay extra attention to what time it was for a few days. And wonders of wonders we didn't mess up once. Then come Sunday morning our Mountain Standard Time equaled Pacific Daylight Time and we got off without having to change our clocks at all.
Saturday March 12th, we met Tracy at her house and she drove us down to Balboa Park to the San Diego Zoo. There were lots of activities going on (including the St. Patrick's Day Parade and festival) and even at 11 am the zoo parking lot was well on the way to being full. The lines to buy tickets were really long but since Tracy is a member of the Zoo we got to just walk right up to the gate and in we went. Thank you Tracy!
As always we took the bus tour around the zoo first. It is a great way to see what's new at the zoo (and what's under construction) and catch a view of some of the animals that are waaaaaay out in the outer reaches of the zoo. I've pretty much given up trying to take photos from the bus—but I did catch a great shot of their huge granddaddy elephant and his enormous tusks.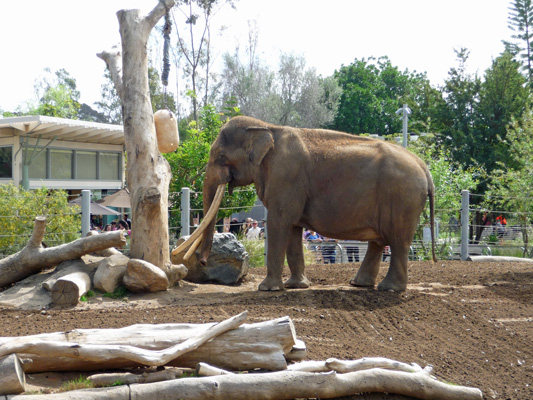 After the bus ride we stopped by for my obligatory photo of the flamingos. It's not a visit to the San Diego Zoo without saying hello to them.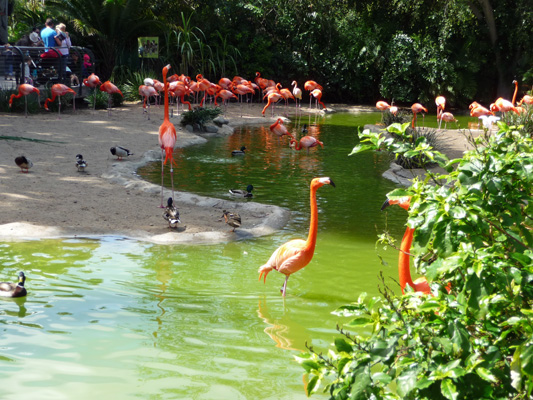 We wandered along the Ape and Monkey Trail and stopped to say hello to the Orangutans.
There was a youngster who was right up next to the glass staring at a human baby on the other side of the glass. They spent a long time gazing at each other but the photos I took were full of people reflections in the glass. However, big daddy was also down by the glass and his photo came out okay. Note the nice blankie he has wadded up under his head.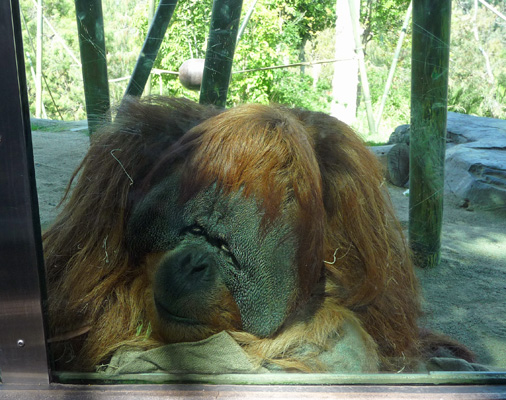 From the Orangutans we went on to the Gorillas.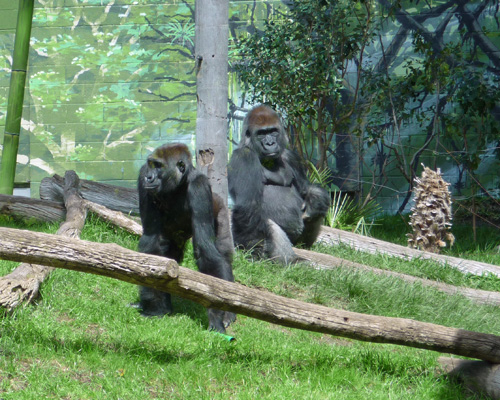 This youngster spend a lot of time trying to get the older gorilla to play, with no success. There was another gorilla out—this one with a nice burlap blankie that he was carrying around.
From the bus we had seen that there was a baby hippo so we took the turn off to the Hippo Trail to visit their large pool. They weren't in the water (there's great underwater viewing area) but they were out on the shore walking around. Mom weighs just about the same as a Toyota Prius.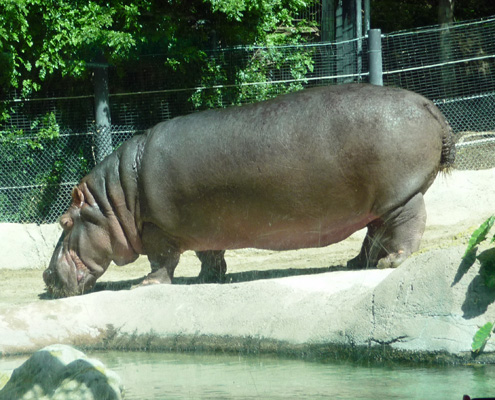 But baby is much smaller.
On our way over to see the Snow Leopards we wandered past the Spotted Necked Otters—one was fresh out of the water and posing nicely.
There are 4 Snow Leopards at the zoo and all 4 were out snoozing away. One was asleep in a walkway they can use to go from one side of their enclosure to the other and another was snuggled up in a rock. I thought you'd like to see his wonderful tail.
A pair of keepers came by as we were leaving and one of the big cats woke right up.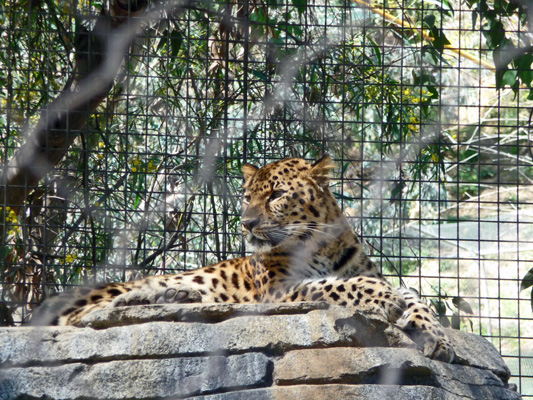 And started to prowl—where there are keepers there is food! But the keepers continued on and so did we.
We had lunch near the Pandas (the line was very long so we gave them a pass). Then I dragged Walter and Tracy back UP the hill so we could wave at the bears and then visit the Koalas. When I was a kid, the Koalas lived in full-sized eucalyptus trees and since mostly all they do is sleep we could never see them tucked up in amongst the branches. Now they have these lovely structures where they can still happily sleep but we get to actually see them.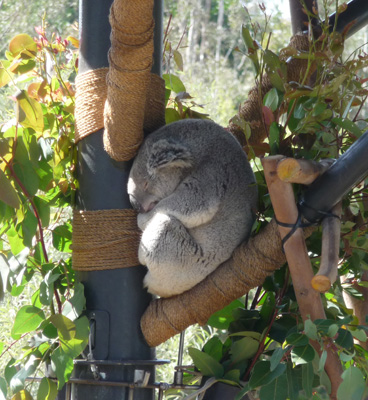 The zoo has a lot of koalas so it's a big display. As we walked by one sleeping guy he actually woke up and looked at us.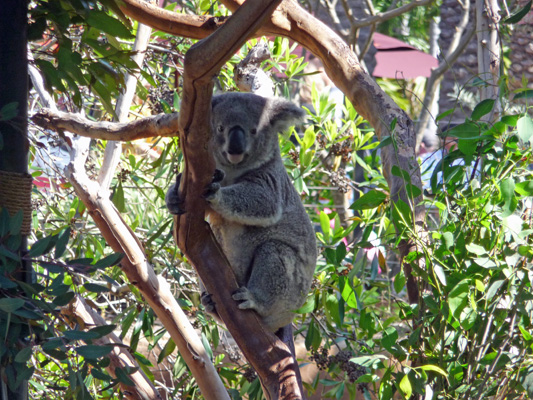 And then wonders of wonders he climbed down the tree. I don't think I've ever seen a koala MOVE before. He settle in to munch on the bunch of eucalyptus leaves on the right and of course hid behind the leaves so the photo op was over.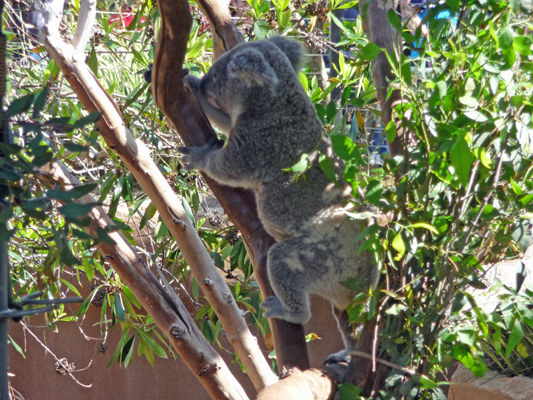 On our way out, we spied yet another one awake and he was nice enough to pose for me.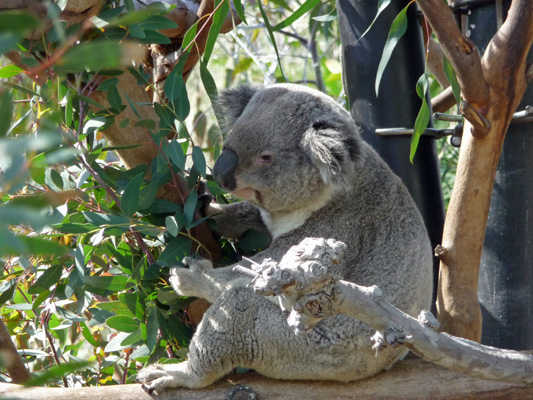 Our last stop was the giraffes where a new little guy had joined his big brother who is just a few years older.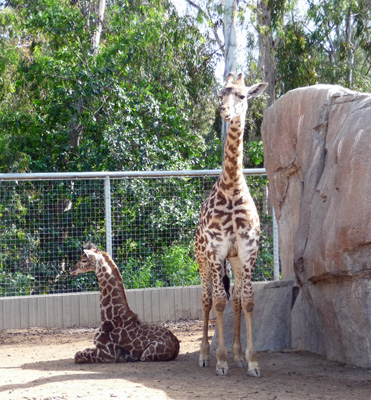 Here's a shot of a full sized giraffe to give you a sense of how small the little guy is (even if he was over 6 feet tall at birth).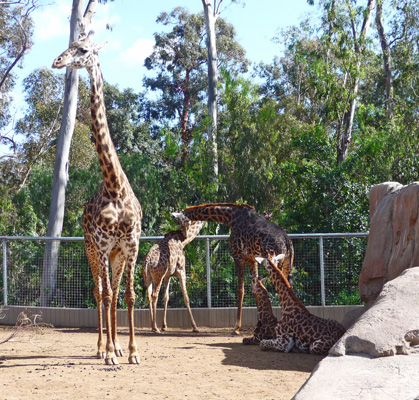 I do so love giraffes.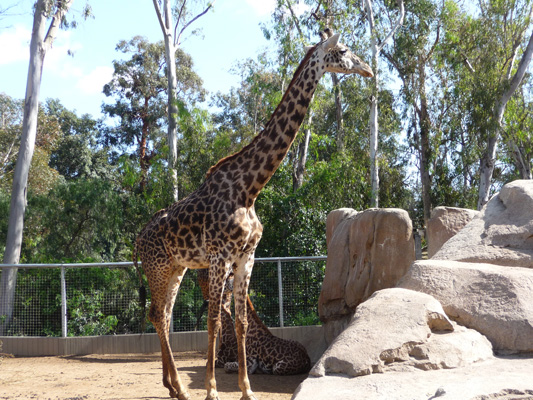 We had planned to stop by the Japanese Garden to have a look at their cherry trees on our way home but the traffic in Balboa Park was simply NUTS. We did end up at the lower level of the Japanese Garden where we saw a few cherry trees (past their prime) so we could at least say we'd been there! Tracy was a real trooper winding her way through all the traffic and people to get us out of the park and back on the freeway.
Sunday March 13th, we had another beautiful day with temps in the high 60's. We headed over to La Jolla only to find that we were not the only ones who thought it might be a good day to walk along the cliffs by The Cove. Tracy persisted and managed to wedge her little red car into a parking spot not far from the Children's Pool. There were more people out walking than I have ever seen in La Jolla. The surf was up and there weren't many folks hanging out in the grassy areas—instead everyone was either out on the rocks taking photos of the seals and sea lions or up on the walkways on the cliffs.
The brown pelicans were out in huge numbers. I swear their numbers increase every year.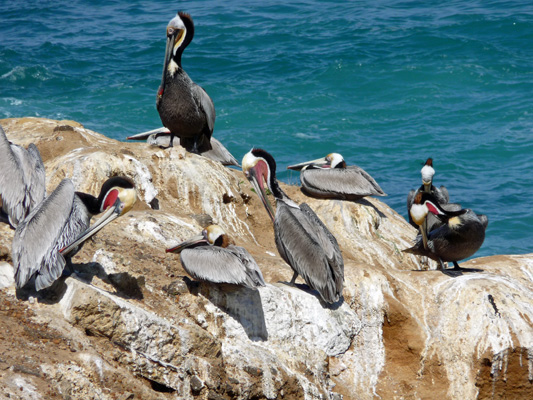 This is my favorite beach in Southern California—it is just gorgeous in all directions.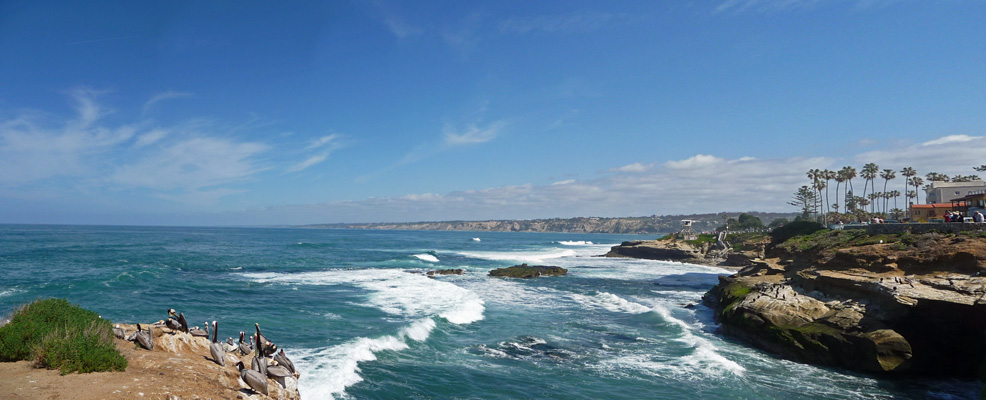 The seals have taken over the beach at the Children's Pool. They had the breakwater closed (it looks like the railing has washed out in places).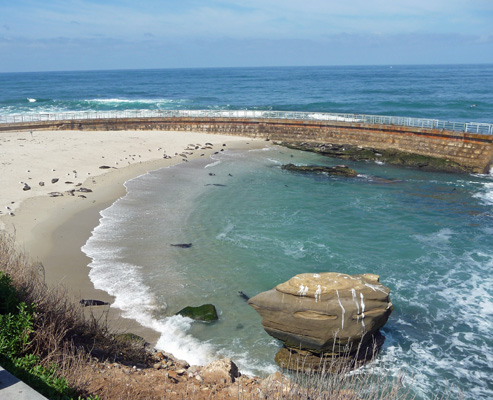 In February the beach is solid with seals. But on a day like today, the mom's were out giving their babies swimming lessons so there weren't that many on the beach.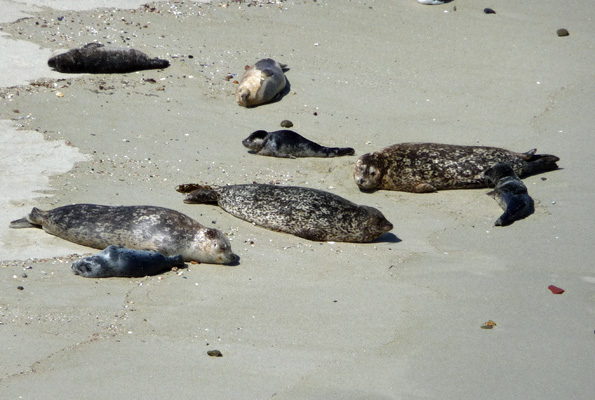 The sea statice was in full bloom.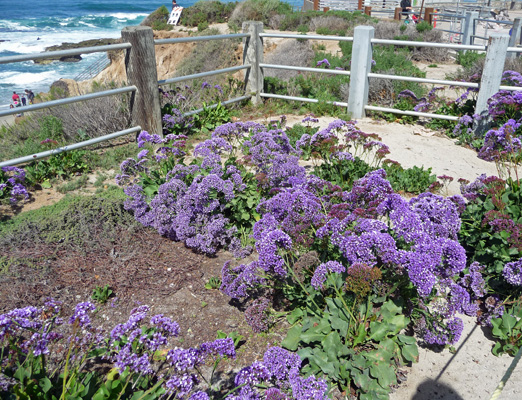 And per our tradition, I took a shot of Walter and Tracy together with the ocean behind them.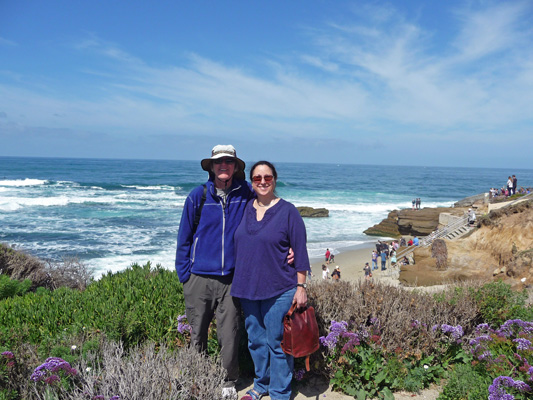 And Tracy got a shot of us.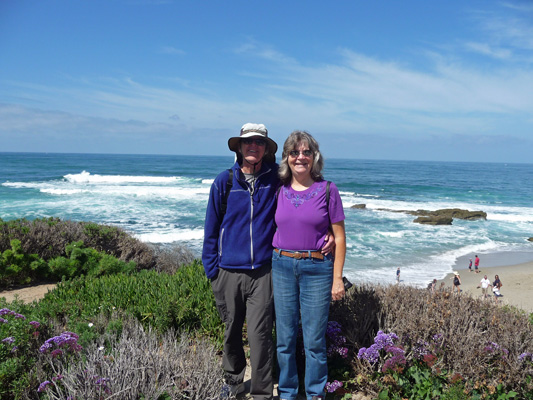 Since the seals were out swimming, you could see them out in the water and on nearly all the little pocket beaches too. As a result there were people out on the beaches taking photos of them. They are protected and you're not supposed to approach them, but people were of course getting very close. The good news is we saw no real problems arise even if both Tracy and I wanted to go and scold folks about getting so close!
Meanwhile the tide was coming in.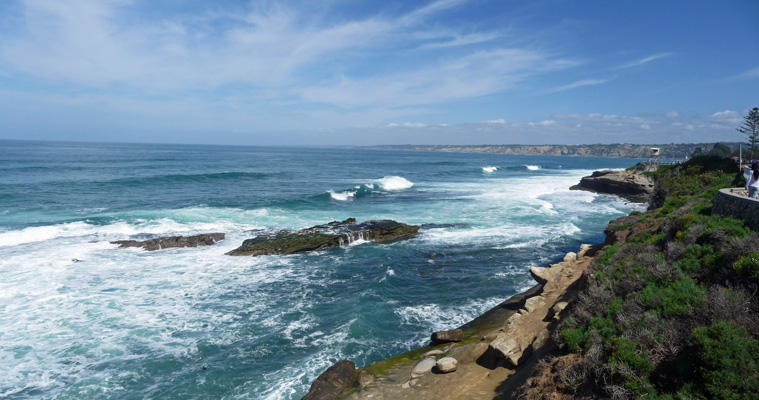 There were body surfers out in those waves—they don't allow board surfing in this area because it's just too dangerous with all the rocks.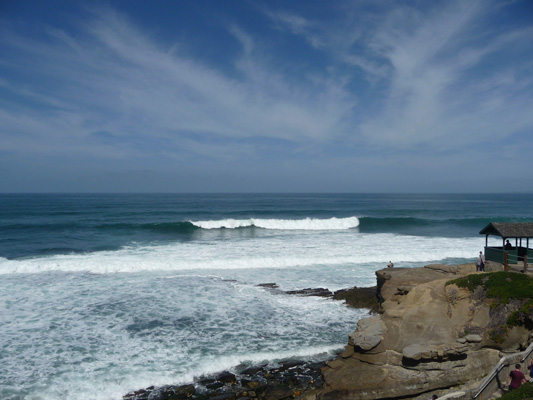 Around the point, there were sea lions out on the rocks. I cropped out the herd of people who were gathered with their cameras just to the right in this photo.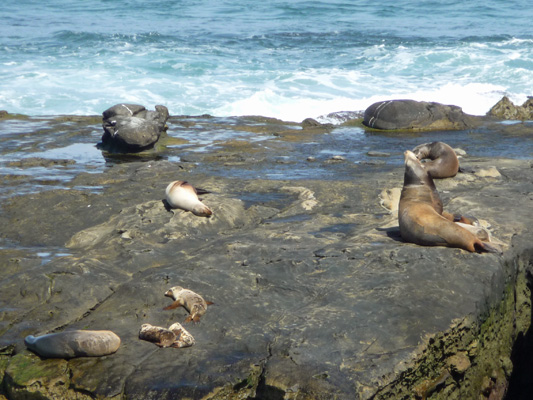 There were tons of kayaks out in the bay—mostly in groups of 8 to 10. We saw at least 10 groups of them—that's a lot of kayaks! That's Torrey Pines Golf Course up on the cliffs in the background.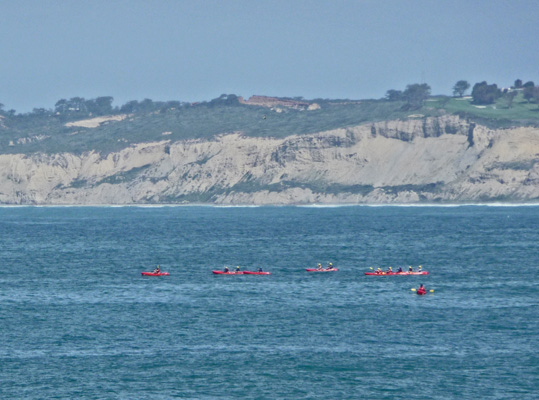 The waves were doing a great job of crashing on the rocks in The Cove itself.
And there were pelicans and sea lions down on the rocks—and people down on the beach taking photos of the sea lions there.
We walked back along the cliffs and I took tons of photos of the surf.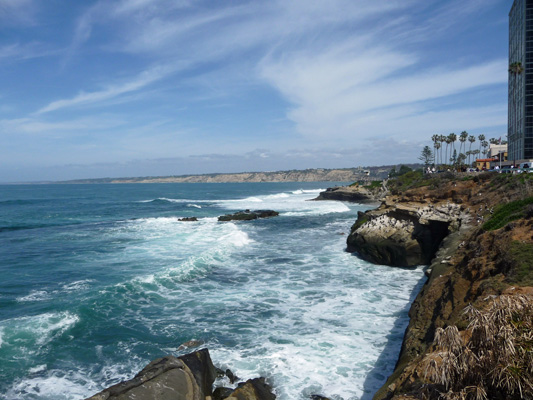 As the tide came in, the body surfers gave it up and came in onto a tiny strip of beach and then climbed UP the cliff face to the walkway—talk about macho.
We picked up our lunch from the car and found a nice bench with a water view.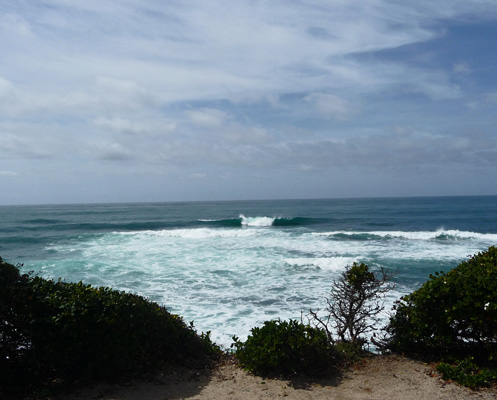 We'd just settled in with our lunches when we were dive-bombed by a sea gull. He swooped by and I almost ducked he came so close. And then he came back over my shoulder (I could feel his wings) and grabbed Walter's bagel sandwich right out of his hand and took off with it—along with the baggie he was holding it with! The gull landed a few feet away, readjusted his load and took off—leaving only the baggie behind. Walter sat stunned for a moment, looking at his empty hands. People rushed up to ask if he was okay and jabbered about how close the gull had flown to us and of all the nerve!
We offered Walter parts of our lunches but being the noble startled being that he was, he refused and just ate the rest of his lunch. We had dinner early that evening in honor of his missing sandwich. What an amazing thing to happen.
We thoroughly enjoyed our time with Tracy (as we always do) and it was all the more wonderful because the weather was so perfect this time (it was 90 last March when we visited her).
On Monday March 16th, we packed up and motored into Santee to do grocery shopping and then headed north on I-15 (and I-215) to Barstow California for the night. For a change of pace we went out to Owl Canyon Campground near Rainbow Canyon on the west side of Barstow. This is a BLM campground with much more emphasis on Day Use than on camping. While the registration instructions said there were numbered campsites we couldn't find any numbers—just a few possible places to park. So we picked a spot out of the traffic lane and set up.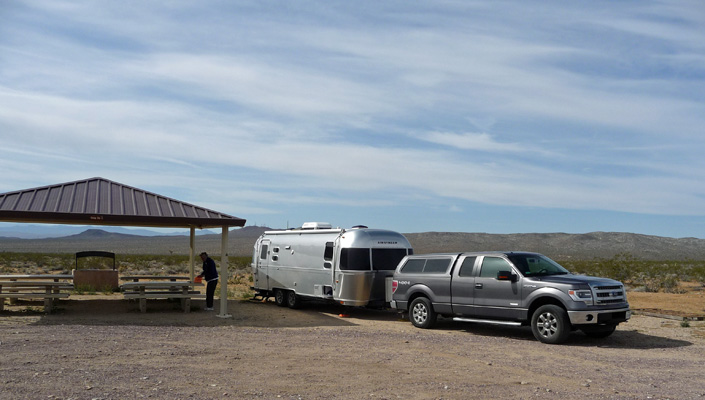 The wind was blowing and we had some new rattles and hums that we'd never had before but they went away when the wind died down.
We got a nice view of Rainbow Canyon from the campground. You can drive a loop road to see it closer up but you can't take a trailer on the road so we opted to skip it.

The road out to the campground was washboard and on the way back out, we rattled a few more screws loose. In fact, the main lower kitchen cabinet walked a few inches away from the drawers! Walter got it back in place okay and screwed back in, but we'll need to get some larger longer screws next time we pass a hardware store.
We headed northeast to Death Valley on Tuesday March 15th—in hopes of seeing at least some of the Superbloom that was taking place there. We knew already that it was past peak in the lower portions of the valley and that recent winds had pretty much wiped out a lot of the flowers but hey, there were still supposed to be lots of them so off we went.
We had to stop and wait for a while for some road construction north of Baker and I got out and took some photos of the flowers that had begun to appear.
The bulk of the yellow flowers are Desert Gold (Geraea canescens).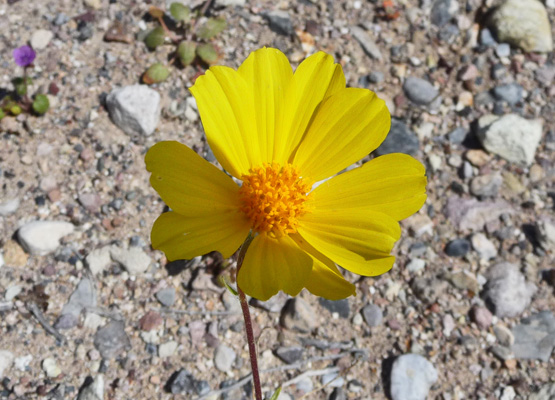 There were lots of Notch-leaf Phacelia (Phacelia crenulata) too.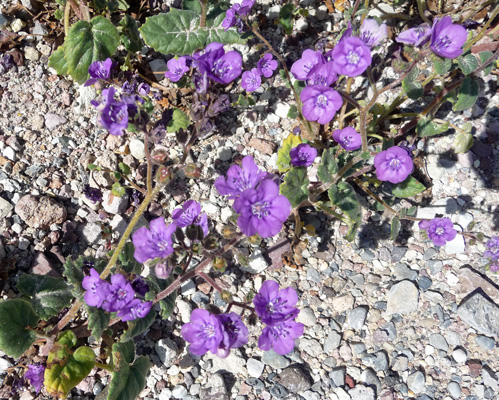 Mixed in there were a few Golden Evening Primrose (Camissonia brevipes) most of which were past their prime.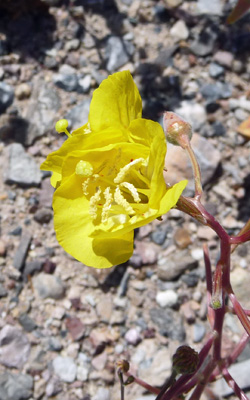 Later we saw tons of Gravel Ghost (Atrichoseris platyphylla) though here there were only a few.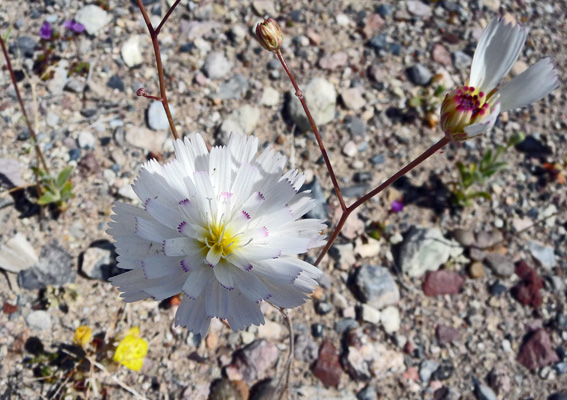 Looking southward there were a nice mix of Desert Gold and Phacelia.
We arrived at the Furnace Creek Visitors Center in Death Valley at about 2:30 and the parking lot there was almost full. We found a spot for the truck and trailer (only because someone pulled out) and had lunch and then went in to ask where we should camp to best see flowers (while Walter screwed the cabinet back in). They sent us to the Sunset Campground across the road from the Visitors Center. It's another big gravel parking lot like the one up at Stovepipe Wells where we camped back at Thanksgiving 2014. But this time it was about 2/3 full. We found a nice spot in the last row with a bit of a view of the mountains and set up camp.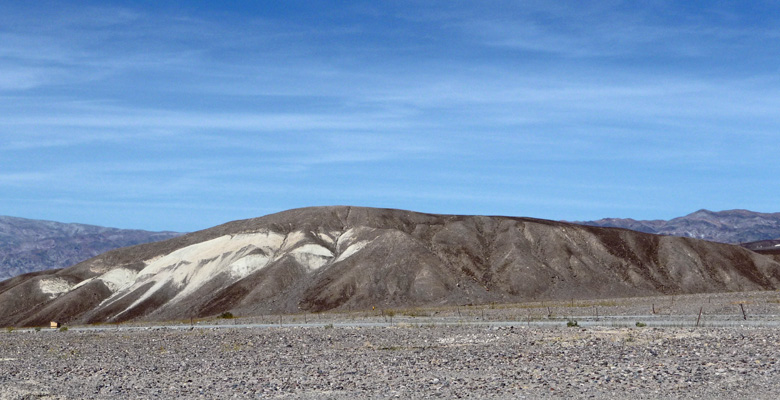 Since this is a National Park we get 1/2 off with our Access Pass (or whatever it is they're calling Golden Geezer passes this year) so we only paid $6 a night to camp here—but hey the spot didn't even have a picnic table so you get what you pay for! It was in the low 90's so we opened up all the windows and let the breeze blow through.