We spent Monday February 22nd in Santa Rosa, NM doing the laundry and hanging out. It's good to have a low key day every now and then. We had a thunderstorm in the late afternoon but things cleared off enough to have a bit of a sunset.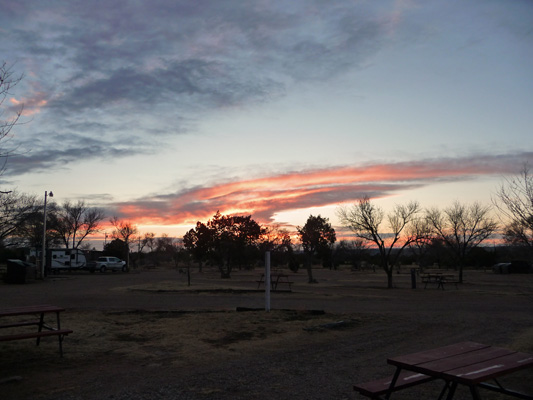 Then the next batch of clouds came in and we had sleet by midnight (it has a distinctive sound on the roof of the Airstream). Sometime in the early hours of the morning the sleet changed to snow and we had less than an inch of snow by the time we got up. It hadn't stuck to the gravel roads in the park but we had snow on our picnic table and weather station.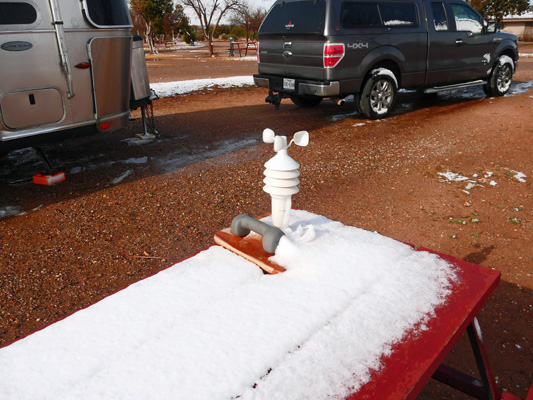 You could tell that it had blown in from one side because of the way it piled up over the kitchen vent and the outdoor light fixture.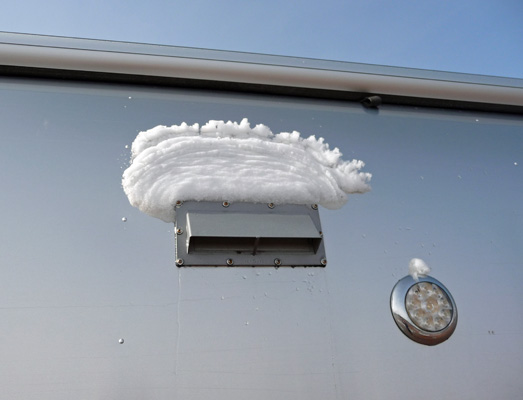 We got on the internet and checked road conditions and decided that all would be well by mid morning—which was in fact true.
Breaking camp was kind of interesting because it was COLD (35 degrees) and windy and still spitting sleet. My hands were numb and bright red by the time we were hitched up and ready to go.
We made the drive from Santa Rosa to Albuquerque without any problems (just some blowing snow that didn't stick) and got a spot at Enchanted Trails RV Park on old Historic Route 66 on the west side of Albuquerque. We set up camp and had lunch and decided we might as well do a couple of our errands that afternoon so that we could have some time to play the next day. We stopped by the Camping World which was right next door and then drove back east on I-40 to the Whole Foods (a really small one across the street from a K Mart for heavens sake) and Trader Joes. It continued to spit snow and only made it up to 42 but by evening the clouds began to blow through and we had clear skies.
Wednesday February 24th we awoke to sunny skies and a temperature of 20 degrees. We turned on the heat and went back to bed! Eventually we got up and got it together to go on an outing. But first I had to take photos of the vintage trailers that Enchanted Trails RV Park has available for nightly rental—a perfect celebration on Route 66, don't you think?
These are my favorite pair simply because they're a lovely blue. He's a 1950 Hudson Commodore and she's a 1954 VaKaShunette.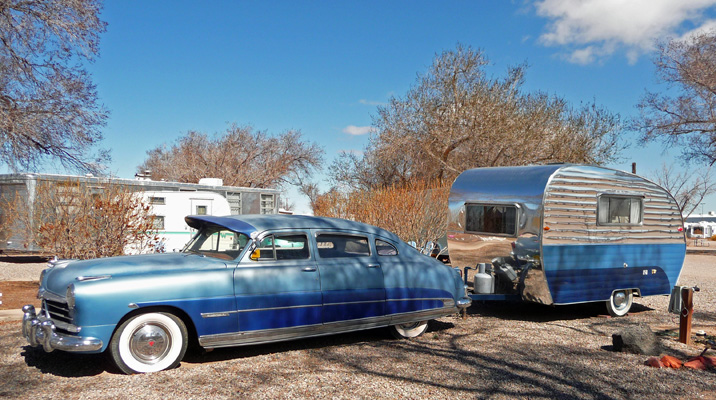 This isn't an Airstream, it's a 1956 Yellowstone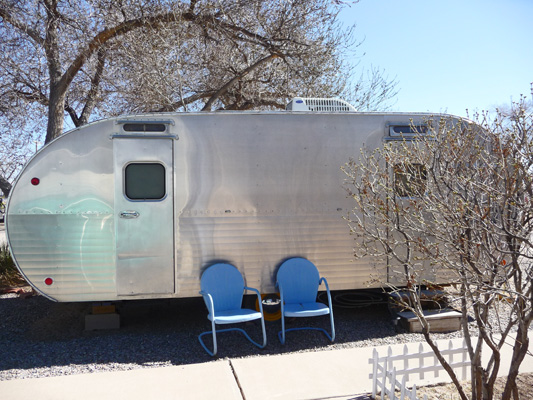 This is a 1969 Airstream complete with ricky ticky stickers.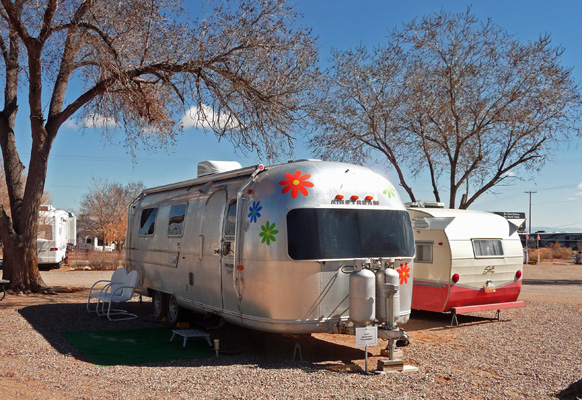 And next to it is a wonderful old Shasta trailer with little silver wings.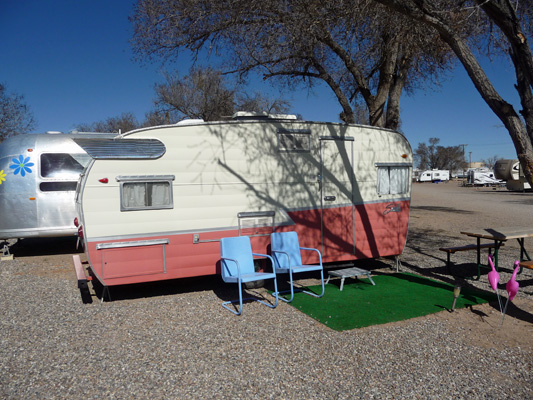 The older trailers were arranged around a little concrete patio/seating area with this 1947 Hudson as a center piece. There's cute little 1963 Winnebago behind the Hudson that I seem to have missed getting a shot of.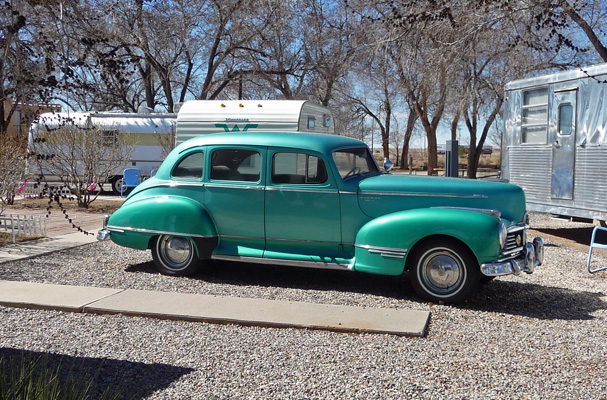 This big shiny monster is a 1959 Spartan.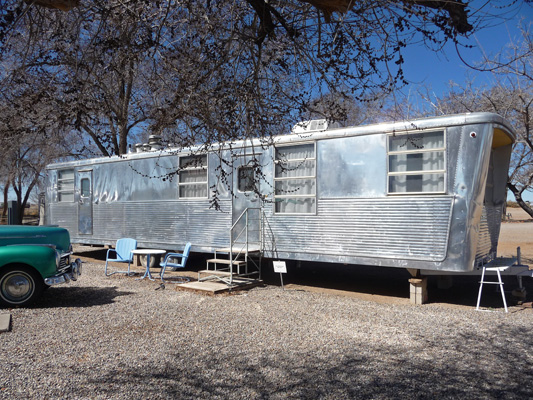 And this is a 1974 Silver Streak.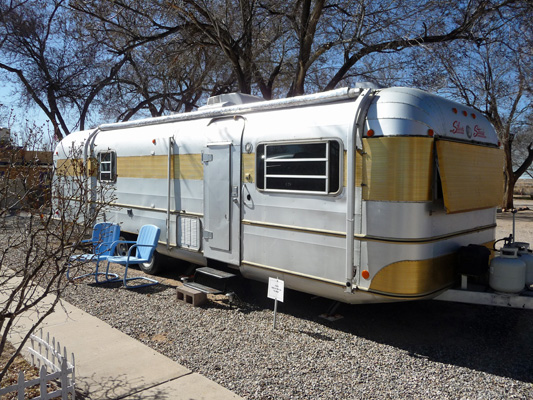 With the temperature just pushing 50 we set out to visit Petroglyph National Monument on the west side of Albuquerque. They suggest you visit the Visitors Center first since finding the trails to the petroglyphs can be a challenge. Carmine the Garmin got us to the Visitors Center without a problem. It's a wonderful old adobe that once belonged to a local archeologist.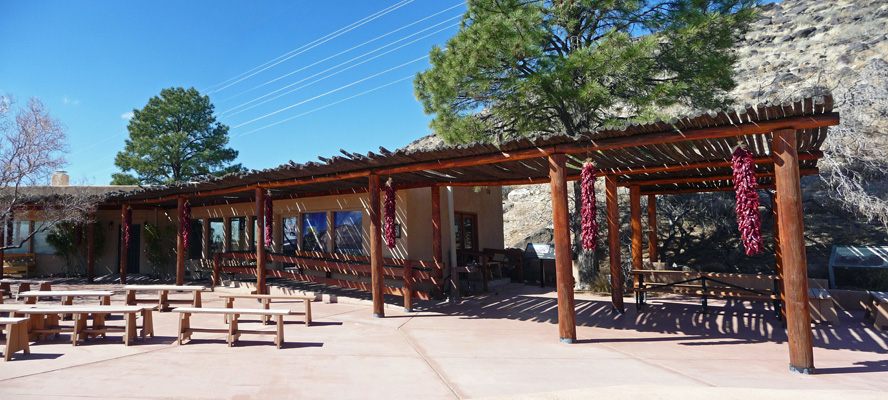 We talked to the rangers and they sent us off to take the hike up Piedras Marcasas Trail. The Albuquerque suburbs have grown up to the boundaries of the park which makes it a little strange. We wound our way past all sorts of high end fancy houses and developments and down into the edge of a shopping area and presto there was a parking lot (behind a car repair shot) with an entry onto the trail.
The geology of the area is pretty interesting. It encompasses much of West Mesa, a 17-mile-long table west of the Rio Grande which emerged 200,000 years ago as lava flowed from fissures in the Earth's crust. The monument includes a couple of volcanic cones in addition to the bulk of the mesa. Over time, the eastern edge of the mesa was eroded leaving an escarpment strewn with basalt boulders that had broken away from the caprock.
Archeologists estimate that the bulk of the petroglyphs in the area were created 200 to 700 years ago but some of them may be 2,000 to 3,000 years old. They were created by using stone tools to chip the tarnish off of the basalt to allow the lighter inner color of the stone to show through.
We hiked out along the sandy trail until it led us up along the edge of the escarpment where you could see clusters of petroglyphs etched in the rocks.
They came in all sorts of sizes and shapes.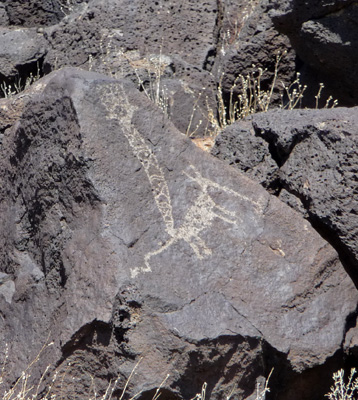 And lots of different motifs.
There are 6 marked spots along the trail where there's are clusters of petroglyphs. This trail alone has 5,000 documented petroglyphs (there are over 20,000 in the park).
We hiked on looking for arrows pointing us to the trail (since there were lots of unofficial trails all over the place) and looking for the numbered signs that would indicate more images. This one was in a depression on a rock.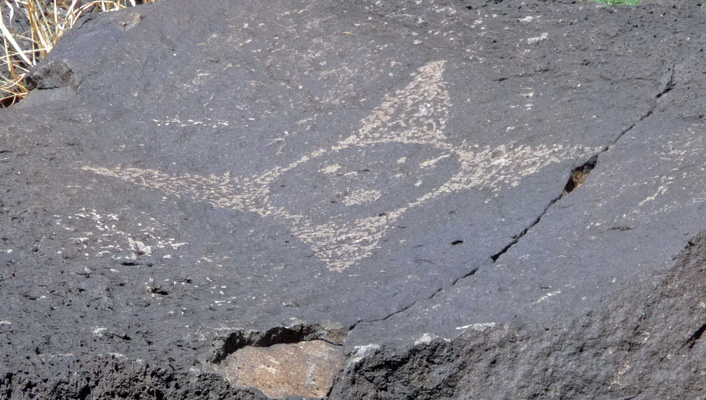 Most of the petroglyphs are found on the east and south facing rocks.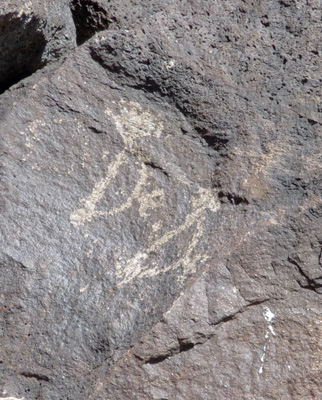 This guy is thought to be a guard figure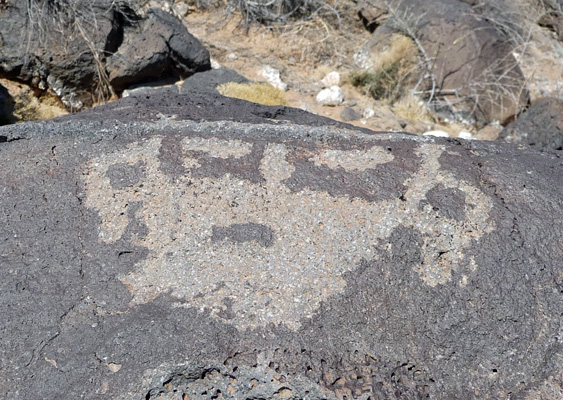 While other images may be records of successful hunts. And the Spaniards who came through later left crosses here and there too.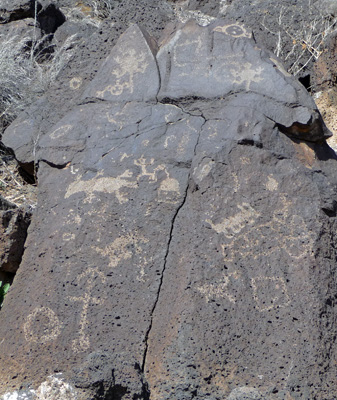 We got a nice view of the Sandia Mountains to the east of Albuquerque still dusted with the snow that had fallen the day before.

And then more petroglyphs. Hands are a popular motif here.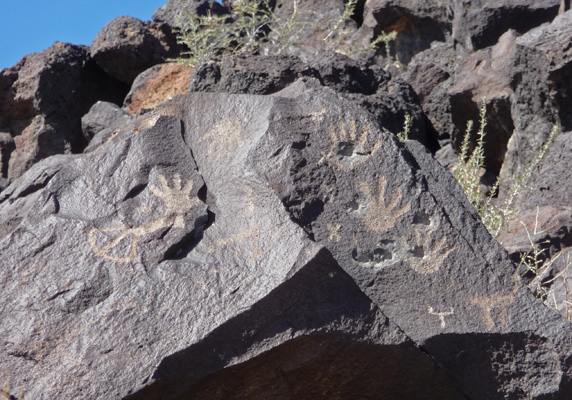 This area was a crossroads for trade and that brought in folks who introduced figures that appear to be from Central American.
While this guy looks more like a Kachina.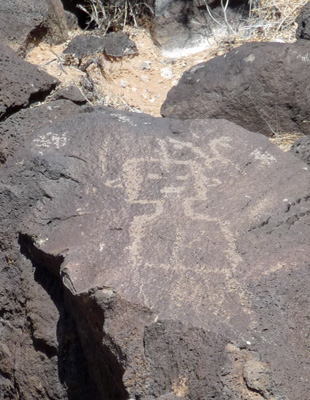 The figures run the whole gambit.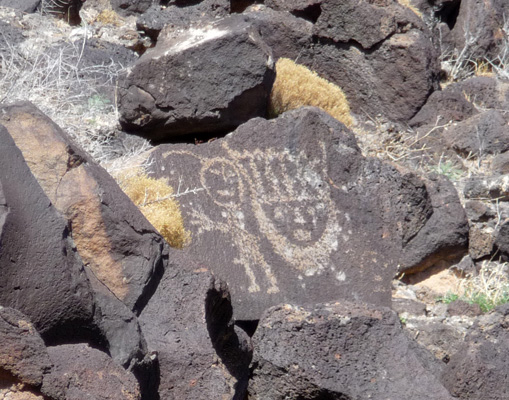 Including dancers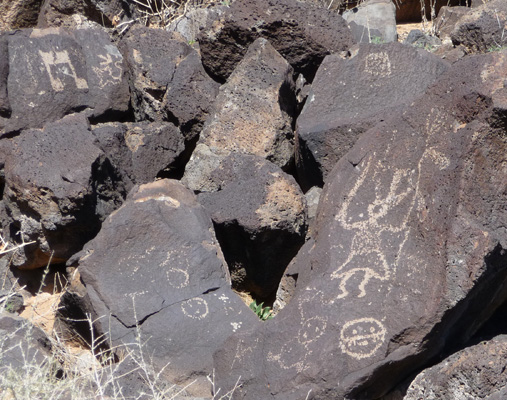 And flute players.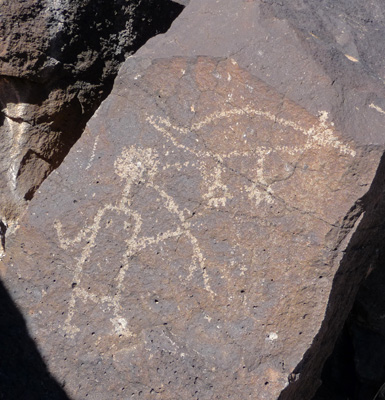 We got out to the end of the canyon and took a bit of a rest right next to a cluster of petroglyphs.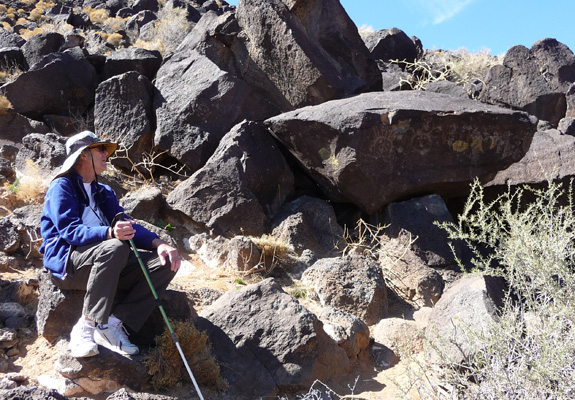 And then took the trail across the back end of the canyon to yet one more amazingly dense cluster of images.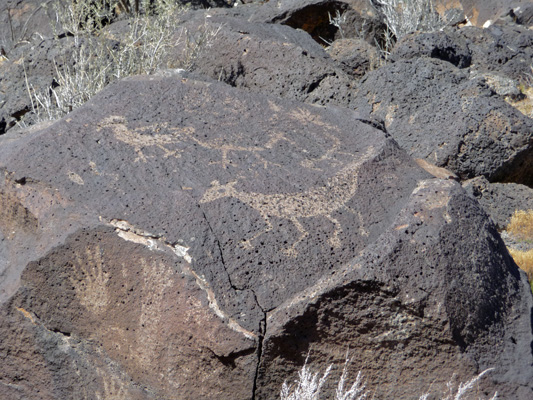 With lots of hands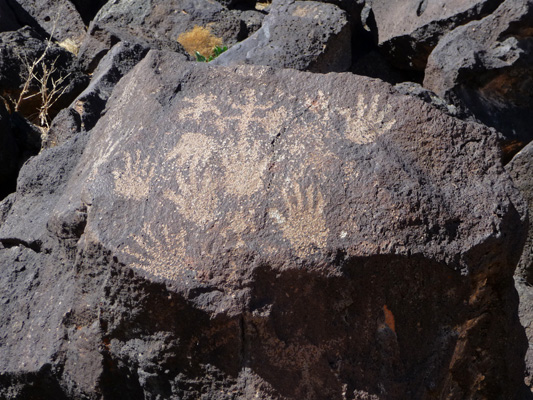 Some clearly much older than others.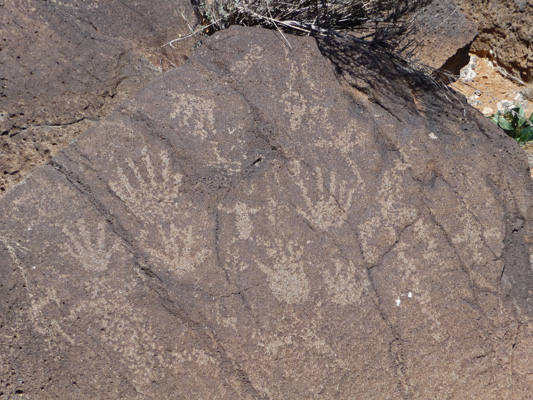 It was a fun hike though the dry sand made it a bit more work than usual.
We hiked back along a different arm of the trail to complete the loop to the trailhead and then drove just a few blocks to a very nice Smith's grocery store (owned by Krogers) to do our shopping.
On Thursday morning February 25th (after a low of 27 degrees) we packed up and drove west on I-40 toward Holbrook Arizona. The red rocks between Albuquerque and Grants New Mexico are really lovely.
There are big red mesas with layers of lighter stone at the bottom.

And there are great views of the Ceboletta Mountains.

And then the highway goes right through a really nice red formation.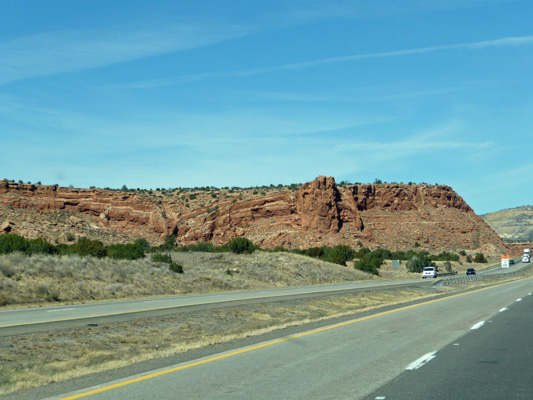 Not far from Grants this nifty mesa appears.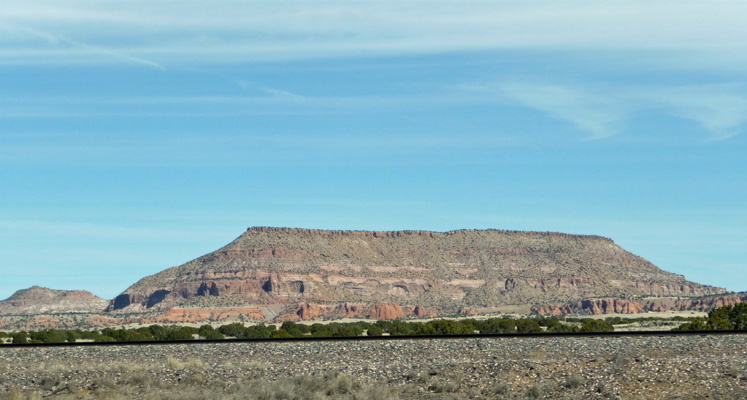 And then after Grants there are more great red formations (and Red Rock State Park).

I drove the second half so there are no photos of the rest of the drive but after Gallup things get pretty boring—it just looks like the bottom half of the photo above without any mountains or mesas.
We got a full hook up site at the OK RV Park in Holbrook for just under $30 a night. We signed up for 3 nights so that we'd have two full days to explore Petrified Forest National Park which is just east of Holbrook.