We worked our last day at Harris Beach State Park on Monday August 29th. There were close to 70 sites to clean but we got help from some new hosts who came early to help out for a couple of days. They were slow to start, before figuring out how much time you can take on any give site but they did eventually get their 32 sites cleaned. We were done by a little after 1, even with the usual number of fires to put out and strange trash to deal with. We had a bit of sunshine before we were done even after the morning had started with a pretty heavy mist. The sun was a real treat after so many days with no sun at all. It was with a great sigh of relief that we parked our cart and headed back up to the trailer one last time. After lunch I headed into town to do laundry one more time and had a little quiet time at the library before heading home again.
Tuesday we got up and battened the hatches for the first time in a month, said our good byes and headed out with sunshine! We stopped just outside the entry of the campground (where you go down the hill to the Day Use Area) to take one more photo of Bird Rock. Notice how far out to sea the fog bank was.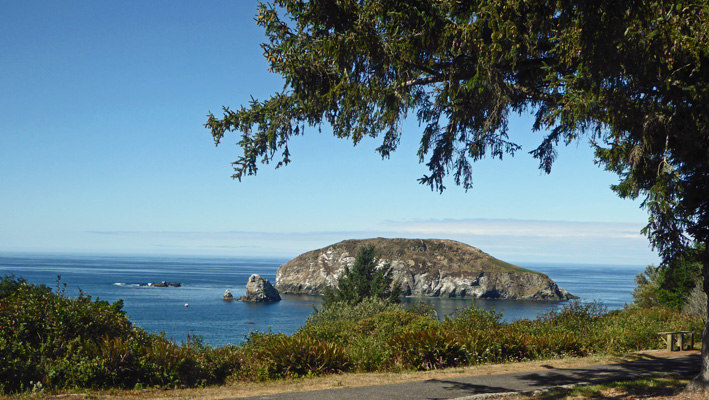 And then just a bit further on towards the highway I had to take a photo of the rocks near South Beach.
We headed north on Highway 101 in the sunshine enjoying all the views we'd seen on our day trips. The weather became cloudy about half way to Reedsport and we only had partly sunny skies as we headed up the Umpqua River towards the Willamette Valley. We stopped for lunch after the highway crosses to the north side of the Umpqua. Here's our lunchtime view looking west along the Umpqua.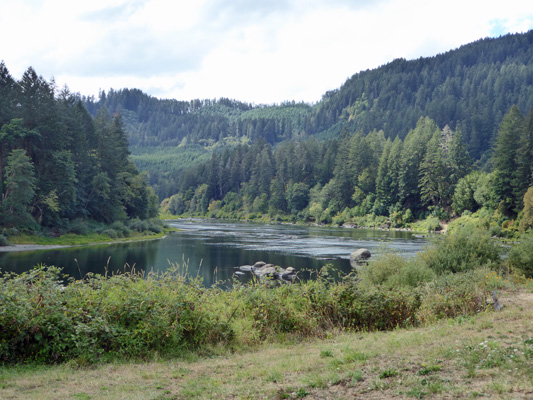 And looking east.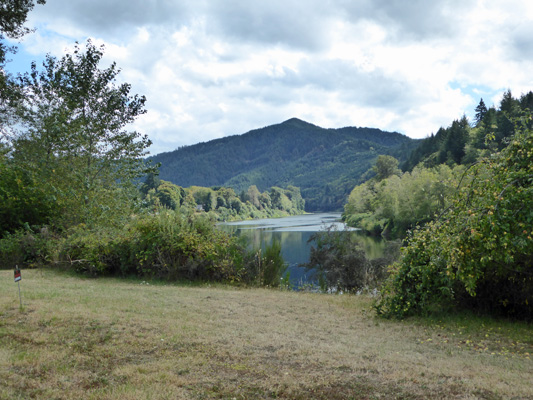 We both love this drive. It follows the river from the coast nearly all the way to I-5 and it's just so peaceful and beautiful any time of year—and there are almost always elk in the elk reserve near Reedsport too.
There was a big old apple tree dropping yellow apples all over the ground here. It seemed late for Yellow Transparents but since it was posted private property I didn't run over to try to figure out what kind of apples they were.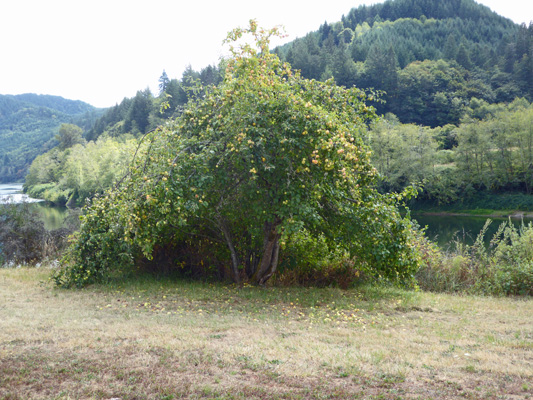 We spent the night at Premiere RV Resort in Coburn, OR just north of Eugene. We've been staying here since about 2003 and it's always been a great place. It's gotten pretty expensive ($47 a night with a Good Sam Discount) but the long hot shower I took in their nice tiled private shower made it worth it. It was clear and in the 70's in Eugene when we arrived (much cooler than it was the week before in the Willamette Valley when temps had been in the high 90's). By morning though, there were a few clouds coming in.
Wednesday morning, we headed north on I-5 and had light rain off and on up through Portland, where we turned east on I-84. We changed drivers in the parking lot for Multnomah Falls (in the middle of the freeway between the eastbound and westbound lanes with an pedestrian underpass over to the waterfall). I had to take photos of the top of waterfall even if it was raining lightly.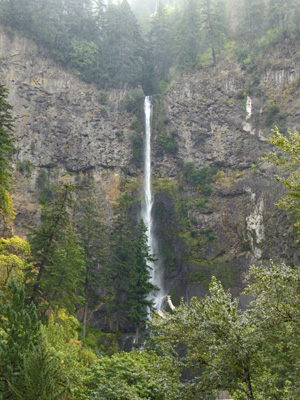 The rain stopped not long after this as we followed the Columbia River through the Columbia Gorge and out to Hood River. We crossed the Columbia at Hood River to the Washington side to spend the night at Peach Beach RV Park next door to Maryhill State Park. The sun was out and it was 81 when we arrived. It was nice to have a bit of summer weather without it being really hot here. No doubt it was over 100 here the week before.
When we were here in mid-July we got one of their last open spots. This time the park was half empty and we got our choice of lovely waterfront sites.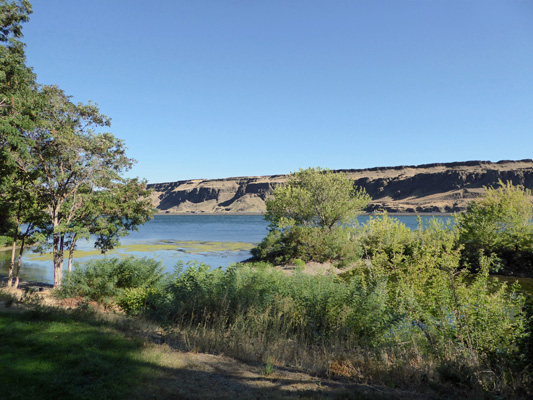 We had lunch and a nap and then I took a walk out through the state park. Here's the view from the swimming beach in the Day Use Area at Maryhill.

There was one family out swimming and the campground at the state park was only about half full too. Clearly summer was winding down. No doubt they'll be full for Labor Day weekend but the kids are heading back to school (if they haven't already) and the temperatures are starting to moderate here in the northwest.
On Thursday September 1st, we still had partly sunny skies at Maryhill when we broke camp and headed back across the Columbia to pick up I-84 east. We followed I-84 to La Grande and then headed east on Hwy 82 through the north end of the Wallowa Mountains to the town of Joseph and Wallowa Lake State Park. It was mostly cloudy by the time we arrived but it was still about 68 degrees when we set up camp at our new campsite. We ended up with the host site that is right across from the registration kiosk. It's literally the first site when you come in the park.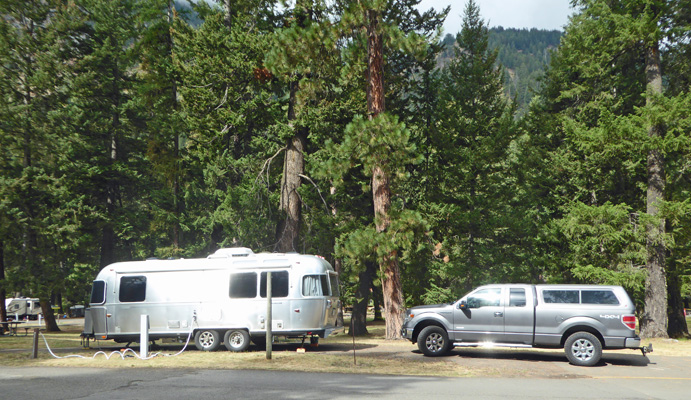 Once we'd set up the trailer and moved the truck to its spot behind the trailer, we set out to do a bit of exploring. There's an information sign right next to our campsite with brochures and maps and the Self Registration information that is used when the Registration booth isn't open.
Two of the bathrooms in the park are being replaced in a big construction project that started in mid August. They've completely demolished the B loop and C loop bathrooms so we have a nice view of caution tape around a hole in the ground!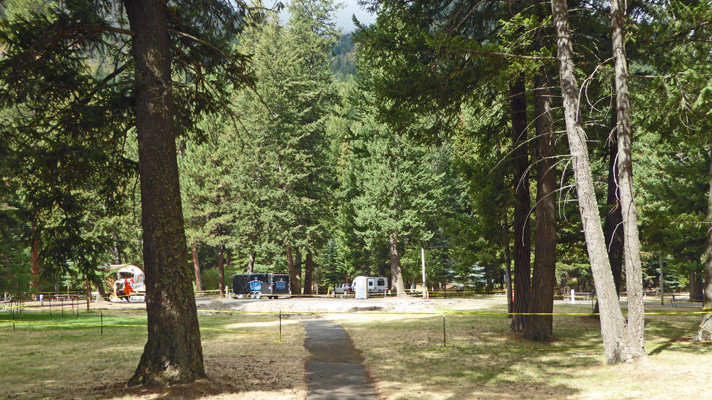 Because of the construction they've closed 66 hook up sites in the B and C loops—that's over 1/2 of their hook up sites in the park. We wandered around looking at the construction and ended up talking to the seasonal interpretive ranger and to the hosts working at the wood shed and the maintenance host who has been a host here a long time—after working here for a number of years as a ranger.
It rained in the night but by morning there were sun breaks. We had the morning off since orientation wasn't until 4 pm. So we lolled around taking the morning off and then went for a walk through the park. Here's a shot of the registration booth—which is basically our view out our dining room windows. At least it's a nice looking building and we don't have to walk far to get our list of sites to clean each day!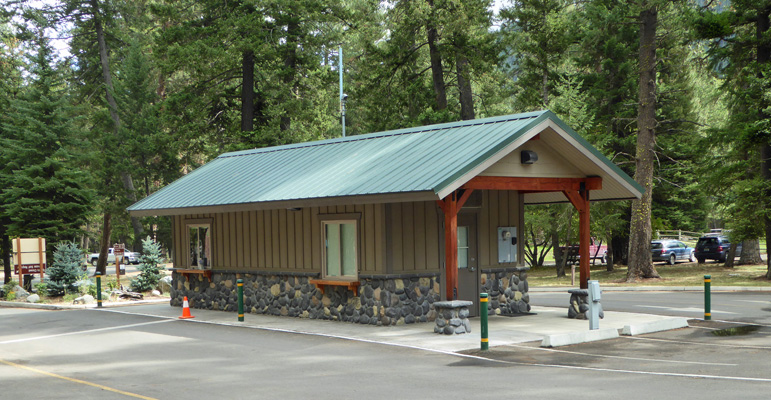 We walked on down towards the marina area past the Nez Perce Teepee where the folks from the Nez Perce National Historical Park do presentations some days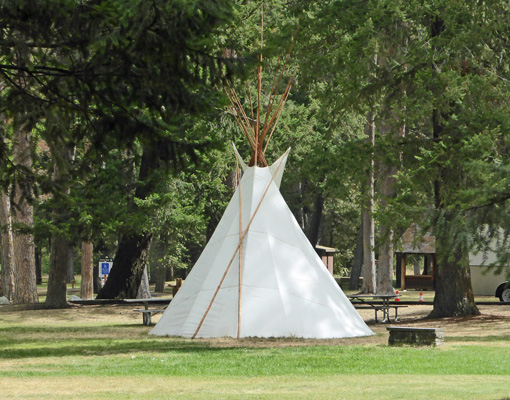 and stopped at the viewing platform that looks out over the day use area at the edge of the lake.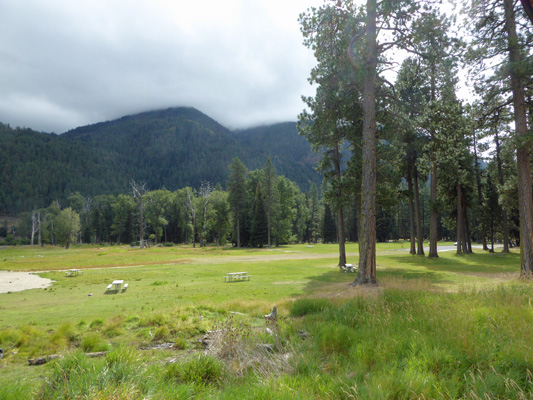 There are lots of Ponderosa Pines here in the park including a pair right out our back door. The lake is down from historical highs but there is still lots of water in it and lots of fish (one of the new hosts caught a 15 inch Rainbow Trout on his first afternoon fishing). We walked on over to the Marina Store where you can buy fishing stuff and post cards and t shirts and rent kayaks and fishing boats. I took a panorama shot of the marina and the lake.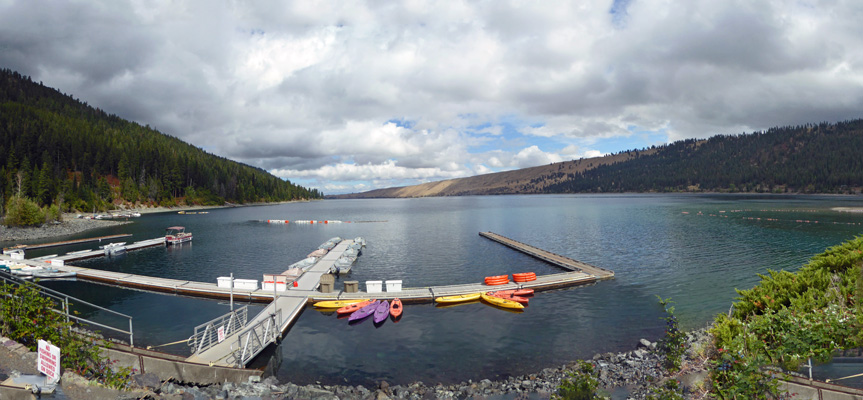 The sun played hide and seek all day. When it was out, it was in the high 60's. When it went back behind the clouds it was in the high 50's.
We had our orientation at 4 pm and learned that we would be cleaning sites 5 days a week (most of the other hosts work in the wood shed at least one or two nights a week). Normally they don't dig out the fire pits here but to get ready for winter we'll be digging out all the fire pits once folks start to leave on Monday. It's a one-time deal so it will still be less work than Harris Beach. Usually we'll have at least one other couple working with us and on Friday there are 3 couples working. Labor Day will be our big day with 120 sites vacating but once that's over it'll be pretty darned quiet here for the rest of the month—yes!
Saturday morning, September 3rd we got up at 7 am (early morning is not my favorite time) and were ready to meet the other hosts at the booth a little before 8. Funny thing, with no internet we are much faster getting through breakfast. It was cold—only 48 but there was no wind and it wasn't damp which helped a lot. Along with long johns I wore two fleece jackets and was quite toasty.
There were three couples on camp cleaning duty for the day and there were 50 sites and 2 yurts to be cleaned—at Harris Beach we would have done all 50 ourselves. Instead, the folks who clean the yurts got the two yurts and 15 sites and we got 17 sites (across 4 campground loops) and the 3rd couple got 18 sites all in the A loop.
At 8:30 we headed over to the shop to be checked out on the golf carts (something we've never had to do before)—demonstrating that we did indeed know how to drive forward and backward and drive in a loop—whoopee. We also got introduced to the tool shed and all the rechargeable batteries that go with everything from blowers to electric drills and electric lawnmowers and then got introduced to the mowers and how to take care of them. Since the grass in our site has already gone dormant, I don't intend to water it and mow it. We'll just let it continue to slumber until next spring.
Next we took our cart and set out to find the 17 sites we were to clean—always an interesting challenge in a new park where numbering systems and one-way roads make finding things interesting. Very few had vacated yet so we took a bit of a break and then started working at about 10. By 11:15 we'd cleaned all but 3 of our sites and took another break. Our last site emptied out at 12:30 and we'd turned in our results and parked our cart and were back in the trailer before 1. We'd put in 5 hours but they were EASY hours and no big deal.
We wanted to go to town to try to get a bit of internet access so we headed into Joseph for lunch at La Laguna, the local Mexican restaurant chain (they have one in both Joseph and nearby Enterprise). It was decent but nothing really great. Joseph was full of tourists. When they all leave after Labor Day I'll take photos of the bronze statues that adorn downtown—that day there were just too many people milling around.
We tried to find the library but Carmine the Garmin failed us and sent us to a restaurant instead. We tried using our hot spot at the Day Use Area on the north end of the lake where other hosts said they'd had luck. It started out okay and got slower and slower until we had no access at all. Sigh. We then headed to the Marina where there is supposed to be WiFi—we'd gotten the password from one of the other hosts. The signal was so poor Walter's computer couldn't even find it and my computer refused to connect to it. At this point we decided we'd bag the internet and go home and take a nap!
Sunday September 4th, it was cool again in the morning. We'd been down to 40 degrees on Saturday morning and we hit 41 on Sunday. I bundled up and went out to join the other hosts and learn how to put the flags up (US and Oregon state). This is the first park we've worked in where the hosts are responsible for the flag and I realized I'd never put one up on a big flag pole. It is not big deal but hey, the last thing you want to do is get the flag tangled up with the post the first time you try.
We got the departures list and found that we only had 32 sites total and we had three couples on duty! We got our assignment of 11 sites in the A and B loops and headed out to pick up our cart and find the sites. Needless to say on Sunday morning, no one had packed up and left yet so we came back to the trailer and took a break. All the hosts here are real friendly and since they don't work real hard there is LOTS of time for visiting and getting to know each other. Each time we took a break we ended up talking with someone.
I decided to begin the process of digging out fire pits that day as something to while away the time. I dug out our fire pit and we dumped the ashes before heading out to clean sites. I dug out 3 more before our buckets were full and we discovered that the ash dump had been taken to the dump and wasn't back. At least now, it was empty to start the process of digging out all the rest of the pits. Our last site emptied out at about 1:05 and we were done and back at the trailer by 1:30. This place is really easy duty.
We had lunch and then took a drive to Enterprise to check out the hardware store where we found a new trash picker. The brand of pickers that the Wallowa Lake folks use are plastic and half the time they can't grip a small piece of paper—something that can get really frustrating. We had Walter 'Easy Reacher' that he's had for years (the same brand they used at Harris Beach) but we didn't have one for me. We found one that will work fine at the hardware store and then set off to find the library. It was closed of course (it being Sunday) and their WiFi was either off or doesn't work out on the street. But our hot spot worked (as did Walter's phone) so we managed to at least have a look at our email and do a few other basics.
It rained off and on while we were in Enterprise—complete with a few booms of thunder. It wasn't wet at Wallowa Lake when we got back but the rain arrived shortly thereafter and continued well into the night. The forecast has it warming up later in the week (into the high 60's) after the rain passes through. It's most definitely fall here. It's funny how many years in the NW that summer ends just before Labor Day weekend and autumn arrives with rain to announce indeed, summer is over.
Aside from it being a bit on the cold side here, Wallowa Lake is turning out to be just fine. The job is easy—it may get boring but we can ask for other things to do and may have to when things get quieter. The area is gorgeous and there are plenty of drives and hikes to keep us busy.