On Monday December 5th, we packed up at Pinnacle National Park and headed southwest across the hills to Hwy 101 and then on to Arroyo Grande just south of San Luis Obispo to Lopez Lake, a reservoir in the hills to the east.
The campground was fairly empty and when we took a tour we found deer gathered feeding on the grass in the Quail Loop. So we decided this was the place to be.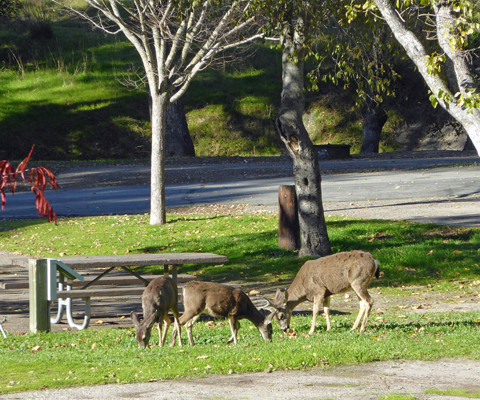 There was one buck among them.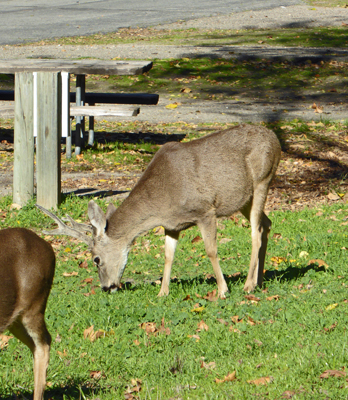 They stuck around most of the afternoon, wandering by our open door.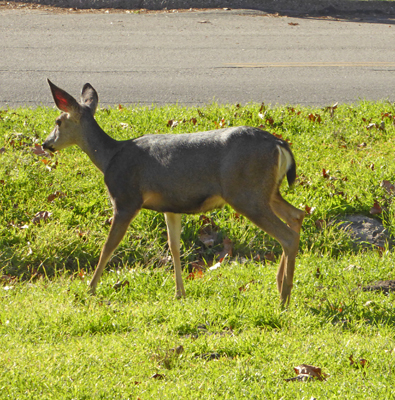 There's also a large number of wild turkeys in this park. In fact, we saw our first wild turkeys ever here over 10 years ago. It turns out that wild turkeys aren't native to the west coast but were introduced here in the 1970's or 1980's. Clearly they love it since we've seen wild turkeys here and at the Pinnacles and also in Oregon on the coast and in La Grande.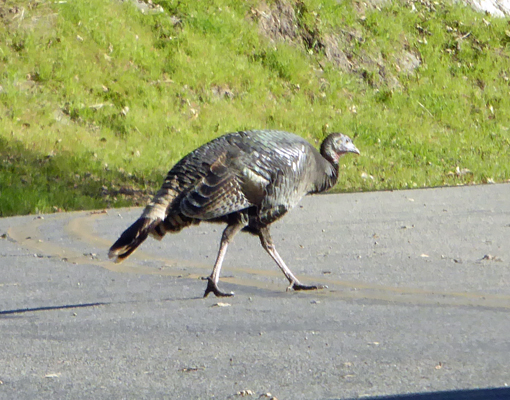 We had hoped that there might be a cell signal here but as we drove through nearly 10 miles of farm land that got emptier and emptier it became clear that our chances were not good. And as it turned out we had no cell signal at all and thus no internet either. So we had a quiet evening at home, watching the deer come and go and listening to the quail as they wandered through the park.
The next day we decided we'd take a drive out through the park north of us to see what we could see before heading into town to do laundry and grocery shopping. There's a big water slide park just north of where we were camping and then past that there's a ropes course with a pair of zip lines.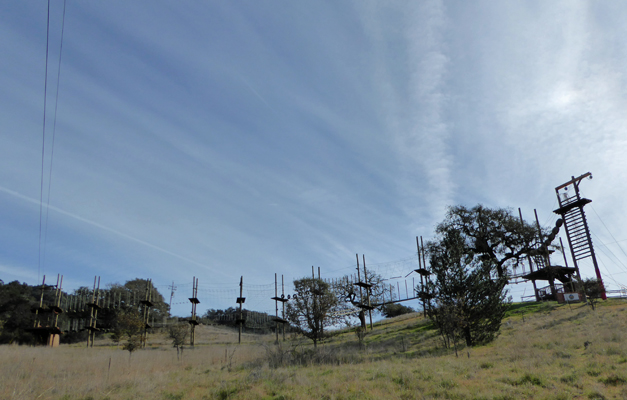 The zip lines come down the hill to land on a platform overlooking the very dry lake.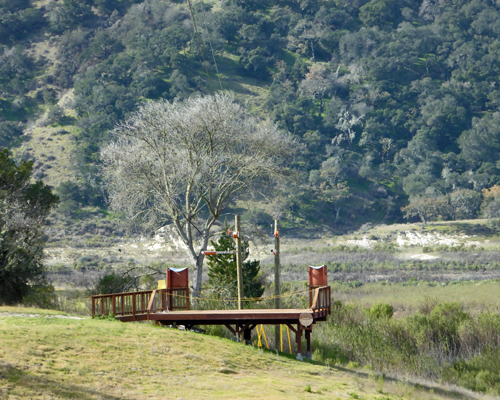 The zip line runs right over the road so they've put up an unusual caution sign.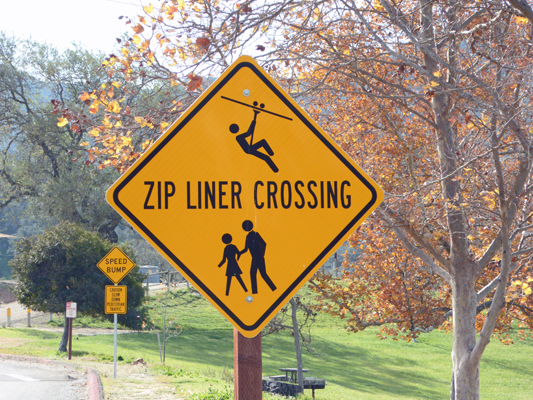 It being a winter week day it wasn't open but during the spring, summer and fall it's open every day.
We spent the day in town including a nice long spell at the library getting caught up on our email (5 days worth).
On Wednesday December 7th, we decided we'd explore the Marina area of the park before going back to the library to use the internet to plan the next leg of our trip. The lake was only at 22% capacity which means that it was really really far down.

As you can see, the docks are high and dry out in the mud flat. We drove around to the Marina Café and Store (which were open remarkably) and had a look from there.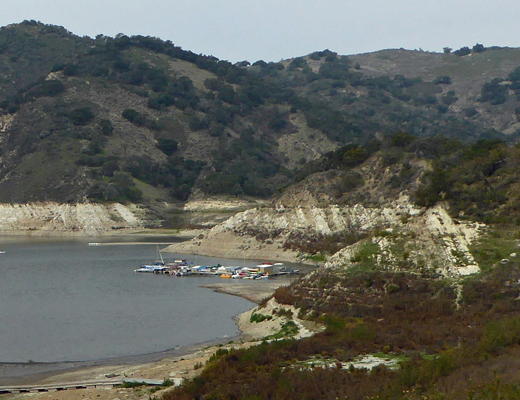 You can see that there is a dock with a number of boats tied up. They've been moving it steadily out into the lake since the fall when the main docks ended up in the mud. There's no way to get those boats out at this point. They're stuck until the rains come and the lake comes back up. The boat ramp became unusable back in the spring, even though it's a really really long ramp.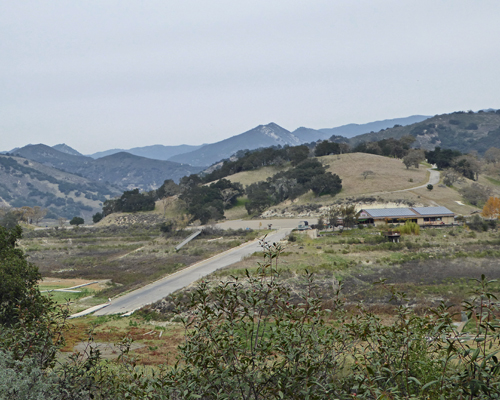 We can only hope that they have a nice wet winter this year so that that this reservoir comes back up. It's the main drinking water source for the towns in this area and needless to say they'd all like to have it fill back up.
We spent a couple of hours at the library studying the weather and checking out places to camp. The forecast was good enough for us to decide to head to Death Valley but the nights were going to be cold enough that we wanted an electrical hook up. With some searching we managed 2 nights of reservations at Furnace Creek (where we would have to move from one spot to another after the first night) and 2 nights at Stovepipe Wells (all in the same spot).
Satisfied that we had a plan we went on home to have lunch. In the afternoon we took a stroll down to the lakebed. 10 years ago there was water right at the edge of the campground but no more. Now you can walk a long way before you can see water.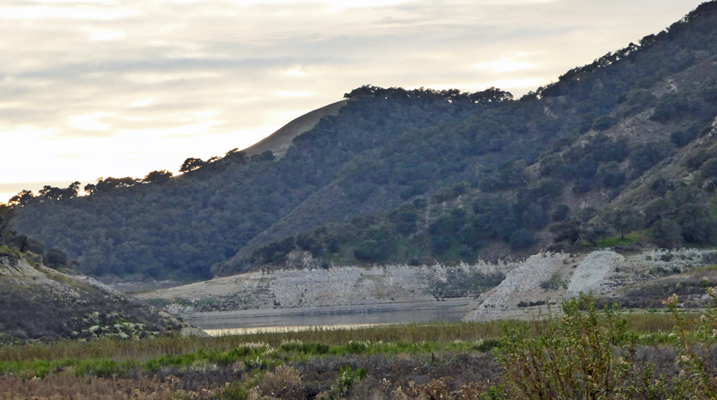 The undergrowth is mature enough that we figure that things have been dry here for many years. The California drought has been a long hard one.
Sitting out on a sun-bleached shore we spied some big birds. At first we figured them to be turkeys but no, they're turkey vultures. I'd seen 10 or so circling the previous night so clearly this was part of the flock.
We'd had a bit of a sprinkle while we were at the library but it didn't amount to much. By morning the trailer was wet but it wasn't really raining. When we went to get ready to go though, it was misting heavily enough that we needed our raincoats. The turkeys came through while we were getting ready to go. I opened the door and there they were.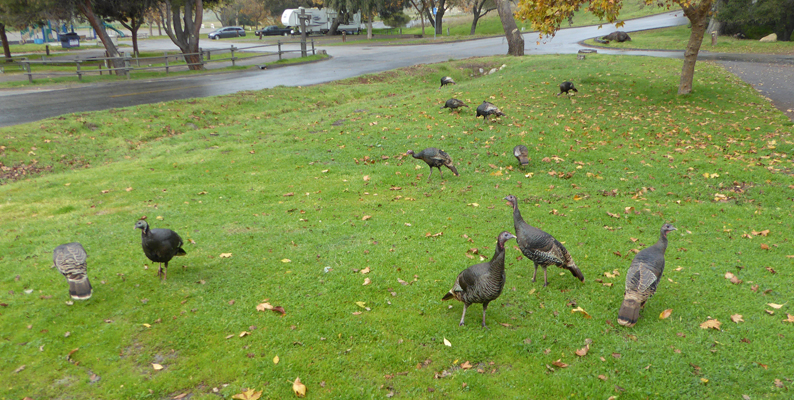 They didn't care that I was standing on the step snapping away.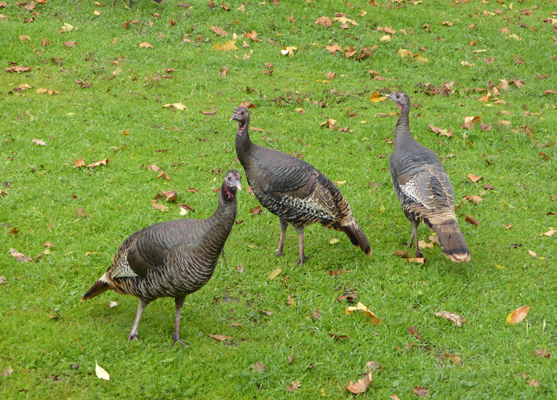 They pecked around in the grass and then started to move through the ditch and on across the road.
We motored out at about 10:30 am. By the time we hit Hwy 101 it was raining lightly and it continued to do that until we headed inland through the passes south of the Carrizo Plain National Monument and out into the Central Valley south of Bakersfield. As we started up over Tehachapi it started to rain again and it stopped with a gorgeous full rainbow as we arrived in the high desert and the little town of Mojave. We rolled into Sierra Trails RV Park at about 2:30 and got a pull through spot (with cable hookup) for $22 a night with our Passport America membership. We've stayed here may times since it's a halfway point for a number of drives. Since we couldn't get a reservation in Death Valley until Sunday we decided we'd stay 2 nights here. Their WiFi is pretty useless and the signal doesn't reach to the pull through sites so we planned to rely on our hot spot. Walter's phone had 2 bars and we got a green signal on the hot spot using our booster. But it was sloooooow. In fact it was another wonderful 45 minutes to download my email.
On Friday December 9th, we decided we'd take a drive out to see California City since we've seen signs pointing it out and always wondered what it was. The town has a population of 13,000 so we figured they might have a good sized grocery store and a library. They have a nice big park with ball diamonds and a golf course. And we found the library but it was closed (as were all the libraries in the county for training that day). Sigh. The grocery store was a simply terrible Dollar General. Aside from bananas, they had none of the other things on my list—and we're not talking exotic stuff. So we motored back to Mojave and the Stater Brothers that turned out to have gotten really nice since the last time we shopped there several years ago.
Saturday December 10th, we awoke to dark clouds to the west and the sun out on at our campsite and the skies were mostly clear to the east. We had one moment of damp wind (sprinkles mixed into a wind gust) when we were packing up to go but otherwise we managed to elude the rain. We drove west on Hwy 58 to Barstow where we picked up I-15 east towards Las Vegas. At Baker (home of the world's largest thermometer) we turned north on Hwy 127 out across the desert to the little town of Tecopa, home of Tecopa Hot Springs. There are a number of places to camp here and we opted to stay in the county park where your $21 a night camping fee for an electrical hookup includes free access to the hot springs.
We set up camp and had lunch and then I hiked back up the hill to the baths. They have separate baths for the men and women and don't allow any clothing at all (no bathing suits even) in the pools. I had the place to myself as I soaked in the 103 degree water. Yum. Sunset was just starting when I walked back so I quick got my camera.
As I sat and watched it just got better and better until I just had to go back out and take a panorama shot of the incredible fire in the sky.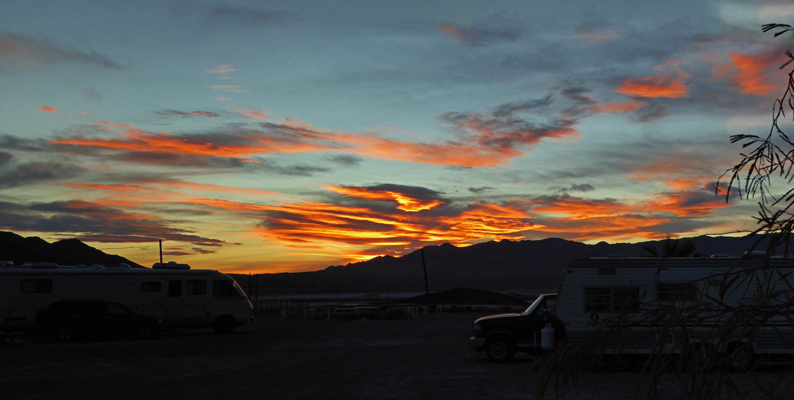 Reality was a little less orange than this but it was this bright. The next stage was pink followed by an incredible fuchsia but it was too dark by then for photos.
Our phones and hot spot didn't work here but you could pay for Wi-fi. Since we were in all likelihood going to be without internet for the next four days at Death Valley we sprung for it so we could catch up a bit.