Monday morning August 15th it was foggy but the sun was trying to come out when we set out to go to work. And I couldn't resist this glorious star pattern in the trees.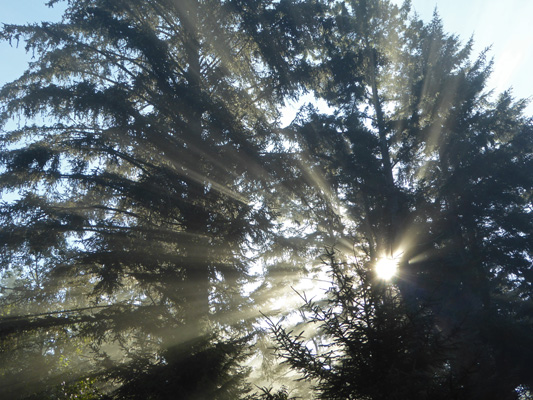 Monday was a whopper of a day. We had nearly 80 sites turning over and we were the only site cleaning hosts on duty. Thank goodness the yurt cleaning hosts had only 2 yurts to clean and so were recruited to help us out. And of course we had lots of folks who held out until the last minute (1 pm) to check out so it took us a while to finish up. Tuesday we had fewer sites to clean but at 1 pm we still had over 15 to go because of late check outs. It was after 2:30 when we got back to the trailer and we were tired! At least, when there are lots of folks who are taking their time getting out we do have time for a break or two and that really helps.
Wednesday August 16th, we packed a lunch and headed north toward Cape Blanco State Park to check out the Historic Hughes House where we'll be hosts giving tours for the month of October.
But of course, we had to stop at nearly every viewpoint on the way—you wouldn't want to miss a great view would you? First up, Myers Beach just south of Myers Rock. There are sand dunes here that add to the fun.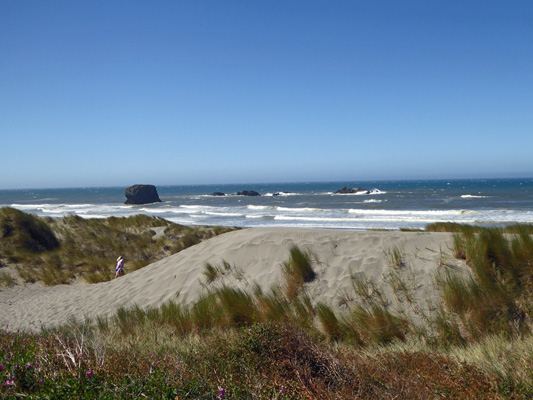 And great view looking northward.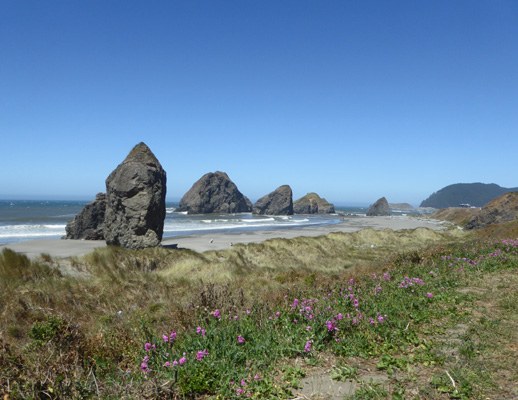 Those pink flowers in the foreground are Perennial Sweetpeas (Lathyrus latifolius). They bloom in June in the Seattle area but along the coast they take their time. We had them in the campground here and there too.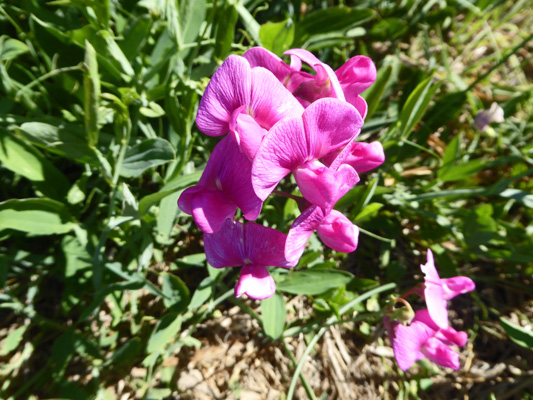 Then we drove a little further north and got a super view of Myers Rock itself.

Just south of the town of Gold Beach we crossed the Rogue River. Clearly the fish were biting because the river was filled with boats on both sides of the bridge. There's supposed to be a good fall Chinook salmon run here so that's probably what they're after.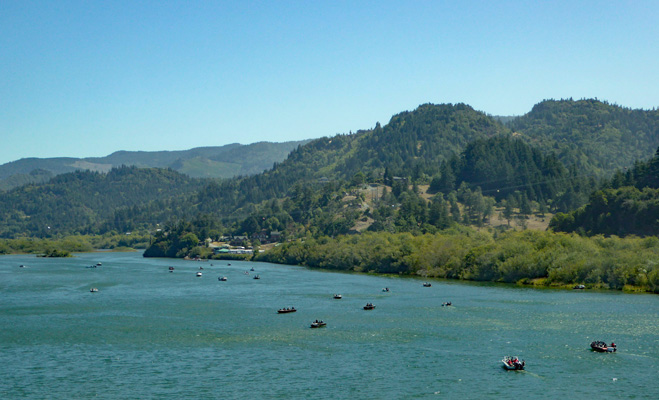 Then we sat back and enjoyed the drive on up to Cape Blanco State Park just north of Port Orford. In October, we'll be living right next door (behind the house a ways) to the Historic Hughes House and giving tours of the place. I'll save the photos of the inside for a tour once we settle in there but here's Walter in front of the house on a gorgeous sunny day.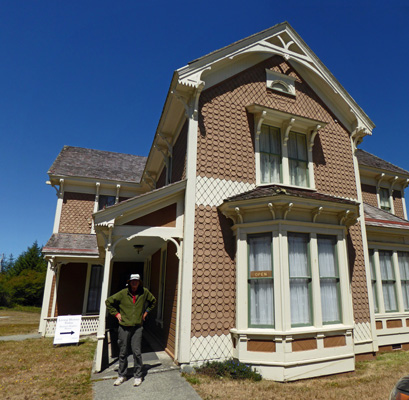 The house was built in 1898 and has been fully restored with period wall paper and furnishings and is really pretty. This should be a fun gig in October and the host site in nicely sheltered from the wind that blows pretty steadily here at Cape Blanco.
During the summer months the local historical society does living history performances and we were just in time to watch one of those as the two ladies of the house (Jane and Annie Hughes) took a break from doing the laundry and had a cup of tea in the kitchen.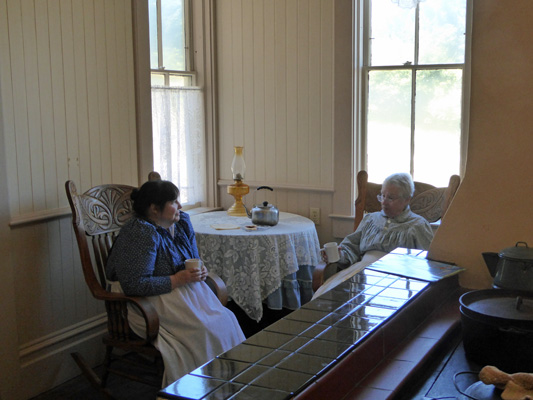 It was fun and informative and we were glad to get to see it since they won't be doing these performances in October.
Having finished exploring the house and grounds (and host site) we headed up the hill past the campground and out to the Cape Blanco Lighthouse.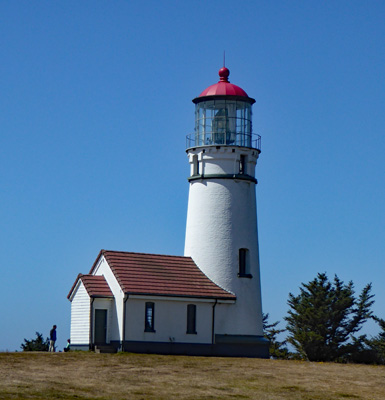 The wind was howling out here. I had trouble holding the camera still in the wind. But I couldn't pass by the chance to take a photo of the view to the north.

My panorama shot didn't include the end of the bay so here's the rest of the view.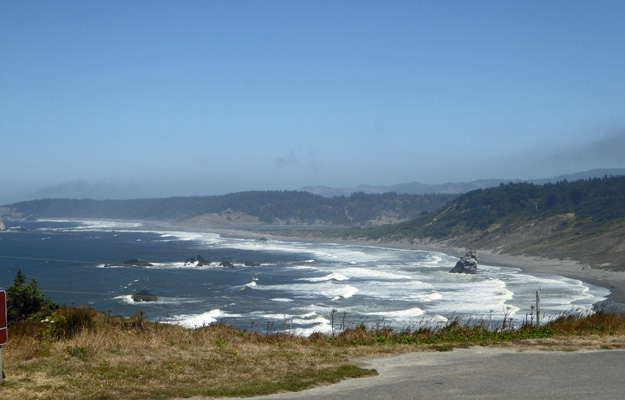 There's many a day when it's foggy out on this point so we were really happy to have clear skies.
On our way back down the hill, we stopped to take a photo to the south. Years ago we camped at the campground here and hiked down to the beach. It was a long hard haul back up as I remember.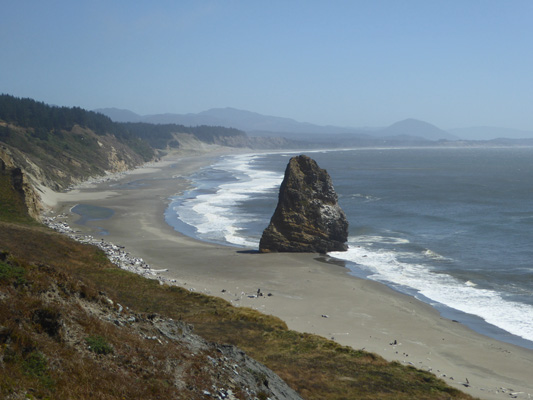 We made a tour of the campground and discovered there was no picnic area so we headed down to Port Orford and one of their view points right in town. Here's our view for lunch.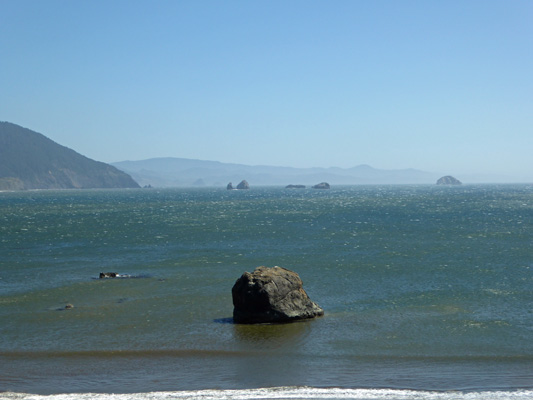 After lunch we headed homewards and stopped just south of Port Orford for a look northward.

On the way up, we'd missed the turn off for Cape Sebastian so we stopped to see what we could see on the way back. There's a north parking lot where there was no view at all. But the view from the southern parking lot was pretty good.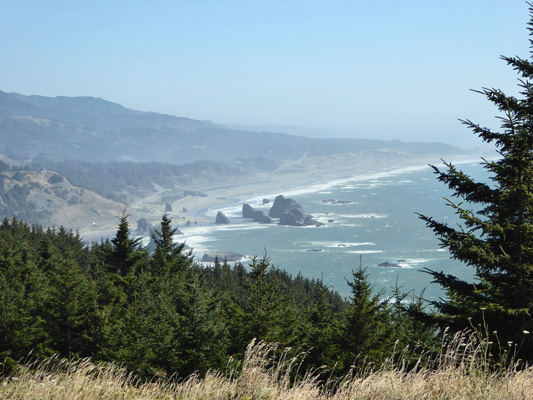 We made one more stop just north of the Myers Rock to get yet another view of this gorgeous area.

We spent Thursday doing housekeeping chores—life does go on. And on Friday August 19th we had a miracle! We were done with all the Loop A and B sites before 1 pm. Amazing! We had lunch and a nap and then I took a walk down through the campground towards South Beach.
On the way I passed the whale skull that sits in front of the Junior Ranger yurt.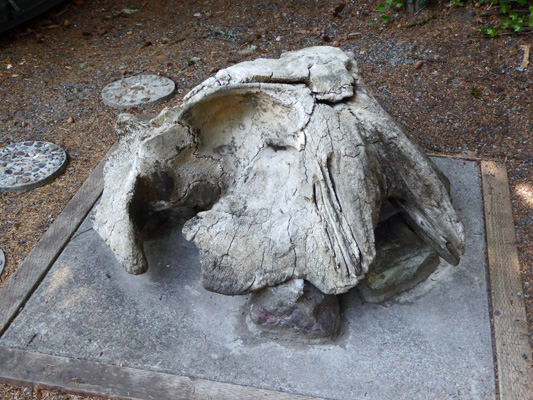 Then I followed the South Beach Trail through the woods, across the main entry road and over the the viewpoint.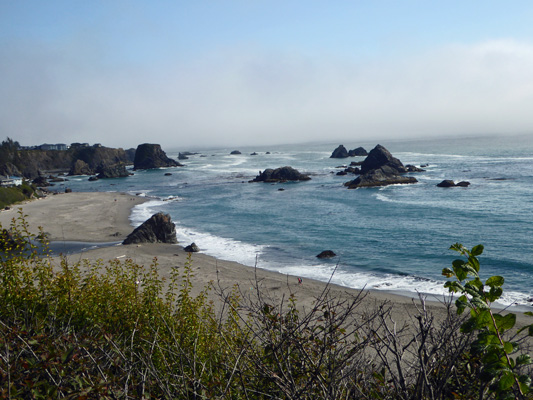 We'd started the day in the sun and then the fog swirled in. It took a long time for it to burn off again and there was still bits of fog drifting by here and there. It was so lovely that I couldn't resist heading on down the trail to the beach itself—even though it was going to be a long haul back up to the trailer.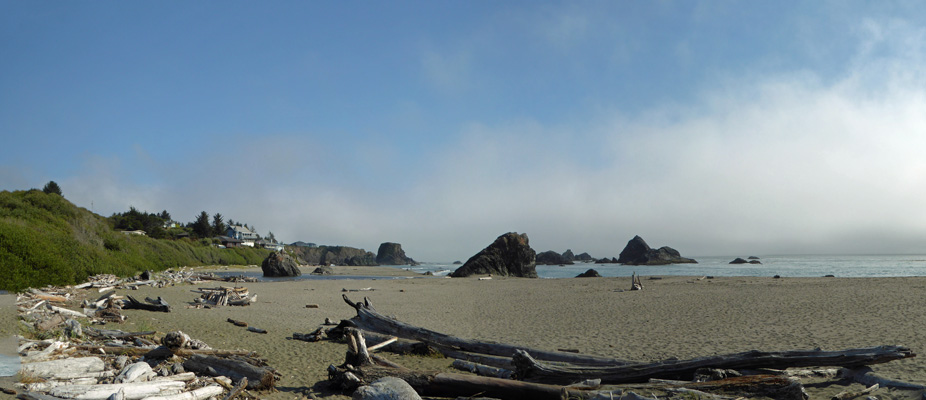 There are a few houses perched along the cliff that have fabulous views and the beach itself stretches a long way south and then northward to the rocks that divide the main beach from South Beach.
There was a family out playing in the water—even as the fog wafted in over the rocks.
The surf was great fun whether you were looking south.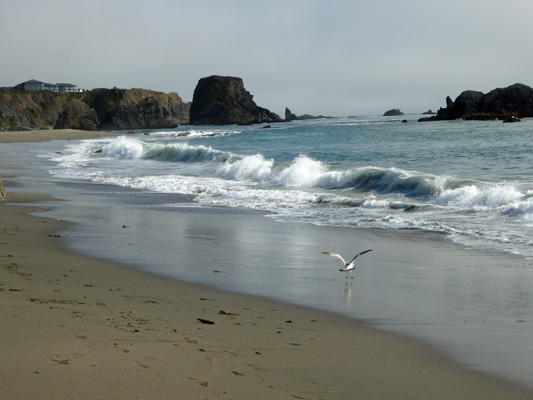 Or out to sea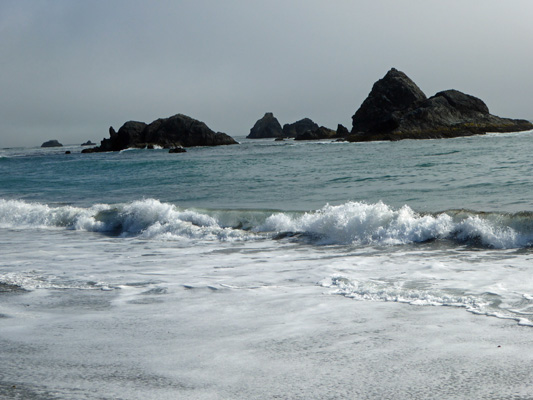 Or just right in front of you!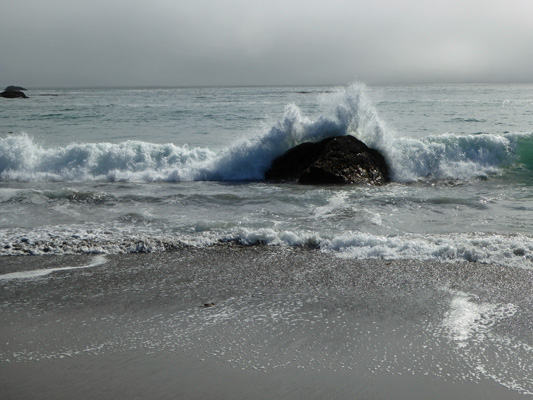 I labored my way back up the steep trail and stopped to enjoy the view at a bench.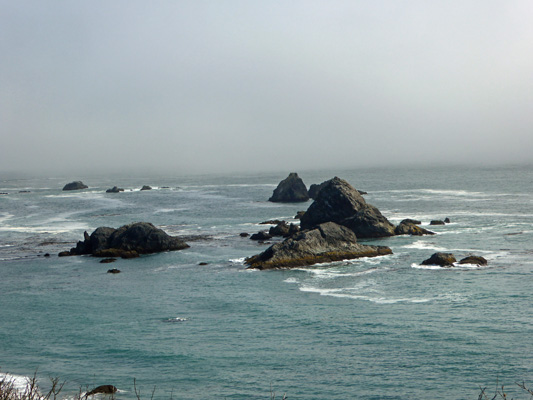 And then took the trail along the shoreline and up through the campground.
Saturday August 20th we had only about 45 sites to clean and there were two sets of hosts working. Talk about easy peasy. Even better, all of ours actually left relatively early so that by noon we'd cleaned all but one of the sites on our list. Our partners graciously took that one since they still had a bunch to wait for and we packed up were back up at the trailer by 12:30—a new record! As it turned out that one that they took was the last to leave for the day—wouldn't you know? In addition, they had two other sites that had people who were being laggers. Both said they were waiting for someone to leave so they could move to a new site. You guessed it! For the first time in anyone's memory in this park, they were waiting for each other to leave! If the folks in the booth hadn't noticed they could have waited a loooong time for their sites to empty out.
Sunday was a normal Sunday. We had lots of folks leaving but no one was in any hurry to check out. We had way too many folks who left their fires burning and our last sites were finally vacated after 1 pm. So it goes in this business.
We've both decided that while site cleaning isn't a big strain doing 5 hours a day of it is more than we really like. Maybe if it were warmer in the morning it wouldn't be so bad but by the time we get done most days we're both tired and a bit stiff from riding around and working in the cold. So while Harris Beach is a gorgeous place, we aren't planning on coming back here for another hosting stint. It's just too cold!