On Tuesday July 12th we bid farewell to Huckleberry Campground and headed north up through McCall and then down around the mountains to Weiser Idaho (home of the Old Time Fiddlers Contest). Once we crossed the Weiser River we were out of Idaho and into Oregon! We followed the Snake River a ways until we hit I-84 and then headed north straight into dark black clouds with lightening flashing across them. It wasn't long before we hit heavy rain. Twice during the drive we had to slow down to under 45 mph just to see the road. The good news is that none of it lasted very long.
We reached Baker City mid afternoon and the rain was already over. We camped at Mountain View RV Park a ways off of I-84. We had a nice spot with a grassy verge and a full hook up for $34 a night. The place filled up quickly and we were glad we'd called for a reservation a couple of weeks before. This is country that can be really hot in the summer, but we were lucky and had temps in the high 60's our first day and in the 70's the next.
After sleeping in the next morning (what a treat not to have to be up and dressed in time for the seasonals to deliver our daily arrivals report), we lolled around using the free Wi-Fi provided by the park and then got it together for a little drive. We went about 5 miles east to the Oregon Trail Interpretive Center which is up on Flagstaff Hill overlooking the Blue Mountains and Baker City.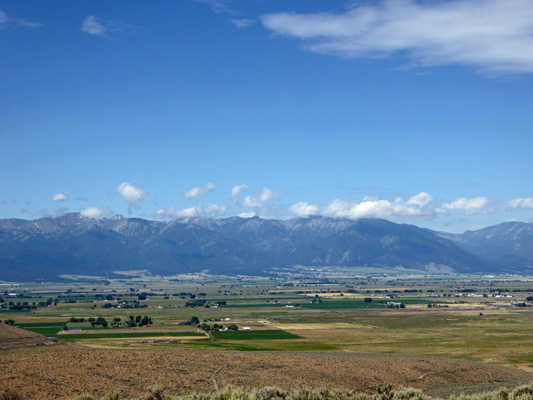 The Oregon Trail passed through this area and there are trail ruts out in the valley near here. The BLM (Bureau of Land Management) has build a very nice interpretive center here. Outdoors there is a set of replica covered wagons circled up for the night.

Most wagon trains were much bigger than this and they circled up to provide an area to keep the stock for the night. A group this small wouldn't have bothered but hey, this an interpretive display and we'd all be disappointed if they hadn't circled the wagons.
The wagon over on the right is a prairie schooner from the 1880's and she has a sign asking you not to climb on her.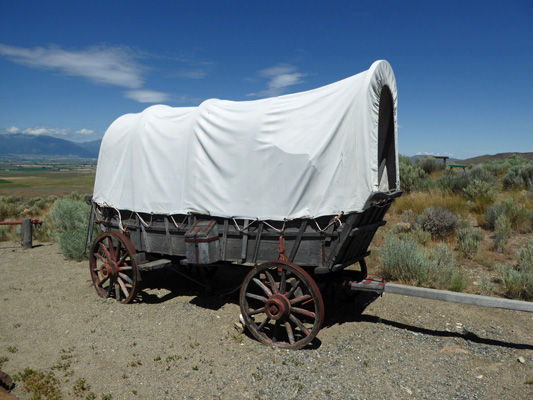 The replica wagons are fair game. These babies make our 25 foot Airstream seem HUGE. People filled these wagons with supplies for 6 months plus any worldly goods they could manage to cram in. Much of the 'stuff' they set out with was abandoned along the trail and most of the emigrants arrived at the end of the trail in Oregon City, with only their wagons and a few of their oxen and nothing else to start their new lives.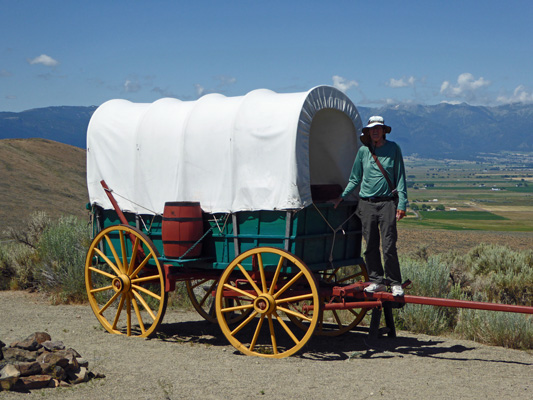 The Interpretive Center itself is very well done and there are a series of short films to watch as you go through the displays. There are also dioramas showing the wagon trains and oxen and others with the the critters and things folks saw along the way. We both enjoyed it a lot.
On our way back to town we stopped at one of the pull outs where you can hike about 200 yards out to some of the visible ruts. They allow you to walk on them (after all they got formed by people and oxen and wagons moving along) but they don't want people to create more trails in the area to confuse things so please just walk in the ruts.
This section looks a bit like a jeep trail. The original ruts were trough-shaped because the oxen were lined up in front of the wagons and their tracks were within the wheel tracks. So the ruts were not two parallel ruts but instead one deep broad one.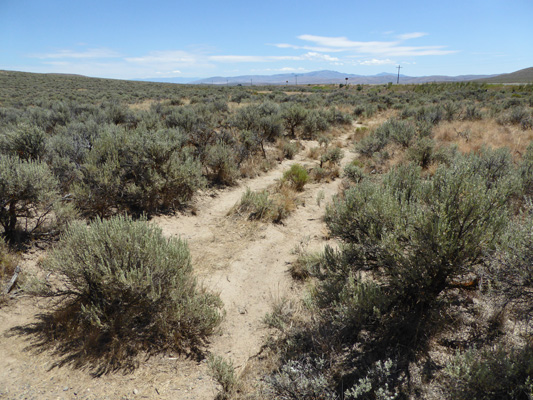 Heading out towards Baker City this is what they look like. You can find ruts like these across parts of Wyoming, Idaho and Oregon. Some are on private land but many are on public land like these.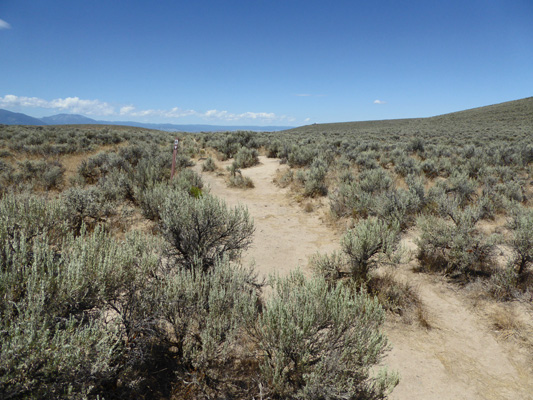 The sage looked like it was about to bloom (the rain the day before wasn't quite enough to make it burst into bloom as it sometimes does) and the rabbit bush was in full bloom.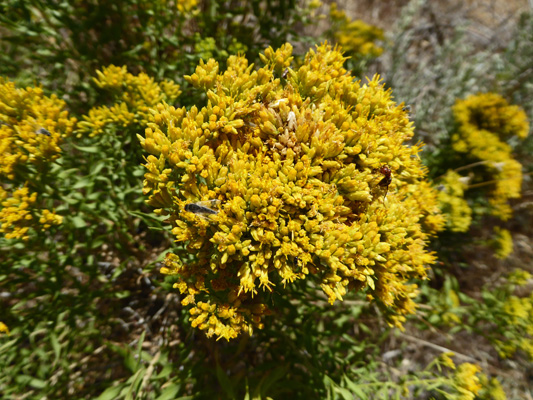 That afternoon we had a real treat: we took showers in the RV park's shower house with unlimited hot water and a big stall to turn around in rather than our small shower in the Airstream. Talk about life's little pleasures.
That afternoon the park filled up again, this time with a lot of folks who knew each other—a caravan to someplace perhaps? We both managed a nap both afternoons—heaven! Keep this up and we might both feel rested in a week or so.
Thursday morning our next door neighbor was up at 5 am breaking camp! Excuse me, 5 am? He banged around dumping his tanks and putting all his stuff away and finally hauled out at about 5:30. And then we both went back to sleep. Ahhhh.
We had a slow morning and hooked up and motored out around 11 am. We drove north and then west on I-84 to the town of Biggs, OR where we crossed the mighty Columbia River and found a one-night campsite at Peach Beach RV Park next door to Maryhill State Park on the Washington side of the river.
We got one of their last spots and wonders of wonders it had a water view! We could sit at our kitchen table and watch a large fish (trout? catfish?) leap out of the water to catch bugs. What fun!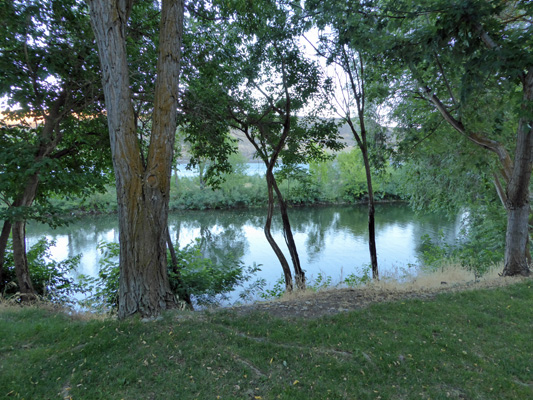 It was 87 degrees when we arrived and we were grateful for the wind off the river that helped cool things off.
The sun lit up the hills across the river late in the afternoon.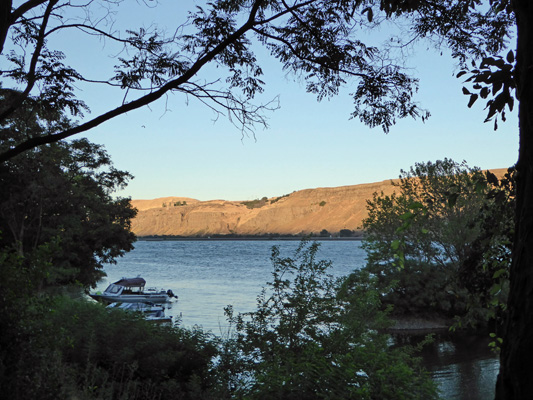 It was still in the mid 70's at 9 pm but it was nice to have a day of 'summer weather' again after the cool weather we'd had for the last week or so at Lake Cascade.
The next morning it was sunny and warm again.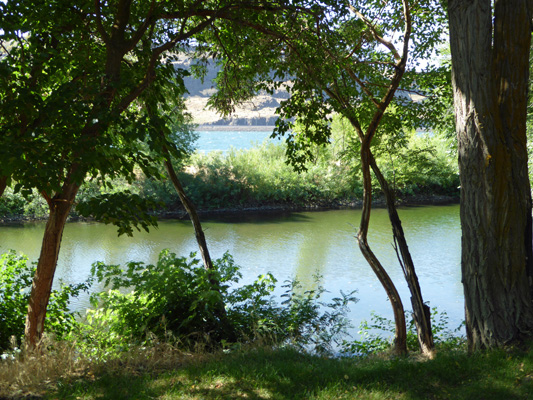 The sun was really bright out on the river.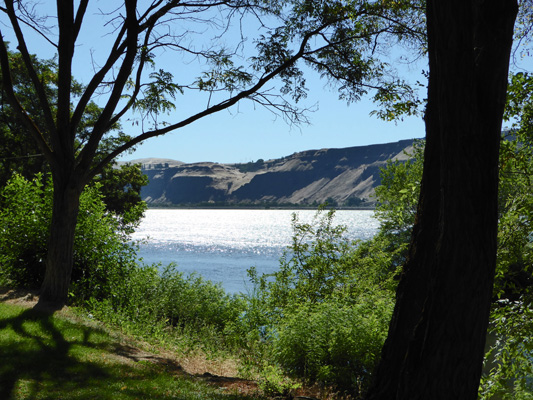 And there was a wind surfer out jumping the waves and riding the wind.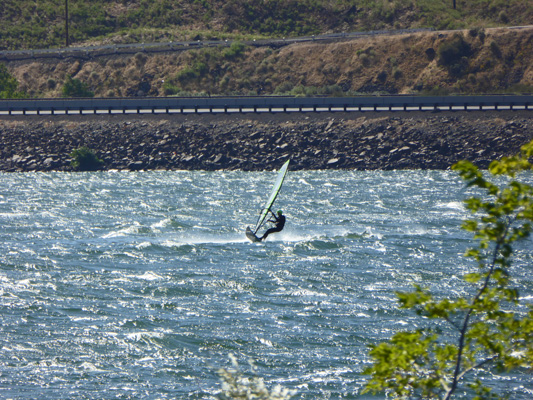 We took our time breaking camp and then motored north towards Yakima, WA and then west on Hwy 12 to Indian Creek Campground on Rimrock Lake. This is a Forest Service campground where most of the sites are reserve-able. We stayed here back in June 2014 so we were happy to make a reservation when we found an opening a week or so ago. After 2 summers in Idaho it was a bit of a shock to be back in the deep shade of a Cascade Mountains campground. The sun was out but you'd never guess it since we were in deep shade. We made lunch and then Walter curled up for a nap and I read my book. Life is good! There's no cell signal here so we had no phone or internet and no TV either and that was a nice break for us too.
In the late afternoon we took a walk around the campground and out to a view of the lake—looking eastward across Rimrock Lake.

This is a reservoir and clearly it's not very far below full pool. It empties out into the Tieton River which runs down to Naches and Yakima providing water for the orchards in the area. When it's hot in Yakima this is a very busy lake. But it was only in the low 80's down there which meant it was only about 72 up in the mountains so things were quiet on the lake.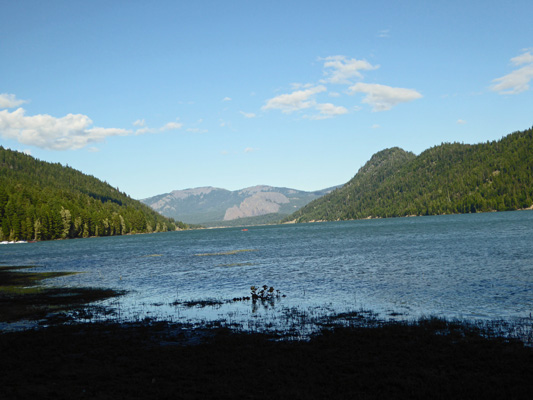 The campground had been basically empty when we arrived at 2:30 but it was nearly full already by 6 pm and would finish filling up by evening. There are no hookups in the campground (of course since it is Forest Service) and with no sun we actually had to hook up our generator and run it to charge up our batteries. We haven't had it hooked up for months so it was a bit of a shock to the system to have to pull it out and get it going. We'd changed the oil and gotten it started up before we left Huckleberry but it's amazing how quickly you forget what it sounds like! Even a super quiet Yamaha is LOUD when everyone around is quiet.
Saturday morning, we made a picnic lunch and set out to take a hike at Conrad Meadows. The last time we were here that was our goal too but it was cold and wet and we opted to go east instead. This time, we drove around Rimrock Lake and out Forest Road 1000 for 7 miles of paved one-lane road with turn-outs until it turned to a slightly wider gravel road. Another 7 more miles and we found a nearly full parking lot and a bunch of folks camped out in a meadow (on private property). This is checkerboard country where private land alternates with public land. The private land looks like it's mostly summer cattle pasture. And they allow you to camp here and also to hike through their pastures.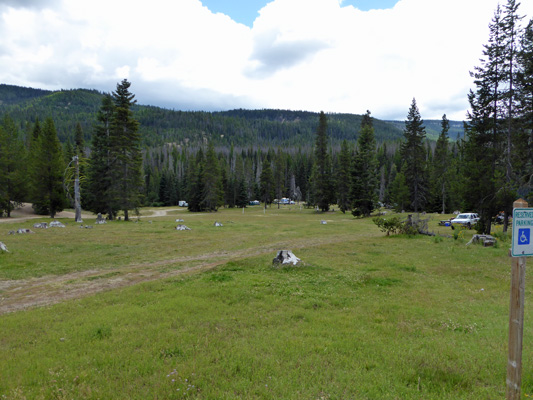 The main flower along the road up to this point was Butterweed Groundsel (Senecia serra) which looks a great deal like Tansy Ragwort but isn't.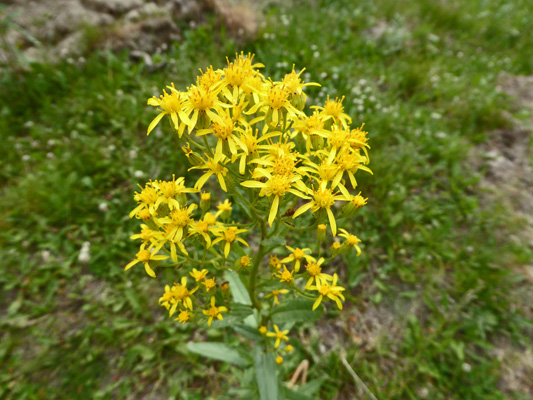 We put on our boots, read the not very helpful map at the trailhead and set out up a short stretch of road that is gated at a private property line. Here we took the trail on out into the meadows. There were Three-nerved daisy (Erigeron subtrinervis) in bloom here and there.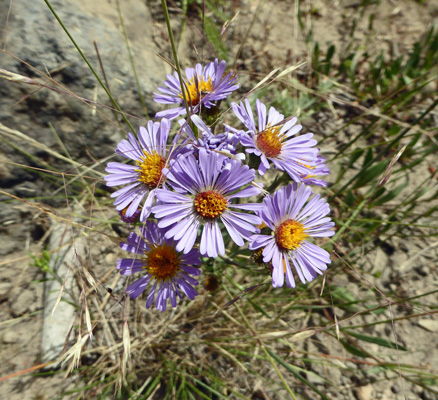 We crossed a little creek using logs as a bridge.
And I discovered a nice patch of monkey flower and saxifrage in bloom along its banks.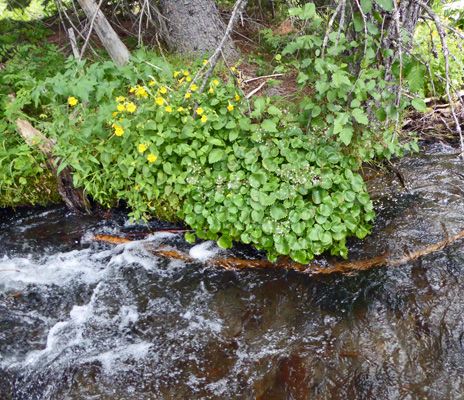 In fact, there were clumps of Seep Monkeyflower (Mimulus guttatus) all along the creek bank.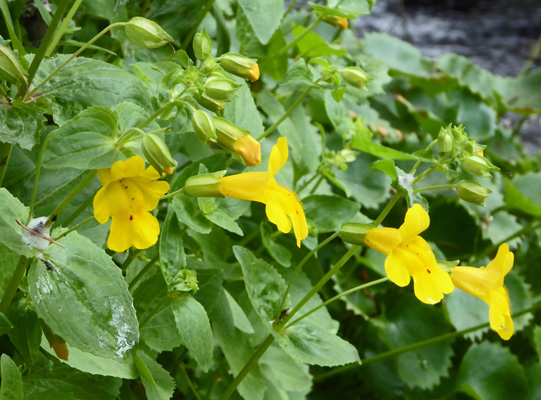 But I didn't see any other Stream saxifrage (Saxifraga odontoloma) at all.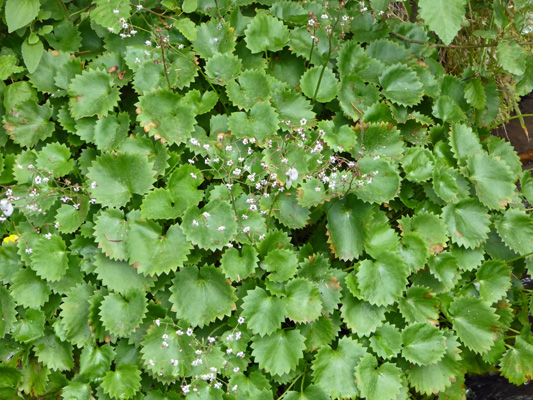 On the other side of the creek there was what I think was Gairdner's yampah (Perideridia gairdneri) in bloom in a wet spot.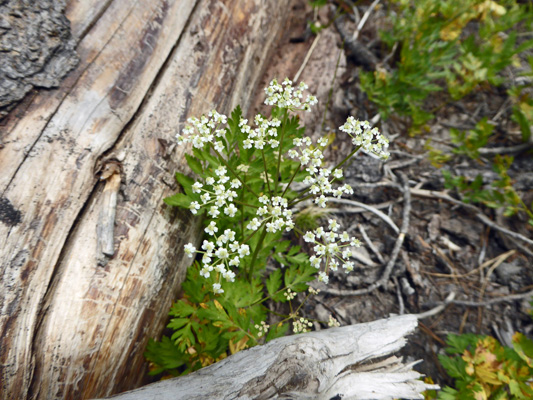 We hiked a bit further and then got to cross yet another little creek. Here we met a fisherman who was making his way back from the meadows. He didn't bother with the wood planks but instead walked right through the creek in the area where the horses go through. We took the planks and I got this shot from the middle of the crossing.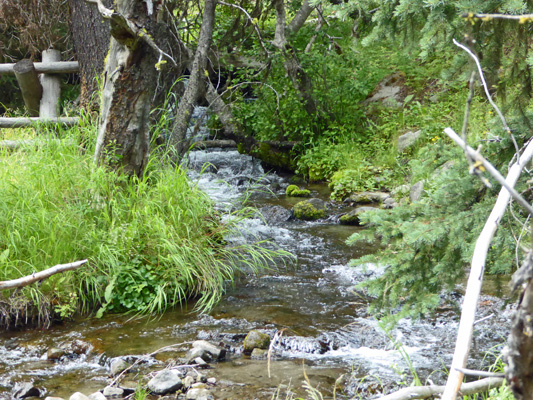 The meadows appeared to be past peak in terms of flowers but it was still a nice hike. There were Fivefinger cinquefoil (Potentilla gracilis) in bloom here and there.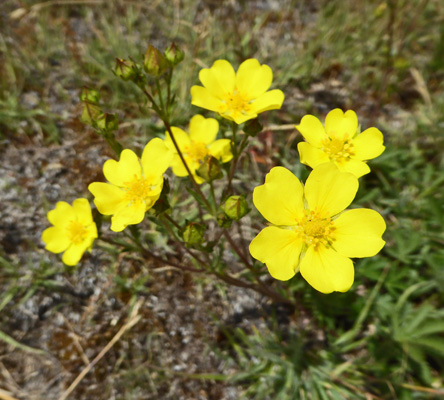 And big patches of lupine too.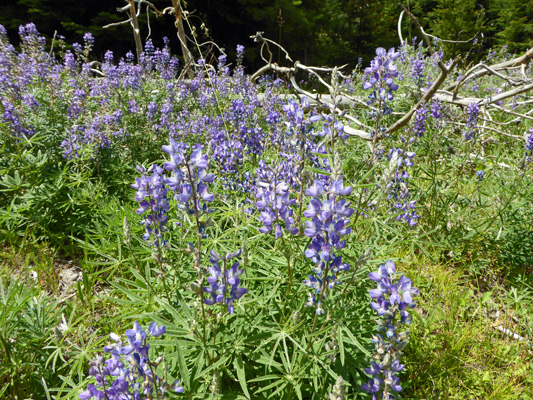 We wound our way across the meadows (waiting for 4 horseback riders to pass at one point) and eventually came to a place where we could see the mountains off in the Goat Rocks Wilderness which is right next door.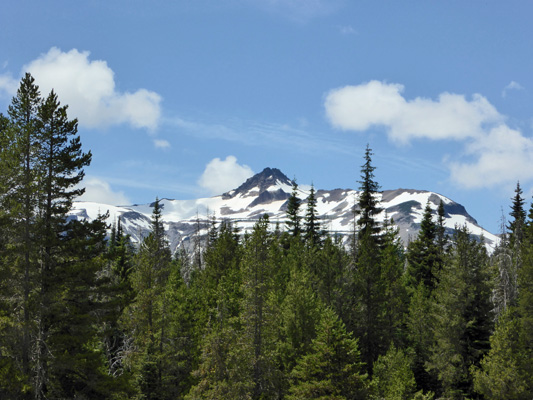 Walter found a fallen tree to rest on as I wandered around taking photos of the meadow.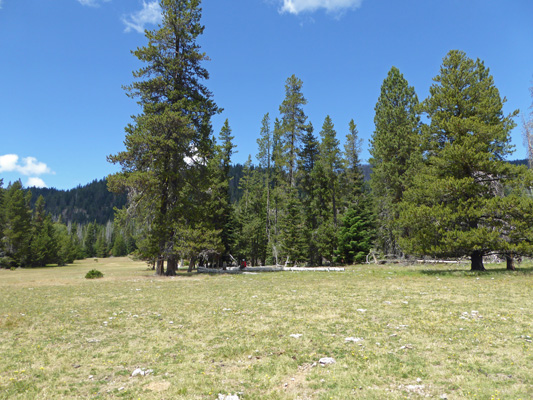 And of him.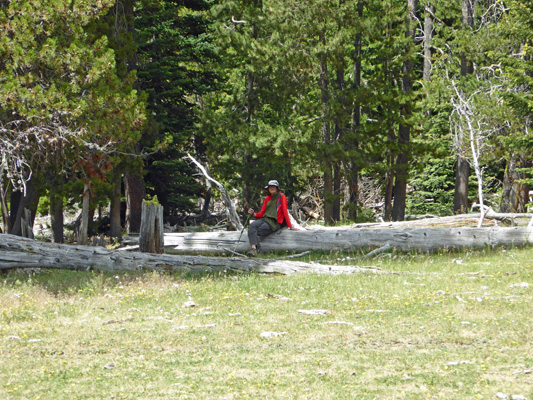 I found one lone Orange Agoseris (Agoseris aurantiaca) blooming right in front of him.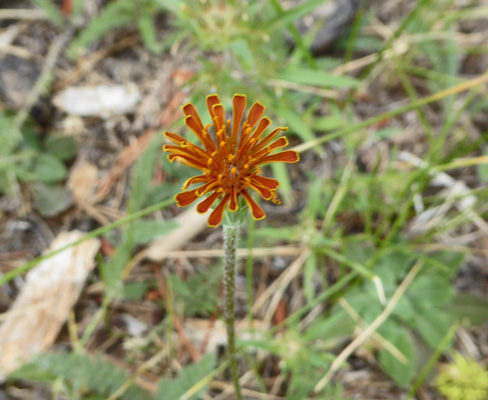 We turned around here and headed back. On the way back, I found a couple Hooded Ladies' Tresses (Spiranthes romanzoffiana) still in bloom.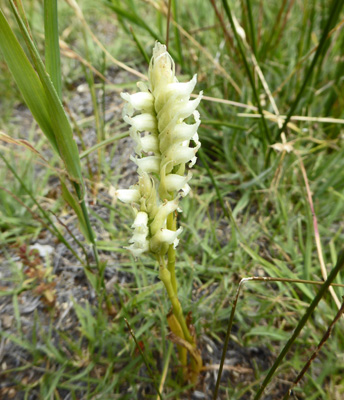 And some Oregon Checkermallow (Sidalcea oregana).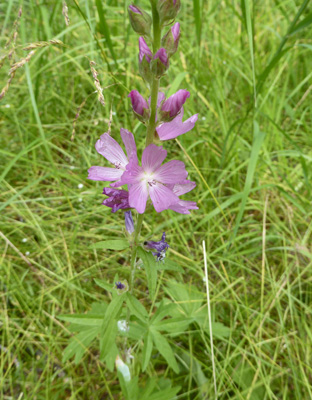 And I finally got a decent photo of the Gold Stars (Crocidium multicaule) I'd seen all along the way.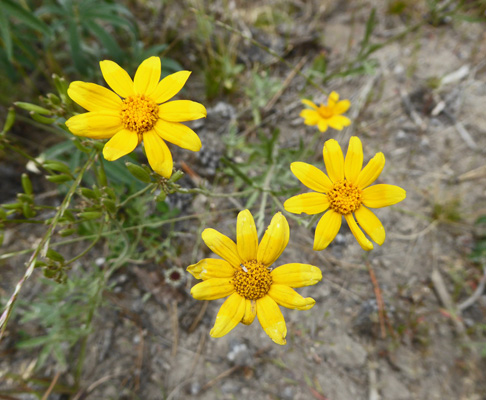 Some Silverleaf Phacelia (Phacelia hastata) caught my eye.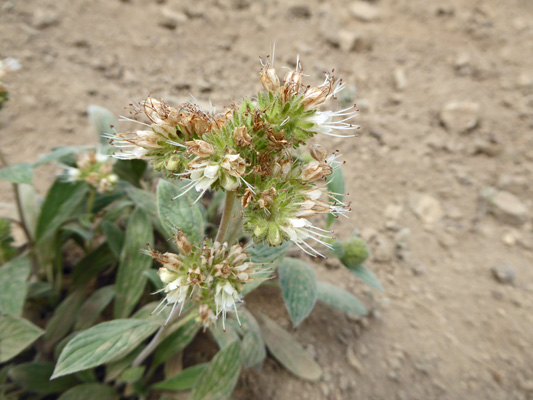 And just beyond it I noticed some interesting light blue stuff in bloom. It turned out to be Whitestem frasera (Frasera albicaulis).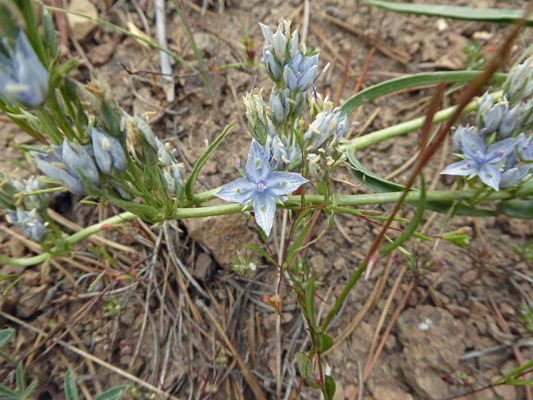 Once we were back, we headed on down the road and had our picnic in the totally empty Minnie Meadows Campground. There's a lot of free dispersed camping along this road so I guess folks don't see the point of paying to camp in the campgrounds up here.
We completed our loop of Rimrock Lake (and Clear Lake which is just west of it) and were back at the campsite by mid afternoon. So we took a nap. Ain't it grand?
The last time we camped at Indian Creek it was cold and cloudy so we didn't really realize how dark it was. This time, we could sit in our very dark trailer (we were parked in full shade) and watch the sun peak through the trees here and there and realize we were in DEEP woods. After camping in full sun for 2 months at Lake Cascades the deep shade was a bit of a shock. But you know, if it was HOT that shade would be very welcome.
It rained lightly in the early morning on Sunday June 17th but it had stopped and the sun was out by the time we got up. We broke camp and headed west on Hwy 12 up over White Pass and into western Washington. It was cloudy but we didn't hit any rain for a change. We did hit traffic west of Randle where there was a multiple car accident that had traffic backed up in all directions. There was a trailer or two involved (though they didn't look badly damaged) and LOTS of emergency vehicles. The detour took a few minutes but it wasn't any big deal.
We arrived safely at Ike Kinswa State Park just outside of Mossyrock, WA in less than 2 hours even with the traffic. We had a reservation here too since it's a popular place and we were glad we did. We got a nice big spot with an opening in the trees out our back windows so we actually got a bit of sun in the afternoon. We had a phone signal here on both of our phones but no hot spot and no TV. So we had yet another day of internet fasting which was a good thing.
We had lunch and went out to explore the park since the weather forecast said it was going to rain the next day. We wandered around our campground loop and found the restrooms which had showers that took tokens but no info on where to get the tokens. We had a map of the park and it looked like there should a trail so we wandered around until wonders of wonders we stumbled upon an actual trail sign (we'd been walking along all the 'kid trails' before that point). So we followed it out for a view across Maryfield Lake.
There were a few folks out fishing in boats but mostly the lake was pretty empty.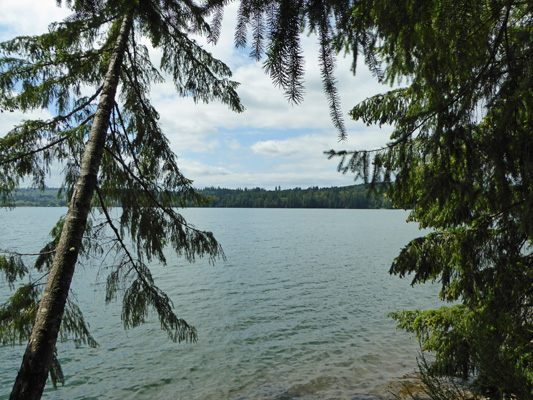 Maryfield Lake is at the confluence of the Cowlitz and the Tilton Rivers. The trail took us along the shores of Maryfield and then around the bend to the shores of the Cowlitz River.

Here, you could actually get down to the rocky beaches and play in the water. And there were far more boats in the water too.
We walked along until we came to a wide grassy area with a beach.

By this point, we were pretty turned around and while we knew we were in the park we really didn't know where. We stopped and talked to some folks who said there was a trail back into the campground just behind them. We found it and proceeded to wander around in the wrong direction (even when aided by the numbers of the campsites). Eventually we made our way back to our own campground loop and found our trailer without much of a problem.
The clouds came in that night and we had light rain/mist off and Monday July 18th. What do you do on a rainy day? You drive to nearby Mossyrock and do laundry! Exciting, no? Even when you live on the road, you have to do laundry some time.
On Tuesday July 19th we motored west to I-5 and then north to Lacey, WA for a night at the Washington Land Yacht Harbor before taking Genevieve in for her final warranty repair the next morning—the replacement of a part that they had to order back in April.