On Sunday October 13th, we left Heron Lake State Park and followed Hwy 64 right on into Taos, through old town (boy is it narrow through there when you're pulling a big trailer) and on to Estes Es Rd. (which means This Is It Road) and the Taos Valley RV Park. We had a reservation for a full hook up pull through site and we were happy to pull in and set up knowing we'd be staying put for 6 nights. More cold nights were in the forecast so we just filled up our water tank and left the hose disconnected. We like to be cautious about having a frozen hose connected to our plumbing.
The WiFi was good here and while there was no Cable TV there were a few stations available over the air including PBS so Walter found a few things to watch from time to time.
Monday October 14th, we got it together after a slow morning and headed into Old Town Taos. We parked on the edge of the historic district in a dirt lot because parking is at a premium on the street (and they have meters) and with a big truck it's even more interesting. We hiked up the hill and our first view on Kit Carson Road was of Casa Benavides Inn.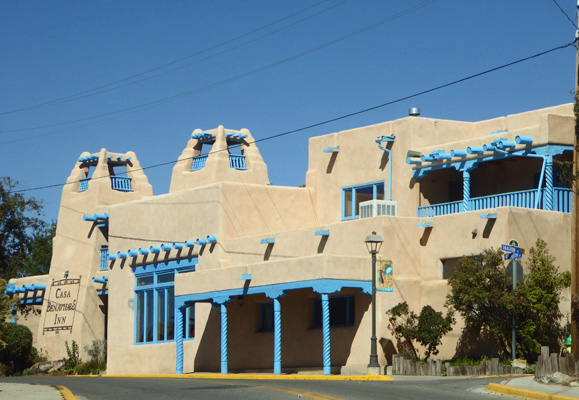 I love the color combination and the carved pillars.
This street is lined with old historic adobes (set back from the street so you can barely see them).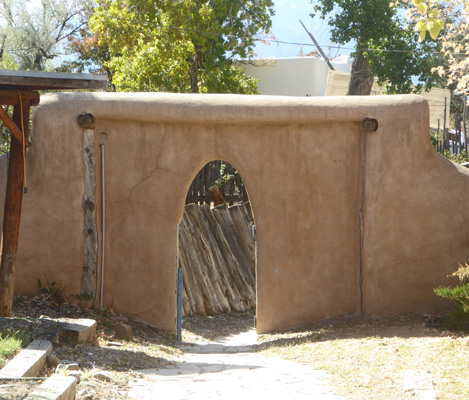 and tons of art galleries.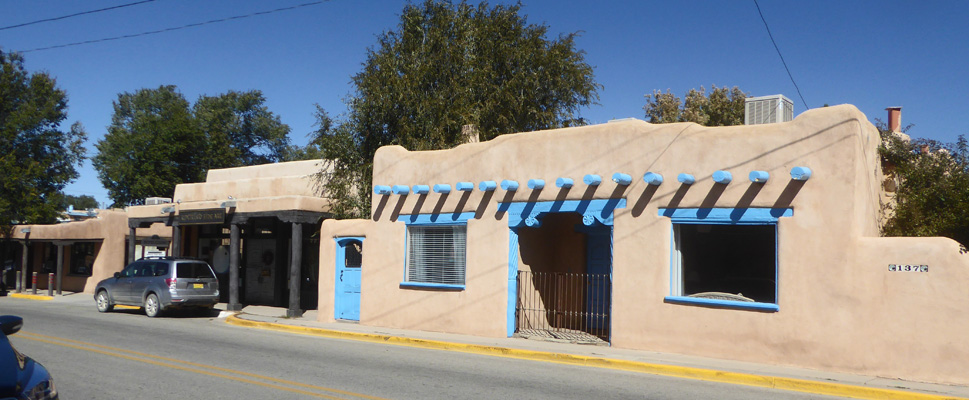 Admittedly this is a tourist town but I have never seen so many galleries in a small town that wasn't super duper upscale. Taos is fun and it's picturesque but it's not all that upscale. So all I can say is people must come here specifically to buy art.

Kit Carson's house is logically on Kit Carson Road.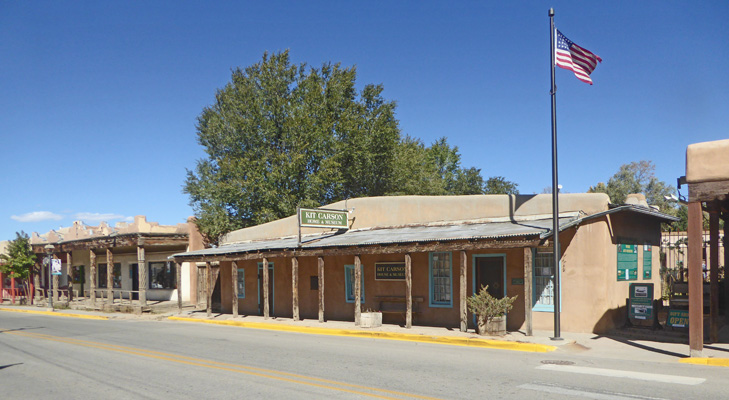 The Taos Plaza was established in 1796 as part of the Don Fernando de Taos Land Grant. It served as a fortification and as a public square.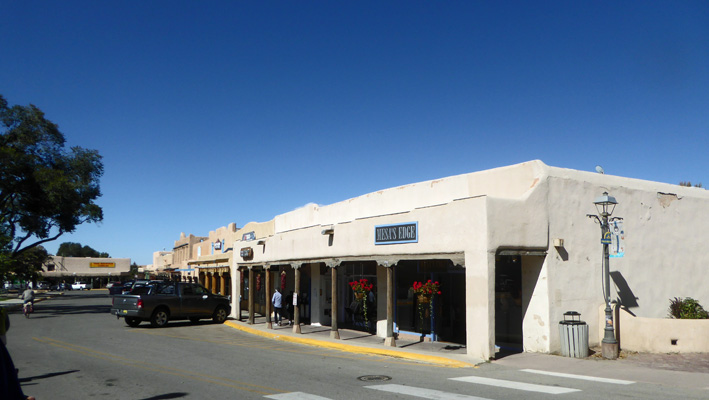 There's a band stand in the middle of the square where they have free concerts in the summer.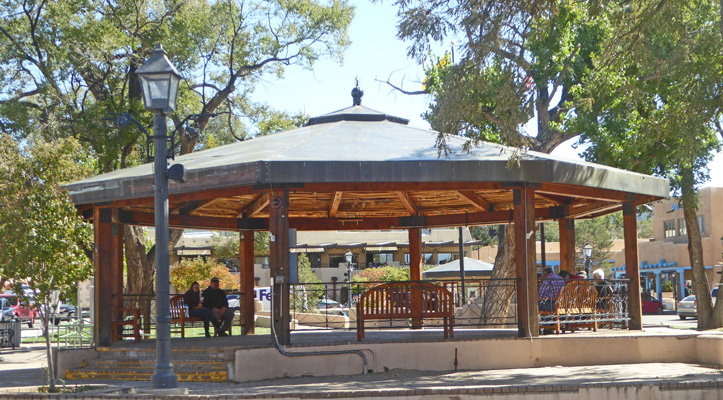 We walked the entire circuit peering into shop windows (mostly galleries but there are a few restaurants and curio shops).
Georgia O'Keefe is very popular in all of northern New Mexico so I wasn't surprised to see this quote from her outside one of the shops.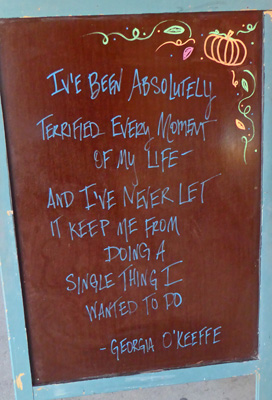 Lots of the galleries had wonderful pueblo pottery on display along with paintings and lots of jewelry.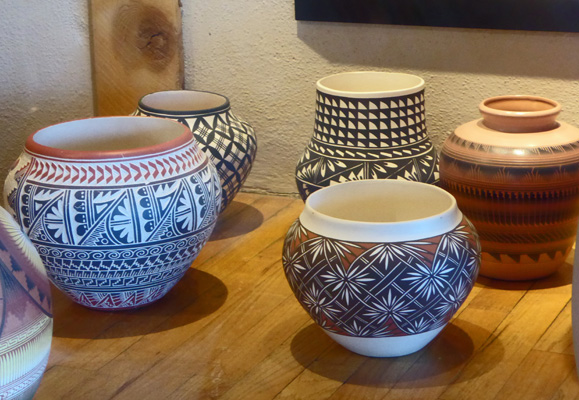 The Hotel La Fonda de Taos has housed a hotel of one sort or another since 1820.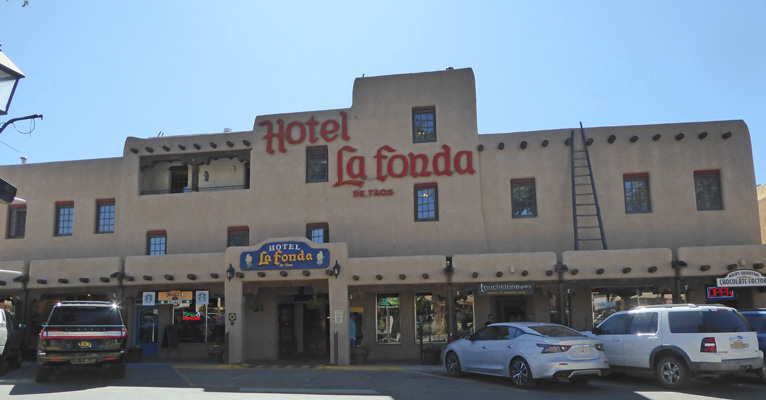 While the Taos Mercantile Co. looks like It's been there forever, it's just one of the many stores facing out on the plaza.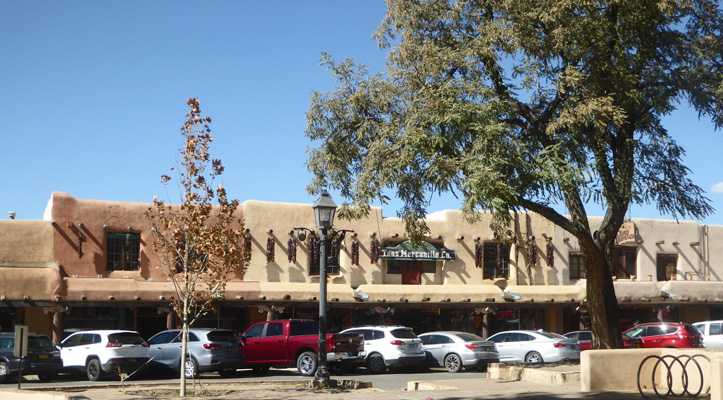 We wandered up some of the side allies and then came back down the main drag (Paseo Pueblo Norte) getting our fill of galleries. Once we were full, we waited at the main intersection of Kit Carson and Paseo Pueblo Norte to cross the street and I took a photo of this mural on the side of one of the more picturesque buildings.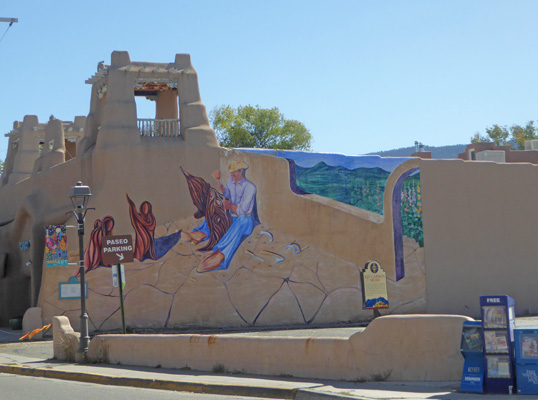 We walked down the other side of Kit Carson Road this time and stopped to look into the inner courtyard of the Kit Carson House. Kit Carson lived here with his wife Maria Josepha for 25 years.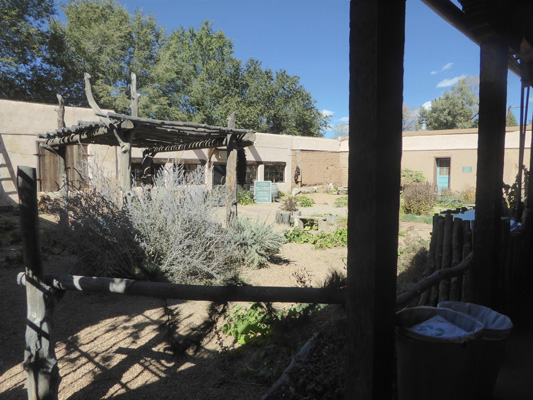 We went and explored Cid's Grocery—Taos answer to PCC and Whole Foods—and managed to forage some lunch there. Then on our way back we made our way to the local cathedral, Our Lady of Guadalupe.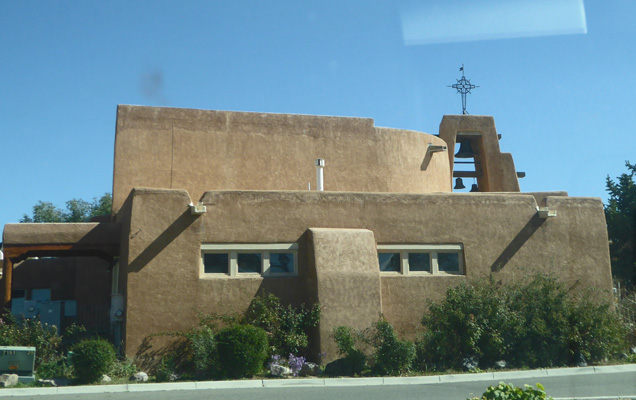 That evening we had a nice little sunset.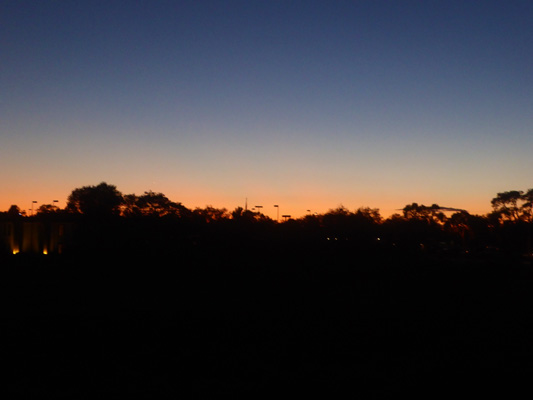 The next morning we set out to drive what is known as the Enchanted Circle Scenic Byway. It makes a loop starting in Taos going north through Questa and then up into the mountains and back down again to the south end of town.
Since we were staying in the south end of town we started by driving up Hwy 68 back through town. As we waited at a light on the north end of town I had to laugh when I spied this sign. Someone has a sense of humor.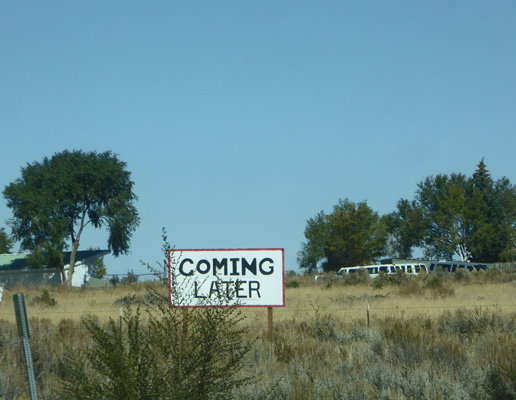 Not long after this Hwy 522 splits off and takes you to the town of Questa (no great shakes). There you pick up Hwy 38 which takes you up into the mountains past lovely rock formations.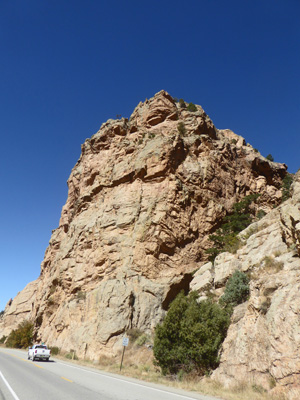 Taos is nearly 7000 feet in elevation so the mountains here may not look real high but they are.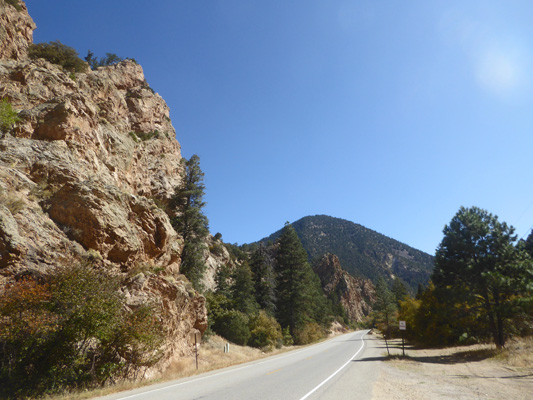 There was some fall color and lots of interesting rock formations.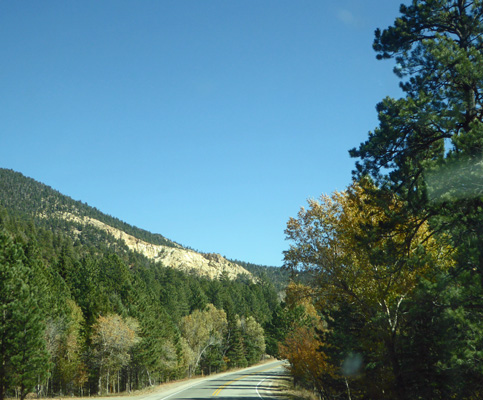 In time, you come to the little mountain/ski town of Red River. The setting is very similar to Leavenworth, WA. It's nicely forested, there's a river running through it and lots non-chain of hotels. It hasn't resorted to the Bavarian theme that Leavenworth has but I could well imagine that Leavenworth might have looked like this 50 years ago.
They have a little ski hill along with things like white water rafting and horseback riding.
The road really heads uphill at this point and the mountainsides were streaked with yellow aspens.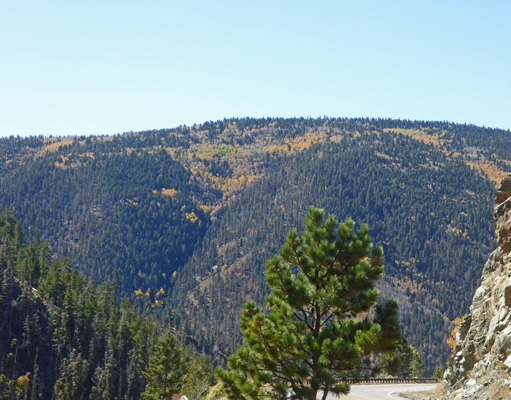 You go over Bobcat Pass at 9,820 ft and then start to come down into a wide high elevation valley.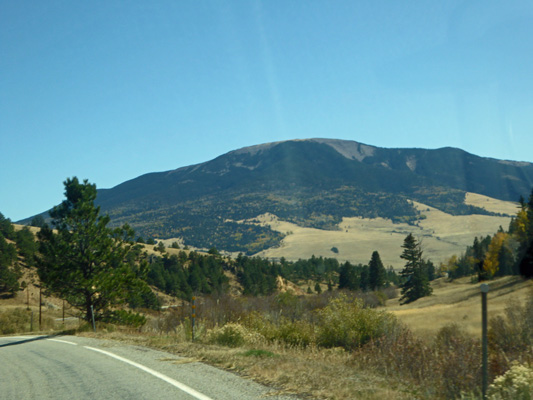 These kinds of valleys aren't my favorite but I am fascinated by the fact that they exist at all.

There was an historical marker so we pulled over and it told us all about Wheeler Peak, the highest point in New Mexico at 13,167 feet. It's much more impressive looking from the Taos side.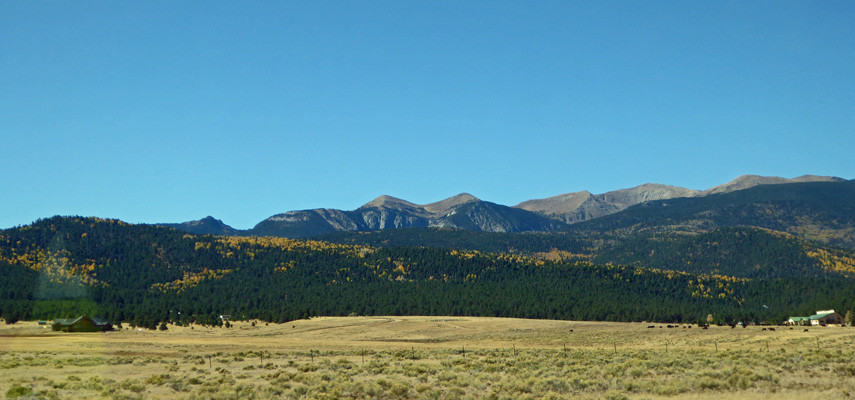 At the little town of Eagle's Nest Hwy 38 dead ends into Hwy 64 and we followed it southwest back through the forest where there was lots of fall color.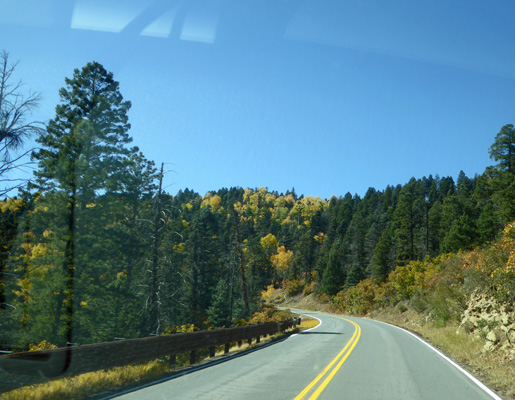 We stopped at Palo Flechado Pass (Arrow-covered Tree Pass) to have lunch and enjoy the fall color.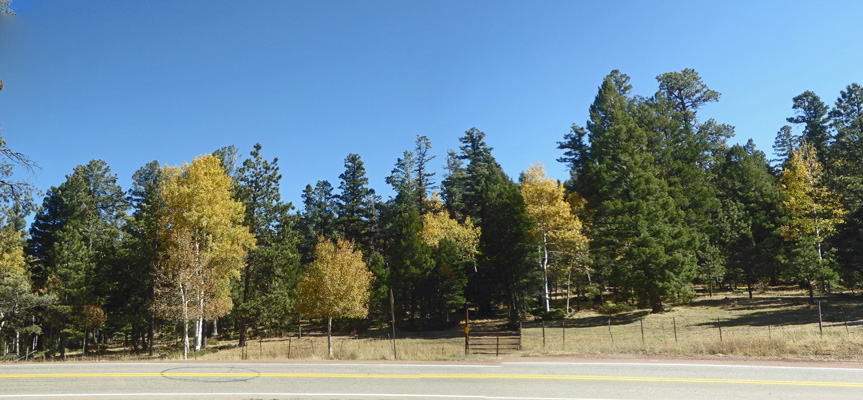 The sun was really bright which made taking photos kind of challenging but I couldn't resist all that yellow on the mountainside.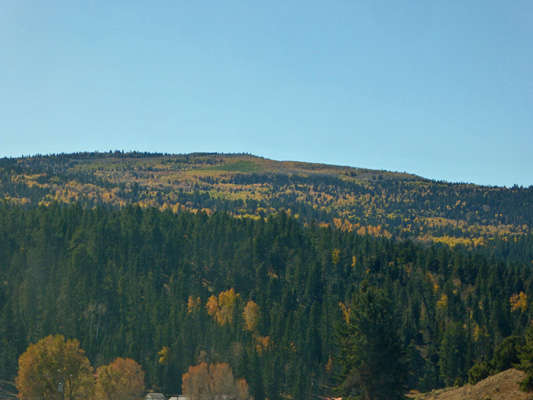 The road twists and turns and stays in the trees for most of the drive back down into Taos. We both enjoyed the tree-lined mountain canyons on both ends of this drive.
That evening, we had another nice little sunset.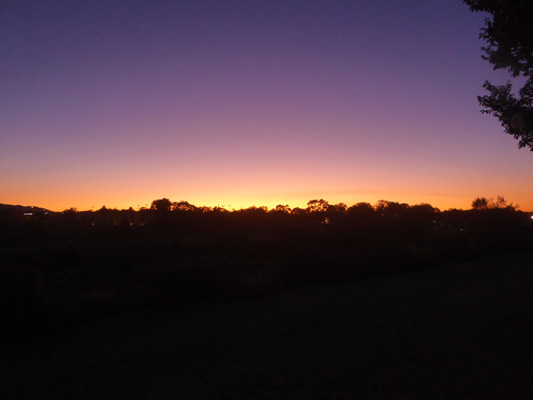 Wednesday Oct. 16th, we headed out of our RV Park and I managed to get a photo of the Sange de Christo Mountains as we went up the road. I think that Wheeler Peak is the on on the far right.

We drove up through town one more time and as we left town behind I managed to get another shot of the mountains. Now it looks like the mountain on the left is taller but I think it's just the angle.

We turned northeast on Hwy 150 towards the little town of Arroyo Seco and along the way got more nice mountain views.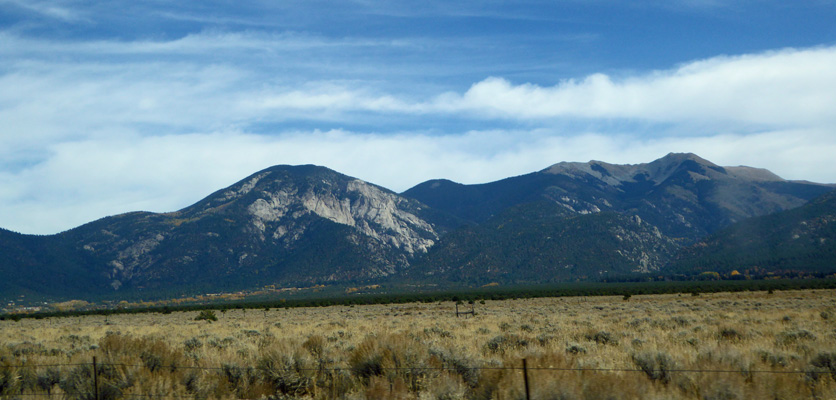 That interesting baldish mountain kept getting bigger until you could see the aspens painting the lower slopes.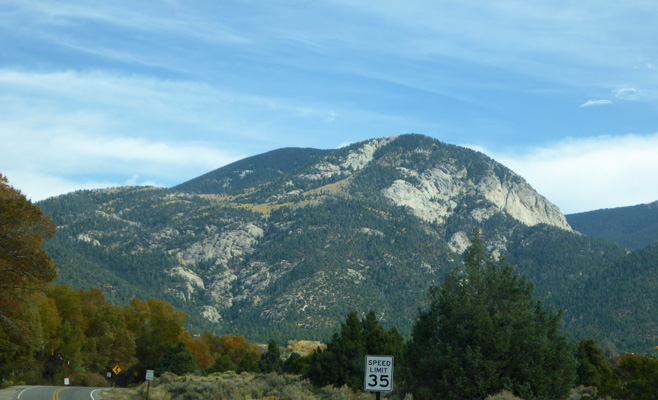 We drove on through Arroyo Seco which is another little artists community with almost no parking. I kept trying to capture the yellow that painted the mountain slopes.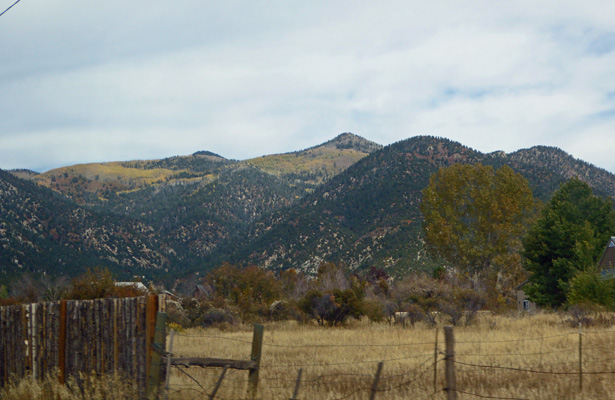 The road twists and turns up through National Forest following a creek. There are little pockets of houses here and there until you finally reach Taos Ski Valley. This turns out to be a BIG ski resort with all sorts of hotels and condos nestled at the bottom of the ski runs.

There was a lot of construction activity going on –no doubt trying to get everything done before the snow comes. Along with the ski resort there is access to trails leading up into the higher reaches here too.
On the way back down I was fascinated by the streaks of aspens leading up and a cross the mountains.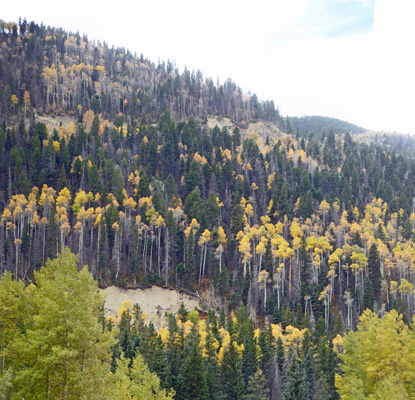 There was some great fall color right in front of a construction site.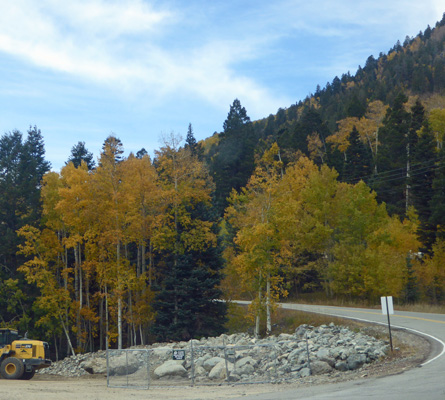 Once we were back down out of the mountains I stopped to get a photo of the fall color along the Hondo Rio just outside of Arroyo Seco.

When we got back to Hwy 64 again, we decided to make the short drive west on Hwy 64 to the Rio Grande Gorge Bridge. We'd crossed this bridge when we arrived on Sunday but we didn't stop since we were pulling the trailer. There's parking on both sides of the bridge so I found us a spot on the east side and hiked out to see what I could see.
First off, I spied some Rocky Mountains Big Horn Sheep just on the other side of the highway fence.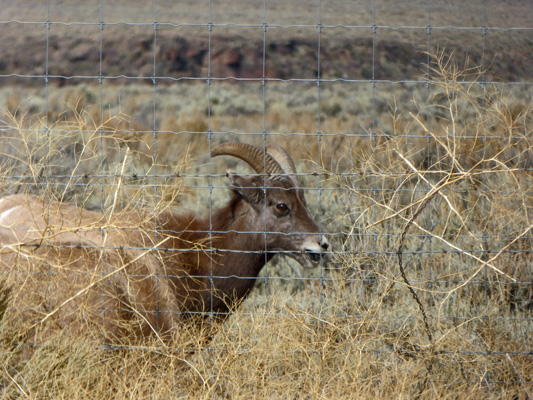 Big horn sheep were wiped out of all of New Mexico by 1900 but have been slowly reintroduced in the mountainous areas. In 2005, the Taos Pueblo took a few of the sheep from the upper reaches of their reservation and reintroduced them here along the Rio Grande Gorge. There are now nearly 350 of them scrambling up and down the 650 foot cliffs of the gorge and out onto the grassland.
Here's a view that gives you an edge of the gorge and the grassland. The white dots on the right are sheep.

As you make your way across the bridge you get a nice view straight down to the river.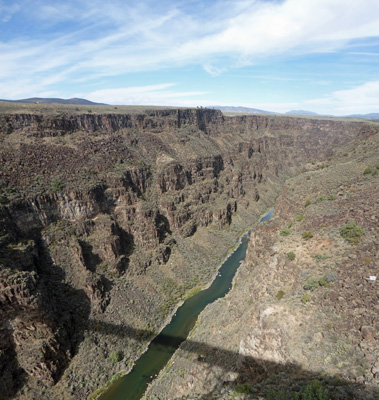 And you can look east to the mountains

I scampered across the highway and got a photo of the river and the gorge looking south.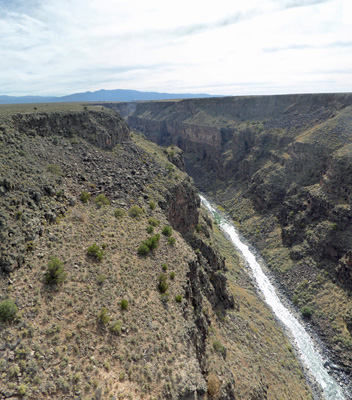 On my way back to the truck I managed to get some more photos of the sheep. There were about 30 of them in all.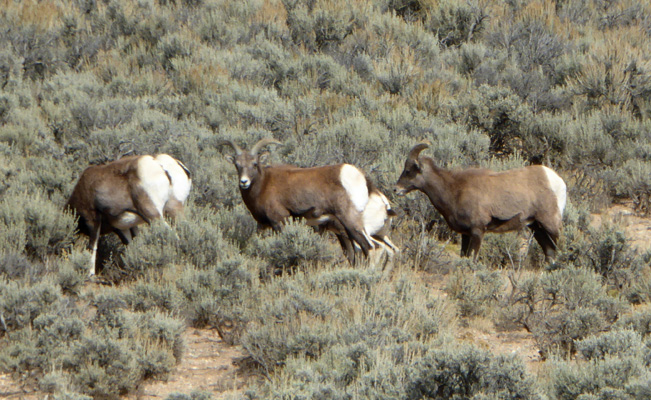 This mom and her lamb were out on the edge of the gorge.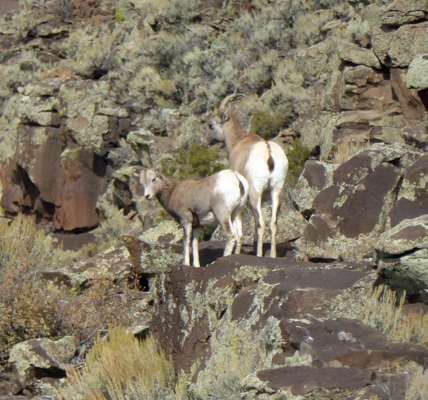 While I might not enjoy making my way down all those rocks down to the water, I think they were built for this terrain.
Thursday we took the day off to do grocery shopping and to rest (what a concept).
On Friday October 18th, we set out to drive what are known as the Low Road and High Road from Taos to Santa Fe. In actuality we didn't go all the way to Santa Fe but we did drive south to Espanola on the Low Road and then returned on the High Road.
We started out from Taos Valley RV Park and went south on Hwy 68 just a little ways south to San Francisco de Assis Church in Ranchos de Taos. This is one of those places that everyone and his brother (including Georgia O'Keefe) has painted and photographed. So I had to join the club.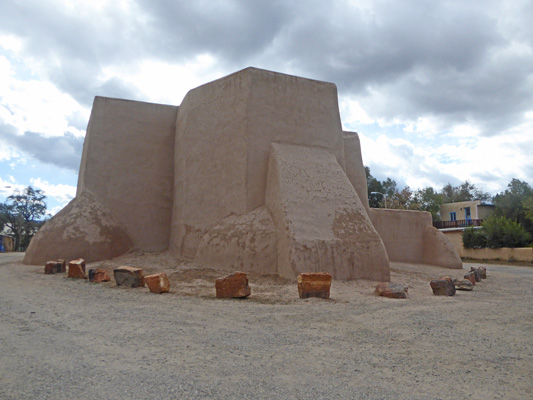 This is the back of the church. Those large supports were thought for years to be fortifications but in actuality they are just there to keep the walls from falling down. This is the side of the church that everyone paints.
And this is the front which is very nice too.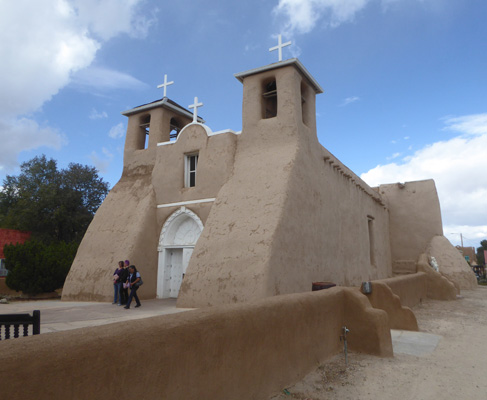 We drove on south along the Rio Grande Valley.
Just before we reached the little village of Pilar, we came to a lovely little valley with cottonwoods that had changed color.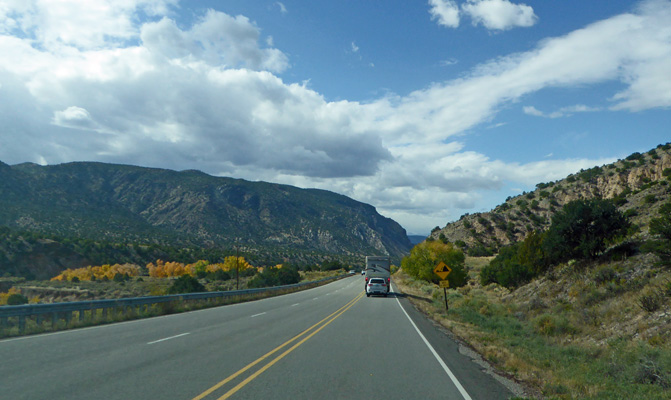 At Pilar, we turned west on Hwy 570 into the Orilla Verde National Recreation Area (which is also part of the Rio Grande de Norte National Monument). The road follows the Rio Grande through part of the Rio Grande Gorge down at the river level.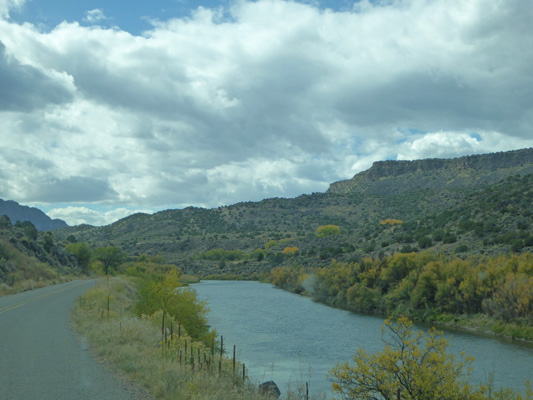 We drove out to two campgrounds that have electrical hooks up (they're all first come first served here) to see if we wanted to chance staying there for the weekend when we knew we'd need electricity because it was going to be COLD.
There was only one spot open at noon on Friday in the nicer of the two campgrounds and we weren't particularly enchanted with the other campground so we decided we'd take a pass on three nights in the gorge and instead see if we could find some place in the Santa Fe area to stay. But we were glad that we'd taken our drive through the recreation area and seen what we could see.
There were cottonwoods that created great fall color in the gorge.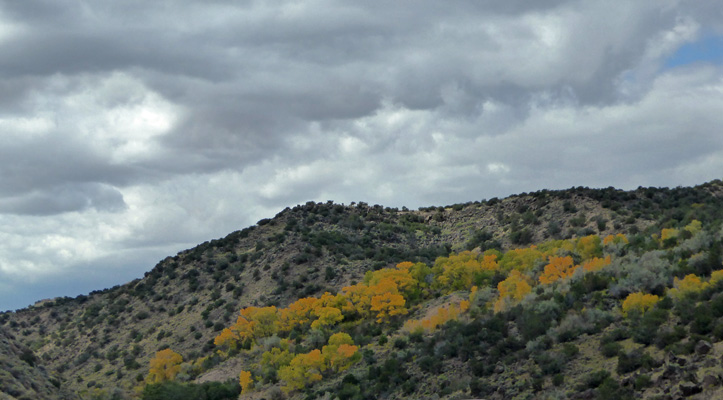 It's pretty arid county so there must be springs that support the trees.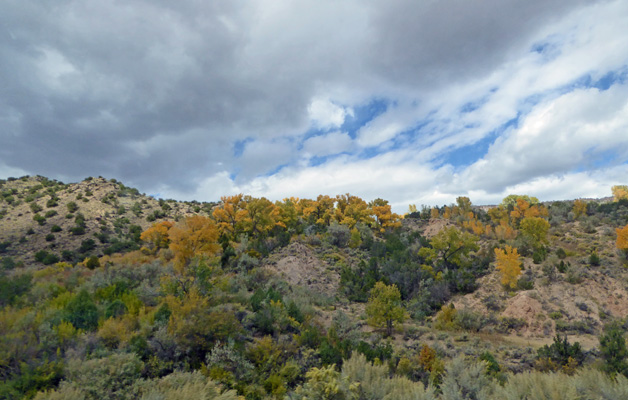 We rejoined Hwy 68 heading south and hit a repaving project that slowed us down but we got to pass very close by theis amazing fire-breathing piece of equipment that was warming up the pavement to receive new asphalt.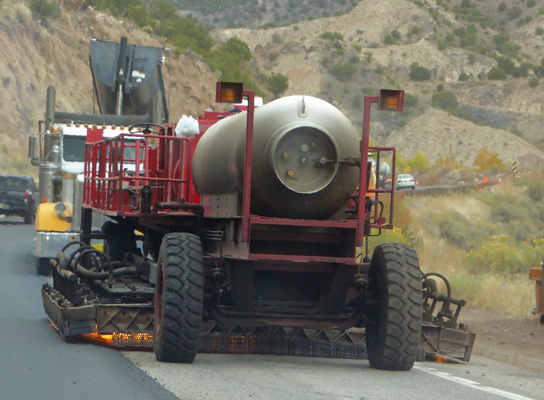 These cottonwoods were growing right on the banks of the Rio Grande.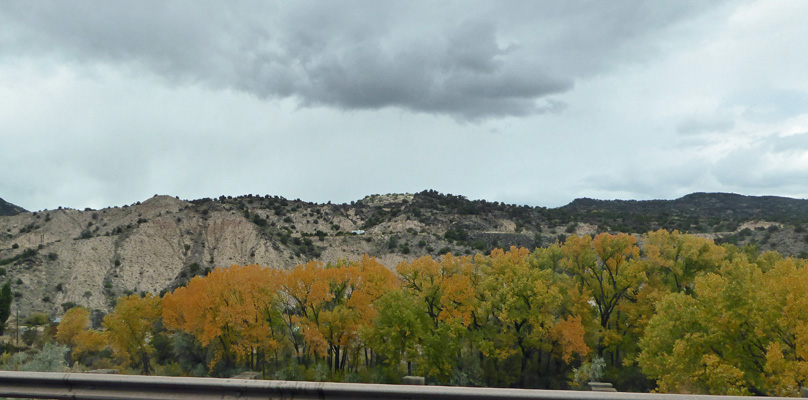 As you can see.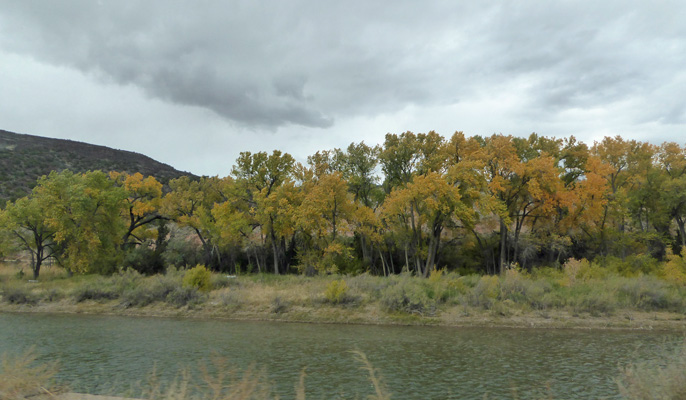 The fall color was the best part of the drive.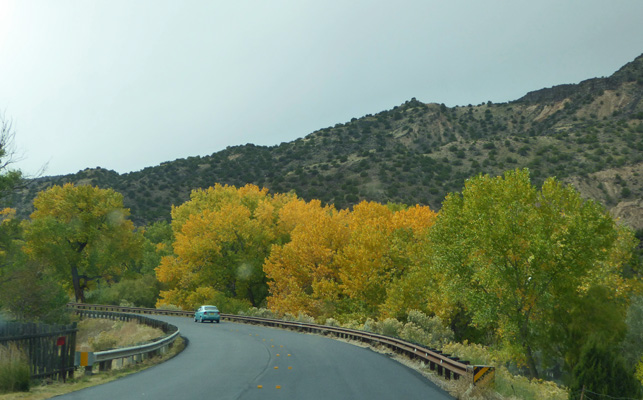 As we came out of the gorge and the Rio Grande flowed off a bit to the west we caught of view of the cottonwoods lining the river with the mountains off to the west (probably the Jemez Mountains).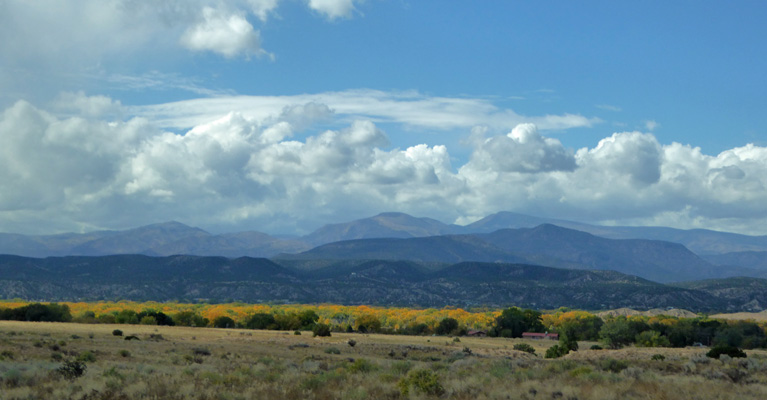 We drove on into Espanola and then turned north on the High Road (Hwy 76) to the little town of Chimayo which has all sorts of historic buildings including El Santuario de Chimayó.
This little church was privately built in the 1800's and then donated to the Catholic Church in the early 1900's. It's best know for the healing powers of the soil (called holy dirt by some) in the side chapel of the church.
It's a very pretty little church both inside and out.
The baptismal area seemed particularly lovely to me with wonderful original art.
You can't take photos in the chapel but I will assure you that the ceiling is covered with little children's shoes left there I suppose by their relatives in hopes of healing or perhaps to attest to healing that the children had experienced. When I visited this place back in 1974 there were crutches hung on the walls but I didn't notice them this time.
The High Road climbs quickly out of the hill towns (where they grow apples) up into the mountains where you get views across the Rio Grande Valley.

I drove this section so there aren't as many photos as of the Low Road. But this gives you a flavor. It moves up high enough that you're in Pinon and Ponderosa pines and then comes down again through junipers.

We stopped at an overlook as we neared Taos and I took this panorama shot. We were high enough that there were firs in addition to the pines.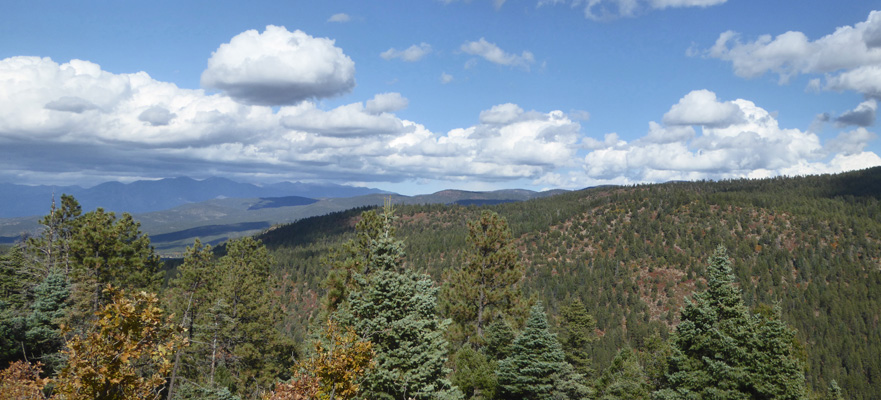 Just across the road there were aspens in brilliant yellow.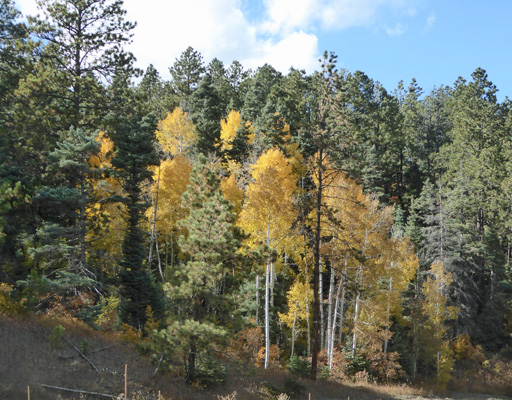 We both liked the High Road much better than the Low Road but the next day when we headed south we took the Low Road because it's a major highway while the High Road is just that, high and winding. When we got home that afternoon I looked on line (I love the internet) and found that the Santa Fe KOA (which is a ways out of town to the southeast) had an opening for 3 nights that would work just fine for us. So we made a reservation and breathed a sigh of relief at not having to worry about finding a spot the next morning.