Friday May 17th, we had sunny skies with big puffy white clouds when we managed to get going in the morning. We drove back from the Fruita Campground to the Visitors Center at Capitol Reef National Park and got a lovey view of the sunlit rock formations to the north.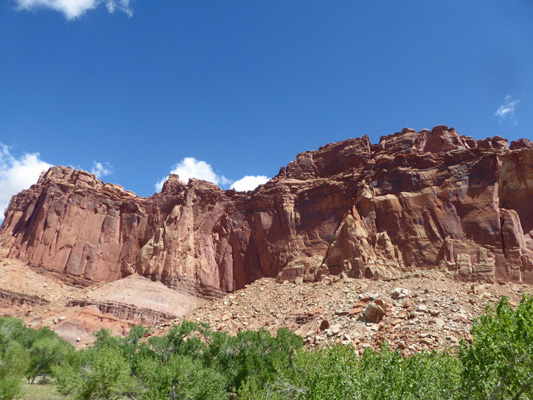 Once we were parked in the Visitor Center I took this shot.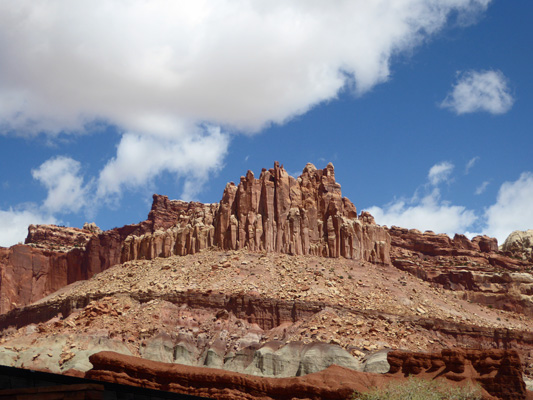 We watched their movie and wandered around the Visitor's Center which was very busy with day trippers. Capitol Reef gets lots day visitors as folks drive from Bryce to Moab (or vice versa) so the Visitor Center gets pretty busy after noon.
We drove back along the park road past the Gifford House, one of the original buildings in Fruita when it was settled by Mormon families. They now have a little store here where they serve pie. You see lots of folks walking around with paper plates and plastic forks eating pie in this area.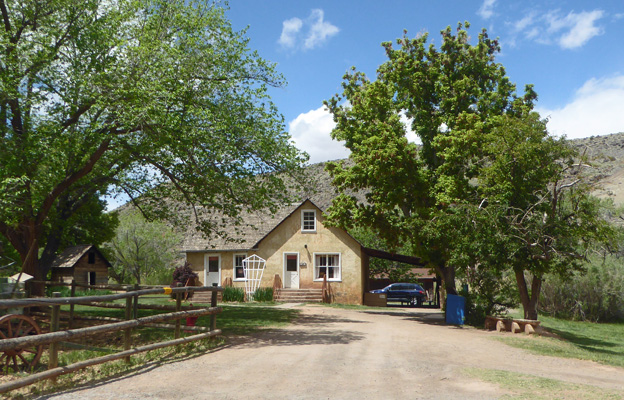 Just around the bend there's the original barn. Later in the afternoon there were a few horses here. They turned out to be park service horses that they use to move gear for scientists doing field work and for search and rescue and trail maintenance.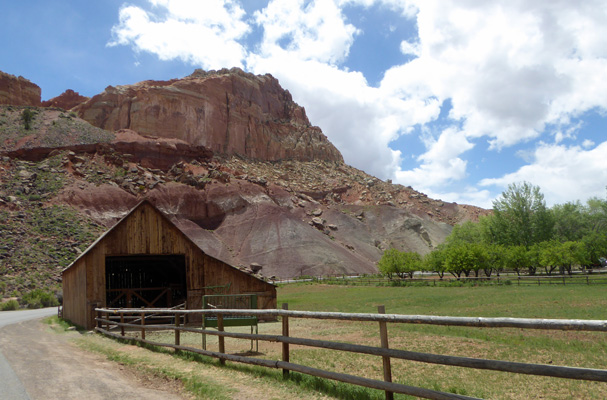 The Mormon settlers planted large fruit orchards here-thus the name of the settlement: Fruita. The orchards are open for picking once the fruit is ripe (starting in June with cherries on through peaches, pears, plums and apples). You can eat as much as you want in the orchard for free or you can pick fruit and pay by the pound to take it with you. Many of the trees are heritage varieties that are very rare.
We continued on past the campground to do the Scenic Drive which runs south through the park. Here you are driving along the edge of the Water Pocket Fold, an odd geological formation caused by upheaval, that has been eroded to expose all sorts of fun layers of rock.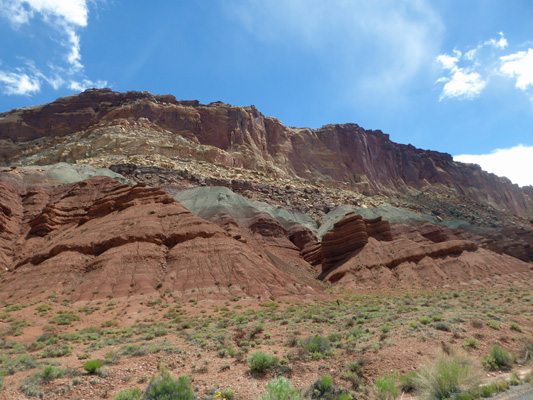 Surprise, surprise there were flowers in bloom along the way including Naked-stem Sunray (Enceliopsis nudicaulis).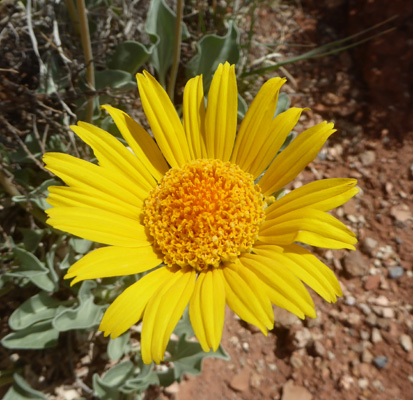 The road winds along just enough to give you different views all along the way.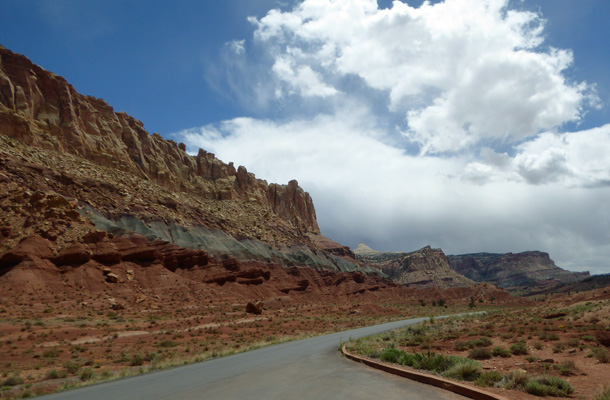 The sun was playing hide and seek with the clouds which made things interesting too.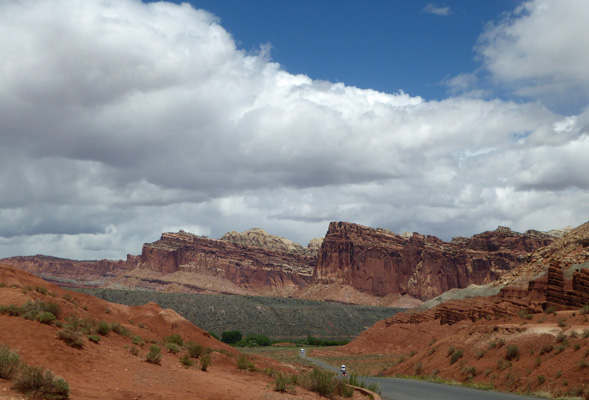 There were people on bikes too as you can see above.
I believe that the white dome-like formation in the center here is the Capitol that Capitol Reef is named for. It's called a reef because the Water Pocket Fold presented a huge barrier to travel in the 1800's and the early miners who mostly had started out as sailors called such barriers reefs. And the white formation reminded them of Capitol buildings in DC and in the state capitols all over the country. So there you are.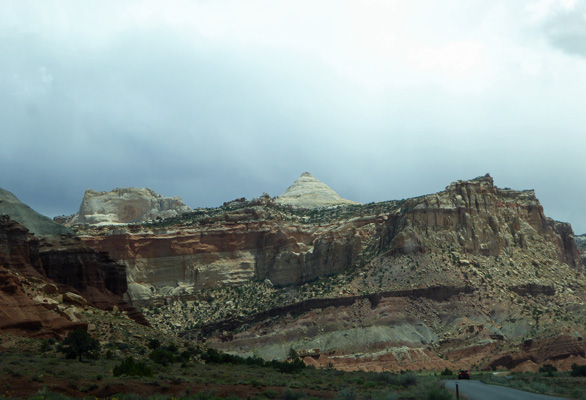 This drive had a guide with numbers but we had a hard time finding them and at this point I don't know which photo goes with which number anyway since I didn't take photos of the few numbers we did see. So you'll just have to enjoy the trip.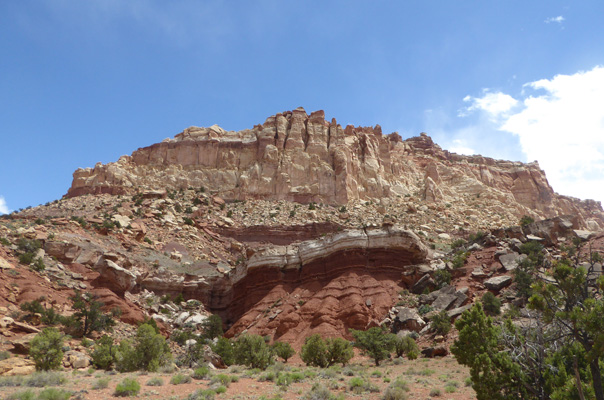 There were turn offs where we HAD to stop because I would see flowers. We'd park and I'd get out to take a photo or two and in the end I'd find all sorts of different flowers hidden here and there. I think these flowers come from 2 or three stops along the way.
There were Shaggy Fleabane (Erigeron pumilus).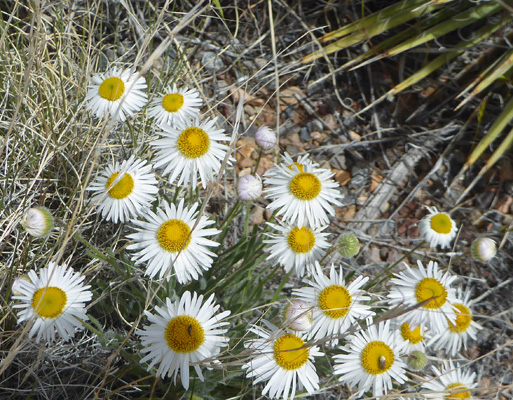 Claret-cup Cactus (Echinocereus triglochidiatus var melancanthus)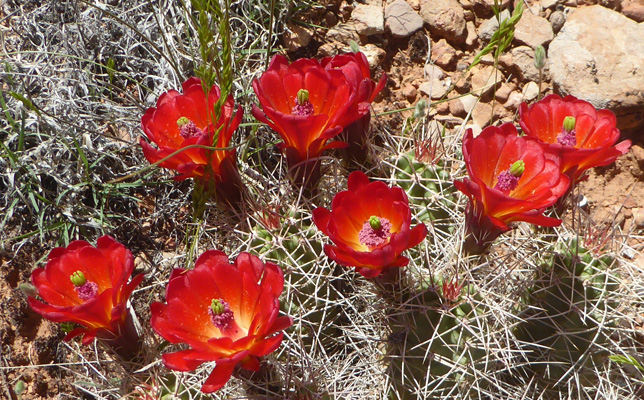 Spiny Milkweed (Polygala subspinosa)—and they MEAN spiny. Those are big thorns.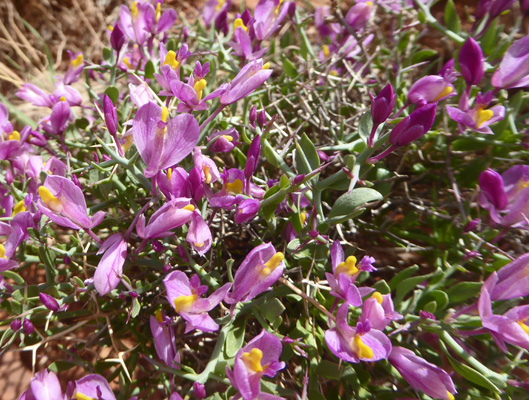 Small-flowered Fishhook Cactus (Sclerocactus whipplei var roseus)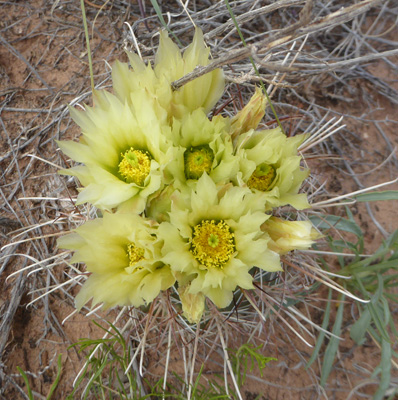 Navajo Tea (Thelesperma subnudum)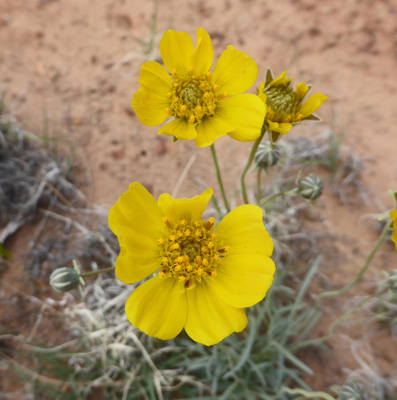 Scaly Globemallow (Sphaeralcea leptophylla)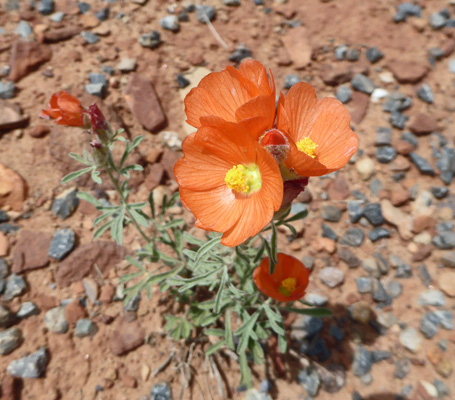 And these sweet little yellow flowers whose name I couldn't figure out. There sure are a lot of little yellow daisies in the world.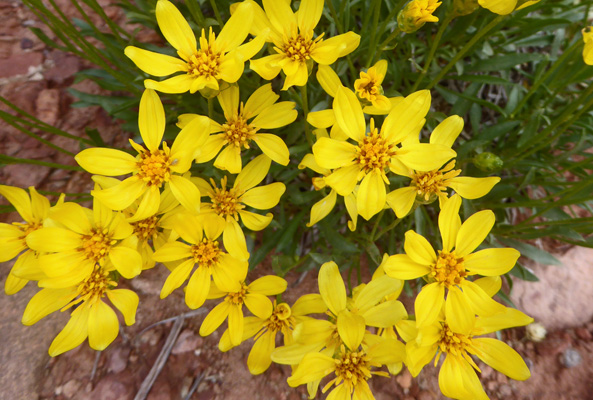 Along the way there's a turn-off for Grand Wash which has a dirt road that takes you through a slot canyon. There was rain forecast and so between the fact that the road can become too gooey and that there can be flash floods we decided it was prudent to give it a pass. But there were people driving out that way nevertheless.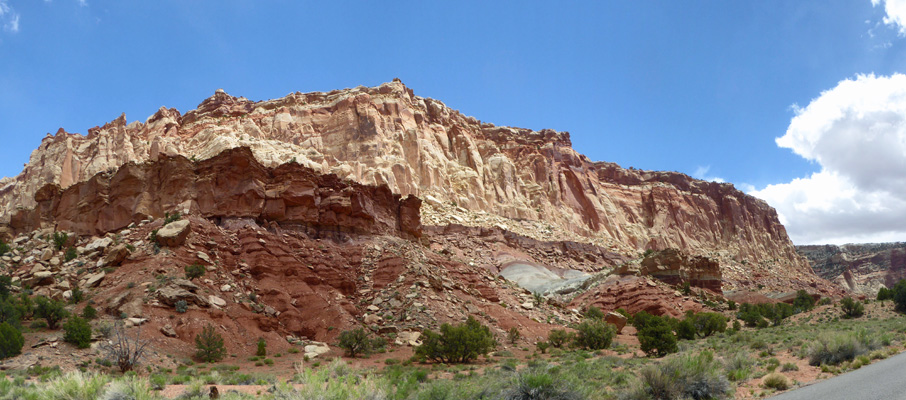 Any time I got out to take a photo looking south, I'd discover something just as wonderful looking back the direction we'd come.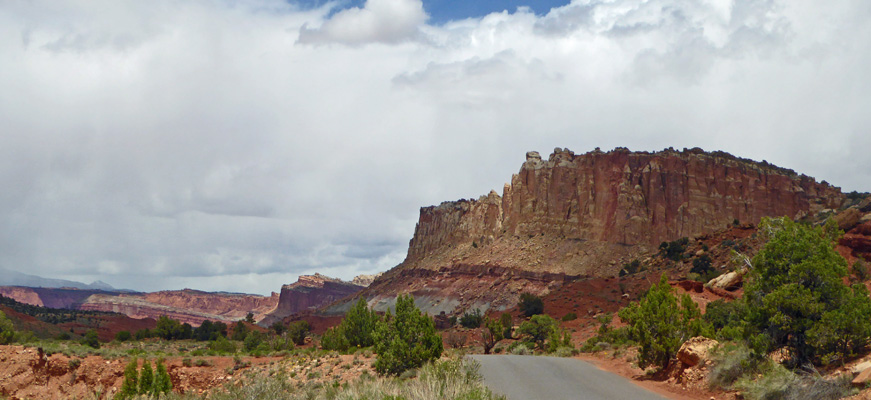 And of course more flowers. In this case it was Mexican Cliffrose (Purshia mexicana).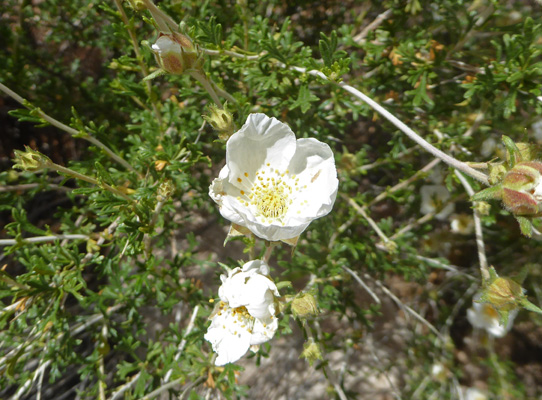 And Purple Locoweed (Oxytropis lambertii).
The road twists and turns and loops through deep washes.

Sometimes you're rather close to the cliffs which makes photographing them interesting.

This formation I think is called the Egyptian Temple. In any case, I like the red rock layers with the sharp-pointed tops.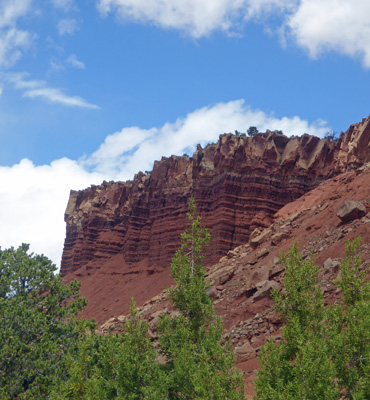 Clearly there was serious upheaval here since there are times when the white and beige rocks give way entirely to red rocks.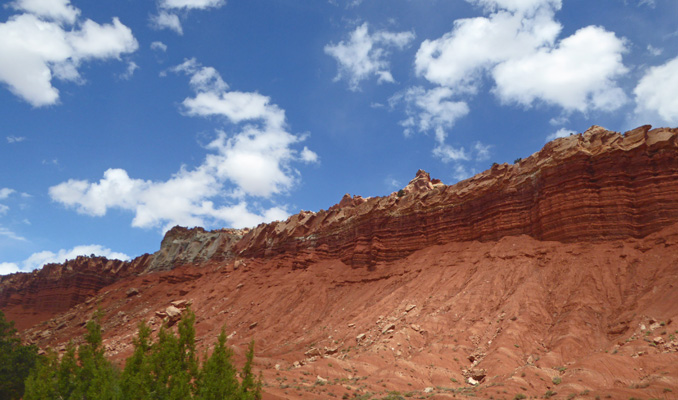 Eventually on nearly all of these park service roads we come to one of our favorite signs.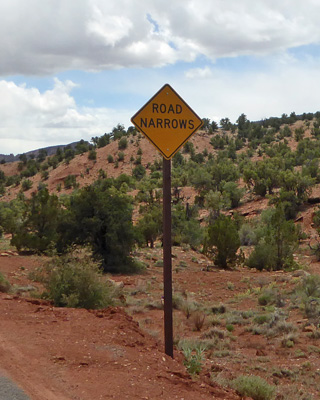 We saw our first example of this notorious sign while exploring the coastal redwoods in Redwood National Park back in 2000. We were in a big wide Class A (bus-style) RV and there trees were literally growing so they made the road go around their trunks and we'd come to one of these signs and we'd both sigh and I'd pull my elbows in to make sure we'd get by.
There was Rushy Milkvetch (Astragalus lonchocarpus) along the way.
And more red rocks.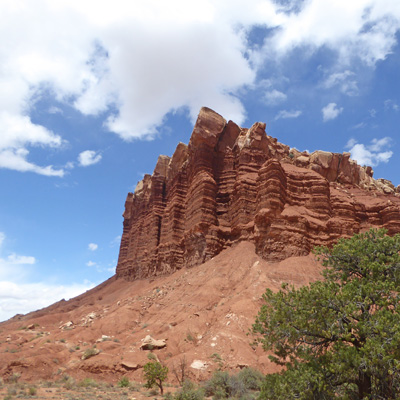 This stuff is clearly sandstone since there are piles of red sand below them where they've eroded away.
And then looping behind the red rocks you have more layers of different colors which are made of harder stuff.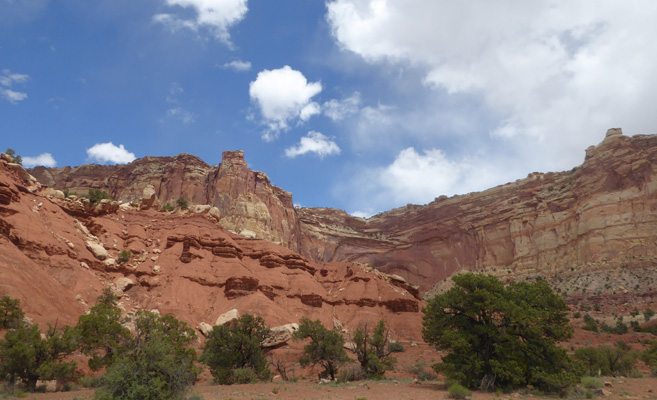 I found another example of Spiny Milkweed (Polygala subspinosa) so in case you missed it here we go again.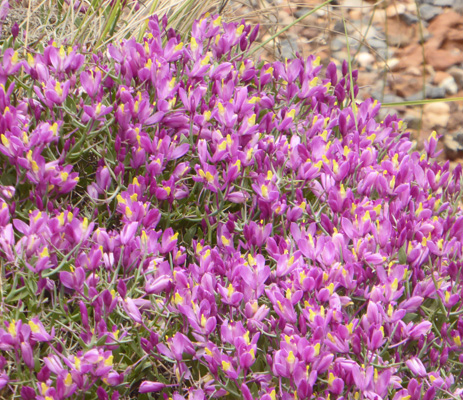 As the road narrows it trends downhill too and you pass through a slot with fun erosion patterns.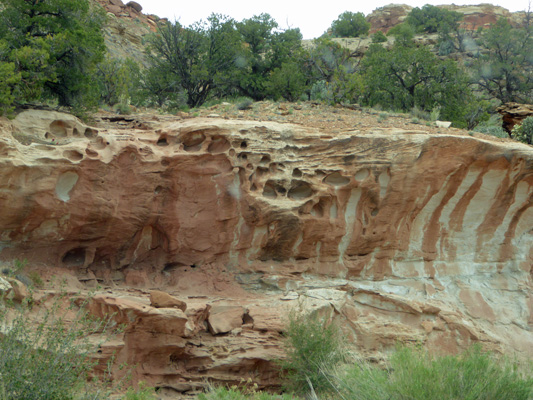 And around the bend.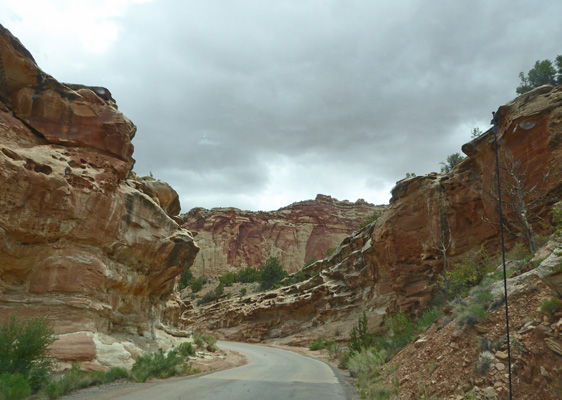 To arrive at the end of the paved road and the Capitol Gorge Overlook.
This is the view looking north.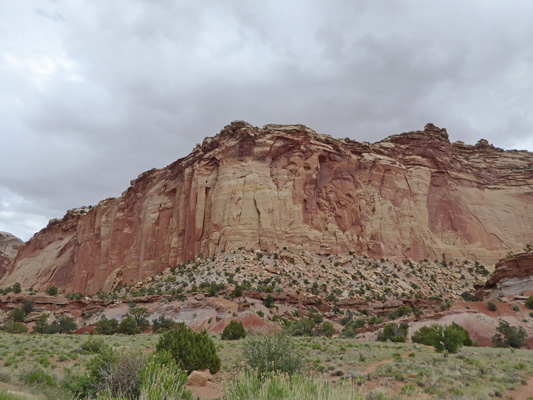 There's a dirt road the leads into Capitol Gorge here. They don't allow RVs or trailers on it because it's narrow and hard to turn around. We drove part of it 25 years so we could do the sandy hike out through the canyon and out to an area called the Pioneer Register where folks who passed through here carved their names in the sandstone. I wasn't real impressed with it 25 years ago and it's a long walk so we gave it a pass.
But the views from the overlook are still lovely.

It's very majestic country.

There was more Claret-cup Cactus (Echinocereus triglochidiatus var. melancanthus).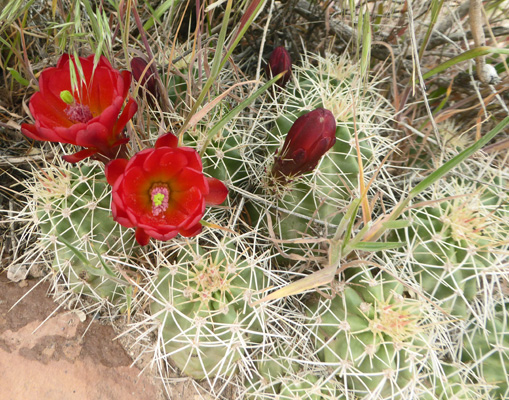 Brenda's Yellow Cryptanth (Cryptantha flava)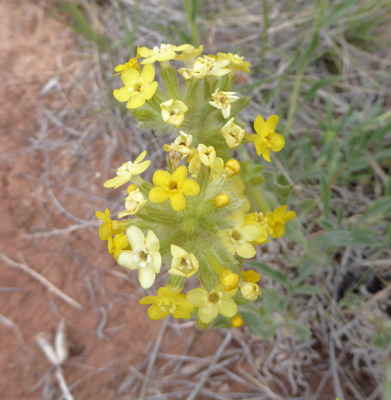 And there were yuccas in bloom too.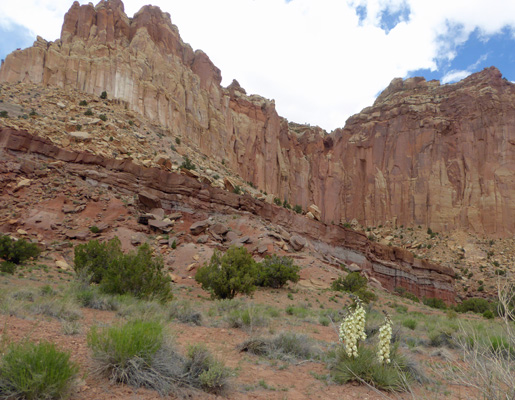 The clouds were coming in thicker as we drove back north again.

There was a swathe of Largeflower Skeletonweed (Lygodesmia grandiflora) that I had to stop and take photos of.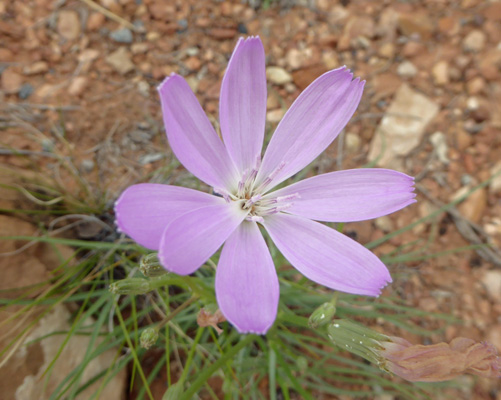 And from time to time the sun would come out. I just love that layer of green near the bottom here.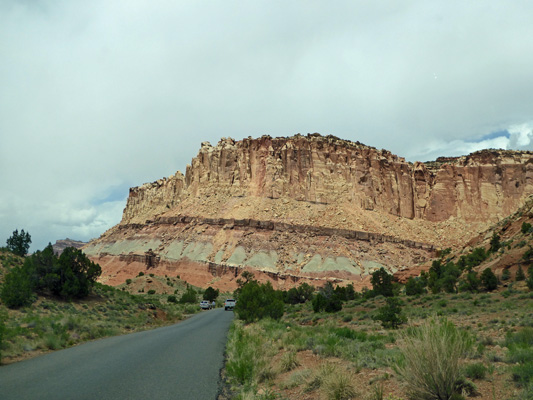 If you are even in Capitol Reef even for a few hours, make sure you take the Scenic Drive, it's well worth it.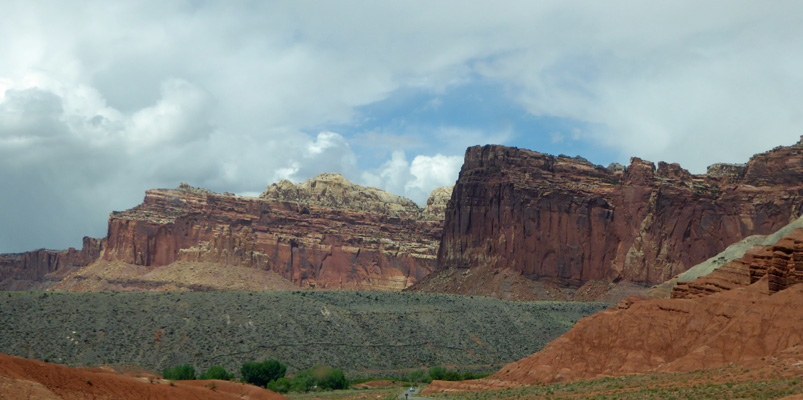 We had rain that afternoon and it was nice to spend some quiet time inside.
The next morning Saturday May 18th, we hustled east out to the turn off along Hwy 24 where there are petroglyphs. On the way I took this photo of the orchards and the view of The Cathedral near the campground.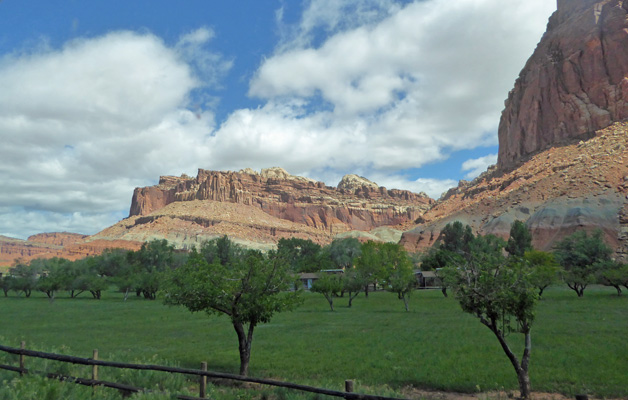 When we'd driven in on Thursday the Petroglyphs lot had been full. But fairly early on a Saturday morning there were only a few cars. The view across the road gives you a sense of the terrain. The Fremont River is at the base of the cliff.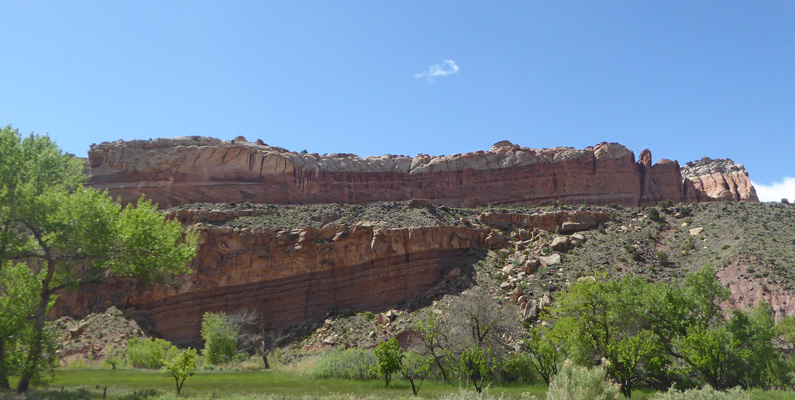 There are two sets of petroglyphs here. One set you can visit by taking a boardwalk out along a creek. As we walked the boardwalk we both noticed a whole lot of caterpillars everywhere. This guy stayed still while I made a picture of him.
The petroglyphs aren't identified with signs so you have to keep your eyes out for them on the cliff face. Some were pretty big but fairly faint.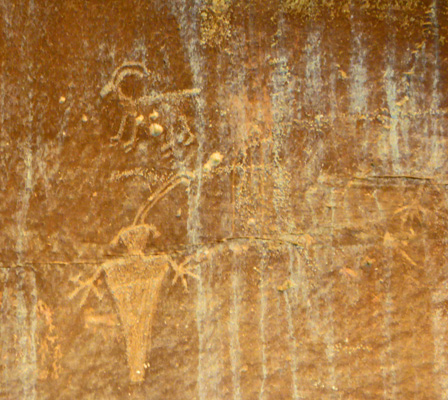 And others were even fainter.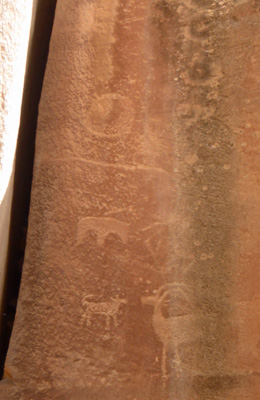 But it was fun looking for them and having folks point them out to us and then us pointing them out to others.
Along the way I stopped and took a panorama shot of the rocks across the way.

Out near the end of the walkway there were glyphs that had been pretty deeply incised in the rock so even though they were faintly colored you could still see them fairly easily.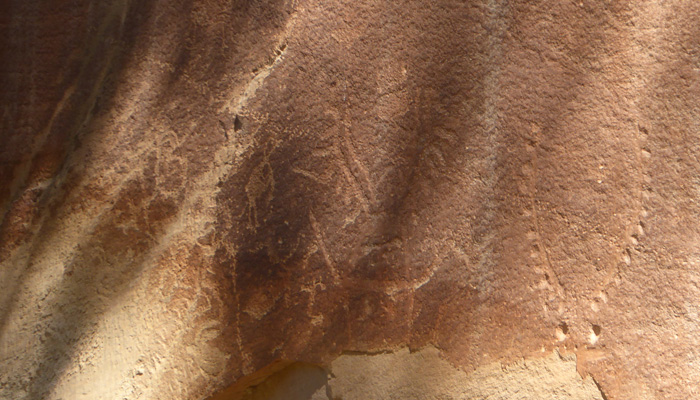 When we got back from this long wooden walkway we saw a group of people gathered on a small deck down the other way. Here you could view some really tall petroglyphs that were quite far away up on the cliff face. There's even a telescope you can use to view them.
They were 5 or 6 feet tall and really unusual.
From here we drove west towards the town of Torrey where we got gas. There are several motels and a couple of restaurants in Torrey so if you aren't camping in Capitol Reef itself (or you wanted to but couldn't get a reservation ) you can get a room in Torrey.
Along the way we stopped and I got a photo of the Snowy Mountains off in the distance to the south.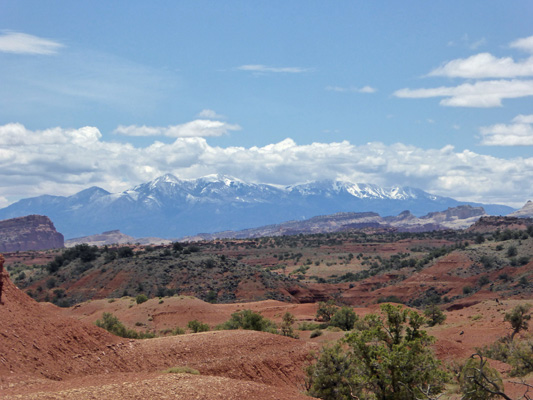 Out along the road there are these mushroom-like formations like we'd seen in Canyonlands. These are called Twin Rocks.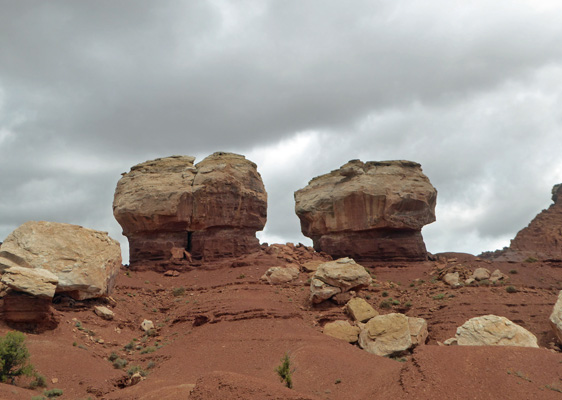 After getting gas we drove east again stopping to take photos as we went.
Here's full panorama from a pull out, starting to the northwest and swinging around to the east.

Way off to the far right you can just see Chimney Rock which is a major landmark in this section of the park. There are a number of longer distance trails that start out this way and end up in Fruita at the Visitor Center.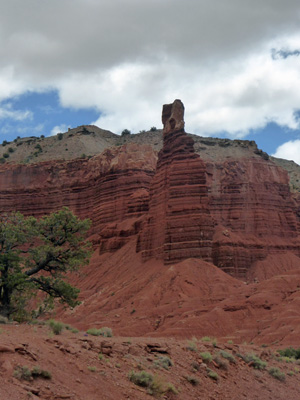 There was quite a bit of James' Catseye (Cryptantha cinerea) along the roadside.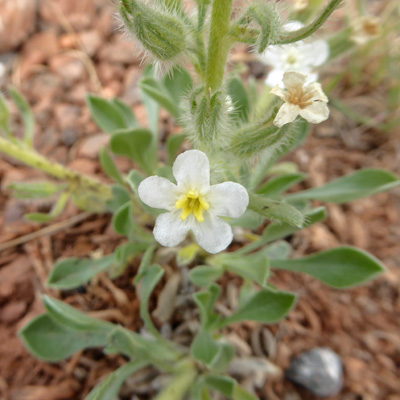 Just east of Chimney Rock there's a turn off to Panorama Point. The road is paved and then you have just a short hike up hill to the view.
This is looking southeast.

Directly north you get a different view of Chimney Rock.

Here's a panorama shot starting with Chimney rock and moving eastward.

There's a short dirt road from here that takes you out to the Goosenecks Overlook and trailhead. The trail heads cross country back towards the Visitor Center. But the overlook is just up the rise through some rocks. If you persist (the trail isn't well marked) you come to an area with a railing where you can look down at the Fremont River and it winds down the canyon forming 3 turns called goosenecks.
Here I managed to get 2 of them into one shot.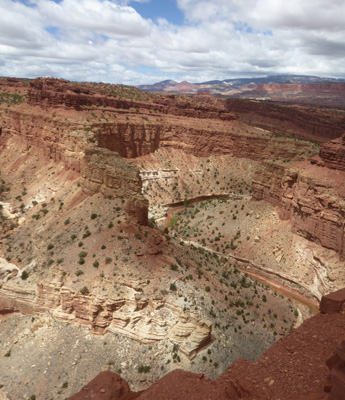 Here's a shot of the one straight down from the railing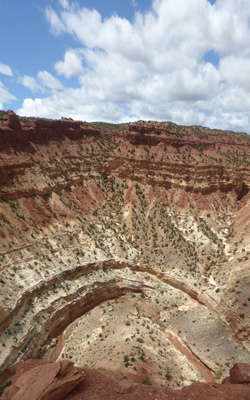 And here's a panorama view where I picked up the one straight down and the one to the right of it.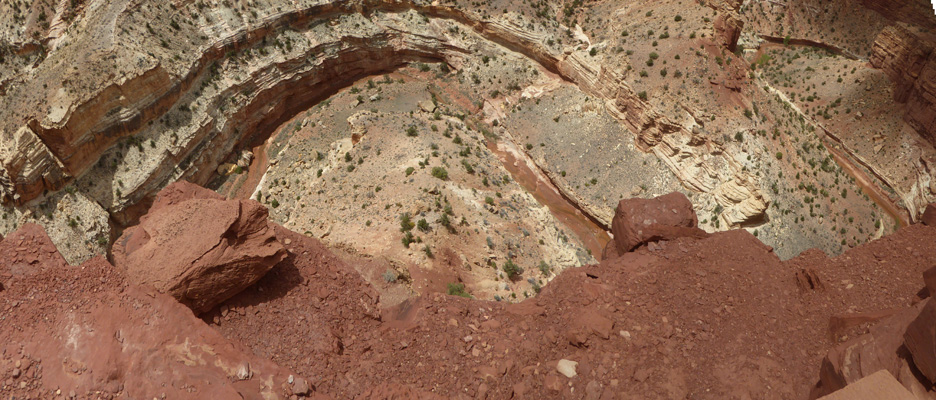 They're not as fantastic as Horseshoe Bend. But it was worth the short drive and the short hike.
There were lots of rocks (boulders really) along the trail with interesting pits in their surfaces. I suspect these were formed as the rocks formed rather than being caused merely by erosion since there were lots like this.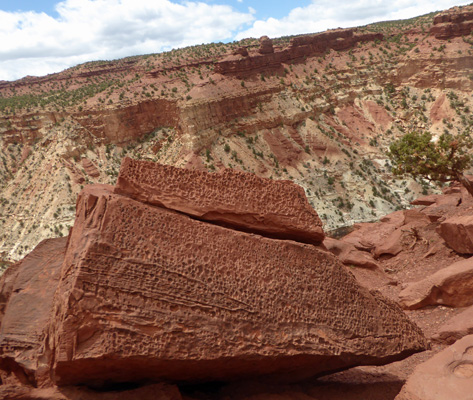 Back at the parking area I took a panorama shot of the area.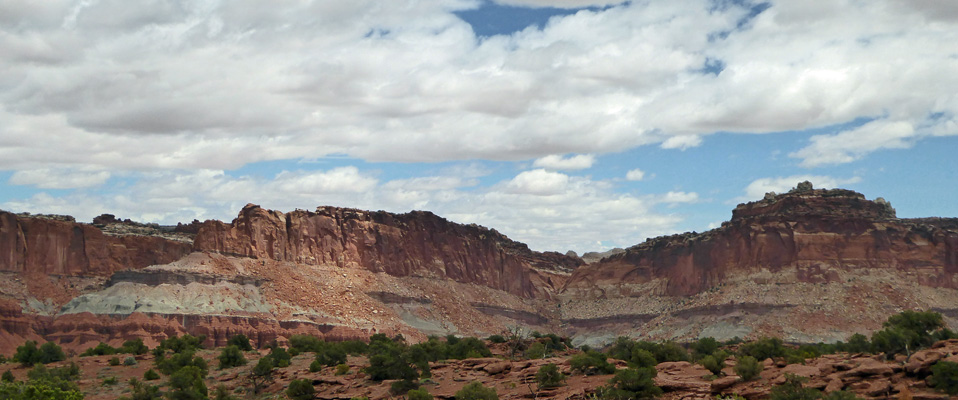 Just before we arrived back at the Visitor Center there was yet another turn out, this one with a view of The Cathedral up on the ridge.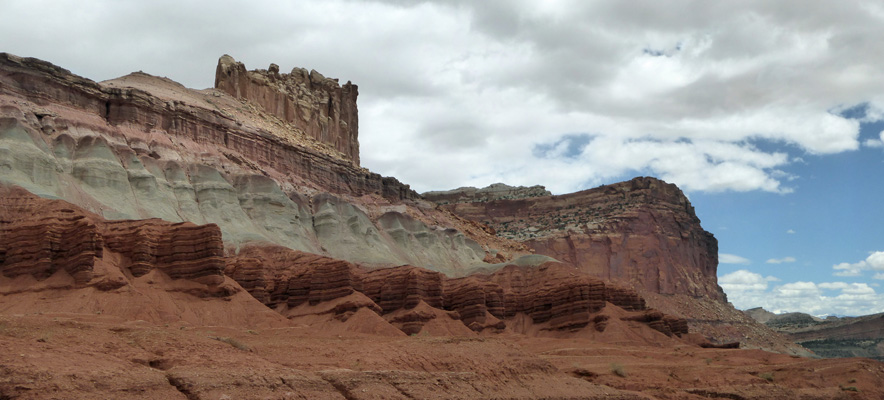 We spent another quiet afternoon with mostly cloudy skies—but just enough sunshine to keep the solar panel working and the batteries charged.
Late in the afternoon I looked out and there was a herd of deer grazing in the campground down near the river.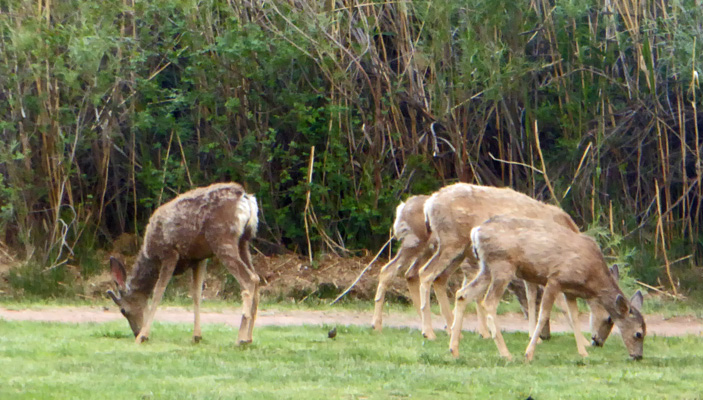 And one of them was a young buck.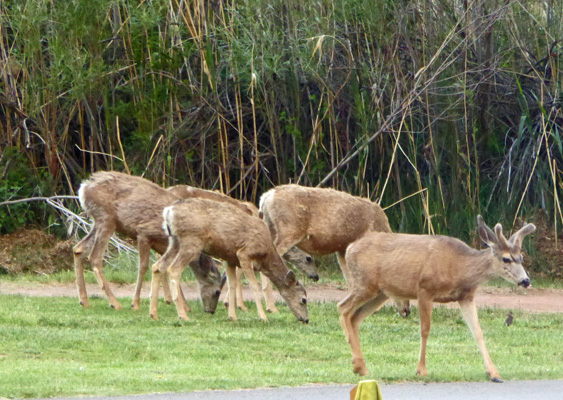 I had fond memories of Capitol Reef from our visit 25 years ago and it didn't disappoint this time either. It's still a great place to visit whether you are car touring or hiking miles and miles.
From Capitol Reef we drove the round about way to Bryce Canyon trying to avoid snow.