Just in case you didn't get enough balloon photos or you thought the Albuquerque Balloon Fiesta should have had more balloons, here's a report on Day 2 when over 500 balloons went up in a Mass Ascension.
On Wednesday October 9th, we got up before 6 am so we could be on the launch field at the Albuquerque Balloon Fiesta at about 6:20 am sure to not miss the Morning Glow that started at 6:30. But the best part was actually watching the Dawn Patrol take off.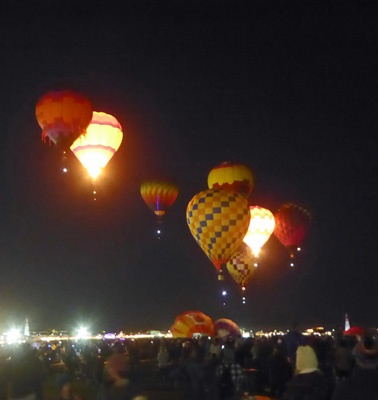 The balloons only light up for a second or so as the pilot applies his burner to get some lift. So getting more than one balloon lit up at a time is a real trick. Mostly they look like this.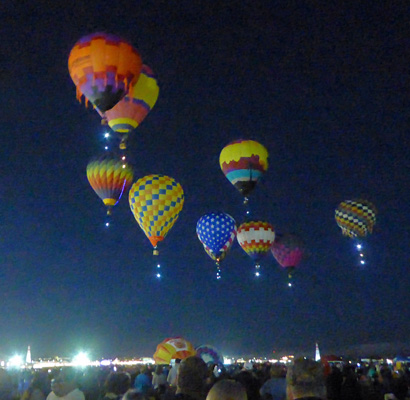 But in one out of 40 photos I got this. Not only were 7 of them lit up but I managed to get all 10 in the photo. Whoo hoo. Can you tell that taking photos at Balloon Fiesta is kind of an interesting game?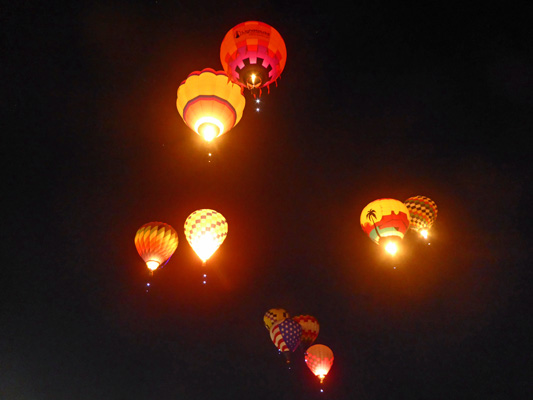 The Balloon Fiesta is a photographer's paradise, you just don't know all the fun things that will come your way until you get there. Next up, the Morning Glow balloons started to inflate and come to vertical.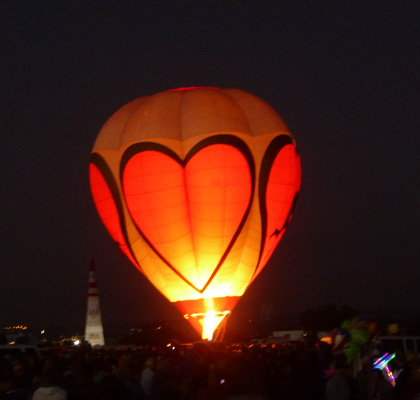 I like Dawn Patrol better than Morning Glow just because it's darker so you get more of the affect of the lit balloons against the dark sky. In addition, they don't light up as often as the Dawn Patrol because they're just working to stay vertical not to take off.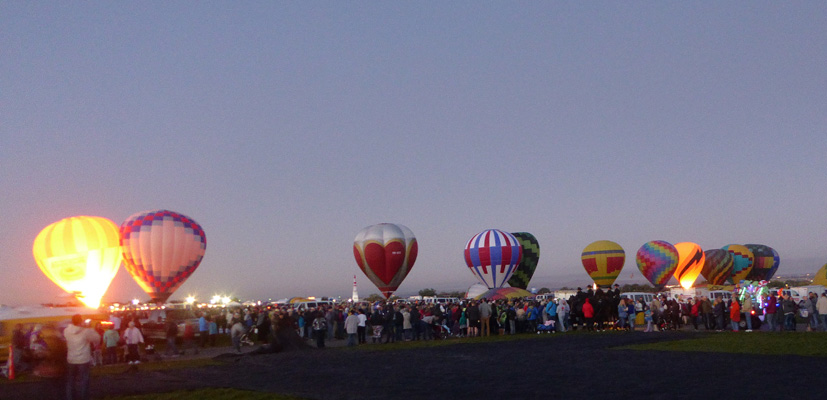 You can see the Mounted Patrol lined up just right of center waiting for the National Anthem. The morning before we hadn't been this near to the center of the field and we'd missed them. That big black area just in front of us was a tarp they had spread out to protect one of the special character balloons. In the end they decided not to launch it so they rolled it all up again.
This time we got in the center aisle and I even managed to get a decent photo of the Mounted Patrol and their horses.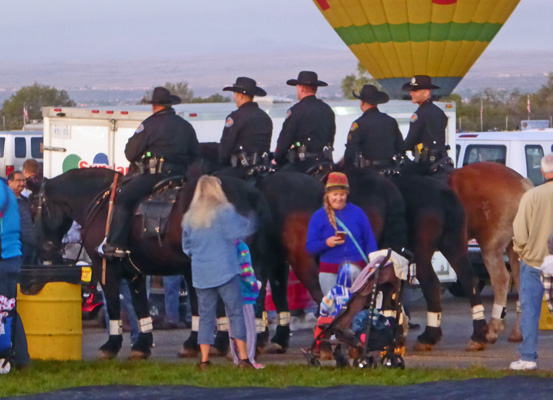 The National Anthem is piped in over the speakers (you can barely hear it) and one balloon sails by with the flag hanging below it.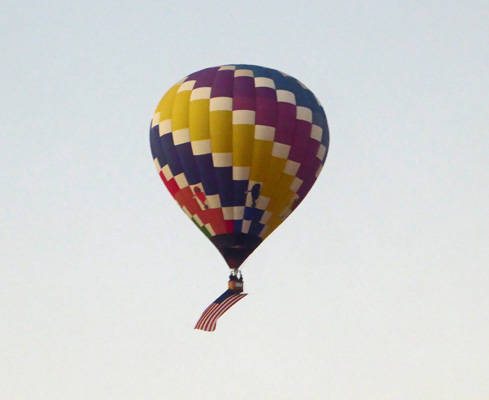 Next up was the Flight of the Nations. A number of balloons from countries around the world went up from all over the field. The lower one in this photo is clearly French. The others, who knows? Most of them had commercial identifications that I couldn't figure out.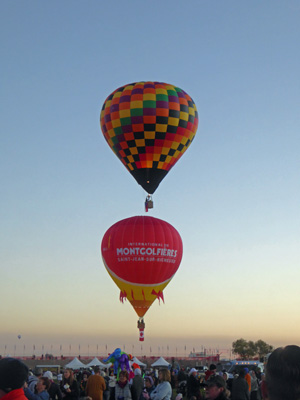 And then shortly after 7 am, the other balloons on the field began what is called a Mass Ascension. In this case, nearly all the balloons that were registered at the Fiesta and available that day were expected to lift. Given that there were 550 round balloons and over 90 special shapes balloons registered for the Fiesta that's just a whole lot of balloons. And trust me, it was.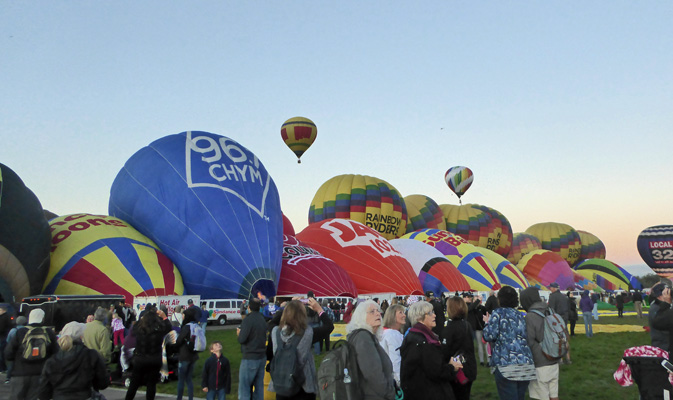 The heart balloon from Morning Glow turned out to have cupids on some of its panels.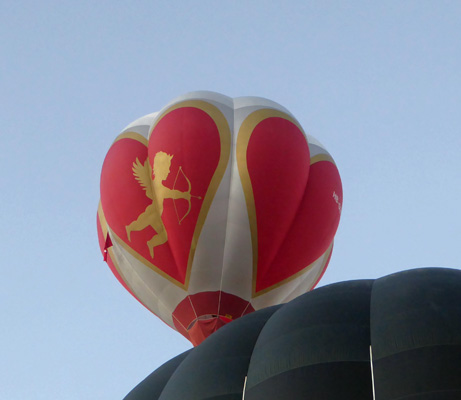 Within minutes the field was full of inflating balloons and others already in the air.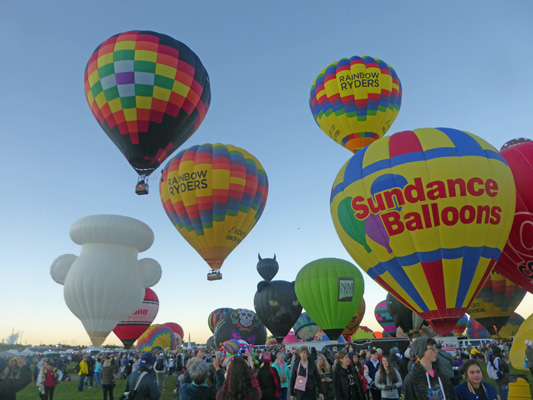 Row after row after row of balloons inflated and took off.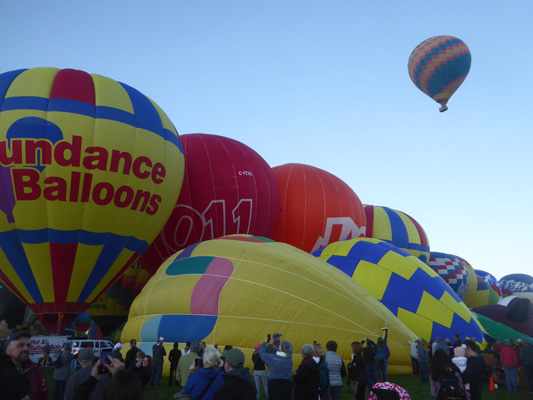 Some of them were in the same positions that they'd been the day before while others had been assigned different launch areas so there was a different mix of balloons everywhere you looked.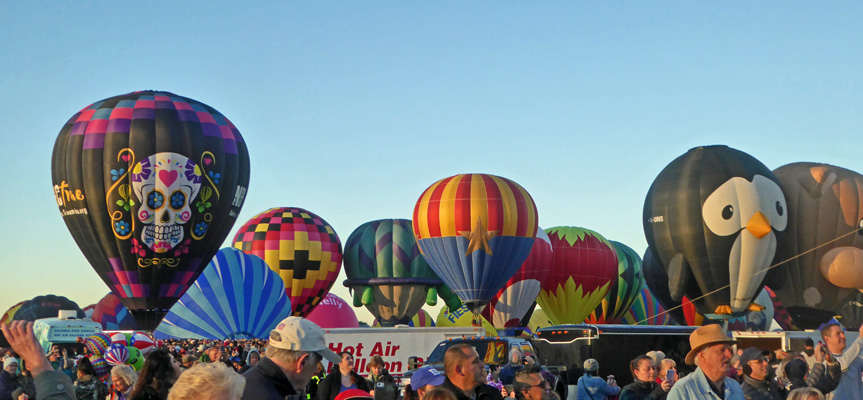 One minute, they'd be on their sides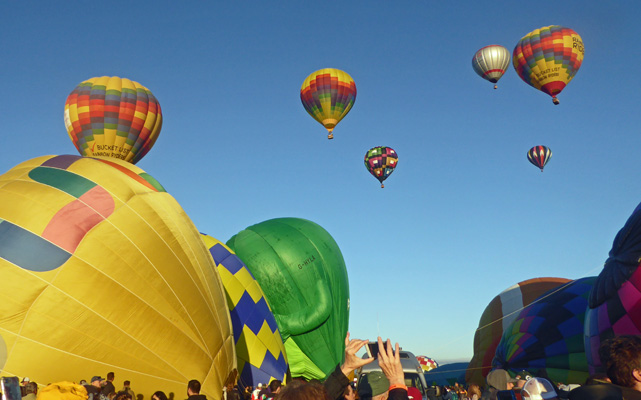 And the next they'd have popped up, presto.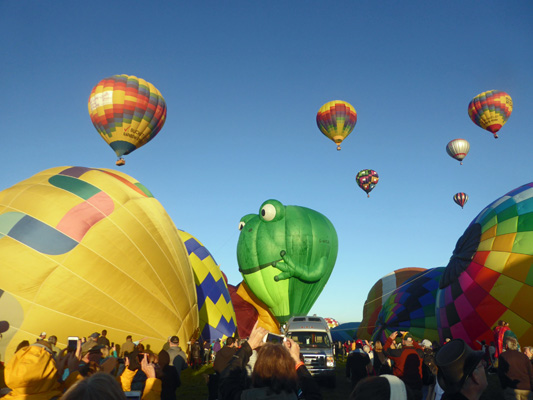 We ended up in the same neighborhood as those lovely fractal balloons again.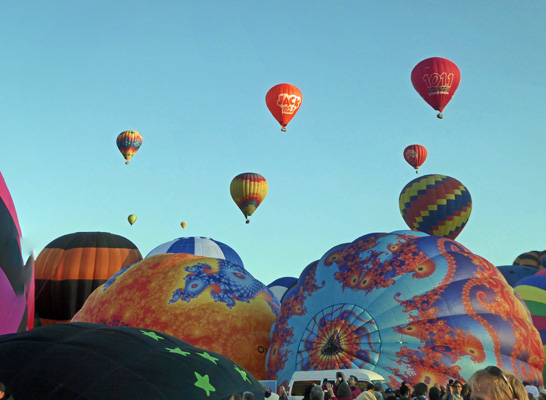 And this crazy singer balloon was watching over it all. I know he's supposed to look like he's singing but mostly he just looks surprised. Oh my!
With so many balloons going up there were lots of opportunities to get nice shots of small groups together. I do so like the flags and the old fashioned scallops on these two balloons.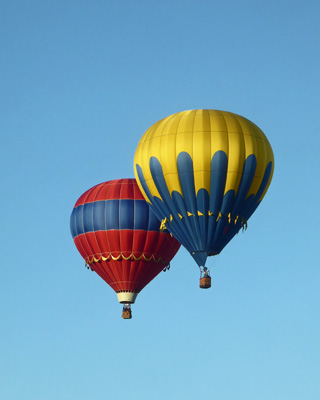 By 7:45 there were still tons of balloons launching and coming over head.
They just kept coming and coming and coming.
And I just kept snapping away.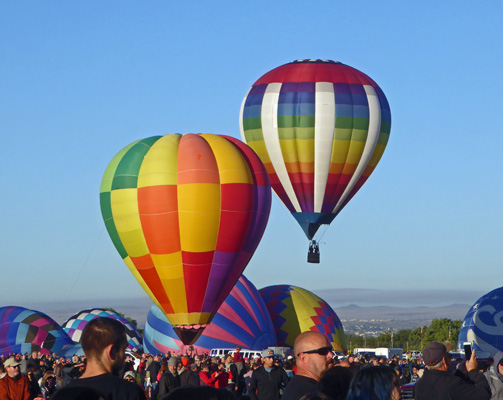 Everything was just on the edge between control and complete chaos. It's amazing how this many people mixed with all these balloons stay safe and happy and the balloons all get up okay.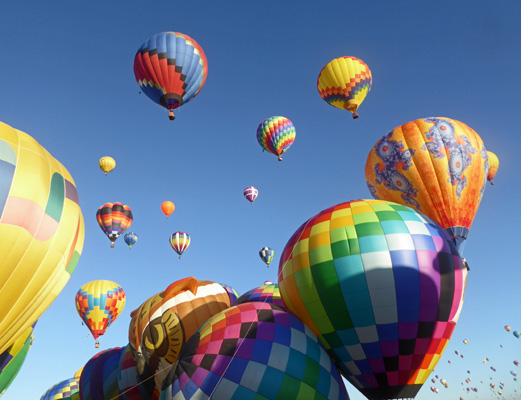 There really aren't that many of the zebra/referee folks about. But I did see that some of them at least had headsets.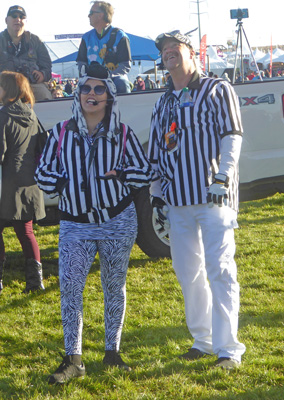 But still the balloons kept coming.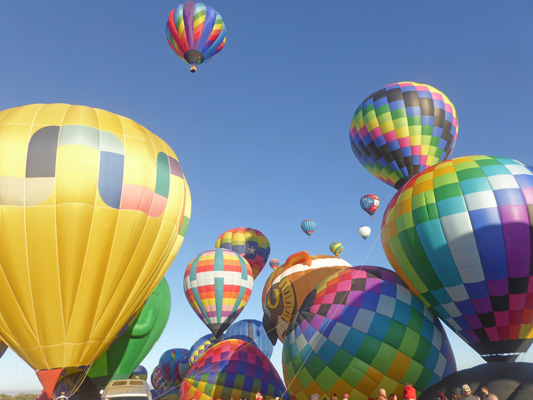 Most of the balloons went straight up when they launched that morning. The Albuquerque Box wasn't working to start with and so they rose up to catch the northward blowing winds and went off that way.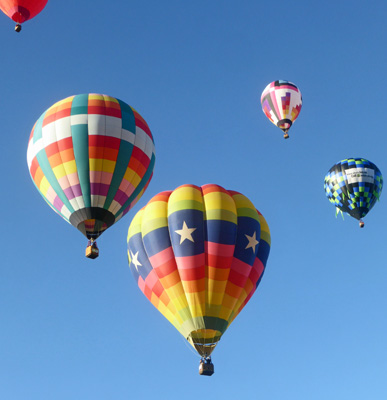 It was nearly 8 am and still the balloons were launching.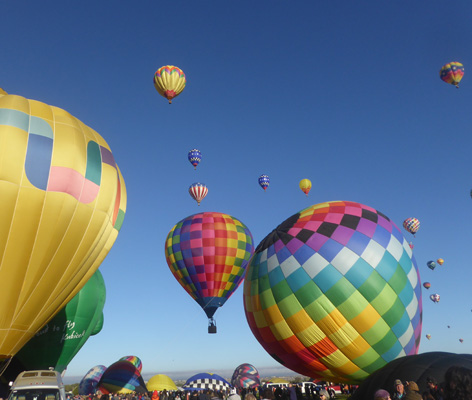 It's amazing how many different designs balloons can come in.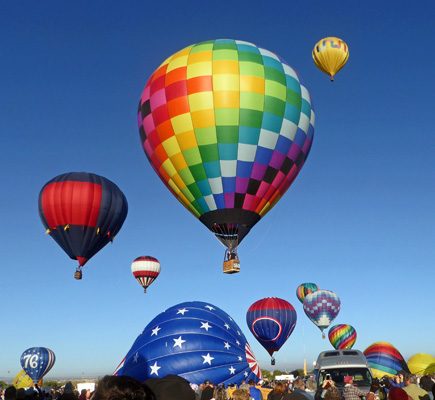 It's now nearly 8:20 and still there are balloons launching.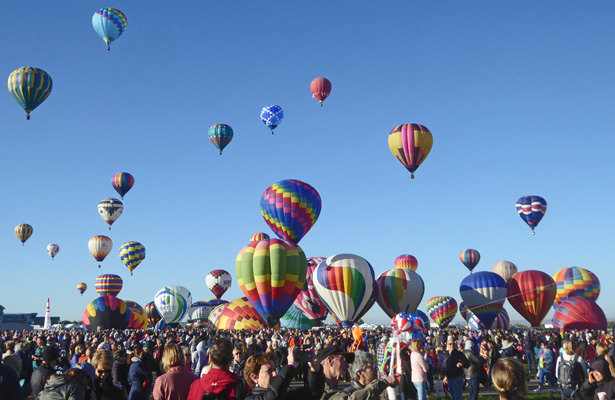 And the crowds haven't thinned either.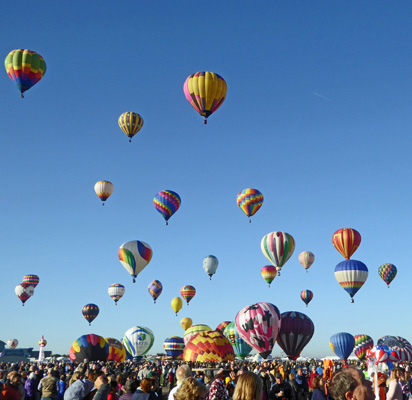 And the opportunities for photos just kept coming.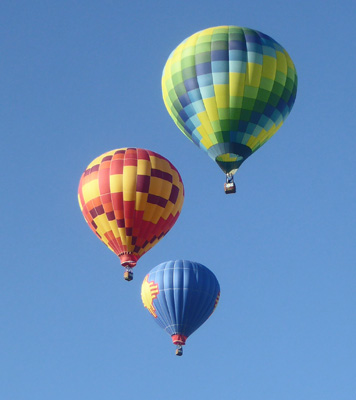 At 8:30 the last of the balloons were taking off. So it had taken nearly 1 1/2 hours to launch around 500 balloons all without a mishap.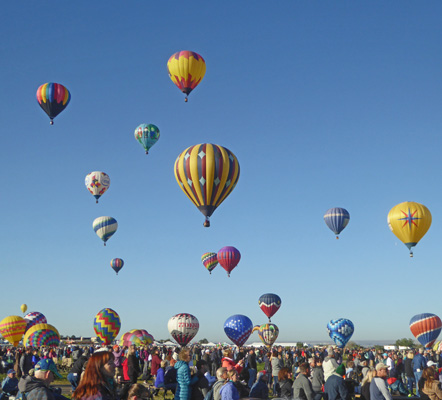 And I got one more nice 'still life' shot too as The Box developed and a few balloons made their way back in to land on the field—just not as many as the day before.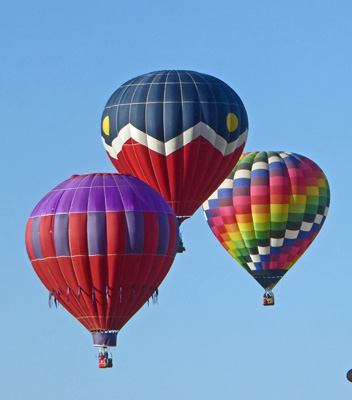 By 9 am when we gave up to go home and have breakfast, I had taken almost 600 photos. And my nervous system was pretty much overloaded what with the balloons, the crowds and the noise. But it was a happy overload.
Along about noon we decided we'd take the truck and find a gas station to gas up again. It was a glorious clear day and the solar panels were keeping everything charged up really nicely.
When we got back and parked the truck behind the trailer again I noticed we had a new dent. Oh joy. No one had seen it happen but clearly someone (probably one of the big honey dipper or water delivery trucks that serviced folks who stay for the whole festival) had backed into us while we were gone.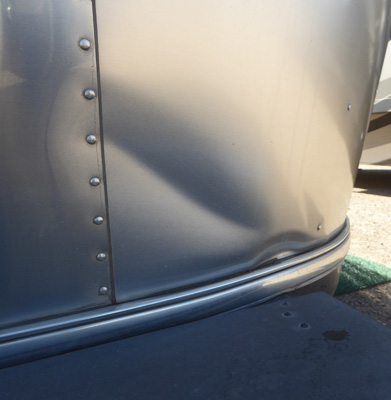 It's not huge and it only affects one panel but the repair will still be $5000 according to our repair guy and the insurance company. So of course, once we got moved on Thursday and settled in up north, I got to file yet another insurance claim and talk to another very nice claims adjuster. I may have gotten really good at this over the years but that doesn't mean I think it's fun. Sigh.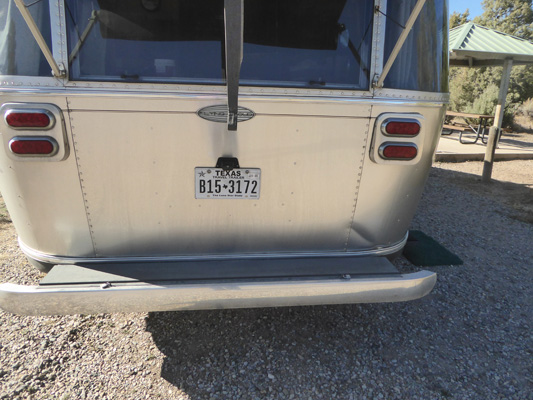 I spent the afternoon on Wednesday processing photos. I actually labeled and looked at every darned photo I took. The good news is that I was taking series' of photos so I just had to pick the best one out of 10 or 15 that I'd taken. But still. You are SO LUCKY that I only picked these few out of so many. The wind came up and while we were out taking a walk to check out our exit route for the next morning there was a mini dust storm and when we came home the trailer had a layer of dust and grit on every surface because it was in the upper 70's and we had all the windows open. I swept but it was still gritty. So I got out a Swifter duster and that got rid of the grit.
Walter decided that since we were going to have to break camp, drive for a few hours and set up camp (plus deal with a dump station and add water to our tanks) that he'd skip the Special Shapes Rodeo on Thursday morning. But even though I was pretty worn out and definitely on overload, I wasn't going to miss it.
So it's time for you to go to bed early one more time so we can all get up a little after 6 and be kids together and watch the parade of Special Shapes balloons that they call the Special Shapes Rodeo.