We began June at our rented lot at Juniper Ridge Resort in Show Low. Within a few days of arriving Walter came down with a cold. And because he is such a generous fellow he shared it with me. So we were a sniffling, snorting, coughing mess for a while.
Being sick didn't stop us from starting a new Music Jam here at Juniper Ridge—they had one last year but it had disappeared from the schedule. We went in to ask about it and they asked if we'd like to sponsor a new one and we said yes. So every Tuesday afternoon at 2 pm we make our way over to the Grand Lodge and set up a circle of chairs and hope someone will show up. We discovered within days of arriving here that our next door neighbor, Steve Spurgin, has been a professional singer-songwriter for over 50 years. He started out as the bass player for studio recordings by the folk group, the Limeliters, back in the sixties. He's been a Nashville staff writer and played in numerous blue grass bands. Now he plays a few solo concerts each year along with doing some festivals.
He and his lovely wife Vickie have been coming to the Music Jam each week and we had a short-term renter who was only here for 3 weeks who came all three weeks he was here but he's now gone back home to the heat in the Phoenix area. He and his wife rented a place for 4 months for next year so we'll see him again next summer. We set the jam up as Song Circle—an old folkie tradition where you just go around the circle and pick a song to sing or to request. We put together some song books for people to pick songs from and we have a grand old time. Vickie is learning to play the ukulele which just adds to the fun. Hopefully in time our numbers will grow but in the meantime we're having fun singing and playing together. They were gone our fourth week so we had our first jam with just the two of us. We had fun. It's nice to have the space to sit and play and we provided a bit of entertainment for the folks setting up the new sound system while we were at it.
Meanwhile, I took the orientation class in the pottery studio and once again have fallen love with working with clay. The initial project they do is a simple little slab bowl. You learn to roll out the clay (they have a slab roller that is a wonder to behold), how to apply texture to the clay, how to make a foot for the bowl and how to attach it. In the process you learn all the rules of the road for the studio too. 5 days later when the piece is dry they bisque it for you and then you come back and glaze it and then have it fired again.
Here's a photo of some of the creations from that class.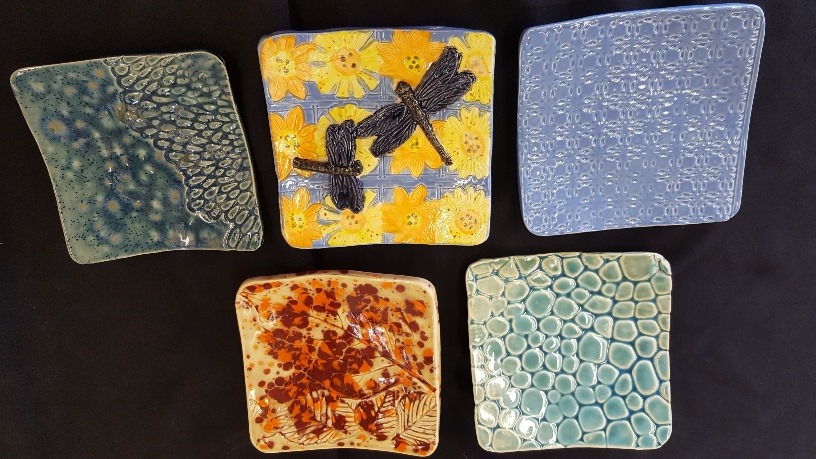 Here's my creation. I have dubbed it my "Silly Little Bowl" because while it is lovely, it is a pretty silly little bowl function-wise. If we'd made this in elementary school in the 1950's, we would have put too finger sized dents in each edge and called it an ashtray! Instead it is an excellent holder of paperclips and miscellaneous goodies.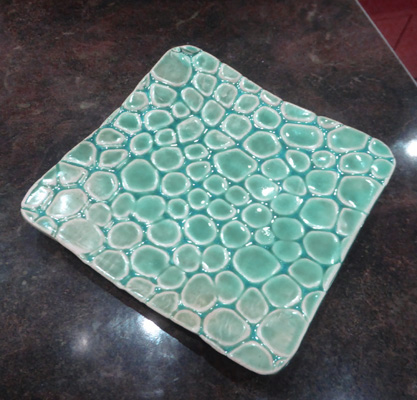 Here's the underside complete with it's foot.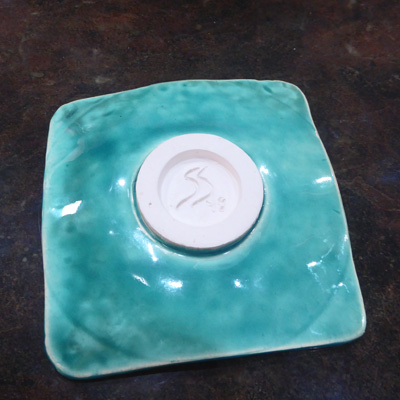 Meanwhile, we were enjoying just hanging out in the trailer and appreciating the view of the lake. Being on the 15th hole turned out to have lots of entertainment value because of the lake. Well over 50 % of the people playing the golf course don't manage to get their ball onto the little peninsula where the green is. So there are lots of groans and moans and cheers as they tee off across the lake headed for the green. If we're in the mood, we can even go out and fish out balls for people since the balls here float.
I'd been watching the real estate ads for park models in the park and we hadn't found anything that really caught our fancy. I didn't know if that meant what we were looking for wasn't on the market yet or what. So Thursday evening June 6th, I asked one of my 'what if' questions to Walter, not really expecting an answer. "If you could have the perfect house here at Juniper Ridge where would it be and what would it look like?" And he answered right off the bat, "It would be right on this lot with this view." And I said, "Really?" and he nodded.
Last fall, I had played with the idea of buying a park model and having it put on a lot when we first saw this site. But it's a complicated process and I decided it would be more practical to buy a house that was already here. Now I started to get excited about that idea once again. And we both lit up like Christmas trees.
Friday evening Mother Nature decided to put on a show to help us along.

So now we had a fun water view with nice green grass and good sunsets too. By Sunday we were sure we wanted to make an offer on our rental lot. With the help of our dear friend, Julie, who is a real estate agent up in Seattle, we found an agent here to help us. And Mother Nature put on another show just to make sure we were solid with the idea on Sunday evening.
This time I walked out onto the green to take a photo of the color to the northeast.

And in the process I met the neighbors who live in the house with the white deck over there on the left. And got a great photo of this plume of clouds lit up to the east.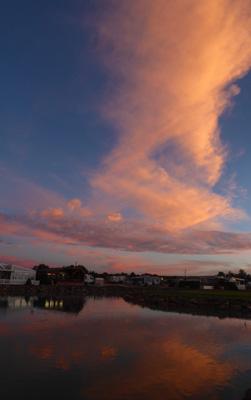 So on Monday June 10th, we made an offer on the lot. With a bit of haggling and a great agent who helped keep things on an even keel when the seller started getting weird, we had a signed offer and were in escrow on Wednesday June 12th. Since we were paying cash and it's just a lot so there was nothing to inspect, we set it up to close on Monday June 24th, exactly a month after we'd moved in.
I'd spent much of the weekend doing research on park models and soon discovered that there is a major backlog in their production here in the SW. In fact, if we wanted one for next summer, we were going to have to order one soon.
Why are we talking about park models? Because that's the only kind of house you can put on a lot here since it was initially zoned as an RV resort. They don't allow stick buildings or mobile homes. Only RV's and park models. A park model is what folks are now calling tiny houses. It's a maximum 400 sq foot building that arrives on wheels like a trailer. They set it up on piers, hook up the water, power and sewer and take the wheels away. And voila, you have a house. Once it's set up you can then add decks, additions (known as Arizona rooms), storage buildings and garages and car ports. Some folks literally fill up their entire 40' x 60' lot with house—though you do have to leave a 22' x 10' spot open for a parking spot—but in some cases that means they parallel park their car at the front of their lot.
I kept talking to everyone I saw about their experiences and who I should talk to and in the end we had an appointment with the representative from the Architectural Committee who takes care of escorting all the new park models into the resort. She pointed us to a list of 3 or 4 reputable dealers and we made an appointment on Monday June 19th to go and order the brand and model I liked best. That meant I had to be ready with all the choices that go into ordering a new house—carpet, flooring, appliances, countertops, back splashes, cabinet facing, you name it. I found a website with the manufacturers options on it (it turned out to be a little out of date but not bad) and set to work.
Having made the arrangements for all that, Mother Nature put on yet another show on Thursday June 13th. This time it was a little later so the colors were more in the violet range.

The other hitch in this whole process was that the dealer we picked was down in Surprise AZ which is northwest of Phoenix. Our niece, Amy, and her dad, Mike, live in Avondale which is just south of Surprise. So we arranged to drive to Phoenix on Sunday and spend the night with them and then go and order the park model on Monday afternoon. It's a 200 mile drive each way so it was just like being on the road again only this time we didn't have the trailer in tow.
The moon was full on June 16th and I was lucky enough to go out just in time to catch it rising on the 15th when it looked full but the light was still good.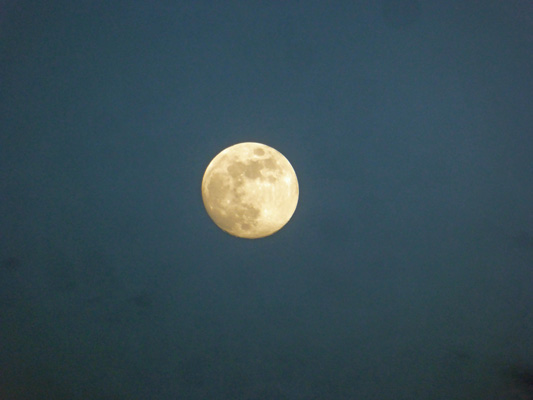 Sunday at noon when we left Juniper Ridge it was in the low 80's and there were a few clouds off to the west. As we drove west on Hwy 277 across the Mogollon Rim, we had a few sprinkles and the temperature dropped into the low 70's. But as the highway lost elevation it began to heat up. By the time we got to the town of Payson to have lunch it was 90. From there the highway drops quickly and the temperature hit 105 as we entered The Valley (the bowl where Phoenix is). Thank goodness for air conditioning.
We arrived in Avondale about 4 pm in time to catch up on news with Amy and Mike and then go out for dinner to a yummy Greek place that Walter found by searching on my phone.
We hung out at their house the next morning and I couldn't resist taking a photo of Amy's bougainvillea which has been getting steadily bigger over the years. A couple of years ago we helped her prune it back when we were visiting. She'd had it cut back hard last fall and now it's the bougainvillea that ate the patio furniture. Sure is a pretty color though. Yes, there is a chair on the left under all those flowers.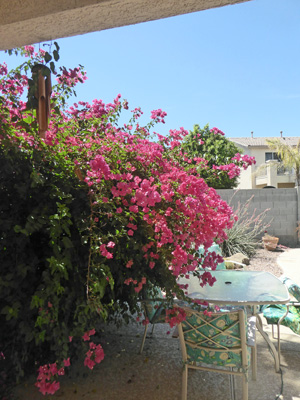 McFly, Amy's dear sweet little dog, watched over us as we sat and enjoyed just hanging out on Monday morning. He doesn't stay still for long so I was pretty happy to get a decent photo of him.
When we left Amy's at noon it was 105 again. We did some shopping at Trader Joe's and Sprouts in Surprise before our 2 o'clock appointment and arrived a little early so we could look at their models. Minor detail, their models aren't hooked up to electricity and they'd been sitting in the sun all day. HOOOOOOOOOT. So we dashed in and out looking at them all. They didn't have a model of the exact floor plan I'd picked out but we could see what it would look like from the outside.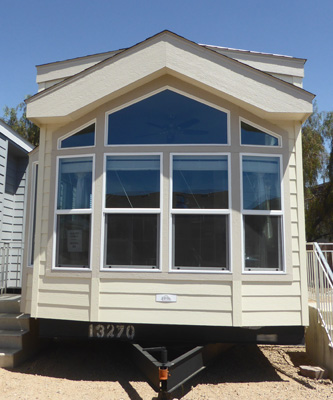 This is the living/dining room end of the house. It will face out on the lake. Here's what it looks like from the inside.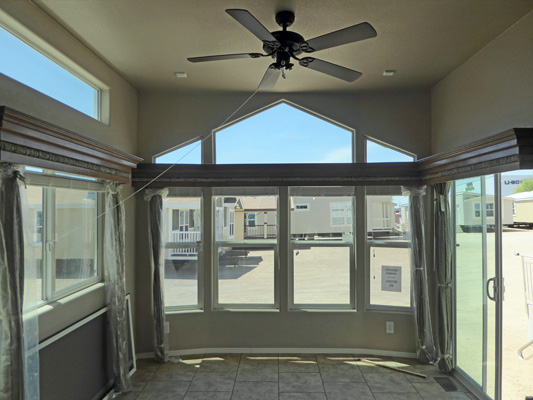 Our house will be flipped over into a mirror image of this one. Our sliding glass doors will be on the left and will eventually open out onto a deck. The room addition which will be our living room and office will extend behind the deck parallel with the house. Now, just step back and imagine our lovely view of the lake and the 15th green out those windows!

Our kitchen will be laid out like this—but with black appliances and different counters.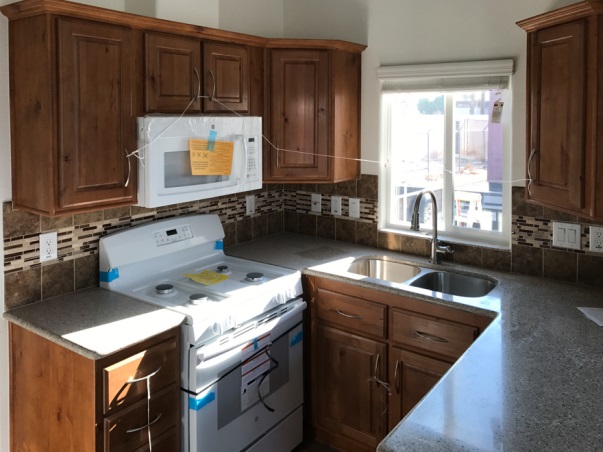 And the entertainment center will look like this as it faces out into the living area.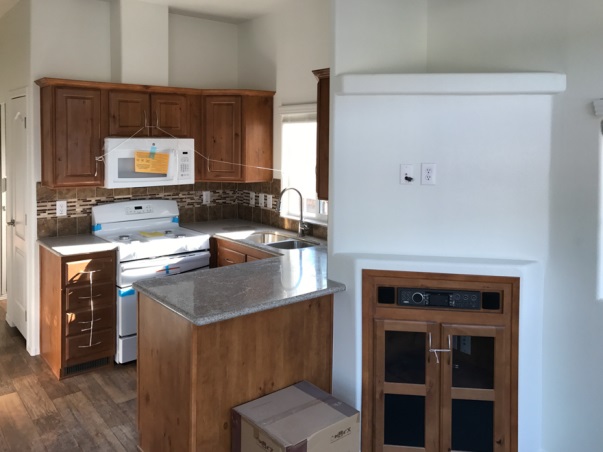 The refrigerator is across from the main portion of the kitchen with a desk just beyond it.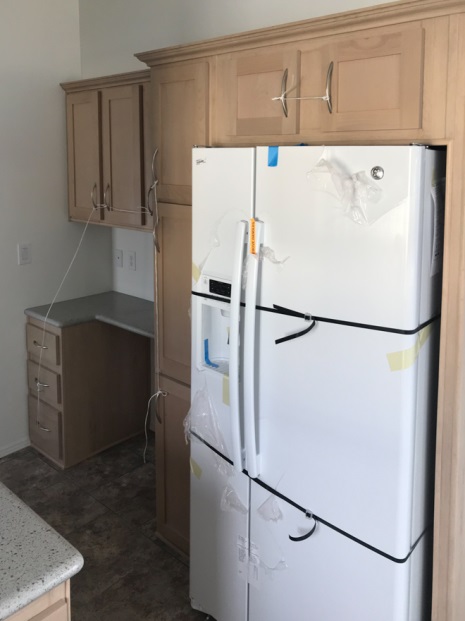 Here's what the desk area looks like but ours won't have a window.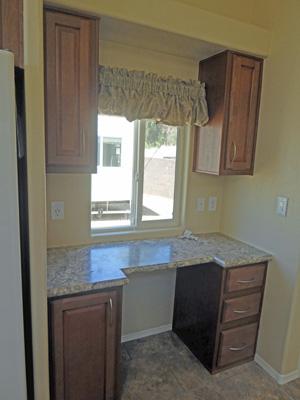 The bathroom has a stall shower with glass enclosure. And there's a vanity with drawers, a medicine cabinet and mirror—and yes, a toilet.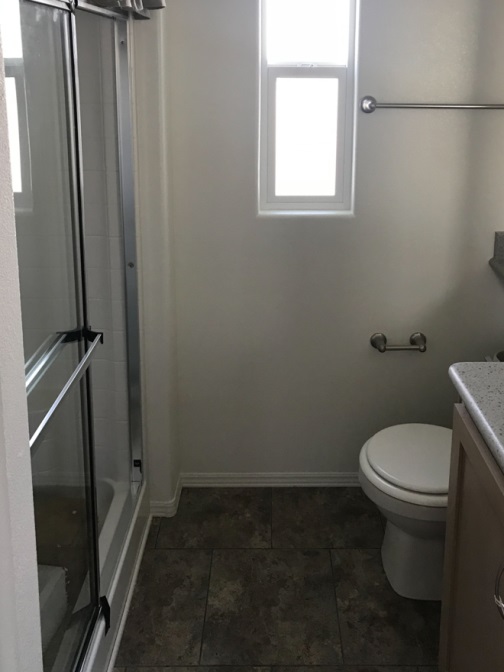 The bedroom has a built in chest of drawers with cabinets above.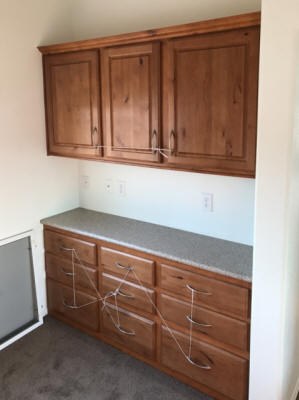 It also has built in night stands, reading lights and cabinets above. I'm not nuts about the overhead cabinets but hey they're part of the deal.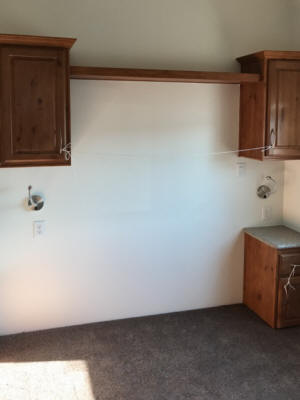 The closet is mirrored and has big deep drawers underneath.
Having run ourselves ragged looking at the models, we went into the office and cooled off with cold water and air conditioning. And then we set about selecting all the options. We'll have a metal roof to assure it stands up to the mountain wind and snow. It comes complete with a good air conditioning and heating unit. We opted to go with all electric rather than having a propane tank for the heat and the stove.
Here's a shot of a kitchen that has a different layout than ours but it has the same laminate, backsplash and valance that I selected. All the drapes will be that same gold/beige color.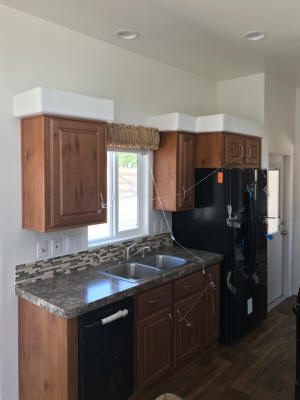 Here's sample of the backsplash tile.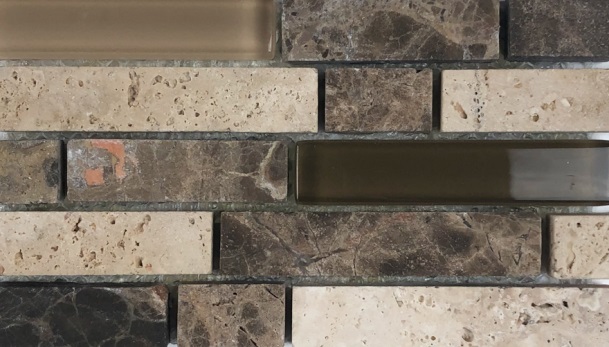 And this is the laminate.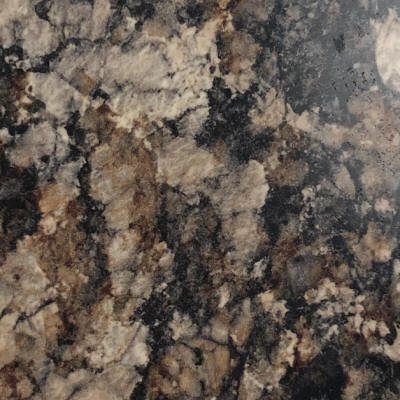 I opted for the KOA handles for the cabinets.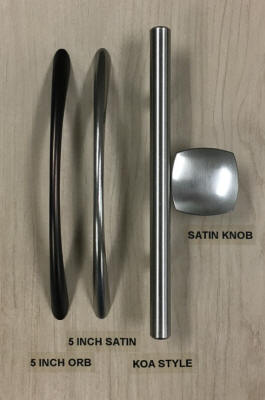 And here's the cabinet face I picked.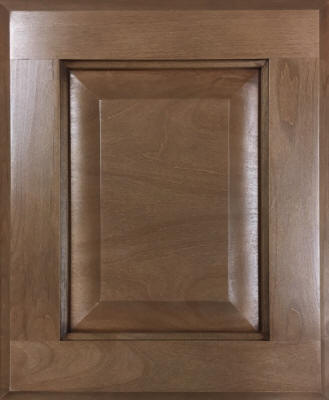 There's vinyl in the living area and kitchen.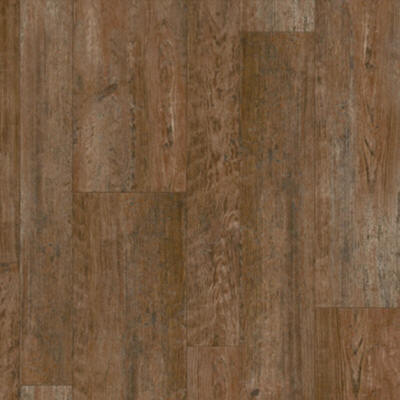 This is the carpet for the bedroom.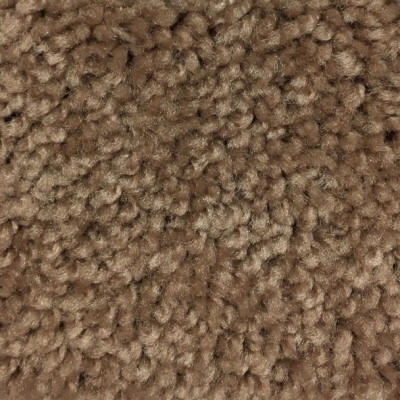 We were done with all our selections in under an hour and had paid our deposit and were on the road by a little after 3:30. Whew. The factory says that our new house will be ready in March. The dealer says that from past experience (they've been doing this since 1989) that means it will be ready for delivery in late April or Early May. That's exactly when we want it so let's hope they're right. Once it is delivered, it will take about a week to get it set up and ready to live in. We're in line with the best contractor in the area to have our deck, addition, storage area and car port built but who knows when that will be. He's super busy.
From Surprise, we drove east across the valley on Hwy 101 which let us avoid downtown Phoenix at rush hour and picked up the Beeline Highway (Hwy 87) just east of Scottsdale. The Beeline takes you up through a lovely stand of saguaros as it climbs up the hills back up to Payson and the Mogollon Rim.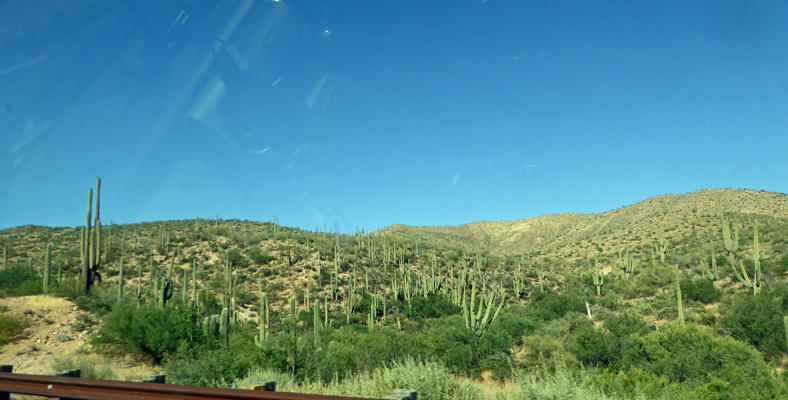 I was driving when we came through this area on Sunday but on Monday, Walter was driving so I got a chance to take a few photos on the fly.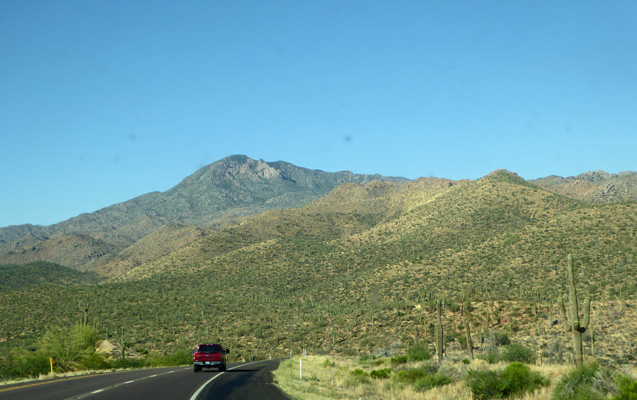 We stopped for dinner in the little town of Heber where we found a great little Mexican restaurant (there are two in town). We were back home at Juniper Ridge by 8:30, tired but happy.
For a couple days after that we focused on unwinding and resting. We'd done a whole lot of stuff in a short time and frankly we were both tired. We signed the papers for the purchase of our lot on Friday June 21st and then came home and crashed. Later that afternoon, to celebrate the first day of summer, I went next door to take pictures of our neighbor's hollyhocks. I've seen them all over the resort and they clearly do very well in this climate.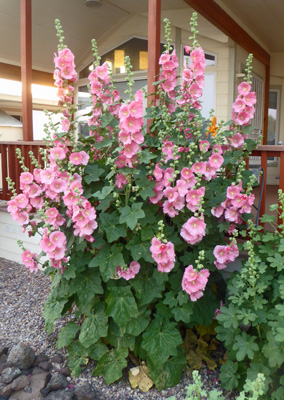 Here's a close up of a light pink one.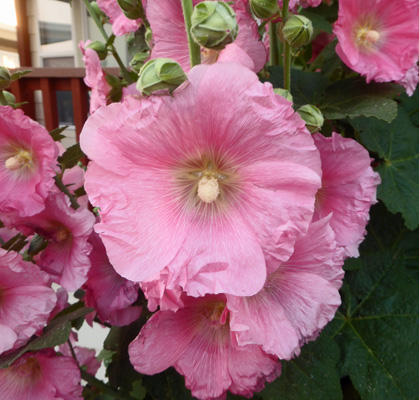 And a darker pink one.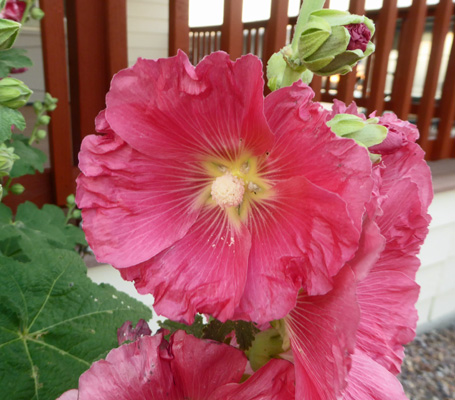 I have fond memories of them from when I was a kid. They were considered an old fashioned flower but one of our neighbors had them all along one side of her house. She taught us how to make dolls with them by taking an old-fashioned clothes pin and drawing a face on the knob and then using the hollyhock for her dress. I tried to grow them in Monroe but they always got rust and were really unhappy and the flowers were contorted so I gave up.
Saturday June 22nd, we took a drive through the area east of us and then south towards the town of Show Low. There were flowers in bloom here and there including blankets of Dakota Mock-vervain (Glandularia bipinnatifida) in among the junipers.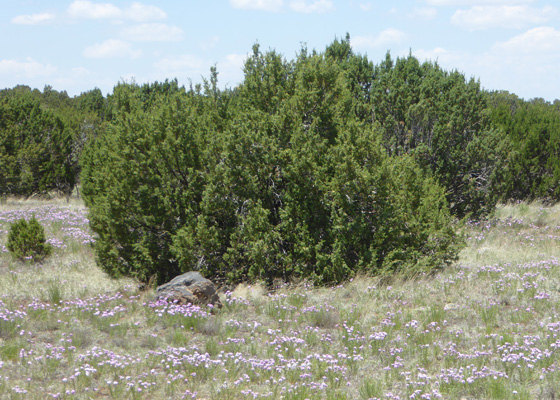 And here and there we'd see Flatbud Prickly Poppy (Argemone munita). These are tall poppies that grow to 2 to 4 feet tall with big white flowers.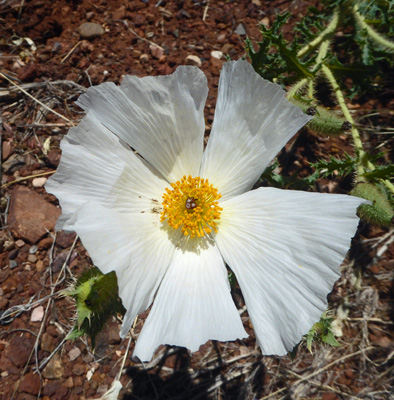 And there were patches of this lovely little yellow flower along the roadside. I spent a good long time trying to identify it and finally found that it's probably Cowpen Daisy (Verbesina encelioides)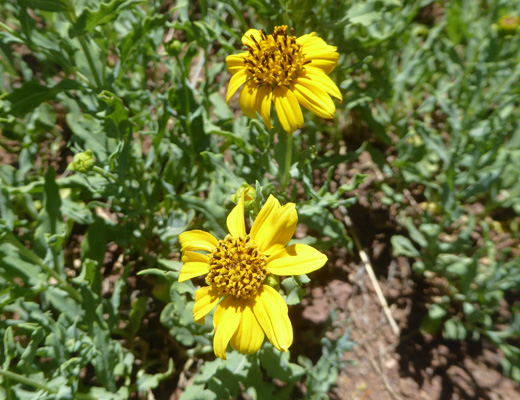 Here and there we saw small soapweed (Yucca glauca) in bloom too. Boy, are there a lot of different kinds of yuccas in the SW.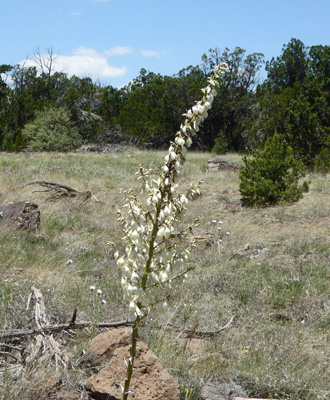 We took a turn down a dead end road because Walter saw a little lake on the map. It turned out to be Little Mormon Lake. The cows seemed to like it but it was a little on the muddy side of things for me.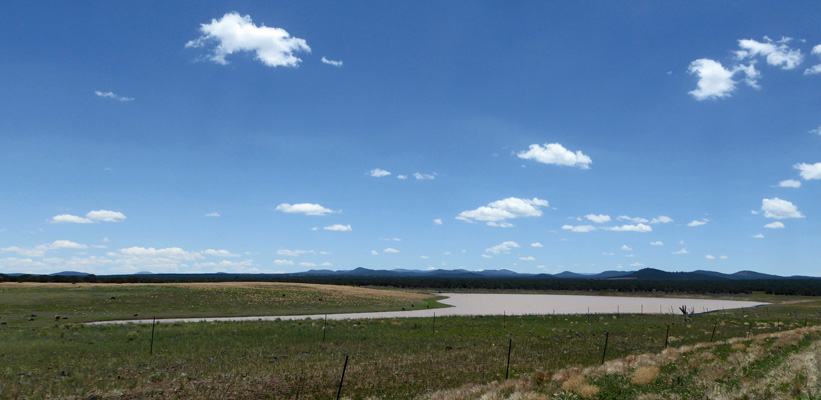 Along Hwy 77 north of Show Low we'd seen signs for a trail at Pintail Lake. So this time we took the dirt and gravel road out to see what was there. This turns out to have been a joint project between the National Forest Service, the Arizona Fish and Game Department and the City of Show Low. They've created a lovely little wetland and lake using the wastewater from Show Low. It has attracted lots of birds which pleases the Arizona Fish and Game people. And it is all located on and administered on by the National Forest Service who put in the trail. Win win win.
They put in a fully accessible concrete trail from the parking area out to two viewing areas near the lake. We took the walk just to see what we could see. Along the way there was some Wooly Plantain (Plantago patagonica).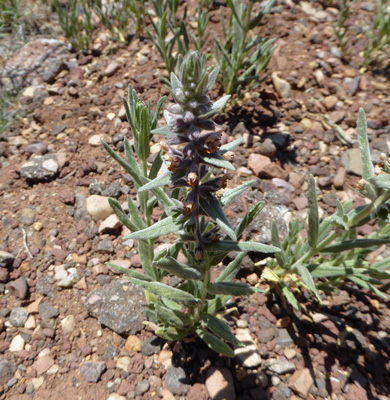 And wonderful domed clumps of Dakota mock-vervain (Glandularia bipinnatifida).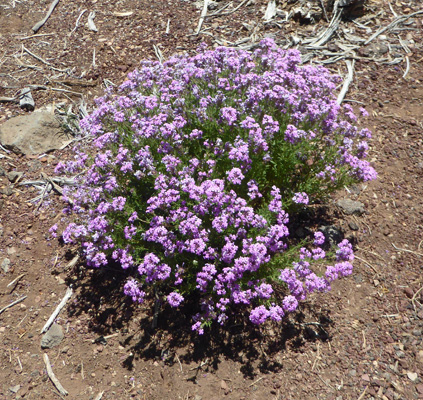 The trail comes to a Y and we took the right-hand fork which took us out to a very nice new viewing platform with a view of Pintail Lake and the wetland.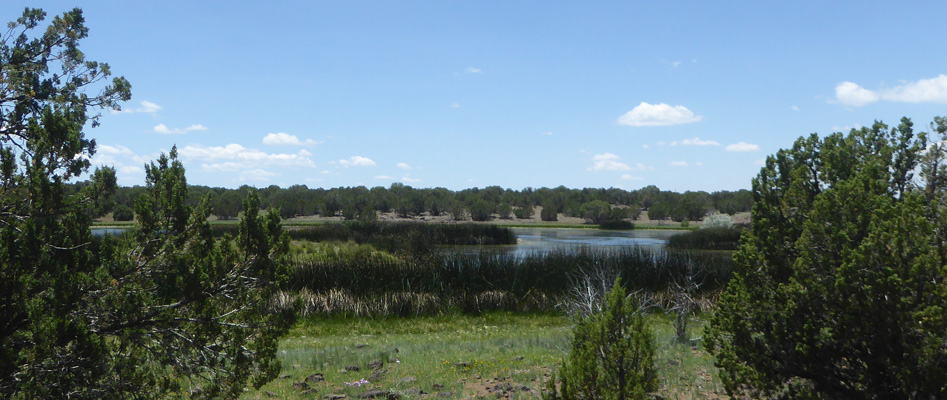 There were ducks out on the water in this direction—probably pintails but they were kind of far away to tell.
And there were Canada Geese in another section of the lake.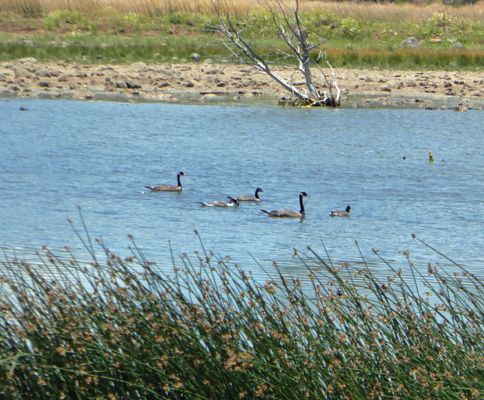 Here's a panorama shot. You can see blue water between the junipers.

It was a nice day in the mid 70's and just a bit breezy. We sat on the bench and watched the red-winged blackbirds fly in and out of the sedge at the water's edge. All and all it was a worthwhile little hike (.6 mile round trip).
Sunday June 23rd, was a glorious sunny day with a high of 78 and hardly any wind. So I set out on my bike to take you all on a photo tour of Juniper Ridge Resort. I started out by taking Lake Shore Drive (which is where our lot is) just a little ways north to the end of the lake and around the corner to the little park by the fishing dock.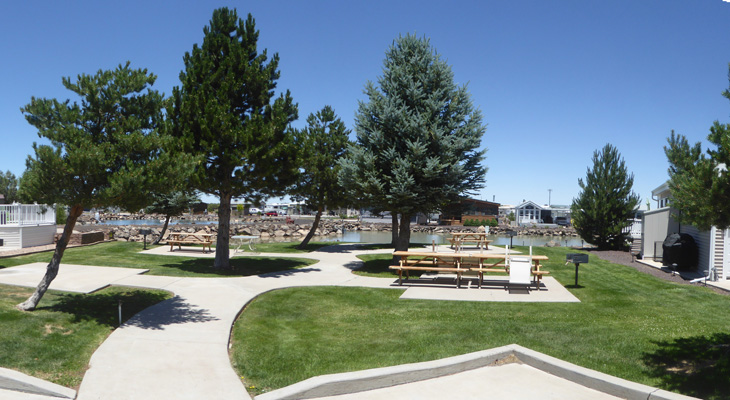 This is a nice little park complete with picnic tables. We can see the front of it from our lot and I've actually seen a few people using it to have a picnic along with lots of folks walking their dogs.
Out on the lake side of the park there's a fishing dock.
There are really big catfish and carp in the lake. Those long dark marks in the water are fish. You're welcome to go fishing as long as you use barbless hooks. And it's catch and release of course. I've not seen anyone fishing off the dock yet but there is a guy who has come with his poles a couple of times to walk along the lake shore. Walter talked to him and he said he caught a big one last year. One of our neighbors down at the other end of the lake will occasionally sit out on her deck and toss dry dog or cat food out and the fish all come and splash around in great numbers. There aren't any 'don't feed the fish' signs so I guess it's okay.
Just around the corner at the far side of the development there's a fun long skinny park called the Back Forty. It's fairly new and when we first arrived the irises in the front were in full bloom. But they didn't last long.

There were Pale Evening Primrose (Oenothera pallida) in bloom all along the back of the park near the fence separating the park from BLM land.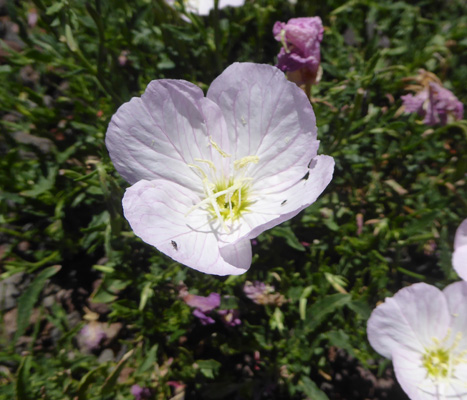 Here's a view of the park from back near the fence.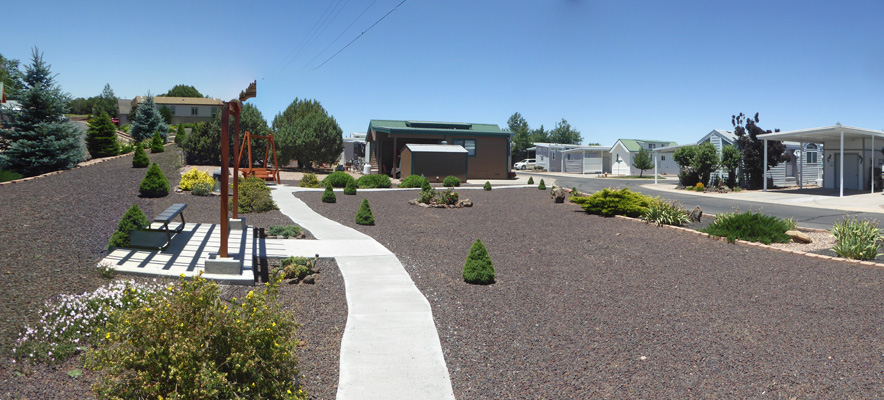 The folks who live out this way say they see elk and antelope out in the BLM land all the time. Walter is thinking of putting his wildlife camera out on the exit from the 14th green where we've seen elk droppings! We often hear coyotes out that direction too.
From here I rode back to the main road and headed north. There's a bit of a hill and then you come to three ponds—one on the right-hand side of the road.

And two on the left hand side of the road.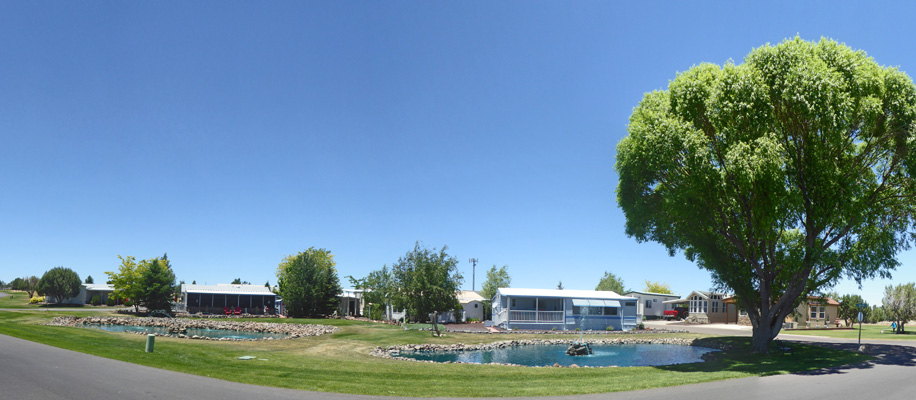 The tree on the right is the lone big tree in the resort. Everything else is still relatively young or is a juniper and they just never get real tall.
Just past here the developed land stops on the left hand side of the road and wild land begins. The resort owns the 40 acres that abuts the park. The community dumpsters, a little community garden and a new RV storage yard are all on that side. But mostly it's junipers. On the right-hand side where things are developed there's lots of grass and trees that line the road all the way to the entrance almost a mile away.

I really appreciate all the green. They water it a lot but it's not a big expense because they have two private wells that they use for the golf course and all the lawns. There are dry patches here and there but mostly it's green.
About 1/2 mile from our lot you come to the main recreation center for the resort. It's a cluster of buildings built around the pool and the outdoor recreation facilities. There's a pro shop for the golf course. It's an Executive course which means it's a par three course where you use lighter than normal balls that also happen to float. People collect the lost balls (from the lakes and from the roughs) and return them to the pro shop since when you buy balls they write your lot number on them. They have egg cartons with numbered balls on a table where folks can pick up the balls that have been returned.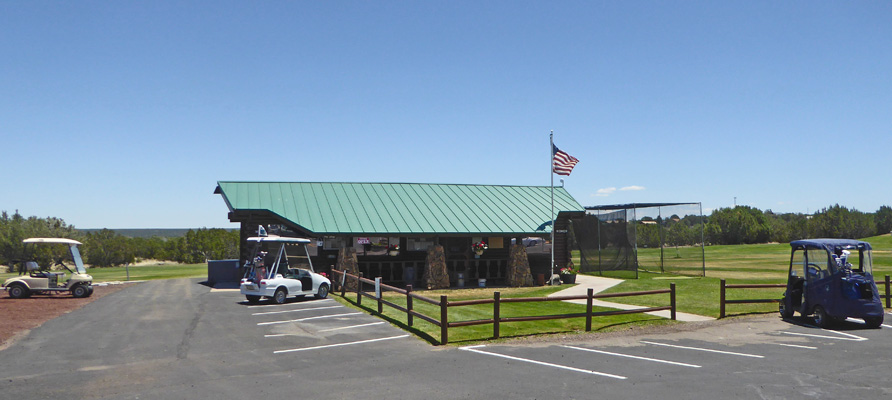 The course is only open to residents and their guests. There's a putting green right behind the pro shop.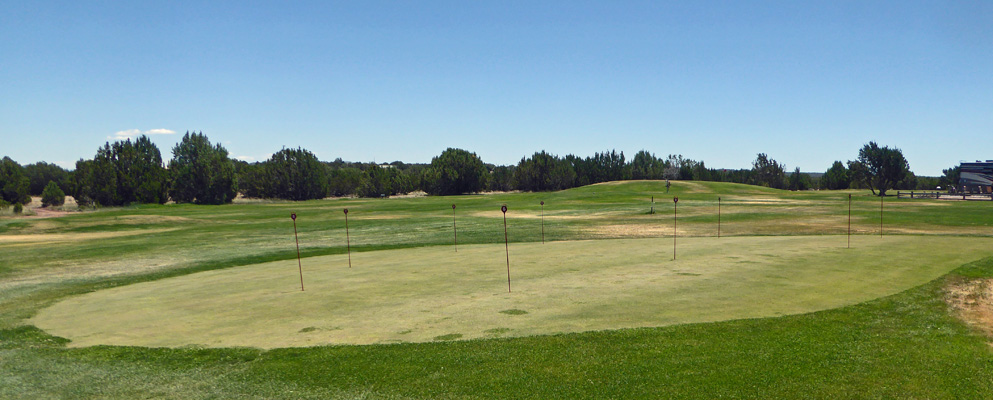 And of course there are 18 holes of golf that start and end here. We may not play golf but we appreciate all the green that having a golf course provides.
Off to the left of the pro shop you come to the horse shoe pits.

The bocce ball courts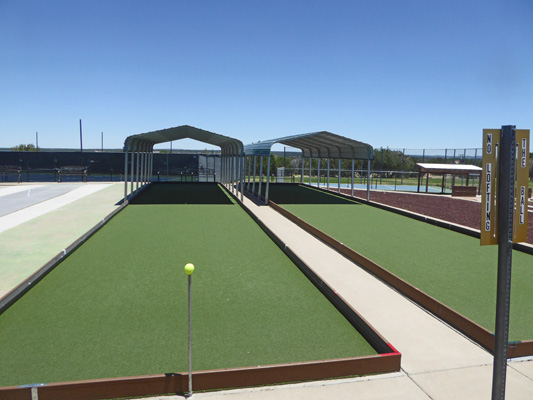 And the newly renovated shuffle board courts.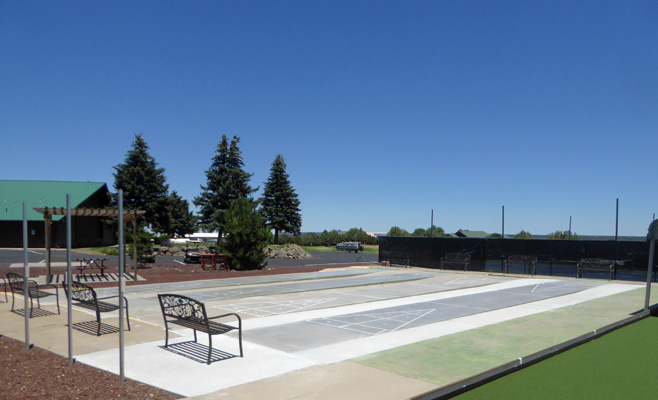 And behind them you'll find the pickle ball court (with basketball hoop included)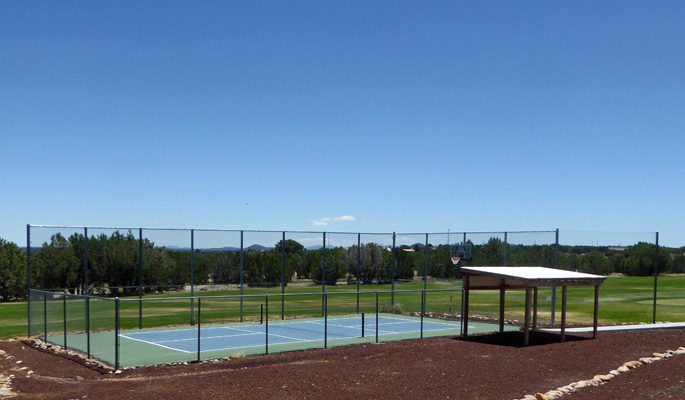 And the tennis court.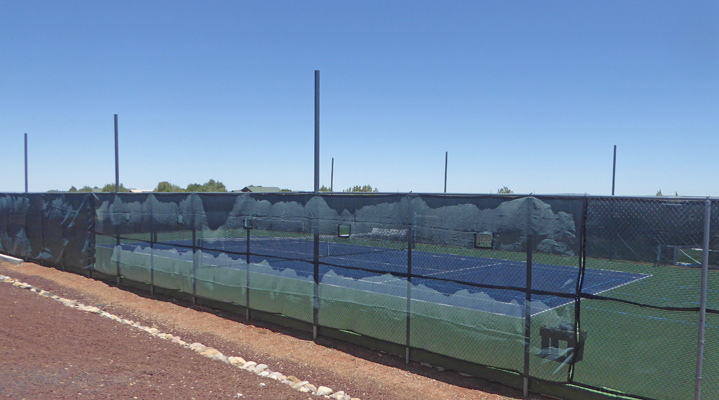 Then comes the fun stuff. First off is the Crafts Building. This is where there's a big sewing room, the lapidary and silversmith shop and the pottery studio. Here's the pottery studio's totem pole.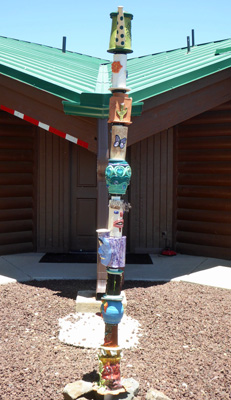 This was Sunday morning and the sewing ladies were there in force. They mostly do quilting and do at least one class a week if not more.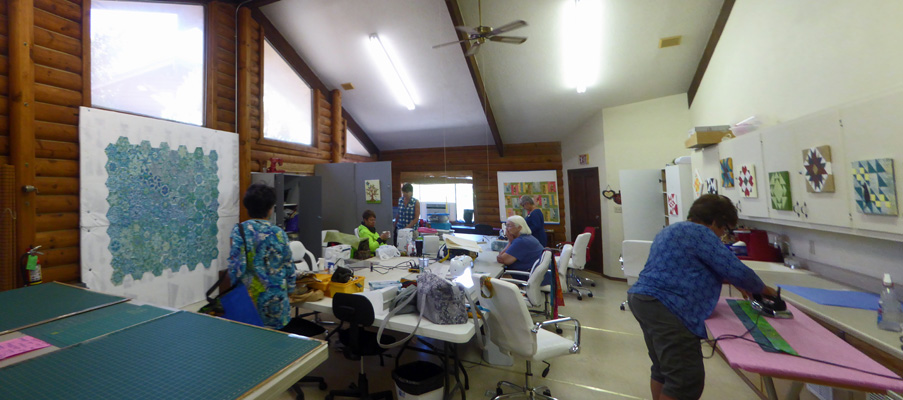 The pottery studio takes up two large rooms. There's a room dedicated to hand building with clay. The strange object in front is a slab roller. You put a lump of clay in it, adjust the height of the roller and it does the work for you. No rolling pins required here.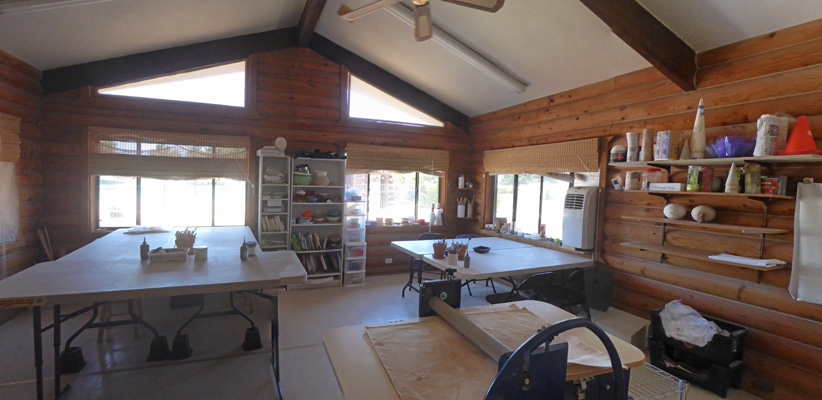 They have a huge collection of forms, molds, textures and tools here. And during the week this is a pretty busy place. There are 6 ladies who make this place possible. One runs the whole thing and manages the kiln and teaches the orientation/intro classes twice a week. The other 5 are monitors who each work one morning a week Monday through Friday and are available to answer questions, solve problems and teach you anything you might ask them to teach. All are very experienced and have tons of skill and information. They rotate giving one class a week on Wednesday afternoon.
In the hallway, there are shelves where everyone has a plastic box to store their clay and tools. One of the ways they support this place (besides the $20 you pay for the orientation class) is that they sell clay for $10 for 6 pounds. They bring in a huge quantity of clay each year and then make money on it by cutting it up into small workable chunks for folks. It's low fire clay (to reduce the wear and tear on the kiln) and comes in red and white.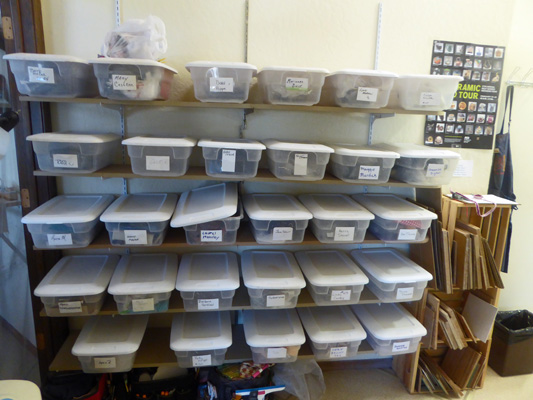 I'm sure there are more than 30 people who work in the studio so my guess is that there are more boxes some place else.
The other room is the glazing room.

Those squares hanging on the wall are samples of glazes. There are nearly a hundred glazes available. In addition, there are two electric wheels for people who want to throw pots. And when it gets hot (which does happen now and then) each room has an air conditioner to keep everyone cool.
Frankly I am in awe and in love with this place. And I love spending time here.
The Lapidary room was locked up. But it's a big room with lots of equipment so that you can learn to shape and polish stones. And there's a guy who also teaches silver smithing and they also do wire wrapping too.
Next door there's the Laundry and Exercise Building. It has a large laundry area with lots of machines.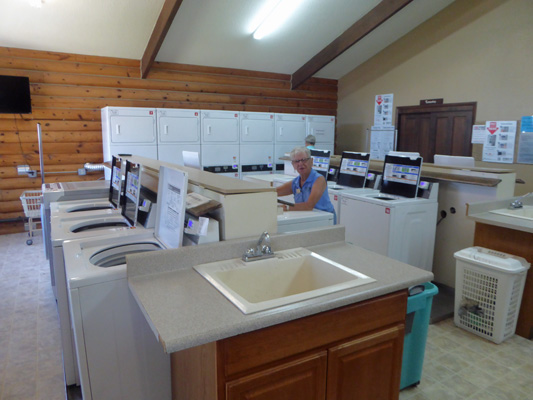 This is a very high tech place. These machines don't take quarters, they take your credit card. Some of the card readers are a little fussy so you have to watch to make sure it actually takes your money and starts the machine but it sure is nice not having to always have a roll of quarters.
There's a small crafts annex room in this building too. Here they do scrap booking, card making, beading and paint barn quilts. They have examples hanging in the window.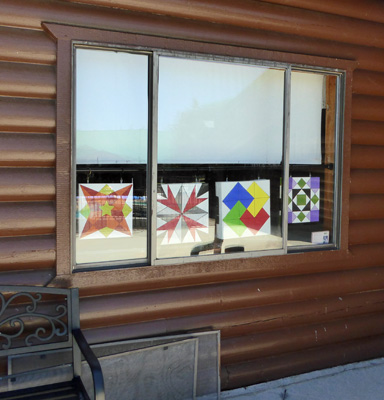 You can see them displayed on the outside of people's houses all over the park.
There are two exercise rooms: an aerobics room with bikes, treadmills and a couple of ellipticals.
And a weight room with free weights and machines.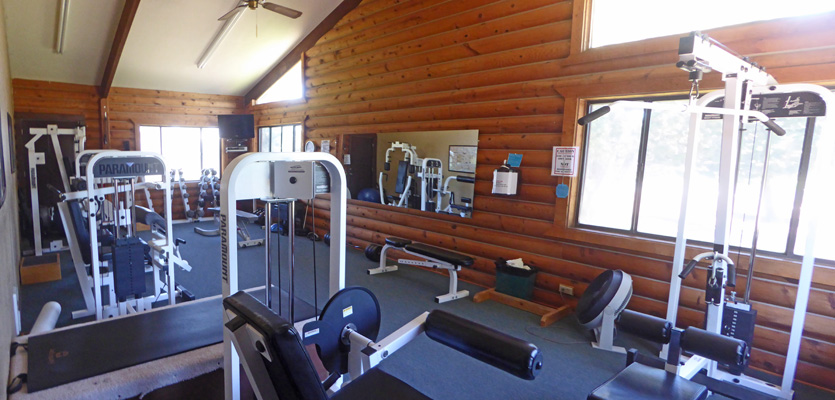 Just outside the windows of the aerobics room is the pool.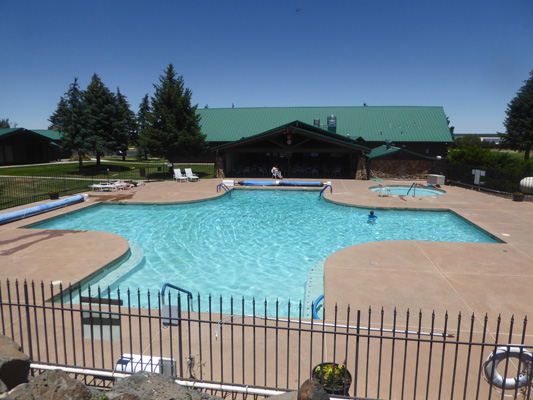 It's heated to about 80 degrees and the hot tub is nice and warm too. The pool doesn't seem to get a lot of use besides the ladies who do water aerobics in the morning. I haven't had much company at all when I've swum laps in the early afternoon.
There are nice showers in the exercise building so I do one of my favorite things. I put the laundry in the washers, change into my swimsuit and go and swim laps. Then when I'm done, I load the wash into the dryers and take my shower. By the time I'm done the laundry is about ready to be folded. If I have to do laundry at least I get to have some fun at the same time.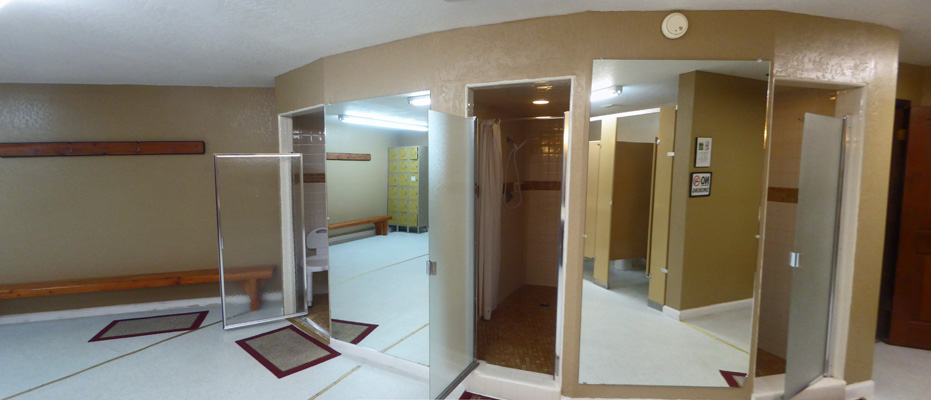 In addition to the nice showers and the classic locker room bench (and some small lockers) there is a sauna and a steam room too.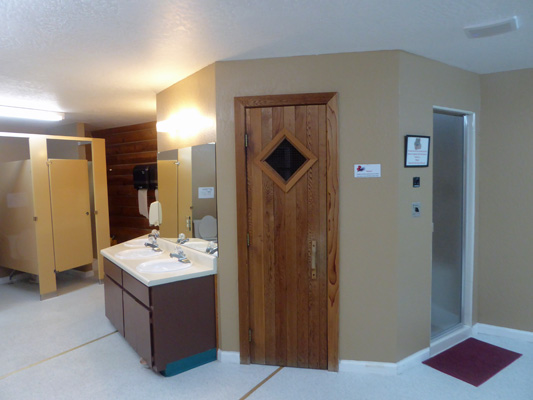 Next up is the Games building where there are card rooms, billiard tables, ping pong and the library.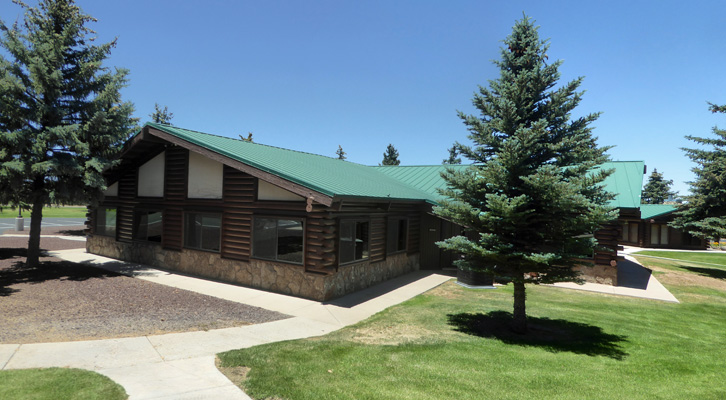 I was told recently that all the billiards tables are new.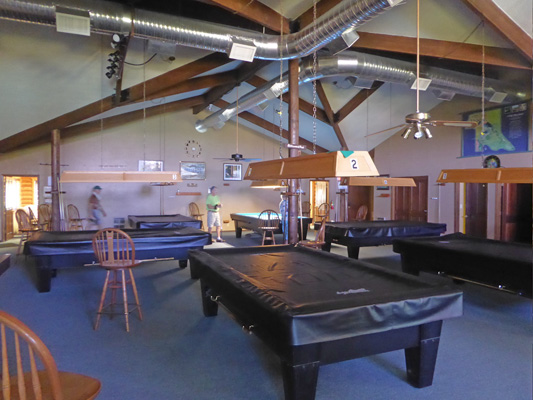 Last time I was in here there were people playing ping pong.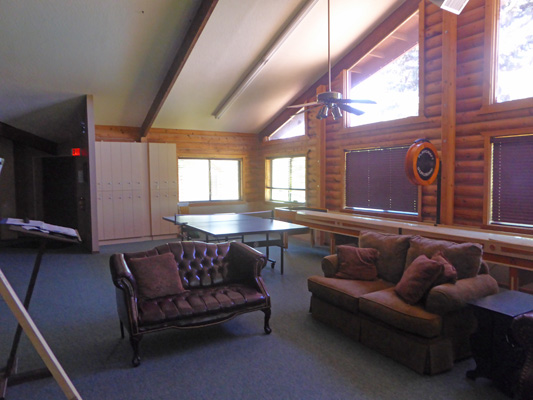 There were folks getting ready to play poker in one card room and a group of ladies playing something else in another one. Cards appear to be very popular here. There are often tons of golf carts parked outside the Games room in the afternoon.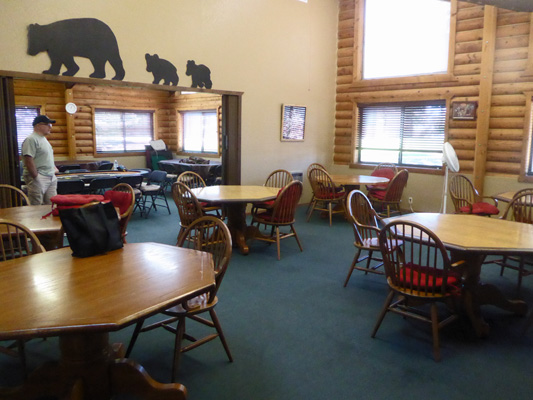 Here's the library.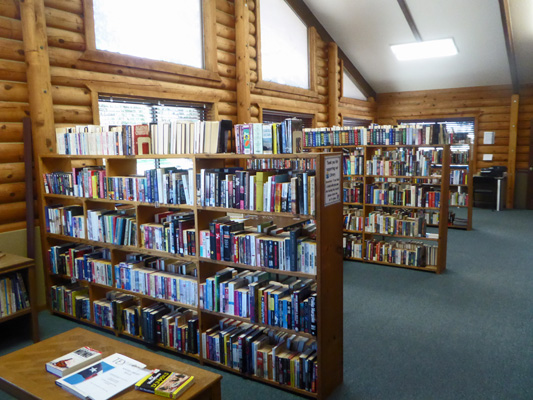 From the Games Building you come out and can see the Activity Building (where there is the Activity Office, a couple of meeting areas, and the Business Office—where you pick up oversized packages and get copies made.
Over on the right is the Grand Lodge, patio and the pool.

The patio is used for both luncheons and parties.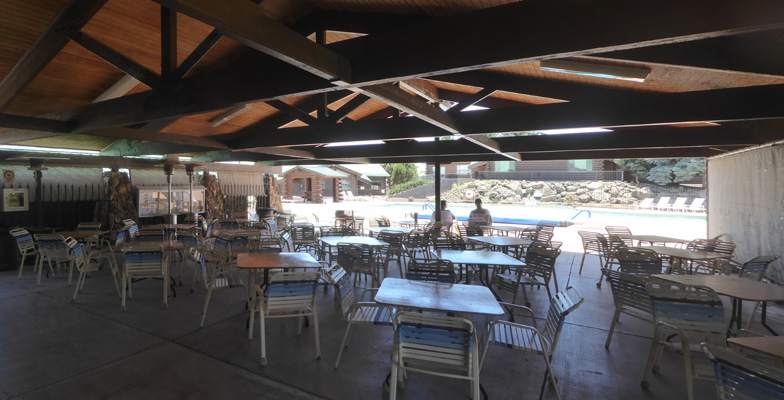 And the Grand Lodge is where they have concerts, programs, dances and big activities. We do our Music Jam here and only take up a little corner of the room. Things were set up for something big when I came in (they have Monday Morning Coffee and Donuts so maybe it was for that).
There's a Country Western Band that practices here at noon on Sunday. We went the first weekend we were here thinking it was sort of a jam session. But they made it clear they were a complete band and weren't looking for new members but we were welcome to sit and watch. Our neighbor went the next week and said we hadn't missed much. They were having fun being up on the stage with mics and a drummer and all when I came through.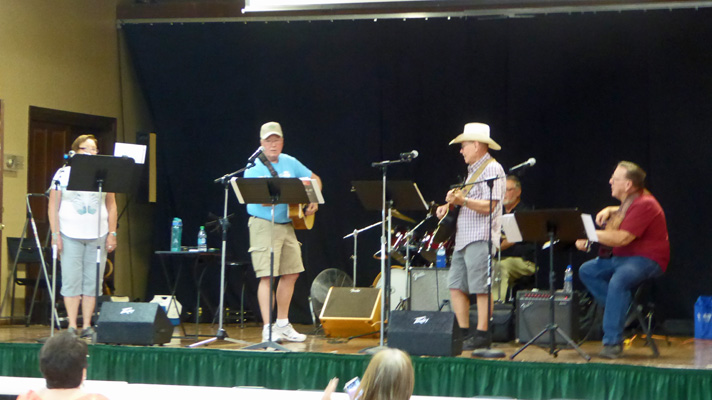 Here's a panorama shot of the Grand Lodge.
As you can see it's a BIG room. There's a sitting area with couches and a big screen TV over across the way.
On my way back from the Grand Lodge I stopped and took a photo of the front of the Activity Building.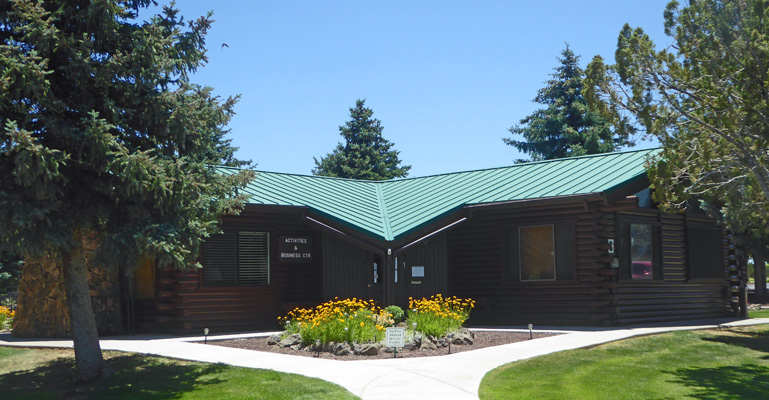 It has some very happy coreopsis in bloom.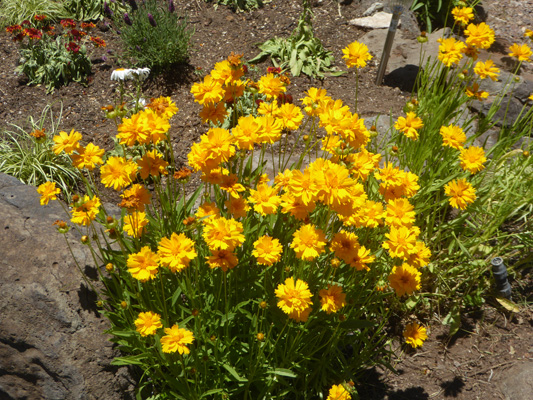 The dumpsters for trash and recycling are over in the wild land across from the recreation center. I didn't bother to take a photo. On my way back towards home I stopped to take a photo of the dog park which is way out on our end of the park.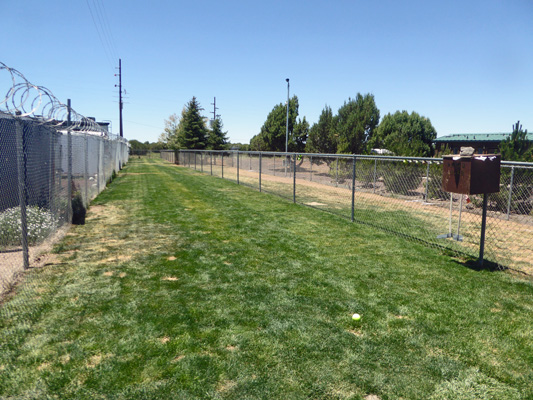 Next to it is a storage yard that also has the Woodshop in it.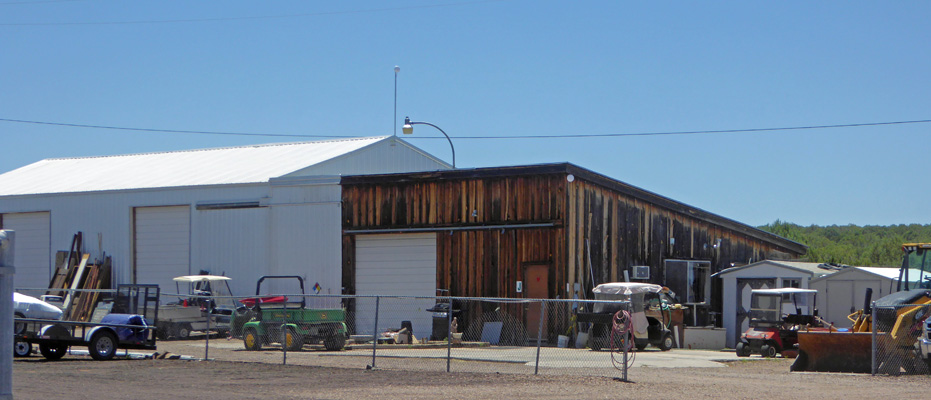 I haven't visited it but folks say it is very well stocked with everything one would want to do wood working. And the Woodworkers make all the signs and things for the resort.
Just opposite this area is a cluster of mailboxes. There's one up by the recreation area too. Our mailbox is here.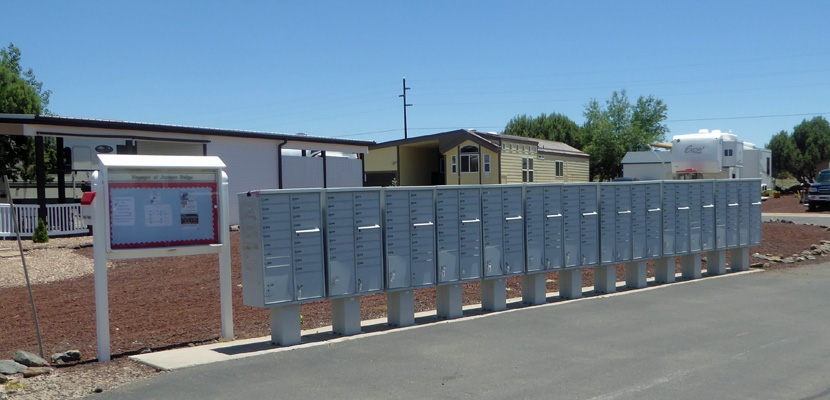 June 25th and 26th we had a little visitor come by at dusk (she was earlier on the 26th).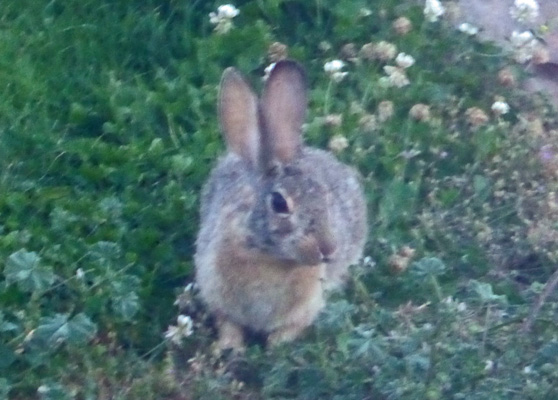 I had to take the photos through our windows so they're a little fuzzy since the windows are dirty and the screens can cause problems too. To add to the situation it was dusk so the light wasn't great. She hopped over and nibbled on the weeds in the rough.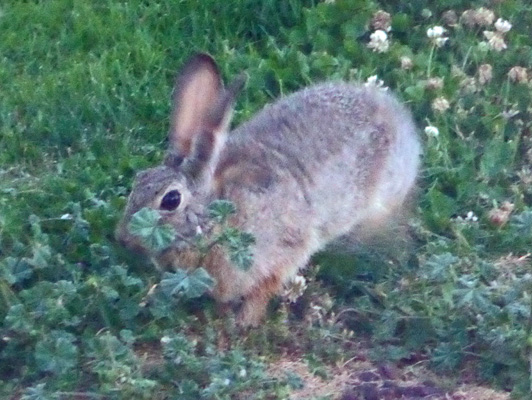 And then slowly made her way back in front of us and up the path.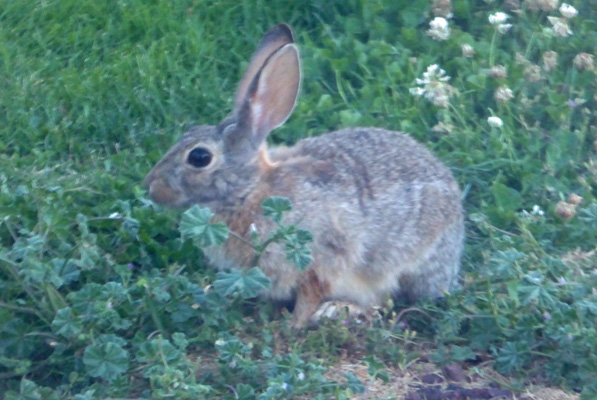 Wednesday the 26th we had our first 360 degree sunset. There was color off to the southeast.
And color from the west all the way to the north

To finish it off I took a photo from the north to the northeast.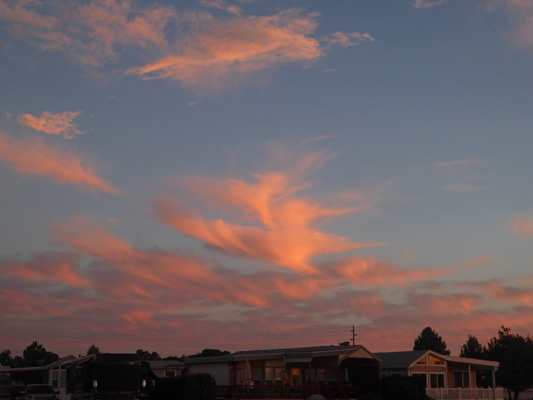 Thursday June 27th, we finished up the last of the paperwork associated with becoming the owners of a lot here at Juniper Ridge. Soon we will have official nametags and a sign for the front of our lot with our names on it. In the meantime we now have a gate clicker that opens up the front gate when there's no one there to open it for us and a sticker that identifies us as owners. It's official we belong here now.
Once we were done with that, we took a drive out to visit White Mountain Lake which is just down the road a little bit. Juniper Ridge Resort is part of the White Mountain Lake Recreation Area and we pay taxes to maintain the water levels in the lake. That allows us to use their little beach, dock and marina too.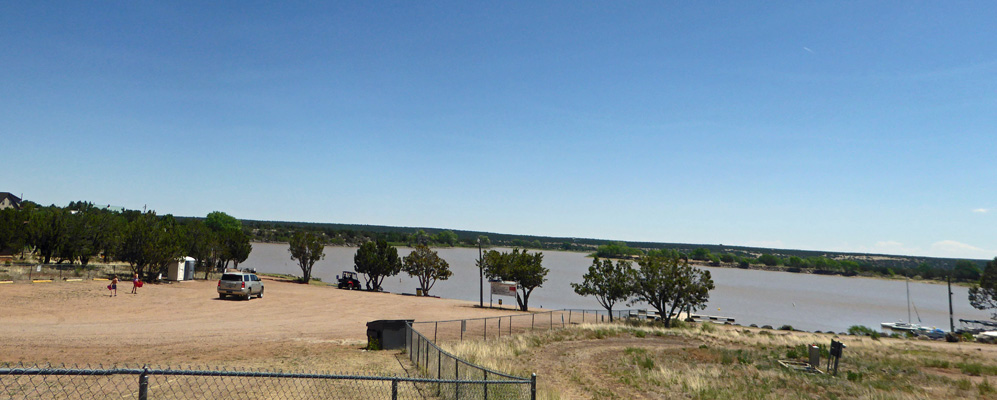 It's a good sized lake and there are big fancy houses built along its shores on the southeast side. We drove a ways along the shore and I found some Beardlip Penstemon (Penstemon barbatus) in bloom.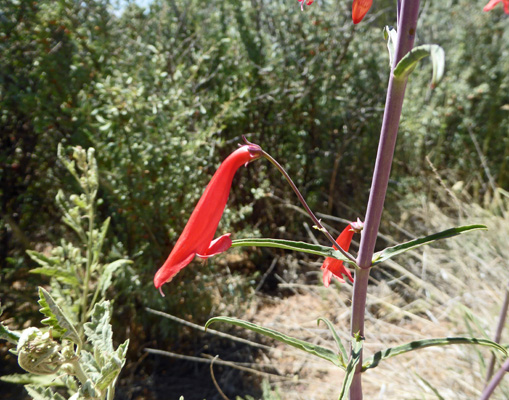 There were masses of Silver-leaved Nightshade (Solanum elaeagnifolium).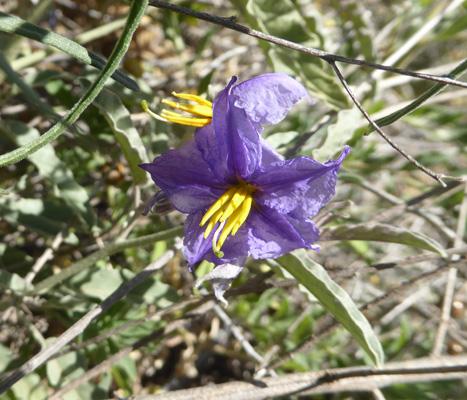 And lots of field bindweed (Convolvulus arvensis) which has begun to bloom along most of the roads around here in the last week.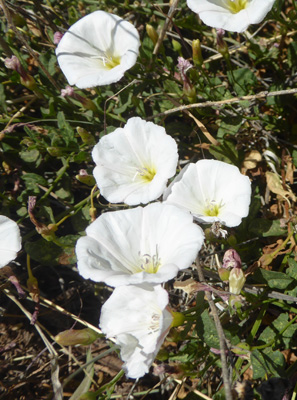 We drove south again on Silver Creek Dr as we had on Saturday and then turned on Silver Lake Blvd which takes you past the south end of the lake and the big fancy Silver Creek Golf Club. At Bordon Ranch Road we stopped so I could take photos of a patch of Firewheel (Gaillardia pulchella) a kind of blanket flower.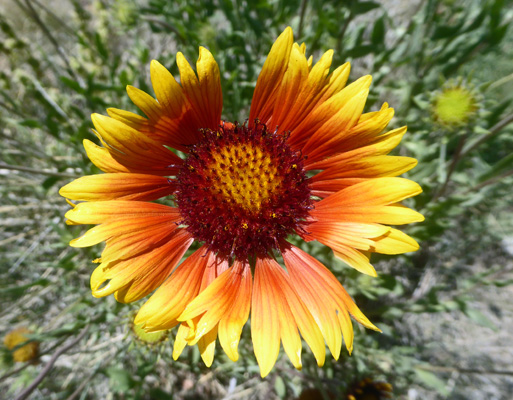 Then we drove north on Bordon Ranch Rd which takes you along the east side of the lake.
The lake is a little muddy (like all the lakes we saw in Texas).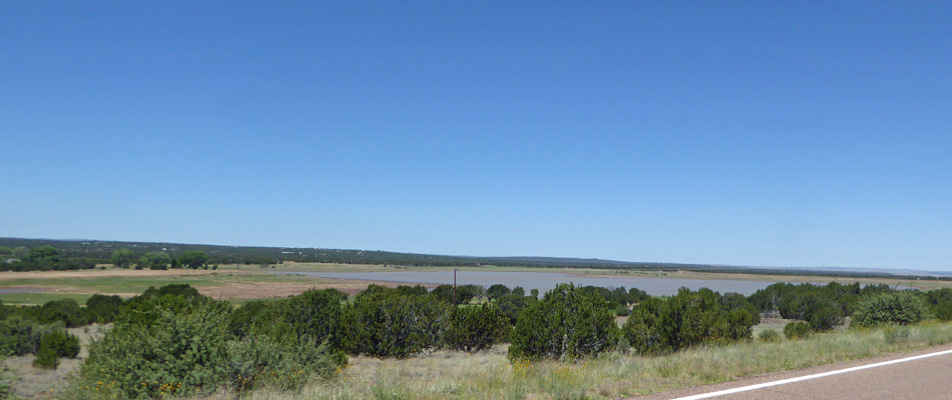 But once again the cattle seem to like it.

Besides all these normal looking regular cattle there was one long big guy who may not have been a true Texas Longhorn but he certainly was related.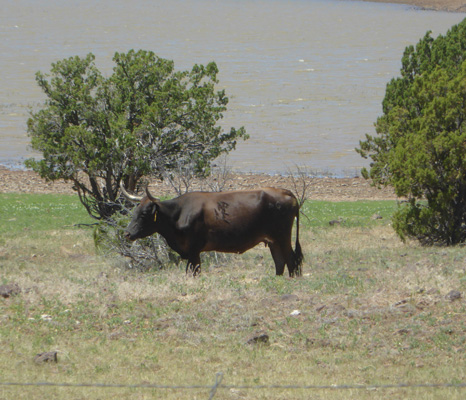 We had a few hot days at the end of the week with temps all the way up above 90 on Friday and Saturday. We surrendered and ran the air conditioning both afternoons. On Friday we had some big black clouds accumulate to the northeast but while it looked like it was raining off in the distance we didn't get any. Saturday we had lots of high clouds but they didn't help it stay cool. But the tiny little shower we had mid-afternoon did the trick.