On July 31st, after I mailed my last missive, Mother Nature put on a super show at sunset.
We had big black clouds off to the north but the late afternoon sun lit up the tops of the clouds.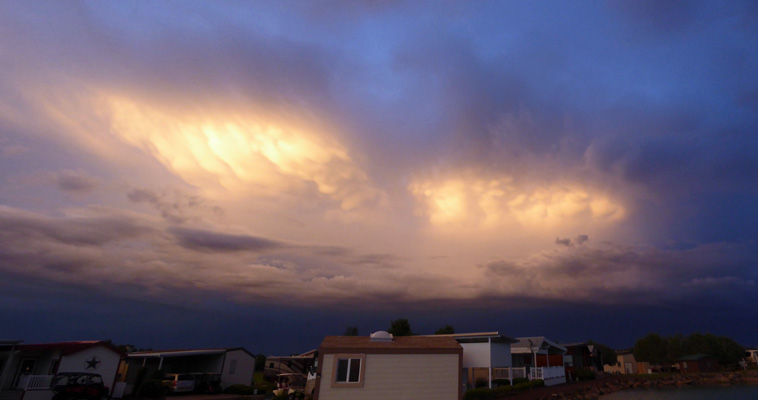 And we got a patch of pink peeking out of the clouds to the east.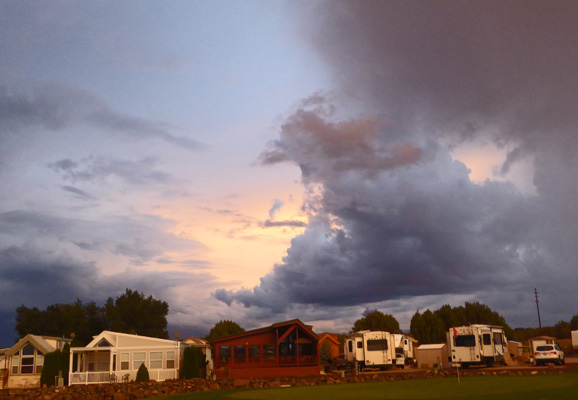 And then up overhead the clouds turned gold.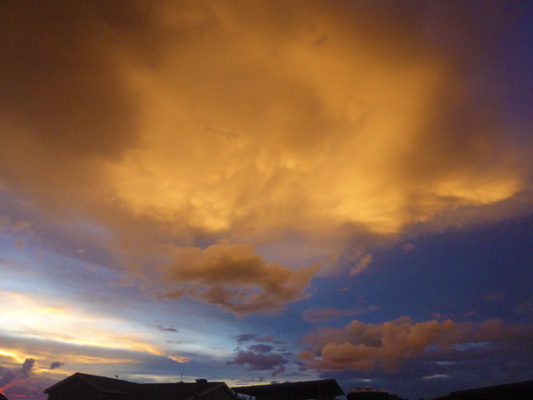 Off to the west we had gold and red.
Here's a shot with the edge of the golden clouds that were straight up along with the color off to the west.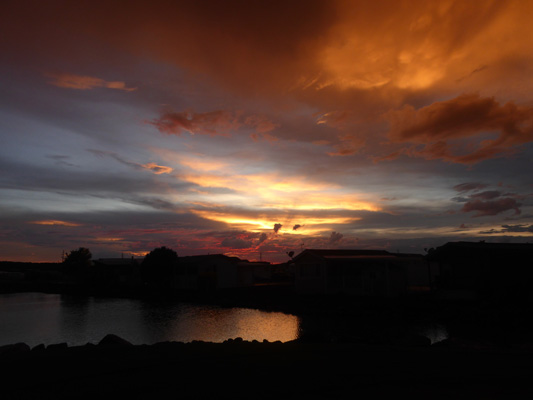 August 1st we took a low key outing that took us first north on Hwy 77 to the town of Taylor (about 7 miles away) and then west on Paper Mill Road to Hwy 277, through the National Forest and on to Hwy 260 and the town of Heber-Overgaard. There were still lots of Prickly Poppies (Argemone spp) in bloom along the way.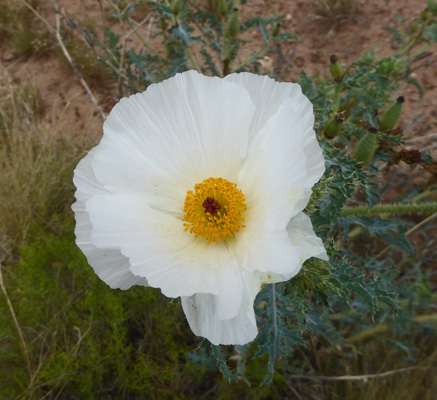 And we had lots of lovely white puffy clouds playing across the blue sky.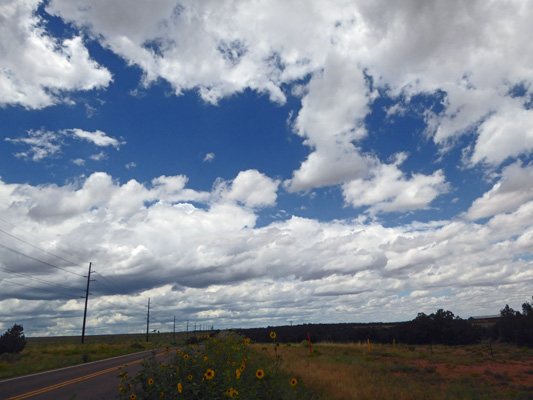 The Prairie Sunflowers (Helianthus petiolaris) lined the roadsides.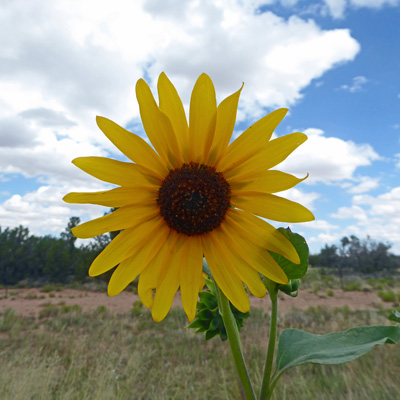 As we got to the outskirts of Heber-Overgaard we got out our huge Forest Service map and decided we'd head back towards Show Low to Pinedale then take a drive out FR 130 where there was supposed to be a campground (according to the map).
We passed lots of little housing developments and bumped along past a lot of spur roads but didn't find the campground. When we got home we discovered that 1) it was a group campground and 2) it had been closed. So surprise surprise there weren't any signs.
We'd had rain off and on for a week of so and while the road wasn't muddy you could tell it had been. It finally got so ugly we decided to turn around. Just as well, we learned later that it really didn't go anywhere and just got worse and worse.
But as we drove along I couldn't resist taking a photo of the clouds and the forest.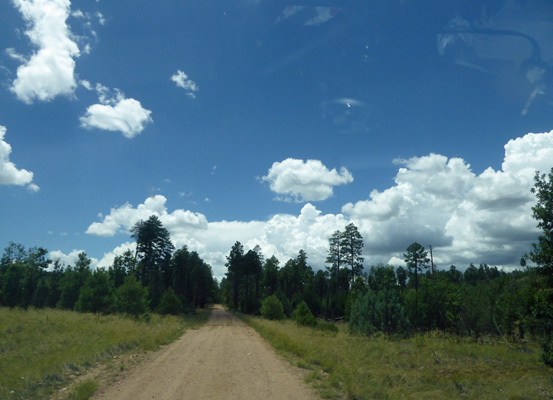 In among the trees I spotted a deer and managed to actually get a photo of it before it wandered away.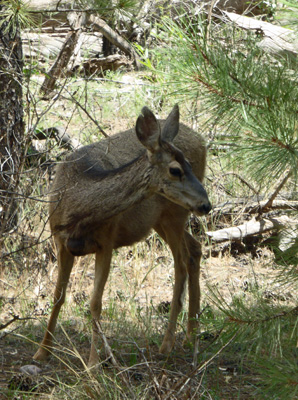 This is open rangeland so of course there turned out to be cows on the road. This little guy really had to move to keep up with all the others.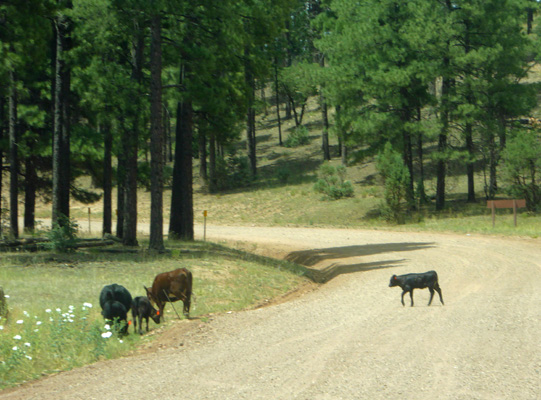 On the way back out of Pinedale I took a photo of their lovely little covered bridge—not something you expect to see in Arizona.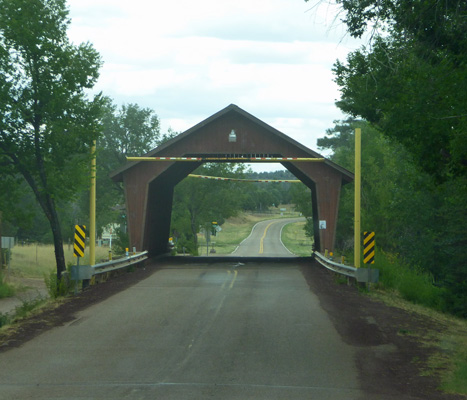 It turns out it's the only true old fashioned covered bridge in AZ. All the others are modern 'follies'. This one was built in 1976 so it's not all that historic and they have a truck by-pass since it's pretty low.
Saturday August 3rd, was the Juniper Ridge Resort Quilt Show. The Sewing Club fills the Grand Lodge with quilts and it was pretty amazing.
The stage was filled with the painted barn quilts that folks make in the Barn Quilt Class. Most of these will end up hung on people's car ports and houses.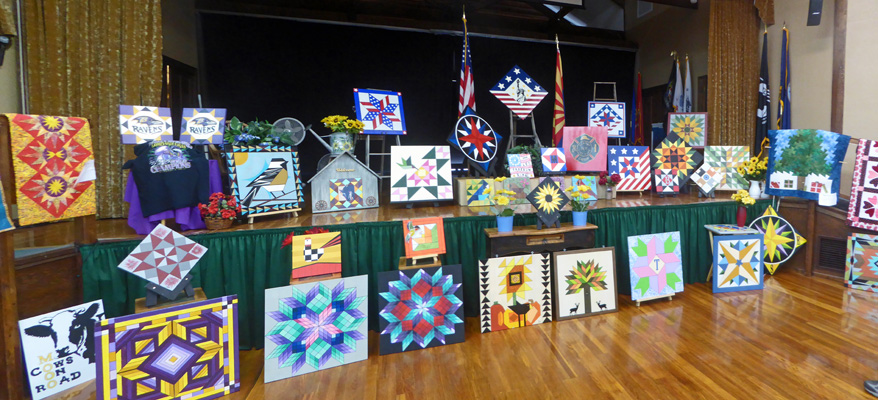 Then the full length of the lodge was strung with quilts. Some of them traditional.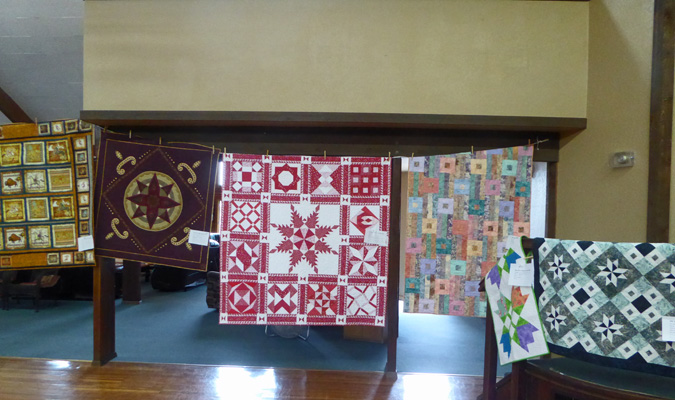 Some of them holiday themed.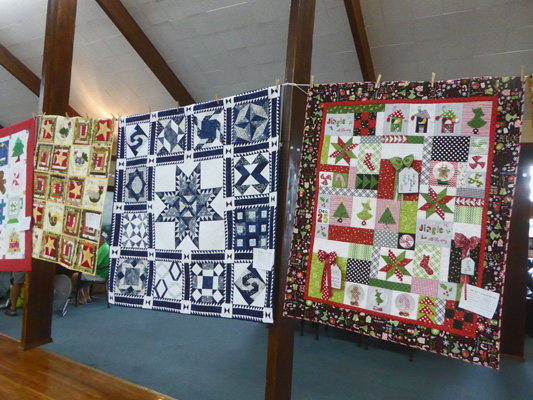 Some super intricate.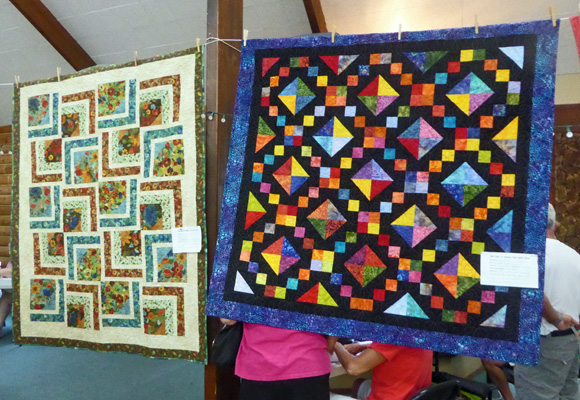 Some just plain stunning.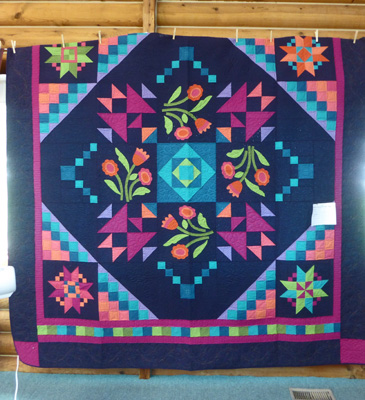 The one on the left is constructed of pre-printed panels (which is considered cheating by some) but all the stuff around the edges is pieced and quilted.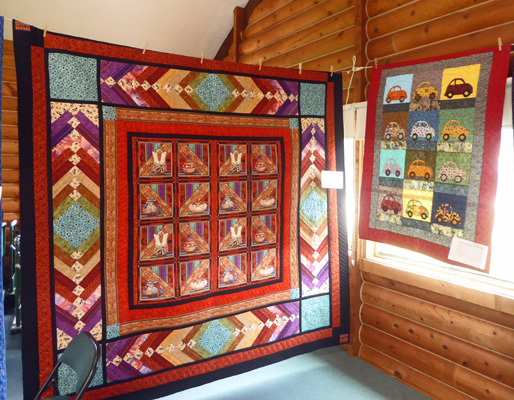 There were houses.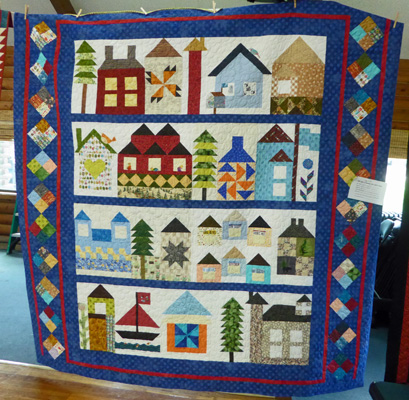 There were birds and flowers.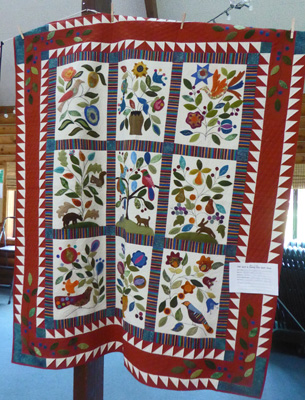 And traditional stars.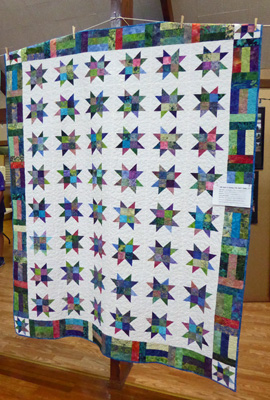 And a very non-traditional assortment of colorful squares.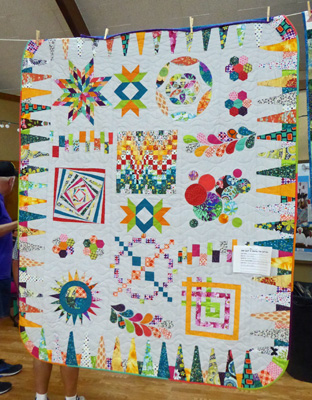 This I admit was my favorite—wildflowers.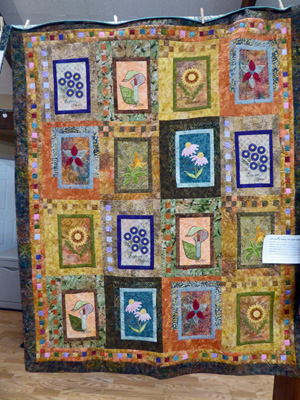 There's a whole lot of talent in the Sewing Club, that's for sure. Many of these quilts had won prizes at shows down in the big retirement communities in the Phoenix-Mesa area. I was really impressed.
Thursday August 10th we awoke to a wet spot next to the bed. While it had rained in the night, the damp spot wasn't from that. Walter went outside and checked the water heater (which is the same neighborhood) and it didn't appear to be leaking (good news). So we opened up this little cabinet under our drawers (under Walter's closet) and sure enough there was water there. And then we discovered you could remove a little panel and behind it there was plumbing. And there was this funny T and water was dripping off of it.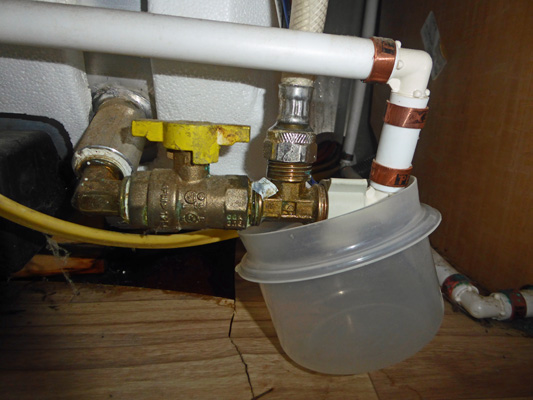 Walter got down on his hand and knees (this is a bit of a tight spot but that's the way of it with plumbing) and decided the problem wasn't the T but in fact the hose that is connected to the T. The really great news is that the ID tag was still on the hose. It was a faucet connector hose that had odd fittings. Lowe's didn't have them but wonders of wonders Home Depot did and they had them in stock at the store in Show Low. So we drove into Show Low and with some difficulty found the hose (in among the toilet connector hoses--you know the one that goes from the shut off valve to the tank). And even bigger wonder of wonders, when we got home, it fit AND it didn't leak. This violated the universal law of plumbing that requires all plumbing repairs to take 3 trips to the store but we were so happy we just hoped that the plumbing gods wouldn't notice.
Having successfully won the battle with the leak we set out on our weekly outing. We drove south to Show Low and took Penrod Road until we reached the turn off for Scott Reservoir. There's a small free campground (5 day limit) right on the lake. We stopped at the boat ramp and took a look. While the water wasn't crystal clear it was less muddy than our local White Mountain Lake.
It's a nice sized lake which might make a good place to go kayaking some day.
From here we continued east on Porter Mountain Road stopping at the Timber Mesa Trailhead just to have a look. The junipers there were FULL of berries.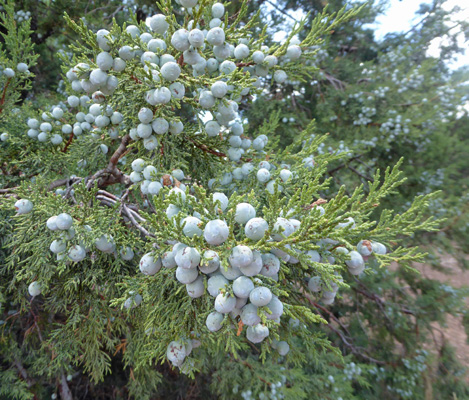 Along the way we once again saw lots of Prairie Sunflowers (Helianthus petiolaris).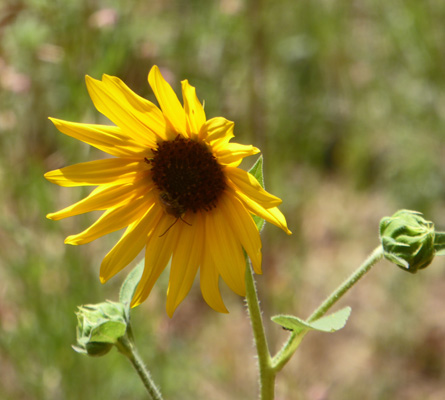 This area had pockets of really high end houses—developments associated with Pinetop-Lakeside I guess. The views were pretty.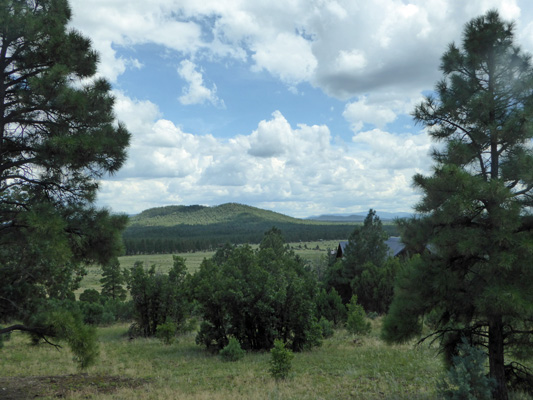 At the next trailhead we visited I learned all about the fact that the Merriam elk, the native elk of Arizona, went extinct in 1906. The elk you see in the White Mountains now are Rocky Mountain Elk that were introduced from Yellowstone National Park in 1913.
Eventually, Porter Mountain Road ends and FR 3144 begins. In tie, we found a wide spot in the road to have lunch. The clouds were pretty (no rain just lots of puffy clouds).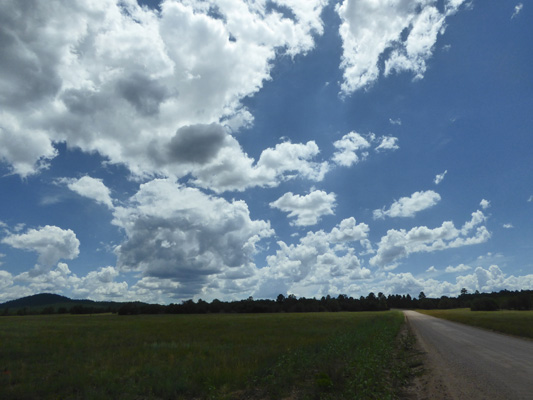 And there was Foothill Paintbrush (Castilleja integra) in bloom.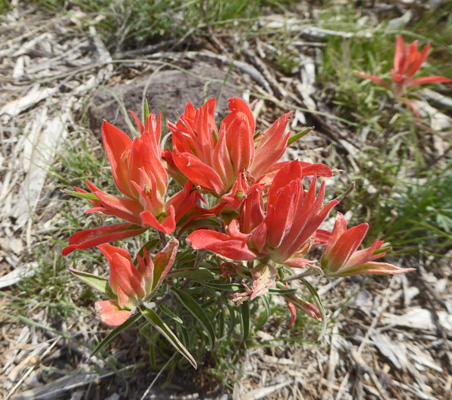 And amazingly I found some Dakota Mock-vervain (Glandularia ipinnatifida) in bloom too. This stuff has been in bloom since June. In fact, you can see it out among the junipers near Juniper Ridge still in late August.
There was also some Horsetail Milkweed (Asclepias subverticillata). The only wildlife we saw on this drive were butterflies.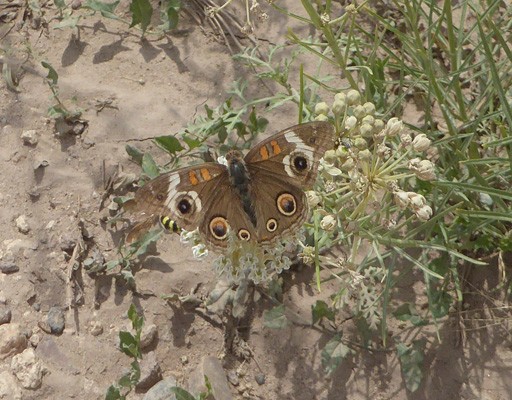 And birds. This raptor was chasing off a raven and playing in the thermals. With some difficulty I've concluded it's a juvenile Ferruginous Hawk, like those that we saw in the Raptor Free Flight Show at the Desert Museum in Tucson.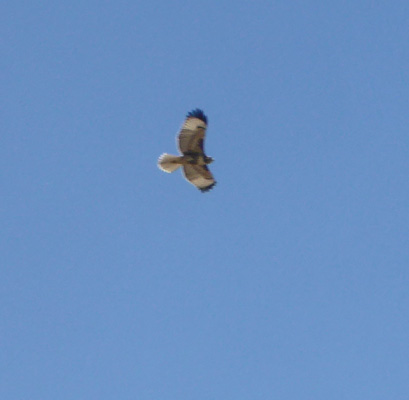 Late that afternoon I looked out to see the trees at the north end of the lake lit up with afternoon light.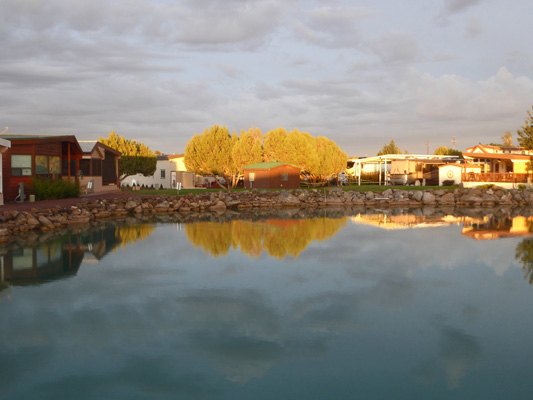 And then an early sunset began with sunlit clouds that turned pink off to the east.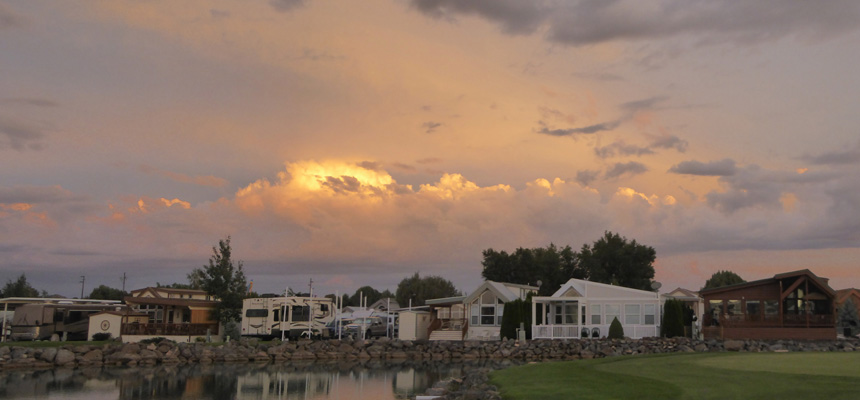 And interesting clouds farther southeast.

The colors just got more interesting.
With all this interesting activity I couldn't pass up these sun-lit clouds off to the northwest.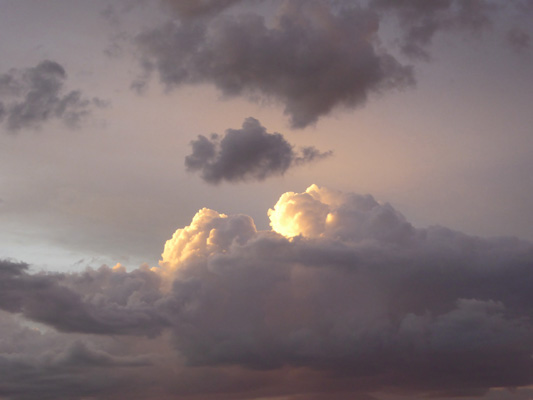 On Saturday August 10th, Juniper Ridge had their 2nd Crafts Show of the season. The Pottery Club put together a huge collection of stuff to put up for sale.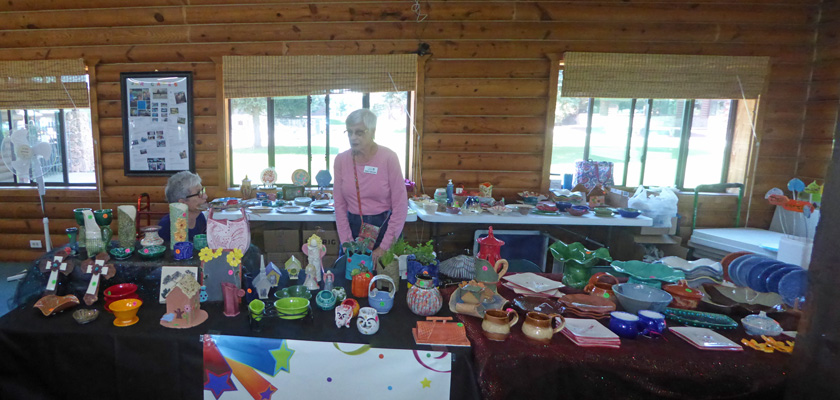 You name it, it was available. This show fills up the Grand Lodge and it's kind of overwhelming there's so much stuff. The pottery club didn't sell as much as they'd hoped but they did okay. I wandered around and took a couple of more shots just to give you a view of how big it is.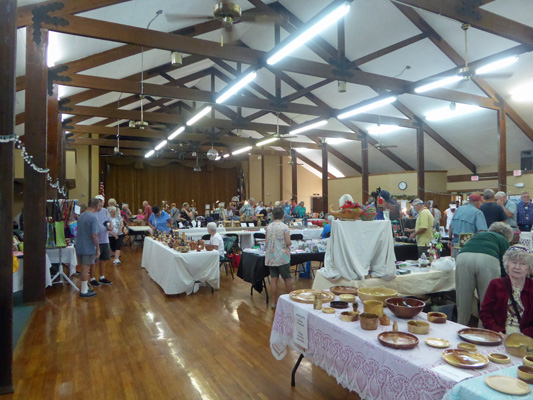 The wood bowls are nice and so was the fellow who made them.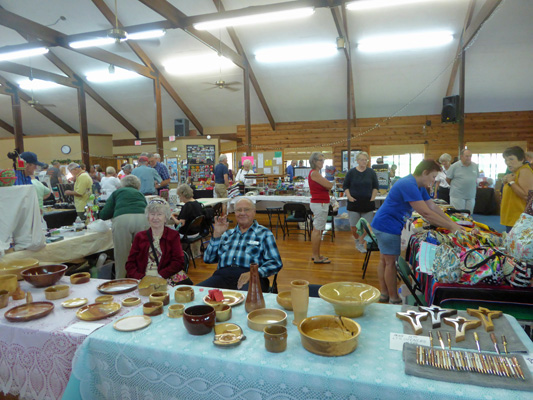 Back in June I began a project at the pottery studio to make a box. We've had some problems with the kiln this summer (which look like they are fixed at last) so we've had delays while it's been repaired. At long last my box finally came out from it's second firing (for glaze) on August 11th.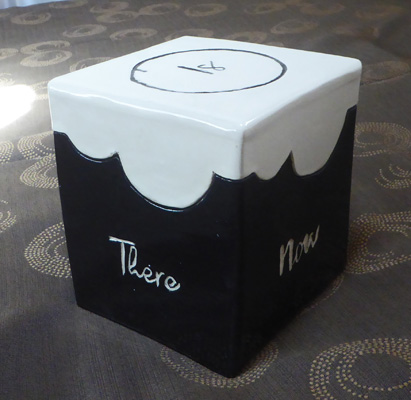 I call it my Zen Box. It says "Now Is All There Is". The inside is white where the outside is black and black where the outside is white. Traditionally, an artist signs their work on the bottom of the piece. So to complete the Zen story it's signed: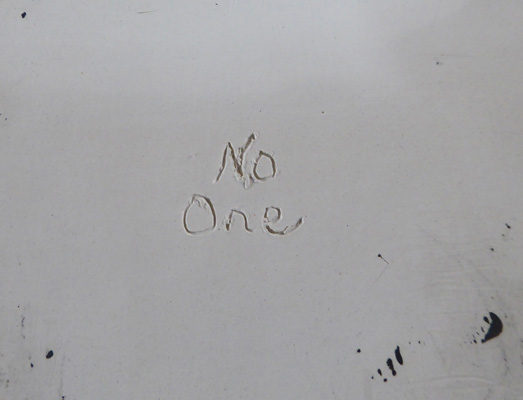 Tuesday, August 13th, the almost full moon hung over the lake.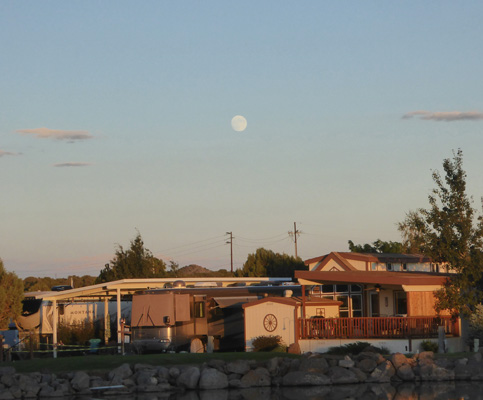 There was no wind, so I managed to catch the reflection of the moon in the lake.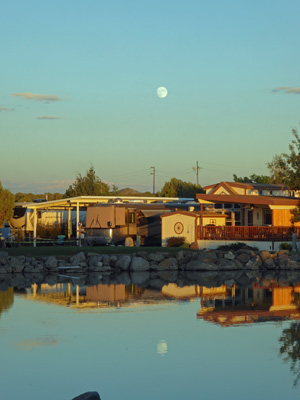 Saturday August 17th, we had a lovely wispy sunset.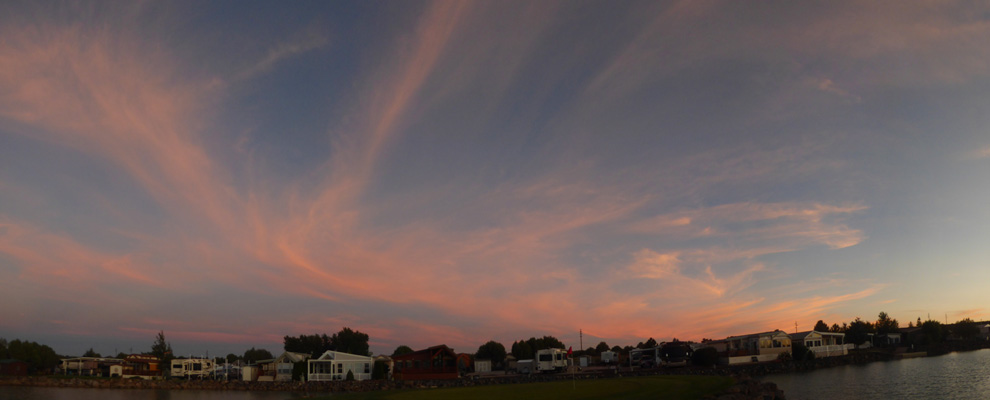 This gets us through half of the month. There's much much more to go, so I'm going to cut it short here