Sunday June 30th, we actually won the prize and got some rain from the dark clouds that had been gathering for days each afternoon. The rain brought the temperature down which was lovely. And then even better the sun came out late in the afternoon and we had a rainbow. But wait, it wasn't just any old rainbow. It was a double rainbow. Look carefully to the right of the main rainbow and you can see the second one.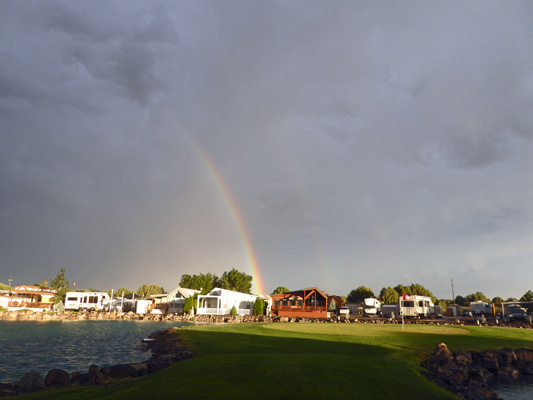 The sun went back behind the clouds and then about 15 minutes later it came out again. And this time we had two chunks of rainbow that appeared along the horizon opposite each other. See the color over the brown house on the right and over the RV on the left?

Here's a direct shot of the rainbow on the right disappearing into the clouds.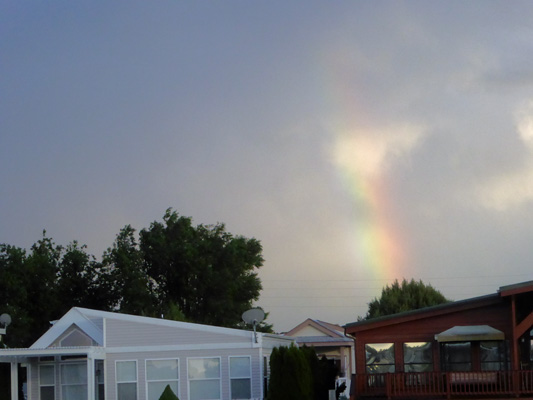 And here's the rainbow on the left re-appearing from out of the clouds.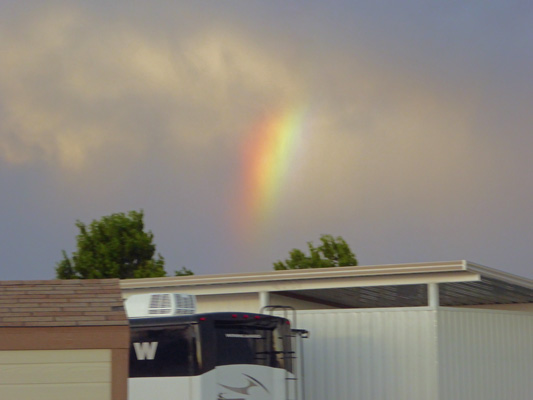 The 4th of July is always a big deal in summer resort towns. It was true in Cascade and McCall, Idaho and it's true in Show Low, AZ. When we went to town on Wednesday July 3rd, to do grocery shopping, the main drag was full of patio chairs and awnings and even trucks parked on the verge because people were staking out their spots for the parade the next morning at 9 am. And this went on for 2 miles.
Fourth of July is a big deal at Juniper Ridge too. They too had a parade that started at 9 am and we went down to the Club House area to watch everyone line up. This is no ordinary parade. It consists of mostly golf carts all decorated for the occasion.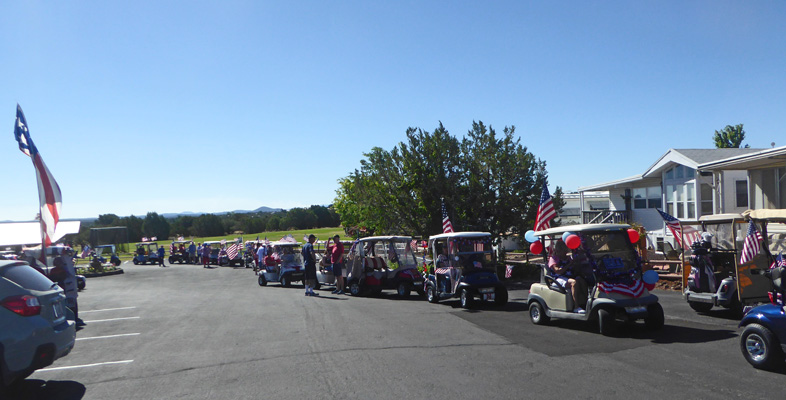 People bring their dogs along for the ride too.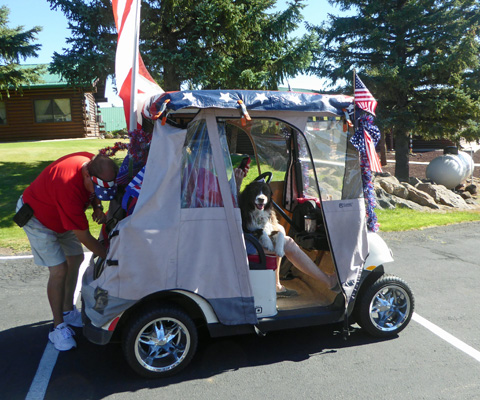 I had to stop and take pictures of them since some of them were even dressed to go with their golf cart decorations as were their owners.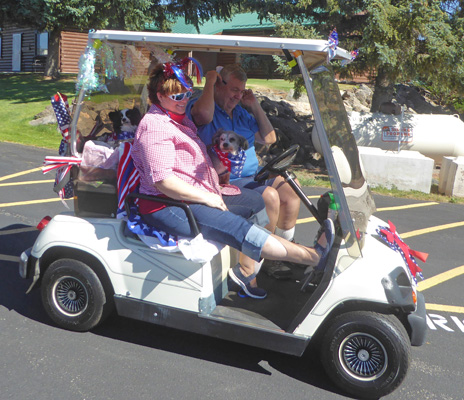 By this point I'd walked all the way down to the Pro Shop and I turned around and got as many of the vehicles as I could into one photo.

The real reason we had come down to the Club House is that I'd heard that the Plungettes were marching but that they weren't going to march the entire 4 miles of the parade route (all the roads in the park). I'd seen them practicing the day before and I didn't want to miss them. Yes, those are toilet plungers that they're swinging around (all dolled up with red, white and blue). They'd learned some chants and some fun formations and were having a great time.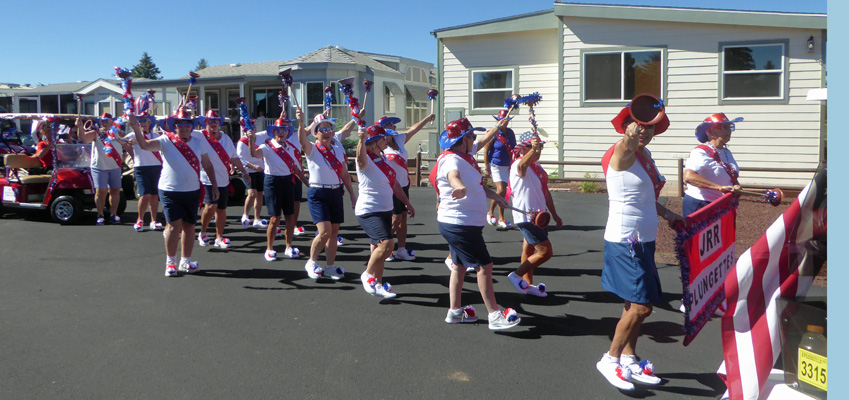 The starting time was delayed a little because the local fire department was late in arriving. They were supposed to bring a little mini-fire truck but it had technical difficulties. So they brought their EMT truck.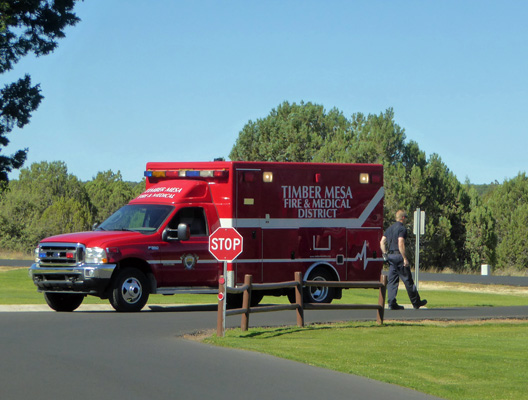 They brought their big truck too but since our streets are pretty narrow they decided not to join the parade.
And they had this little ladder truck too but it stayed where it was parked.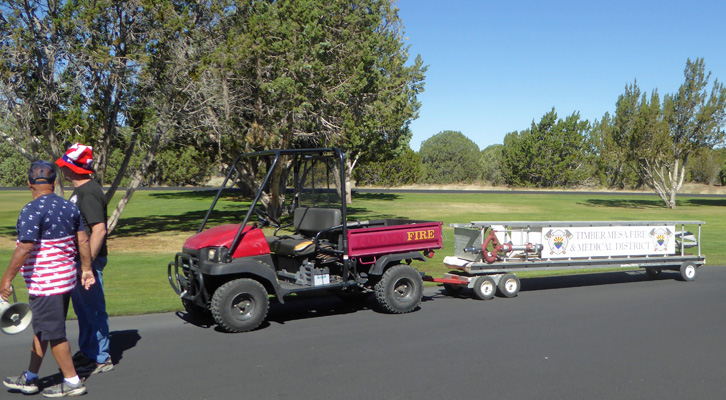 With the fire department ready to go, the parade finally got under way. The Plungettes led the way.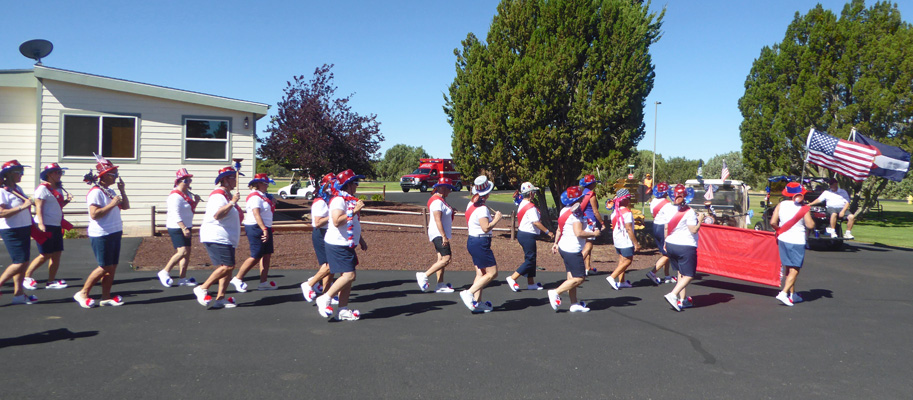 Followed by the Plungettes Support Team which consisted of a whole lot of decorated golf carts ready to pick up the ladies when they needed a break from marching.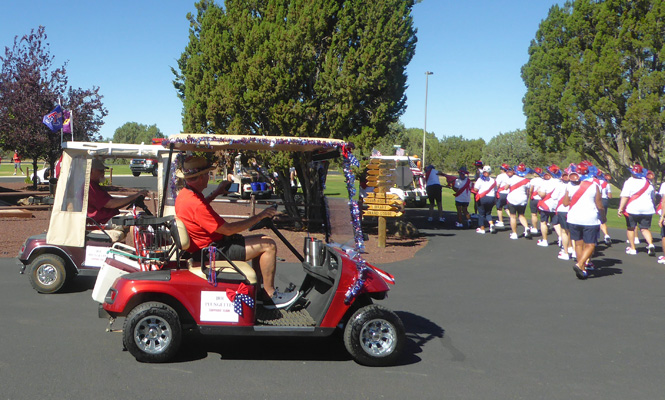 Then we had a couple of convertibles and of course a decorated golf cart all playing music.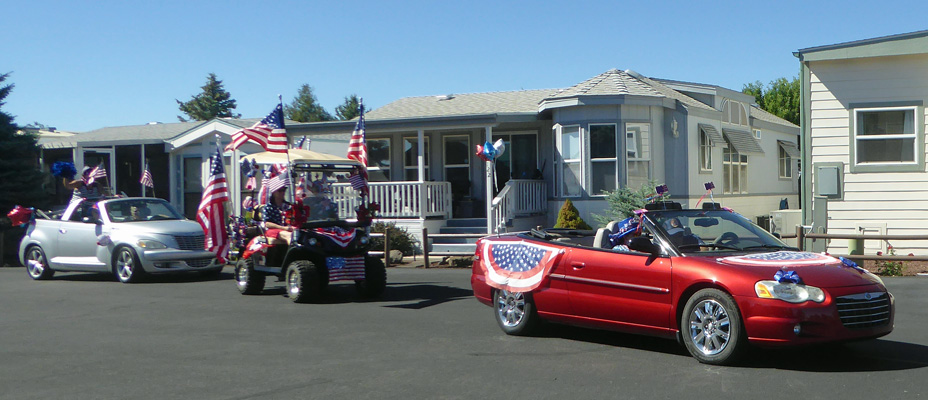 And then the rest of the golf carts continued on.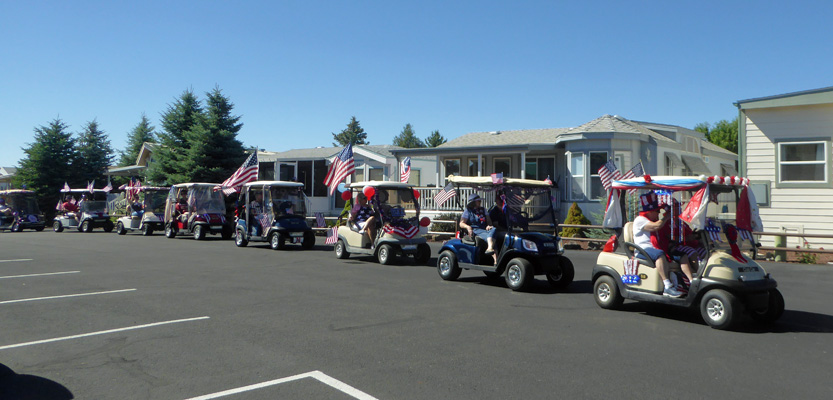 We have several of these golf carts that are made up to look like 50's or 60's cars. I think they're real fun.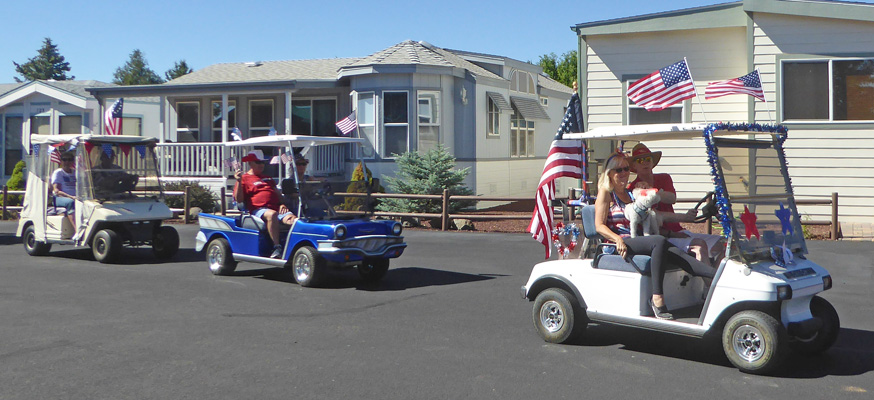 And this middle cart even had a birthday cake on it's roof.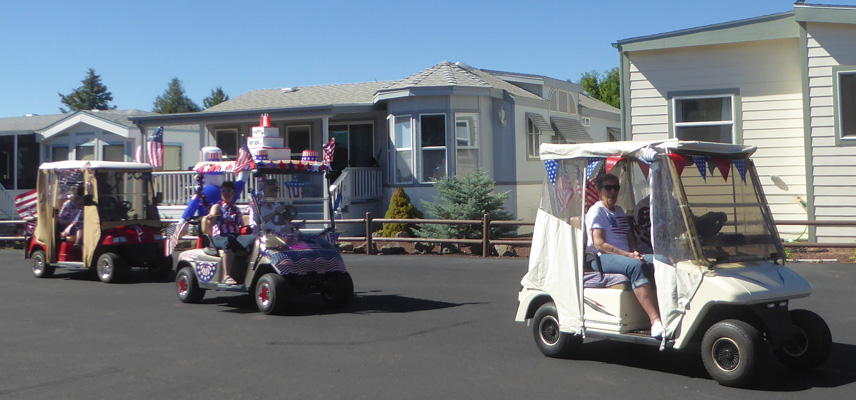 And a blow up Uncle Sam on its back bumper.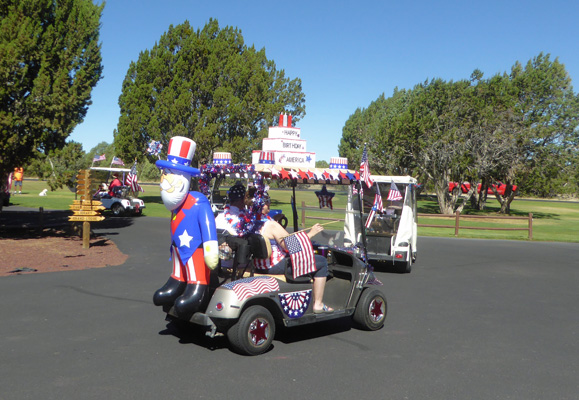 Here's yet another of the fun little car-like golf carts.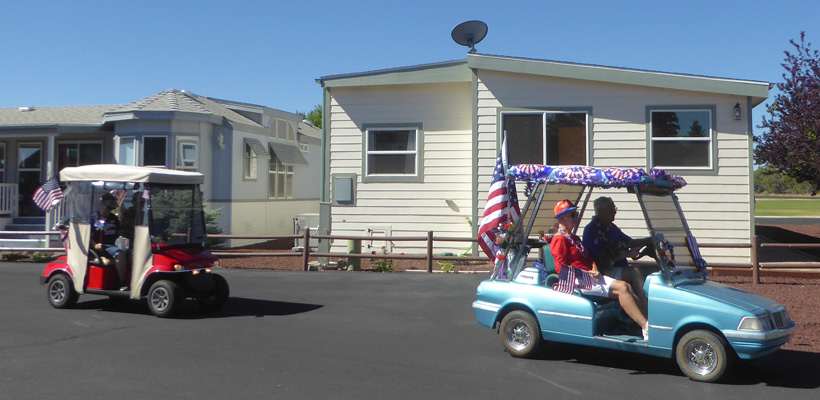 The tail end golf cart was manned by the head of the Pottery Club and her husband. Clearly they have panache. Just look at the flag! It was pretty windy and the good news is that neither the flag nor they took off during the parade. One of the guys had counted all the vehicles (including the fire department) and he came up with 54 vehicles. That's quite a parade for a place this size.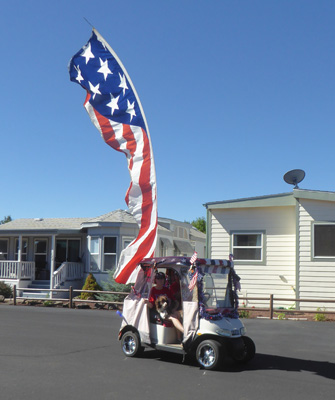 Having seen the whole parade we drove on home to have breakfast. And it wasn't all that long (15 minutes or so) before the golf carts (but no Plungettes) came down our street led by the convertibles.

Here they all are coming our way up the street.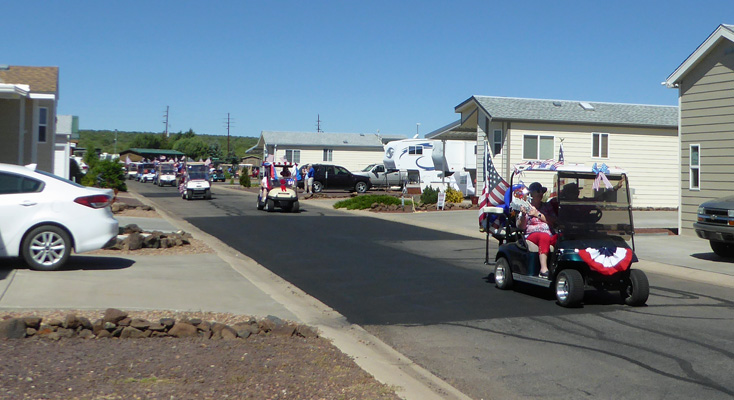 The EMTs brought up the end.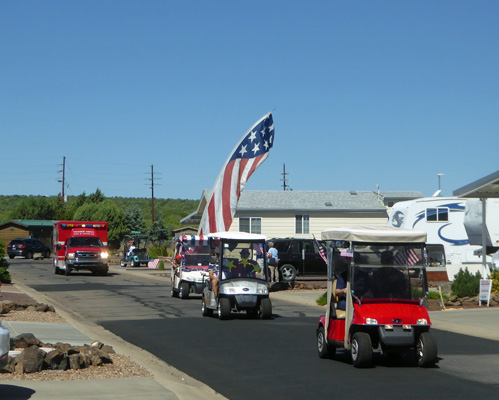 I went back inside and a few minutes later here come the Plungettes. Our neighborhood had won the prize!
They even did a little routine where each line peeled off and reformed up at the end.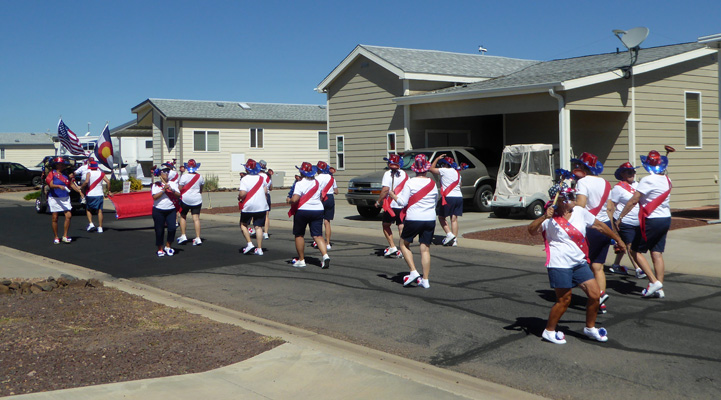 Their support team followed behind throwing candy at us. I ended up with a Dum Dum lollipop and later in the week I found a mini-Tootsie Roll in among our rock mulch.
When we'd been down at the Club House one of the ladies in the golf carts had run over and given us a pair of red, white and blue leis. Walter looked so fetching in his (he wore it all day) that I insisted on taking a photo of him. Happy Fourth of July.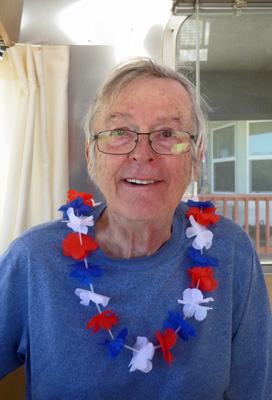 There were picnics and pot lucks we could have gone to but we decided to stay home and enjoy the quiet. That evening we bar-b-qued and there were no fireworks, no fire crackers and no loud noises at all. Lovely.
Friday July 5th, we had some high clouds and got a nice sunset out of the deal.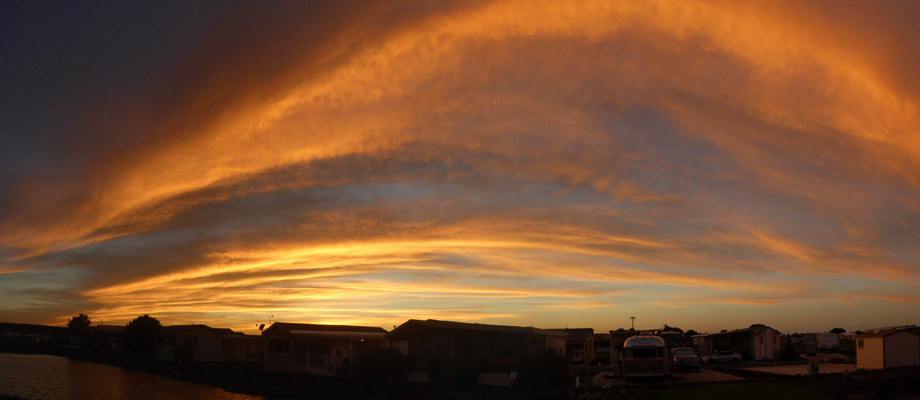 Off to the southeast.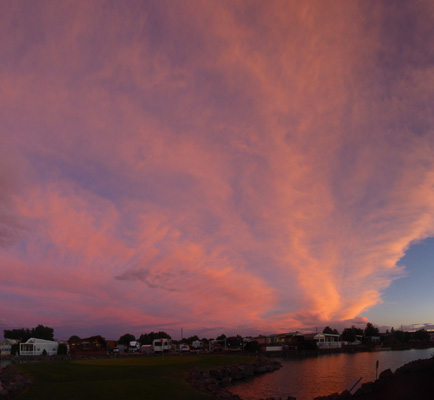 And this is the northeast.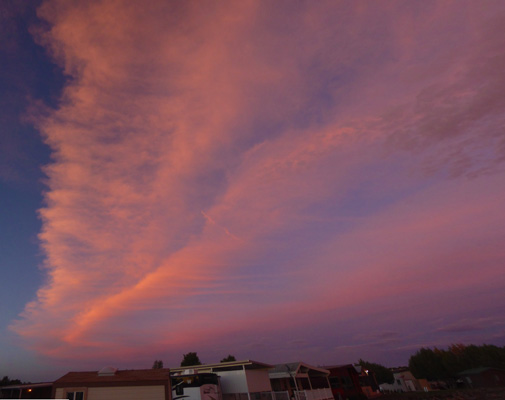 And when I was done I noticed a little crescent moon directly above so I took a photo of it too.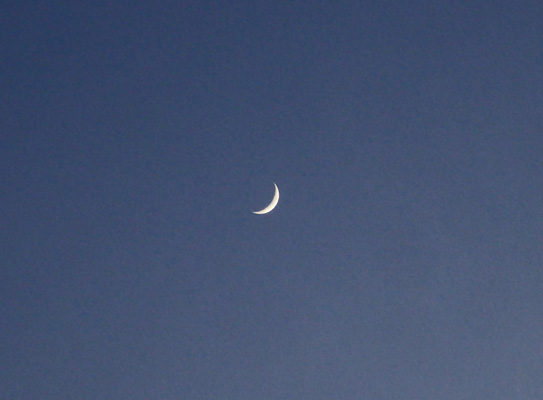 Saturday July 6th, we awoke to a light rain that came in spurts. Mostly it dried up before the next spurt started but it kept the temperature down in the high 60's and low 70's all day. It was cloudy and it felt like Seattle! I even went out and pulled weeds in the rock mulch (it's volcanic cinders/pebbles which real interesting stuff to work in). The sky cleared some as the day went on and we had some sunshine late.
And the leftover clouds meant we got yet another nice sunset. We even had some nice color off to the west—which is where it should be all the time but mostly hasn't been. I went out onto the 15th green to take a photo of it.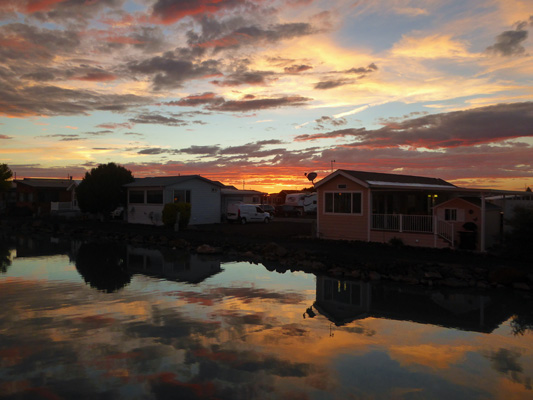 Off to the northeast it was peach and orange.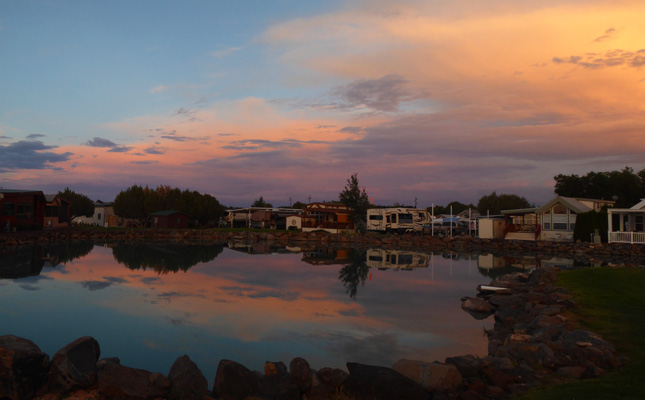 Off to the northeast it was peach and orange.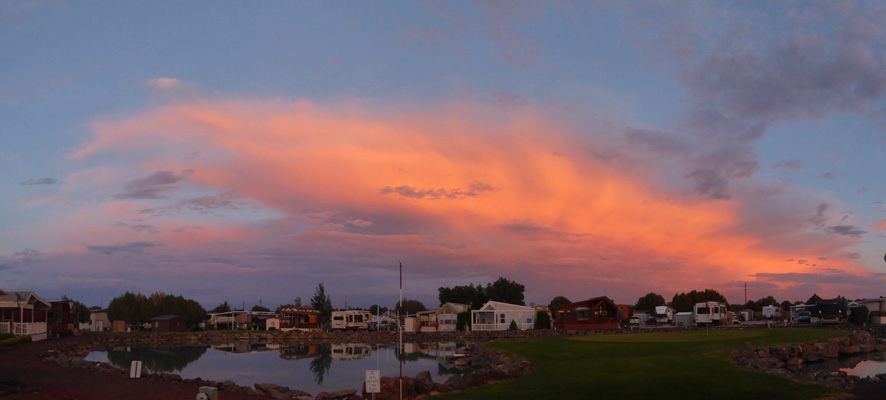 I had a lot of fun trying to capture the colors reflected in the mirror-smooth lake.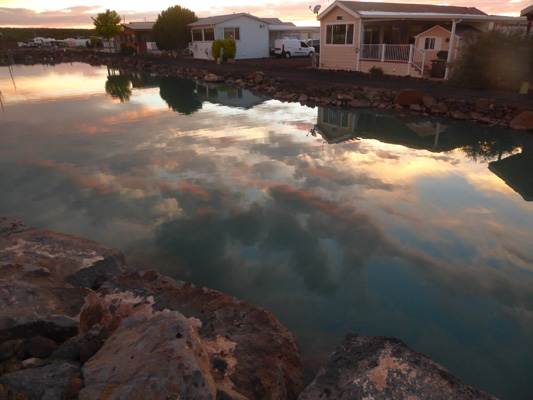 Thursday July 11th, we took a drive south of Show Low. In Show Low itself, we took Penrod Road instead of our usual route on White Mountain Blvd. Penrod is a much prettier route than driving along the main drag past places like Walmart and Home Depot. People I've talked to have reported seeing elk on Penrod but we didn't see any. One of the Pottery Studio crew reported that they saw a cougar cross the road on Penrod the same afternoon we drove through but we missed it.
Penrod rejoins White Mountain Blvd in Lakeside where we turned south and continued on all the way through Pinetop and on out past the Hon Dah Casino on the Fort Apache Reservation. Here the road swings east and we continued that way to the little town of McNary where we turned north on Forest Road 3140. This is a mostly dirt road that doesn't get a lot of traffic. It was nicely graded and we saw maybe 2 cars the entire drive. It had been 86 when we left Juniper Ridge and had cooled off some as we drove south since Lakeside and Pinetop are higher in elevation. But as we drove through the National Forest it cooled off even more. We had a little rain (nothing serious) and at one point the truck said it was only 60 degrees outside.
Mostly the terrain was like this—nicely space Ponderosa Pines.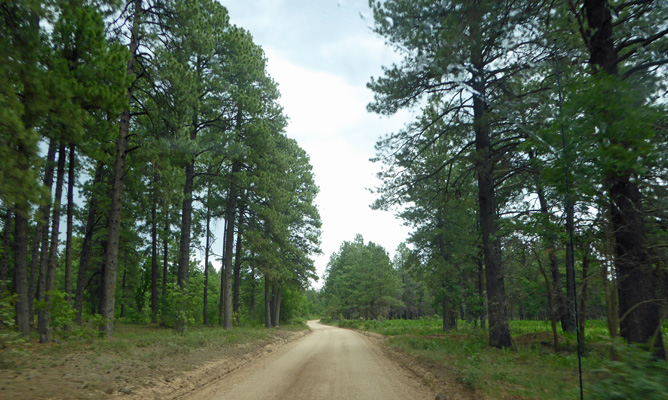 I spotted what looked to me like a yellow columbine so we pulled over so I could take a picture. And sure enough it was a Golden Columbine (Aquilegia chrysantha).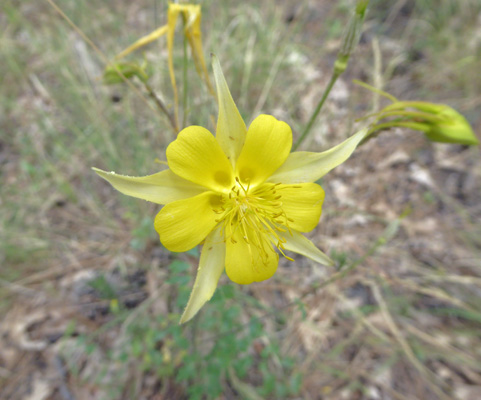 Of course I found some other things in bloom while I was out, including Fendler's Ceanothus (Ceanothus fendleri)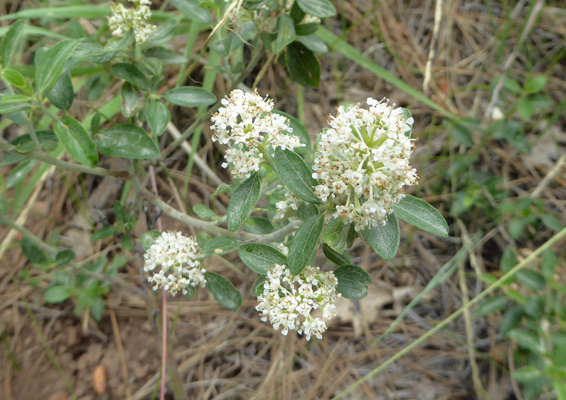 Pygmy Bluet (Houstonia wrightii)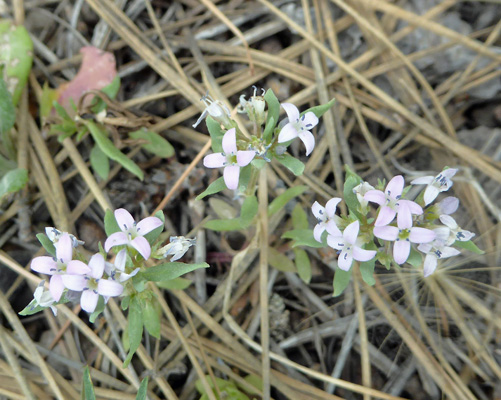 Spreading Fleabane (Erigeron divergens)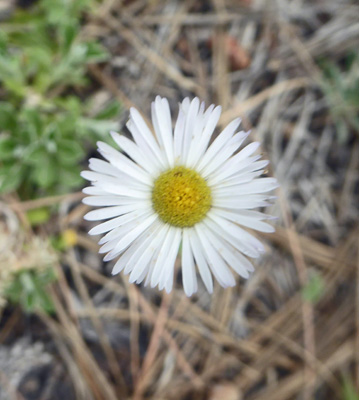 And Wood's Rose (Rosa woodsii).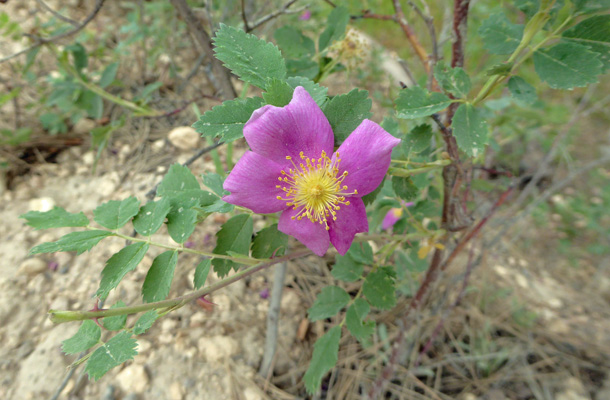 We had a local freebie map of the area (that had some errors but nothing serious) and it said there was a campground just off the road on a spur. When we spied vehicles off to the east a short ways we took the turn to see what we could see.
First, we came to a couple of old buildings and a sign that explained that they were all that were left of the Los Burros Ranger Station which had been built in 1909-1910.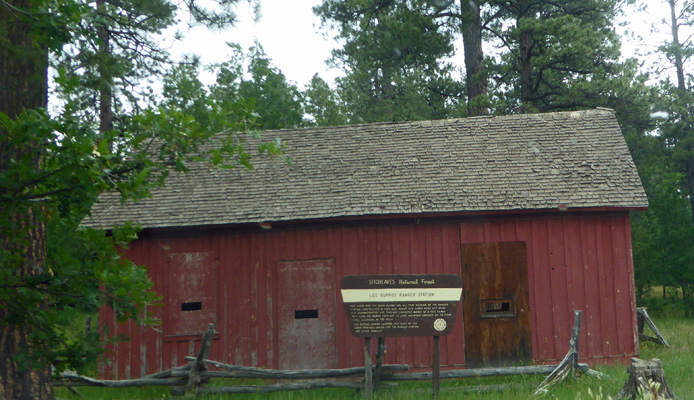 There were Forest Service fire crews from both Arizona and New Mexico out on what was clearly a training mission.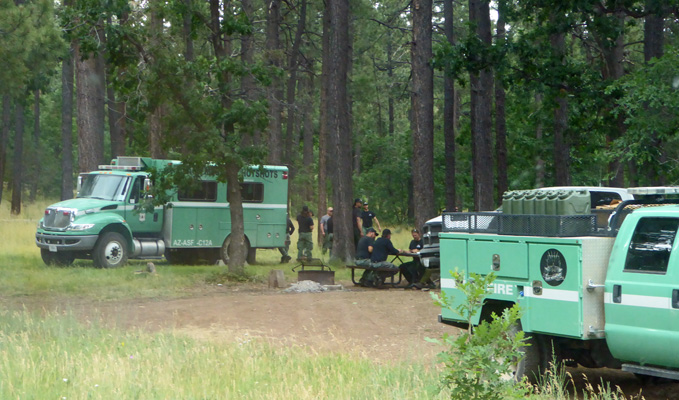 They were having lunch and as Walter said, they were way too clean to have been out fighting fire. One of the trucks said Hot Shots on it too.
On the other side of the road there were civilians camping and using the rough horse corrals. I don't know if the burro belonged to them or not but it was fun to see him here at Los Burros.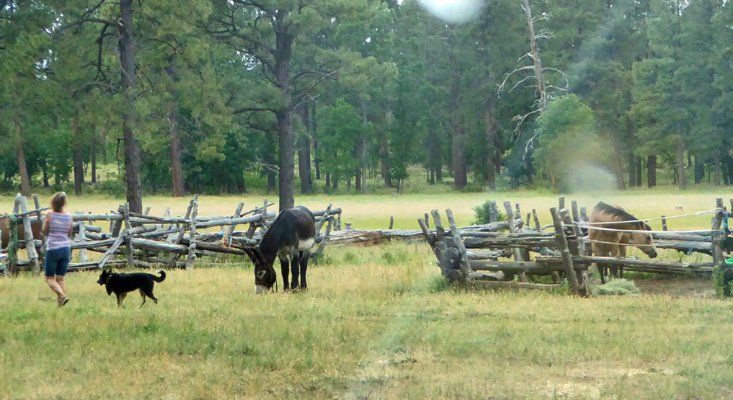 We drove the loop of the campground and stopped so I could take a photo of the meadow that runs along its edge.
We drove back out to FS 3140 and continued on until we came to FS 62 where we turned east.
This road was not in as good a shape which just meant we had to go a bit slower to dodge the pot holes. There were lots of Beardlip Penstemon (Penstemon barbatus) along the roadside.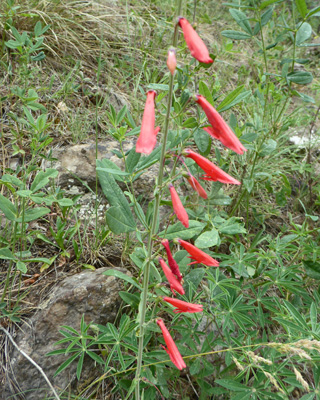 And Tailcup Lupine (Lupinus caudatus).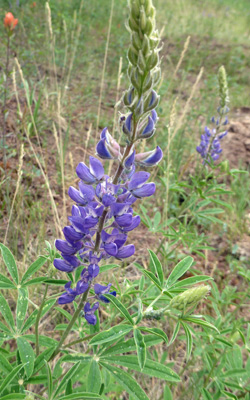 Just as we came to the point that the Los Burros Trail crosses the road (it's a 13 mile loop that starts back at Los Burros Campground. We even saw a mountain biker on it here) I spied a Monument Plant (Frasera speciosa).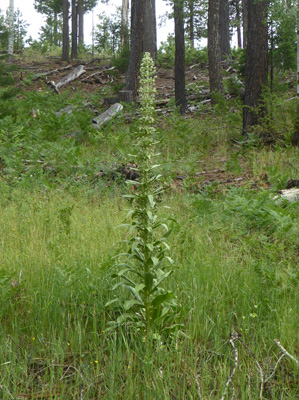 These plants are called Monument Plants because they get tall enough to be a monument—6 feet. They're also called Elkweed since they grow in areas where there are elk. Research has shown that these plants only bloom once in their lifetime of 20 to 80 years and then die.
This was just starting to bloom.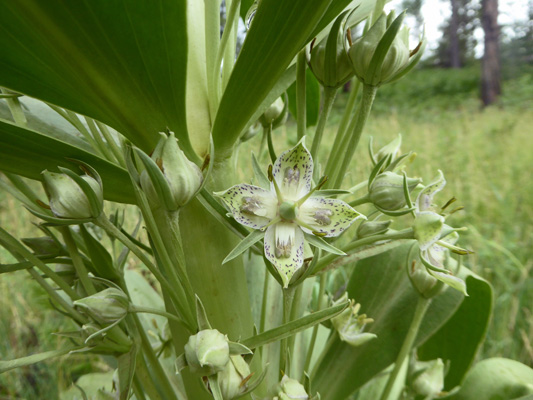 I saw this plant for the first time back in 2007 in Eastern Washington and had no idea what it was. There were a whole bunch of them in bloom on the top of a mesa. I turns out that the plants will all bloom together, triggered by lots of rain 3 or 4 years before the flowers actually open. It's a pretty unique plant.
Across the road there were a lot of Yellow Salsify (Tragopogon dubius) seed heads. I always love seeing them because they look like gigantic dandelion poofs.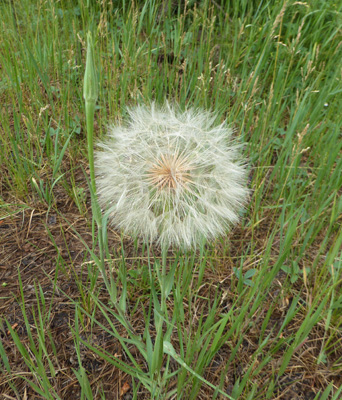 And I found one lone Turpentine Cymopterus (Pteryxia terebinthina). With a name like that I couldn't leave it out.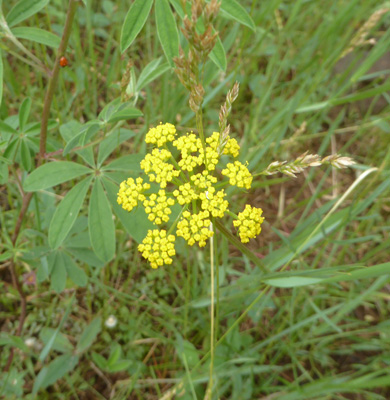 All along this drive there were groves of aspens that would appear in among the Ponderosas. This one had some huge old trees with super thick trunks.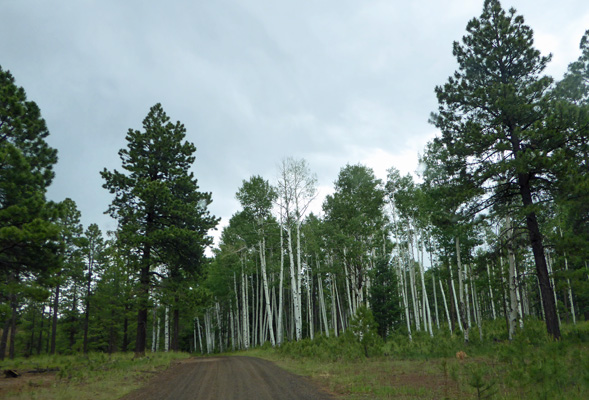 Just a few minutes after I took the above photo we came around the bend and there was a herd of elk bounding across the road. Holy cow. Quick grab the camera and shoot in that direction. It may not be well framed and they may be blurry but that's a mama elk and a calf.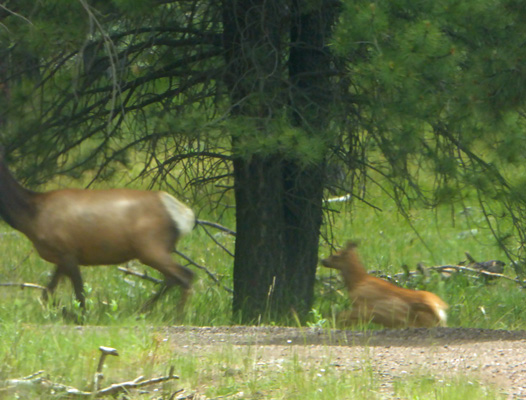 And behind them was another cow.
They headed up onto the ridge above us and we could see them mill around for a while before they continued up the hillside.
Aside from the elk we saw 2 coyotes and lots of ground squirrels on this drive.
Here's some more Beardlip Penstemon in a big patch along the roadside.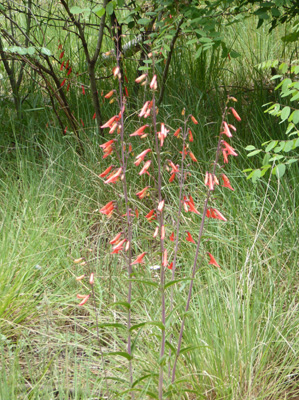 Back in 2014 there was a big fire in this area and along about now we entered the burn. The entire understory was covered with these short trees with purple pea-like flowers. They were New Mexico Locusts (Robinia neomexicana). 5 years is pretty fast to germinate and grow to 6 to 8 feet tall so maybe they all got pruned by the fire but not killed. I don't know but there sure were a lot of them.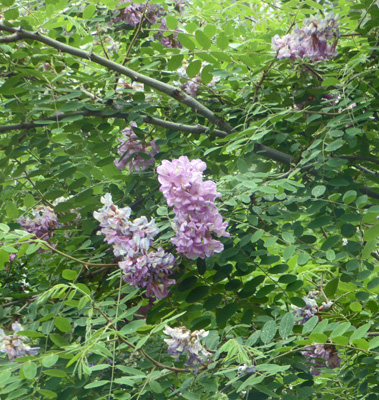 Apache Beartounge (Penstemon oliganthus) started to appear through here too. There sure are a lot of different types of Penstemon in the westerns US.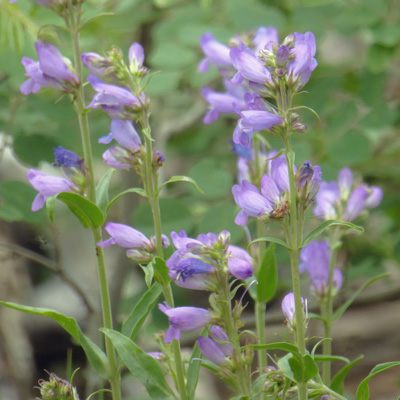 I spied one lone Western Wallflower (Erysimum capitatum) along the road too. I was puzzled at first because I didn't know they grew here but sure enough they come in both orange and yellow in the mountains in Arizona.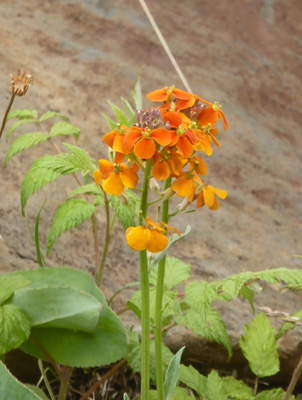 A ways further along I saw this odd white bell and stopped to take a photo. It turns out to be Stiff Penstemon (Penstemon strictiformis). Yet another member of the penstemon clan.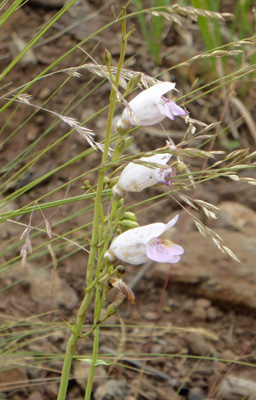 We'd been losing altitude as we drove north through the forest and now we came to a little wetland with Wild Bee Balm (Monarda fistulosa) in bloom.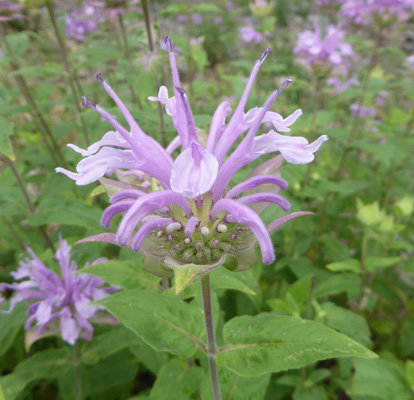 And there was even a resident bee working it's way through the flowers.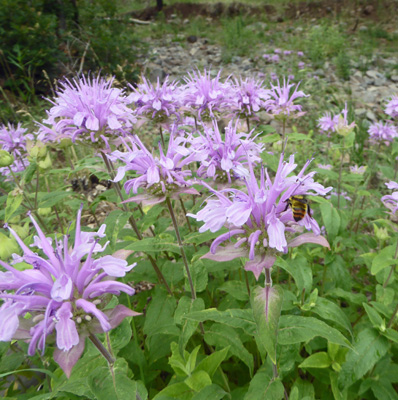 As we neared the little town of Vernon just off Hwy 60, I spied some Silver Lupine (Lupinus argenteus).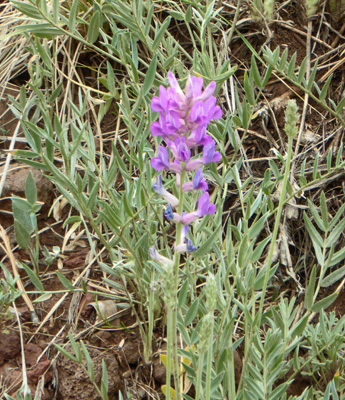 And one of them had a butterfly perched on it.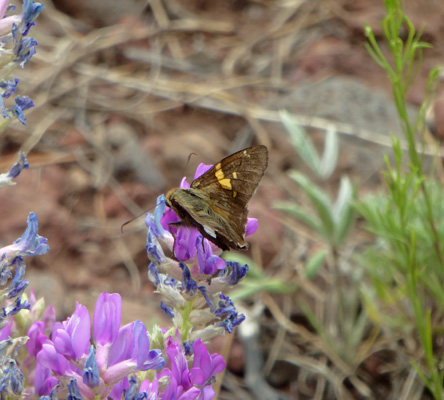 We made our way through Vernon and out on Hwy 60 headed back towards Show Low and Walter says, "100,000 miles" and I look down and there's Francois's odometer just turning. I pulled out the camera and shot a photo of it but by then it had turned to 100,001.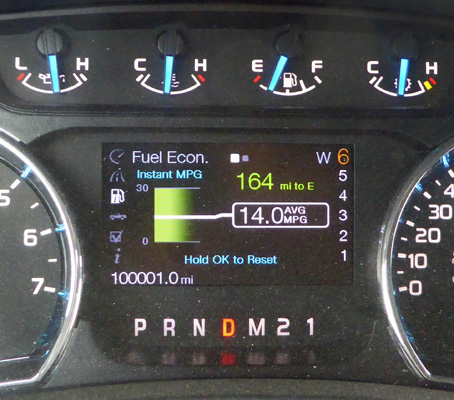 By the time we got home it had even cooled down a bit at Juniper Ridge. Our door mat was halfway down our lot and when we opened up the trailer there were papers everywhere (we'd left the windows open) so clearly there'd been a little squall that had come through.
Friday and Saturday the temperature ranged around 86 to 88. Then on Sunday it got hotter and we surrendered and turned on the air conditioning when it got to 94 inside. But late in the afternoon we had a really nice thunderstorm come through and cool things down to 70 degrees. It didn't stay that cool once it stopped raining but it stayed in the 70's which made it lovely.
The heat continued through the week and we ended up having to run the air conditioning most days at least for a while. We got a drop of rain now and then but nothing measurable.
Monday July 15th, we had good enough clouds to have another nice sunset that included serious color to the west.

It was pearly pink off to the northeast.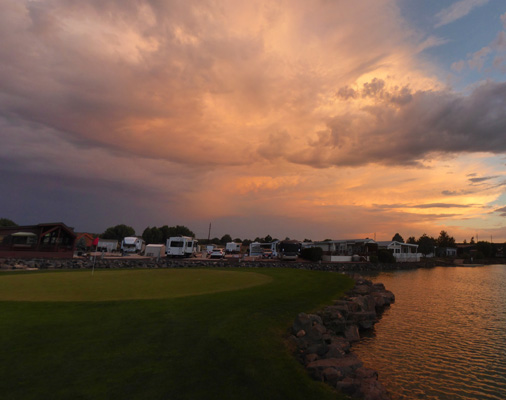 And there was a nice streak of pink to the south.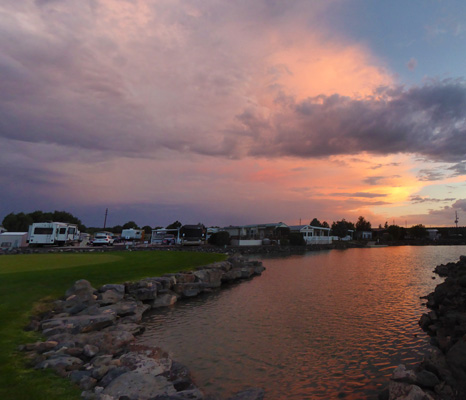 The next night, Tuesday July 16th, we had more color at sunset. There was a big smudge of pink off to the northeast.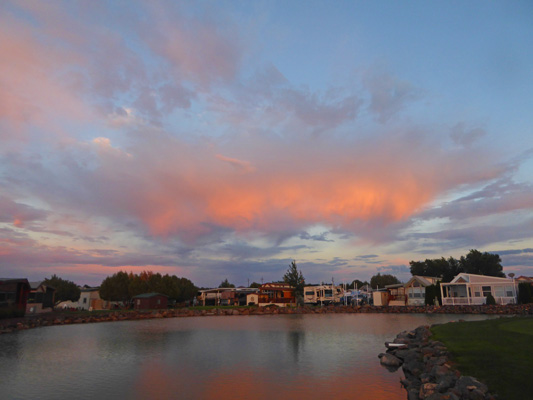 Off to the west the whole sky was orange. For a change we walked over to the 15th tee so this photo is taken looking southwest.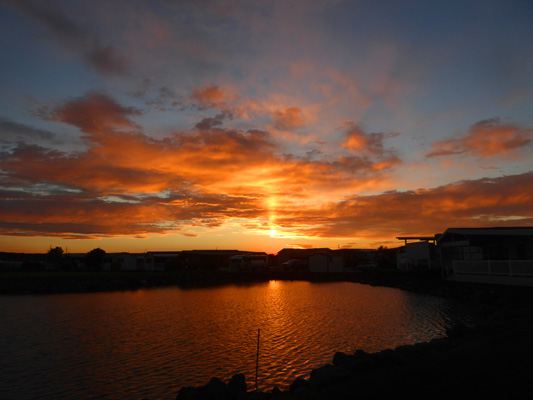 Genevieve is just below that streak of gold in the sky.
On our way back, Walter spied a golf ball that had just come out from under the rocks so I stood marking its spot (it kept going back under the rocks and coming back out again) while he ran and got the dipper on the pole. Meanwhile the sky had changed color so I had to take another photo.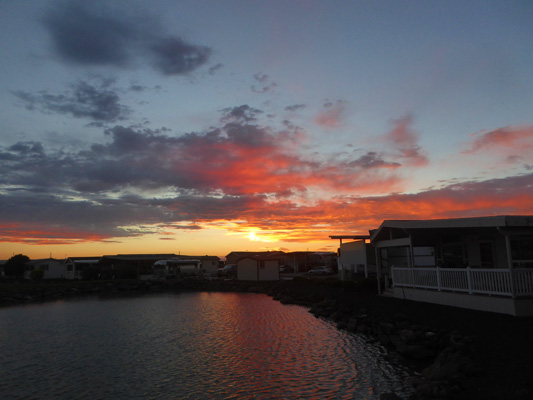 After another hot day on Wednesday July 17th, we got yet another interesting sunset. This time it looked like Mother Nature had gone out with an air brush to paint the sky in a 360 degree swirl. Off to the west it was orange.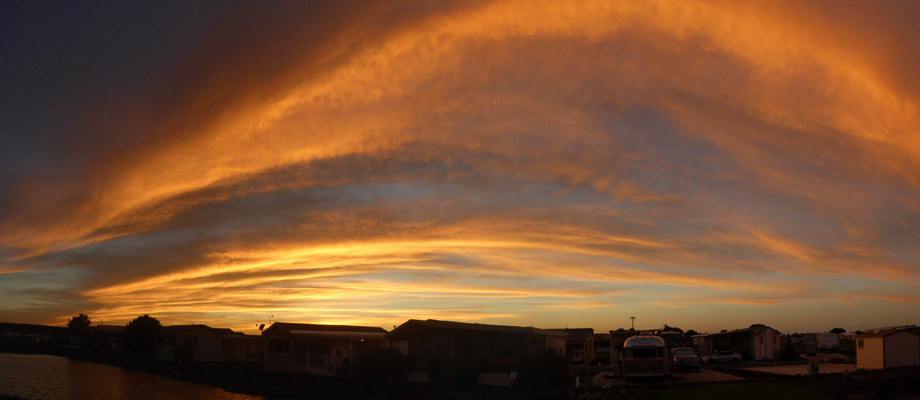 Here's the north end of that long arch of clouds.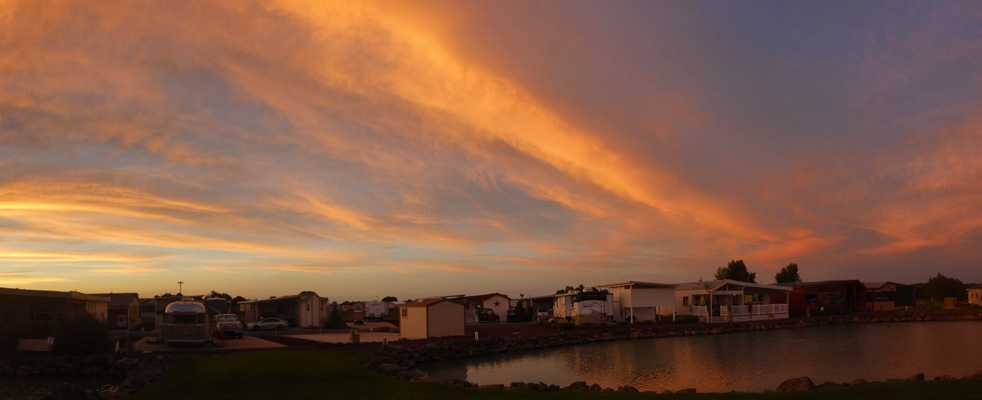 And here it is looking south across the lake from the 15th tee.

Meanwhile off to the northeast there was a big pink swirl of clouds.

And just a while later the full moon rose out of the clouds to the east.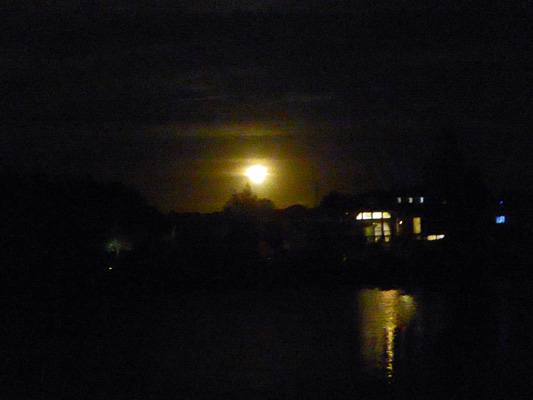 While I had been taking a pottery class on Wednesday afternoon, Walter had spent his time researching an outing for us for Thursday. So Thursday morning, we set out to take the drive west along the Mogollon (pronounced Moe-go-own or Mug-o-own) Rim. It was another hot day and we were looking forward to heading up in elevation again.
As we headed out through Juniper Ridge here comes a huge line of golf carts.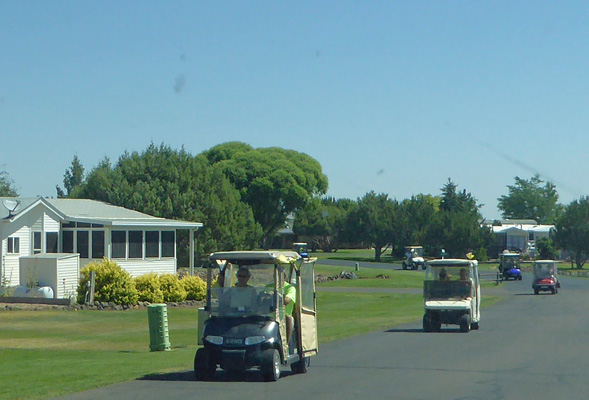 It turns out that there was a week-long Olympics going on at the resort. This consisted of teams of folks playing silly games (two a day each morning all week). On Thursday they were doing a poker run. They had stations where they had to go and find a clue (rocks painted the color of their team with a clue on them). Then they had to figure something out (an answer to the clue perhaps?) that resulted in them receiving a card. From the photos on the FB page it looked like they had ended up with 10 cards. In any case there were carts all over the place with folks in funny headgear—antennae and aliens hats and colored t-shirts. The theme for this year's event was "A Space Oddity".
We managed to not get caught in anyone's tractor beam and escaped the resort. We headed south on Hwy 77 to downtown Show Low and then turned west on Deuce of Clubs (Hwy 60). Once we were out of town on the west side we turned northwest on Hwy 260 towards the town of Heber-Overgaard. There's a Forest Service Office in Overgaard so we stopped to buy a map of the Apache Sitgreaves National Forest. It's a HUGE map and will keep us well informed on our wanderings around here for the rest of the summer.
Then we continued on Hwy 260 to the Mogollon Rim Visitor Center right on the edge of the rim just before the highway begins to loose elevation heading to the town of Payson and then on into Phoenix.
Here's the view from their back deck.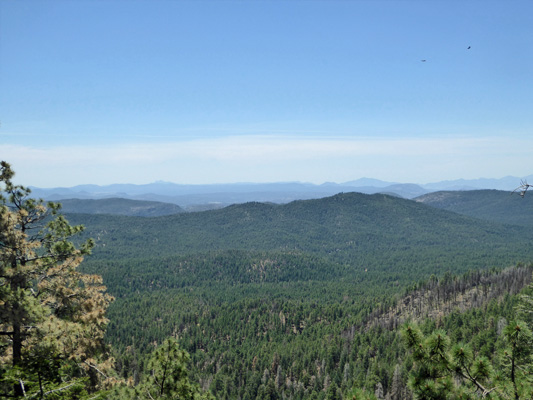 You can tell that there's a big drop just over the edge from here and then more rolling hills and mountains off in the distance.
From here we turned north on Rim Road and wound our way out to Woods Canyon Lake. There are a series of campgrounds out this way and most of them had full signs on them even though it was only Thursday. We paid our $3.50 to enter the picnic area and set out to explored a bit before lunch.
It's a lovely little lake.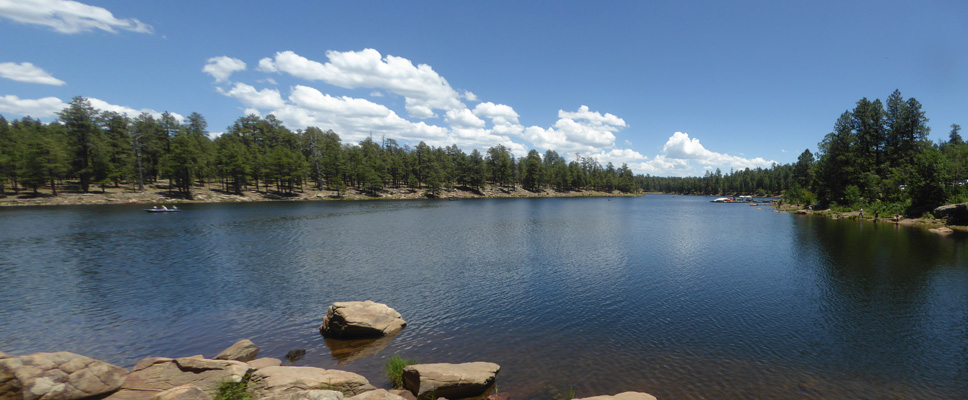 There's a marina and they rent small fishing boats, row boats, canoes and kayaks. And folks were out in force on the water with them.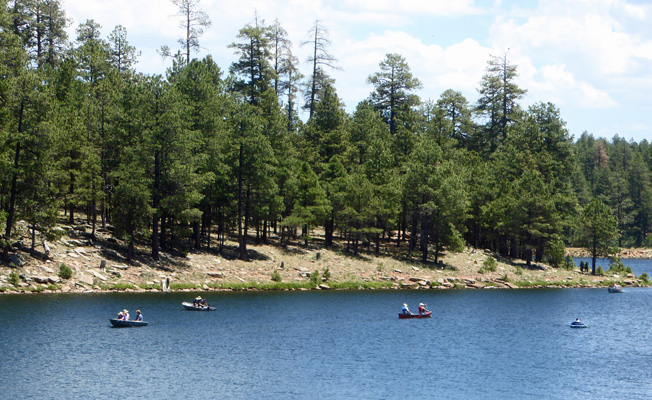 There were people fishing and putting out traps for crawfish and generally having a good time in the shallower waters along this side inlet.
The water must be pretty cold because even though it was around 80 since no one was more than knee deep in the water.
This area is about 7500 feet in elevation so it was nice and cool and pleasant. Clearly it's a magnet for the folks who live down in "the valley" which is the Phoenix metropolitan area.
They appear to only allow trolling motors on the fishing boats but that didn't keep folks from being out enjoying themselves on the water.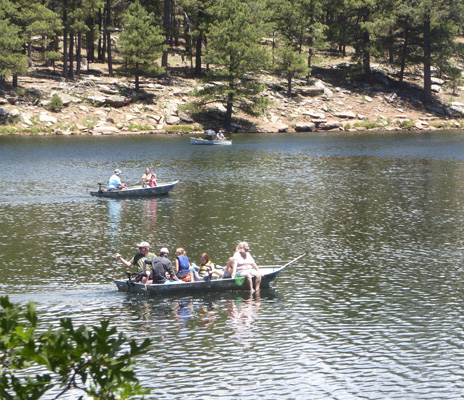 There were a pair of osprey swooping around above us as we sat on the rocks enjoying the cool shade. I took a lot of photos before I got anything that remotely looked like a bird. This one was a bit far off so it's grainy but there's your osprey proof.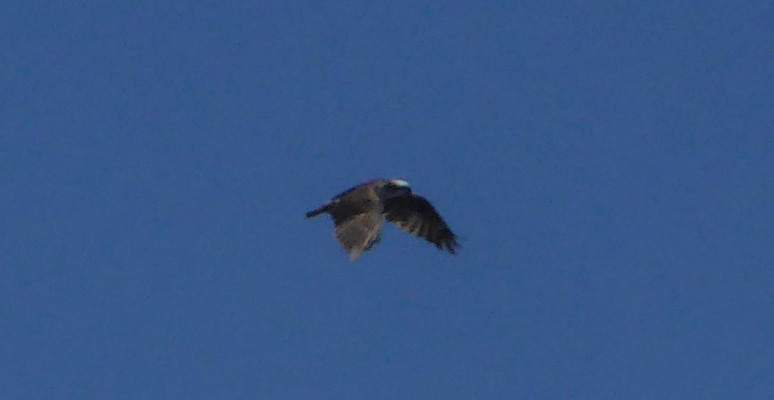 After our picnic lunch (on very uncomfortable iron mesh tables and benches) I noticed some blue flowers growing in among the New Mexico locust seedlings growing at the base of the ponderosa pines.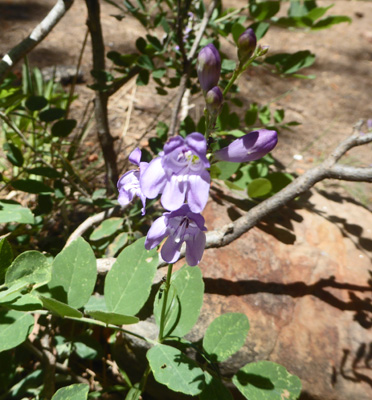 This turns out to be Dusty Penstemon (Penstemon comarrhenus).
We left the lake and drove back along the Rim Road where there are little vista overlooks where you can see over the edge of the Mogollon Rim.
At Woods Canyon Vista you can see the mountains off in the distance and the edge of the rim and how the land drops away quickly from the edge.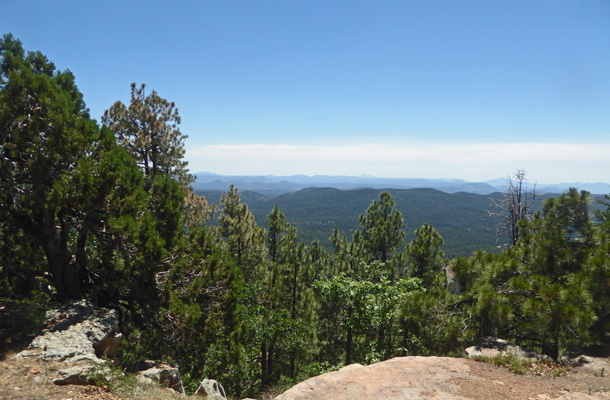 There was a small patch of what at first I thought was the same Beardlip Penstemon we had seen the week before. But no, of course not. It had to be yet another kind of penstemon. This time it was Bridge Penstemon (Penstemon rostriflorus).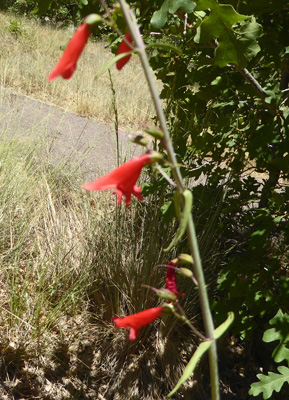 At the Rim Lakes Vista you could literally see over the edge of the rim. And down below that ribbon is Hwy 260 as it winds its way to Payson.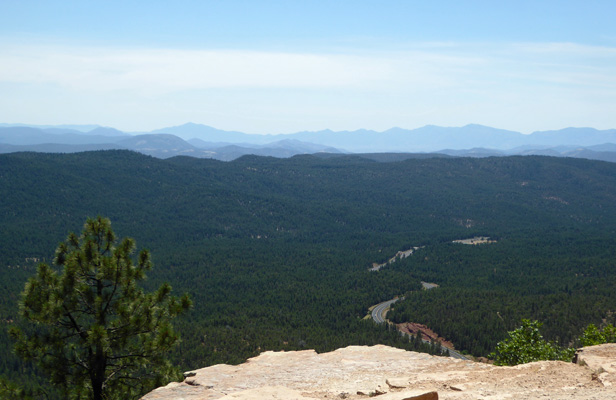 There were a few hardy Hairy Goldenasters (Heterotheca villosa) growing out of cracks in the the rocks.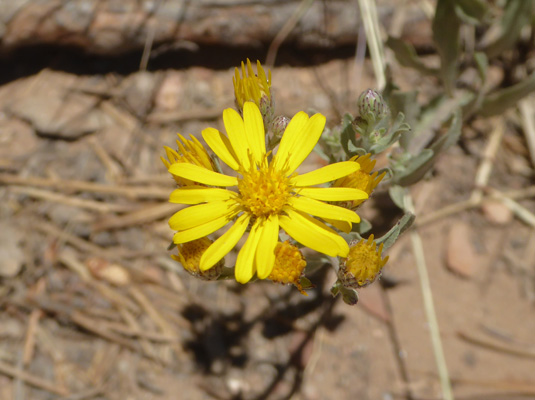 I climbed around for a while and took this shot so you could see how clearly the edge of the rim is defined here. One false step (or one cracked rock) and over the edge you go.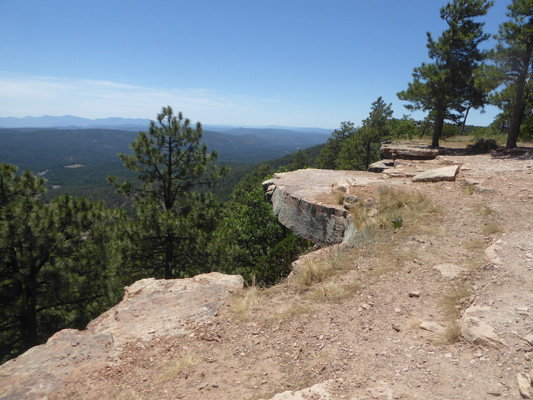 As we were pulling out of the parking lot at Rim Lakes Vista I noticed this odd looking thistle. I'd seen a photo of a hummingbird feeding on a flower like this the week before so I quick hopped out and took a photo.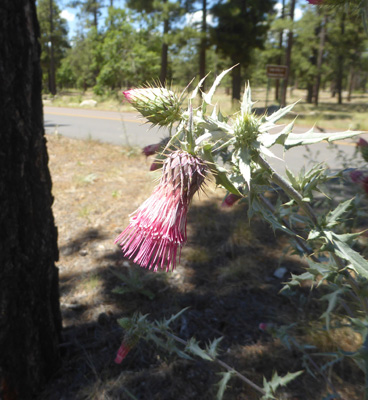 Can't you just see a hummingbird coming up to that flower? It turns out to be an Arizona Thistle (Cirsium arizonicum).
We drove on back to Hwy 260 and started to make our return journey. Just a few miles back along Hwy 260 we took the Sardine Pt Road (which luckily was marked with an arrow pointing to Willow Springs Lake) and wound our way out to Willow Springs Lake. There's no campground out here but there's a large picnic area and a big boat ramp.
This lake reminded me of several of the lakes we visited last year in the Sawtooth Mountains up by Redfish, Idaho.

There were families playing along the banks fishing and wading.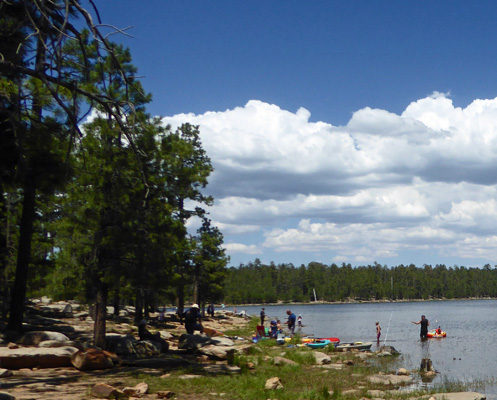 It made for a pretty scene.
All in all this was a great outing. It was about 70 miles one-way from Juniper Ridge to Woods Canyon Lake and we had some nice stops along the way both ways. Besides, it was much cooler up at 7500 feet too.
Friday I went into the pottery studio to check on the project I'd built in the class I took on Wednesday. And in the process I discovered that the odd little bud vase and pitcher I made in the extrusion class I took in June had come out of the kiln. Don't ask me what I'm going to do with them. I don't know. But I do like the the translucent light blue glaze and I learned a lot in the class. So hey, these are learning pieces.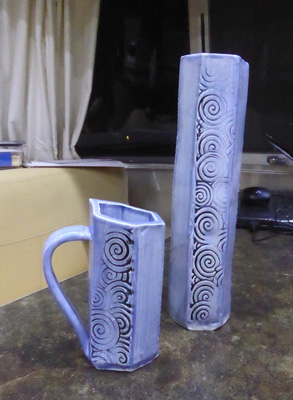 And yes, the bud vase is a leaning tower of Pisa. It came out of the extruder like that and I decided it would be fun to make it just as is. I was in a whimsical mood that day so here's the Dr. Seuss bud vase that was the result.
Sunday July 21st, we volunteered to work at the entrance gate of Juniper Ridge. There's a little gatehouse that has nice acoustics and we can sit and sing (Walter brought his harmonicas) while we wait for cars to arrive so we can push the button on a clicker and open the gate for them. There were two humongous bugs on the screen on the front window so I took some photos of them. Thank goodness for the internet because my bug ID is not very good. These guys were Giant Antlions (Vella fallax). They were over 2 inches long and pretty darned odd looking. They didn't move the whole two hours we were there.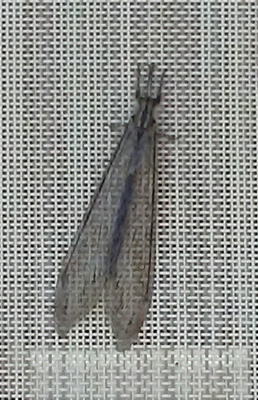 We hit a bumpy patch in life about this point. It had been hot for several days (in the low 90's) and our refrigerator wasn't keeping up with the heat. In fact, it was getting up to 50 degrees in the afternoon which is not good. Then on Sunday on our way back from the gate house the truck made an odd little noise and went into limp mode (shades of last fall in Utah when we needed new spark plugs).
We spent some time on Saturday and Sunday doing research and discovered that the problem with the refrigerator was that it was in full sun in the afternoon and it's heat transfer coils couldn't keep up with the added heat. We opened up the vent cover on the outside and put a fan we had inside and that helped. Walter ordered a better fan and we've not had any problems since. Score.
Meanwhile, he also made an appointment on-line with the local Ford dealer to have the truck looked at. But on Monday they called and said that they were super backed up and wouldn't be able to give us an appointment until the next Wednesday. 10 days without a vehicle didn't sound like fun so Walter went out and started up the truck and it was fine. He drove it out to the highway and back and had no problems. So we figured all was well.
But Wednesday when we drove into town to go grocery shopping, the darned thing went into limp mode twice and then the check engine light came on. Sigh. So we drove to the Ford dealer and dropped it off and picked up a rental car from then. They worked us in, later in the week. We needed a new throttle body (no I don't know what that is) and its failure had caused our spark plugs (new back in October) to get gummed up so we needed new spark plugs again. But by Friday afternoon, we'd turned the rental car back in (note to self do not rent another Ford Focus they are really uncomfortable cars to drive) and had paid the ransom to get Francois back. If you're going to have car trouble (or refrigerator troubles) it sure it easier to have them when you're staying put in a reasonably sized town than when you're on the road. The bumpy patch wasn't quite over though. On Monday July 29th, Walter was on his way to town to have the oil changed and the darned truck went into limp mode again and the check engine light came on. He drove directly to the Ford dealer where a technician checked it right away and found a loose hose. They fixed that and NOW the bumpy patch seems to be over.
Meanwhile I was spending more time in the pottery studio. On Wednesday July 24th, I went in to check on one of my projects and discovered that some salad plates I'd made back in June had come out of the latest glazing firing.
Now look carefully, there's a joke to be seen.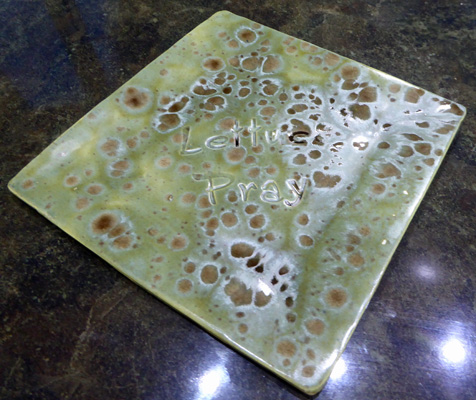 I used this crazy glaze because it tends to cover a multitude of sins. These are some of the first things that I made and I consider them a learning project.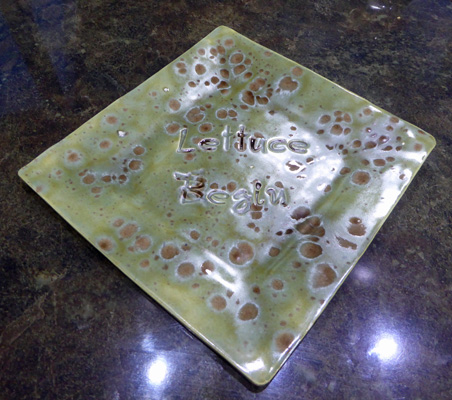 There was another one but I didn't get the letters deep enough and you can't read what it says. It will make an excellent saucer under a pot.
The other thing that came out of the kiln was the box that I'd spent an entire week making (about an hour and a half a day).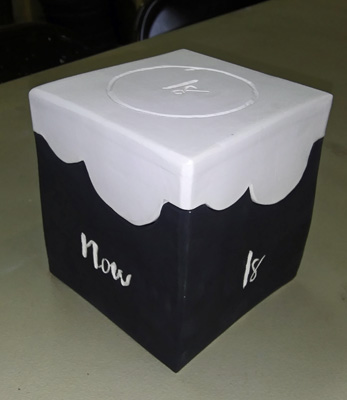 It's says "Now is all there is" on the four sides and the top. On Friday, I put black glaze in the incising on the top so now the "Is" is in a black circle. I call it a Zen box because of its message and because it is black and white and then the reverse on the inside. I've now spent 3 days putting clear glaze on it, inside and out. And it's being fired one last time as I write. I'm very pleased with how it's come out.
Thursday July 25th we had thunderstorms that cleared off just in time for sunset. It was pinky peach off to the southeast.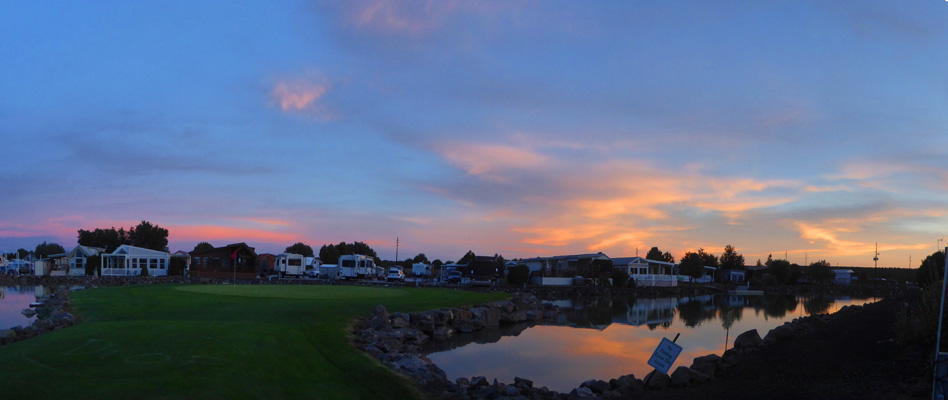 The orange to the west backlit some interesting clouds.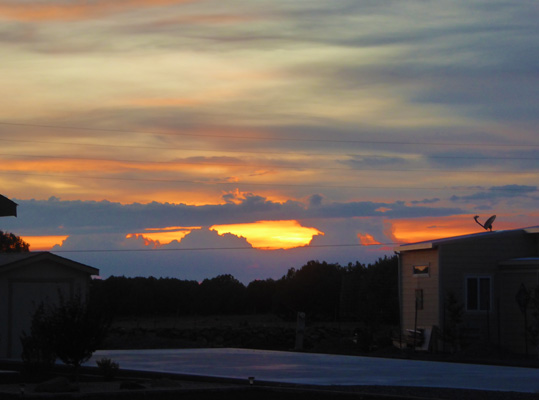 Friday after we'd gone to town to pick up the truck we had another lovely sunset with pinky peach cumulus clouds to the north.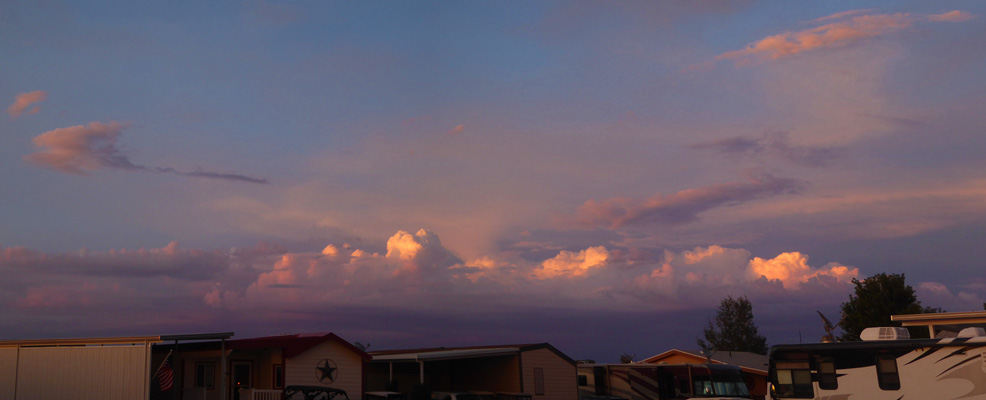 And glorious gold to the south and west.

Saturday July 27th, we worked in the Business Office in the morning handing out packages to folks. And then in the afternoon we worked at the gatehouse again. This time we had a microburst of a thunderstorm that poured down copious quantities of rain for about 10 or 15 minutes. Welcome to the monsoon season where it can be hot in the morning and then presto it cools off when it pours and then can heat back up later (or not).
Along about 7:15 that evening I looked out to see another double rainbow. I processed this photo so that the pink of the second rainbow shows up a little better.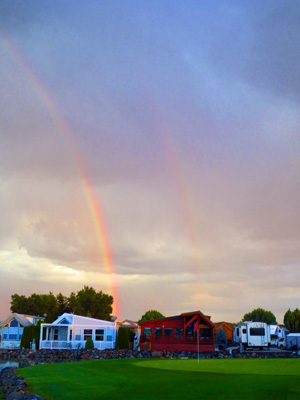 I went out onto the 15th green to look west and here's what I saw.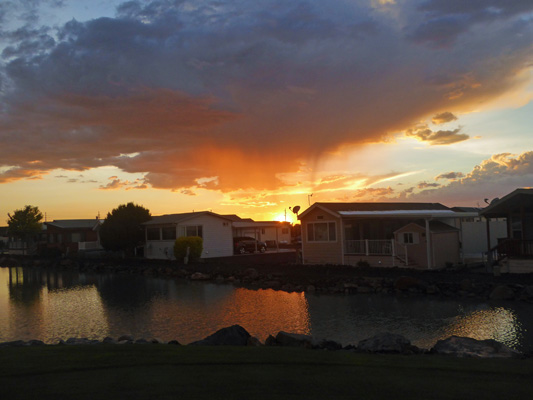 The sun was just getting ready to set and it was raining between it and us—thus the double rainbow.
And then the sky to the northeast turned peachy. We sure have had a lot of great sunsets this month.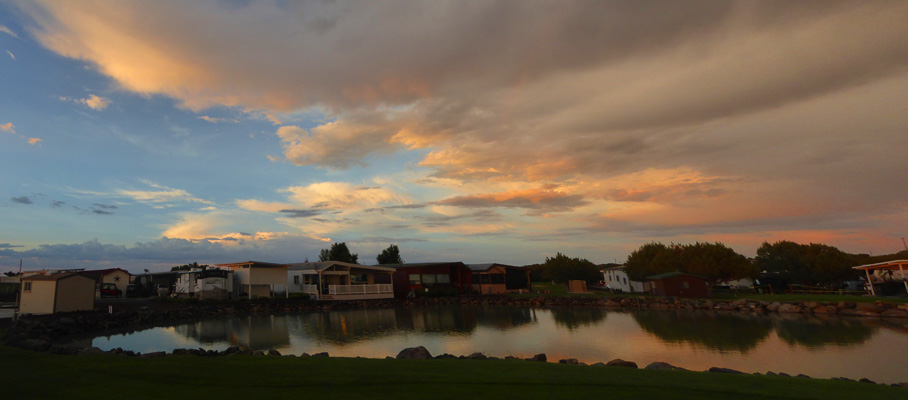 All is well with us. We're still pleased as punch with the lot we've bought. The paperwork needed to bring the park model into the resort next spring is done. We've met with the contractor who will add our Arizona room, car port and storage area and have things set up so he'll start work as soon as the park model has been installed.
I'm having a great time playing in the pottery studio. We play music once a week with our Jam Session and have discovered that the acoustics in the gatehouse are great so we take our instruments and music books and practice while we wait for folks to drive through (we're substitutes filling in for folks who are away for a few weeks).
We've had some hot weather this month but now that the monsoon season seems to have started in earnest the forecast is for temps in the low 80's for a while which is just about perfect. Life is good.