Friday September 26th, we broke camp at Red Rock Park in Gallup, NM and got on I-40 east for the 60 mile drive to Grants, NM and the Grants KOA. We had lunch and then set out to visit the Grants Mining Museum in downtown Grants. It's a nice little museum with a lovely collection of really big specimens. Mining history here began with uranium. The ore samples they had of uranium were all yellow—I had no idea. They began mining coal just north of here in the 1980's and are still at it. Grants isn't a booming metropolis so clearly coal isn't going to rescue it.
Having gotten our mining history, we went down Historic Rte. 66 a few more miles and visited the El Malpais National Monument Visitor Center. This is a very large, very impressive place and we were the only visitors when we arrived. We watched their lovely movie and then prowled around their displays after picking up maps and trail guides for our visit the next day.
Saturday September 27th, we drove south on I-40 to Highway 117 and went southwest along the El Malpias National Conservation Area until we reached the El Malpias National Monument. We bumped out a dirt spur road (only about a mile or so) to visit the Sandstone Cliffs Overlook.

That's a lava flow out there that is old enough (nearly 4,000 years) that bushes, grasses and small trees have taken root. But around the edges you can still see the black.
Off in the distance you can see Mount Taylor, a volcano that blew it's top a long time ago.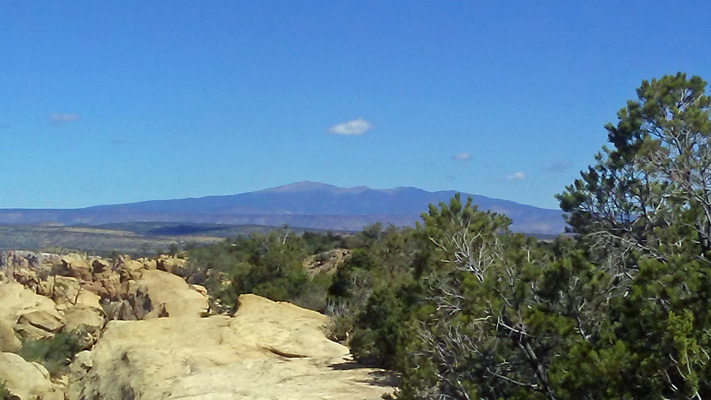 Along the sandstone edge we found a tinaja—a natural bowl in the rock that had caught rain from the last storm. We've been on many a hike over the years that pointed out tinajas and they've always been dry. So this was a real win.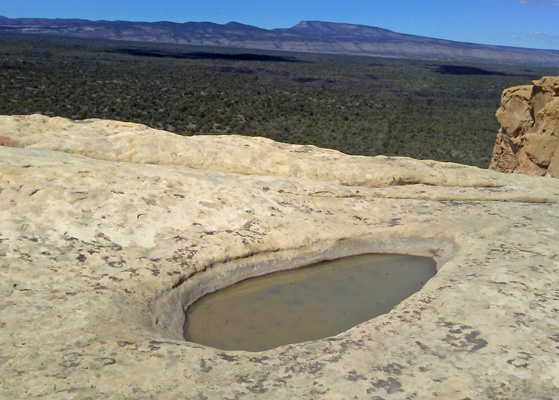 We're not that far from the White Mountains but it's much drier here. They only get 10 inches of precipitation a year which makes it true desert. So there are things like cane cholla which we haven't seen since spring. Some of them still had bright yellow fruit on them.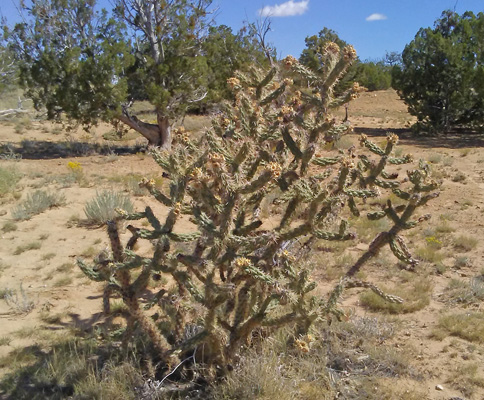 We bumped back out to the highway again and continued on to the La Ventana Arch parking area.
There's a short trail that takes you out to the base of La Ventana Arch.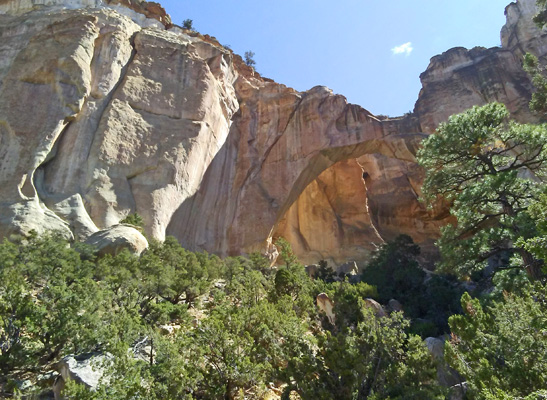 This is the second largest arch in New Mexico. Since the other one is on private property and isn't accessible to the public this is as good as it gets.
The view the other direction is pretty nice too.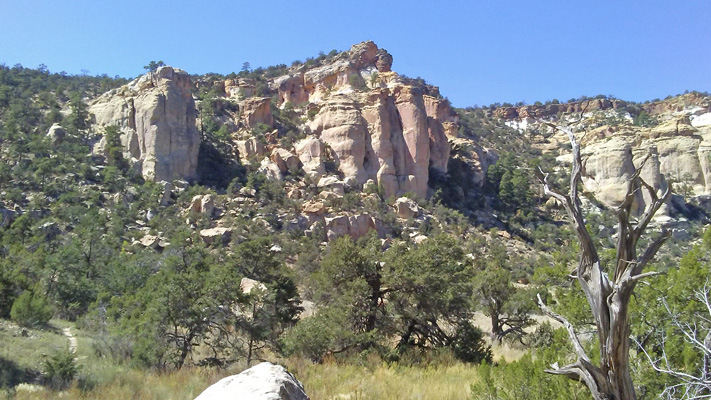 There was Foothill Paintbrush (Castilleja integra) still in bloom here.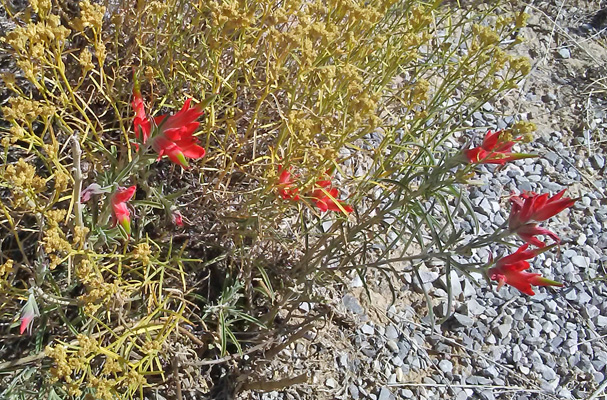 And there was Whiteflower Skyrocket (Ipomopsis longiflora) blooming in the shade.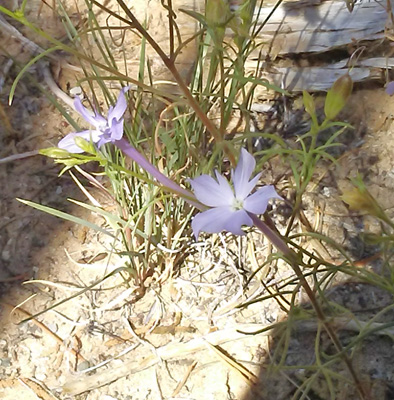 We drove on through an area called The Narrows that doesn't look narrow at all—it's named for a very narrow passage between the sandstone cliffs and the lava flow. Back in the horse and buggy era navigating this area was really challenging. You can't take a horse across a lava flow and no stagecoach, buggy or other wheeled conveyance could cross it either. The Spaniards called it El Malpais which means Bad Lands because it was so hard to cross.
We continued on to the Lava Falls area where there's a trail that takes you out across the lava flow. Along the way, I spied these interesting bushes that had seed pods on them like the flowers of Fairy Dusters. They turn out to be Apache Plume (Fallugia paradoxa).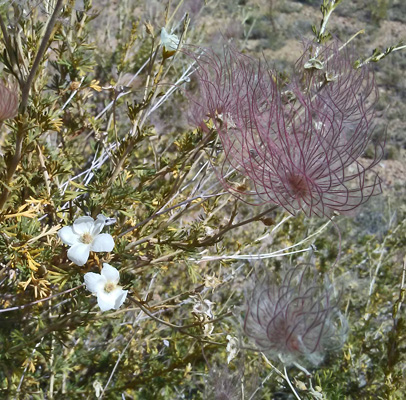 I took the trail out onto the lava flow for a ways. You have to follow cairns since there's no visible path. It's a lovely jumble of black rock with lichens growing here and there plus batches of grasses, flowers, bushes and small trees.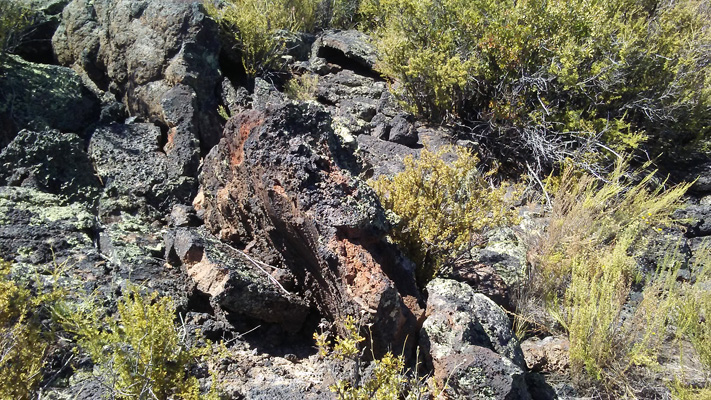 We've hiked on a lot of lava flows over the years but most of them have been younger than this one so that plants were rare. This was really pretty densely covered which was amazing.
I found it pretty incredible to find Showy Goldeneye (Heliomeris multiflora) growing out of a crack in the rocks.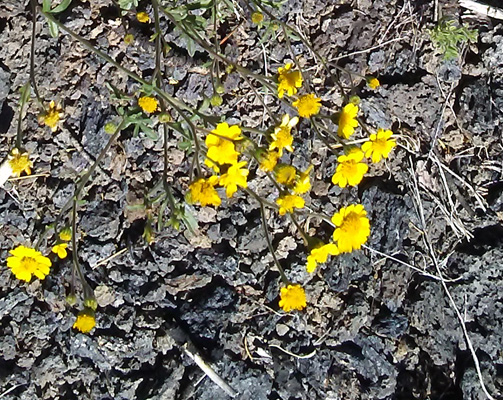 I got to the top of the ridge hoping to get a view of the caldera that was the source of all this lava. But it's pretty hard to spot since it has little or no height. Instead I got a view of the ridge across the way where there are lots of pines.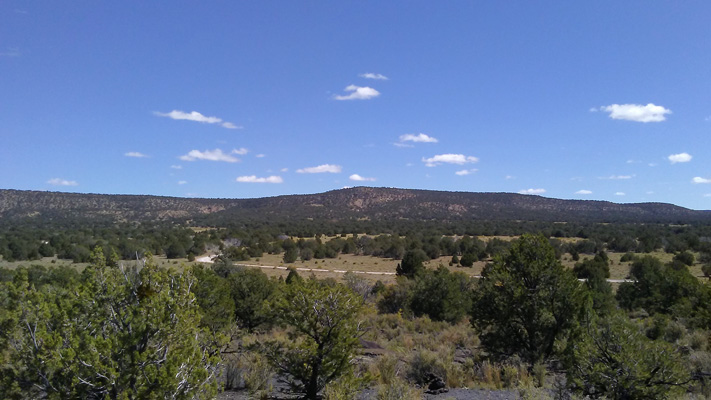 And a series of cinder cones off to the west.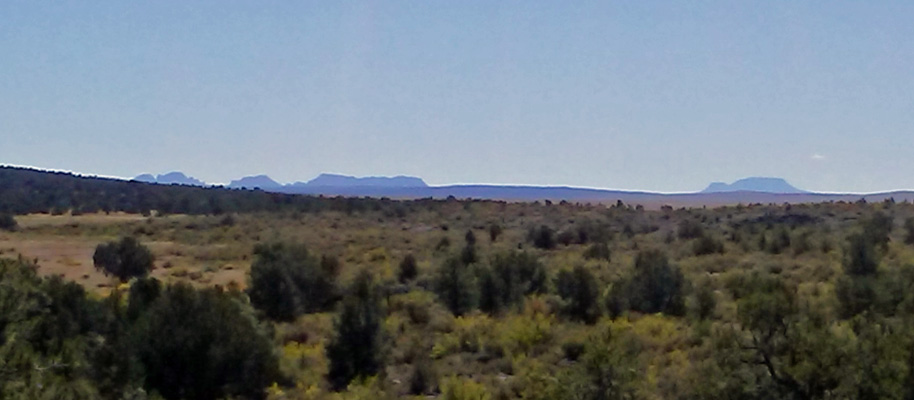 The national monument ends just past here so we turned back to the picnic area at The Narrows. It's a pretty area with sandstone cliffs.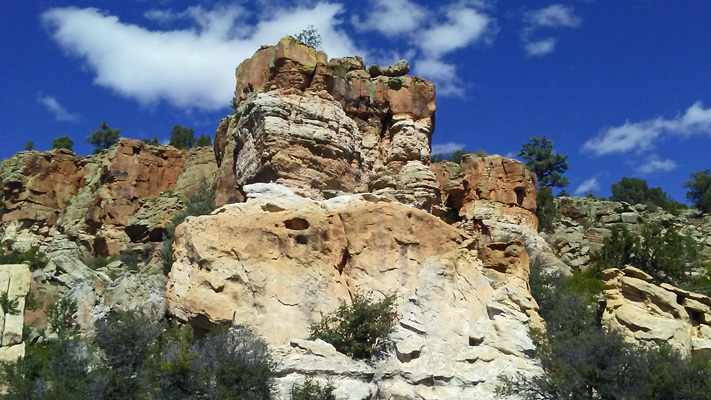 And Ponderosa pines, which seem to like to grow right at the base of the sandstone formations.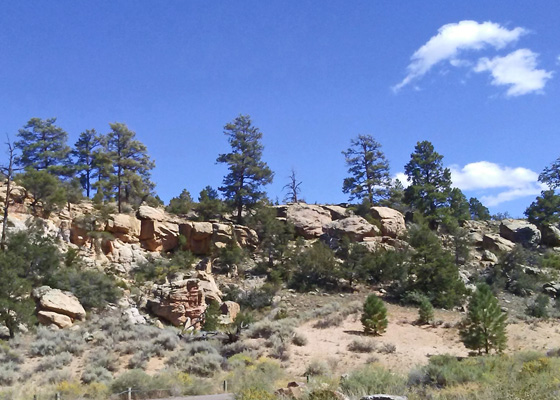 It was a lovely place for a picnic with the temperature in the mid 70's.
We drove back along Hwy 117 and I took a photo of the view.

Sunday we took the short hike through the lava flow next to the KOA. This is a newer flow—only 1,000 years old and there's not much growing in it. There's a broken lava bubble in the campground itself. Gases built up in the lava and a big bubble developed and broke leaving a roundish hole with big chunks of lava rock in it.
Then we did grocery shopping and laundry—hey it may not be exciting but it has to be done.
From here we'll head towards Albuquerque where we'll turn north into the west side of the Jemez Mountains for a couple of days of dry camping in a Forest Service campground. Then we'll spend three days at Bandelier National Monument (on the Santa Fe side of the Jemez Mountains). More dry camping there but at least there's a chance of a cell signal there.