Saturday morning October 19th, we broke camp in Taos and got ready to head to Santa Fe. When I went to pull the leveling blocks out from under the passenger side wheels I noticed that the rear tire looked a little low. It was nearly check out time so we got our electric pump out and put air in the tire so we could pull out of our spot and go park out in the front parking area and decide what to do next. We've had flat tires before but always when we were out in the boonies so we had to change it ourselves. This time we were in town. At Walter's suggestion, I got my phone out and found a Goodyear Tire store just up the road in Taos. We trundled our way there and in less than an hour they'd pulled the tire, found the old nail that we'd picked up in it, repaired the tire and put it back on. This was SO MUCH BETTER than having to change the tire ourselves and then still have to take it into a tire place to have it fixed. It was a little challenging to get the truck plus trailer turned around in the repair yard but we made it okay and then were on our way. Whew.
Well before 2 pm we pulled into the Santa Fe KOA and set up camp in our pull through spot. It was a little narrow—they have a lot of junipers that have gotten pretty big—but it served the purpose and it had electricity which was the most important thing.
It was cold that night and windy the next day so we battened the hatches and hung out. Walter got to watch football on both Saturday and Sunday and then when the wind had died down a little we got it together to take the short drive east to Pecos National Historical Monument.
Pecos has a long and storied history. First there were Pecos Pueblo people who built their homes here and traded with the Plains Indians, here at Glorietta Pass. Then the Spanish Conquistadors came looking for the cities of gold (Cibola) followed by the Franciscan friars who built a mission right next to the pueblo. Disease, drought, migration and the predation by the Comanches reduced the population at Pecos Pueblo so that the few remaining people left in 1838 and moved to Jemez Pueblo. From 1821 to 1880 the Santa Fe Trail passed through here. The US conquered the area during the Mexican American War of 1846-48. Then in 1862, the Confederacy began a campaign to seize control of the Southwest. After 2 days of battle at Glorietta Pass they came to a standoff. But at the end of the day, Union Troops destroyed the Confederates supply train. As a result the Confederates retreated back to Texas and the Civil War battle for the west was over.
There are trails out to the ruins of the pueblo (foundations about 4 or 5 bricks high) and the mission. But it was way too windy to hike so we settled for watching their movie and visiting their very nice museum.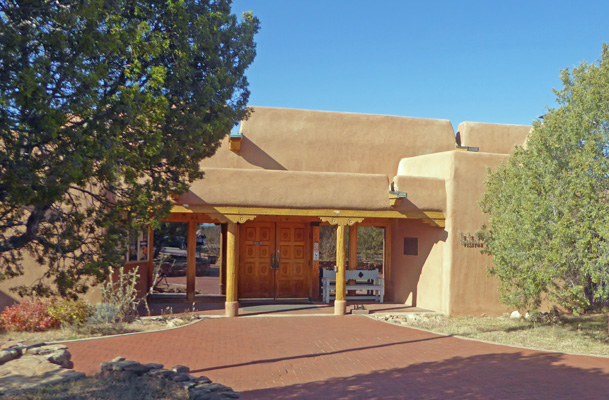 The gift shop takes up most of the lobby and they had a lovely collection of contemporary Native American pottery, including these lovely incised pots from the Jemez Pueblo.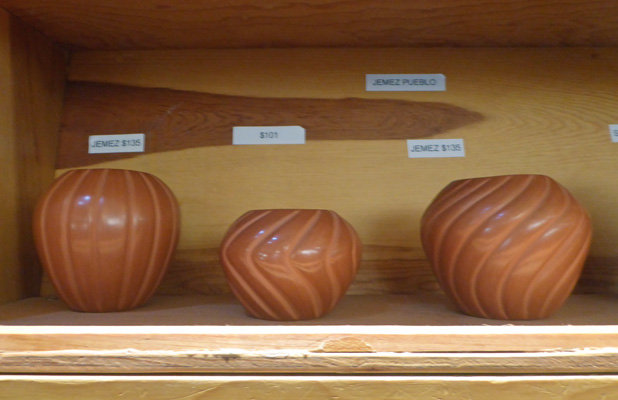 And these striking black and white pots from the Acoma Pueblo.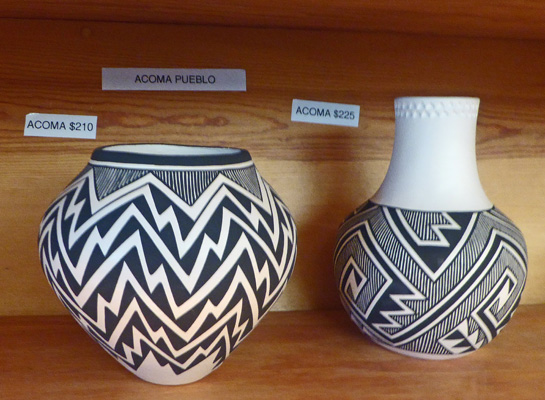 And this lovely Laguna pot.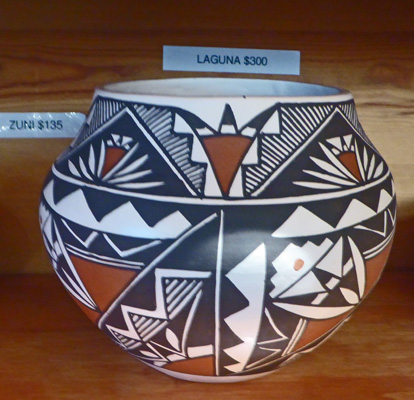 I was struck by how different each Pueblo's style was. Of course part of that is the difference in artists but there are also traditional styles and they vary a lot from Pueblo to Pueblo.
The museum had a large collection of pots that had been excavated in the early 1900's. Here are a sample of them.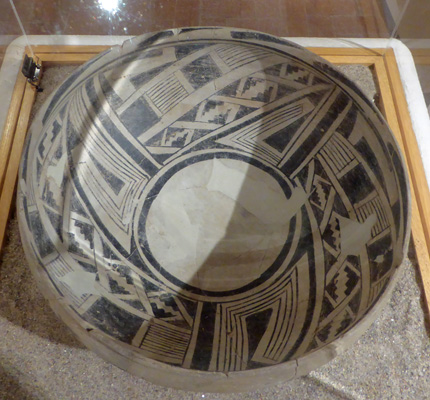 The labels mostly told you what the glaze style was without any information about them.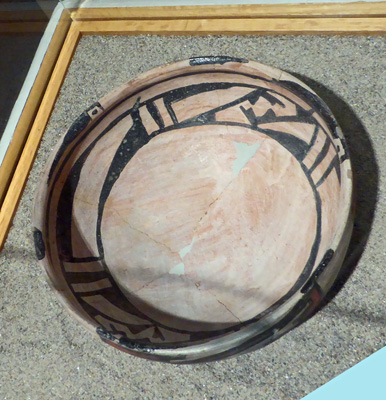 Just think of the hours put into reassembling all these pots from shards dug during excavations.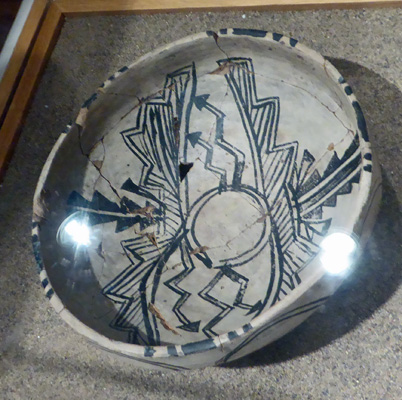 This was one of the most colorful of the patterns on display.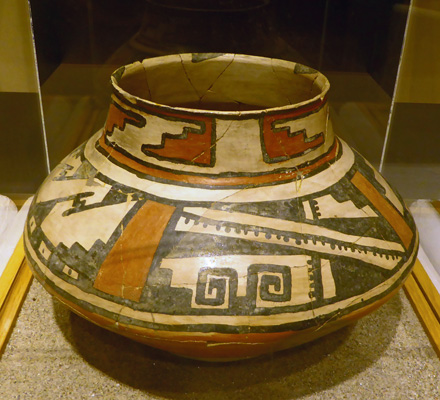 This was a trade piece because while it was found at Pecos it had been made in the northern Rio Grande Valley.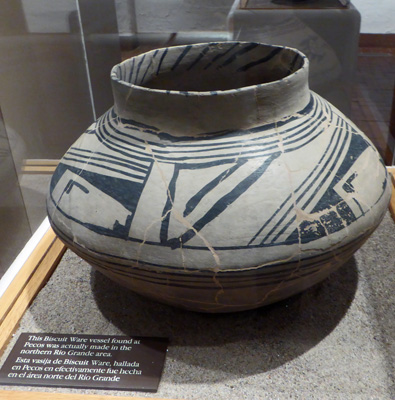 This is one of the earliest glaze types of the Rio Grande area.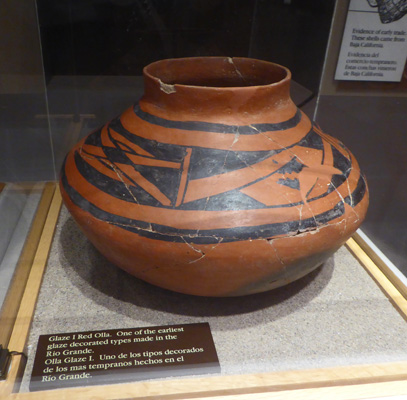 And this said that it was made in 1400-1500 AD.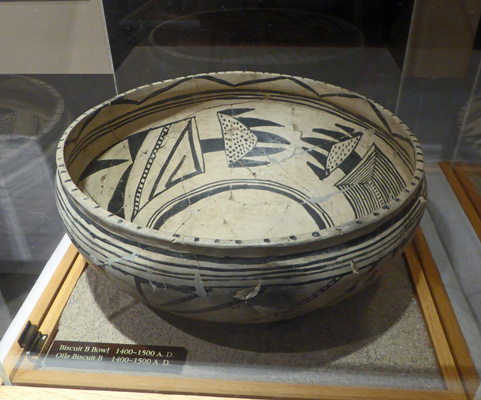 It was close to closing time when we left having really enjoyed both the museum and the film.
On our way back to the KOA we stopped at the historical markers associated with the Civil War Battle of Glorietta Pass. There were memorials to the Confederate soldiers, the Union soldiers and the Colorado Militia members who had joined the Union side (and destroyed the Confederate supply train). I'd never heard of this battle but it's known as the Gettysburg of the West here in New Mexico.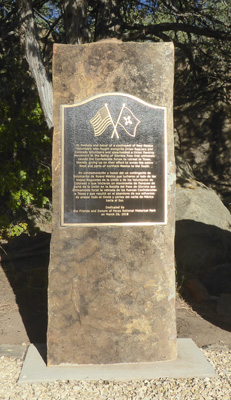 Sunday night it was cold again and we hit the low 20's by morning. It was still breezy but nothing like the day before. So we set out to drive into Santa Fe and then up Hyde Park Road to Ski Santa Fe to see the aspens.
On the way we passed through a very high end neighborhood with some very nice looking adobes.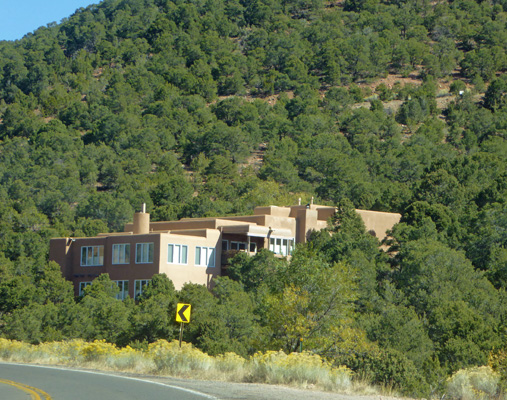 Even before the road began to climb seriously there were splashes of yellow.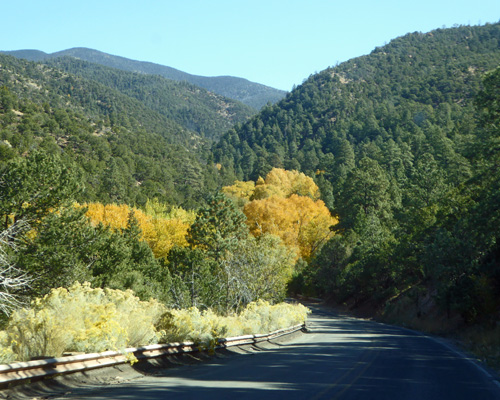 And big stands of yellow.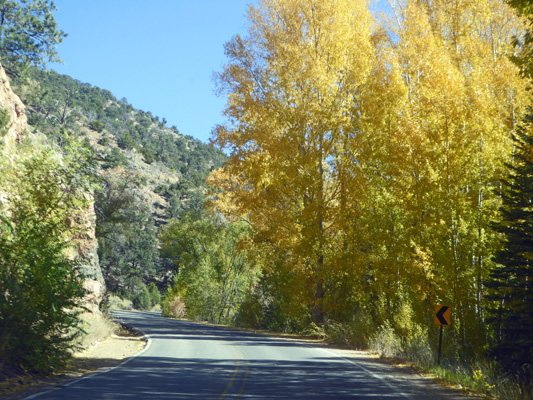 As the road climbed we got more and more bright yellow aspens.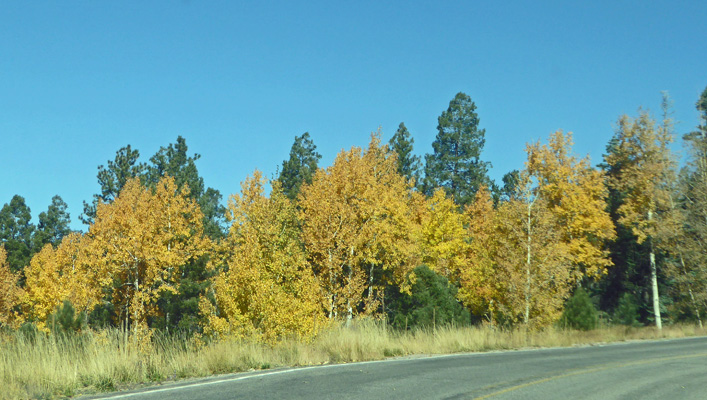 About half way up we began to see streaks of yellow on the mountainsides. I find it interesting that the trees don't all change at once even though they are all aspens. Some were totally done and bare, others were at peak and still others were still tinged green.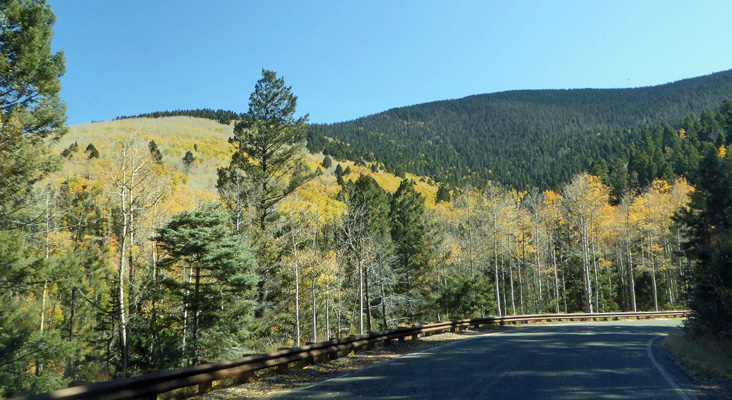 We were here at almost exactly the same time 2 years ago and most of these trees were all done. So this was a treat. I had assumed you either got the whole mountainside in gold or nothing. But no, it can be in between.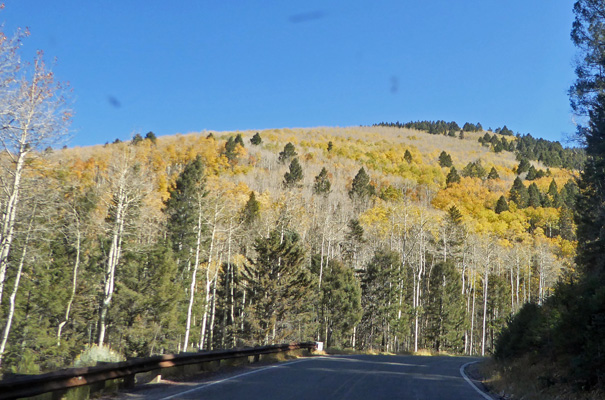 There were places where the trees were all done.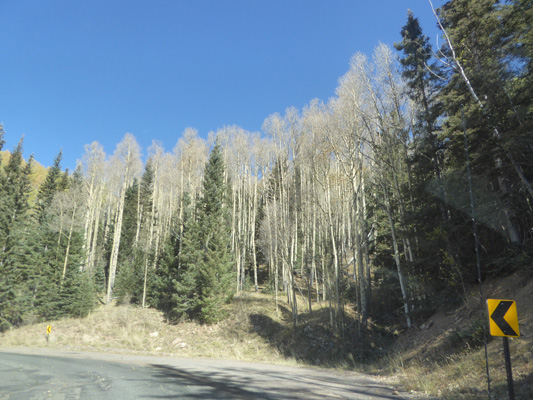 But even as we got near to 10,000 feet there were still trees with color.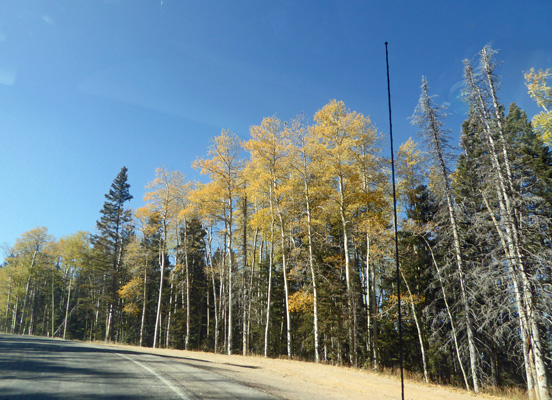 When we got up to Ski Santa Fe we turned around since we'd visited it 2 years ago and it wasn't particularly exciting then.
On the way back down, I just kept snapping pictures.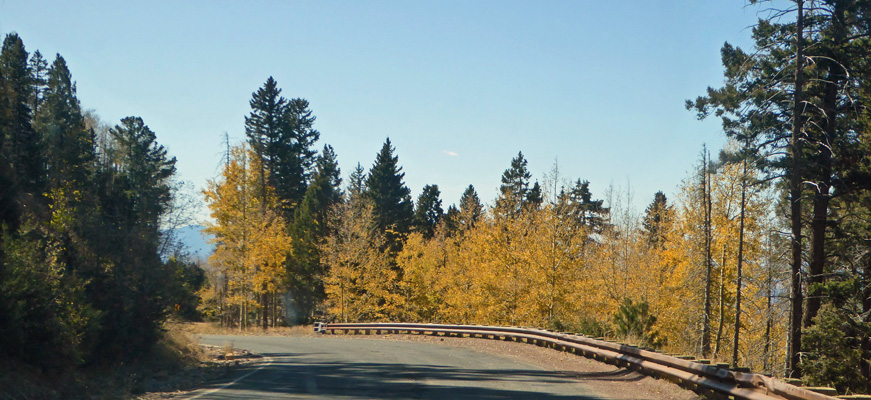 On our way up, the parking area at Aspen Vista was full but on the way back there was a nice big spot waiting for us. I hopped out to take photos even though it was 28 degrees and breezy.
This was not a moment to stand and contemplate the beauty. It was just a little too cold for that. But it was fun quickly taking photos. There are some really tall trees in here and this one was still clothed in gold.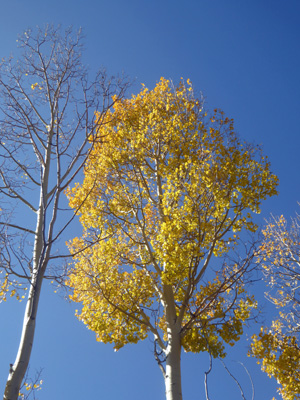 There was a lady huddled on the bench overlooking this view. I was not interested in joining her.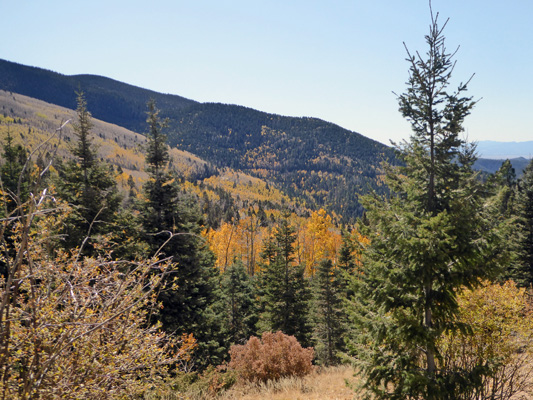 There was still quite a bit of color. I'm sure the week before it must have been stupendous.
I thought the trees along this closed road were pretty wonderful lit by the sun.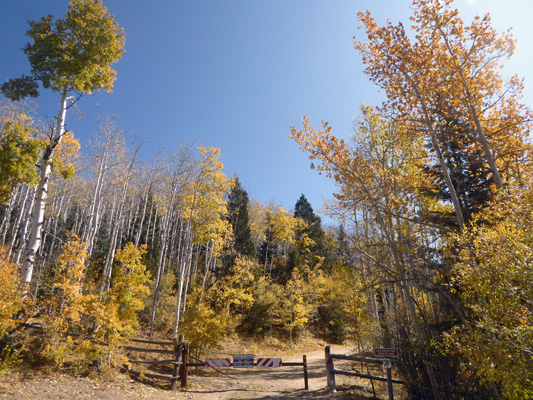 I took one more photo near the parking area and then high tailed it back to the car.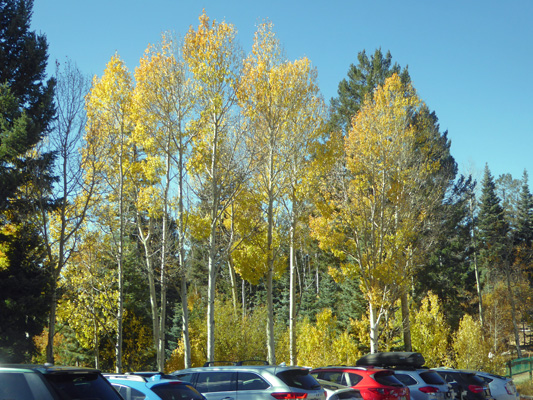 I kept trying to capture color as we made our way back down the mountain.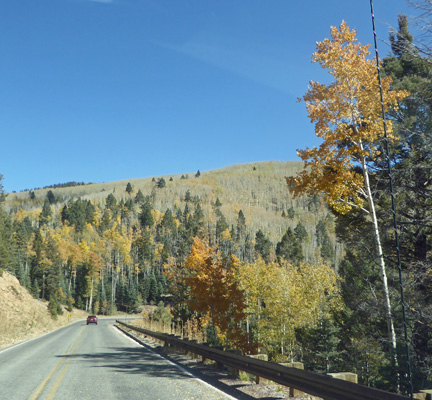 There was a marvelous yellow mountainside behind these trees but I couldn't get past the trees to the view.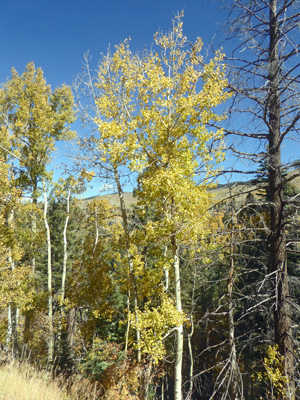 It was an entirely satisfactory expedition especially since the truck has a very nice heater.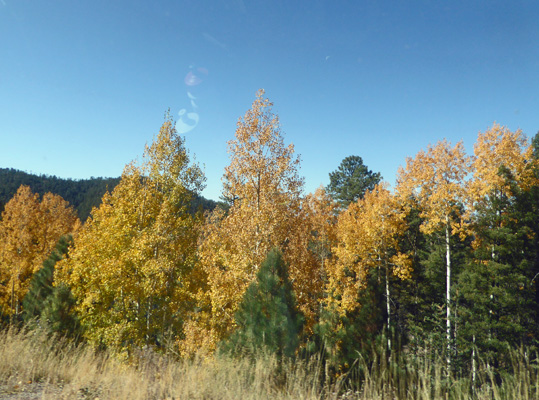 That evening we had a nice sunset.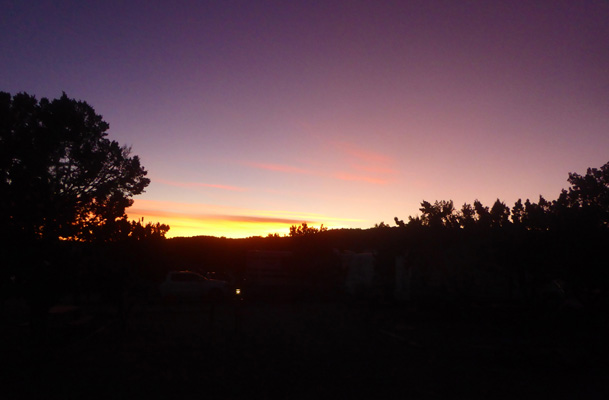 Tuesday October 22nd, we moved from Santa Fe KOA to Santa Fe Skies RV Park just south of Santa Fe. We stayed here 2 years ago and really liked it and were happy to move closer to town.
We got a nice back-in site with a view of the mountains and their collection of antique (and not so antique) farm equipment.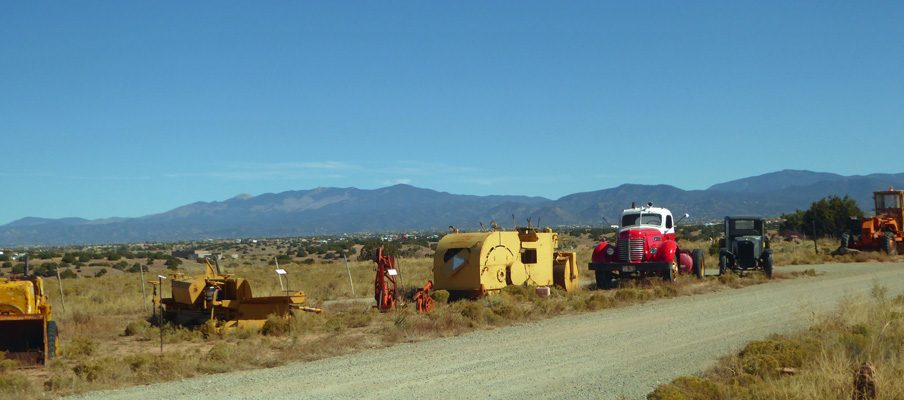 Off to the northwest you get more equipment and different mountains.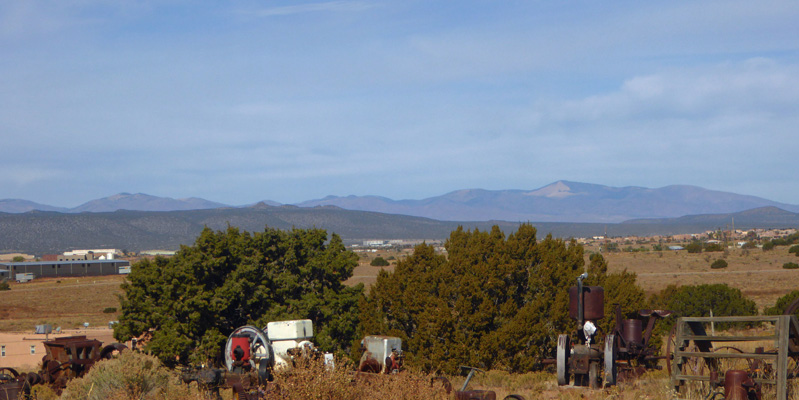 That afternoon I did the laundry (life goes on after all) and we enjoyed having enough sun to warm the trailer up so we at least had the vents open.
Wednesday October 23rd, we set out to drive the Turquoise Trail, a scenic drive which follows Hwy 14, south from Santa Fe through old mining country to Albuquerque. The added bonus to this drive is a side trip on Hwy 536 to Sandia Crest, with view out over Albuquerque and the entire surrounding area.
Santa Fe Skies RV Park is just a couple of blocks from Hwy 14 so we didn't have far to go to get started on this drive. We headed south on Hwy 14 and soon had views of the mountains to the south.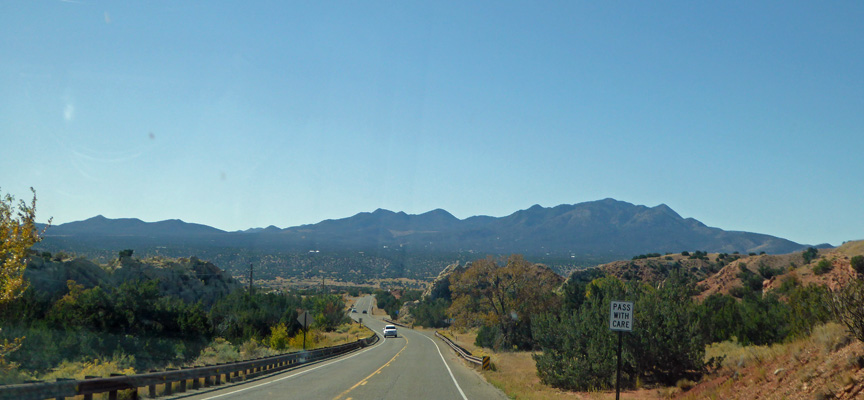 This is fairly flat county with interesting rock formations here and there. We pulled over at a scenic viewpoint and I had to climb the embankment to get a photo of the layers of colored rock and the mountains that look like cinder cones.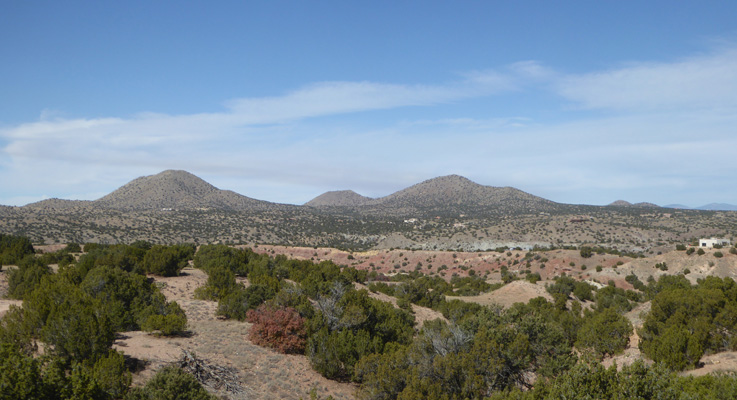 From time to time we got view out across the Rio Grande Valley to the mountains to the west (the Jemez Mountains I think).

We drove through several old mining towns including Madrid, which is a fun little town that we'll come back to later in the afternoon.
In time, we came to the town of Sandia Park (lots of upscale houses) and the turn off to Hwy 536 which takes you up past the Sandia Ski area and on up to Sandia Crest.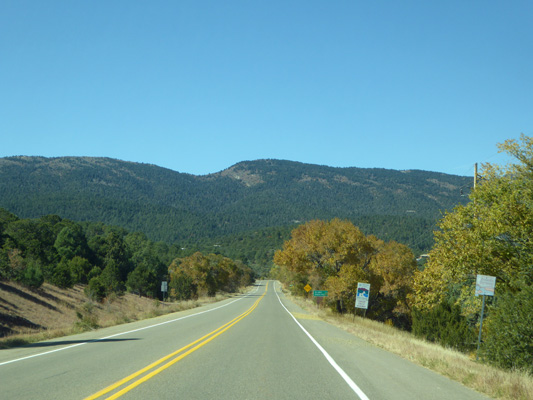 There was some fall color but nothing like the wonderful golden aspens we'd seen up the road to Ski Santa Fe. There were lots more oaks and they just turn a nice mahogany brown.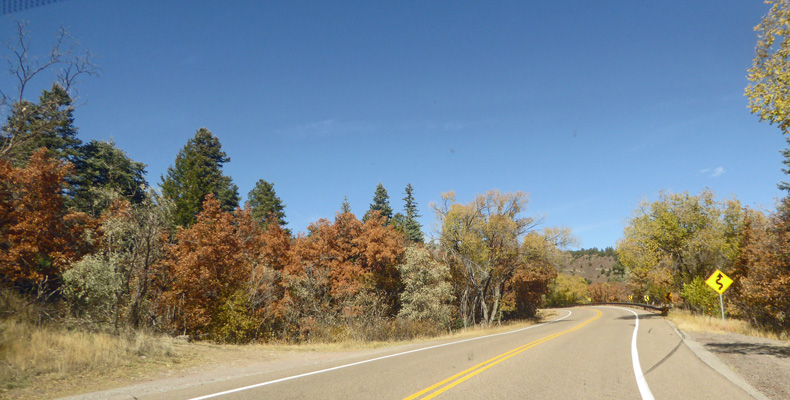 At last we arrived at Sandi Crest, elevation 10,678. There are big parking lots here along with the Sandia Crest House where you can buy a souvenir and have lunch. Here's the view looking east from the upper parking lot.

There's a huge antenna farm up here that serves both Albuquerque to the south and Santa Fe to the north.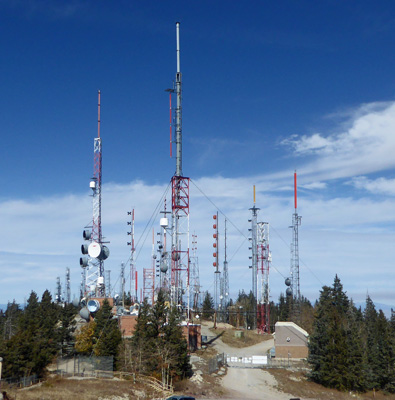 Off to the south you get a view of Albuquerque as it sprawls off into the distance.

Here's the view slightly farther to the west.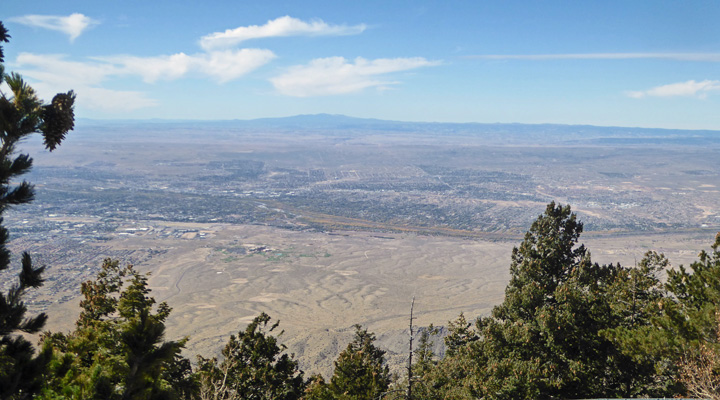 Here's another view off to the northeast.

Having fully documented Sandia Crest we made our way back down the mountain. Here's a good photo of the Gambel Oaks in full fall color.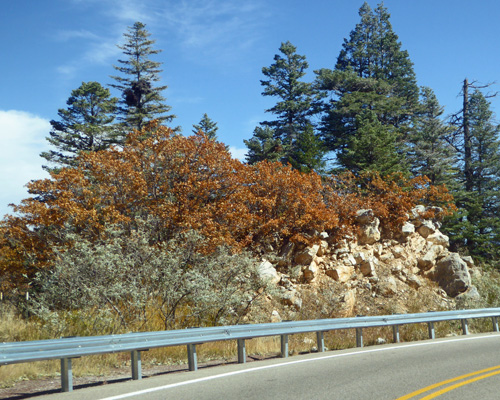 We followed Hwy 536 back down to Hwy 14 and continued south on Hwy 14 until we reached I-40 in Albuquerque. The tour books all suggest you now take I-40 west to pick up I-25 north back to Santa Fe but we thought that sounded boring since we'd already driven that several times already. So we turned around and drove back up Hwy 14 to get the views going north.

As the highway angles northeast you get views of different sections of the Sangre de Christo Mountains.

It was lunchtime by the time we returned to Madrid so we found a parking spot (a bit of a challenge in a little tourist town) and headed to the Mine Shaft Tavern for lunch.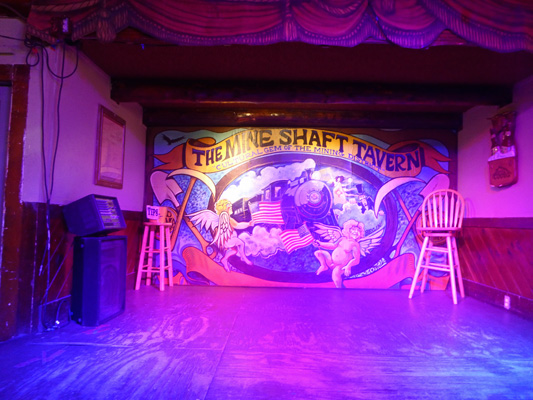 Clearly they have live music some evenings.
They were all decorated up for Halloween.
The place wasn't exactly hopping but then it was the middle of the afternoon.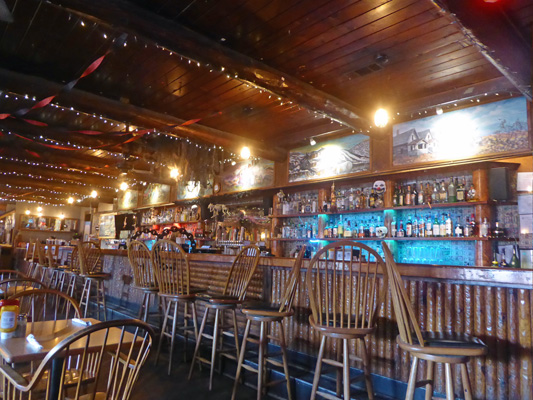 This place reminded me a lot of a tavern in Cooke City, Montana that we wandered into when we visited Yellowstone the summer of 2013.
We had a nice lunch (not cheap but pretty good) and then made our way back through town to the truck. Along the way I had to take a photo of this guitar player in front of the Soda Fountain.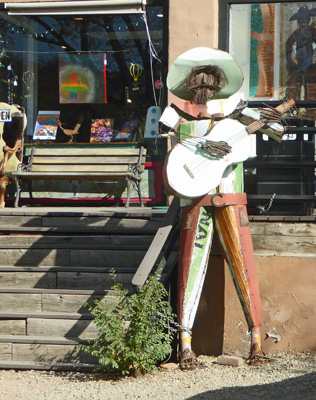 Can you tell that the artists have taken over a good part of main street?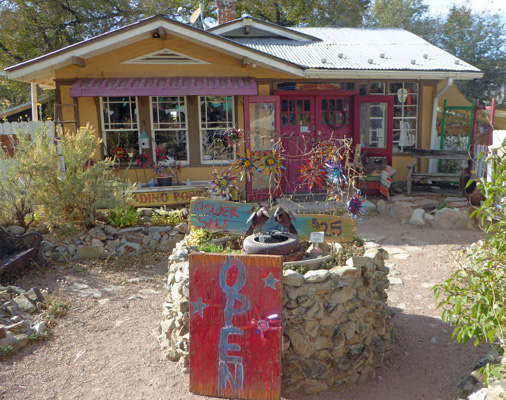 Can you tell that the artists have taken over a good part of main street?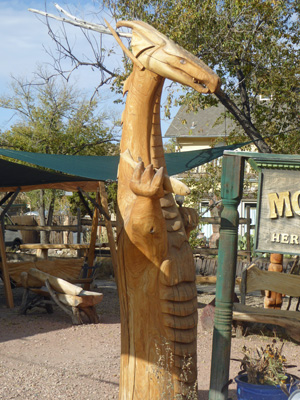 Can you tell that the artists have taken over a good part of main street?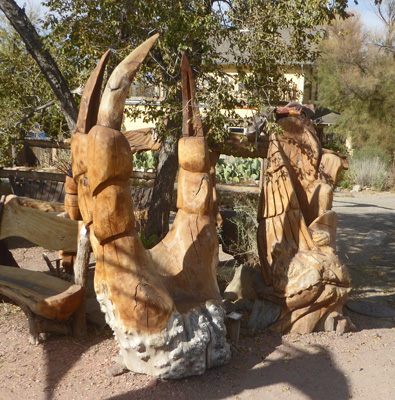 I guess if you can't afford the whole dragon you can buy his claw.
Thursday October 24th, it was downright cold. We had snow flurries off and on all morning and it got up to about 42 once the sun came out in the afternoon. We went into town around noon (the sun was out when we left but of course it started to snow again once we were on the road). The snow didn't stick but it made all the people in the parking lots pretty crazy—both in cars and on foot. I was very happy to get home again all in one piece.
Friday October 25th, it was still cool—we had a high of about 55—perfect hiking weather. So we drove the short distance to the La Cieneguilla Petroglyphs. The trailhead starts at a gravel parking area and you have to search for the signs to make sure you're going the right way since the trail divides right where it starts. We followed the white arrows that led us to the left (south I think) along a gravel path parallel to a ridge of black rocks. Eventually the trail heads up hill through the rocks. After a while the only way you could tell where the trail went was to follow the footprints in the dust between the rocks. The footing got pretty tricky and Walter decided it was best to sit it out right where the first petroglyphs showed up. They were very faint but they were there.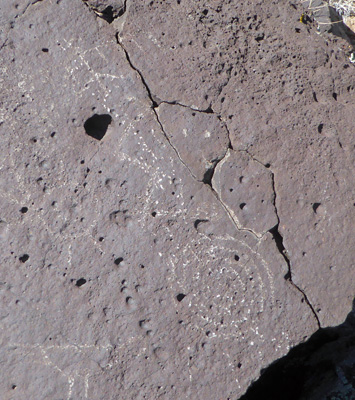 I followed the footprints up the hillside and eventually got to a series of petroglyphs that stretched across the hillside along a rocky path.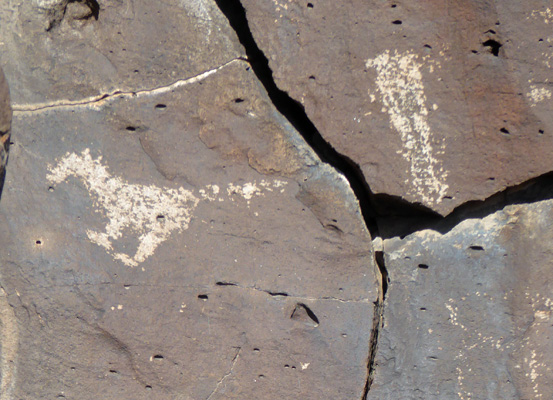 The nearly black rock turns out to not actually be black but instead is beige with a black patina that the artists scraped away.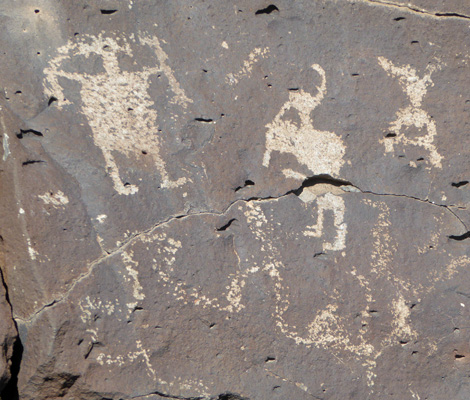 The blurb I read before we came here said that this area has the highest concentration of figures playing flutes. I don't think I've ever seen one before.
At first I thought this might be a strange deer but I realized he has a tail so he just might be a dog.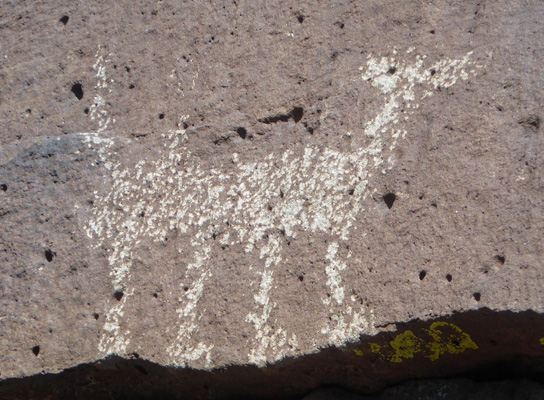 From up on the ridge I got a view of the mountains and you can see that there's snow over on the left. My guess is that's Wheeler Peak up by Taos since it's the highest point in the state.

I continued along the ridge and found more and more petroglyphs. I've seen spirals and handprints in lots of places across the SW.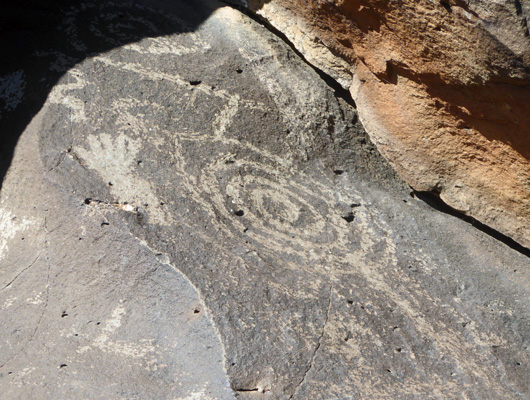 Here's another flute player.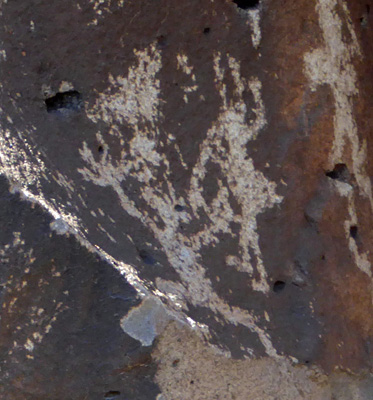 The question here is are they fighting or dancing?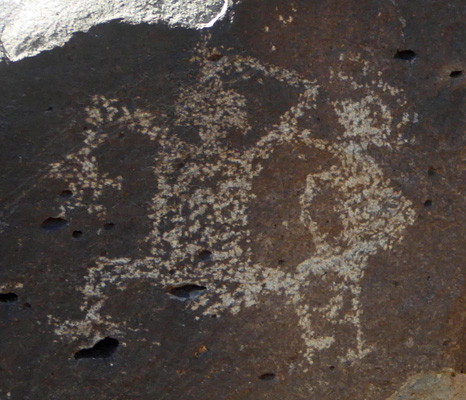 Here they've used a crack in the rock to make a toothed mouth. I've not seen anything like this before either.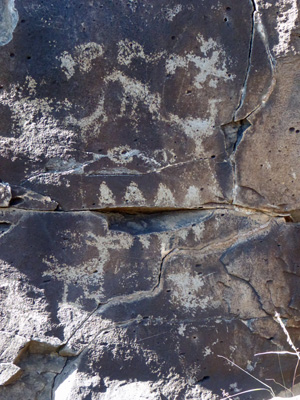 Snakes like this are pretty common,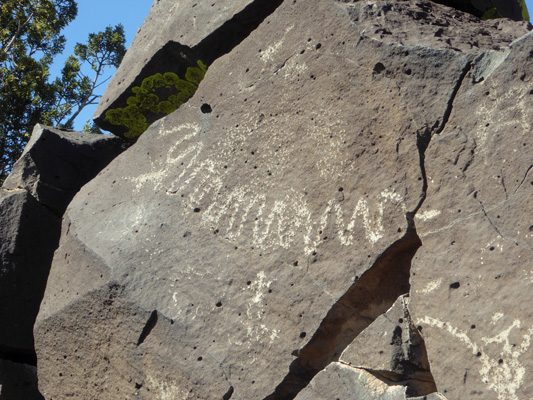 But I've not seen a sun like this before.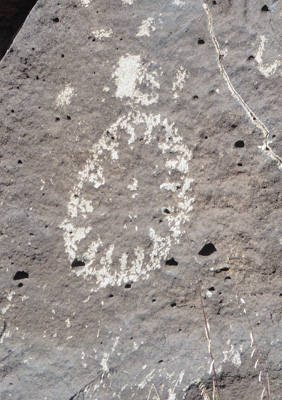 Now, next to the hand that is most certainly a sheep or a deer or an elk.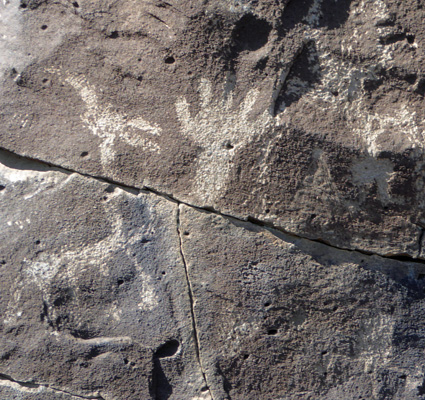 Look at the density of the glyhs here.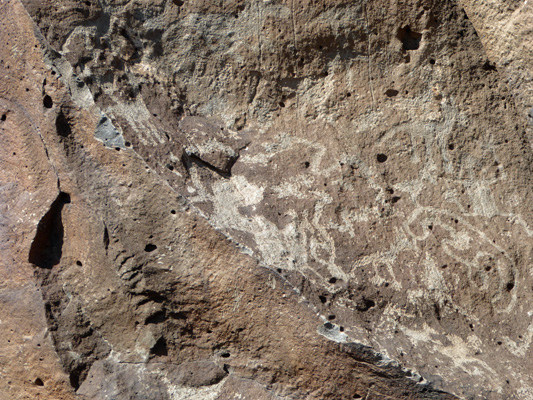 Here's another spiral or is it a snail of some kind?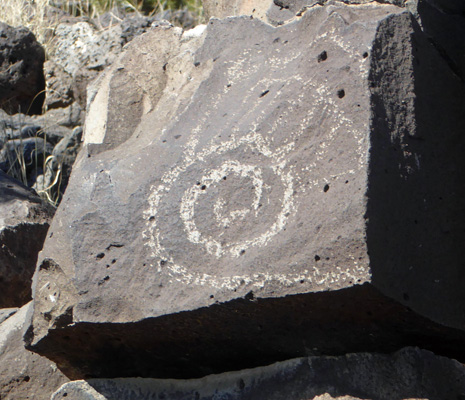 This one reminds me of characters in Navaho sand paintings. And don't forget the bird down below.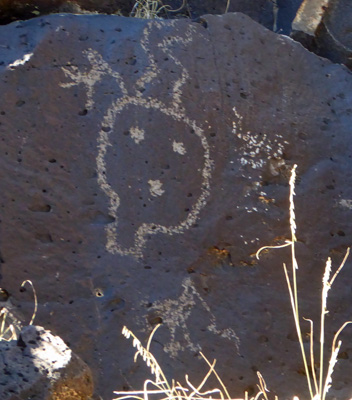 I'm not sure what this is. It reminds me of a frog but it seems to have a tail. So who knows?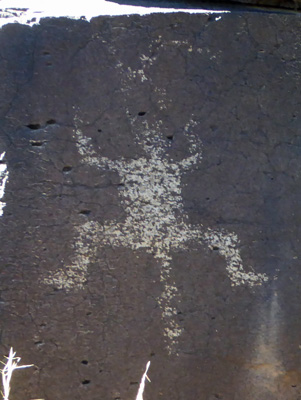 There was a relatively easy route down about here and I'd seen enough glyphs so I made my way down and then took a photo of where I'd been. The glyphs were on the face of the top ledge.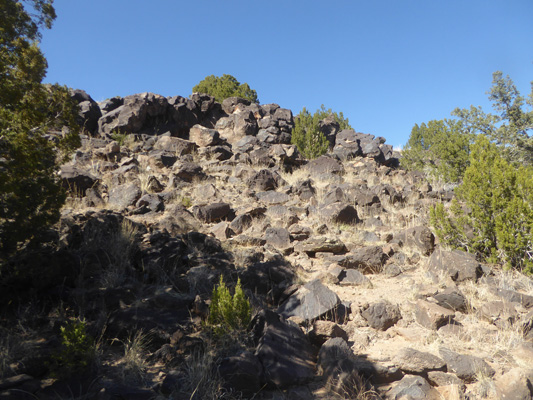 From here I got another shot of the snowy mountain.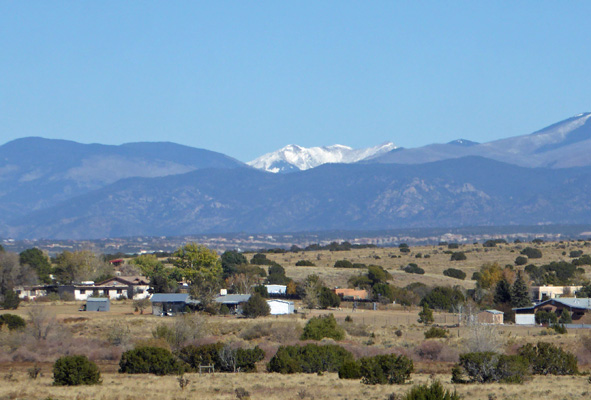 I stumbled along the path back and eventually found Walter sitting on a rock. There were two ladies who I passed on the way who were having a great time claiming to be stuck but they were laughing so hard I decided they'd be okay. I told them to follow the the path across the ridge and then there'd be an easier way down but who knows what the decided to do.
The junipers here had lots of berries on them.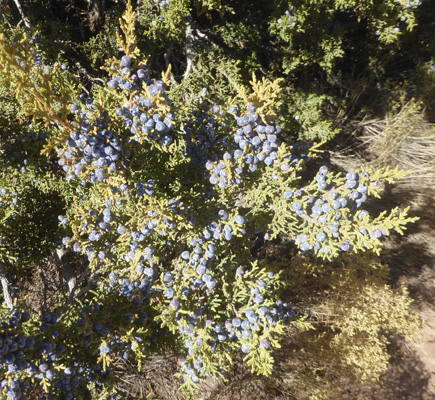 On our way back to the trailer we followed the road south a ways and then took a country road that followed the Rio Grande back. The cottonwoods had turned yellow and were putting on a nice show.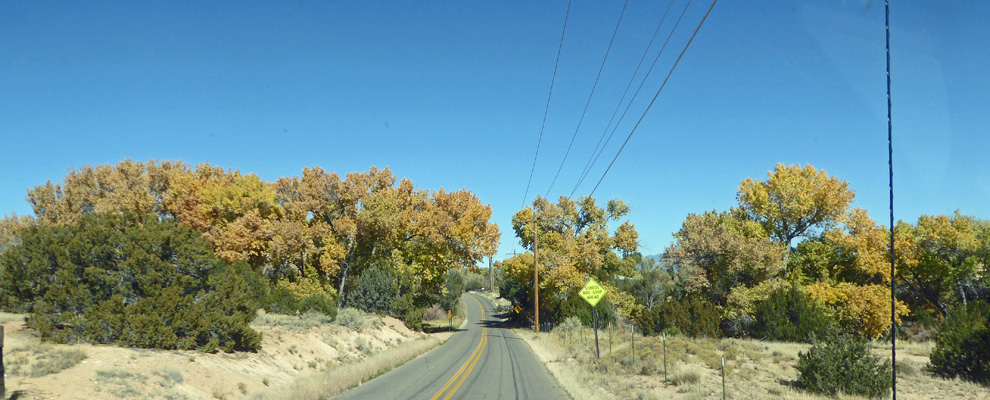 Saturday October 26th, it was much warmer—it made it up into the 60's—and we made our way into downtown historic Santa Fe just to wander around. We visited 2 years ago when we were here and did a pretty good job of it. So this time we decided we'd just wander. We parked in the parking lot next to the Saint Francis Cathedral. This time they charged us $10 for 4 hours—even though we knew we'd be lucky to last 2. Ah well, it's just the cost of being a tourist. We walked around the side of the cathedral where there were apples hanging on the upper branches of a tree.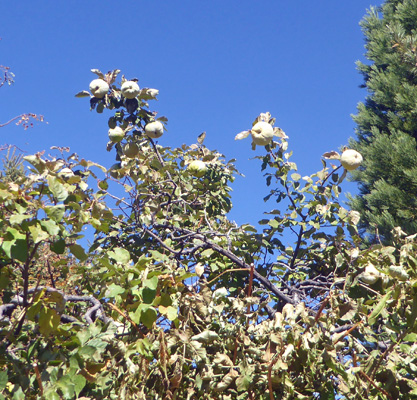 We came out on a side street and got a nice view of the side of the cathedral. It was a good thing we didn't have our hearts set on seeing the inside again. There was a mass going on (an entire busload of folks unloaded as we exited the parking area) so it wouldn't be the best of times to be poking around.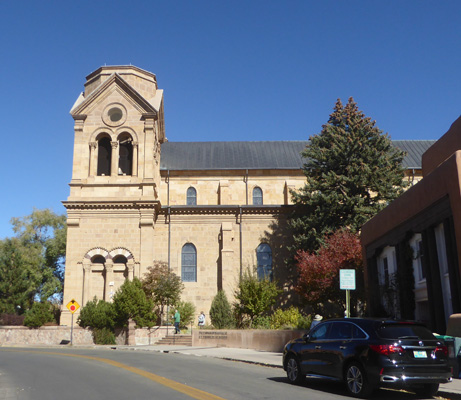 We wandered down Water Street to see the Loretto Chapel.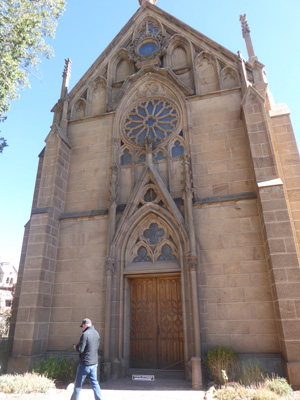 They have a very unusual helix staircase known as the "Stairway to Heaven". Their website said admission was free so I thought I'd stop and take a photo. But guess what? The website was out of date. They charge you $4 to see the chapel now. We decided we didn't need to spend $8 for me to take a photo so we took a pass.
Across the street there was a gallery with wonderful bronzes out front.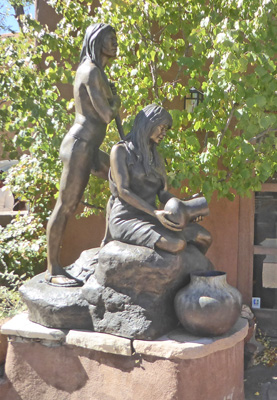 One of the things I love about Santa Fe is all the art sitting on the sidewalks.
It was Saturday and there were vendors everywhere.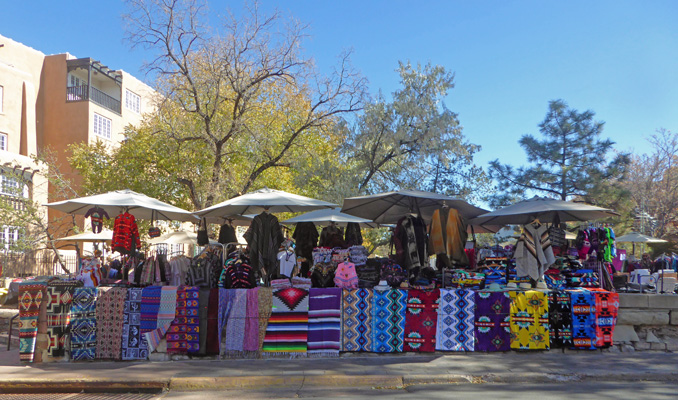 I had to stop and take a photo of these chilies. They're ceramic and they were hollow. I suspect they were cast but isn't that fun?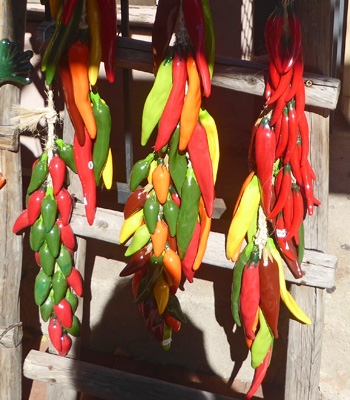 There were lots of folks out on the streets and in the Plaza.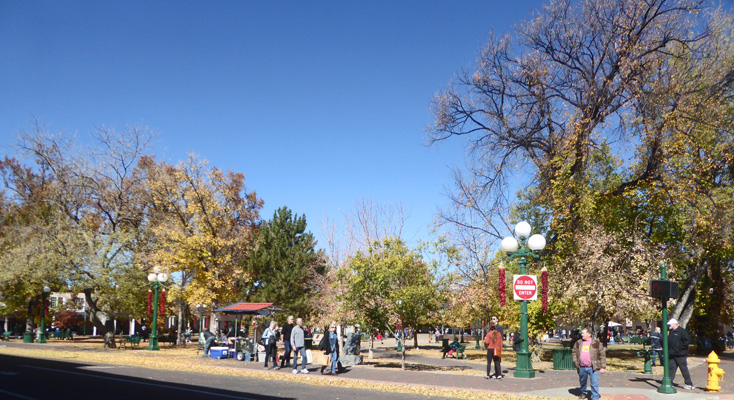 Native American vendors lined the area in front of the Palace of the Governors. When we were here during the week there had been no one there.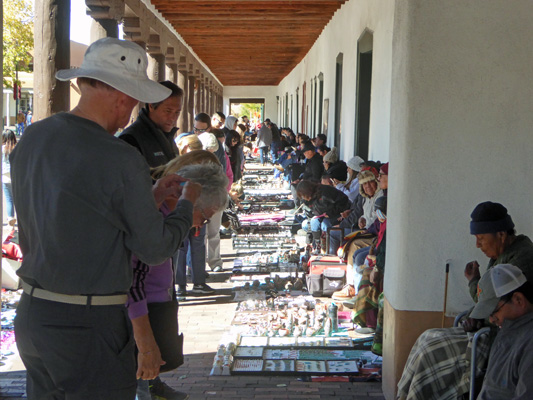 There were fresh ristras hanging from all the lampposts.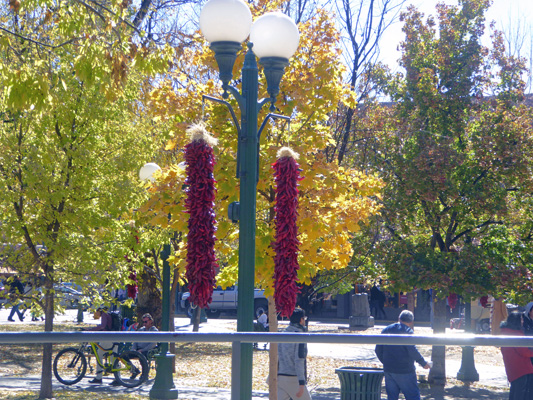 As we came around the side of the Plaza, the bells in the cathedral began to ring and they rang and rang and rang. Clearly the mass was just over. It was not a regularly scheduled one so it was something special, a funeral perhaps? I'm pretty sure it wasn't a wedding.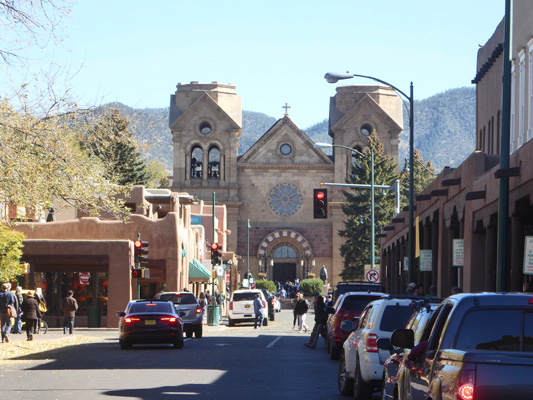 We window-shopped and enjoyed the hubbub of a Saturday in town and then we both got peopled out and we went back towards the cathedral to our truck.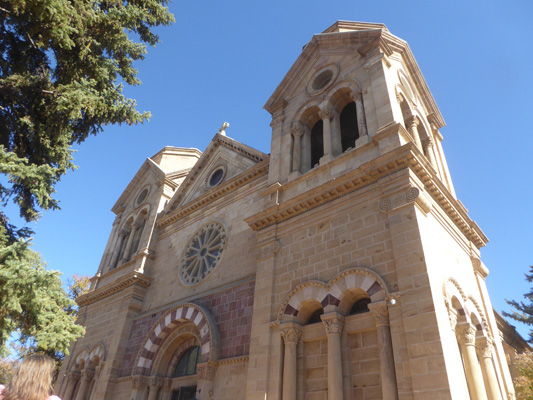 Our visit in Santa Fe, as always was delightful.