Another load came out of the kiln at the Juniper Ridge Pottery Club on September 1st. We lost a few weeks across the summer when the kiln wasn't working but once it was working again boy did people create a lot to be fired.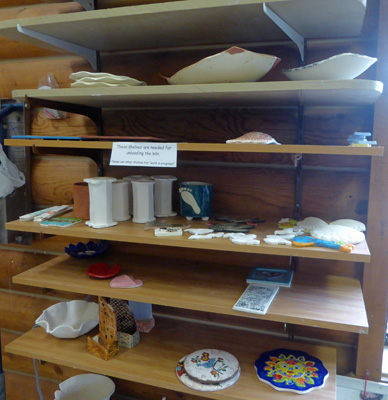 There were tiles and planters and spacers for a future totem pole.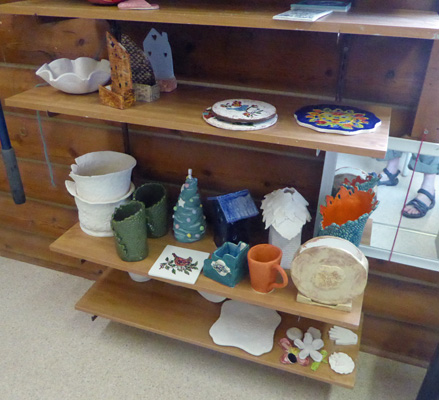 And planters and vases and bird houses (also for a totem).
My salad plate that had at first been covered with bubbles and then looked like it had leprosy came out fine when I reglazed it.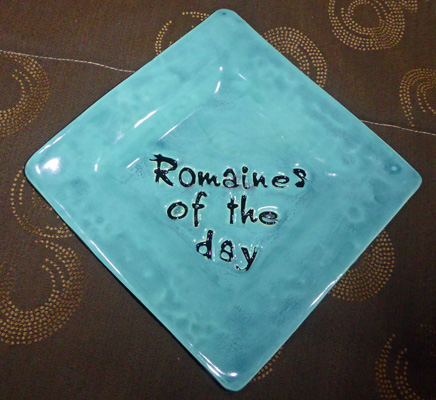 One of my little bowls with glass in the bottom came out just fine.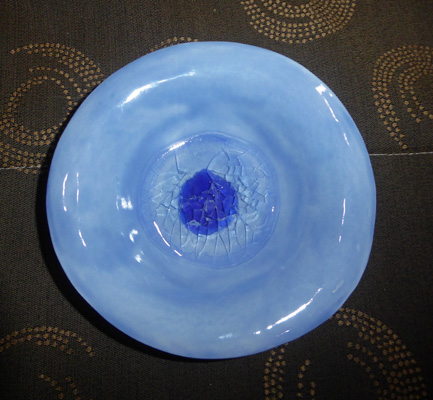 As did this one with a really interesting glaze job.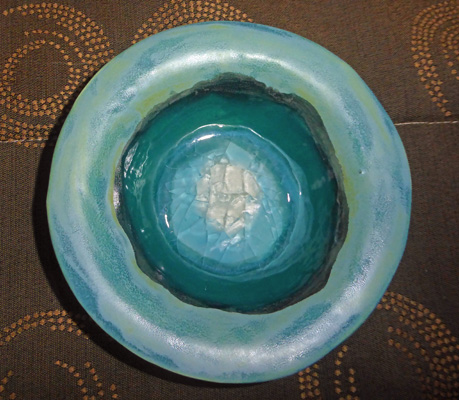 The week before there had been a class where they made trivets and the first of those had come out of the kiln. There was a cardinal on a berry bush.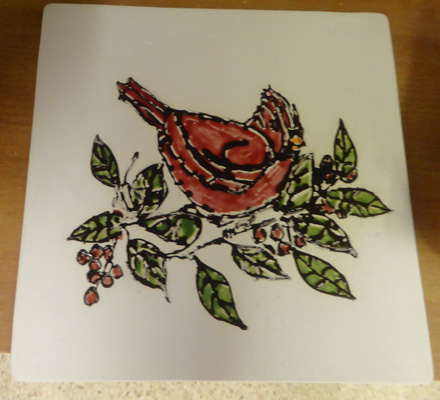 A beautiful Mexican sun.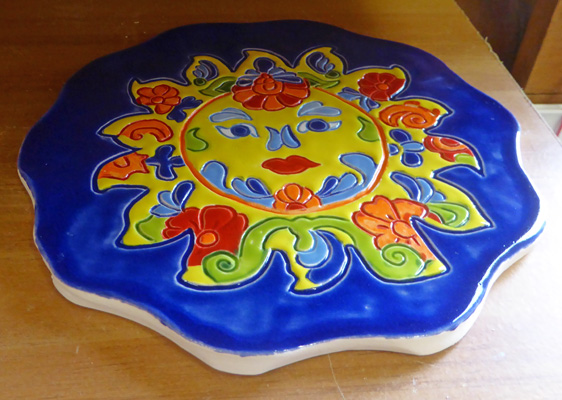 And a pair of bluebirds with red flowers.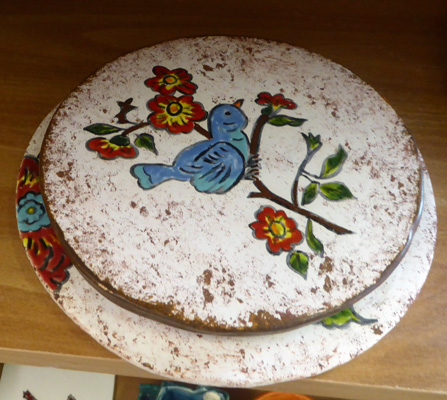 There were more but I'll save those for later when I have better photos of them.
There was also a really fun pair of birds that were done with sgraffito—you put black underglaze on damp clay, let it dry and then carve away some of it to make a pattern—the same thing I'd done on my Zen box. The result here were great black and white birds.
Monday morning September 2nd, we got word that the big weeping acacia tree in our front yard down in Sahuarita had fallen over in a heavy thunder/wind storm the night before. To refresh you memories here's what it looked like when we bought the house in November 2017.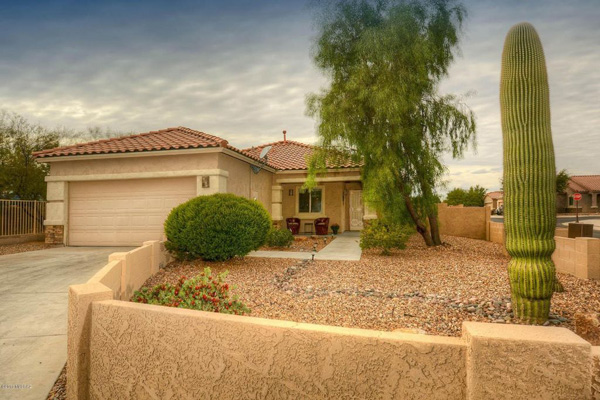 One of friends was kind enough to go over on Monday and take some photos of what had happened.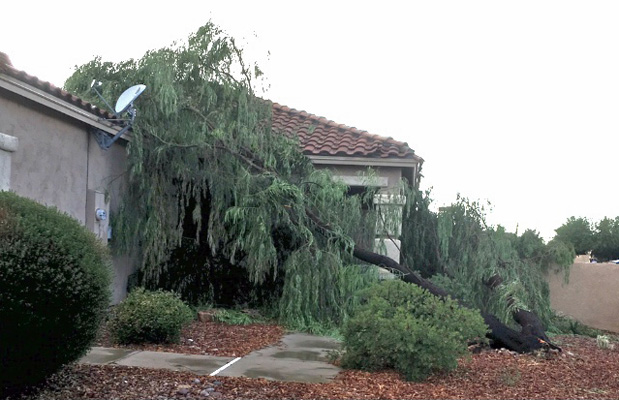 One trunk landed on the roof in the valley between the house and the garage. The other trunk sideswiped the roof on the corner of the porch and then landed on the stucco wall dividing the front yard from the back yard.
If you look carefully below you can tell that the left trunk (next to the old stump from another trunk that had been removed long before we bought the place) had uprooted a long root along with breaking off.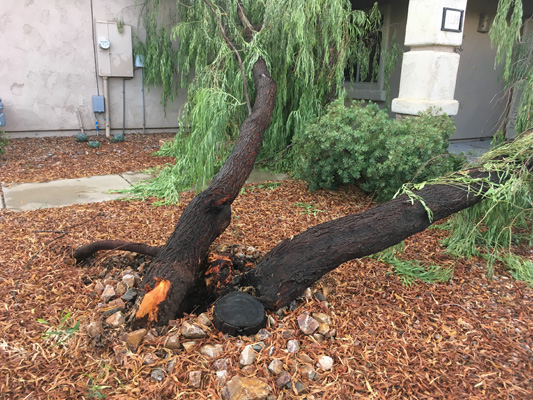 And both trunks had completely broken off below ground level.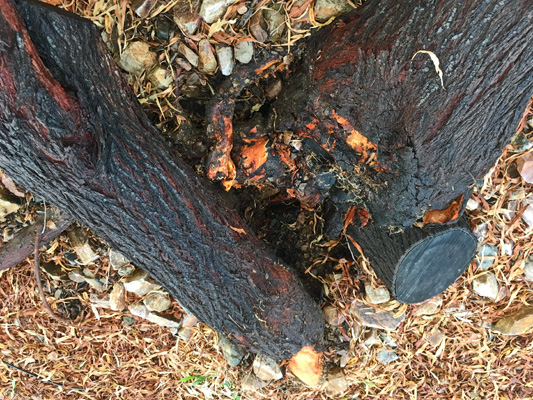 By the time I contacted our house sitter, he'd had a tree guy out who said that the tree was a goner (clearly) and had arranged to have it removed.
The next morning (Tuesday Sept 3rd) the tree guys were hard at work when another friend went by walking his dog. They had a HUGE chipper to grind up all the debris.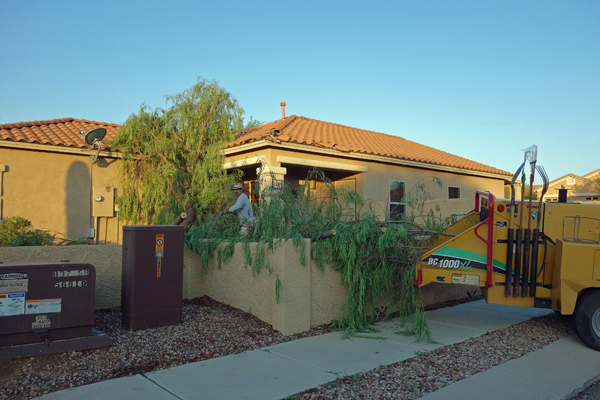 And were quickly disposing of the whole thing.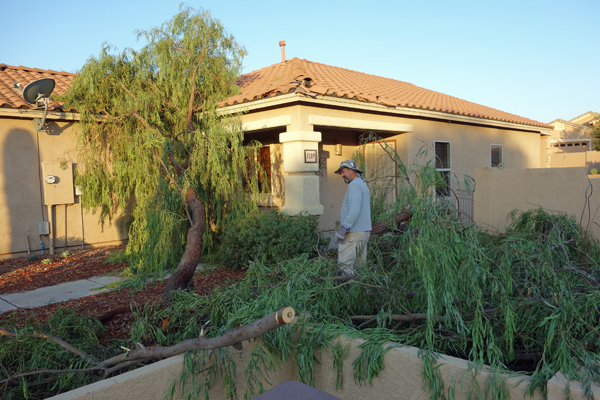 By that afternoon not only was the tree gone but they'd cleaned up all of the fallen leaves and it was hard to tell that we'd ever had a tree.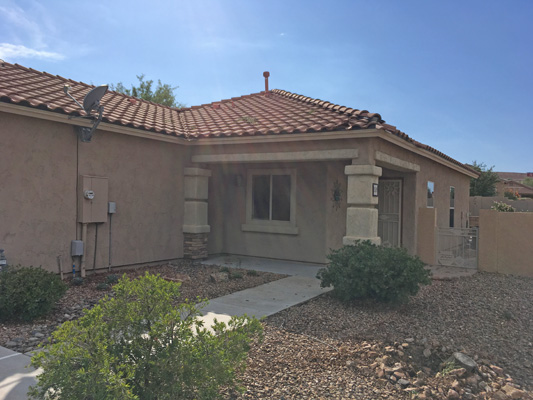 Aside from the hole with the stump in it and the broken tiles on the roof who would have known? Clearly the trunks broke off down below ground level because there's no stump left but the old one.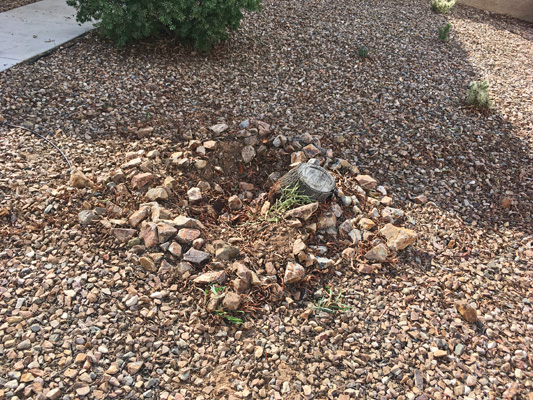 I'd called our insurance company on Tuesday to file a claim and Wednesday morning the appraiser arrived to find no evidence of the tree. At first he thought he had gotten the wrong address. But then he noticed the broken tiles.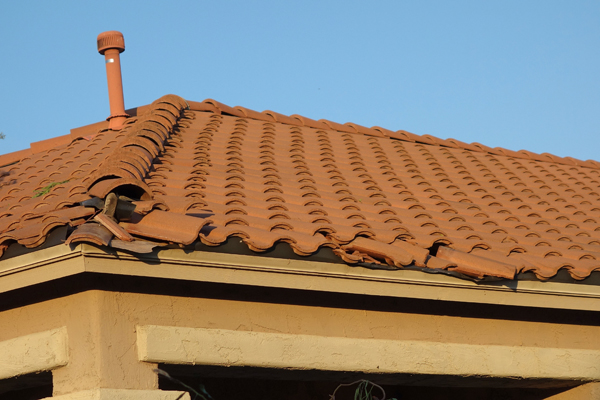 He was very impressed (as was I) at what a great job the tree service had done. I sent the before, during and after photos to the appraiser and he had finished his work and the money for our repairs (minus our deductible) was in our checking account on Saturday. "We are Farmers—ta ta da da dah."
Our house sitter—who is a great guy—also arranged for a roof guy to come out and make a quote. He spent Sunday September 15th replacing the roofing paper and the resetting and replacing the tiles. So we're all safe and sound again in just 2 weeks.
Thursday September 5th, we took a drive out to the little town of Greer just off Hwy 260. Along the way we passed three huge fields of flowers.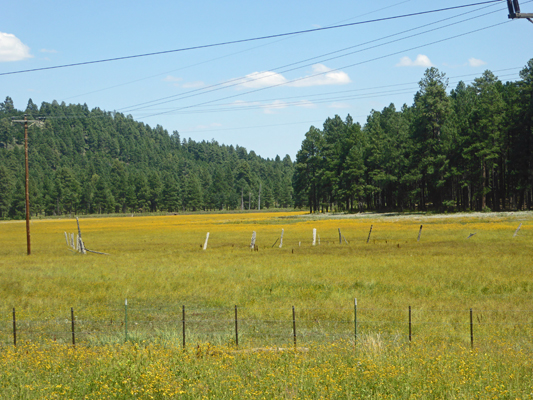 When we pulled over so I could take this photo I got out and found some individual flowers.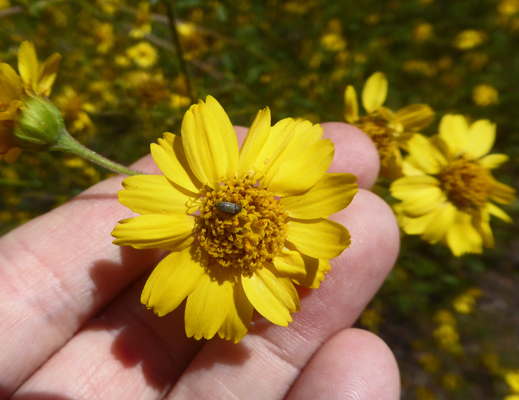 They are Ragleaf Bahia (Amauriopsis dissecta).
We continued on along Hwy 260 and then turned south on Hwy 373.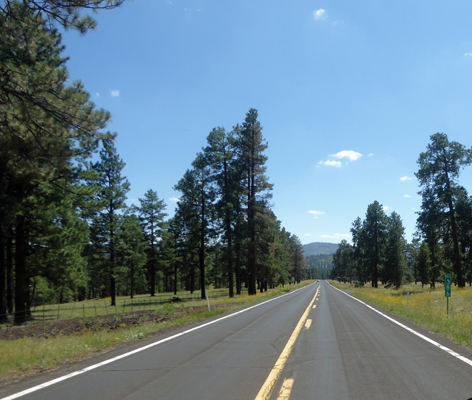 Here there were lots of White Prairie Asters (Symphyotrichum falcatum).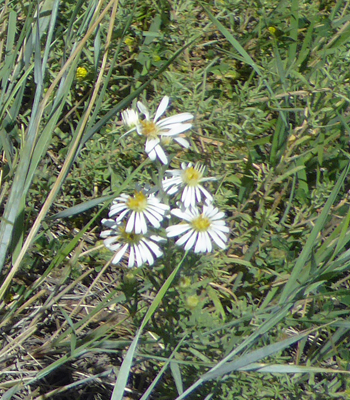 And Showy Fleabane (Erigeron speciosus) along the way.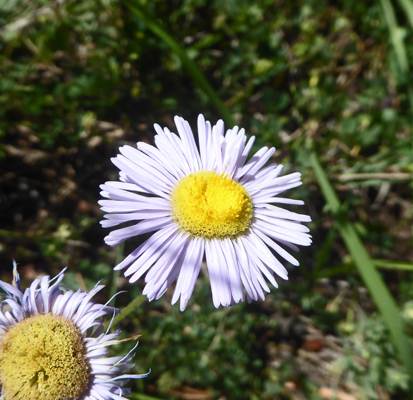 Greer is mostly made up of summer houses and rentals with a sprinkling of little cafes and the big Molly Butler Lodge which has been there since 1910. It's supposed to have a really fun interior but it's not open for lunch on Thursdays in September so we had to settle for a photo of the outside.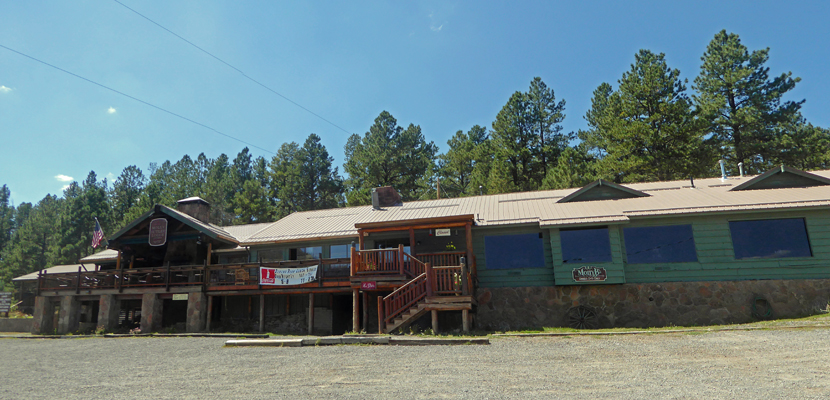 They have hotel rooms and cabins along with the restaurant and bar.
We drove on through town past some VERY upscale vacation homes (7 bedrooms 5 baths and a river view for 1/2 million dollars) and out to a turn around at the end of the road. There was a trail down to the West Fork of the Little Colorado River.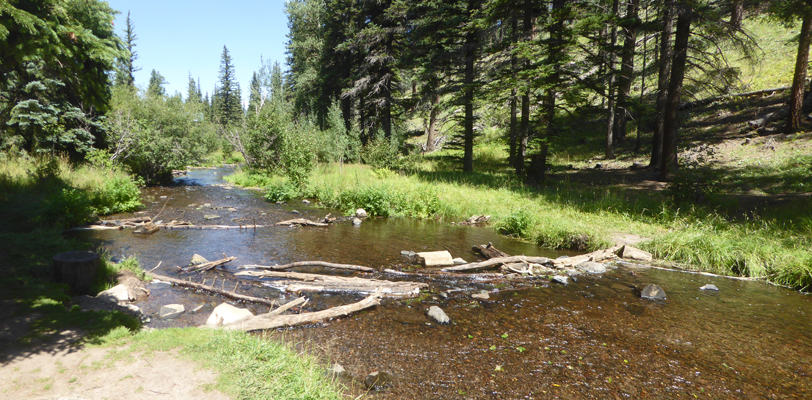 And there were Utah Fleabane (Erigeron utahensis)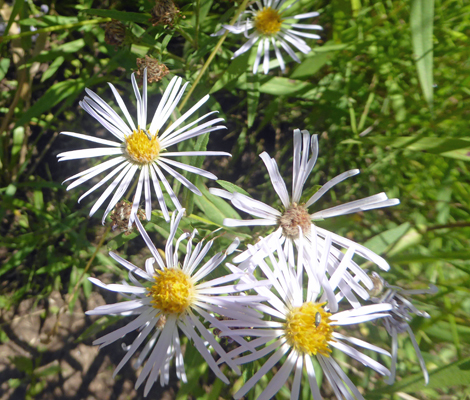 And Black-eyed Susans (Rudbeckia hirta) in bloom along the way.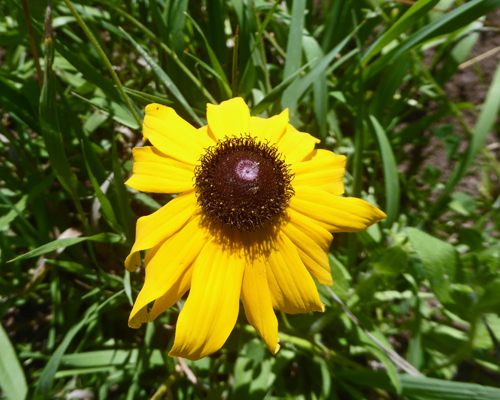 There was a big old Ponderosa Pine next to the parking area that I couldn't resist.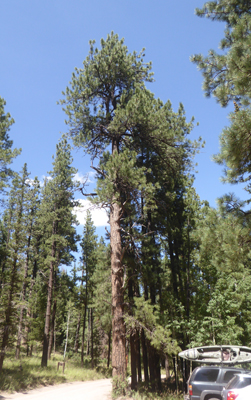 People come out to this area to fish in the ponds and reservoirs and the Little Colorado (though it seemed to not have a whole lot of water in it).
There was a crowd at the Rendezvous Café having lunch.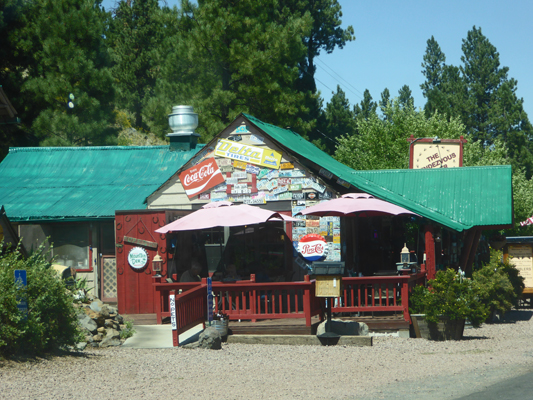 We drove north a ways and then took a FR87 (paved to begin with and then dirt) southwest to Hwy 273 and followed that south to Hwy 261 (just south of Crescent Lake) where we went north.
We thought we'd stop for lunch at Mexican Hay Lake but it didn't have any water in it. It's really just a wetland. So we drove a little bit farther to the Three Point Mountain Trailhead which has a nice big parking lot and had lunch there.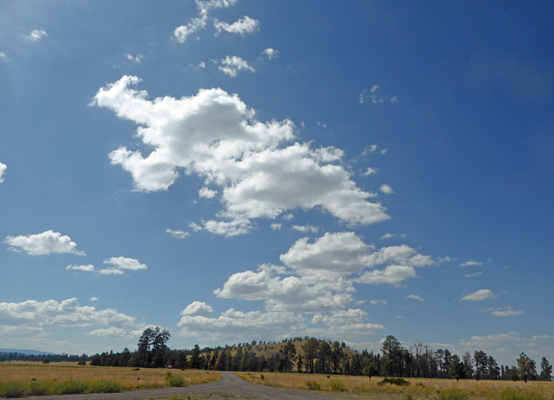 All that yellow in the fields is mostly Richardson's Bitterweed (Hymenoxys richardsonii).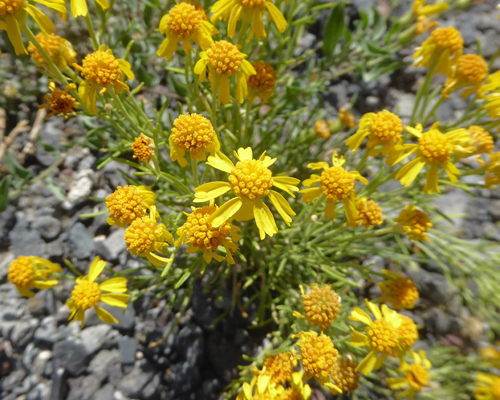 With some mixed Hairy-Goldenaster (Heterotheca villosa) in.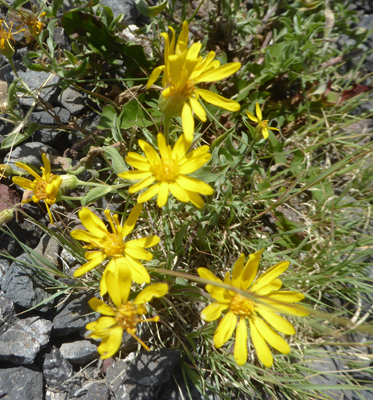 Then we drove just a few miles north and found a great overlook complete with picnic tables where we could have had lunch. Ah well.
There a few flowers in bloom including some Upright Prairie Coneflower (Ratibida columnifera).
Some great Broom Snakeweed (Gutierrezia sarothrae).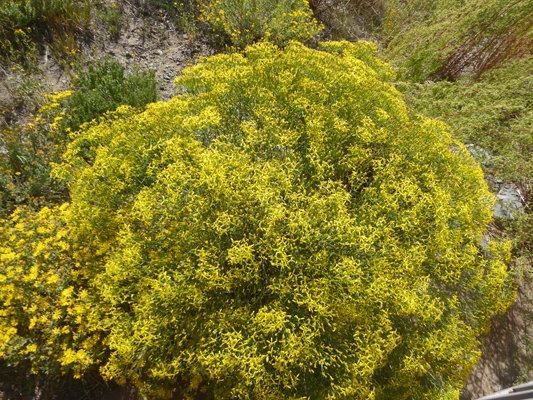 And some gorgeous Firewheel (Gaillardia pulchella).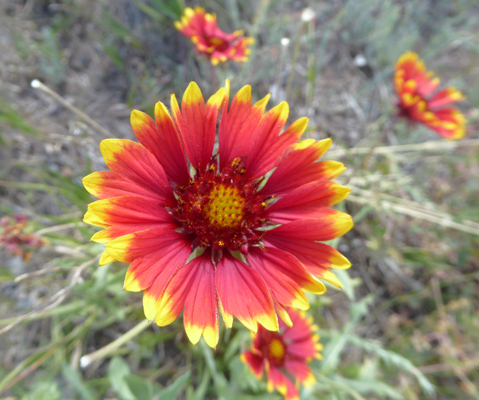 Plus a lovely view from the Point of the Mountain Viewpoint. All those round-top hills out there are volcanic. There are 400 volcanoes within 50 miles of here. The area, known as the Springerville Volcanic Field is the third largest in the continental US.

The road twists and turns as it drops from 9000 feet on down towards the little town of Springerville and Highway 260. We turned west again back towards McNary where I stopped and took a photo of a gorgeous patch of Missouri Goldenrod (Solidago missouriensis).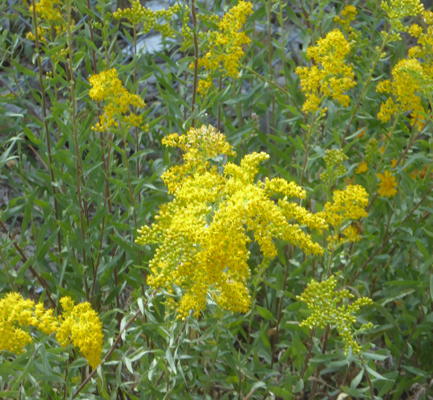 September 6th, yet another load came out of the kiln (people had picked things up before I got there so the shelves weren't totally full.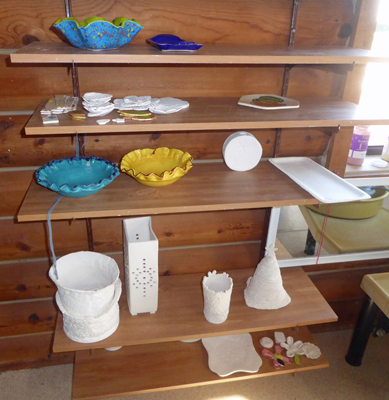 These two gorgeous trivets were part of the load. Hours of patient work by our friend, Lynn.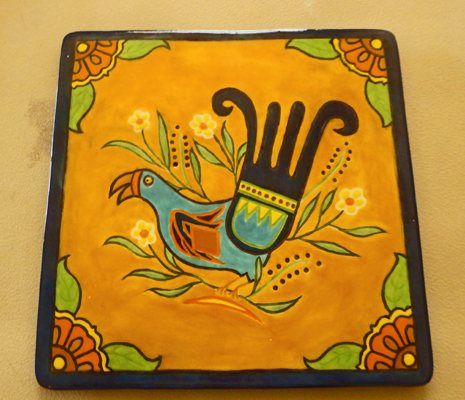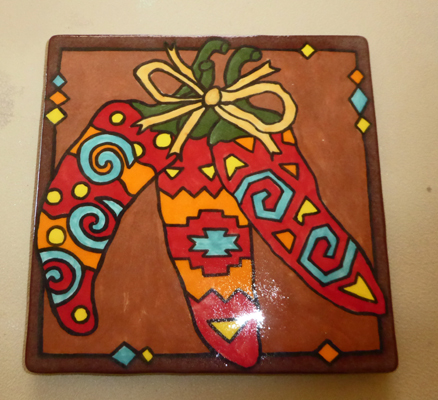 The bisque firing of my test luminaria was in this load too.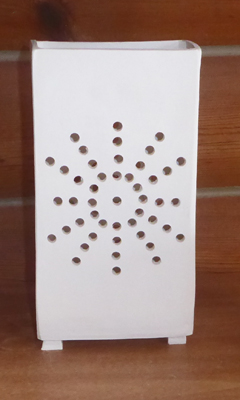 It's 11 inches tall (just like a paper bag luminaria). It has a few issues but it will work just fine to test what size of a light bulb I'll need to light it up. My plan is to make more of these over the winter to use along our low wall in the front yard.
I had another project I this load, a group of test tiles to see what kind of underglaze I should use to re-create petroglyphs I'd taken photos of during our travels. The gray ones actually have an underglaze called Darkest Brown that looks brown in the bottle but it reacted with the red clay and turned gray. Weird, huh? That's why they're test tiles—you just never know what will happen.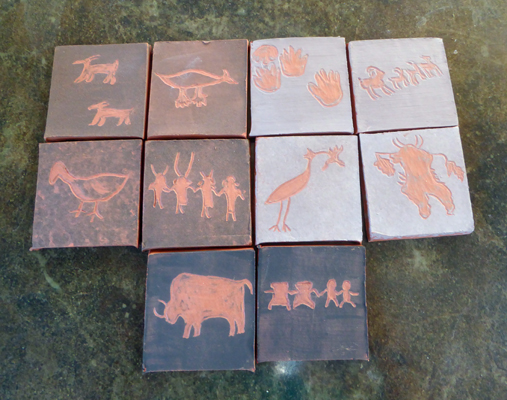 September 9th we had a lovely pink sunset with the almost full moon hanging above.

Then on September 11th (2 days before the Friday 13th full Harvest Moon) I caught the almost full moon rising across the lake.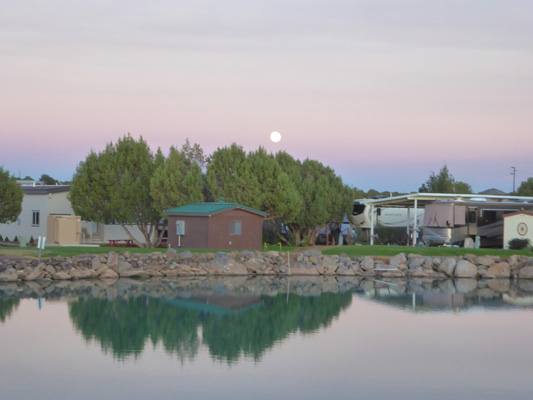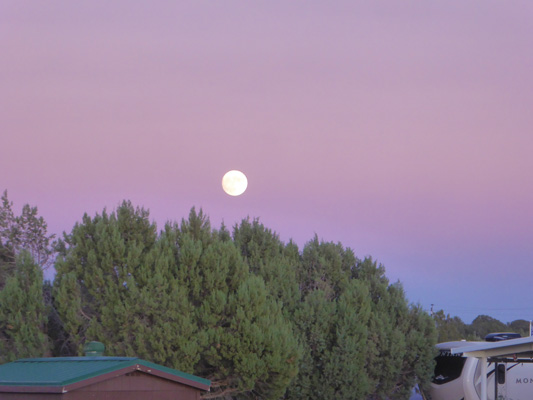 As it rose and it got just a little darker I caught a close up of the moon.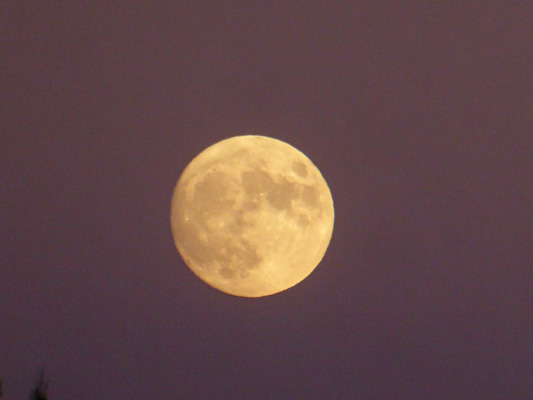 And the moon reflected in the lake.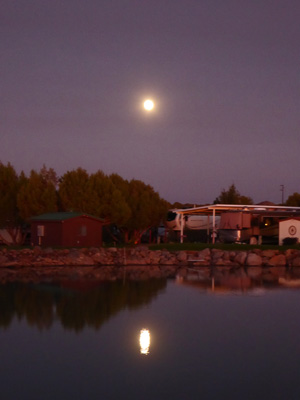 Earlier that day we'd taken a drive south through Show Low and Pinetop-Lakeside where we took Hwy 73 down to Fort Apache where we stopped at the Fort Apache Museum (no photos allowed) and picked up the guide to the ruins at Kinishba which are just down the road.
There were Cutleaf Ironplant (Xanthisma spinulosum) in bloom on the grounds at Kinishba.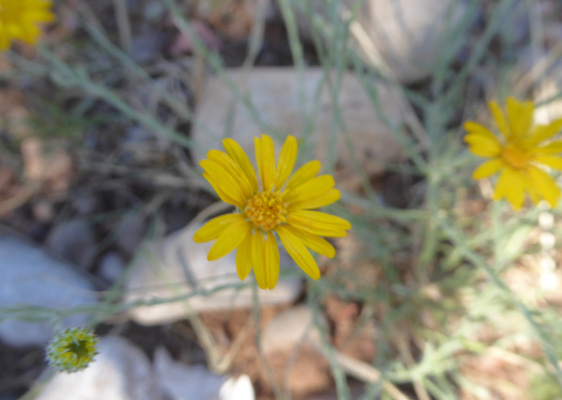 And Fall Tansyaster (Dieteria asteroide) too.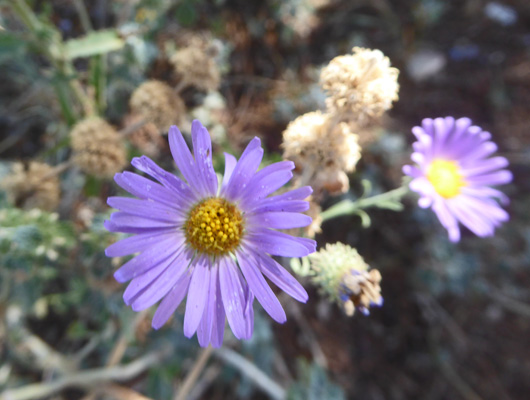 Kinishba is a National Historic Landmark owned and managed as part of the Fort Apache Historic Park. It was built and occupied by ancestors of today's Zuni and Hopi Pueblo Tribes from AD 800 into the 1400's.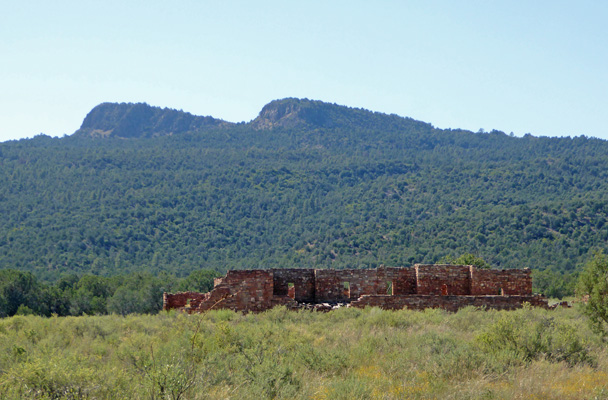 It was partially restored between 1931 and 1939 by Dean Cummings from the University of Arizona.

There were big plans for this to be a tourist and research center and a great deal of the labor for the project came through the WPA. But WWII came and money went elsewhere.
You can't enter the ruins but you can peek through the windows.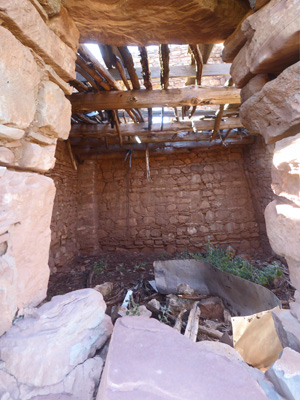 And wander around along the pathways and see how even the restored portions are starting to fall back into ruin.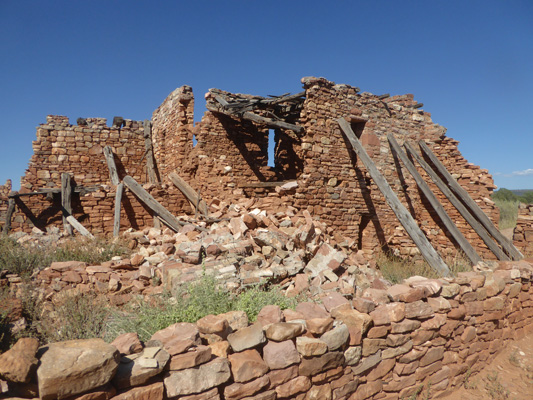 The original plan for the restoration had areas where the ruins were left as ruins, others partially restored and others entirely restored.

The pathways lead you through two plazas

And then on to the ruins of the Kinishba Museum which had been built to display the artifacts found during the digs. Dedicated in 1941, it remained open each summer until 1952 and the collections were moved to the Arizona State Museum in 1956. The roof caught fire in 1994 and the building has been rapidly decaying since.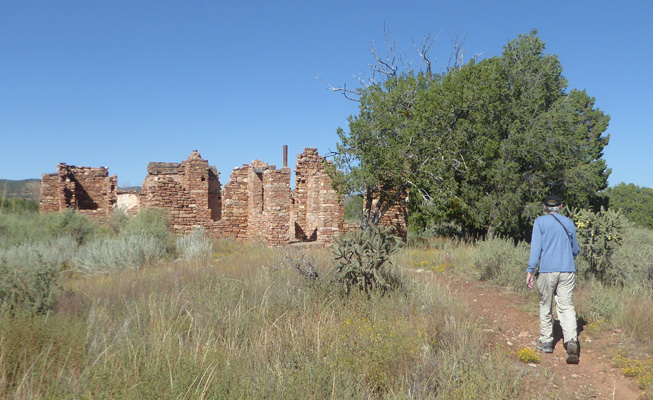 You can still see the layout of the place and the big fireplace.
Behind it there's a guesthouse that was built in 1946. It's in better shape than the museum but it's clearly seen better days.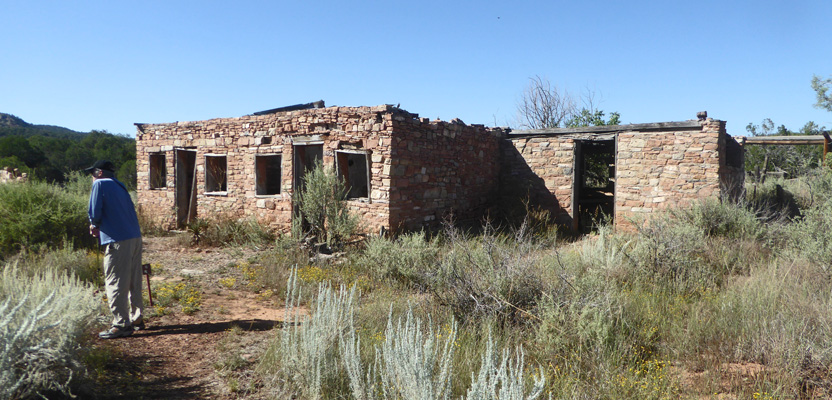 There were Prairie Sunflowers (Helianthus petiolaris) still in bloom here and there.
And lots of this interesting white stuff.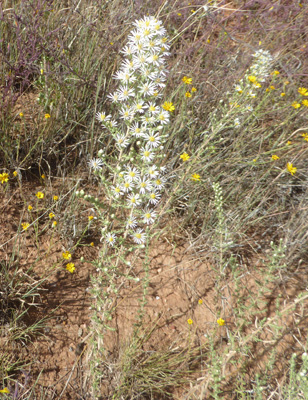 Which turned out to be White Heath Aster (Symphyotrichum ericoides).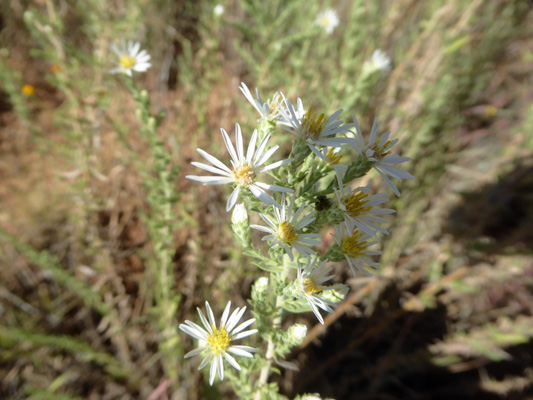 We had our lunch in the parking area after our little hike and then continued on Hwy 73 northwestward back up to Hwy 60 and then on home to Show Low. This was a nice outing with a loop drive so you didn't have to backtrack. The area is very pretty though not heavily treed. There are lots of interesting little canyons and rock outcroppings.