Tuesday September 24th, we took it slow packing up at Juniper Ridge. I'd tried to pack away what I could several days before but breaking camp after being in one place for 4 months just took us a little while and we were going slower than usual just to be sure we didn't miss anything since it had been a while since we'd gone through 'the drill'.
We finally moseyed out shortly before noon. The sun was just starting to come out after it had rained for nearly 20 hours the day before (the remnant of Hurricane Lorena had brought us a high of 52 and a LOT of rain and then a thunderstorm or two on Monday). We drove north on Highway 77 to I-40 and then headed east to Gallup, NM. We lost an hour (New Mexico is on Daylight Savings Time while Arizona isn't) and arrived at Red Rock Park just east of Gallup a little after 3. I'd made a reservation on the phone back in January and was relieved to find that even though the office staff had changed, our reservation was still on the books.
We backed into site 11 with our dining room windows looking out across a grassy area bordered by red rocks out to Church Rock.
We settled in, had a late lunch and a nap—hooray for being on the road. The red rocks to the east started to light up near sunset and I went out to take photos of it.

Church Rock lit up nicely too.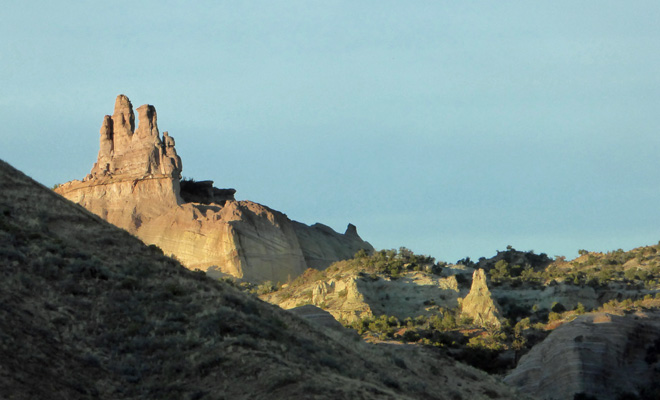 Along with the campground, there are rodeo grounds, a convention center, a hot air balloon launch site (Balloon Festival in December), a museum, the historic Outlaw Trading Post (built in 1888) and hiking trails in the park. Our campsite had water and electricity (both on the wrong side) but the campground is pretty rough—just very sandy dirt and no gravel.
I stood and talked for a while with a lady who was out walking (and clearly looking for someone to talk to) and as a result I was out to take a photo of the sunset too.

Wednesday morning September 25th, we slept in (it had been 42 in the early morning and so we stayed in bed until it warmed up).
There were flowers in bloom in the campground so I had to go out and take pictures.
There were lots of Hoary-aster (Dieteria canescens).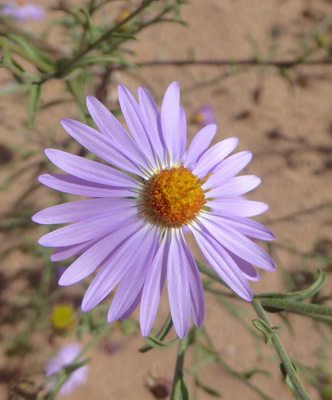 And Ragleaf Bahia (Amauriopsis dissecta) dotted the area in splashes of yellow.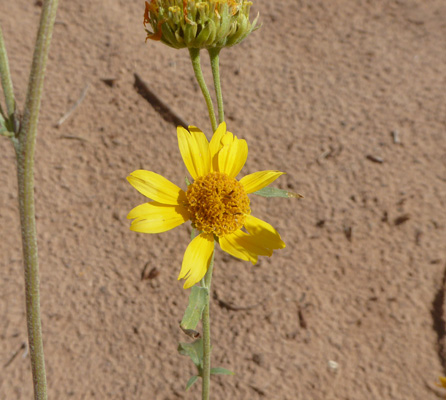 The morning sun lit up the western face of red rock leading out to Church Rock.

The eastern face looked really different in the morning sun. You can see all the texture in the rock with this different light.

Right next to our campsite there was a clump of Scarlet Globe Mallow (Sphaeralcea coccinea).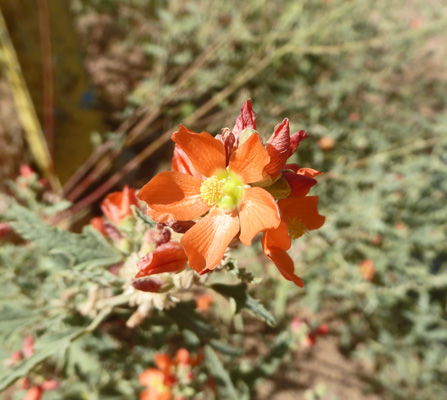 We packed a picnic lunch and headed back towards to Gallup to pick up Hwy 602 south through the Zuni Reservation and then east on Hwy 53.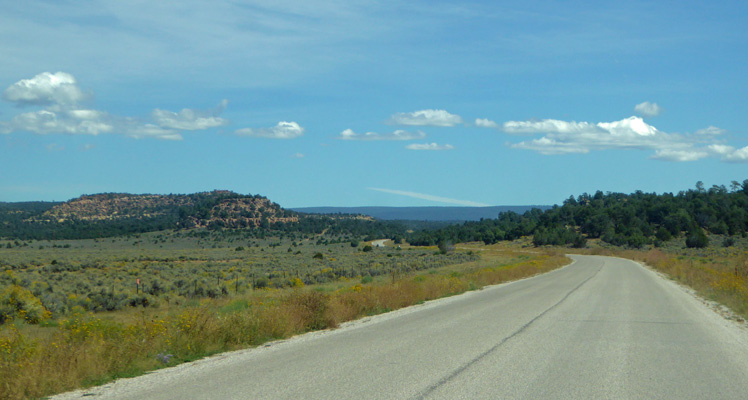 60 miles and about an hour and 15 minutes later we got our first view of El Morro National Monument.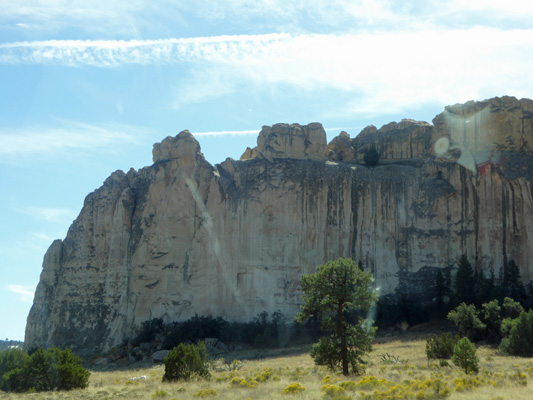 This large sandstone mesa rises out of the surrounding area (elevation a little over 7000 feet at the base) making it a very visible landmark for miles around. At the base of the mesa there is a small oasis with fresh water which made it an important place in this desert environment long before the first European visitors came upon it in the early 1600's.
The ancestral pueblo people built a village known as Atsinna on the top of the mesa in the 13th and 14th century. It was abandoned in the 15th century when the people here moved west to the area where the Zuni now live. They left petroglyphs along the bottom of the mesa near the oasis.
In the 1600's, the Spanish Conquistadors visited here while looking for the 7 Cities of Cibola. They left their names and poems and messages carved in the soft sandstone. Then in the 1800's when the US took possession of this part of the country, travelers, surveyors and military detachments left their marks in the sandstone too.
El Morro was made a National Monument partially to preserve all those inscriptions and partially to preserve the ruins at the top of the mesa and the landmark itself.
As you drive into the park from Hwy 53 you get a great view of El Morro from the east.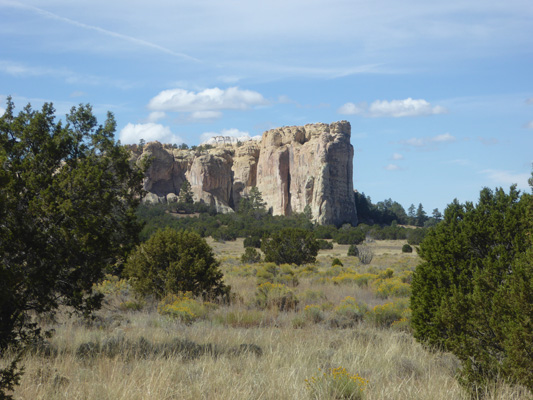 And just before you arrive at the Visitors Center, you can see the entire mesa.

We explored the museum and watched the movie (very informative) and then set out on our hike. There's a trail that will take you up onto the mesa where you can see the ruins but we skipped it and just did the Inscription Trail which takes you out to the oasis and the inscriptions along the sandstone face.
There are lots of nice signs about the flora here (and some of the things were actually still in bloom in late September).
There was Starflower (Ipomopsis longiflora).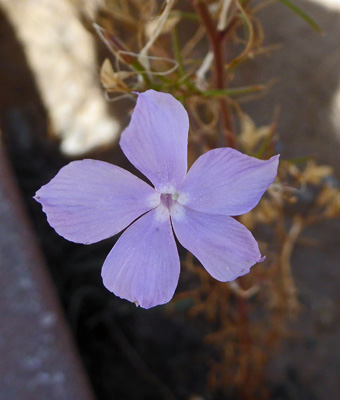 And there was a lot of this white weedy plant which turns out to be Spectacle Pod (Dimorphocarpa wislizeni).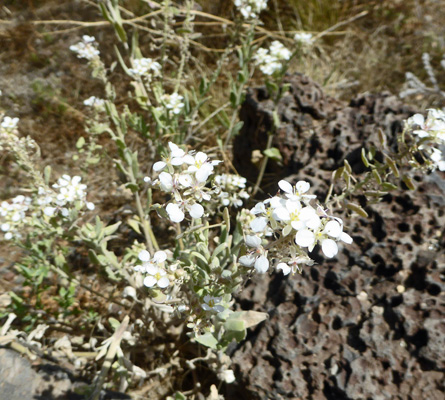 They had lots of Hoary-aster (Dieteria canescens) too but no sign to tell us about it.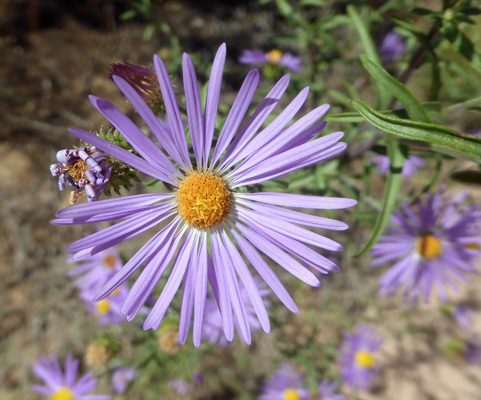 The views of El Morro got better and better.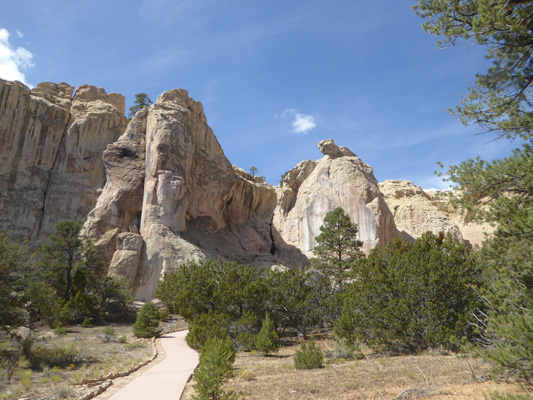 Near the oasis there were lots of Hooker's Evening Primrose (Oenothera hookeri) in bloom.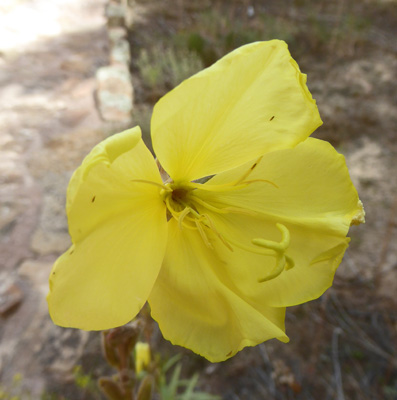 And more Ragleaf Bahia (Amauriopsis dissecta).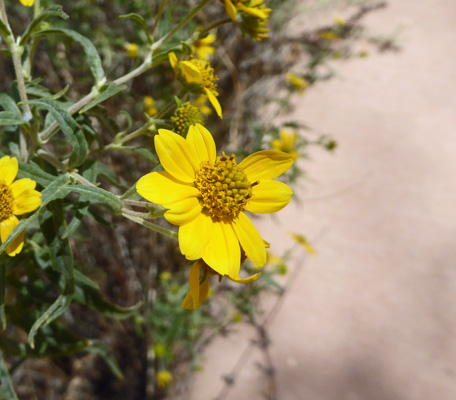 There were lots of cattails at the edge of the pool and Walter saw a fish.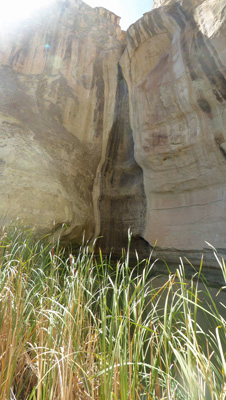 The inscriptions start right past the oasis. I took photos of over 35 of them along with the petroglyphs that are scattered in among them.
Many of the inscriptions have begun to fade or erode. They have tried a number of things over the years to preserve them (including putting graphite on them to make them more visible). But the sandstone face continues to do what comes naturally to soft sandstone—spall in the winter when water freezes in it's cracks and erode in the wind and the rain.
Here are the first group of inscriptions we came to left by Anglos mostly using the trail that led from Arkansas to Arizona.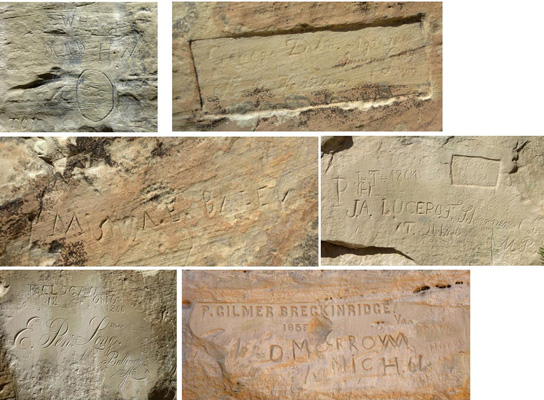 Some folks put a lot of energy into their inscriptions using fancy script or block letters. Others craved out a rectangle to put their names in.
Ponderosa Pines find the area right at the base of the cliffs very friendly.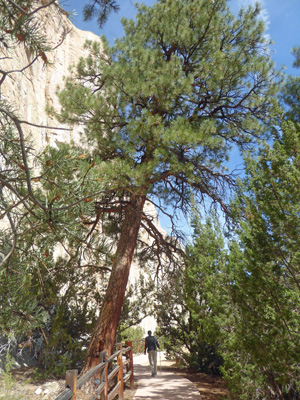 The cliffs rise straight up over 200 feet.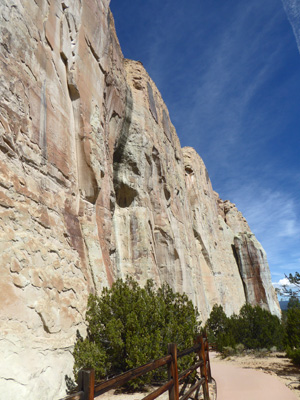 The Spaniards left the next batch of inscriptions.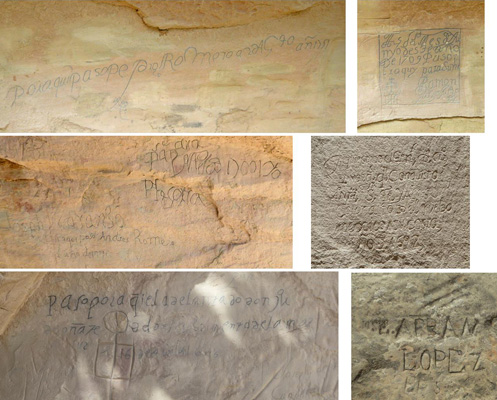 Often they begin with "I was here in the year" and then go on for quite some time.
The petroglyphs are intermixed with all these other carvings.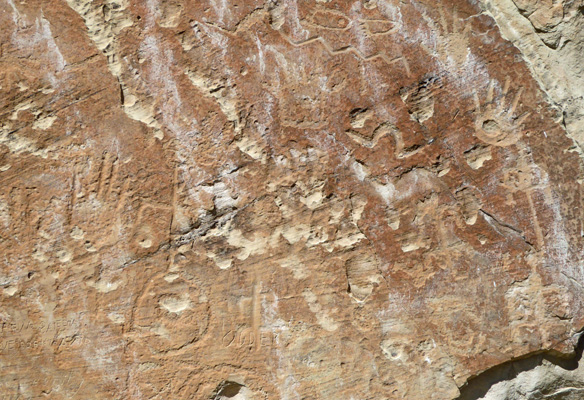 There are hands and birds and other critters.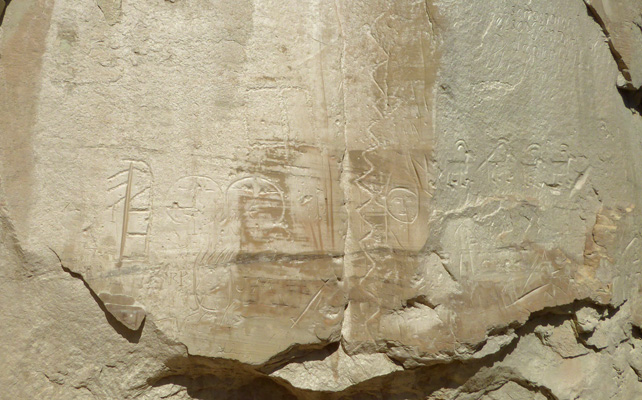 These big horn sheep will be there for a long time because they are very deeply carved into the sandstone.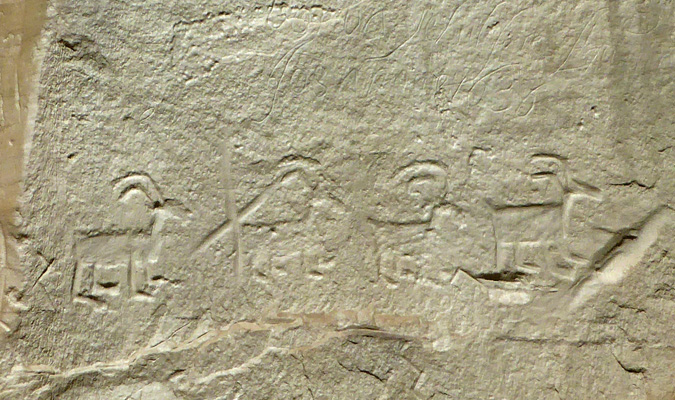 These hands were hidden back up behind some pines.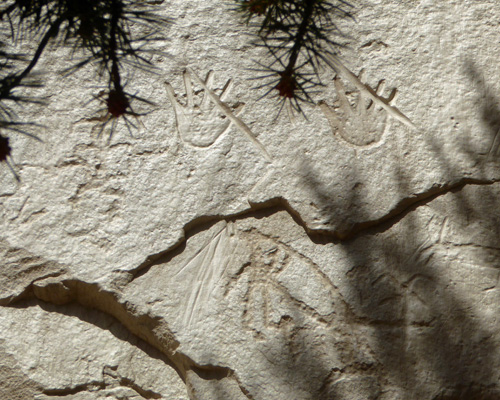 The trail takes a sharp turn around the end of the mesa and way up the side (maybe 10 feet) there are a cluster of inscriptions made by a railroad survey crew in the 1870's. Now how in the world did they all get there? My guess is that they had equipment that they stood on but who knows?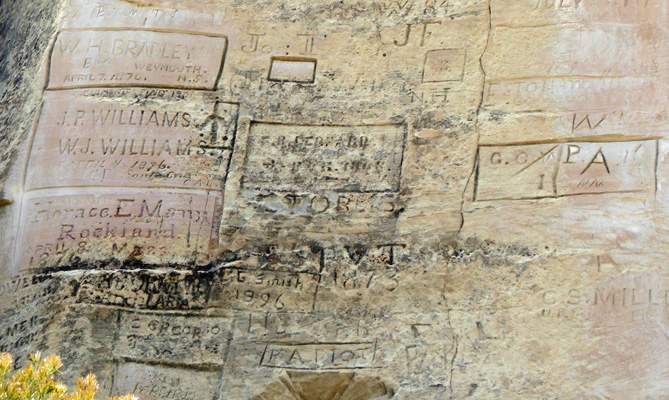 They go around the corner too.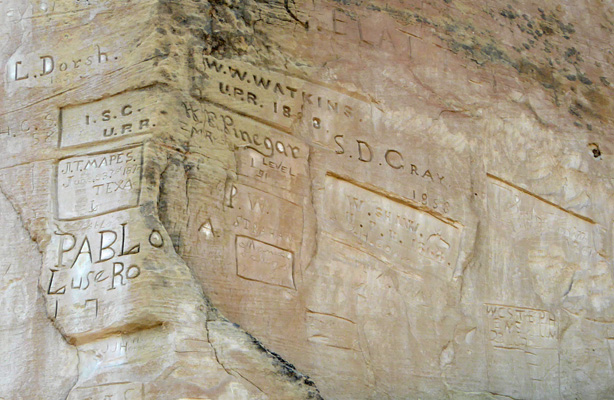 If you follow the trail up around the corner there are stairs up to another set of Spanish inscriptions that are beginning to fade. One is really long.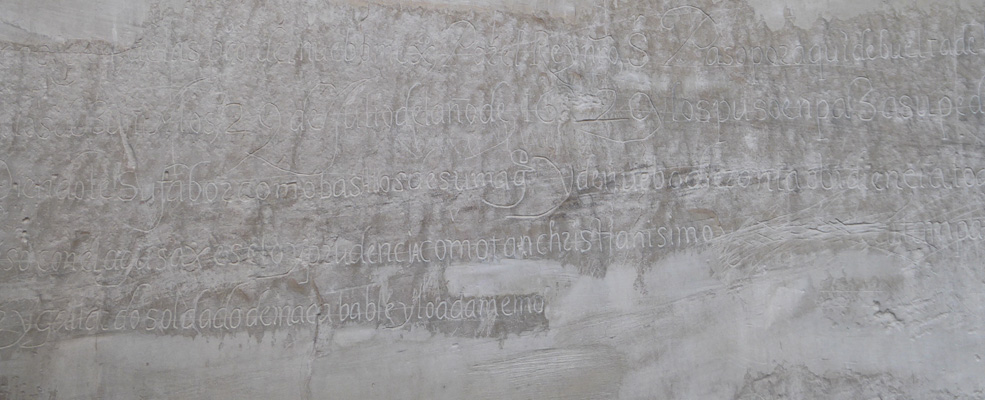 And in among them is an inscription by a pair of army men who recorded all the inscriptions in 1849.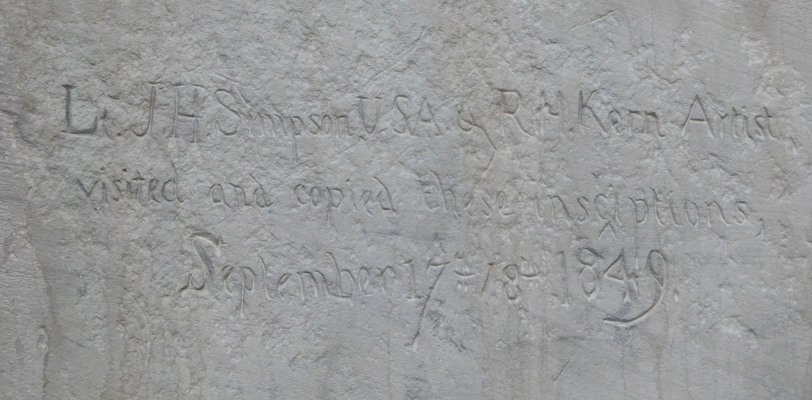 Out in the shade on this side there were patches of Winterfat (Eurotia lanata).
And lots of Rubber Rabbitbush (Ericameria nauseosa).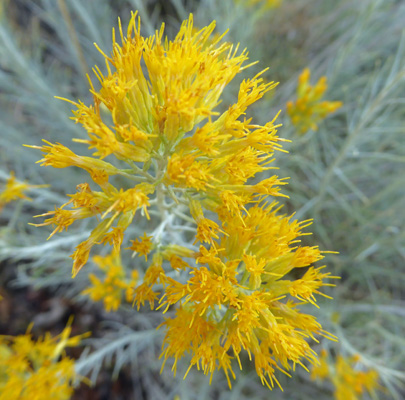 We followed the loop trail back towards the Visitor Center and got another great view of the mesa.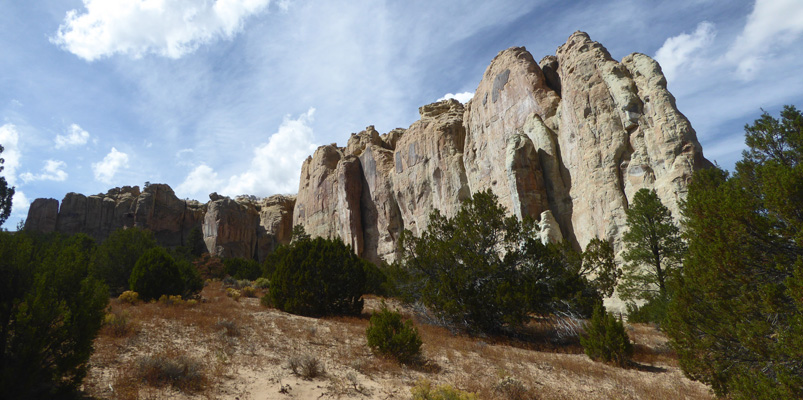 We had lunch in the picnic ground and then headed back on Hwy 53 to Hwy 602. At the Winfield Trading Post someone has taken old satellite dishes and painted them with what I think are Zuni motifs.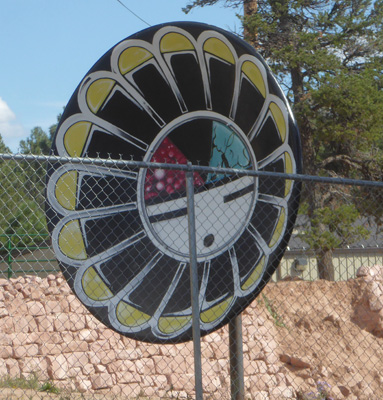 I wish the fence weren't in the way but they're still a wonderful way to recycle this big old dishes.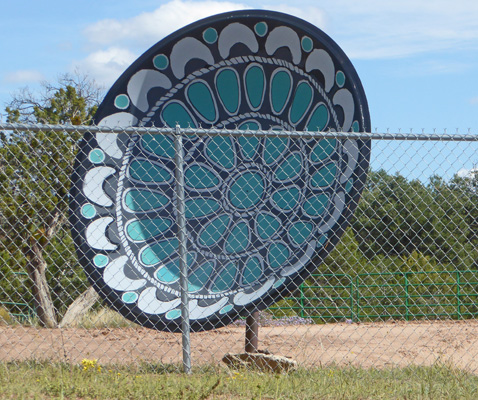 Someone really put a lot of time into them.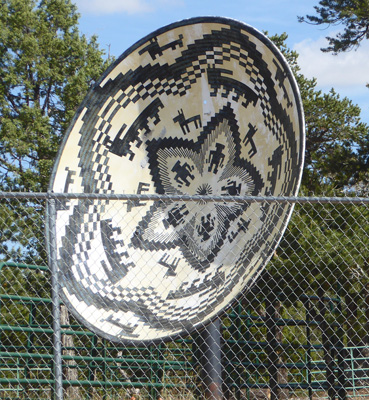 And they certainly catch your eye as you drive by.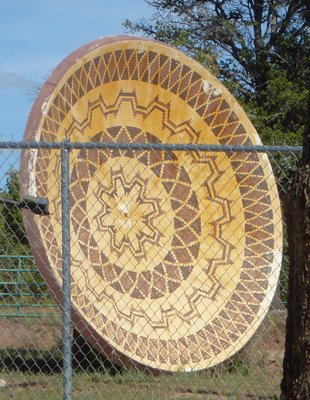 We saw more of these in downtown Grants, NM on Friday. They were right on the sidewalks and you could tell they'd printed the pattern on plastic and wrapped it around the dish--like you'd wrap an ad on a car.
They had another batch all set up but they weren't turned out toward the road so you couldn't see them.
We got back mid afternoon and both had a nice nap. It's so nice to be able to decompress and unwind on the road.
Thursday Sept 26th, we opted to stick around Red Rock Park and take part of the hike out to Church Rock.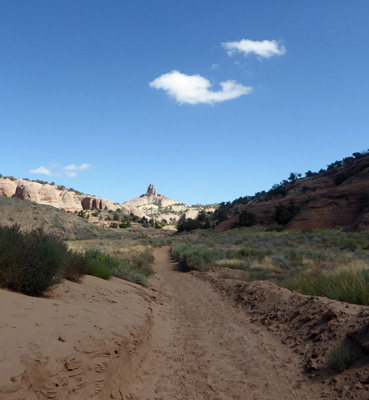 They'd had heavy equipment working along the first part of the trail and we couldn't for the life of us figure out what the heck they were doing. It turns out they were moving piles of sand to one side to be used in the rodeo arena and when that is over they'll push it all back where it came from. It sounded a bit like the trials of Sisyphus but oh well. The next morning they had a road grader out going around and round so we think they might be making everything smooth for some event (landing site for the balloons in December maybe?).
There were these interesting flowers in bloom along the way including Rocky Mountain Bee-plant (Peritoma serrlata).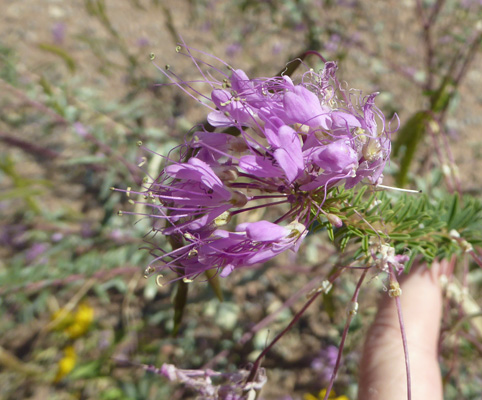 We got a great view of Church Rock from the early stages of the trail.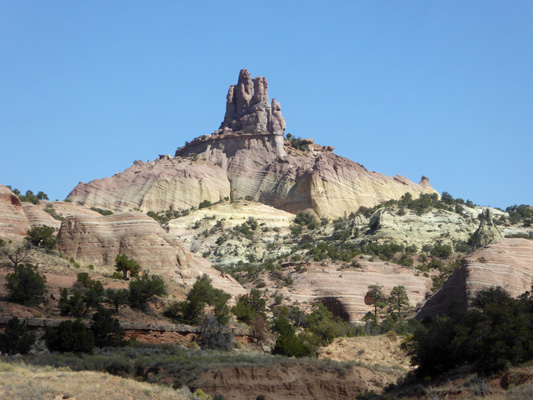 There was a lot of Four-wing Saltbush (Atriplex canescens) in every stage of bloom along the way—green, yellow, beige (dried).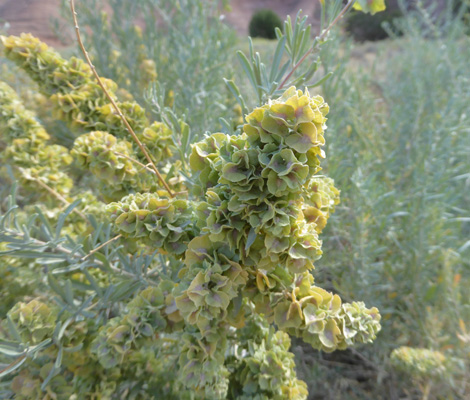 And there were lots of Broom-like Ragwort (Senecio spartioides).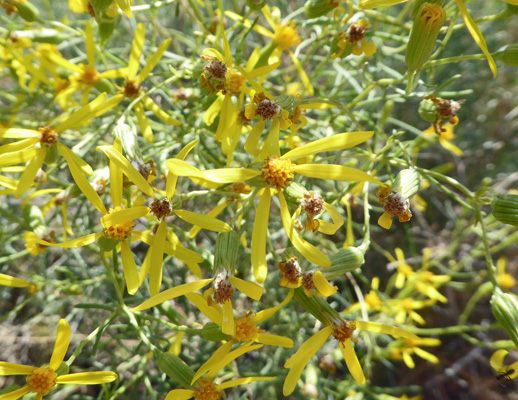 I only saw one patch of these which had leaves and twining stems like morning glories. They turn out to be Ballonbush (Epixiphium wislizeni).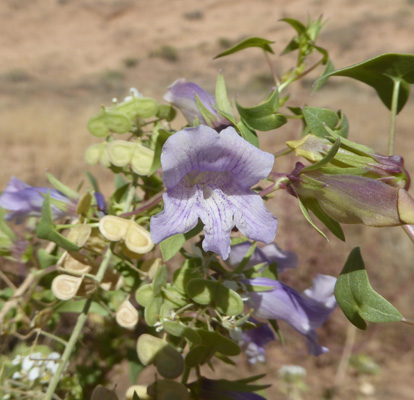 We got to the top of a rise and the trail degraded in a major way. There was a very steep sandy drop off or a very steep rocky drop off. We decided it wasn't worth breaking our necks for so we just sat and enjoyed the view of the campground with the hills behind.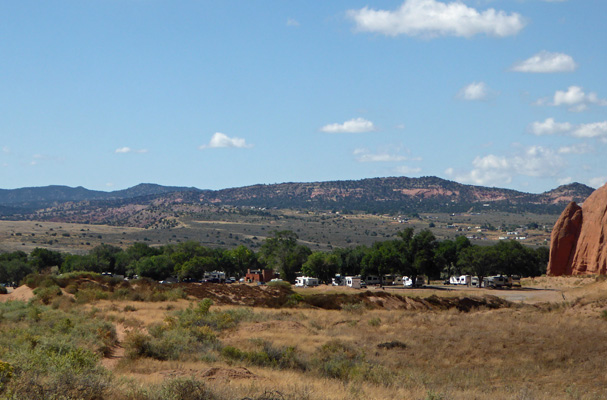 The hills on both sides of the open valley are covered with striations and perfectly round holes often times in straight lines.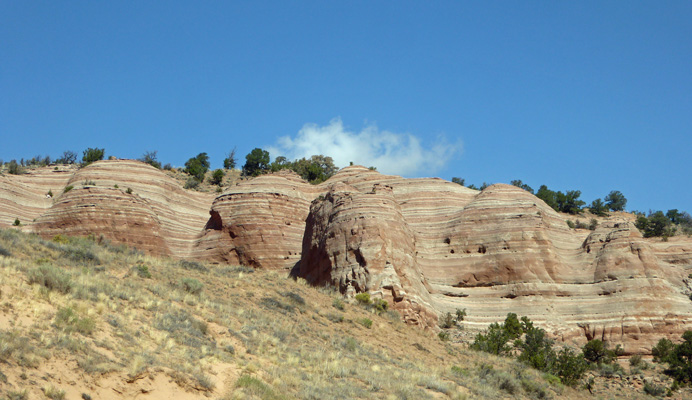 We wandered on back down the hill and I stopped to take a photo of this very prickly bush that had magenta flowers. It's called Prickly Russian Thistle (Salsola tragus).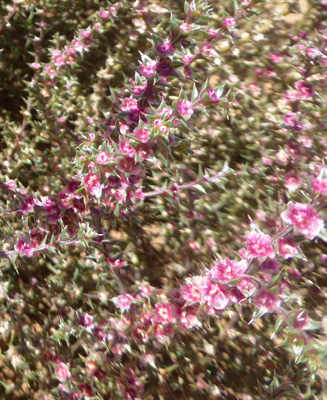 The historic Outlaw Trading Post sits next to the very busy post office adjacent to the campground. We strolled by as many folks came and went to pick up their mail. The Church Rock Chapter House of the Navajo Tribe is just across the highway from the park and there is a great deal of tribal housing there. Clearly there are lots of folks with PO boxes since there was a steady stream of people picking up mail.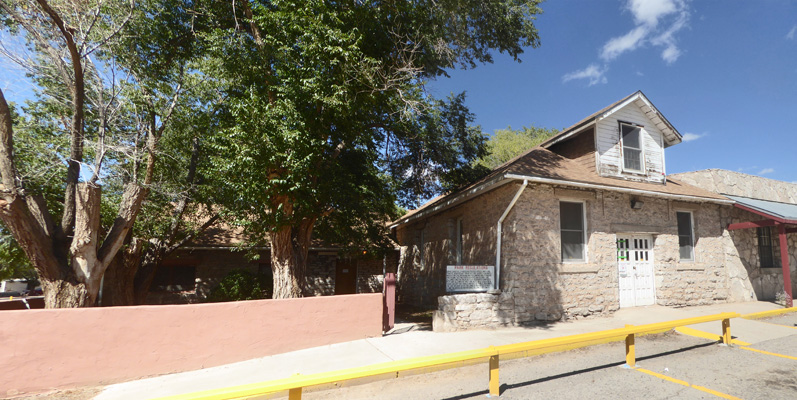 Aside from a sign saying not to damage the building there was no information about the history of the Outlaw Trading Post.
From here we drove down to the other end of the park where the rodeo grounds and convention center sit. There's a very nice museum in the administration building for the park.
There are beautiful carvings by Robert G Mincks. This is over 6 feet tall and grows out of a gnarled tree.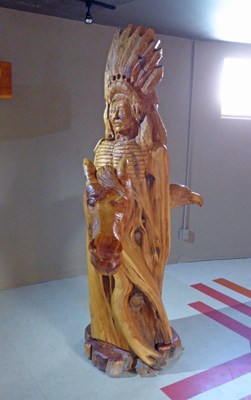 They have a great collection of basketry—both modern and older tribal work.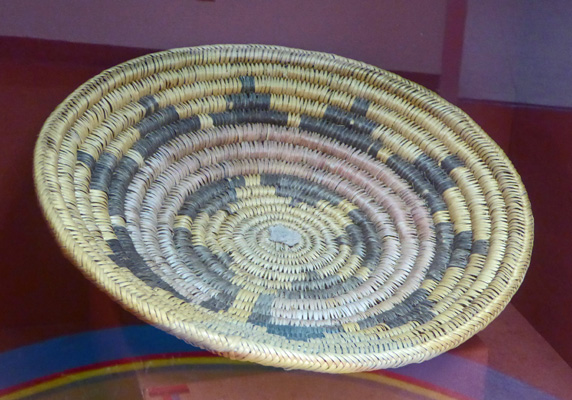 There's a whole display on the process of making wool blankets and they have some gorgeous examples of native work. Gallup is just north of the Zuni Reservation, has Navajo land adjacent to it and is just southeast of the Hopi Mesas. So they had work from all three tribes.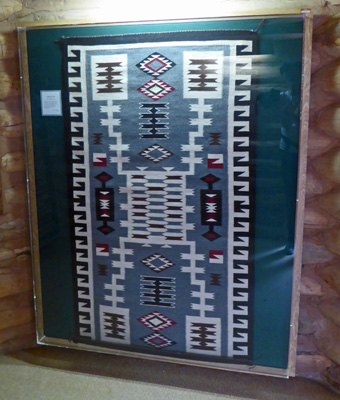 There were several displays on sand paintings which traditionally are destroyed when their ceremonial purpose is complete. But these have been done specifically for display.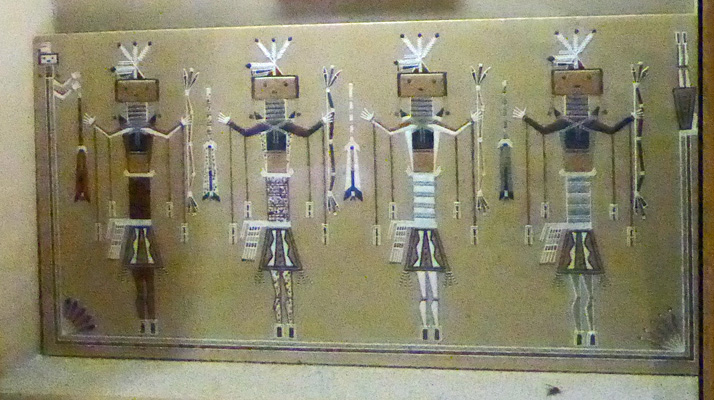 There was a large collection of wonderful pottery going back to work from the first native people's who moved into the area after the last Ice Age.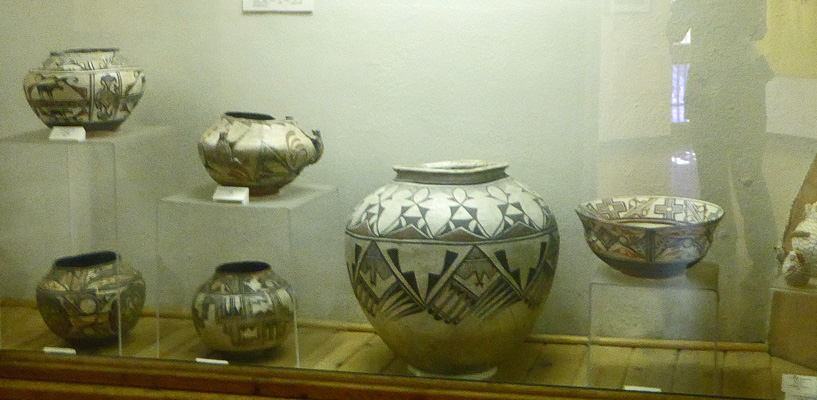 And there were three display cases of Zuni Kachina Dolls.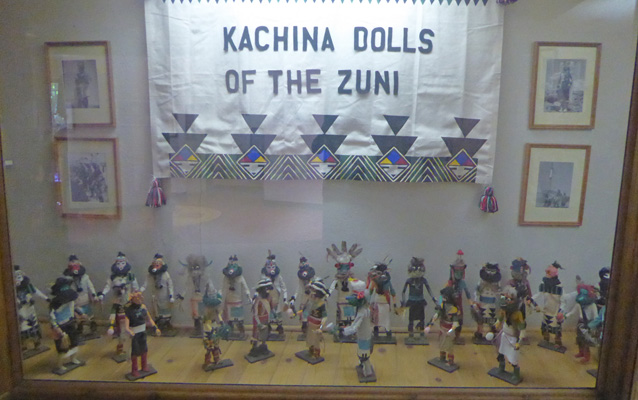 The museum is in kind of an unusual location so I suspect they don't get the traffic they should. It was very well done and it's a very nice collection.
Having finished with the museum, we drove back to the park entrance so I could get a good photo of Pyramid Rock. You can see this formation for miles along Old Route 66 and I-40. There's a trail that goes out to it from out by the convention center and then you can loop over past Church Rock—it only takes 5 1/2 hours.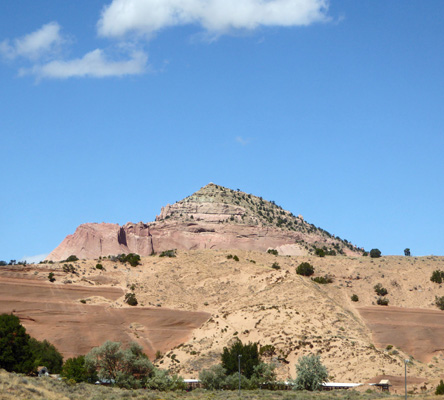 We drove up the hill on Hwy 566 and stopped to take a photo of these gorgeous rock formations. No hiking here—this is Navajo Tribal land.

The road turns west and goes farther up the hill. After a while we turned back and you could see the back side of Church Rock.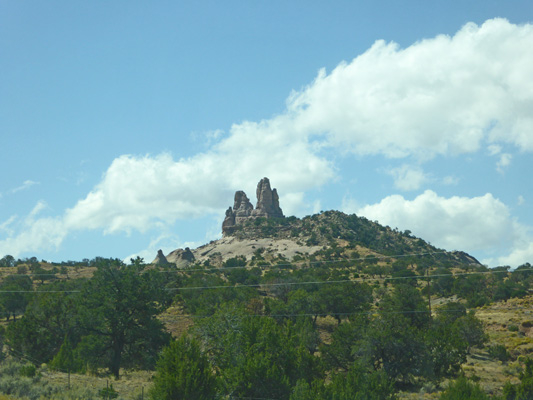 We drove on back home and had a quiet afternoon.
Friday September 26th, we broke camp and got on I-40 east for the 60 mile drive to Grants, NM and the Grants/Cibola KOA.