March was mostly a lovely month weather wise once we got through the first few days.
We had several weeks of wet weather in late February and early March but by March 7th I'd managed to cut in and prime most of our side yard wall. I ran out of primer just before I got done so I took a photo of the wall between the front and back yards to give you a taste of what it looked like at that point. Kind of like gingerbread with frosting between the layers.
We were going to make a trip to Home Depot later in the week so I started cutting in the paint at the beginning of the wall knowing I'd have another gallon of primer soon. And in the process created the reverse of the gingerbread primer.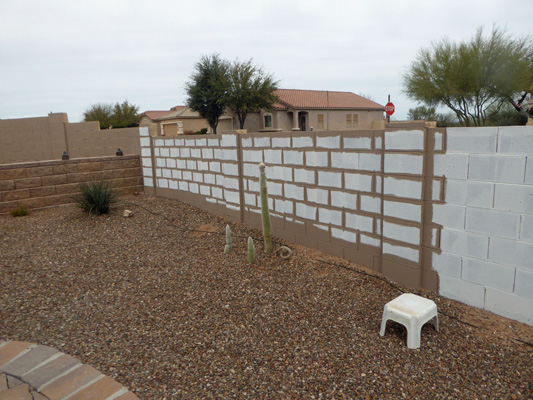 We were finally close enough to last frost date (march 15th) that I felt comfortable buying the replacement shrubs for along the back wall. So during our trip to Home Depot I picked up 2 dwarf oleanders (Nerium oleander 'petite pink'), 3 Baja Ruellia (Ruellia peninsularis), 3 Texas Ranger 'Green Cloud' (Leucophyllum frutescens 'green cloud') and 3 Texas Sage'Lynn's Everblooming' (Leucophyllum langmaniae 'Lynn's Legacy').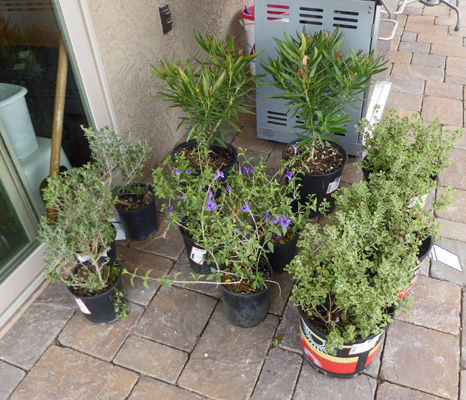 The Baja Ruellia was bloom with lovely lavender flowers. It's a little spindly now but they make a nice spring blooming shrub as they mature.
Texas Sage 'Lynn's Everyblooming' has small leaves that are gray green and will have lavender flowers in the summer and fall.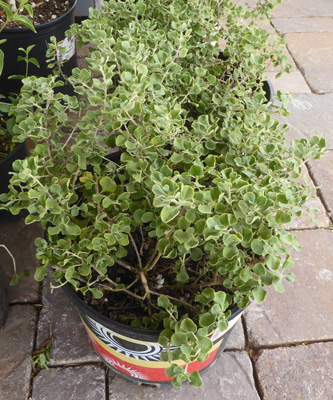 Texas Ranger 'Green Cloud' has bigger leaves that are darker green. It has purple flowers in the summer and fall.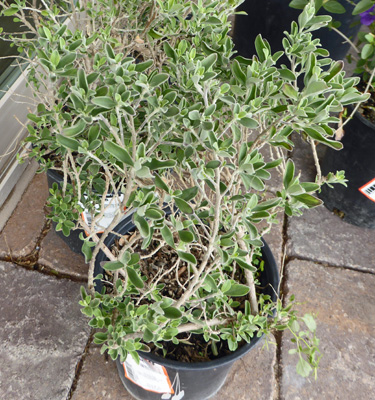 One of the challenges but also a form of entertainment, is that I have to learn a whole new palette of plants here. There are very few things that I knew from Washington and Oregon that even grow here let alone thrive. From my research I think I've picked some very drought tolerant shrubs that don't grow too fast and won't get real big but will provide flowers in the Spring, Summer and Fall. While we don't care about the summer flowers since we're not here than that just comes along with any plant that blooms in the fall here.
March 7th Mother Nature put on a show with fire in the sky. Off to the east we had pink

To the north it was orange and pink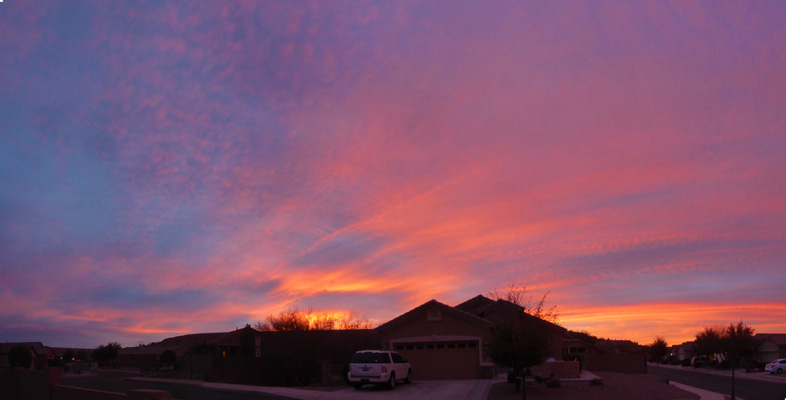 And to the west it was gold and orange.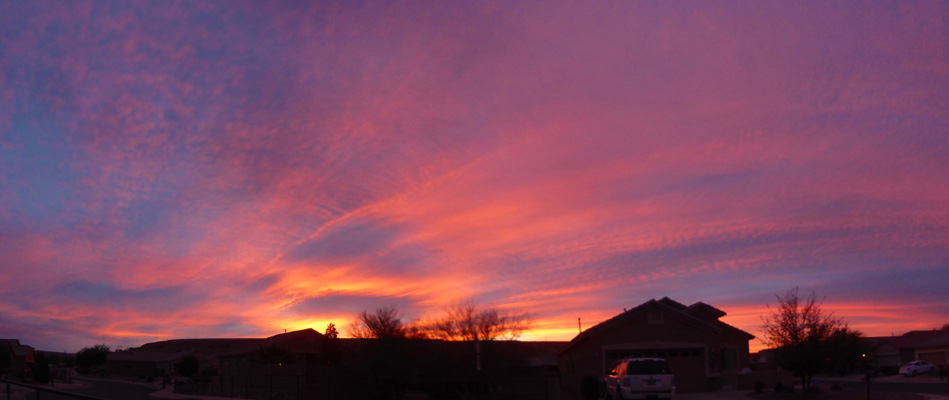 Within a few more days I had the wall painting finished. Between the back and side walls and the bamboo fence I spent a lot of time painting this winter. But I'm happy with the results.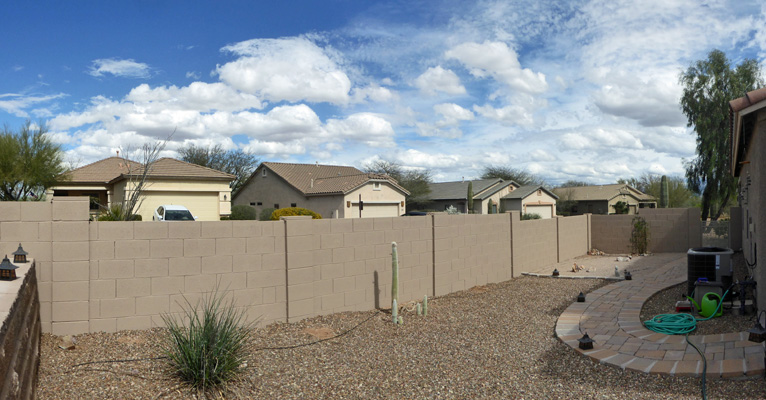 The new shrubs look pretty small once they're in the ground but they'll grow.

For years I've bought spelt tortillas at places like Whole Foods and PCC. But the Tucson Whole Foods has stopped carrying them (I haven't seen them in any Whole Foods anywhere for over a year) so I finally broke down and made some from scratch. There's a definite learning curve in terms of getting them to be round but they aren't hard to make and they tasted good.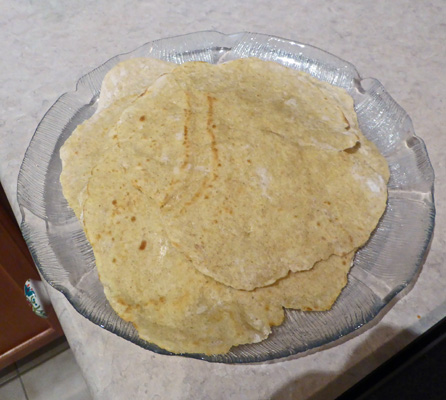 Even better they froze really well too. I just put some Glad Wrap between them so they didn't stick and then I can pull a couple out whenever I need them.
March 19th we had a rainbow out to the east. It wasn't raining at our house but the sun was out and clearly it was raining somewhere.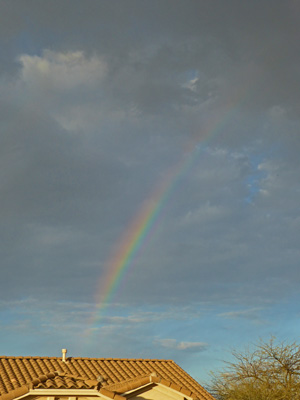 Wednesday March 20th, it was a nice day and I was caught up on my yard projects so we took a drive up Madera Canyon and stopped up at the top to enjoy the view.
There was still lots of snow up at elevation.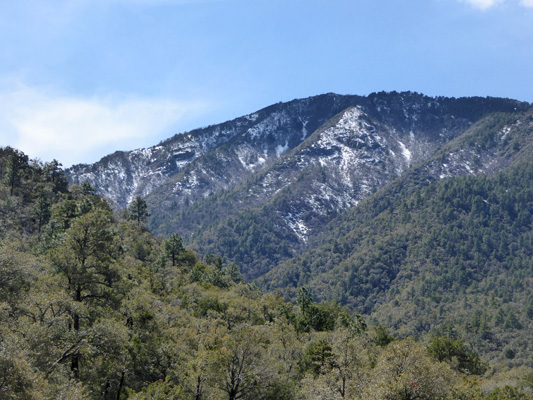 And there were lots of hikers heading up along the trails.
On our way back down we stopped at the Amphitheater parking area and took a stroll down the trail. All that snow up in the mountain tops meant there was lots of water in Madera Creek.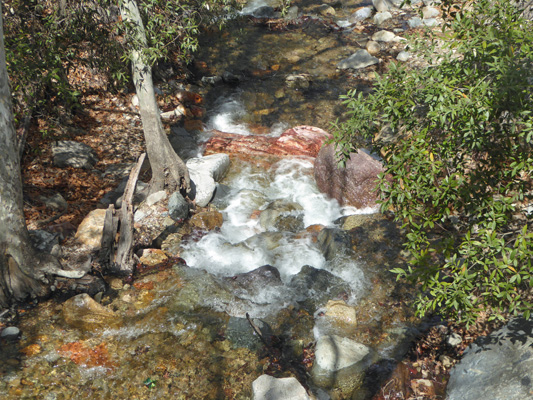 There's Vinca minor creeping all over the place here (introduced by who knows who) and some it was just starting to bloom.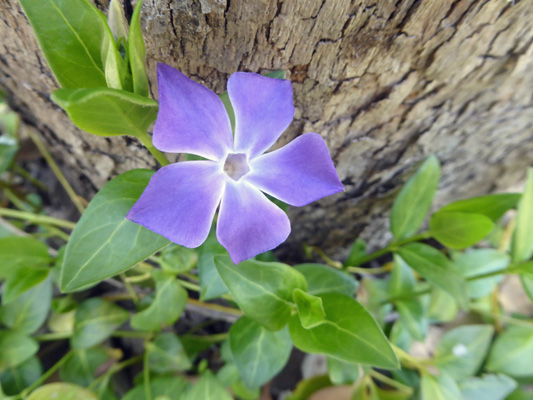 At every turn of the trail there was another little cascade in the creek.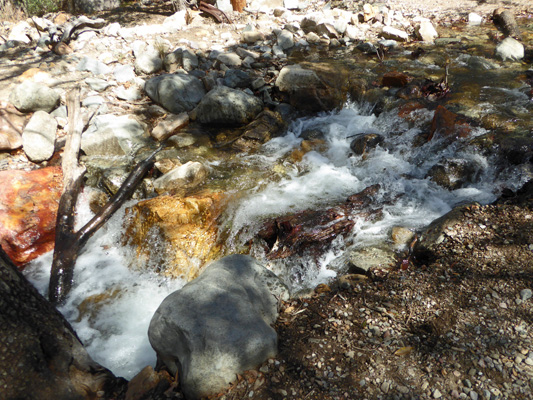 All that running water made me trigger happy.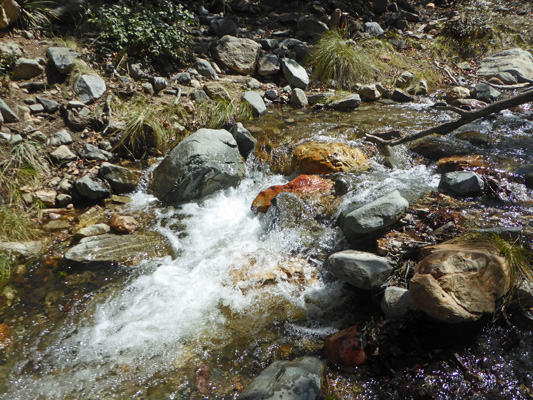 It was all just so much fun with the different colors of the rocks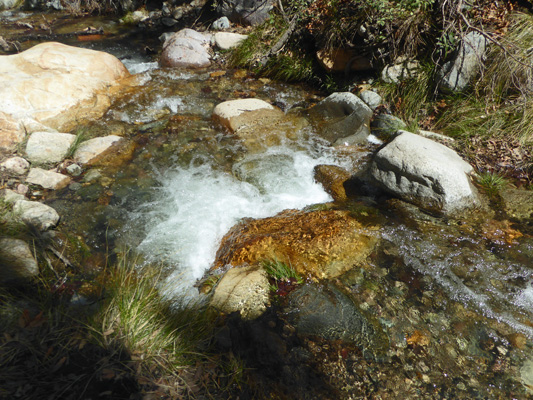 And all the great splashes.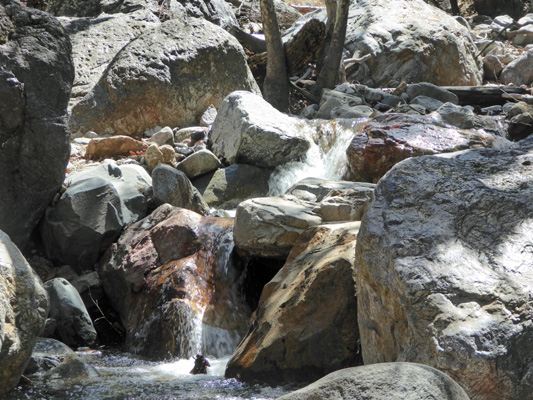 Walter found a nice bench to sit on while I climbed down to the creek to take this photo. So I turned around and got a photo of him on his bench.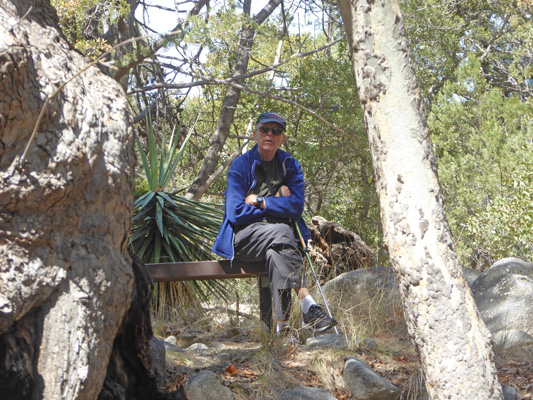 On our way back up the trail I found just a couple of lupine in bloom.
Down in the valley the sycamores had begun to leaf out but up here in the mountains they were still leafless with their white trunks shining in the sun.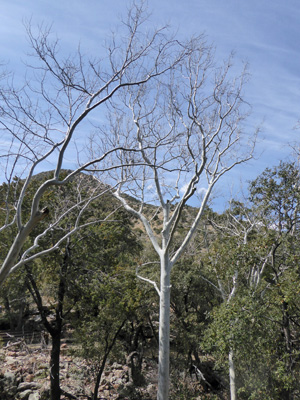 We drove a short ways down the canyon to the parking area near the gift shop of one of the little inns. They have bird feeders out and a nice deck where you can sit and watch the birds.
The Lesser Goldfinches were out in force both on this feeder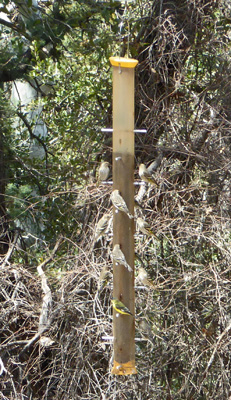 and this one.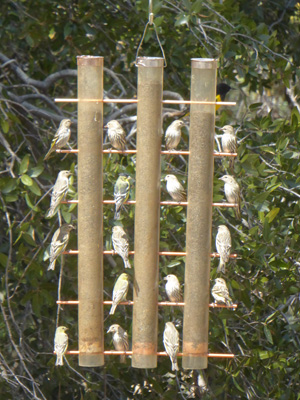 I counted over 25 turkeys and someone said they'd counted more than 30 earlier.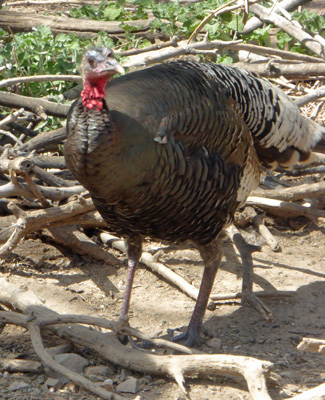 The hummingbirds were out in force too. This is a broad billed hummingbird.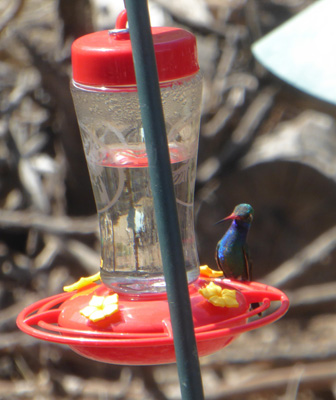 I love the blue breast, green head and bright orange beak.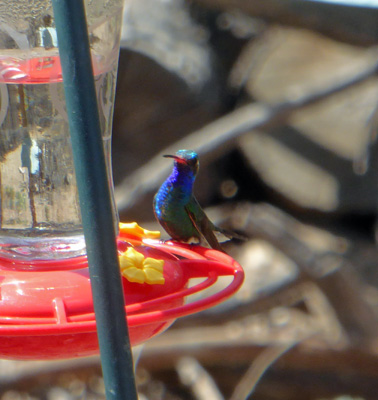 There are always people with cameras with huge long lenses who spend hours here taking photos. I'm just happy to snap a few decent photos.
There were a couple Hepatic tanagers flitting about.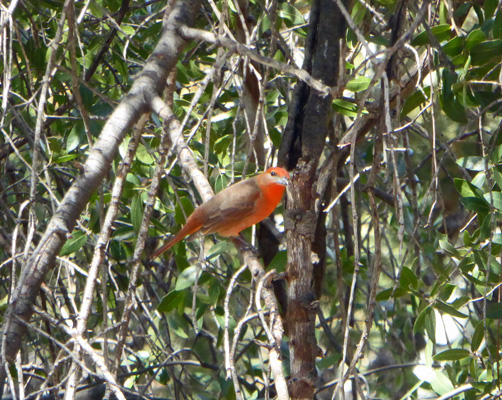 And this Scott's Oriole showed up for just a short time.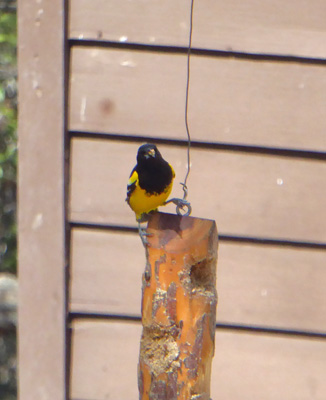 This humming bird feeder was in the shade just over our heads so the lighting wasn't perfect but they're still fun.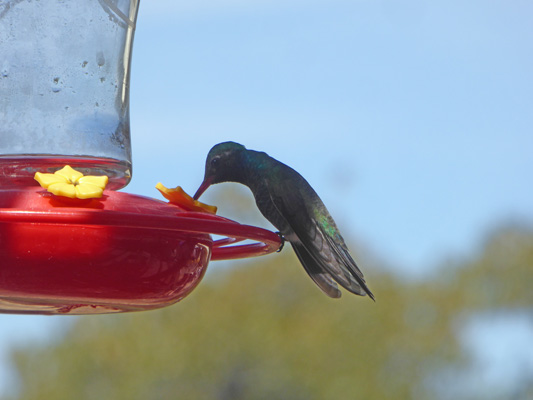 It's amazing how trusting they are when there are so many people around.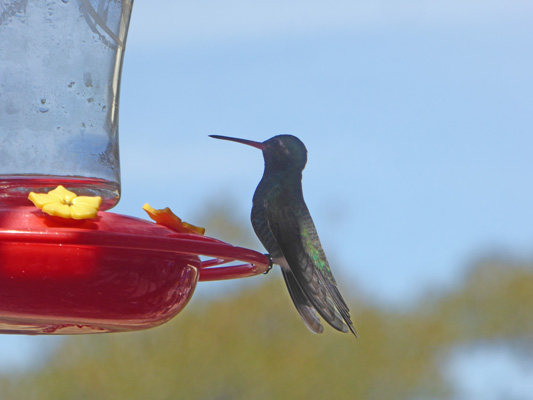 Just before we left a Acorn Woodpecker (one of my favorites) came to one of the suet feeders.
We drove on down to the next picnic ground and I got another view of the snow up on the mountains.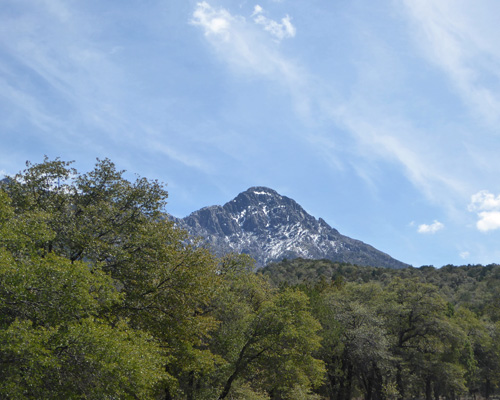 There was yet another lovely set of cascades that we could see from the picnic area so I had to go down and take more water photos.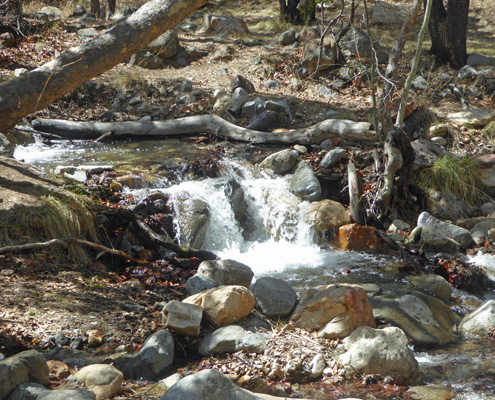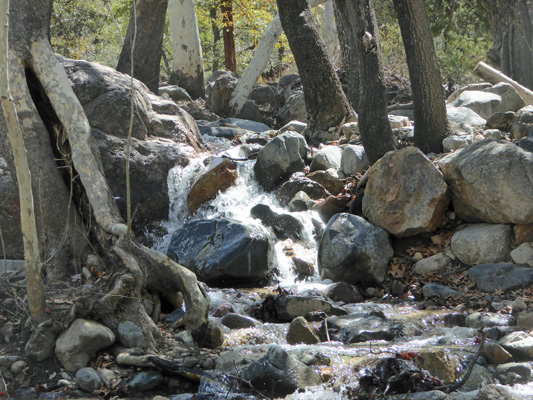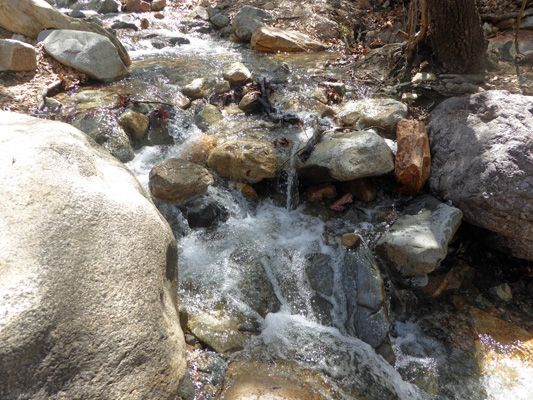 We sat and enjoyed the sound of rushing water and the twitter of the birds with our lunch. This is live oak country and here and there I found these strange little red puffs attached to some of the leaves that had fallen. It turns out they're an oak gall caused by a little tiny wasp who lays her eggs on the leaves.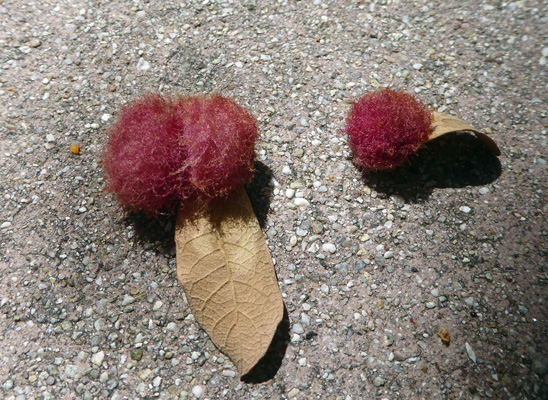 A few clouds came in eventually and it got a little cool so we headed home. All in all it was a very satisfactory outing. And it's only about 1/2 hour away from home. What more could you want?
We had clouds on the night of the super moon so I didn't get any photos but we did have a nice sunset on March 21st.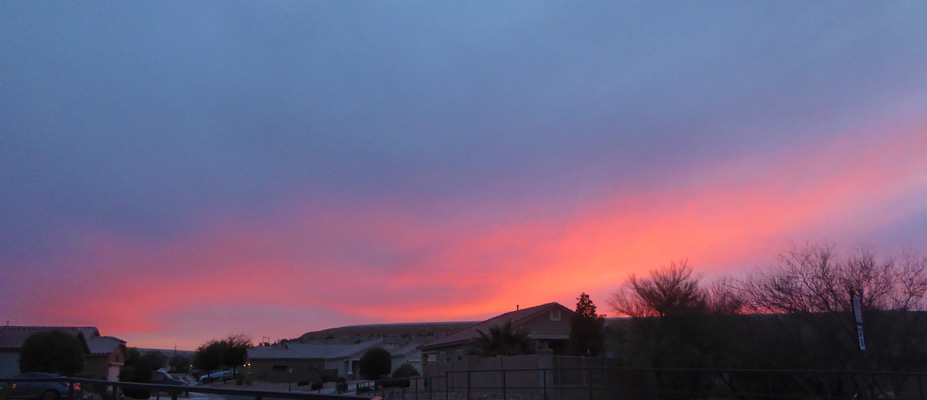 Sunsets like this don't last long but they sure are pretty.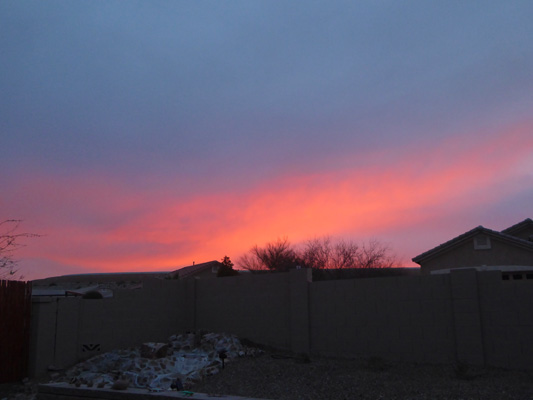 Our Silver Torch Cactus was really putting on a show by late March.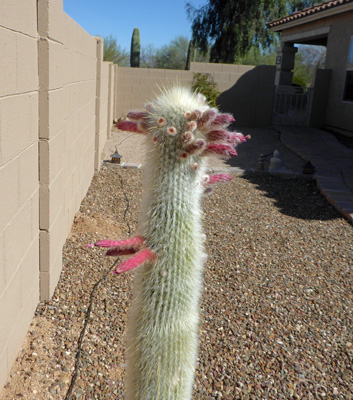 It had blooms on all sides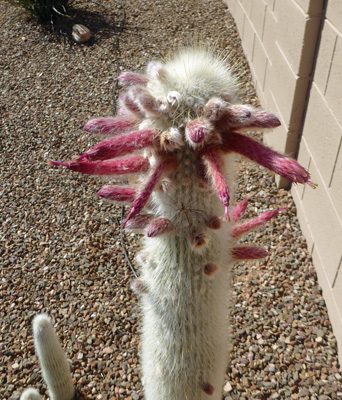 In another week it had gone crazy!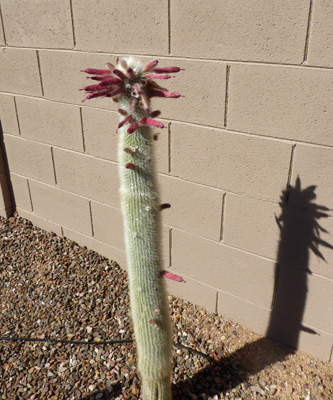 For my birthday (March 24th) Walter came home with a new wind spinner for the back patio.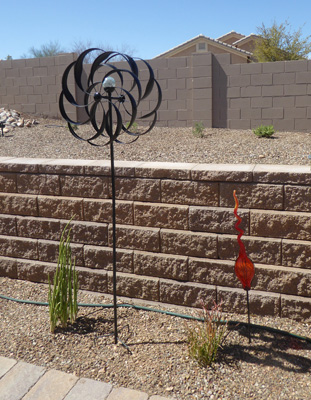 The twisty piece of red and yellow glass was another part of the celebration.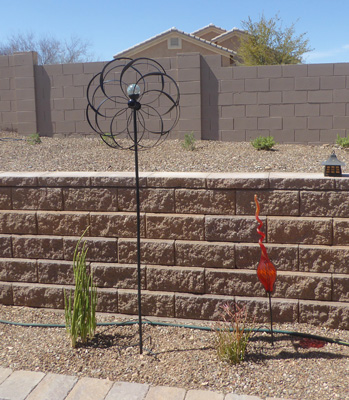 Late in the afternoon I went for a walk along Rancho Resort Blvd and then out on Sahuarita Blvd to go flower peeping.
The Goodding Verbena (Verbena-gooddingii) had recovered from the winter freeze and was just starting bloom again.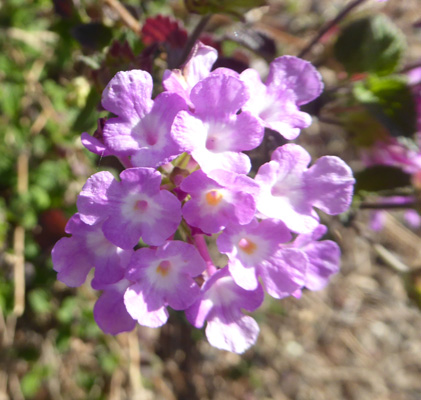 The Green Feathery Cassia (Senna artemisioides filifolia) is a mid-sized shrub that's really fragrant and the bees seem to like it.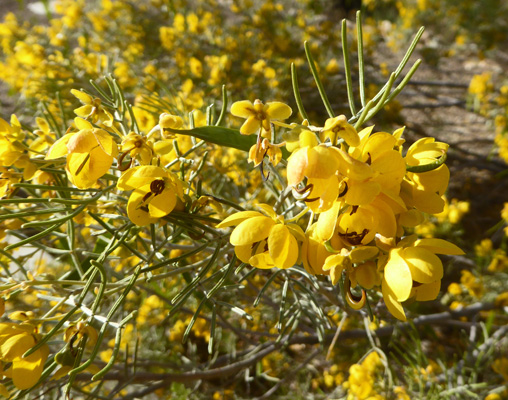 Out along the verge of Sahuarita Blvd I found all sorts of flowers including Blue Phacelia (Phacelia distans).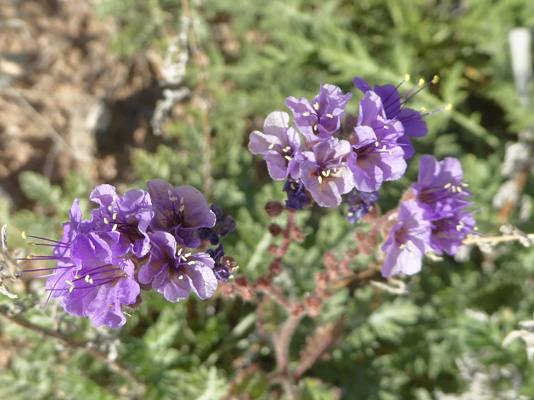 Globe Mallow (Sphaeralcea ambigua)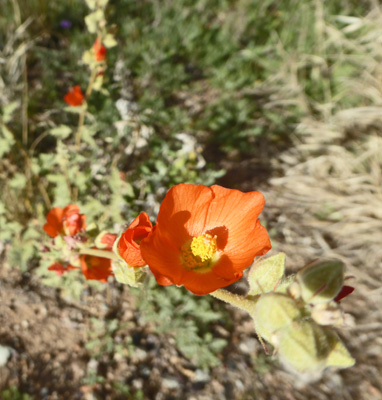 Desert Marigold (Baileya multiradiata)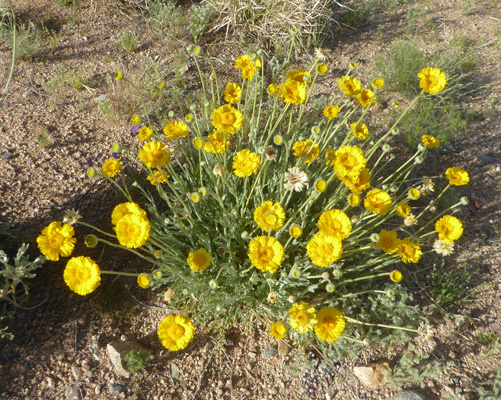 Arroyo Lupine (Lupinus sparsiflorus)
And lots of California Poppies (Eschscholzia californica) in both gold and white.
There were lovely little gardens of Parry penstemon (Penstemon parryi) mixed in with poppies and desert marigolds right next to the road.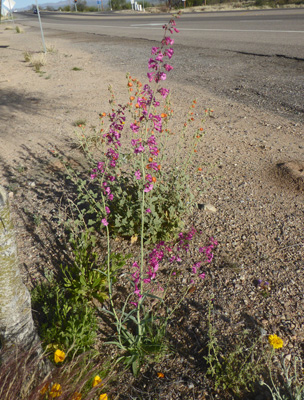 I wandered down to the freeway exit to figure out what the white flowers were that I'd seen the day before as we drove by. They turned out to be White Chicory (Rafinesquia nemomexicana).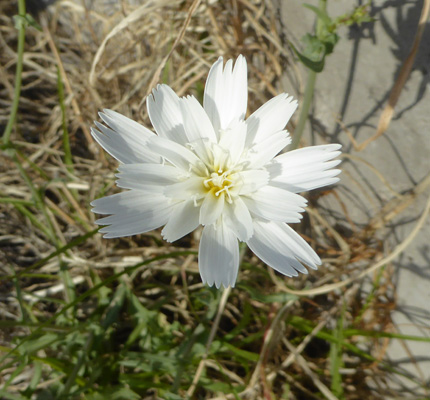 And there was a marvelous patch of Parry penstemon (Penstemon parryi) right at the exit.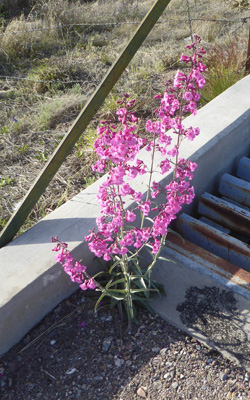 On my way home I took a trail that starts at the entrance to Rancho Resort and takes you out through the desert.
There were nice patches of Bristly Nama (Nama hispidum) in bloom.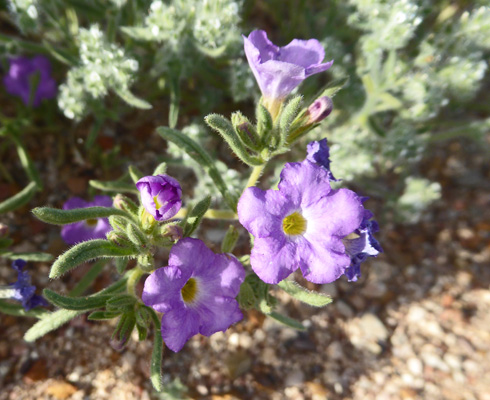 And as the trail skirted the development I saw lots of Gambel's Quail heading out into the desert from people's patios.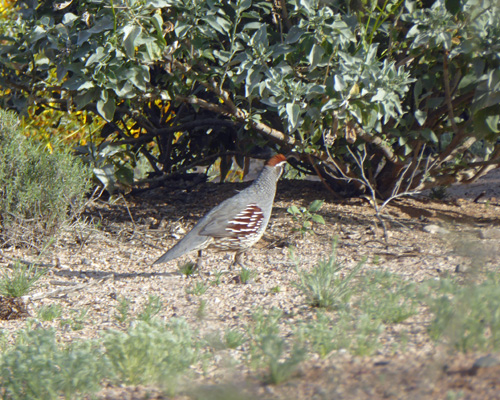 The Texas Mesquite trees in the area had just started to bloom. Their flowers are much denser and more colorful than the native mesquites.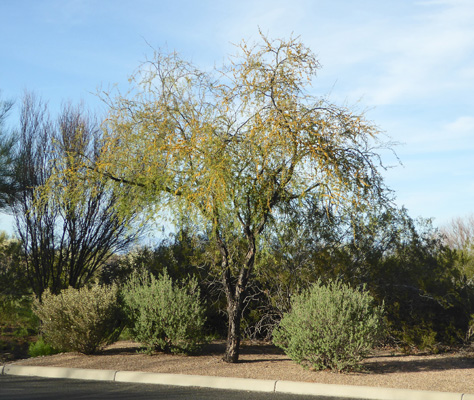 And the emu bushes that usually bloom around Valentine's Day were finally really starting to bloom too.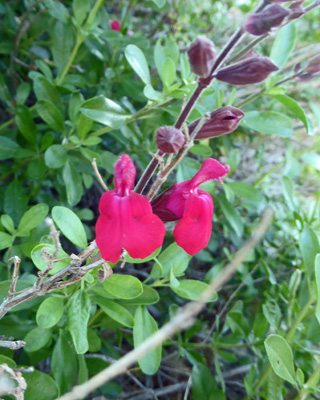 This was a perfect way for me to spend part of my birthday. Back when we lived in Washington I'd often take myself up to Mount Vernon to visit the Tulip Fields for my birthday (if it was on a weekday and Walter was working). Sometimes I'd just have daffodils and sometimes there's be tulips. I bet this year that the tulips will be late since it was so cold up there this year in February and March.
That evening Walter took me to dinner down in Tubac and we had a nice sunset that I caught with my cell phone.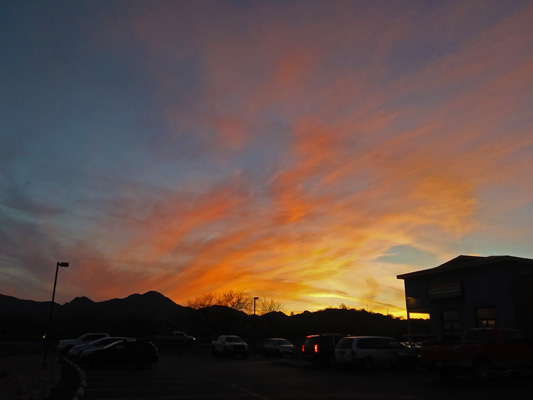 On Monday March 25th, we noticed a new street when we were down at the edge of Green Valley by the Sprouts and the Wal-Mart. Being in no particular hurry we turned south just past the Circle K gas station off of Old Nogales Highway and onto Quail Crossing Blvd to see what we could see.
And what we saw were FLOWERS! On both sides of the road--the full length of the road (a mile or so)--were full of California Poppies and Blue Phacelia. We followed the road to the end to find a nice new parking lot and a picnic shelter with a sign about the San Juan Batista De Anza Trail. When I looked it up on the internet there wasn't any information so clearly it is very new. You can follow the trail south through much of Green Valley so there's something for us to explore next winter!
In any case, the flowers were marvelous. This is just a little slice on one side of the road.

These poppies were more yellow than gold but there were a few that were the standard California Poppy gold.
We decided it was our own little local super bloom!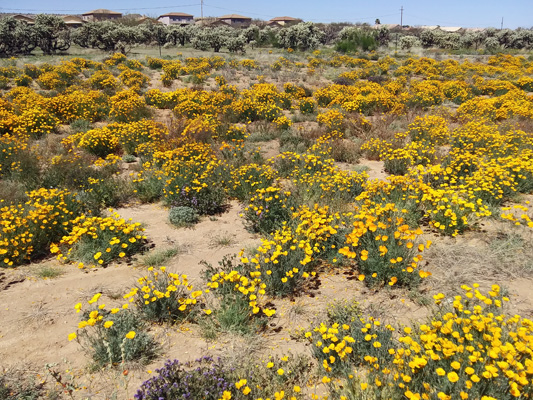 By the time we got home from our errands the landscaping company who takes care of the community's common lands had finished pruning the palo verdes and mesquites at the end of our cul de sac.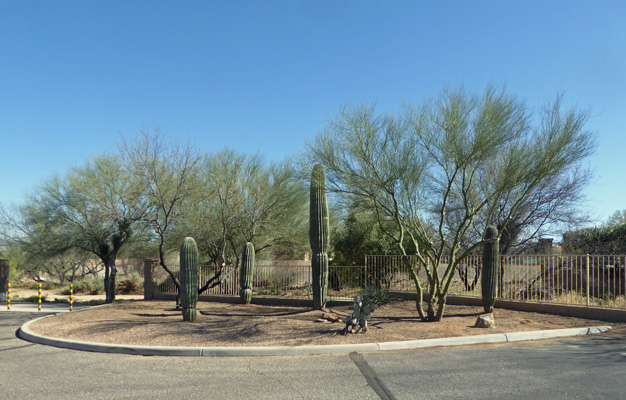 Here's what it looked like last April when the palo verdes were in bloom. I had no idea there were four saguaros hidden back in there!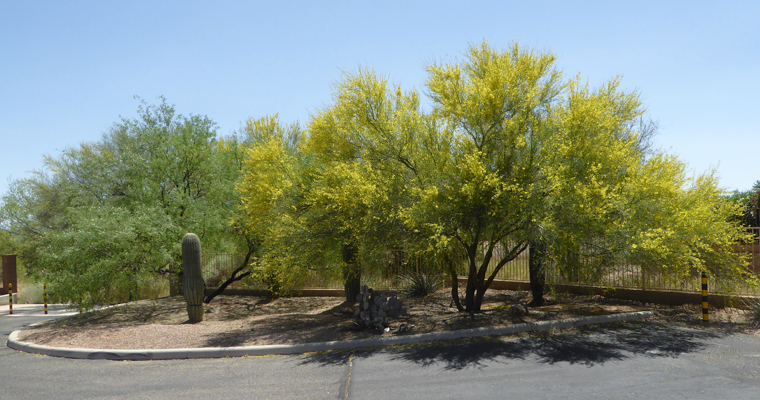 Even better, several days later they came back and weed whacked the wash that runs along the side of our house. The weeds and grasses had gotten really tall with all the winter rain so I was super happy to have them cut it all back so as to curtail the spread of weed seeds later this spring.
Wednesday March 27th, Mother Nature gave us a nice sunset as we were celebrating hearing that our trailer was FINALLY ready to pick up after nearly 5 months in the shop.
So on Thursday March 28th, we drove up to Oasis RV in Tucson and picked up Genevieve. All the damage from her encounter with the shed back up at Alta Lake in August had been repaired. They'd waxed her (I think as a thank you for being so patient waiting for the repairs to be done) and we'd gotten new batteries and brakes (Ka-ching). The brakes were 'supposed' to be 100,000 mile brakes (we have about 55,000 miles on the trailer) and they'd been okay when we had them inspected at the Airstream factory back in October 2017. But after driving back to Tucson from Ohio and then up to Alberta and back they were shot. The drums were scored and we needed to have the whole business replaced. Not cheap! But we're safe again so that's good.
Here she is just before we pulled out of the lot to take her home to her spot in the storage yard in Sahuarita. From this side she looks practically new!
We were really grateful to finally have her back. We have plans to leave for a visit to San Diego on Thursday April 4th so we had just a week to get her ready to go again! We got her home and parked okay and got the solar panel set up to charge up the new batteries. On Friday we took her empty propane tank to be refilled and took a load of linens out to her. On Saturday, I mopped the floors (really dirty!) and wiped out the refrigerator which had been closed up all winter. We still have the bed to make up and we need to install the water filter and test to be sure that the refrigerator is working (at least we know how to fix it now if it doesn't start). All that is very doable before we load her up on Wednesday so she'll be ready to leave on Thursday morning. Whew.
We've had warm sunny weather (temps in the high 70's and low 80's) for a week now and lots of things are finally waking up and really pushing growth. The Banks Rose in the side yard has burst into bloom in the last week and is now covered with little dime-sized roses.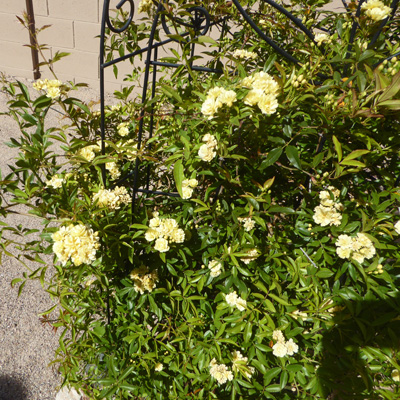 Here's a close up of the little roses.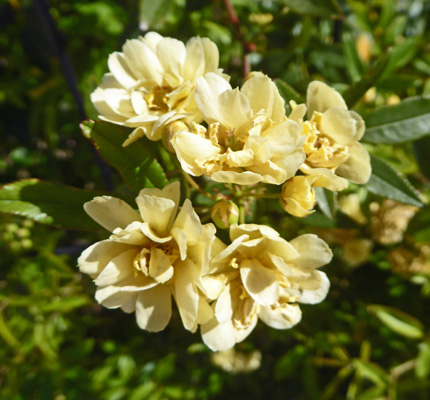 And the little Indian Hawthorn bush in the front yard that didn't bloom at all last year popped into bloom on Saturday. From the looks of all the buds it's only just begun!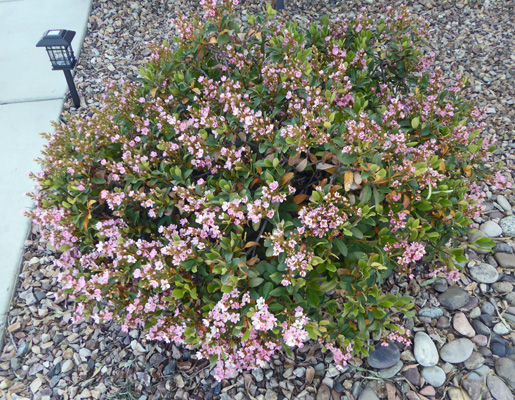 We had these in our yard in Montebello when I was in high school. So it's an old familiar plant.