We spent the first week of April scurrying around getting the trailer (and ourselves) ready for a quick trip to San Diego. We loaded up the trailer on April 3rd and then pulled out on Thursday April 4th.
As we were checking to make sure we had everything locked up I took a moment to stop and appreciate the things in bloom in our yard. The Banks Rose was COVERED with flowers.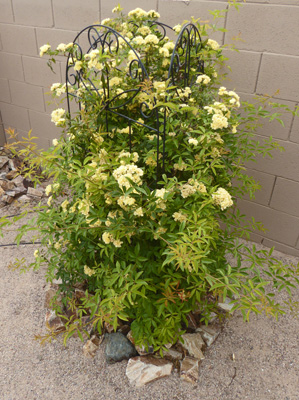 Here's a close up of the little roses.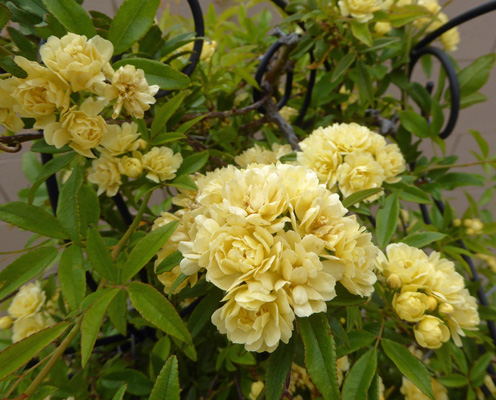 And the Indian Hawthorne was completely covered with flowers.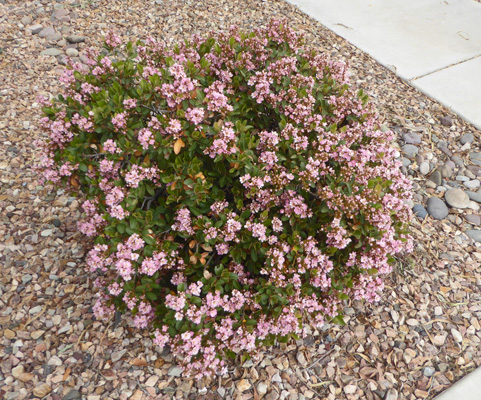 By the time we got back 10 days later this little bush was done blooming and busy setting seed. But she sure was pretty while she lasted.
Having battened the hatches we headed north on I-19 to I-10 and then west on I-8 towards Yuma.
After about 100 miles we came to what Arizona calls a 'Parking Area'—a rest area without any bathrooms but with a picnic table or two and paved parking. We stopped to switch drivers but because I saw lots of flowers just a little ways out of the parking lot, I had to spend a little time taking photos.
There were little ground-hugging patches of Mojave Desertstar (Monoptilon bellioides)
And small patches of Bristly Nama (Nama hispidum).
Here and there I spied a few lupine.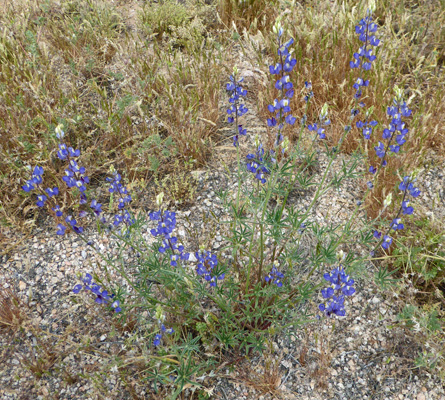 And there were tons of what I think is Coulter's Globe Mallow (Sphaeralcea coulteri).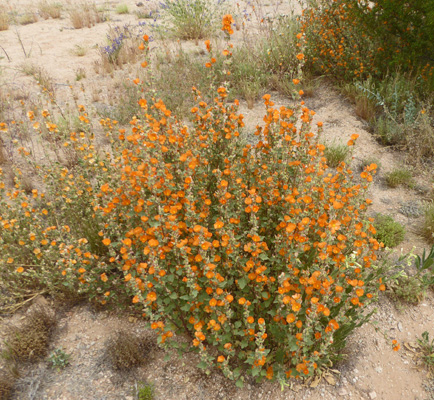 Here's a close up of the flowers.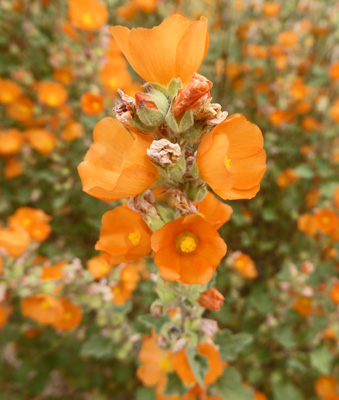 On the way back to the truck I came across one tiny Desert Tobacco (Nicotiana obtusifolia).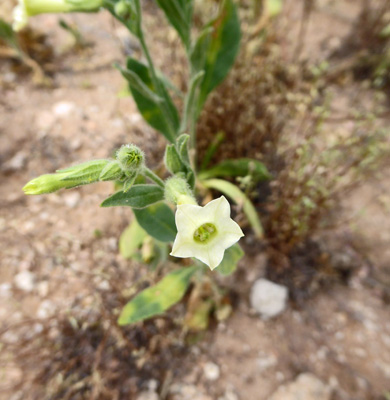 Our 200 miles of driving took us to Tacna, AZ a little bit of not much along the freeway where there's a nice new RV park called Copper Mountain RV. We got a nice pull through spot and since it wasn't hot (amazing for Yuma area at this point) we were happy to leave our windows closed because of course it was windy.
Just south of here there are Proving Grounds that are part of the Barry Goldwater Air Force Range. As a result, here were these strange planes flying around. At first we thought they might be drones because they had odd flight patterns. But on closer examination it became apparent that they were Osprey, a form of tilt rotor military aircraft that can take off and land like a helicopter by tilting their rotors upward. But that means the rotors are at the ends of the wings which make them look very odd.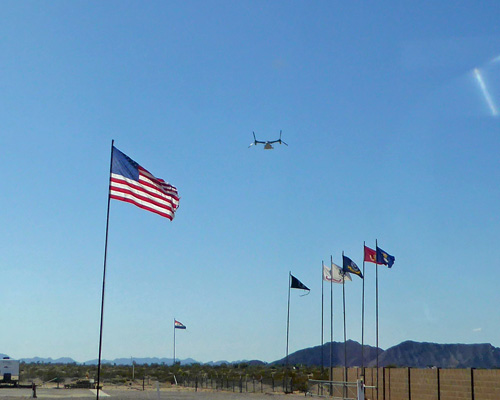 The next morning we got up and drove another 200 miles west to Santee Lakes Recreation Area where we have camped nearly every year since 2002.
We had dinner that evening with our daughter, Tracy, and then on Saturday April 6th the three of us took a walk together around Lake Miramar not far from the Miramar Marine Base. The trail around the lake is 5 miles so we knew we weren't going to do the complete loop. Instead, we headed clockwise from the parking area and got a nice view looking west from the top of the hill. It was a pretty day but on the cool side so we started out with our fleece on but walking warmed us up.

We walked about a mile out around the lake until we found a bench to sit on and I took a photo looking back across the lake. This is a drinking water reservoir so you can't swim in it but you can go boating and fishing.

On the way back I spied some Scarlet Pimpernel (Anagallis arvensis).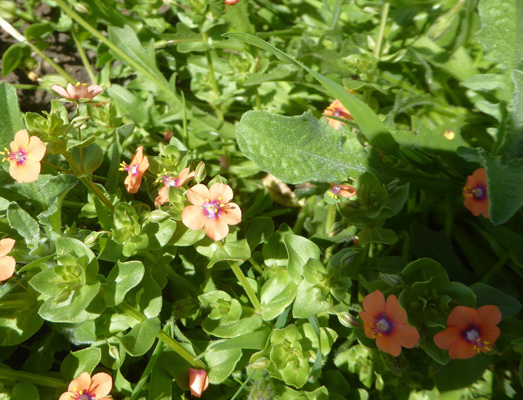 And loads of what turned out to be Fortnight Lily (Dietes bicolor), a native to South Africa that's very popular in landscapes in San Diego.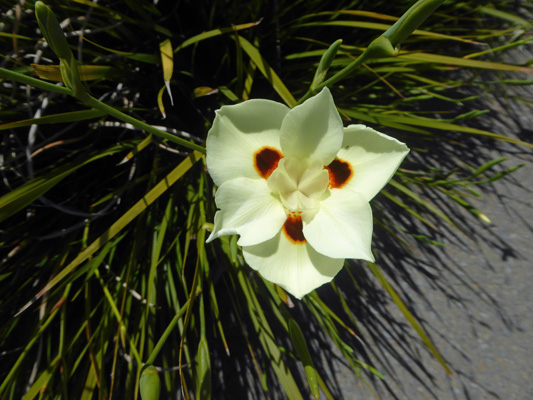 The next day we joined Tracy and our friend, Karen, for brunch in San Diego and had a nice drive along the waterfront. It being a lovely sunny, day it was crawling with people (on foot, on scooters and on bikes) and there were no parking spots to be found. So we went back to Tracy's and Walter had a nap.
That evening as we were leaving Tracy's we saw a rabbit in the grass but it was too dark for a photo. Then the next morning there was another one right outside her kitchen window.
Monday it was supposed to be hot inland, so it was a perfect day to head to the beach. Tracy braved the traffic (which wasn't anywhere near as bad as it had been the year before) and found a great parking space right next to the Children's Beach in La Jolla.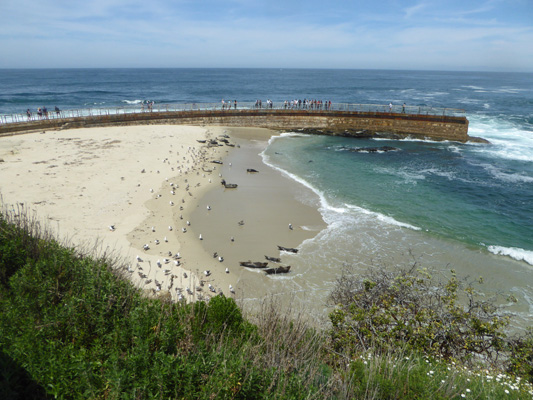 There were harbor seals down on the beach (with lots of sea gulls).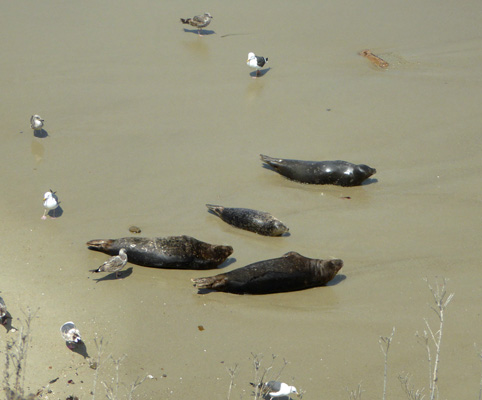 And there were lots of seals up on the rocks along the breakwater.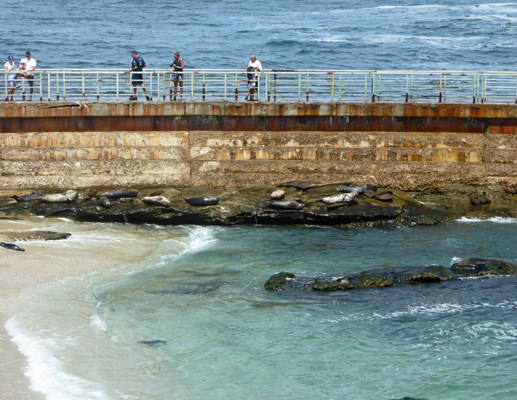 Yes, all those lumps on the rocks are seals.
The sea statice along the walkway was in full bloom.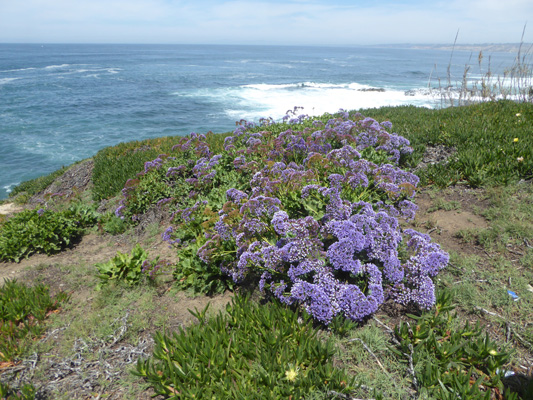 And there were Double-crested Cormorants out on the rocks.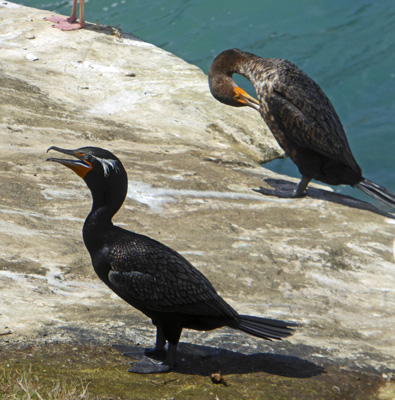 They planted ice plant on the cliffs here years and years ago (it was there when I was a kid) and it was in bloom.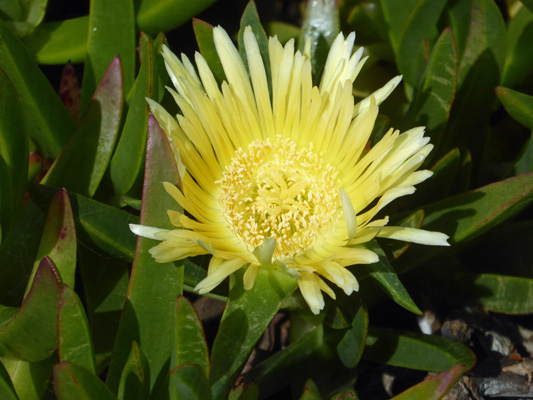 A large population of ground squirrels live under the ice plant and of course they were out enjoying the sun.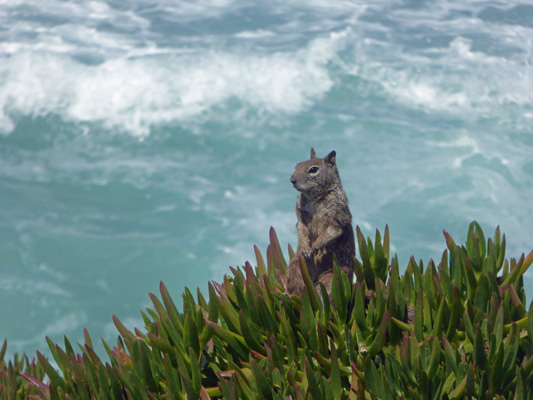 The California Sea Lions were out on the point and that meant there were lots of people out there looking at them.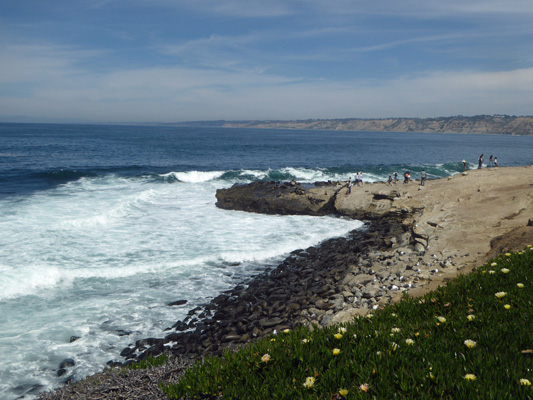 I love the sea lions because they pose so nicely.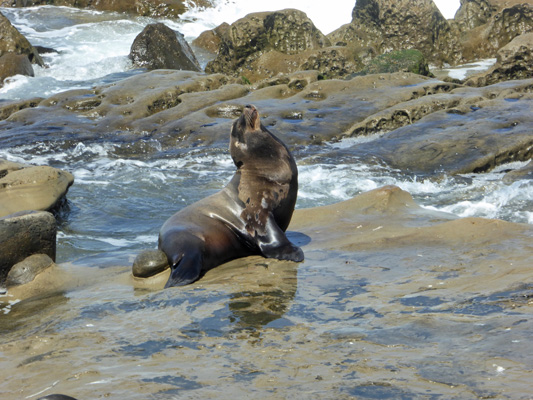 Around the point, nearly to the Cove there was a puppy pile of sea lions.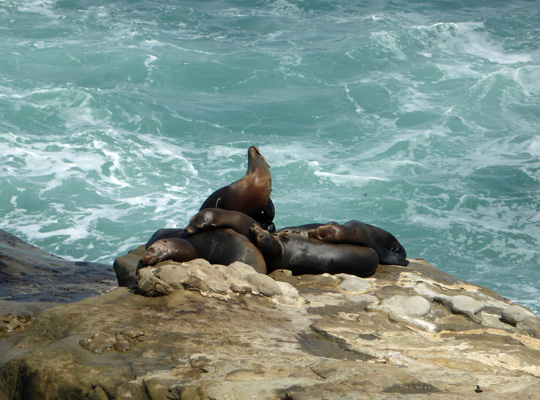 The Cove is always gorgeous and it didn't disappoint.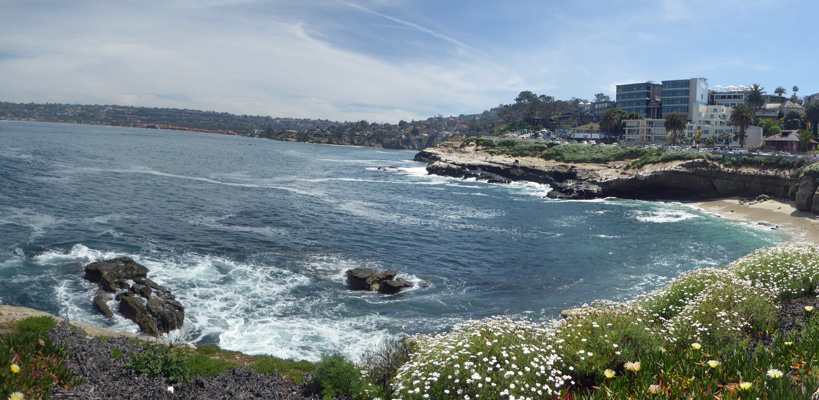 Walter of course found a bench and Tracy joined him. Behind them you can see the lovely green park that I rarely take photos of since I'm always looking out to sea.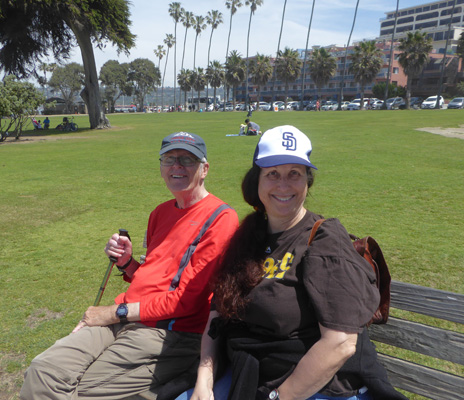 We sat and watched the surf for a while.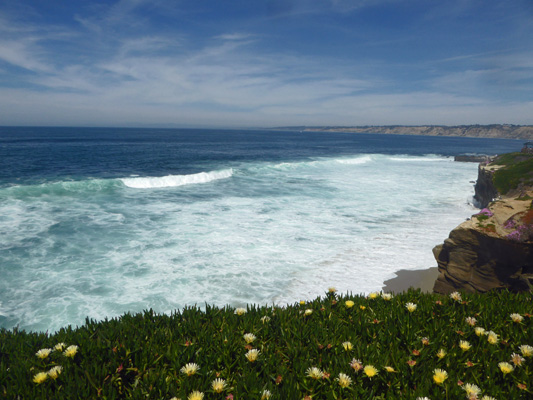 Which never really gets old.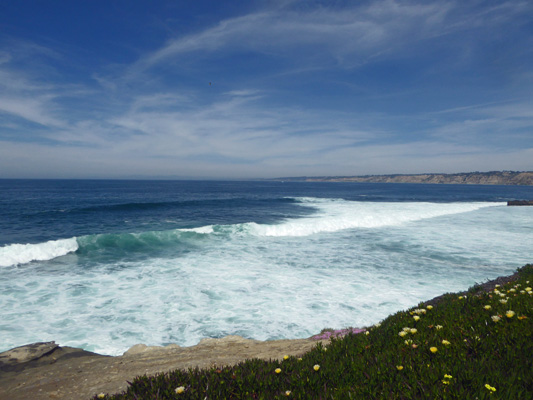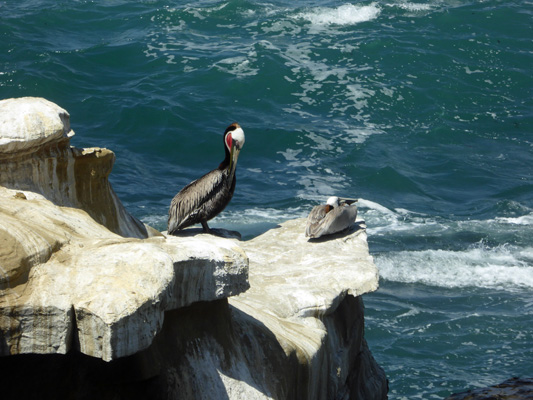 And more surf.
As we returned to the Children's Beach area, I noticed a bench with these cool bronze starfish.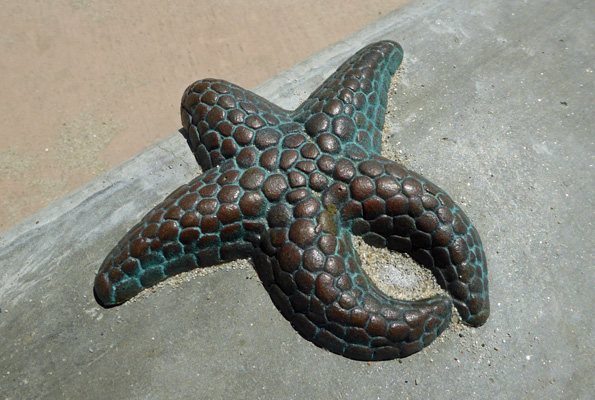 Three different kinds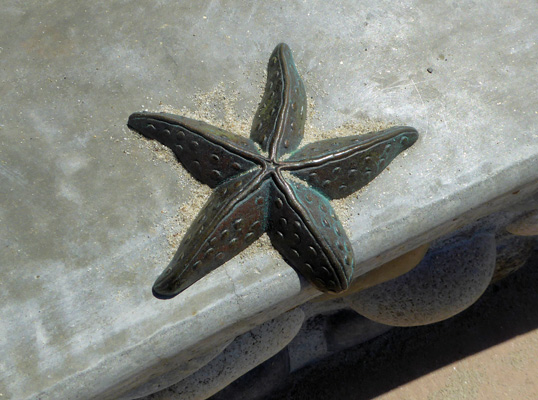 Scattered along the edges of the bench.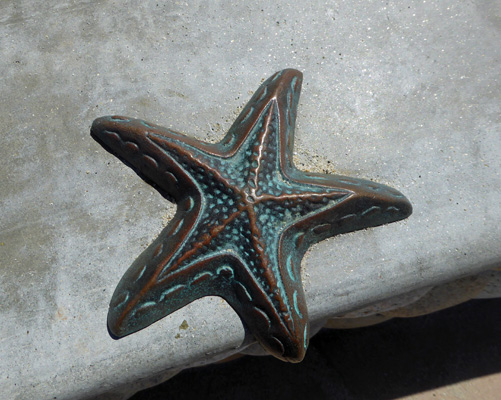 As I was standing watching the surf and flock of pelicans flew by in a line and I had a lucky moment and caught a photo of them.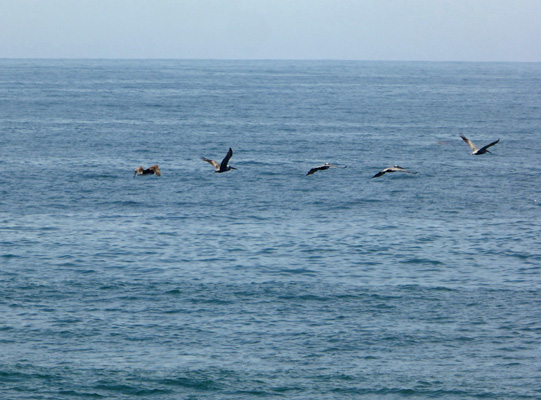 We found a bench overlooking the water and had our picnic lunch. There was a big clump of sea statice in front of us and this huge White-lined Sphinx fluttered up and spent a long time visiting all the flowers.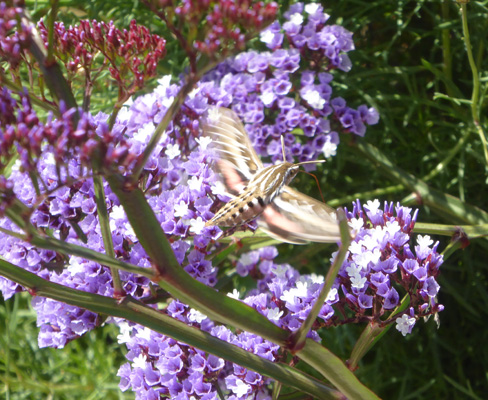 It's wings moved really fast like a hummingbird but his movement pattern was more like a moth. Some folks call them hummingbird moths so you get the idea.
As we got up to leave I had to take one more set of photos of the surf and the flowers together.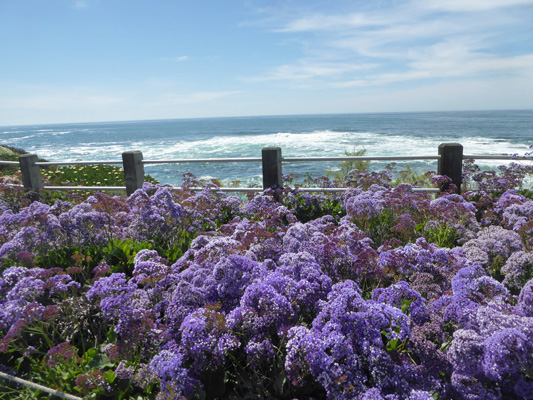 Tuesday April 9th, we made the trip to Escondido to visit the San Diego Zoo's Safari Park.
Just past the entry gate there was a Hyacinth Macaw posing for us all. Such a lovely color.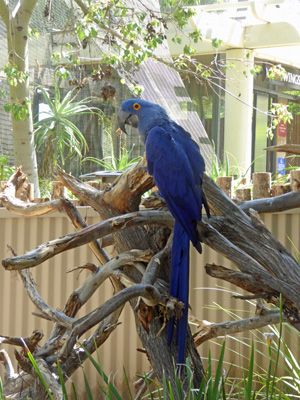 A Bat-eared Fox was showing his new trainer the ropes at the demonstration area.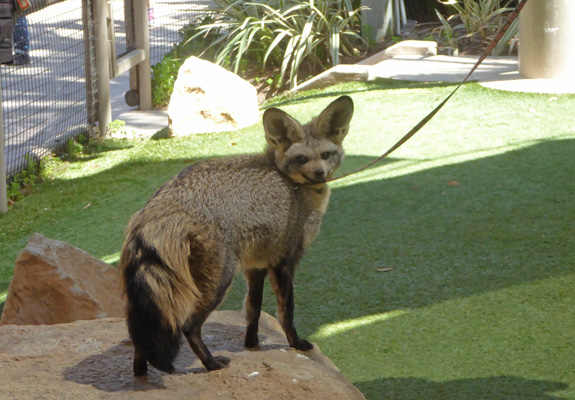 We wandered our way down the hill to catch the tram through the African Savanna section. The balloon ride was up so I took a photo of it as practice for our visit in the fall to the Albuquerque Balloon Fiesta.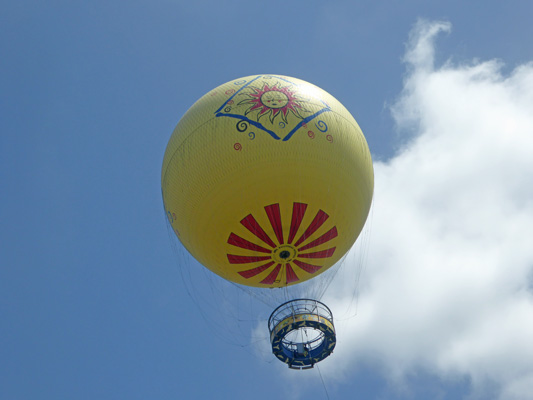 The Orange Pin-cushion Proteas (from Africa) were in bloom down near the lions.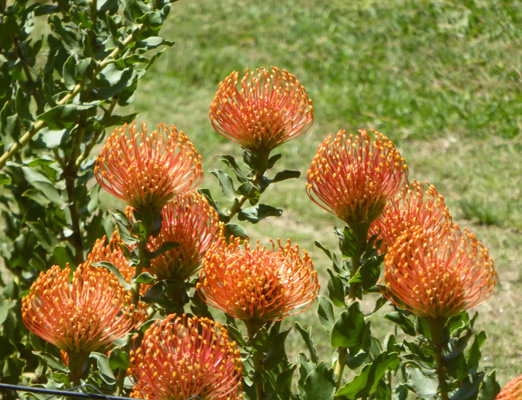 And the lions had fresh bones they were gnawing on!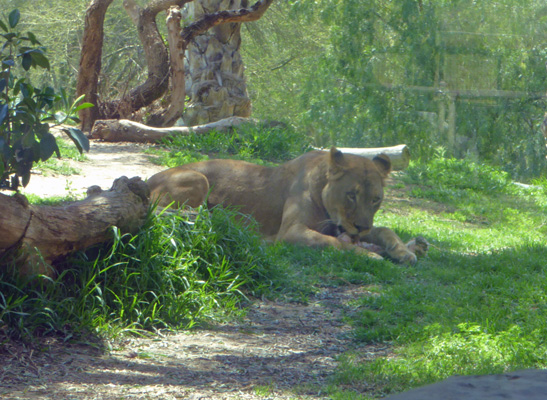 When we got around the side of the enclosure this lady was kind enough to pose a moment for me.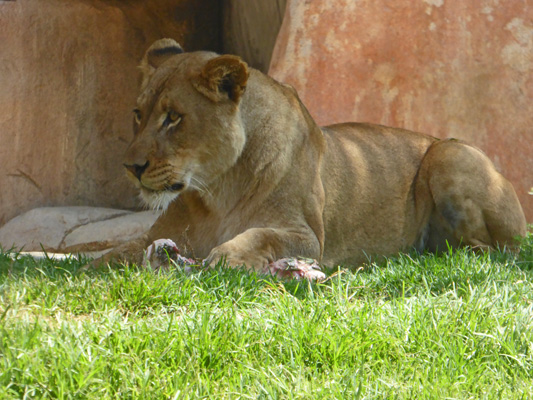 Just past the lions, we got on the tram which took us past the cheetahs. One of them was out pacing.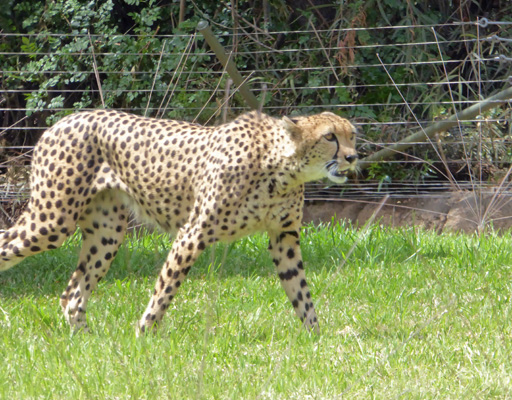 Back when the park first opened in the early 1970's (1973 is when it opened to the public) a great deal of the focus was on breeding of both northern and southern white rhinos. The breeding program for the southern white rhinos has been very successful and you can see some of them out grazing on the savanna.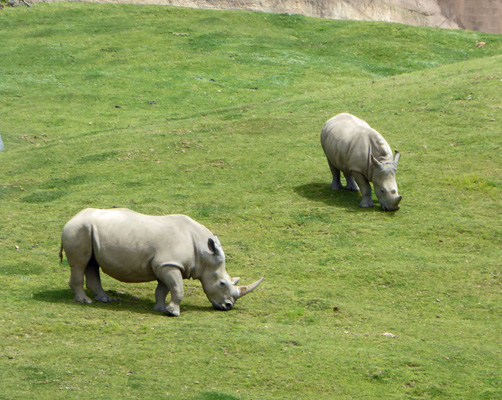 But they haven't had any luck with the northern white rhinos which are now on the brink of extinction. The remaining two females both have reproductive problems. So they have chosen 4 southern white rhino females to be surrogates to see if they can successfully carry on the species. These four vey important ladies were out in their enclosure when we went by.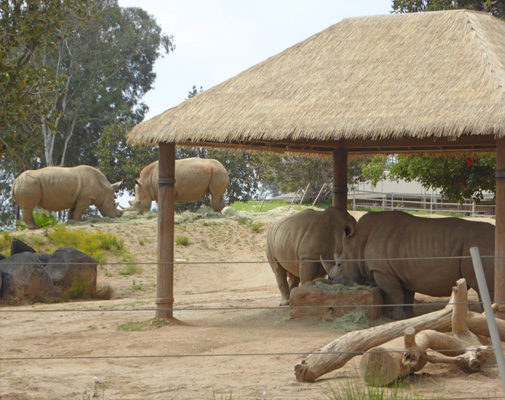 The flamingos were out on the edge of the pond. They're not the deep orange that the ones at the zoo are but they're still wonderful.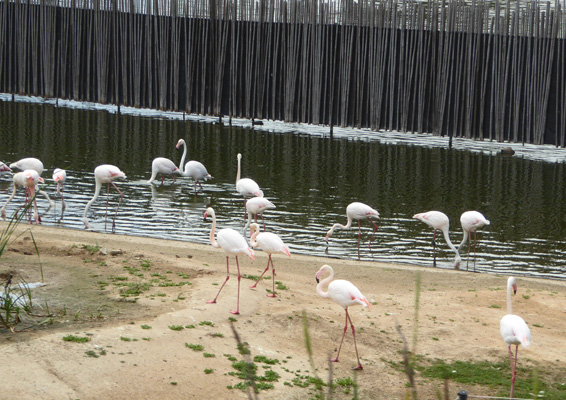 The hills in California were green this year for the first time in a long time. And that made the park even lovelier.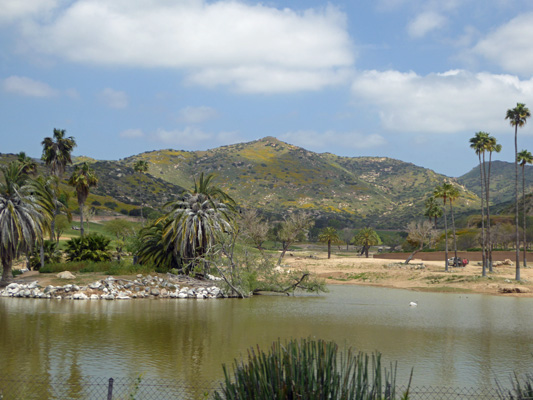 There were a whole committee (group) of Rüppell's vultures out in the sun.
And giraffes!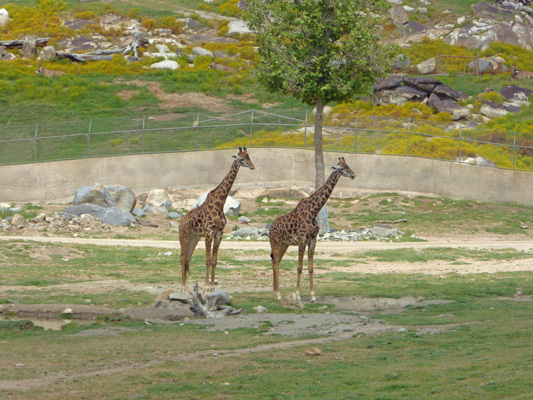 The Somali Wild Asses were out in force and this one came down near the tram. They're the only ass with striped legs.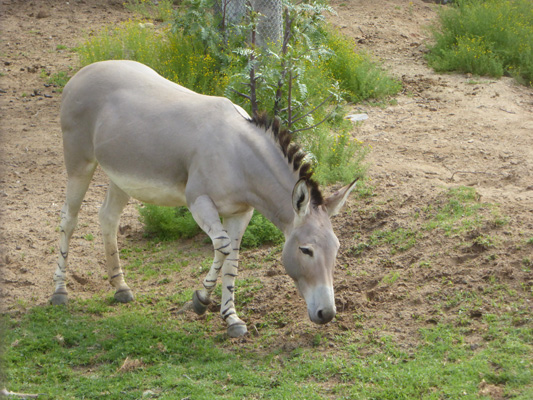 At the top of the tram line we got a nice view of the yellow wildflowers (they didn't look like mustard) in bloom on the hills.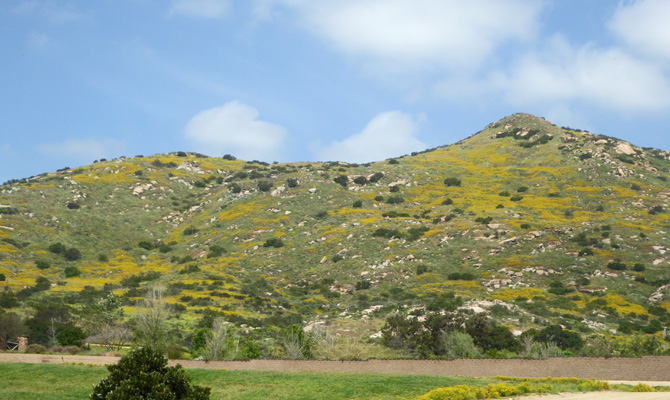 This young southern white rhino is proof of the success of the breeder program here.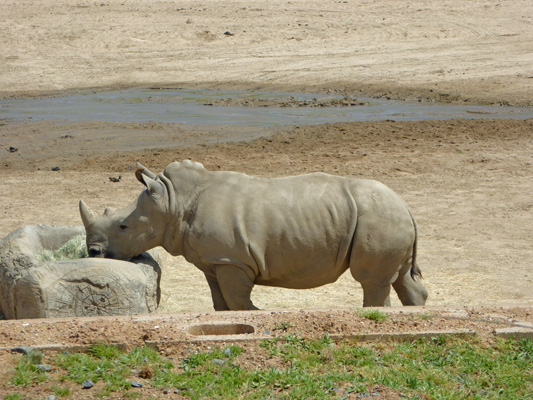 When we got off the tram we wandered past the lions again and this big daddy was out and I caught him just as he was producing a huge big yawn.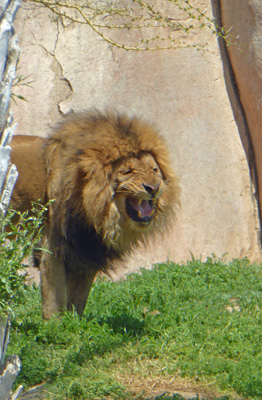 We hiked back up the hill and stopped for lunch at the Mombasa Cooker. There was an Asian Goose out patrolling the patio.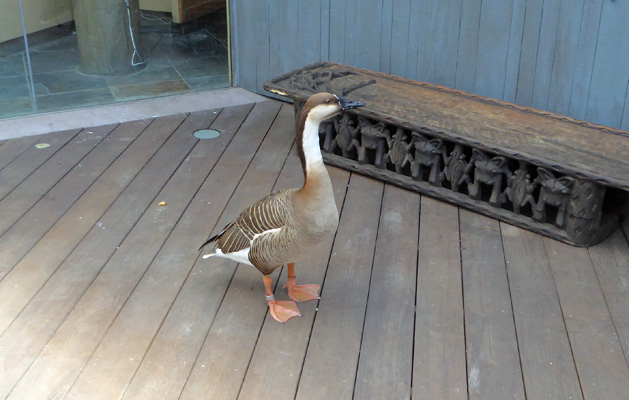 And there was a lovely pink tree in bloom (I don't know what it was) along the lagoon.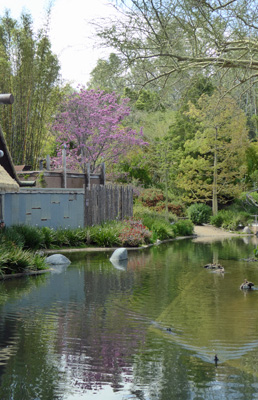 By this point Walter was done, so we left him to people-watch at one of the crossroads and Tracy and I hiked up to see the new Walkabout Australia exhibit.
This lavender water lily was in bloom at the entrance.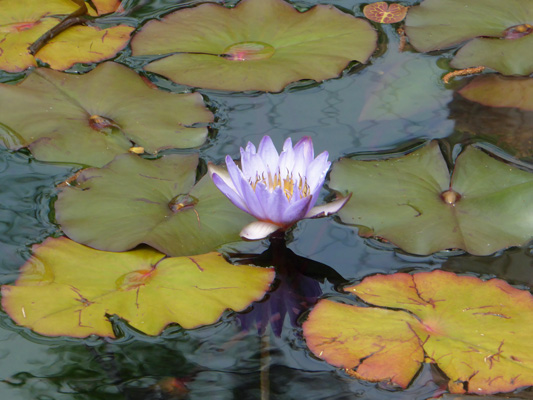 There is an enclosure with kangaroos and wallabies where you can go in and walk the paths and get up close and personal with the critters.
This mama kangaroo was out feeding on the grass right next to the walkway.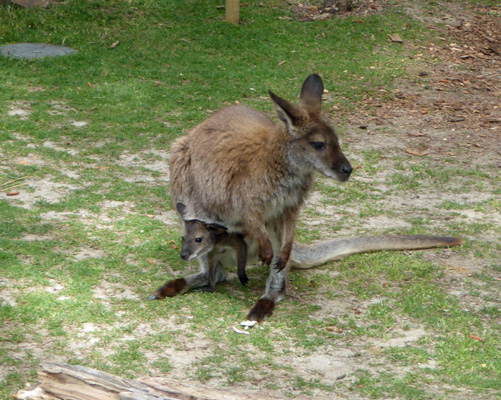 And yes, that's a roo halfway out of her pouch.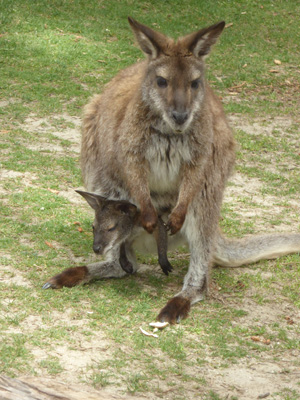 Around the bend this roo just had his back legs sticking out—kind of like sticking your feet out from under the covers when you're hot, I guess.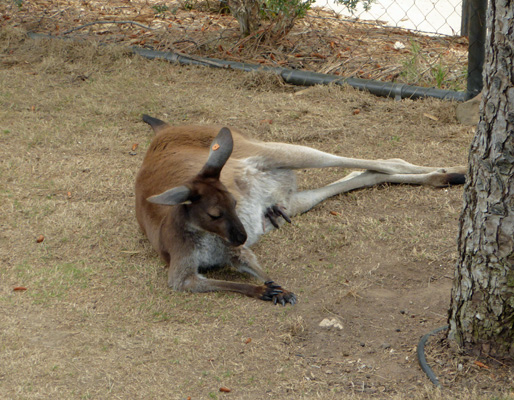 There was a small mob of kangaroos gathered down near the water and they hopped back and forth a lot.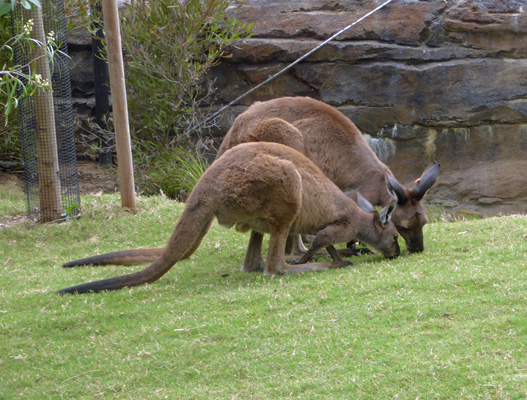 We continued on through the exhibit. There were Australian Proteas in bloom.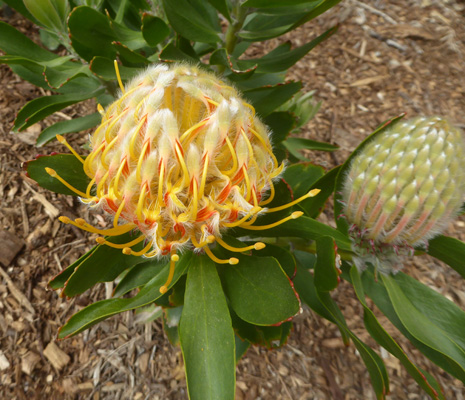 And there were White-headed Shelducks in one of the water features.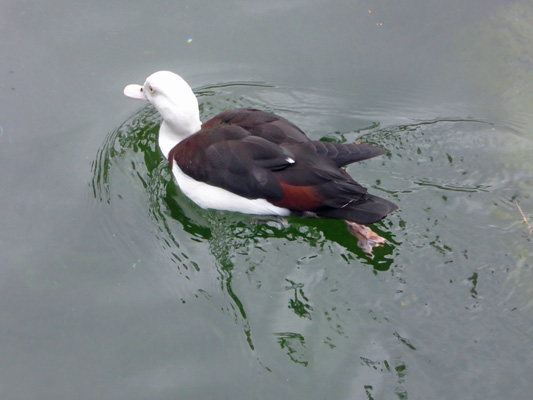 There was a Matschie's Tree Kangaroo snoozing in a tree.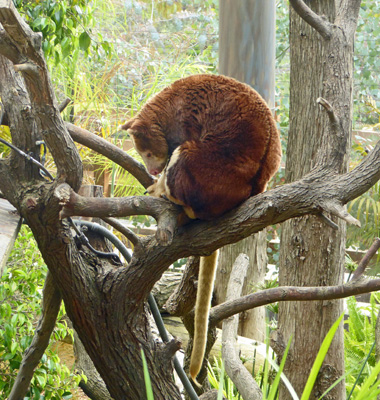 And on our way back out we saw yet another mama kangaroo with a roo hanging out of her pouch. This little guy was eating grass as mom hopped along.
This new exhibit is lots of fun and definitely worth the hike up the hill.
We picked up Walter and I stopped to take one more photo of the big bronze white rhino that nearly every kid who visits here has to climb on.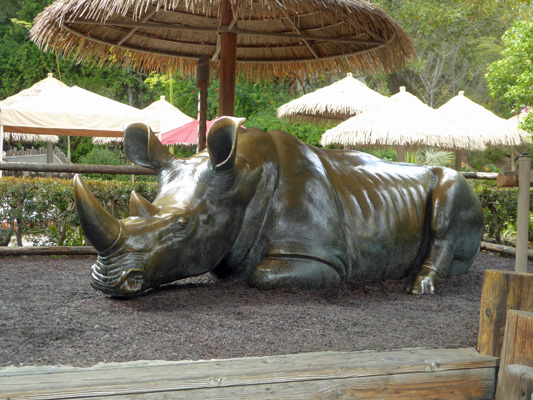 It was an all around great day and we had a great time as usual visiting Tracy.
The next morning we had a conundrum. Check-out time at Santee Lakes was noon but we knew from past experience that we couldn't check in at our next stop, South Carlsbad State Beach, until 2 pm. And it's only about a 40 minute drive. So we hung out at our campsite until check-out time and then motored down along the lakes until we found a string of open parking spots and parked and hung out for an hour. It was breezy so it wasn't real comfortable sitting out along the lake but I did go out and take a shot of Lake Number 3.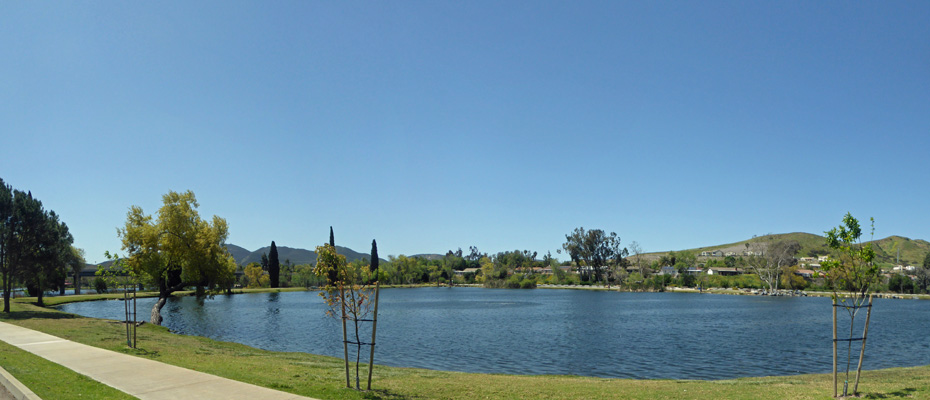 At about 1:30 we motored north on I-5 to the town of Carlsbad and then over to the coast to our ocean view campsite at South Carlsbad State Beach. We spent two days at Carlsbad and along with the beach we visited the Flower Fields full of blooming ranunculus. That means I took LOTS of photos. So I'm going to cut this missive off here and send a separate report on our adventures in Carlsbad!