On Thursday May 9th, we packed up at Hovenweep National Monument in Utah near the border with Colorado. On the good advice of a ranger we headed east on Highway 413 (which becomes Hwy 10 in Colorado). This took us through farmland that borders the Canyons of the Ancients National Monument. This Monument holds lots of Ancestral Puebloan ruins, most of which haven't been excavated or stabilized. There's one ruin you can visit but it is out a dirt road and after the rain the day before we weren't interested in taking the trailer on it. We gave up taking the trailer on dirt roads a few years back because they tend to be too hard on it (shake, rattle, rattle) but add to it something that might be slick and it was a total no.
Hwy 10 heads to the town of Pleasant View where we picked up US Hwy 491 north. That took us northwest back into Utah where we picked up US Hwy 191 again and turned north to the town of Moab. We visited Moab 25 years ago when it was a sleepy little town that was just starting to get a reputation as a mecca for jeep tours. Now it has turned into a major destination for ATVs, Jeeps, mountain bikes and rock climbers. It's crazy busy in the spring. I had made our reservations in December and couldn't get a spot anywhere for a full week. So we stayed 4 days in an overflow spot (just water and electricity, no sewer) at the OK RV Park just south of town and then moved to Archview RV Resort north of town for 3 more days. Our spot at OK RV Park was very serviceable and their WiFi worked well too.
Friday May 10th, we took the day to do grocery shopping and laundry. Grocery shopping at the City Market was a real experience. First, the market was FULL of people, many of whom were single males roaming the store looking at everything and juggling armloads of things because they didn't have carts. Second, the market was super understaffed. It turns out that the cost of living is so high in Moab now that they're having trouble finding anyone who will stay in jobs at the market. This is a Kroger-owned store so they're union and they pay decently. They had 47 job openings! Our checker had driven from Grand Junction, CO to work that day. It's an 90 minute drive each way. We managed to find everything we needed but I definitely felt a bit frazzled after doing the scavenger hunt in a store so full of people with no one much to ask where anything was.
The weather was cool and we had some rain (which is why we picked Friday as our day off) but it got steadily dryer and warmer as the days went on. Saturday May 11, we began our exploration of Canyonlands National Park. Canyonlands has 2 easily accessible areas, The Needles and Island in the Sky, and 2 hard to access areas, The Maze and The Rivers. For our first day, we drove south on Highway 191 to visit The Needles. The turn-off to The Needles is 40 miles south of Moab (then you drive another 37 miles west to the park). Along the way you pass, Wilson Arch which is on the east side of the highway. We stopped and I took a photo even though it was into the sun.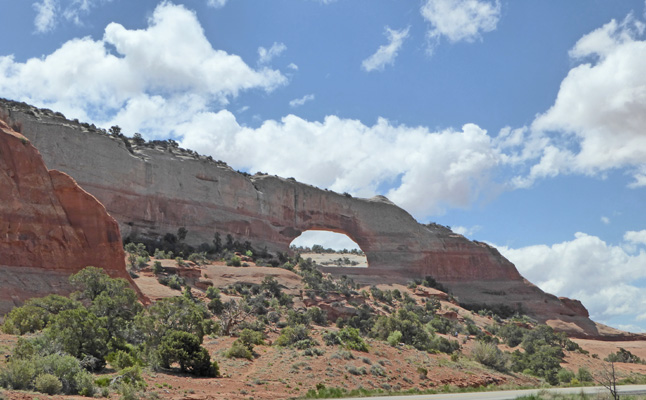 After 40 miles we turned west on Hwy 211 which takes you through part of the area that was designated as Bears Ears National Monument in 2016 but has since been shrunk and divided into two separate monuments. This part is administered by the BLM and includes an area called Newspaper Rock, which has an amazing number of petroglyphs all crowded onto a small area of rock. We pulled into the parking area there to find only a couple of other cars and a lovely view to the north.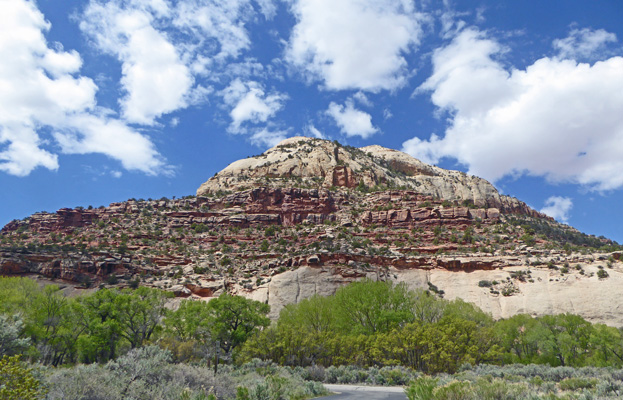 We took the short path to Newspaper Rock itself.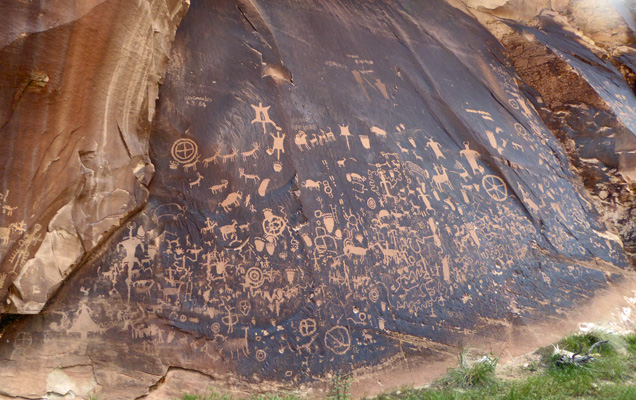 You could spend all day examining each section of this amazing collection of petroglyphs.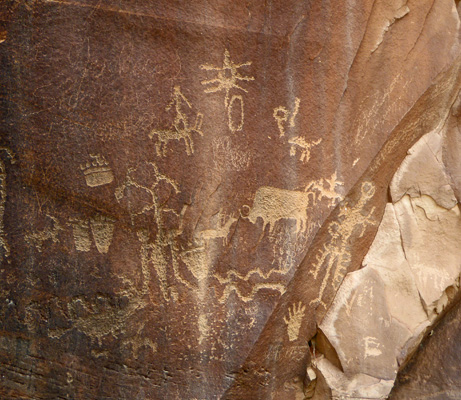 There are hands and feet and men on horses and a critter that looks like a buffalo but might be a beef cattle.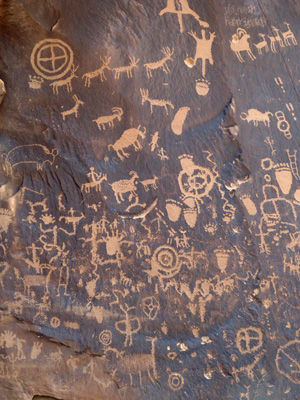 There are deer and mountain bighorn sheep, more feet and some interesting odd critters too.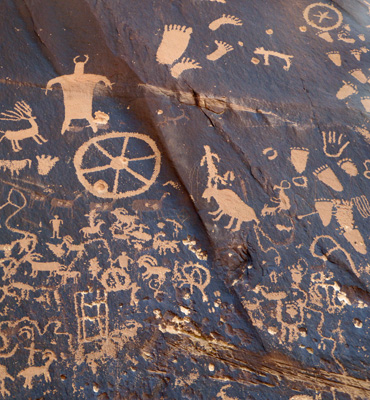 Don't forget the handprints, and the big Gods, and wheels—and more bighorn sheep.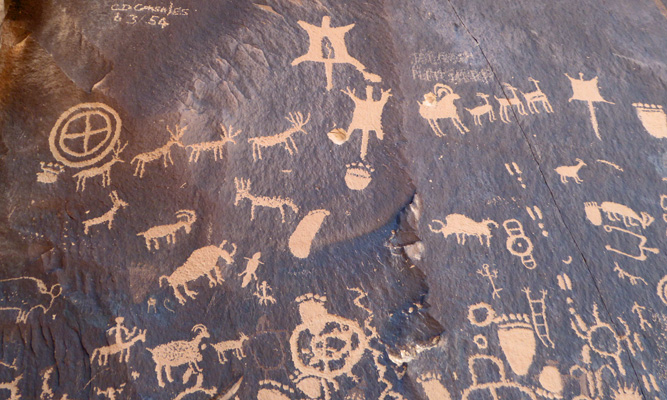 And more and more critters. Do you suppose one went out on a great hunt and when you were done you made the pilgrimage to Newspaper Rock to record your great achievements?
Along with all these great petroglyphs there were Firecracker Penstemon (Penstemon eatonii) in bloom too.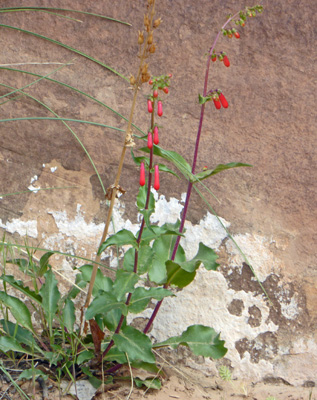 We drove on west and began to get a taste of why this area is both a National Monument and a National Park. There are towering cliffs.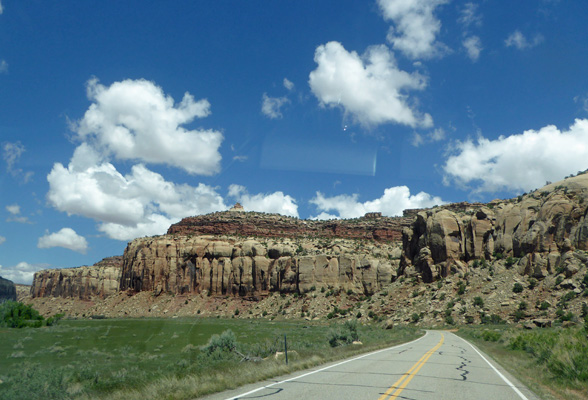 And there are interesting formations.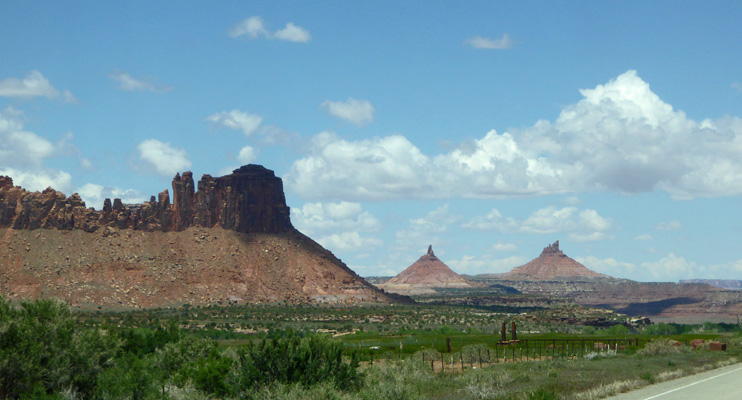 There were swathes of phacelia in bloom.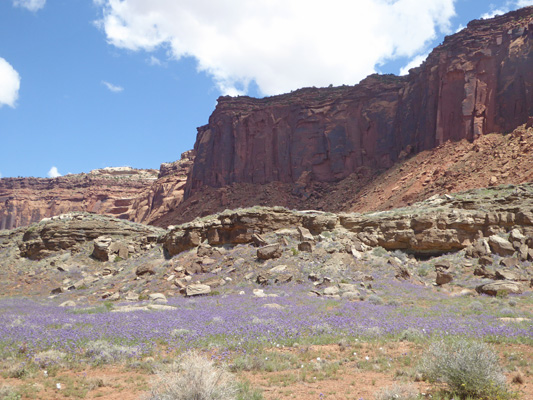 And then we began to see the beginnings of The Needles, the formations that this area of the park is named for off in the distance.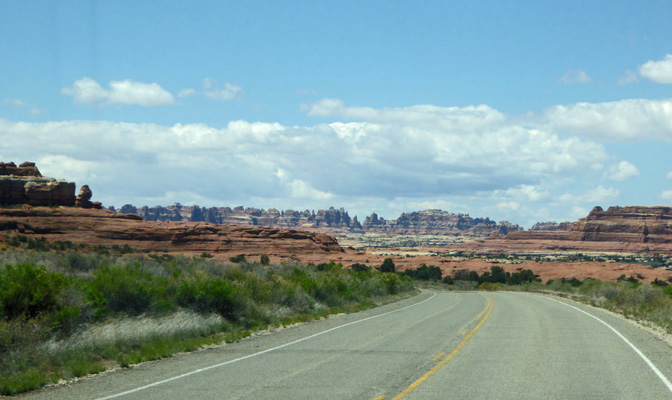 We stopped at the Visitor Center and watched their movie (which covers the whole park) and got the map and guide for the park.
There were Tufted Evening-primrose (Oenothera cespitosa) in bloom in the parking lot area.
And I had my first siting of Mountain Pepperweed (Lepidium montanum) which was in bloom in front of the Visitor's Center. In small clumps it looks just like Sweet Alyssum.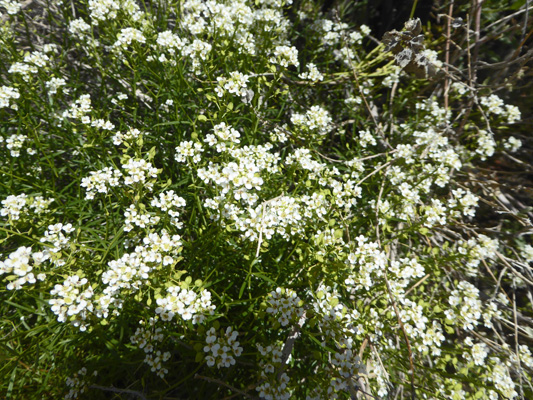 From the Visitor's Center we headed out the park road towards the Big Spring Canyon Overlook. On the way we passed cliffs with cool hoodoos.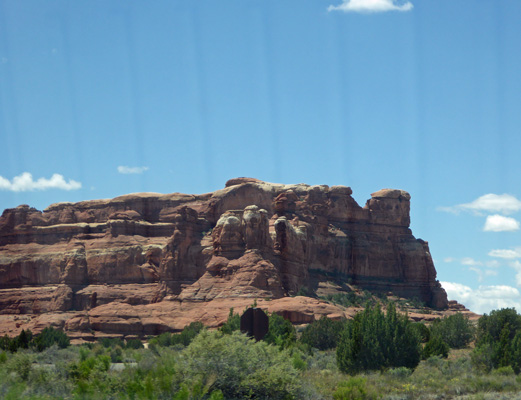 From time to time we'd get a great view of the La Sal Mountains to the northeast.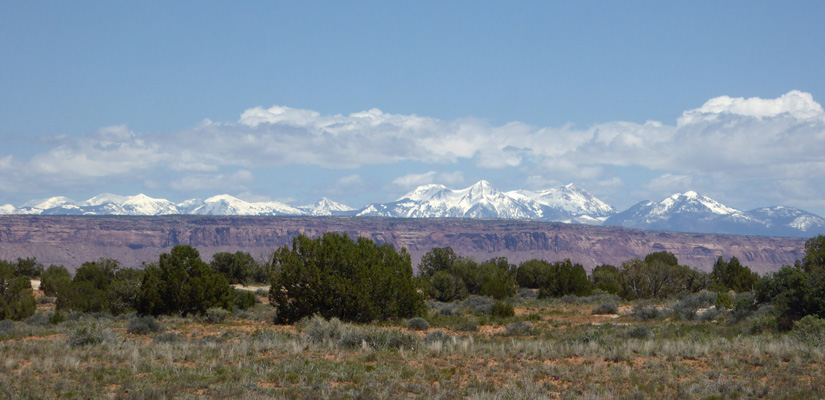 This section of the park is filled with all sorts of nifty formations. These are known as mushrooms.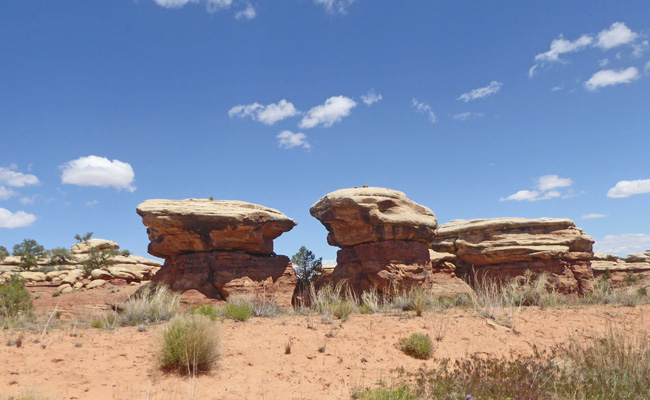 As are these.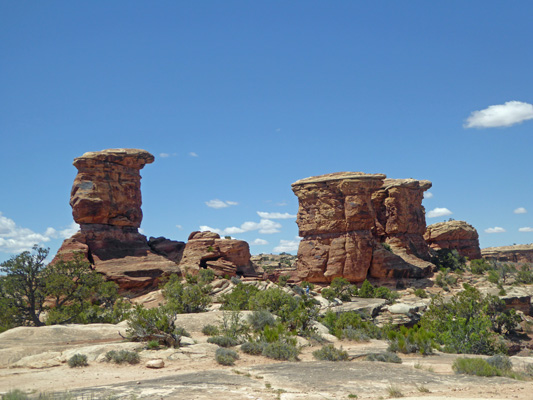 The parking area at Big Spring Canyon was nearly full. In addition to the overlook, there's a trailhead for the Slickrock Trail. I think we hiked this trail back 25 years ago. But this time I just got out and explored the views of the canyon.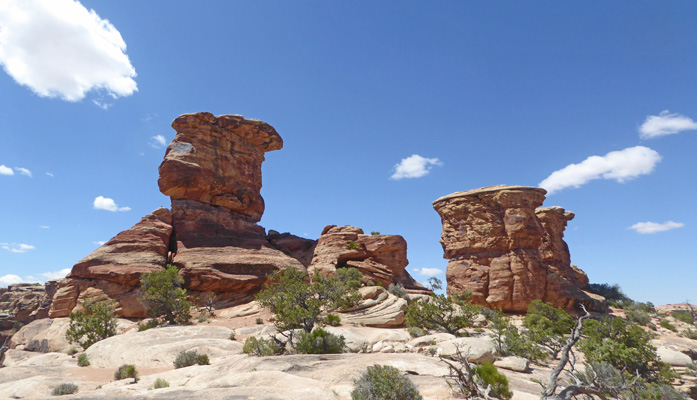 Along the way I saw a lot of nice flowers, including Notch-leaved Phacelia (Phacelia crenulata).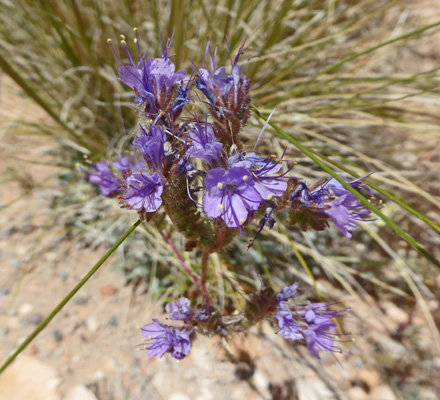 Stemless Hymenoxys (Tetraneuris acaulis)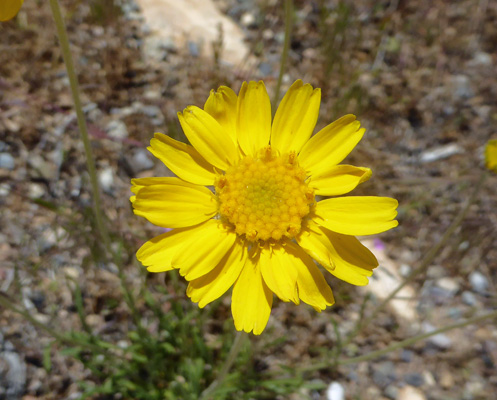 Blackbrush (Coleogyne ramosissima)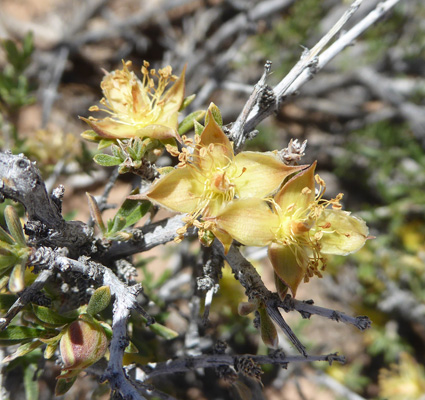 And of course, Desert Paintbrush (Castilleja chromosa).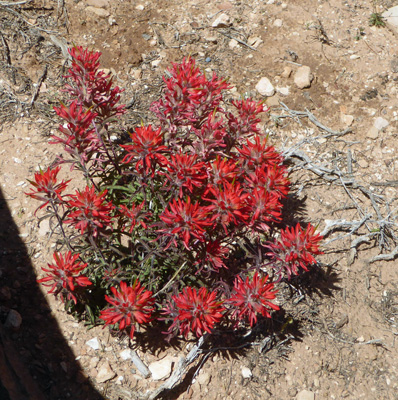 Here's a panorama of the canyon looking to the east.

And this is to the north.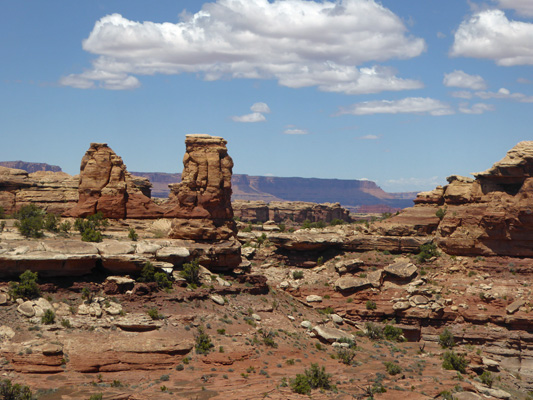 On my way back to the truck, I managed to get a photo of one of several lizards I saw along the way. Their coloring is perfect camouflage on these rocks.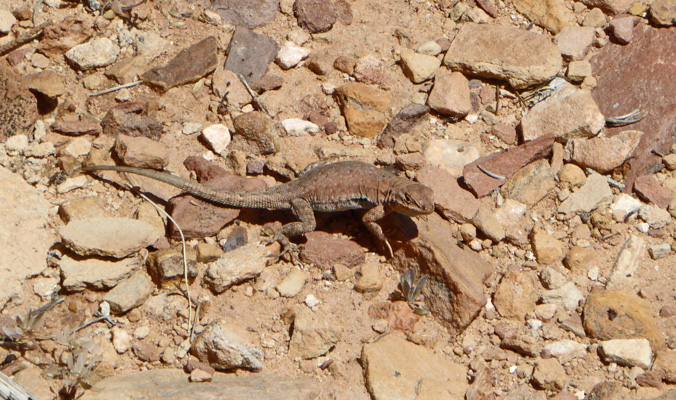 I stopped to take a photo of the canyon looking west. I just love all the mushrooms.

On our way back along the park road I managed to get another shot of the La Sal Mountains peaking up from behind the red mesas.

We stopped for lunch at a picnic area and this raven landed right next to us.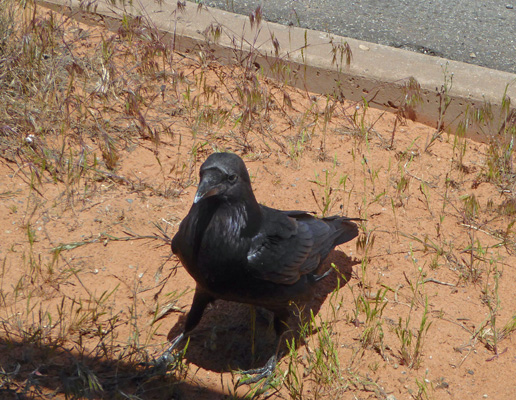 And then hopped up onto the bench and then the table and gave us the eye.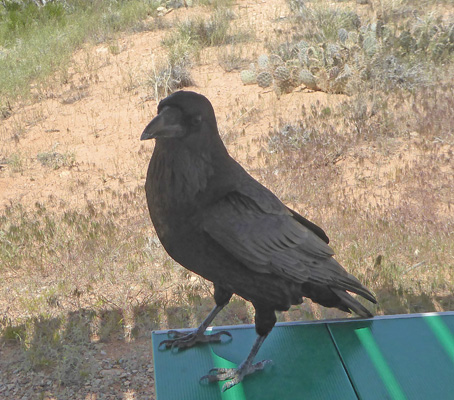 Clearly he knew what people sitting at picnic tables were good for.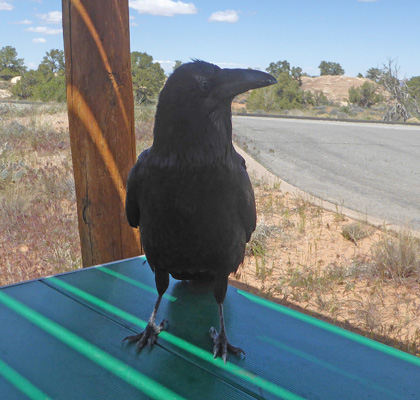 A British tourist with his little boy came up and took pictures of him and he just kept on posing.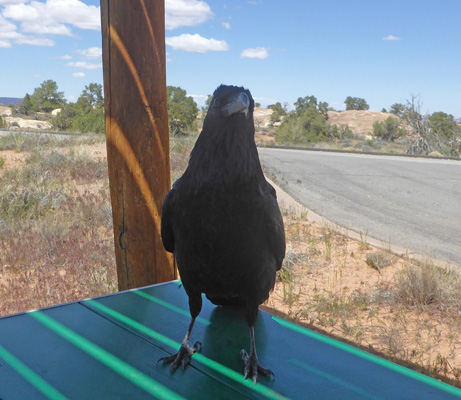 When they started to leave he flew over to their picnic table and then finally flew off.
After lunch I took a walk among the pothole formations behind the picnic area. Only one of them had any water in them and there wasn't much in it. But there were flowers in bloom on the rocks.
There were Kingcup Cactus (Echinocereus triglochidiatus)
Smallflower Fishhook Cactus (Sclerocactus parviflorus)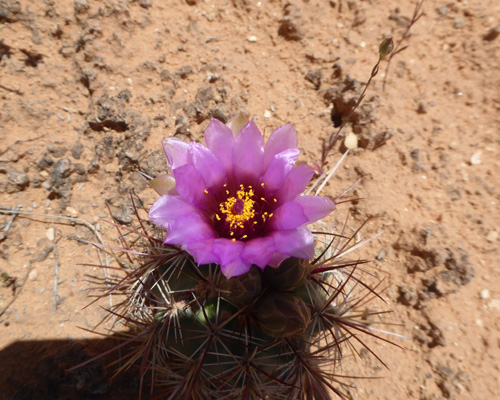 And lots of lovely Tall Mountain Larkspur (Delphinium scaposum).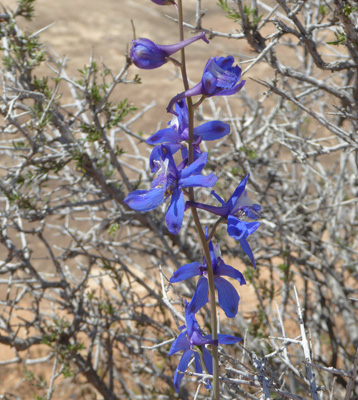 After lunch we went in search of a good place to get a look at The Needles formations that this section of the park is known for. First we tried the campground.

And then I surrendered and headed out the dirt road (yes another one but it was dry) to Elephant Hill. There's a nice overlook (before the road becomes rougher) where you can see The Needles pretty well.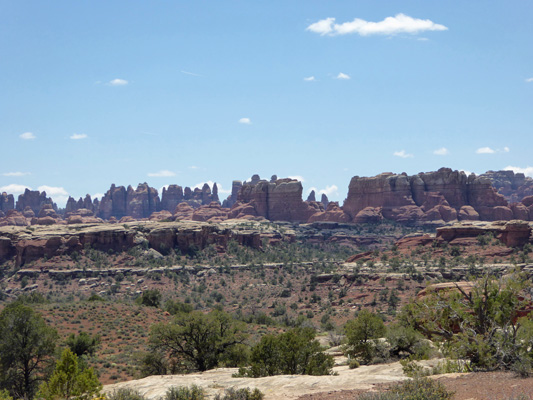 You can certainly understand why they are called needles.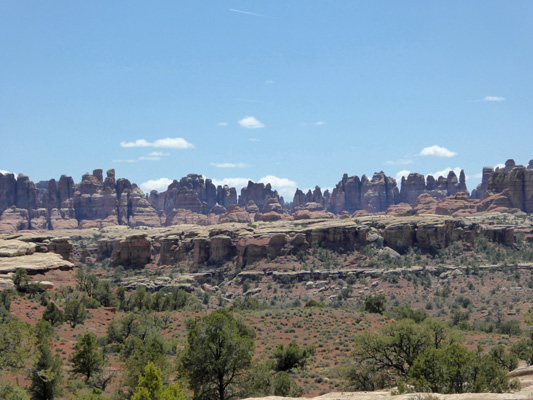 Here's a zoomed in shot to give you some detail.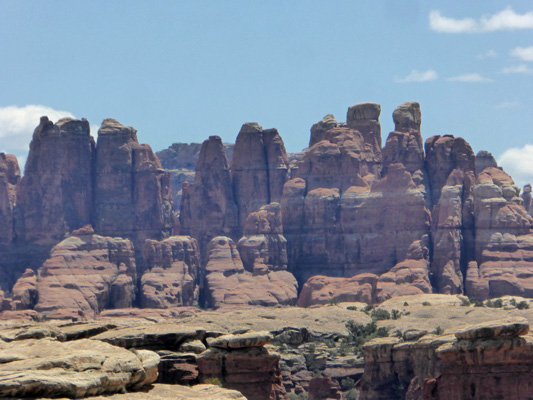 We drove out to the end of the road (having to pull over a number of times to let cars past who were leaving since the road was only a little wider than one lane). There are several parking areas out this way and most had clearly been full earlier in the day since folks were parked along the road for quite a ways. And a couple was stuck in the sand in their little sedan that they'd pulled too far off the road. (They got out okay because they were gone when we came back).
Here's the view from the parking area.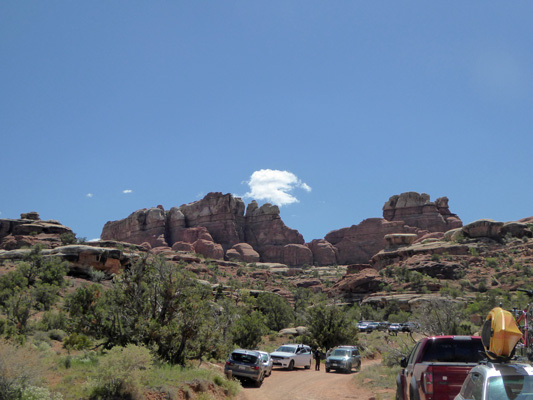 As you can see, there were cars all over the place. Canyonlands is a big back country hiking place. And this trailhead is one of the farthest into the park to start from. It was Saturday and clearly folks were out having fun.
The mushrooms here were pretty good in addition to the needles.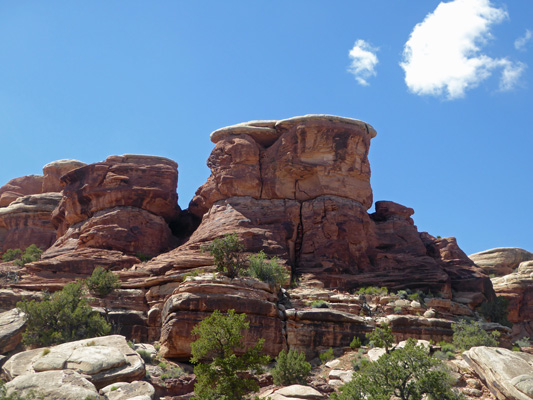 There was a nice Stansbury's Cliffrose (Purshia stansburyana) in bloom next to the parking area.
One of the great benefits of having to pull over to let folks get past (there were still lots of folks driving in even though it was now after 3) is that I got a chance to take photos even though I as driving.
I view these to be flat capped mushroom.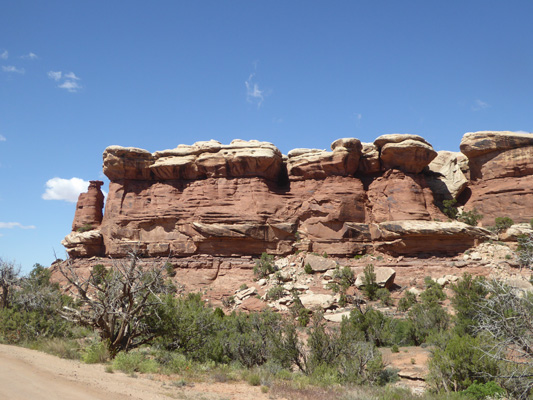 While these are round-topped mushrooms.

And when the mushroom cap has eroded away you get a needle—or a hoodoo if you prefer.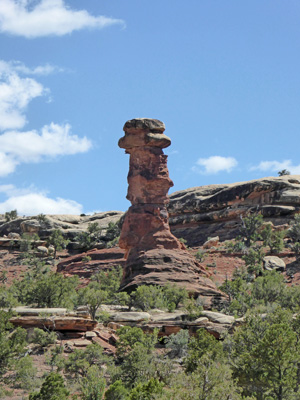 On our way back out of the park we stopped at the Wooden Shoe Arch Overlook.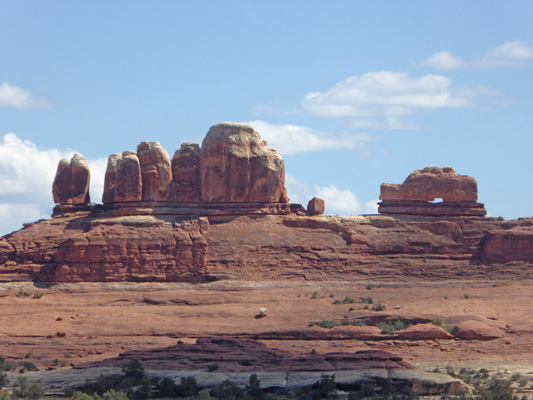 And in this case, you get two kinds of arches in one: a shoe and an rock formation.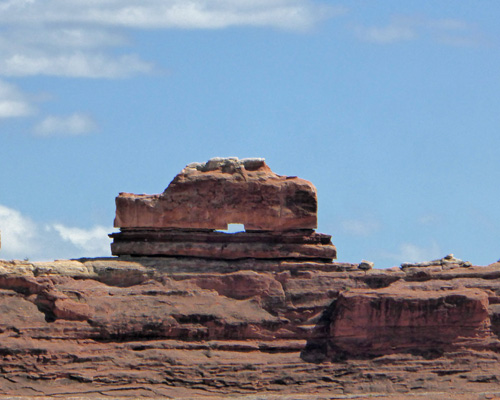 The view off to the east from the overlook was pretty so I had to take a photo.

We drove on and I stopped now and then to capture the views heading east.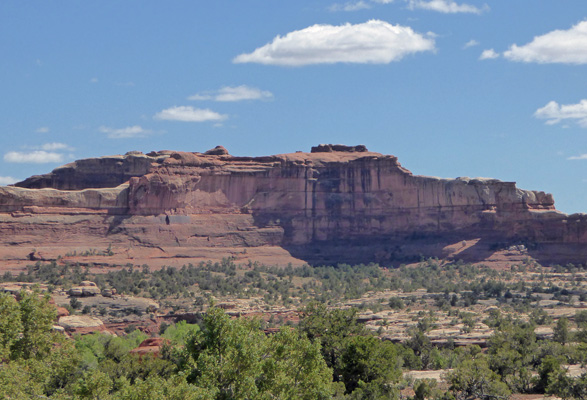 The colors are marvelous. And if you look carefully in the cliff face you can see alcoves eroding in the same way that forms arches.

Here you can see the kind of rocks that become needles when the upper layer erodes away.
I stopped for this shot just because it was stunning.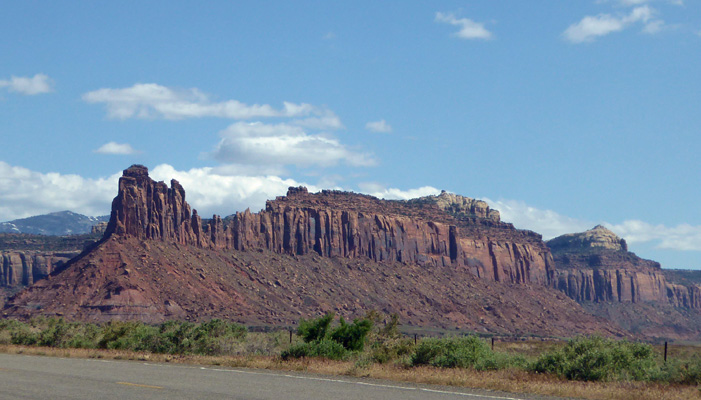 When we had driven the 37 miles back to the main highway (Hwy 191) I turned south for just a short distance because I wanted to take a photo of this rock formation that reminds me of a stupa.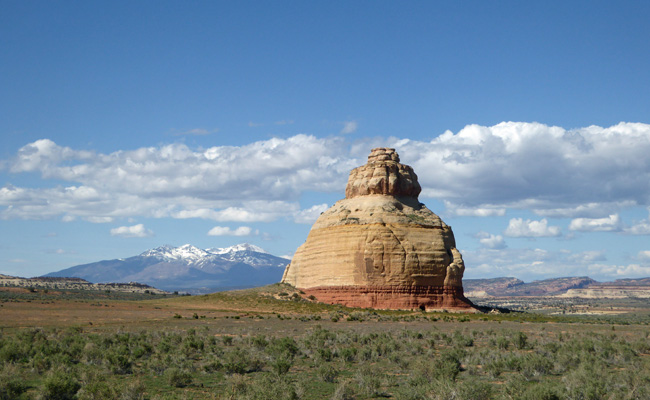 From this angle it looks pretty round but from just a ways up the road you can tell it's oblong. There is what looks like a doorway cut into the base. And I just love the way it looks with the snowy mountains behind it.
Sunday May 12th, we decided to explore some areas just north of Moab. This meant driving through Moab which had heavy traffic since it was Sunday and folks were headed home after spending the weekend playing. Once we made it through downtown and the bottleneck where the highway loses a lane things opened up. Then we headed west on Hwy 279 following the Colorado River as it winds its way toward the main body of Canyonlands.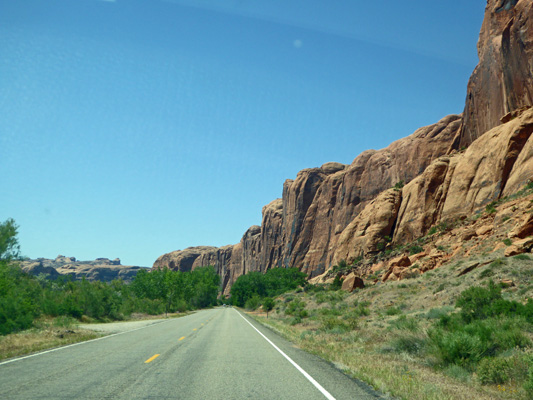 We had read that there were petroglyphs in this area and sure enough just opposite a little sign that said Petroglyphs there they were WAY UP on the canyon wall.
The sun was really bright and I had to use my zoom lens to photograph them but there were some real nice ones.
Here's a bighorn sheep.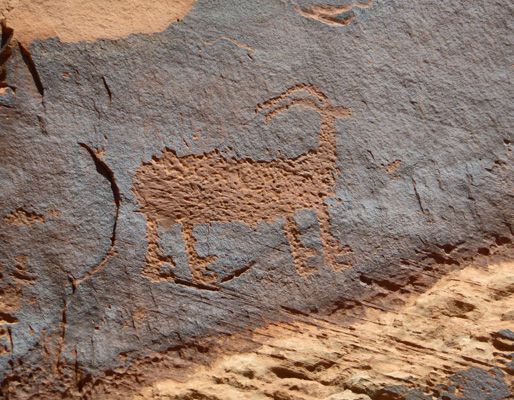 And here are a row of dancers and some kind of 4-legged critter deeply incised into the rock face.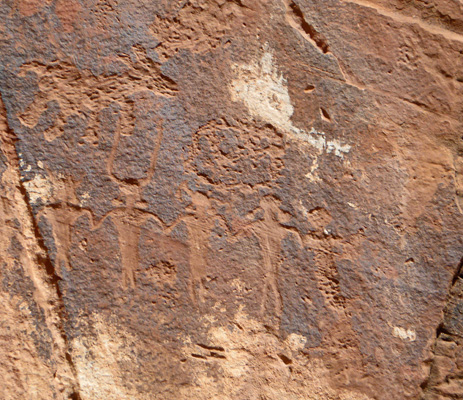 There was some Sacred Datura (Datura wrightii) just finishing up blooming. They get these huge white trumpet flowers.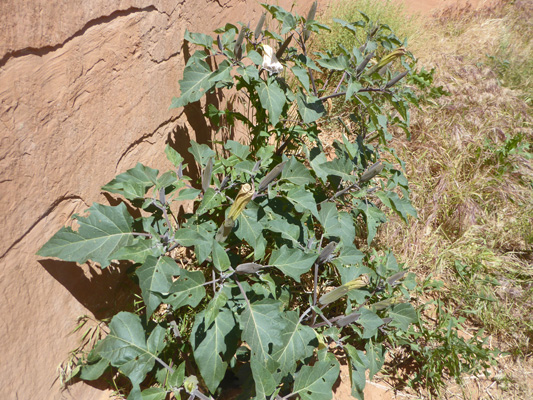 I love this dancer with the horns with his hands hanging down from his elbows.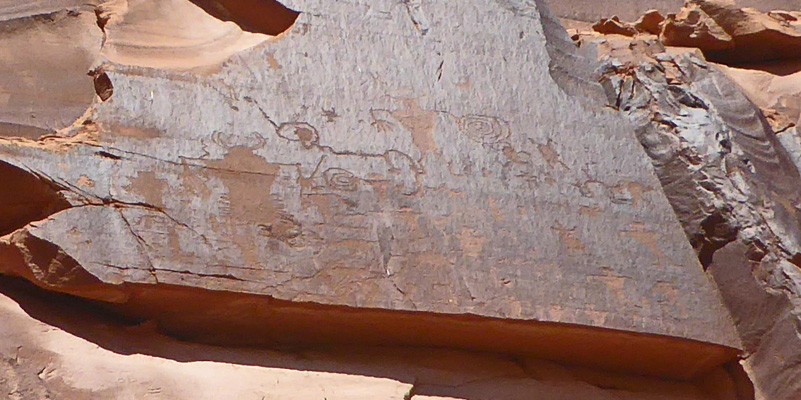 And these guys either have drums or shields in their hands.
I'm not sure whether these are more bighorn sheep or some sort of antelope.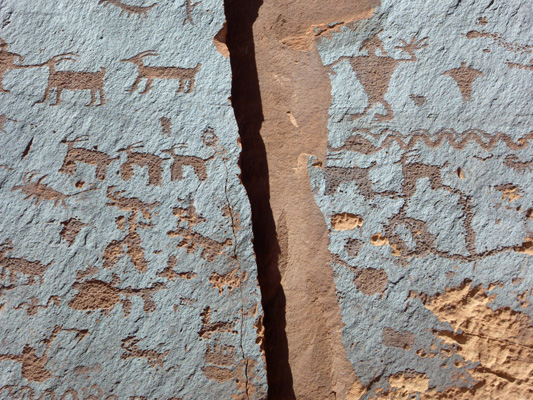 I've never seen lined structures like these. Or things that look like bugs either.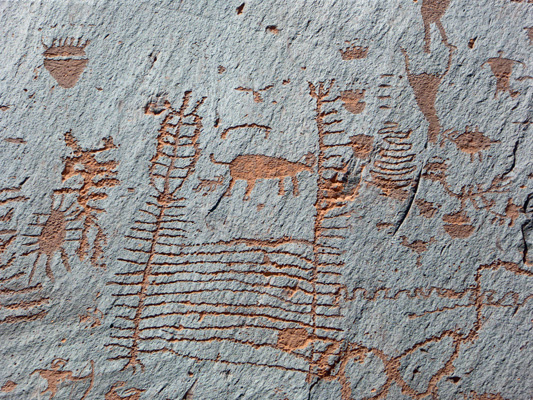 These guys look like centipedes but who knows what they really represent.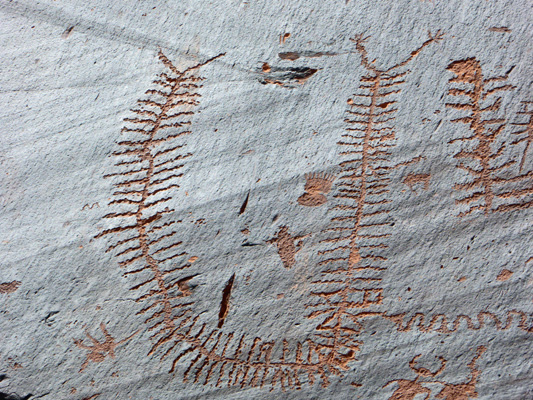 The thing that was mysterious about these petroglyphs was that they were 15 or 20 feet up the side of a smooth cliff face. The only thing that I could imagine happening is that the river had eroded away the ground level in the 700 plus years since they were made and now they were very high and dry rather than easily within reach.
Across from the cliff the mighty Colorado River flowed by some interesting rock formations on the other side. This is BLM land and there were small campgrounds on both sides of the river and we heard jeeps and ATVs going by on the road on the other side.

We followed the river all the way to Potash where there's a potash plant. The road continues on as a single track dirt road out to a boat ramp but we took a pass on that.
Here's a view from the drive down river.

There were Prince's Plumes (Stanleya pinnata) in bloom along the way.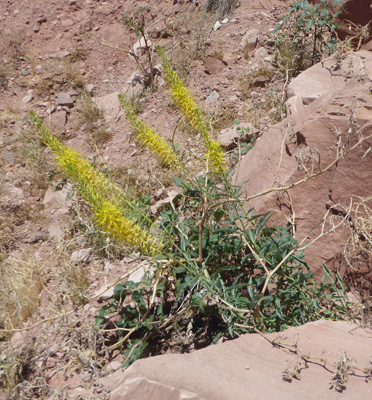 And Red-domed Blanketflower (Gaillardia pinnatifida) in bloom in pretty big patches.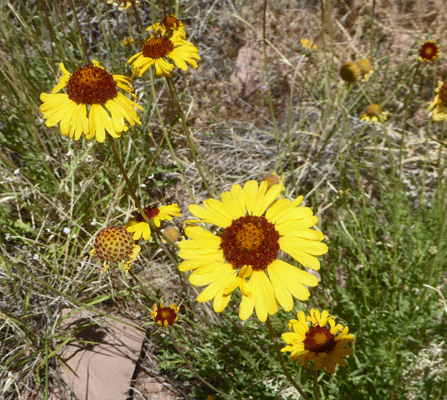 There was a big patch of Plains Prickly Pear (Opuntia polyacantha) covered with flowers.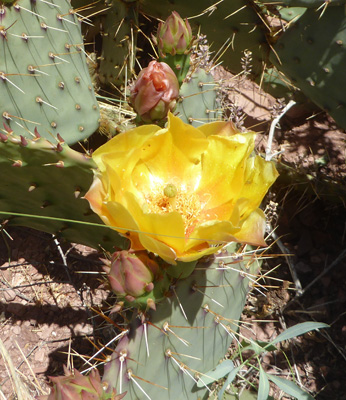 On our way back, I grabbed a photo of the rocky cliffs as we drove along.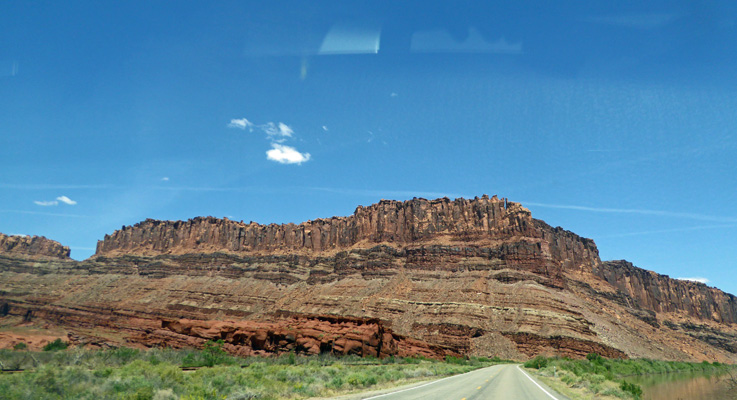 And then with some difficulty we found Jug Handle Arch which you could only see from one little turn-out in the road.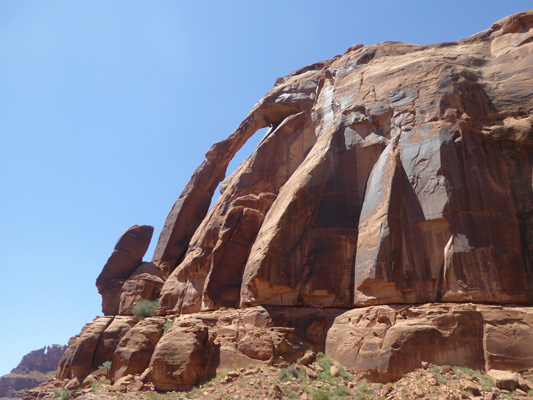 As we drove past the sheer cliffs in the petroglyph area, Walter drove slowly so I could photograph the rock climbers on the cliffs.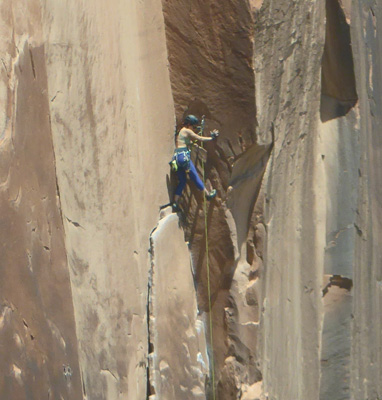 There were tons of them including some little kids. It looked like this guy was going to lean all the way out into the road as he tended the ropes. When in fact, he was actually sitting on a canvas chair while someone else climbed.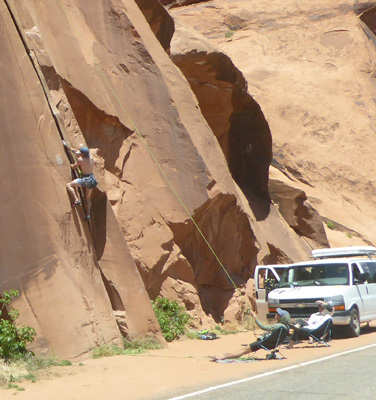 There were masses of Scarlet Globemallow (Sphaeralcea coccinea) in bloom along the side of the road.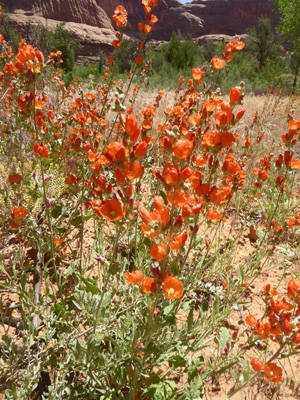 Once we were back on Hwy 191 we went south just a little bit and turned east on Hwy 128 which follows the Colorado River through canyons and open country until the highway reaches I-70 to the north.
To start it winds under the cliffs with the river on one side and the rocks on the other.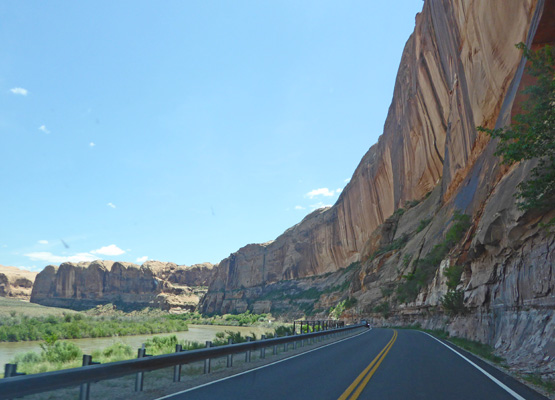 Things open a bit and the cliffs turn to mesas.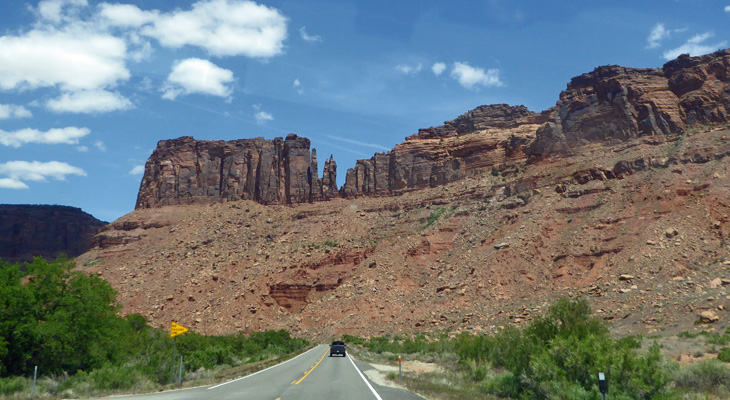 And the highway weaves between them.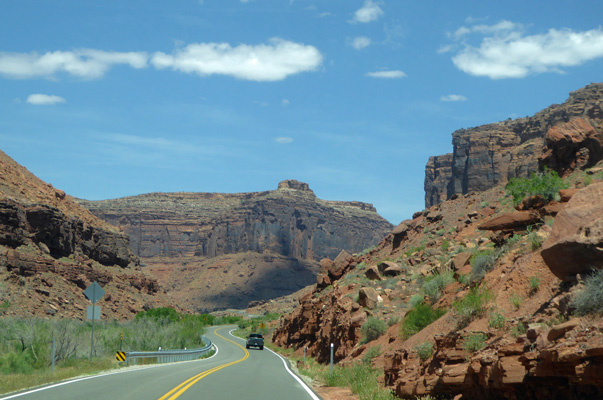 Things opened up again and we could see folks taking a break on a sandbar from rafting on the river.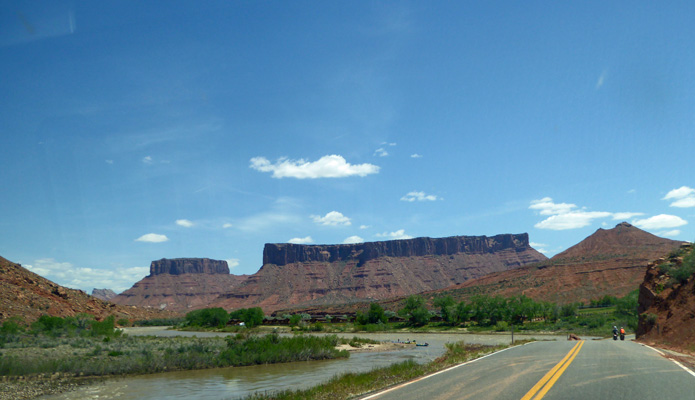 What you can't see them? Well here they are. The buildings in the background were a dude ranch. There are also lots of BLM campgrounds through this section right down along the river. Most of them appeared to be full even on a Sunday afternoon.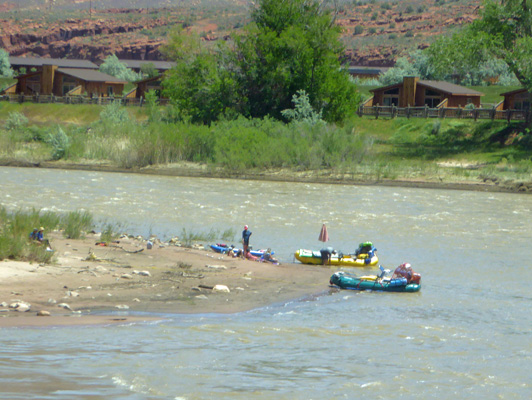 There were lots of people out on the river and we even saw a few getting ready to go down in inner tubes. I suspect that they didn't last long because the water should have been pretty cold still and it wasn't that hot yet.
Next we came to the area I think of as Marlboro Country. Way back when this is where they used to shoot the Marlboro Man commercials.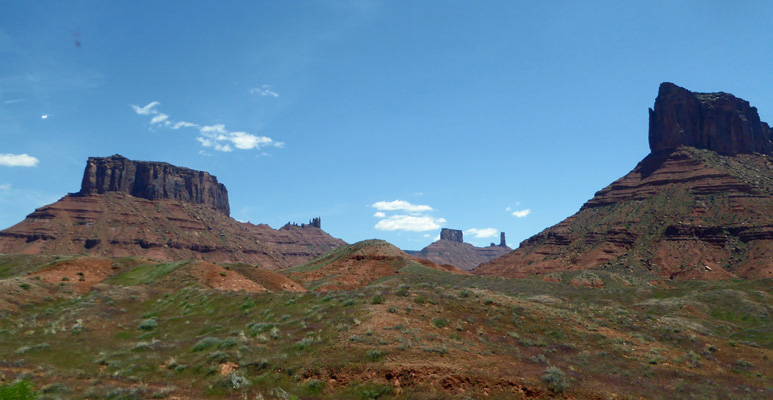 Maybe it looks more familiar this way.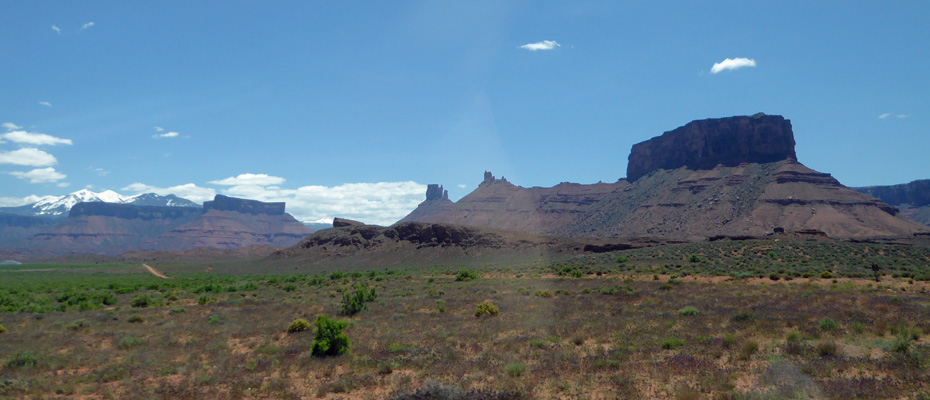 The road circles northward and just before you leave the red rock country you come to what is known as Fisher Towers. Folks take their ATVs and Jeeps out to explore through here.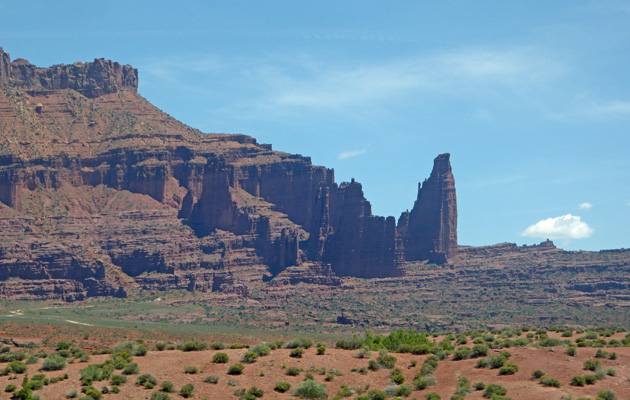 Just before you head up onto the plateau you pass these cool rock layers.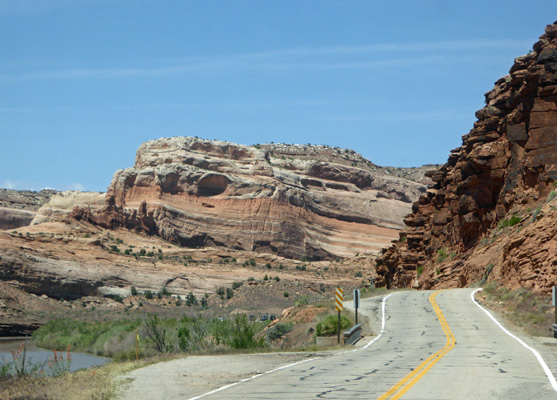 Up on the plateau it was open grassland with lots of flowers. There were Charming Woodyasters (Xylorhiza venusta).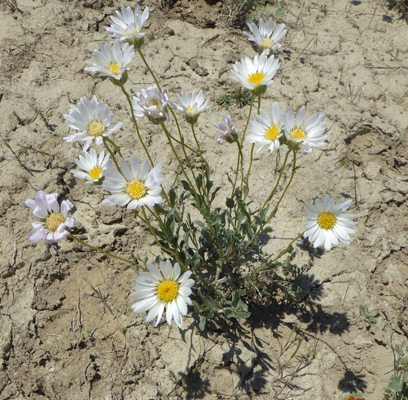 And oceans of Sego Lilies (Calochortus-nuttallii), this time mostly in pink.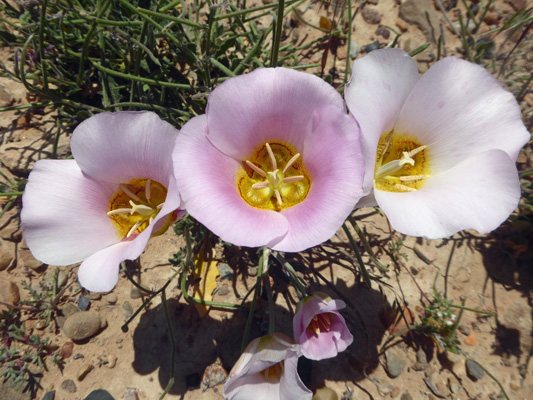 There was also a nice view of the La Sal Mountains from a new angle.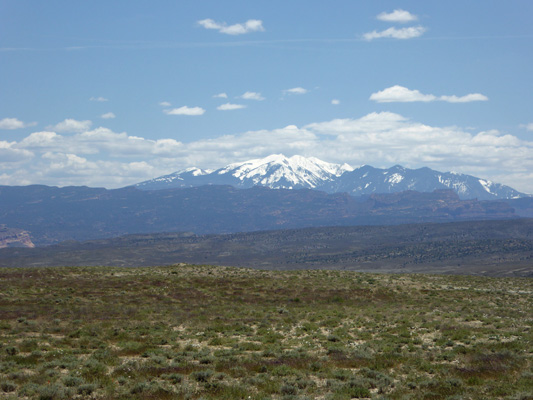 On Monday May 13th, we had to move from OK RV Park south of Moab to Archview RV Resort north of Moab. So we broke camp and were happy to find that the traffic through town on a Monday was nothing like it had been on Sunday. We set up camp at Archview where we had a marvelous view westward of the red mesas.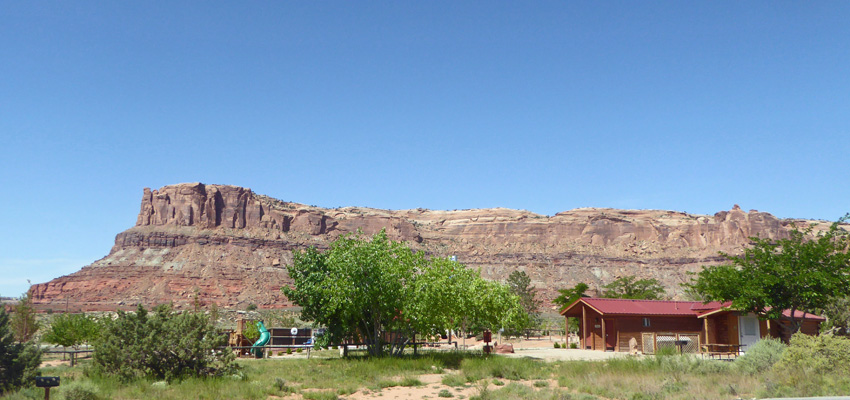 Late that afternoon we spent a couple of hours exploring part of Arches National Park which is just down the road from Archview. Then the next day we spent a day exploring the Island in the Sky portion of Canyonlands. Our last day in the Moab area we spent exploring the other half of Arches.