It's been a full month here at Rancho Resort in Sahuarita AZ. We arrived home on November 1st. Everything was safe and sound except of course for the tree that had fallen back on Labor Weekend and had had to be removed. The front yard looks different now but it isn't naked at least.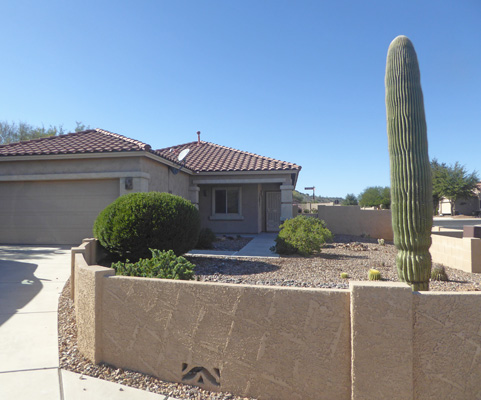 All those plants that I put in last winter and spring not only survived but thrived especially in the back yard. Here's what they looked like upon arrival.

And here's what they all looked like back when all the planting on the patio level was done back last December. The totem pole cacti have doubled in height. And everything else has gotten much much bushier.
And here's what the new shrubs I planted in March looked like.

Those little shrubs have REALLY taken off. They are at least 4 times the size that they were when I planted them.
One of the totem pole cacti produced an off-shoot over the summer too.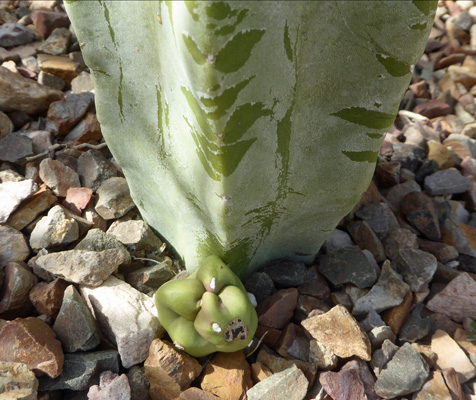 Mother Nature did some planting of her own while we were gone too. She added two mesquite trees which weren't there when we left on May 1st and are now pretty darned big.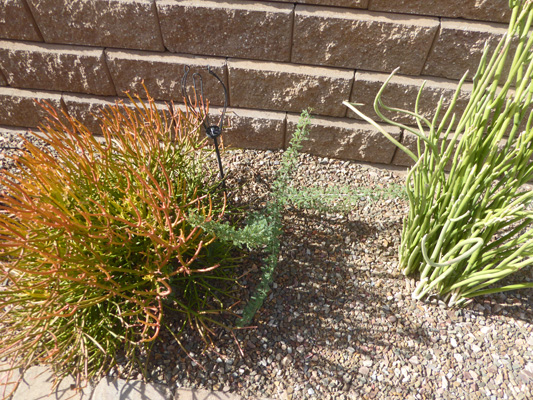 I went out with a shovel after the big rain we had the 3rd week in November and got both of them out. They have thorns so you have to be careful about just trying to yank them out by their very tenacious roots.
Here's the other one up by the shrubs. I mean really. There is no way I would have missed this when I weeded before we left. And now it was over 2 feet tall. Water plus sunshine equals GROWTH of natives around here.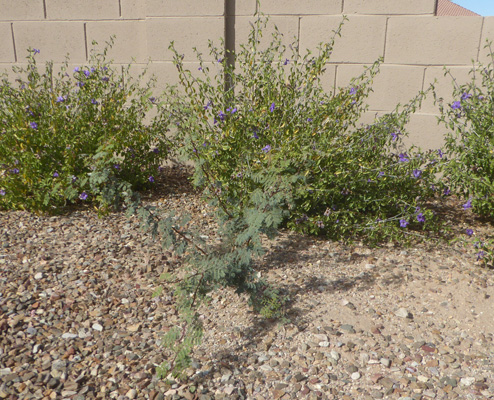 Last year the monsoon season had filled the pond to the brim. This year there hadn't been much rain (except for the big storm Labor Day weekend) so there was just a puddle of icky water in the bottom of the pond and lots of dried up algae.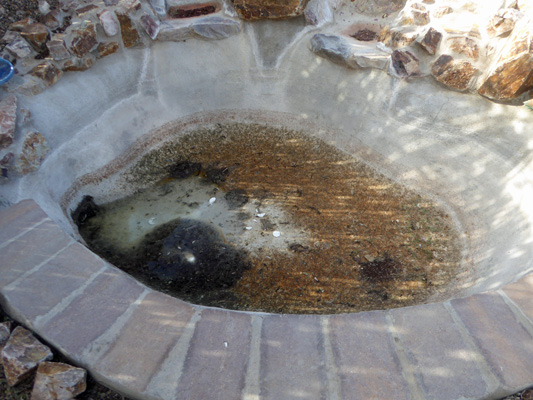 Our house sitter had tossed a couple of chlorine tabs in and that had killed some of the algae but the rest was pretty ugly. And there was dried red algae on all the steps of the waterfall.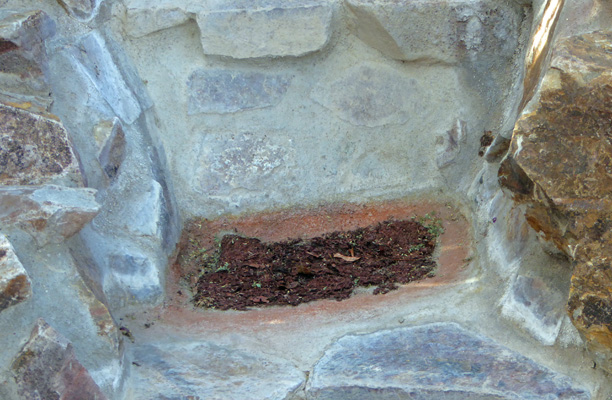 On Saturday I went to work fishing all the leaves and debris out of the pond. And the stirred up the water so I had a lovely green mess.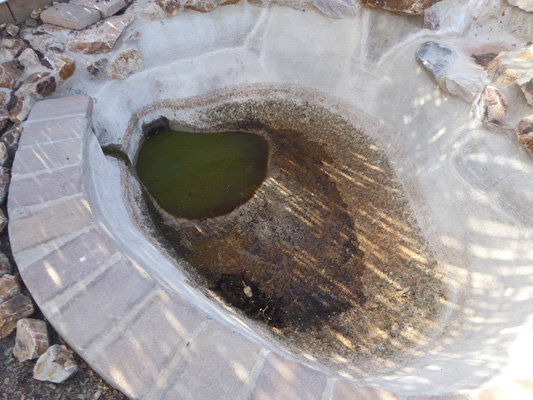 The mound building ants from the wash had also had a real fun time while were were gone and moved into the area just our side of the fence both in the front and the back.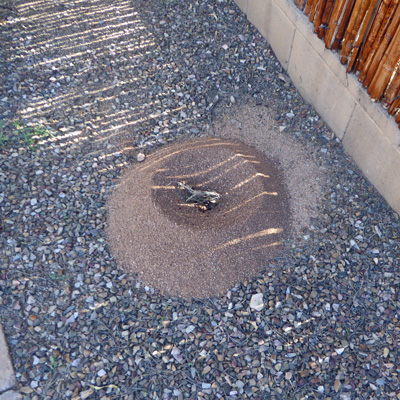 I tried washing the mounds away in the front and while it got rid of the mound it didn't get rid of the ants. The mounds out in the wash are HUGE so we just know we have to do our best to keep them from invading our lot as much as we can.
Sunday November 3rd, I managed to get the pond all cleaned out and refilled. But when I went to turn the valve that switches the water flow from emptying the pond to circulating the water through the waterfall it wouldn't rotate all the way. So I couldn't run the waterfall without some of the water still running out into the wash. I clambered around and took photos of the valve so I could do research.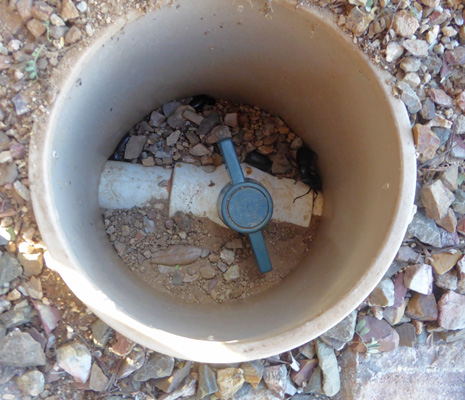 Yes, there were a whole family of black beetles living in the 6" pipe where you reach the valve which just creeped me out but didn't stop me. I tried using WD-40 on it, and while it made it feel not as stuck it still wouldn't move. But Walter came to the rescue and made me a super little tool that allows me to rotate the valve real easily—torque is a wonderful thing.
He took a length of 2" diameter pipe and cut a couple of notches in the bottom that would fit over the ears on the valve.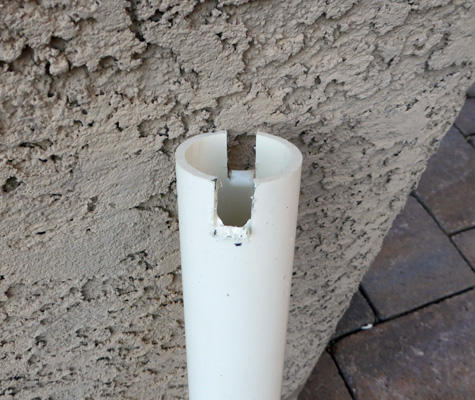 Then he drilled a couple of holes in the top and stuck a jumbo screwdriver through it for a handle.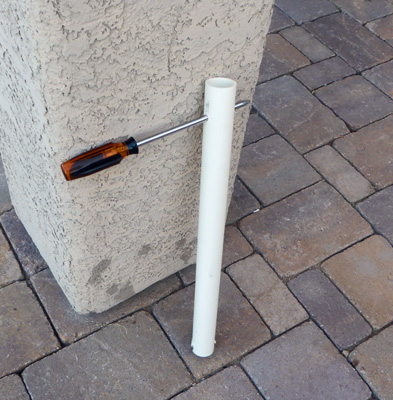 I slipped the notches over the handle of the valve, took a hold of the screwdriver and the valve moved to the open position and back into the closed position without a problem. Hip hip hooray for Walter. My hero. This is so much better than having to dig up around the valve and replace it. YES!
Wednesday November 6th, I began to work in earnest to do all that needed to be done to set up a new Rancho Resort Clay and Glass Club. That included cleaning out shelves and cupboards that hadn't been used for years and years so that they were filled with dusty jars of dried up glaze and odd bits and pieces along with catalogs from as early as 1998 and mostly from about 2006. Then I got to tackle the area out on the patio where the kiln is located which was mostly just dirty.
I discovered that all the kiln shelves needed desperately to be cleaned and sanded and have fresh kiln wash put on them (not surprising but they were in worse shape than I'd expected).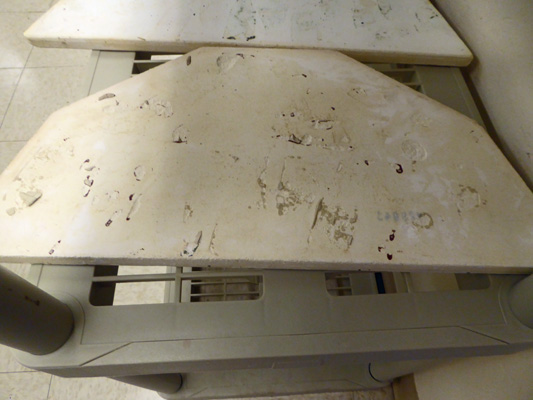 And that the kiln had some issues that would require a service call—My blowtorch skills aren't real good.
But we do have a nice full set of 'kiln furniture' and a cabinet to keep it in.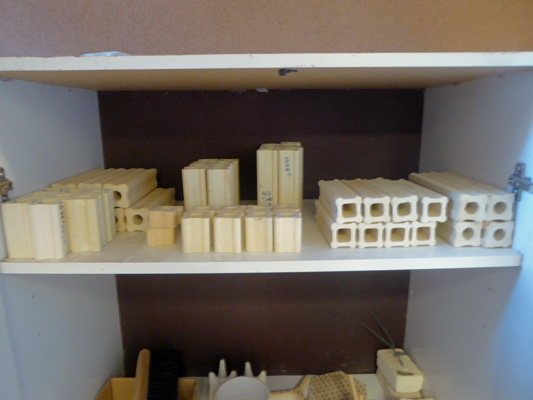 And we have an interesting collection of stilts which I hope never to have to use. Up at Juniper Ridge we are strongly discouraged from making things that need to be stilted and I am going to continue that policy since balancing things on stilts is not a whole lot of fun.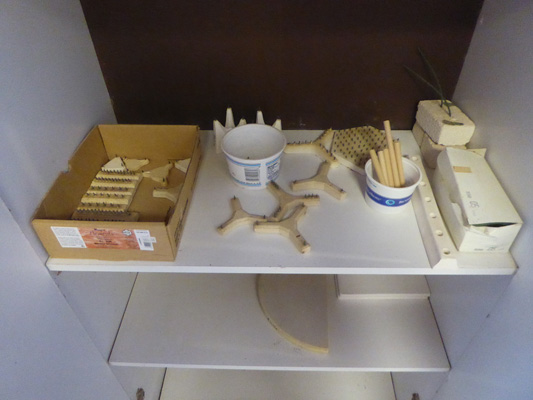 That evening, my reward for hard work was a pretty spectacular sunset complete with a rainbow off to the southeast.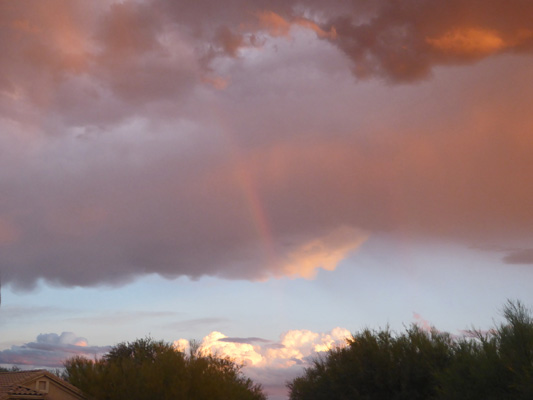 Overhead things were really intense looking.
If you look carefully between the two saguaros you can still see the rainbow.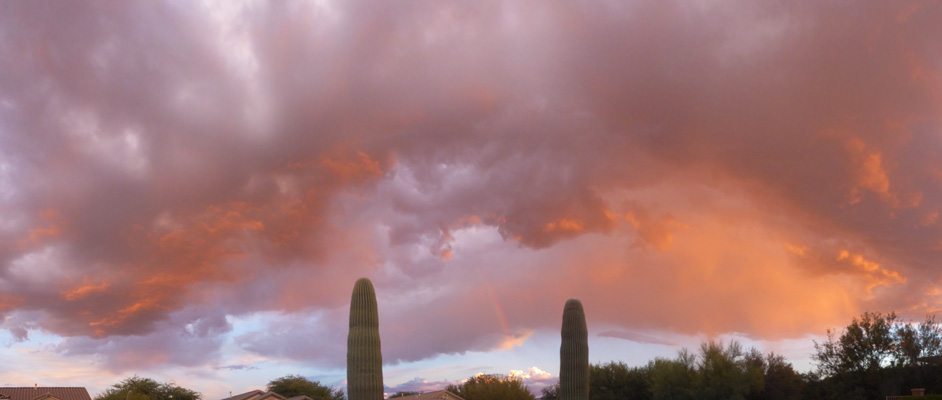 Off to the southwest there were these cool patterns where just the edges of the clouds were lit up with color.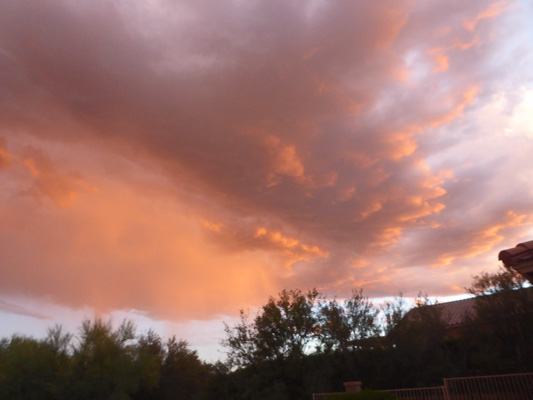 And back in the backyard it was just plain dramatic.

I spent Thursday figuring out what I was going to need to get off all the glaze that had dripped on the shelves (there's a nifty tool called a Rub or Rubbing Brick that did a great job and you can get it for about $15 at Home Depot). Then that evening we had yet another lovely sunset, this time off to the northwest.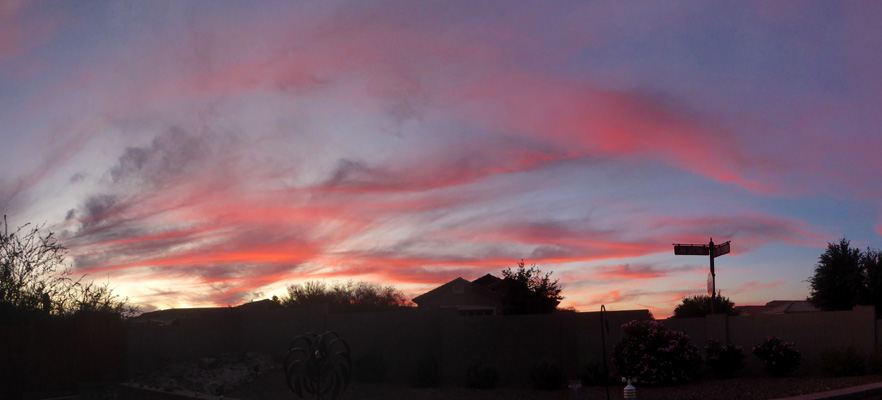 Monday November 11th, we had the organizing meeting for the new Clay and Glass Club. 6 people showed up which is more than enough to get started with and we spent our time trying to figure out how we could outfit the nearly empty space with the tools we'd need to play with clay given we had little or no money.
Then a few days later, we learned that the old Ceramics Club (which had run the kiln before us) had a huge treasury (over a thousand dollars) which they were passing on to us. Woo Hoo! So I spent the next week opening up a bank account (the money we were gifted was in cash), making trips to Home Depot and ordering things from Amazon to get us outfitted with canvas-covered boards, rolling pins, guide sticks and basic tools. The next meeting had a different mix of 6 people and we spent 4 hours talking about clay and how to work with it.
Yet another week passed, with more shopping and yet another mix of 6 people came to our third meeting and four folks actually rolled out clay and made stuff while I ran about answering questions and fetching tools and materials. We now have tools, clay, texturizing tools, glazes and brushes and are truly ready to roll. We're still waiting on the kiln being serviced but that's moving along and I'm sure that by early to mid-December it'll be ready for me to do my first test firing. The shelves are all sanded and have fresh kiln wash on them. We have witness cones and I'm ready to go when I get the okay.
By late in the week, the week before Thanksgiving, I could actually come up for air and start working in the yard again. Taking care of the back yard is really no big deal—I pulled a few dandelions and poof I was done. We had nearly 2" of rain in a series of storms earlier in the week and that allowed me to get those volunteer mesquites out without much of a battle. The roots from the fallen tree in the front yard have started to re-sprout (the stump is gone and what's left below the soil line is clearly rotten) so until I get them to give up their last gasps, I won't be planting anything new in that spot. I still need to blow the remaining leaves from the rocks in the front yard but that isn't a huge job either.
We finally got word from our Airstream repair guys on Tuesday November 26th, that the parts that they ordered to repair our dent (acquired at the Albuquerque Balloon Fiesta) had arrived and had passed inspection (it takes 6 weeks to get anything from the factory). So we're set up to take Genevieve in to be repaired the first week in December. This time it should only take a week instead of the 5 months it took last year (most of it waiting for parts).
Wednesday November 27th, we made the drive from Sahuarita up to Avondale (just west of Phoenix) to spend Thanksgiving with our niece, Amy, and her dad, Mike. We took the long route, though Gila Bend and only ran into a few minutes of traffic coming back east on I-10. Given how backed up I-10 heading west was, we clearly had made the right choice.
We had a great Thanksgiving Day and then on Friday November 29th, we drove to the Desert Botanical Garden over near Scottsdale. We'd had thunder storms with lots of heavy rain and wind in the night but the rain had stopped by the time we left home.
They were having an interesting and kind of weird art exhibit at the garden using 100% recycled plastic to make animals of all sorts and sizes in very primary colors. They started at the entry from the parking lot with frogs.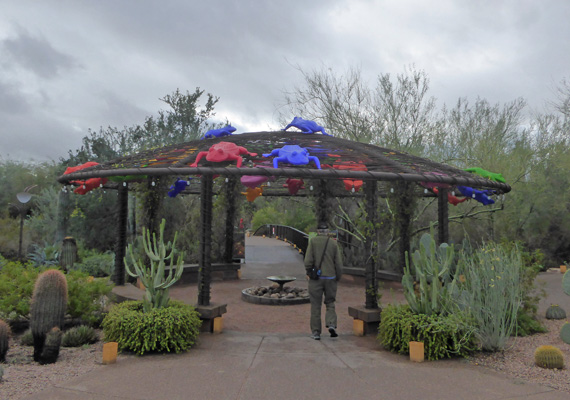 There were frogs on the roof.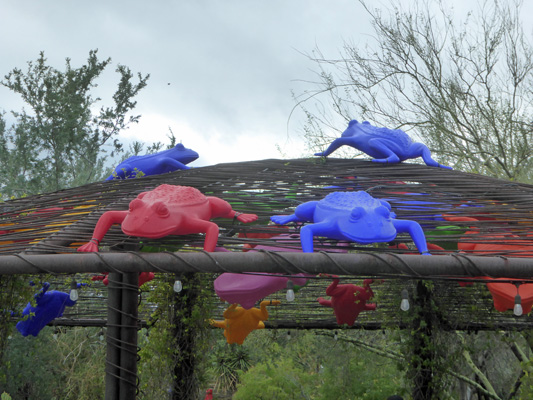 And frogs getting ready to rain down on us hanging from the 'ceiling'.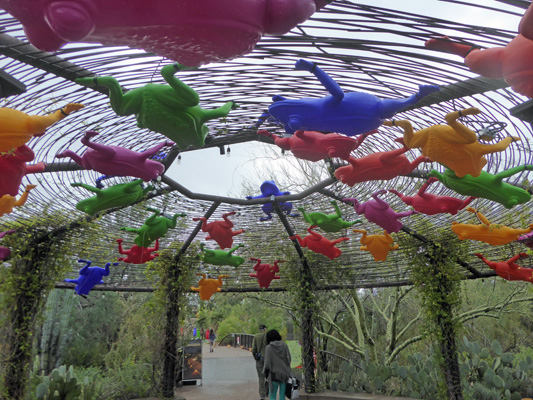 A little further along, there were meerkats guarding the Chihuly glass sculptures along the entry walkway. Do you see what I mean about them being eye-catchingly interesting but more than a little weird? Pink, green and blue meerkats?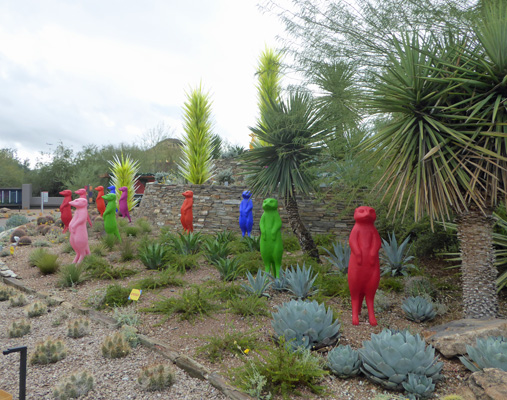 The sign at the entrance is a wonderful collection of succulents. I wouldn't want to keep it watered in the heat of the summer but it sure is fun.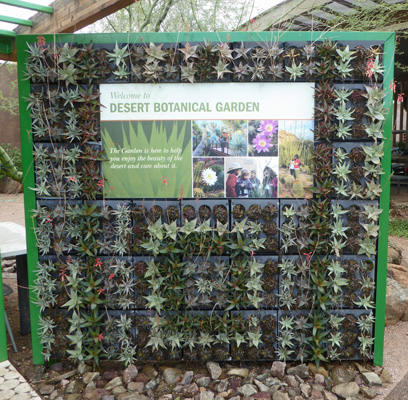 They had a few poinsettias nestled in at the feet of the cacti at the entrance.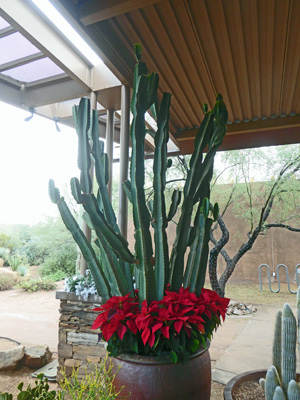 Once through the entrance (thanks to Mike and Amy's membership to the garden) we encountered a flock of green penguins in amongst the barrel cacti.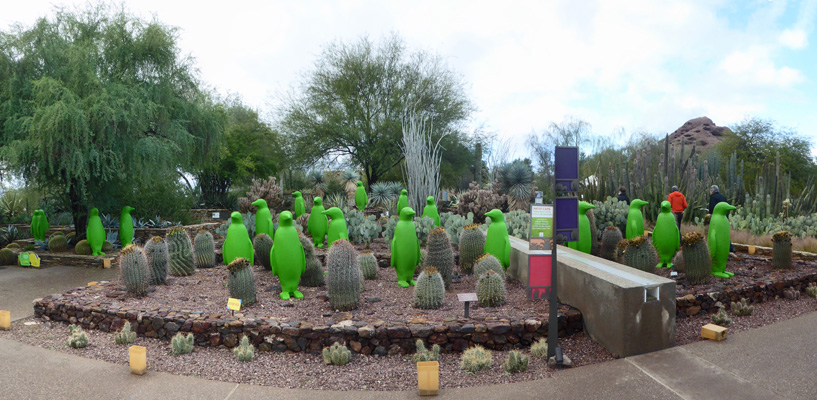 Heading to the left we passed this marvelous Crested Whortleberry Cactus. I love all the whorls and crests.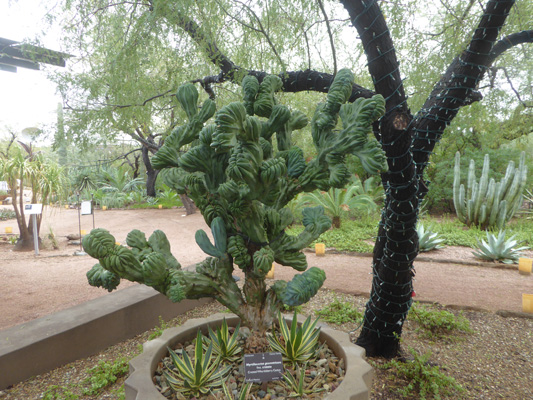 And the stapelia were in bloom. These are known as corpse flowers because they stink to attract flies as pollinators while being the color of rotting meat.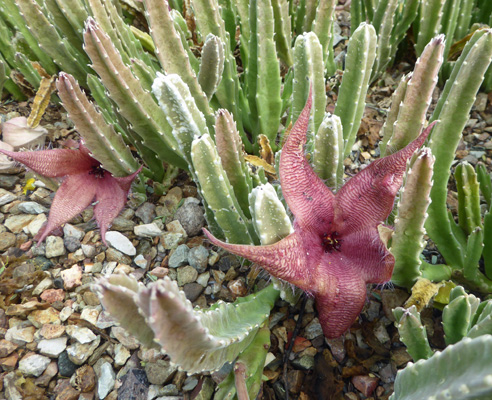 At The Desert Portal (a favorite place for weddings) we encountered snails.

They came in all sizes from the smallest that were crawling all over the shade structure to the jumbo center piece.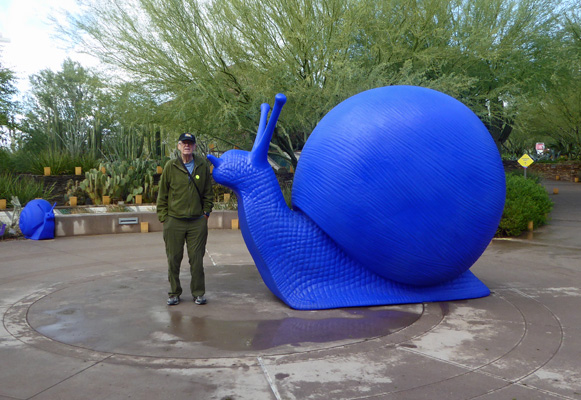 To medium sized ones that you could easily have ridden on—which Mike had to demonstrate.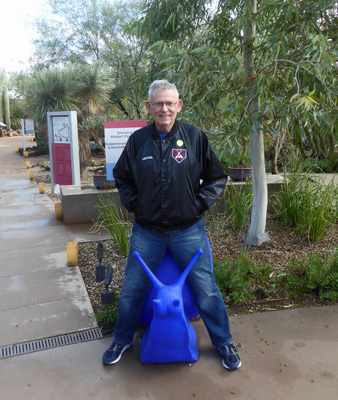 Off in the direction of the Cactus and Succulent Galleries we came upon a large number of wolves. They reminded me of Egyptian cat statues.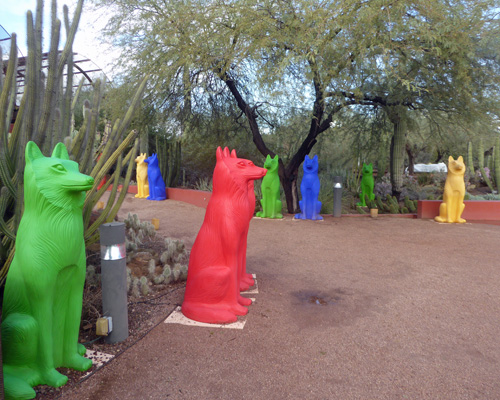 These even matched the color scheme of the garden.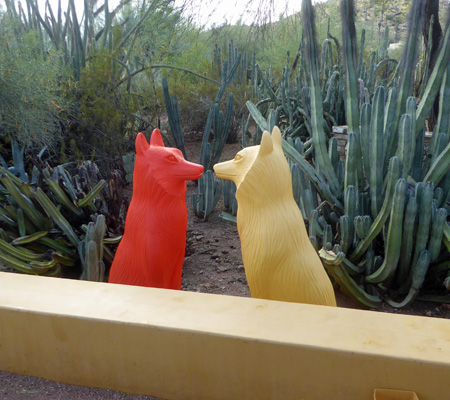 In among the cacti there were gray wolves.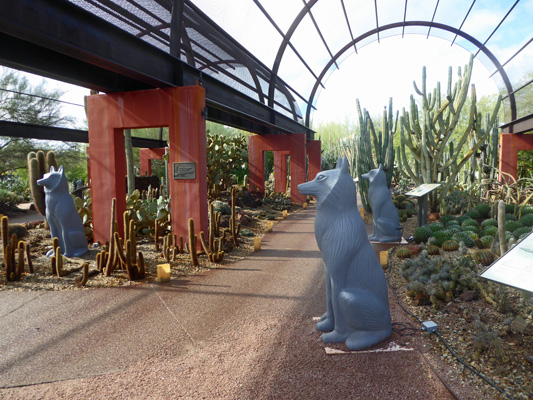 It was in the 50's and the flock of quail we spied were all puffed up against the cold.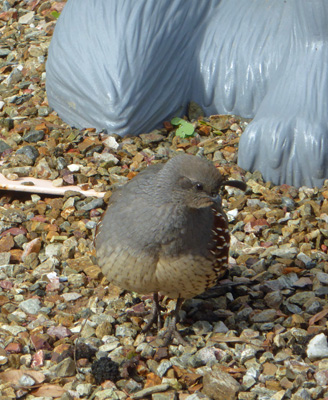 Out in the Stardust Foundation Plaza there were white rabbits.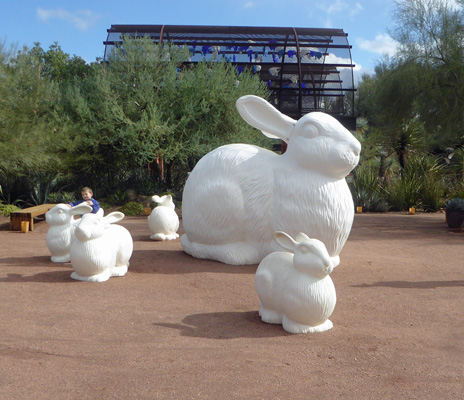 The Succulent Gallery was closed because of standing water from the rain but you could still see the fish hanging from the roofs of the galleries.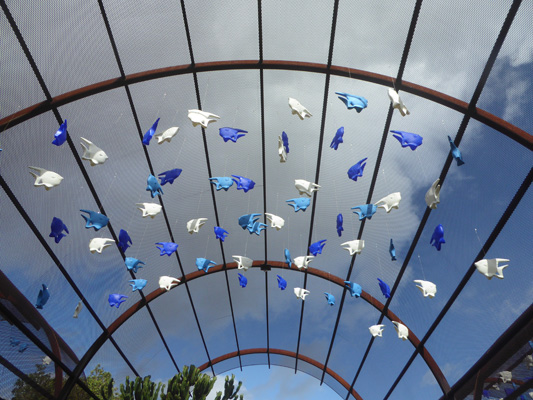 They were swinging around in the wind like they were swimming through the air.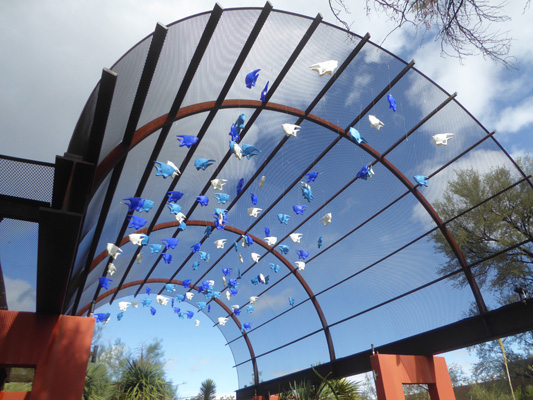 And some of them had gotten tangled up together during the storm the night before.
Off on a side spur there were pairs of bears standing back to back.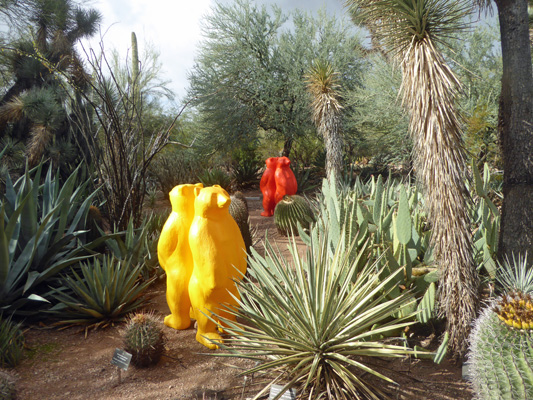 Off in the other direction there were stacks of frogs that were supposed to look like succulents. I can almost imagine it with the green ones.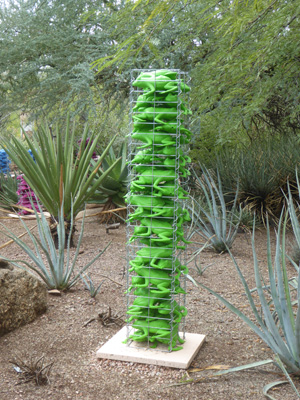 But the yellow ones—not so much.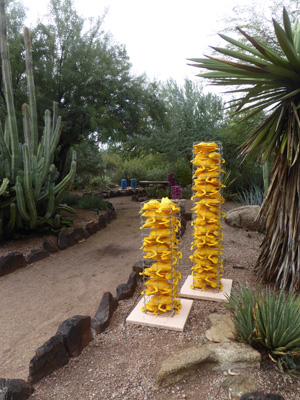 The blue ones at least went nicely with the agaves.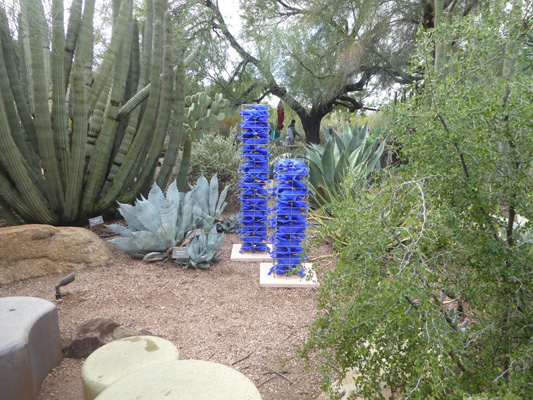 These jumbo sized swallows (complete with eggs) made the Organ Pipe Cacti look small.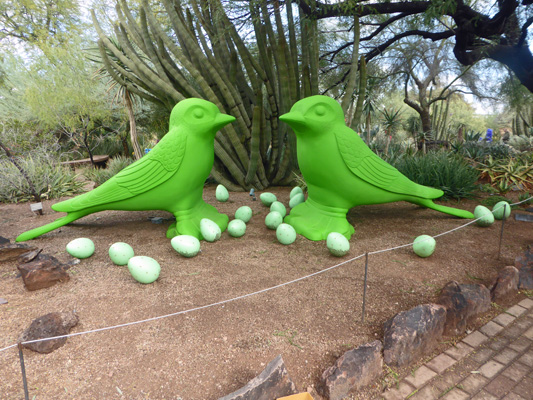 Some of the Prickly Pears still had bright red fruit which was very festive.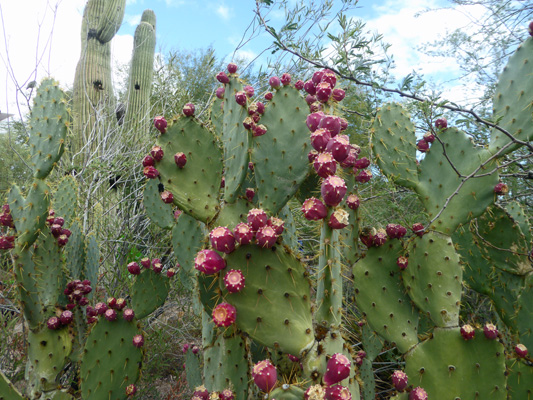 There were silver snails nestled in among the plants in the Heritage Garden.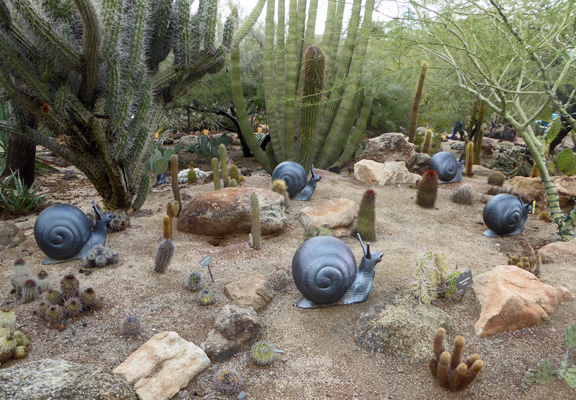 And a ways farther on there were gold ones.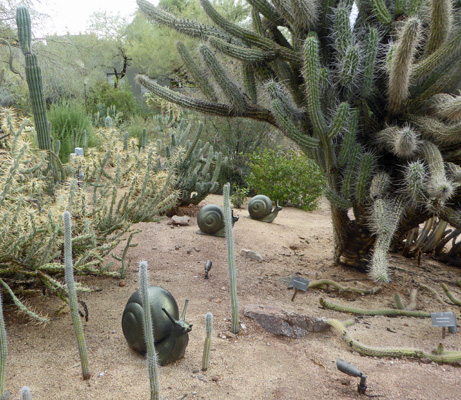 I got a nice photo of Amy and Mike in the Reflection Garden.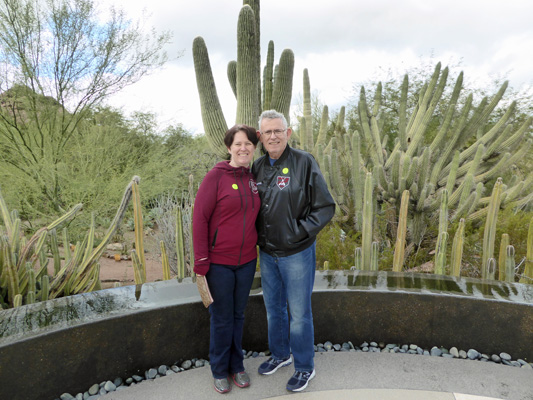 Just around the corner from the Reflection Garden there was a big blue crocodile complete with his tears to water the desert.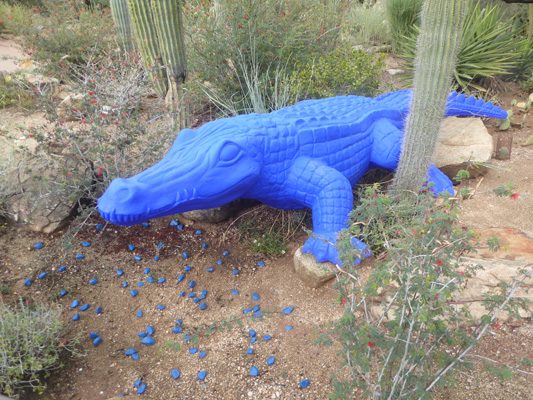 Across from the crocodile is a lovely stained glass piece from an exhibit they did in 2016. It doesn't seem to have a name but it was done by the folks at Melt Down Glass.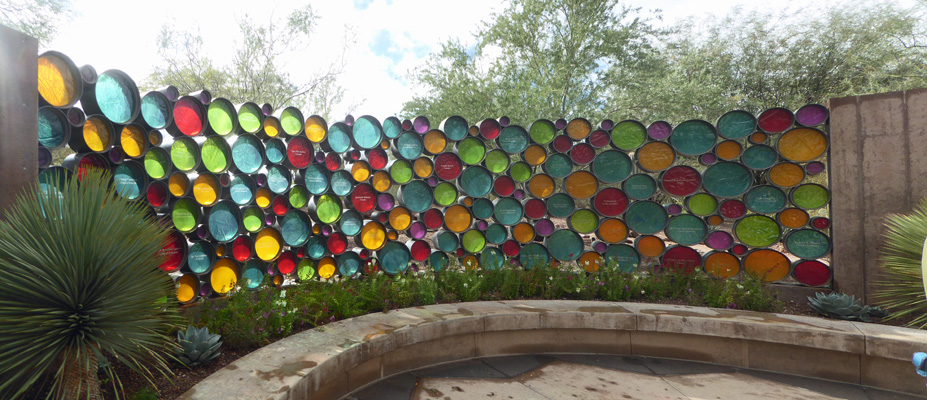 Many of the dirt side trails were closed due to standing water. As was the Herb Garden. But this lovely bonsai bougainvillea had made it through the storm sitting at the entry to the herbs.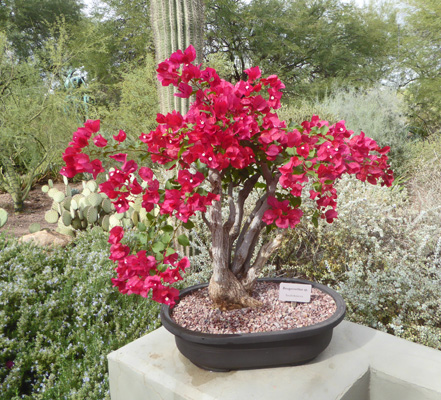 Walter actually found a not too wet bench to test out in this section.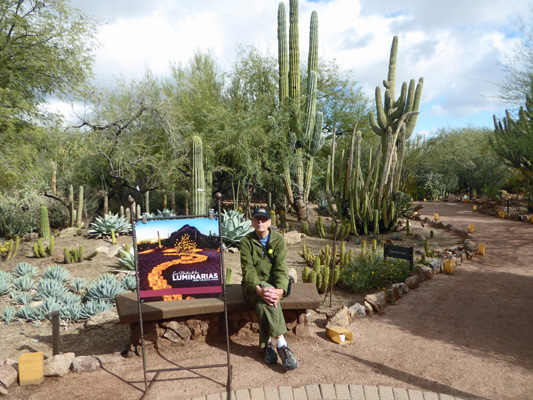 The garden has a series of luminaria nights through the holiday season. They use plastic luminarias and lots of them had fallen over in the rain. This year all those plastic sculptures will be lit up too.
On our way along a side trail to see if the Wildflower Loop was open (it wasn't) we spied a little hummer all puffed up sitting on a branch. At least by this point, the sun was out to help warm him up.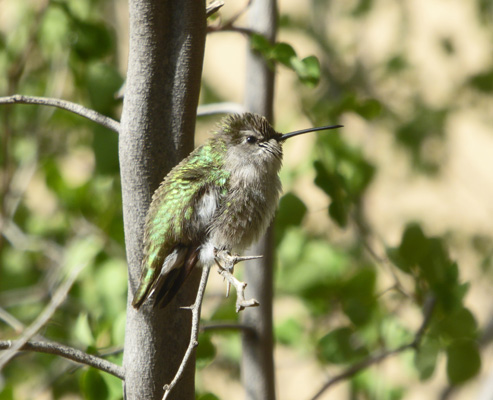 We wandered back through the garden and then headed downtown for lunch at Pita Jungle, one of Walter's and Mike's favorite places.
That afternoon, I helped Amy put up her outdoor Christmas lights and then her indoor Christmas tree so now she's all ready for Christmas. Saturday morning, as we were getting ready to leave I noticed that Amy's sweet dog, McFly, all curled up in front of the Christmas Tree.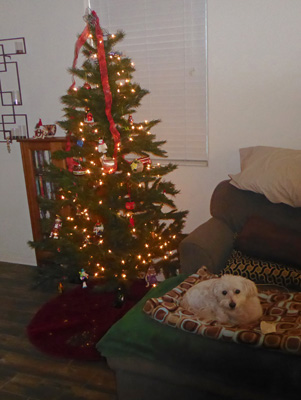 He's a real sweetheart.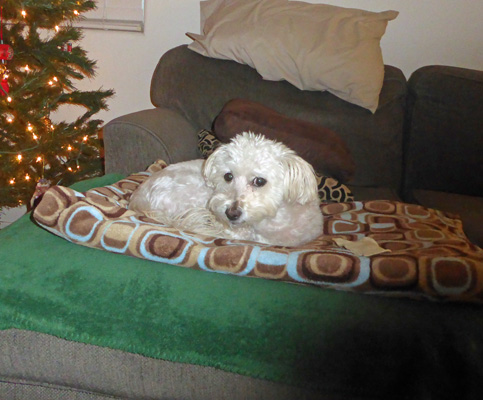 We drove home through Phoenix and didn't encounter much traffic, it being Saturday and all. We'd clearly had serious rain while we were gone but I can't tell how much because the wind (or a critter) had knocked my rain gauge over. It was brisk enough so it got down into the mid 30's the next morning—happy December—but the sun was out and it warmed up into the high 60's.