On June 9th, Walter and I loaded up Rosita the Casita and hit the road for a 4-day mini-adventure. We drove north up through North Cascades National Park and stopped for lunch at an overlook that has a great view of Diablo Lake just east of the Colonial Creek Campground and Thunder Arm.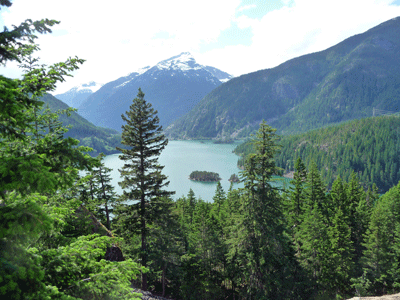 There was still plenty of snow in the mountains.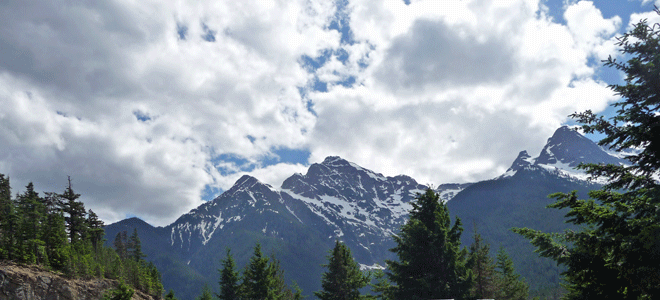 In fact, as we went over Washington Pass (5,477 ft. elevation) there was lots of snow along the side of the road and the mountain sides.
We continued on down the east flank of the Cascades until we came to the town of Winthrop and followed the signs to Pearrygin Lake State Park. We had a reservation for a lakeside campsite which was a good thing since the campground was pretty full for a Sunday afternoon. It emptied out more on Monday and got much quieter for the next several days—mid-week camping, our favorite.
Here's the view from our campsite.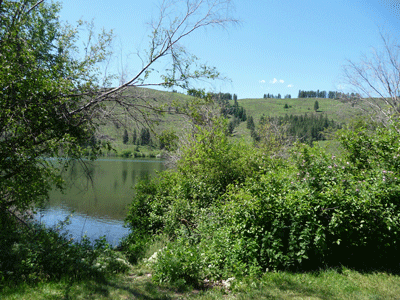 It was sunny and warm on Monday so we took our bikes out for a spin to find a good place the launch the kayak. In the process we pretty much explored the entire east campground portion of the park. We took a hilly dirt road out to the group campground and got to experience going UP and DOWN and up and down and up and down on the gravel road. Our folding bikes have small wheels which makes things a little challenging when you hit a stray rock. But we made it without taking any spills.
It was worth the trip. Here's the view from the shoreline by the group campground.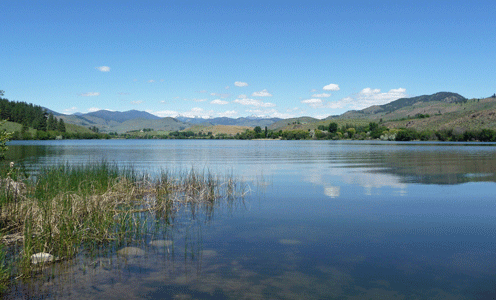 It was morning so the lake was still pretty still. You can see the North Cascades off in the distance.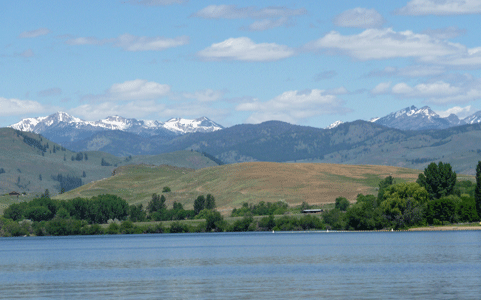 The arrowleaf balsamroot and lupine were both in bloom. Here's Walter with a nice big patch of balsamroot.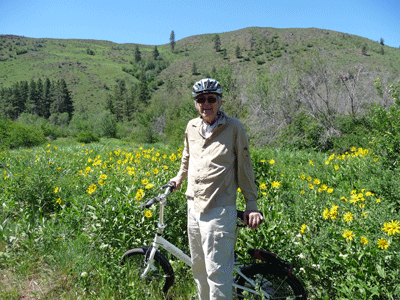 This is the dry side of the mountains so we felt pretty fortunate to have the hills all green still.
After cooling off from our bike ride we took the kayak down to the boat launch and pumped it up for the first time in 3 years. Last year, my shoulder wasn't strong enough to handle the paddling and Walter wasn't comfortable on his hands and knees yet for the inflation and deflation process. 2 and a half years post accident and we're pretty well back to normal though. Pumping up the boat and putting it in the water was no problem. Yippee. I shot this picture including Walter in front of me so that you could see for sure we really were out on the water.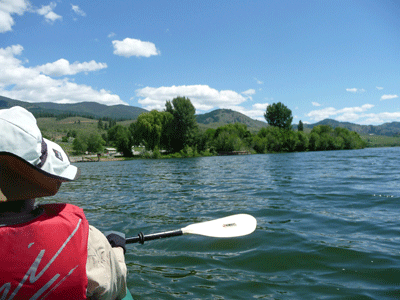 There was a bit of a breeze so we rode the wind down to the west campground and then paddled back. Here's the view of the lake looking southeast from the west campground area.

It was a gorgeous day with temps in the low 80's. I got a little sunburned on my arms and legs but nothing serious. It was wonderful to be back out on the water.
There were several families of ducks in the coves and inlets of the lake. Here's a mamma duck and 8 ducklings.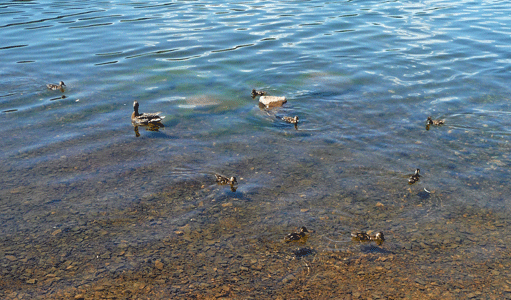 Here's a close-up of two of the ducklings.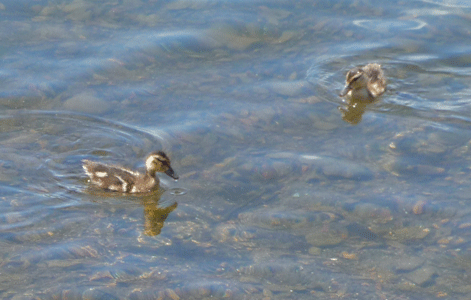 We got the boat back out of the water with no problems and went through the deflation and packing process without a hitch. All those hours in the gym have really been paying off this year.
The next day we packed our lunch and took off back into the North Cascades to the Cedar Creek Trailhead which is just across Highway 20 from the Klipchuck campground. There were thunder heads billowing on the crest so we wore our rain jackets. Walter took this shot of me in front of a huge clump of Snowbrush (Ceanothus velutinus).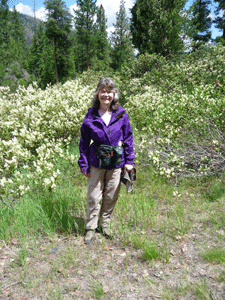 Snowbrush (Ceanothus velutinus) has a lovely sweet scent and petty white flowers.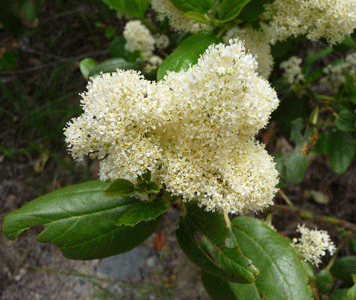 There were lots of flowers in bloom along the trail including Indian Paintbrush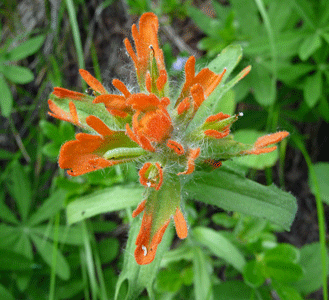 False Solomon's Seal (Maianthemum racemosum )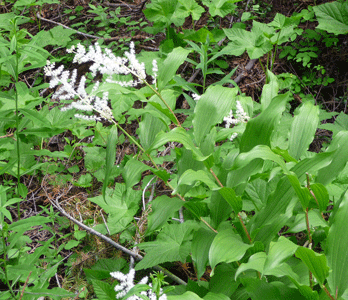 Silvercrown luina (Luina nardosmia)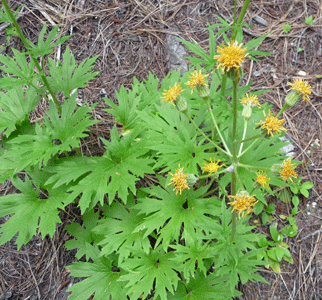 There were a number of windfalls blocking the trail. Most of them you could climb around or over. But this big one required that you go under it. I managed to get under it in a sort of limbo motion but Walter decided he was better off getting on his hands and knees.
The trail was dry and dusty so he only had to dust off his knees. (On the way back it was raining and he did the limbo just fine to avoid getting muddy).
There were a number of breaks in the trees where the wild flowers were flourishing.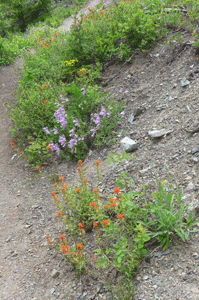 That's sticky cinquefoil (Potentilla glandulosa) in the foreground with Paintbrush and Chelan Penstemon behind it.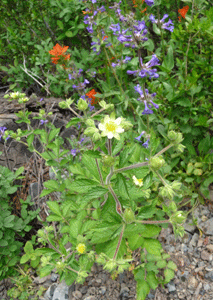 The Shrubby Penstemon (Penstemon fruticosus) was growing in wonderful big clumps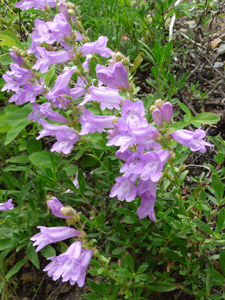 While single specimens of Heartleaf Arnica (Arnica cordifolia) were sprinkled here and there.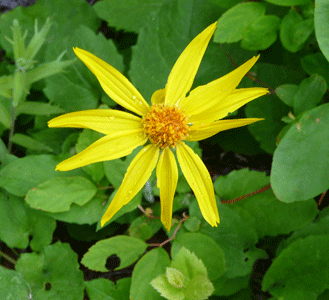 But there were only a few Chelan Penstemon (Penstemon pruinosus).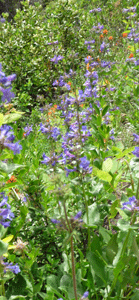 As we hiked along we could hear Cedar Creek but only saw it occasionally. As the roar grew we knew we must be close to the falls. There was a bit of an opening to the west of the trail and we climbed around and sure enough there was a pretty decent view of Cedar Falls (about 50 ft. high).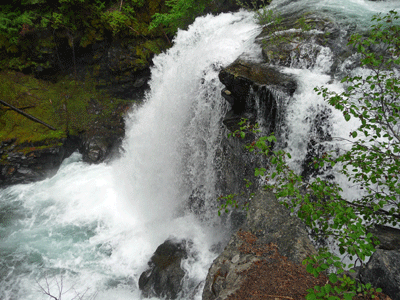 We hiked on a little bit and got a view of the rapids that lead up to the falls.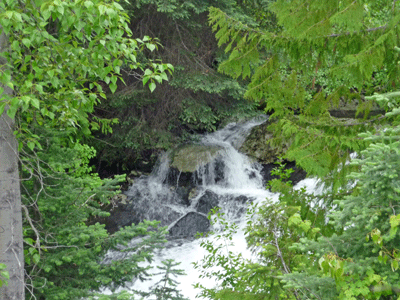 The falls had been our goal for the day and by this point it had begun to sprinkle so we turned around. And it was a good thing that we did! It rained good and hard all the way back.
I stopped a couple of time to shoot pictures of flowers I hadn't noticed on the way up, including
Fernleaf Biscuit Root (Lomatium dissectum)
And some pink pussy toes which the camera insisted on not focusing on (sigh).
We got wetter and wetter as we hiked. We both had on lightweight hiking pants and they were soaked through within about 15 minutes. My hiking hat got so wet and droopy that I couldn't see out so I shoved it back behind my head and pulled up the hood of my raincoat. The trail, which had been bone dry and dusty on the way up, was now full of puddles and the puddles got deeper as we hiked back down the trail. The good news is that it wasn't really cold. My hands got cold but otherwise we were both fine. In the end we made it back in 40 minutes (1.75 miles downhill).
I got Walter to stand still for a moment when we got back to the trailhead so I could take a shot of him to show you just how wet we were.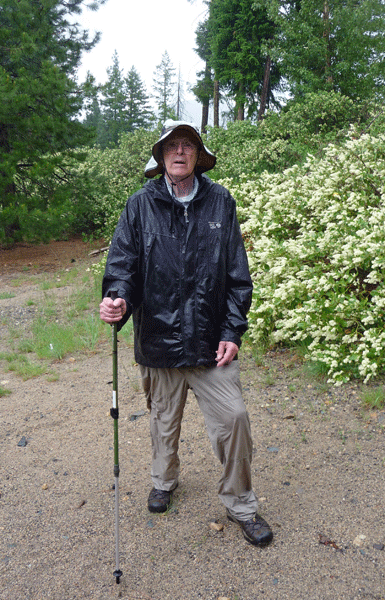 Our socks got wet not because our Gor-tex boots failed but because the water from our pants rain down inside them! Needless to say we didn't stop for a picnic but instead drove back to Pearrygin Lake where it hadn't rained at all. It was a wee bit windy there that afternoon but nothing serious. The inside of the trailer however ended up festooned with wet clothes which definitely drove up the humidity (which was otherwise very low). By morning it was all dry, something that never happened when we got wet last year in Alaska.
We highly recommend Pearrygin State Park especially as an early season get away from the wet side of the mountains. We hear tell tends to be full all summer but mid week before school got out I'd say it was less than 1/2 full. We'll go again because there are a number of other hikes nearby that's we'd like to try.