In
Part VI
we spent the day in the Lamar Valley and Cooke City. The next morning we got up at 7 am so that we could get to Mammoth Hot Spring early enough to get decent parking.
We stopped by the Mud Volcano to take this lovely still photo of the Yellowstone River not long after sunrise.
There were still a few bison out in the Hayden Valley including this big guy who was standing posing in our lane.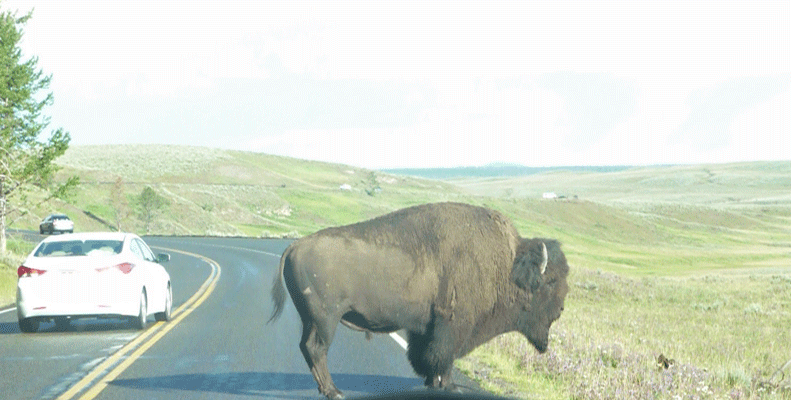 Then he turned and started walking right towards us.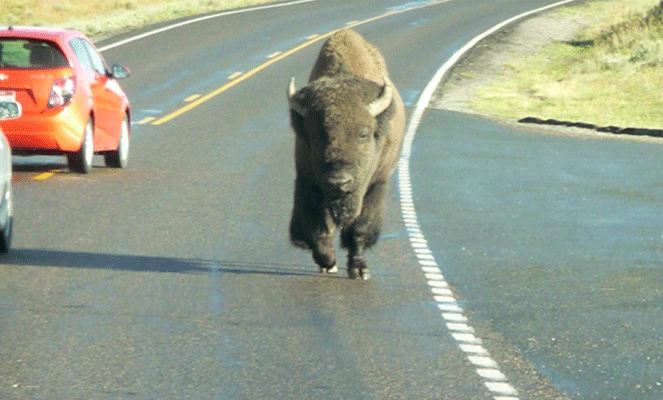 It's a long drive from Fishing Bridge to Mammoth and it took nearly 1 ½ hours. As we were driving past the Norris Geyser Basin I saw a HUGE plume of steam coming up from the back portion of the basin. It turns out it was Steamboat Geyser in its steam phase. It had erupted at 7:30 pm the night before and was still steaming away in the morning (and the afternoon when we finally got back to Norris).
Because we got there early we found a parking spot in the first big parking up along the Upper Terrace Drive where we got a great view of the little bit of 'civilization' in Mammoth Hot Springs.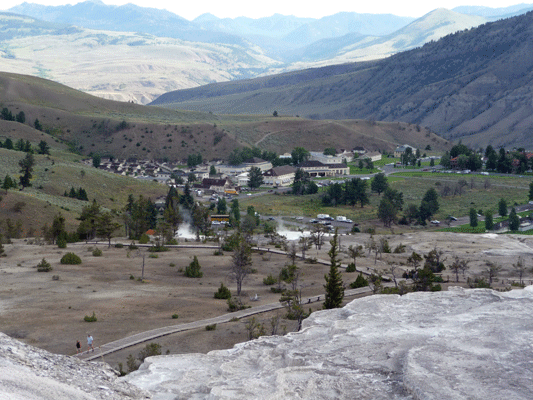 I also got this nice panorama shot of the upper terrace area.

We took the hike across the terrace which is wonderfully steaming and just a bit stinky.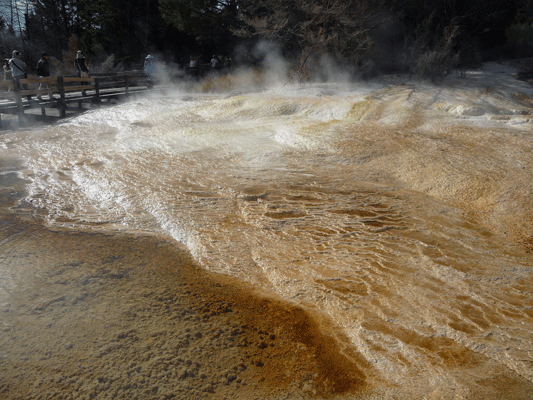 And made our way out to Canary Hot Springs.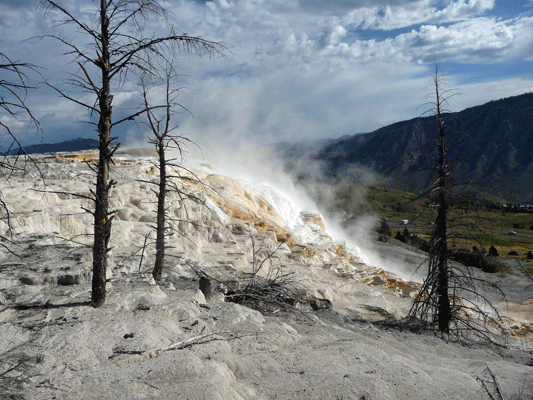 On the way back I spied a mountain blue bird perched on a railing quite a ways away.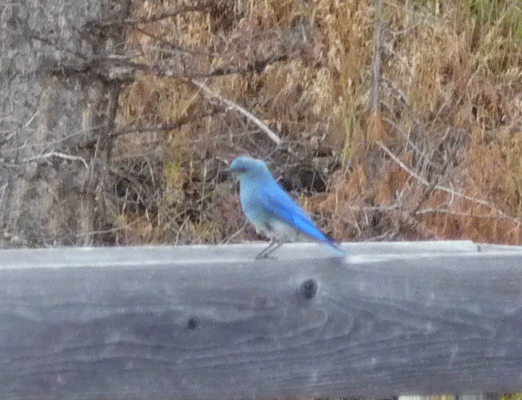 We drove on along the Upper Terrace Drive to Orange Dome Hot Springs.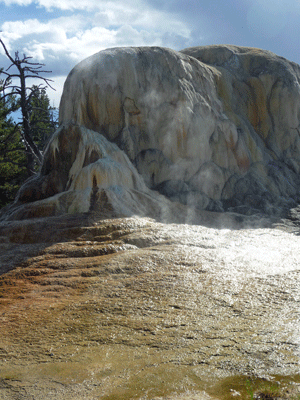 It was close to 10:15 when we drove down to the lower terrace and we actually found a parking space in the 3rd lot we looked in. It turned out to be the perfect lot for us to have parked in—as always. We hiked the side spur from our lot past Liberty Cap towards Palette Springs. As we walked along we spied a bull elk heading across the travertine.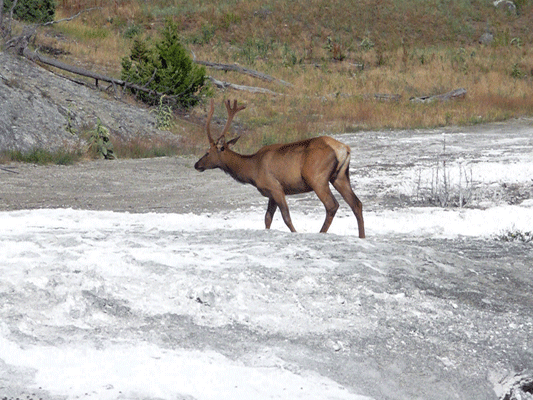 He settled down on the outer edges of the white travertine rock and tt made him look like he was hiding in a snow drift.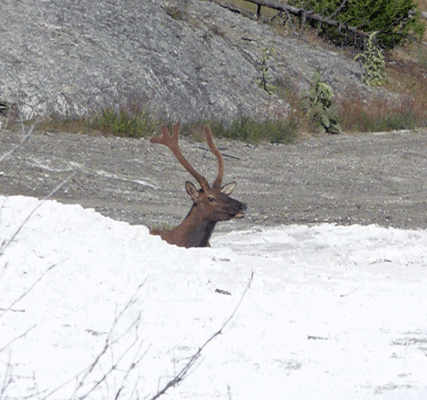 Pallette Springs gushes water.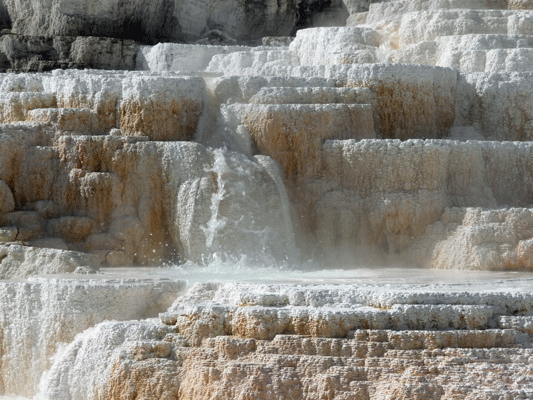 And it has some nice algae growing on it too give it color. The sections that are white are just mineral deposits. When the water dries up (which it does now and then) then the formation turns all white and grey.
We then hiked over to the next lot and the main entrance to the lower terrace. We went UP the stairs and on up to Cleopatra Terrace.
The hill to Cleopatra was steep but paved and we found a nice bench or two to rest on which made going that much easier. We hiked back around to Mound Terrace which was burbling and hissing and flowing and was very colorful.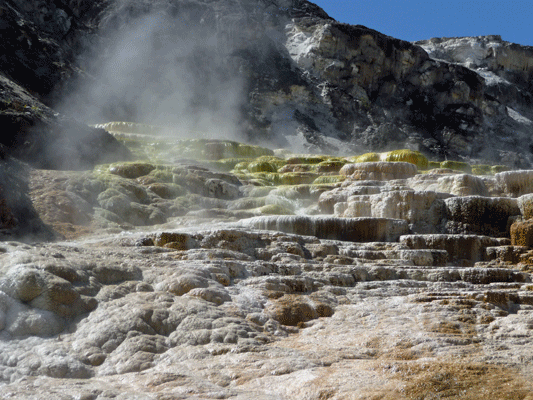 It was close to noon by the time we got to Norris Basin and the line to get into the parking lots wound down the hill. It moved slowly and we stuck with it and sure enough got a great parking spot right by the entrance to the basin. We decided we were hungry so we ate our lunch and read the map and brochure before setting out.
I hiked down a ways to get a shot of Ledge Geyser before we set off on the Porcelain Springs Loop Trail.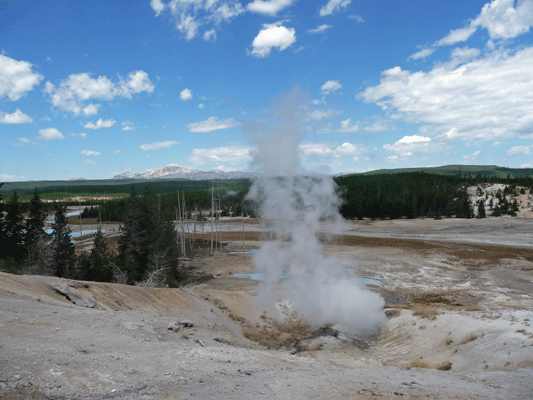 Porcelain springs was bubbling and hissing and putting out steam.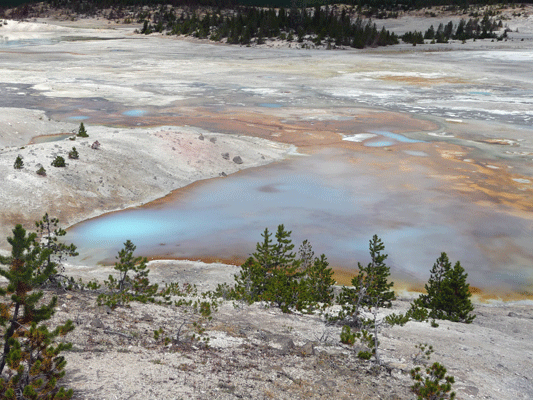 I love the creamy pastel colors.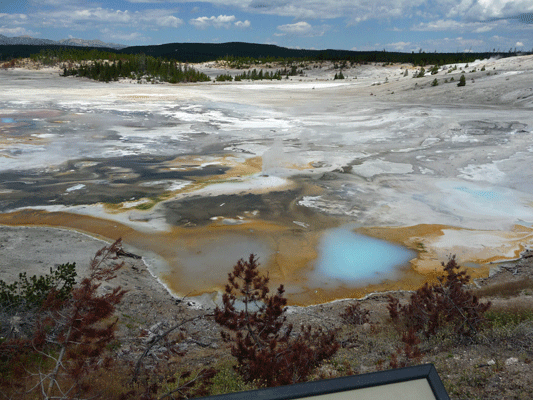 There were little steam vents here and there across the surface of the spring.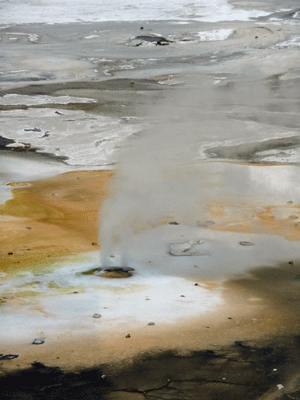 We got a different view of Ledge Geyser from out on the loop trail and it obliged us by erupting again.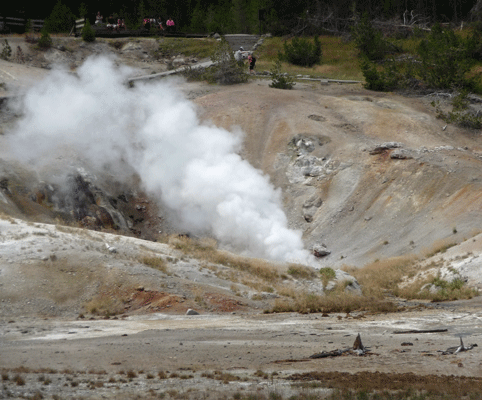 Crackling Lake was really swell. It had lots of color and it had mud pots and boiling pots and fumaroles all of which made a crackling noise.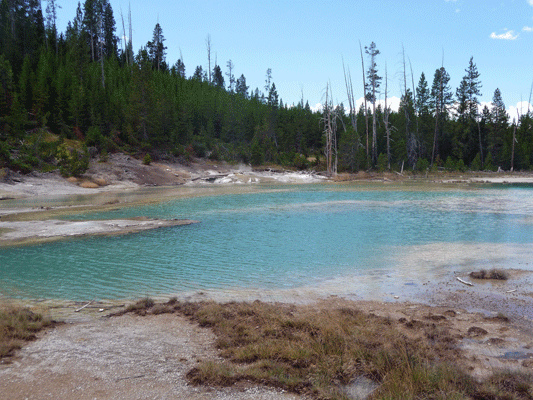 I managed to get a shot of one of the fumaroles in action.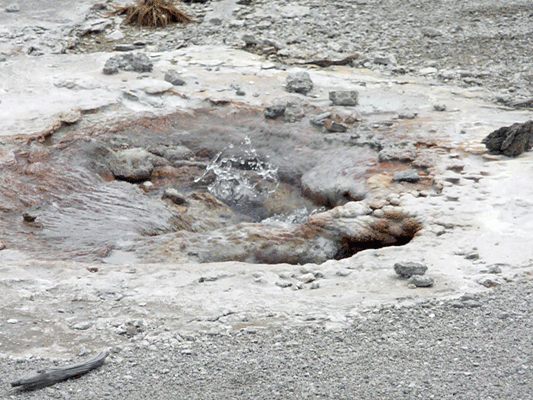 I was going to stop and ask the ranger what the steam plume was that I had seen in the morning but I didn't have to. He was giving a speech about Steamboat Geyser going off the night before at 7:30 pm. He said that at 8 am this morning it was roaring so that was indeed what we had seen. We asked if it was still putting out steam and someone in the group said it was. So we set out for the ¼ mile hike in the Back Basin to Steamboat Geyser. And it sure was still putting out steam.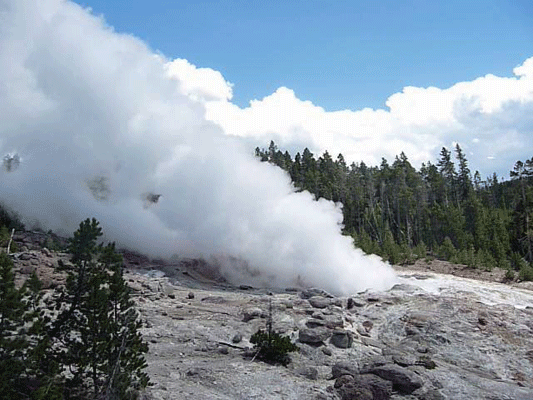 I insisted that I get my pciture taken with it just to prove I'd seen it doing it's thing.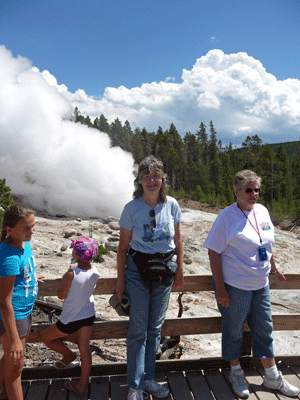 There are two overlooks and we visited them both.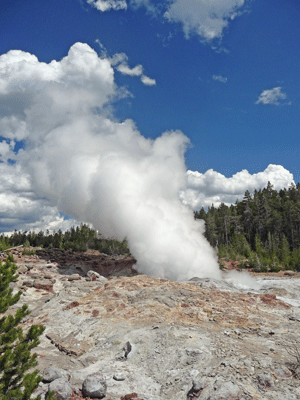 On the way back I stopped to take a shot of Emerald Pool which is green because it has yellow algae which combine with the deep blue of the water in the deeper areas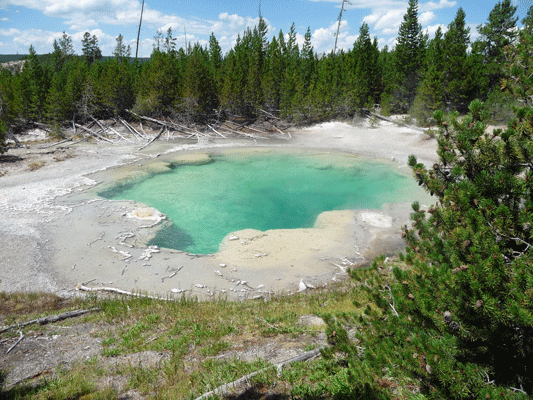 When we left there were 10 parking spots on the outgoing side of the parking loop. We were amazed until we got to the bottom of the hill to the entrance and discovered they had the drive closed and everyone was parked out on the road. We told the ranger at the barrier that there were over 10 spots available and she said, that's exactly what I needed to know. I then proceeded to turn right onto the highway rather than going straight so I had to go a ways and turn around. The parking lot entry was blocked again by the time we got back so only a few folks won the parking lottery during the brief window it was open. Lesson number I'm not sure how many on why getting up early is important at Yellowstone at peak season.
We stopped to take showers at the campground entrance (free with our campsite) with plenty of hot water. I stopped and took a photo of the SEVEN phone booths outside the laundry and shower area! It's rare to see one booth let alone 7 these days. There are 2 more opposite these 5. Can you imagine?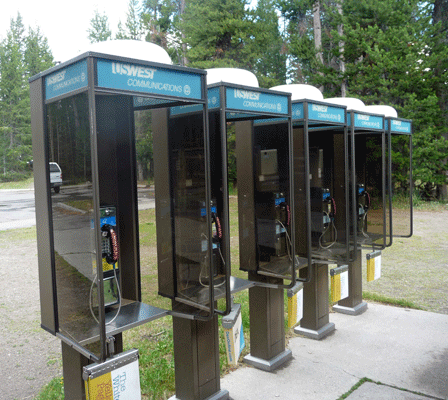 In
Part VIII
we'll get up early again to visit Canyon and the Mud Volcano.