We left off in
Part II
in San Diego ready to go to the zoo. We got up early again so we could be at the zoo by 9 or so to avoid the lines to see the baby panda who is only on display in the mornings. Here's Walter and Tracy at the zoo entrance.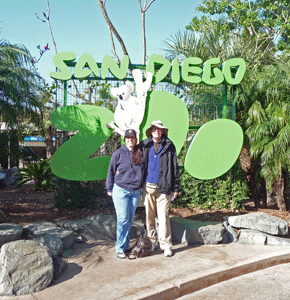 We hiked down through Fern Canyon and the Sun Bear Trail, past the sun bear who was out pacing around.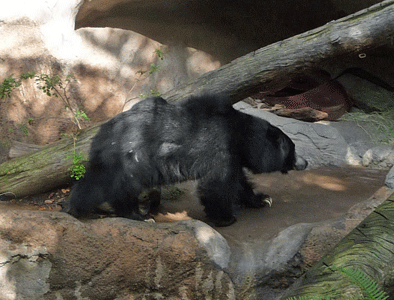 When we got down to Panda Canyon there was no line to see the baby panda and his mom and just a few folks standing and watching—definitely worth getting up early for. The baby panda, Xiao Liwu, was doing what he does best: sleeping. He stayed in this same position the whole time we were there.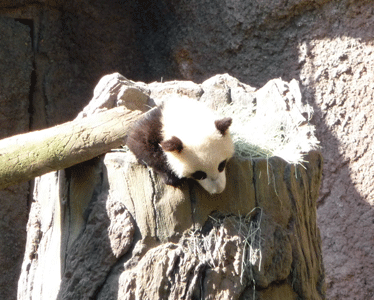 Here's his mom, Bai Yun, posing on a tree perch. She didn't move either.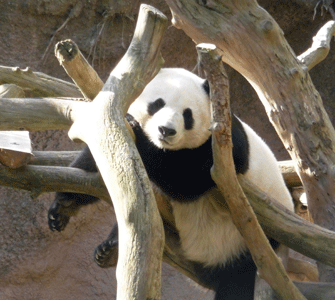 Three years ago when we visited, she was here with her baby, Yun Zi, who has now grown up. He was pacing all over his enclosure and climbing up onto a perch. The keeper would ask him to come down every time he got up this far because he really weighs too much for it. She said he really doesn't get it that he isn't a baby anymore.
His papa, Gao Gao, was in the next enclosure and was pacing around too. They were both moving so fast that I had trouble getting good stills of them.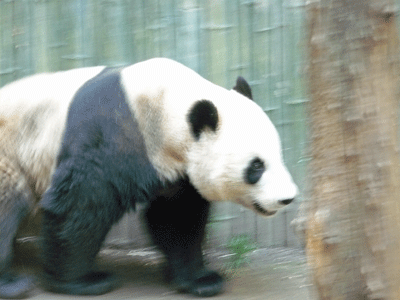 Between the baby panda enclosure and the enclosures where the two other adults we get to see a red panda who decided to doze off just as I tried to take a photo.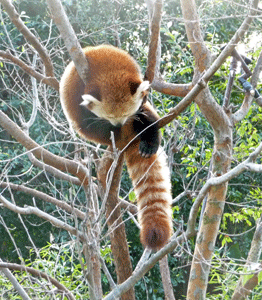 And a baby Takin too. Isn't he cute?
Here's some adult females to give you and idea of what he/she will look like when she grows up.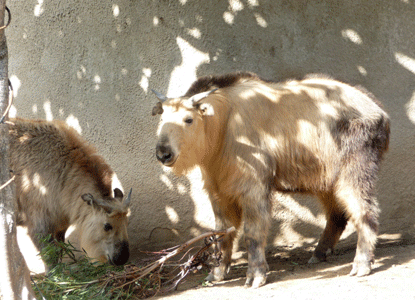 Having seen the pandas the logical thing would have been to take the escalator up the hill out past the apes and monkeys and back to catch the tour bus that is one of Walter's favorite things to do (me and Tracy too). But the escalator was closed. So we stopped and asked an information lady how best to get back up. She gave us a number of options and we opted to go the 'long way' up the escalator that takes you past the lions who were asleep and on to the jaguars.
Along the way I had to take a picture of a flower on an orchid tree.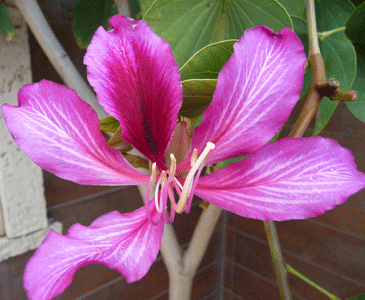 There were 3 jaguars posing: Mom and her two babies (I know they're big but I guess they get that way pretty darned fast since these guys are only 10 months old).
Here's mom.
Here's mom and one of the cubs.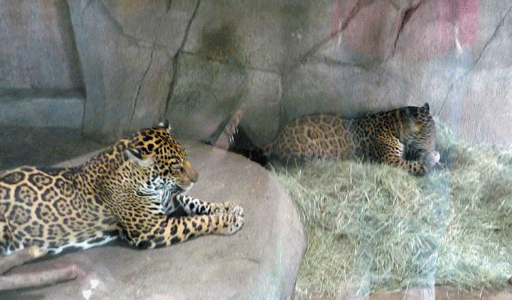 And a closeup of the cub chewing on his toy.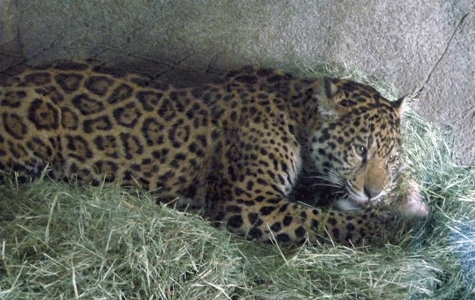 And here's the other cub, who was outside the main enclosure lying in wait by a doorway (for his brother perhaps?).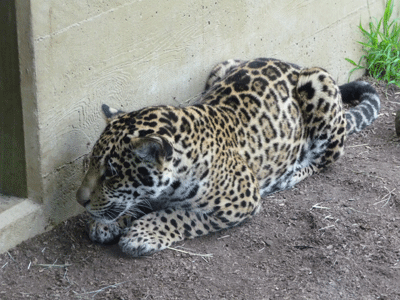 I was not the only photographer who had a great time taking close-ups of him.
Elephant Odyssey starts just past the cats and there was a large African Elephant standing with his trunk behind a rock, rumbling.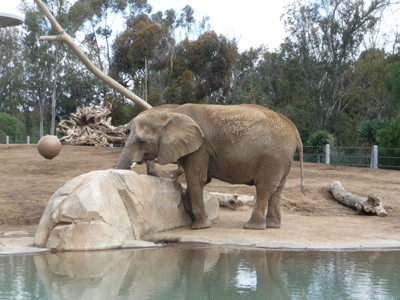 Then he'd bring his trunk up into his mouth while still rumbling.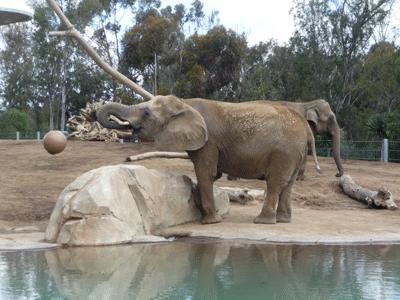 We walked around to get a different angle and he was just sucking water up into his trunk to drink, rumbling all along.
We got to watch them tend a sore on the side of one of the elephants in the bathing area. One keeper would feed him lettuce leaves to get him to step forward so the other keeper could get at the sore. Then he'd step back out of the way and they're repeat the process. It was great fun to watch even if it wasn't very photogenic.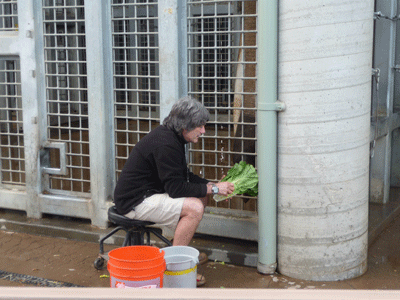 The Capybaras were out sitting in the shade. They're the world's biggest rodents.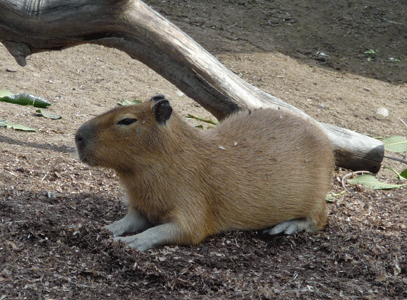 These lovely orange spikes were in bloom. I'm pretty sure they're some kind of Aloe but which one? Maybe just Aloe Vera. Though the one with all the very dense spikes might be be a different one.
The guanacos were out posing. For those of you who aren't familiar with them, they're the wild version of llamas.
There's a pond and stream area that always has critters out basking no matter what the weather.
When we arrived at the camels there was some unusual behavior going on. Initially one of them had his neck lying on top of the other and several people posited that they were 'fighting'. Then it became clear it was more likely some sort of courtship process. They'd intertwine their necks and make interesting noises and then pause and pose.
It sure looked like spring to us.
I had to take a photo of the prong horn because they are an endangered species in the Sonoran desert. We read about them when we were at Organ Pipe National Monument but we didn't see any there.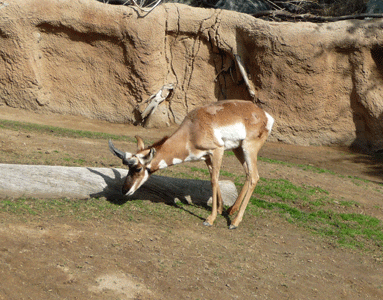 For a change the California Condors weren't up on their high perch. They're gorgeous in their own ugly sort of way.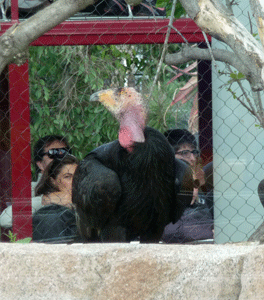 On our way back to the boarding area for the bus tour we went past a pond with this gorgeous duck. It turns out to be a Mandarin duck—an Asian version of a wood duck.
We had a to wait quite a while for our bus tour because they were having equipment problems. But this turned out to a good thing. As a result we ended up with Chris Clobber, the Zoo Man as our driver. He gives the Lighter Side Tour complete with animal sounds, a running comedy patter with lots of great zoo history and animal info mixed in. By night he's a standup comic who has appeared on Comedy Central and Showtime and toured for 9 years. He made the bus tour a real pleasure and one we won't soon forget. As far as I'm concerned it was the best zoo tour we've been on and we've been on more a few over the years.
He pulled the bus up right to the edge of the polar bear enclosure and this bear came over with a splash to check us out.
We were sitting on the front-most seats on the top of the bus and it was a great place to take photos from.
The Siberian grizzlies were out. One was sitting in the pool under some branches.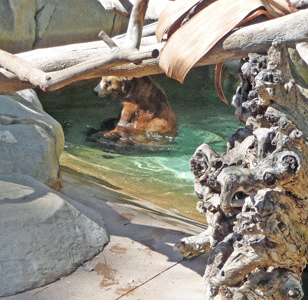 And the other was out pacing on the rim of the enclosure.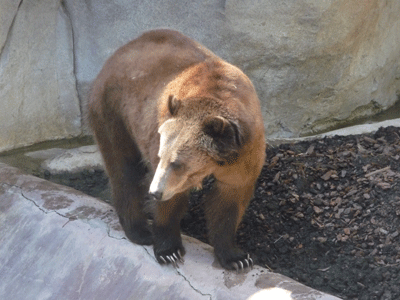 There were a pair of baby giraffes this year too. When we pulled up, they both had their heads down in the manger eating away.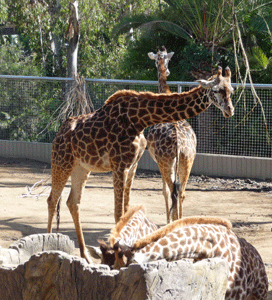 Then Chris made an odd noise and up one of them popped and then the other.
Finally there was a moment when they were both up. They're really sweet.
This was a great day for cats (of course that's because Tracy is a cat person and she always assures good cats for us). The cheetah was out too.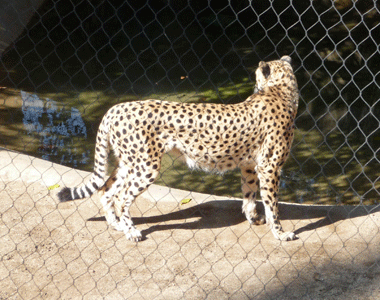 We had lunch and Walter decided to hang out and people watch while Tracy and I took one last spin down the Monkey Trail to see the gorillas.
But first we had to stop and say hello to the flamingos. When I was a kid they had to feed the shrimp to keep them this great salmon pink color. Then they discovered that they could put a natural food coloring (which occurs in shrimp) in their food and they'd still turn pink. It reduced the food bills considerably and I think they're a darker salmon now then before.
I think that this is a female howler monkey. The male was black and his photo didn't come out well with the sun shining into my lens. But she's such a great platinum blonde I had to share her.
The gorillas were out enjoying the sunshine and the grass.
It was an all around perfect day at the zoo and a wonderful end to our time with Tracy. The next day we had a down day and did the laundry and grocery shopping and caught up on our email and the like.
Then we went and spent a day at Carlsbad State Beach just north of San Diego. It was a gorgeous day and we had surfers to watch from our campsite at lunch time. We took a nice hike up the beach and then were rewarded with a great sunset. I took these shots from the edge of our campsite—gorgeous huh?
In
Part IV
, we'll drive up the California coast through Big Sur and take a hike at Point Lobos before we head for home.