We left off in
Part I
at Agua Caliente County Park out near Anza Borrego, ready to drive to San Diego. We drove up over the mountains through Julian and Ramona and then down to Santee Lakes Regional Park in Santee. It was a lovely warm sunny day and we really enjoyed the pretty drive. Late in the afternoon the clouds came in and it began to rain! It rained off and on all night and we had puddles in the campground the next morning. We learned the next day (via photos in the San Diego newspaper) that they had snow in Julian and Ramona Thursday night and Friday morning—enough to close schools! It was hard to believe since it had been sunny and warm just hours before.
Since it rained on our way to Tracy's house and the forecast was for showers all day, we opted for a primarily indoor adventure for the day. So we went to tour the USS Midway which is moored at the Navy Pier in downtown San Diego. On the way, we stopped at Macy's to get a special 'museum month' ticket that got us 1/2 off admission to any of a whole long list of museums in San Diego for the whole month of February! And it was free!
Here's the Midway in all it's glory. As you can see the showers were letting up and the blue sky was appearing already.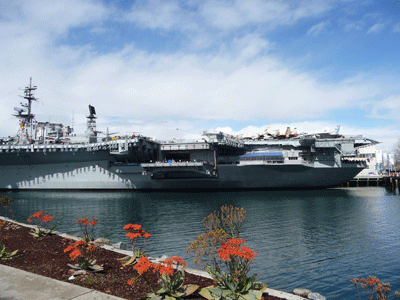 And for those of you who want to see the whole thing rather than some flowers...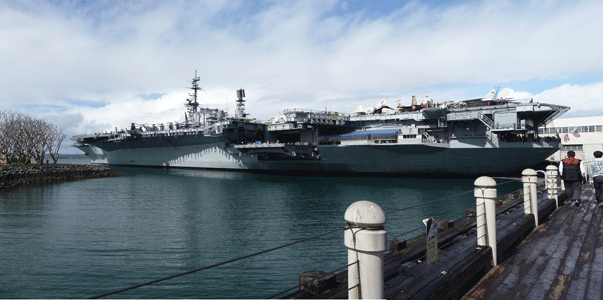 It was built in 1945 and commissioned as the largest ship in the world and stayed that way for a decade. It was used in the Vietnam war and the Persian Gulf war before being decommissioned in 1992. It sat as part of the mothball fleet for a number of years and then was brought to San Diego and opened as a museum in 2004. It's a very busy place. They get over 1 million visitors a year!
We were really surprised at how busy the place was. Not only were there school groups and tourists but there had been a naval retirement ceremony that morning; there was a re-enlistment ceremony starting as we arrived (complete with brass band and lots of folks in uniform); and there was going to be some sort of party that evening up on the flight deck. There were caterers everywhere and folks with forklifts carrying whole pallets of booze.
Museum admission comes with a Audio Tour (your own little MP3 Player that hangs around you neck and headphones) that has recordings for 66 separate stops on the ship. After we'd listened to the first few on the Hangar Deck we realized that we'd need all day to listen to them all and gave it up and just started exploring. You can go downstairs into the living quarters where 4,500 crewmen lived: complete with the chow line and wardrooms, kitchens and laundry and both enlisted and officers quarters. We had lunch in the café on the fantail (a little damp but great fun). Then we went upstairs to the flight deck.
Here's Walter with one of the 25 aircraft they have in their collection. I took a bunch of other airplane shots but they all have strangers walking through them—it was full of tourists up there.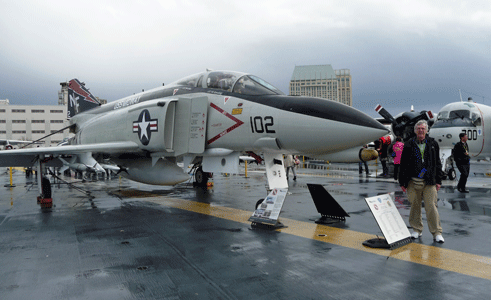 This little hook caught my eye. You want to have to get that around a cable when you land so you don't fly off the end of the ship?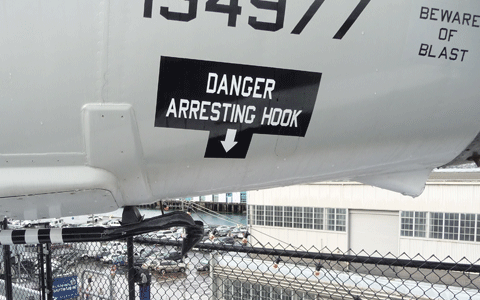 Here's the bridge. There are guided tours of the bridge that you can take too but we were running out of time on our parking meter so we took a pass for this time.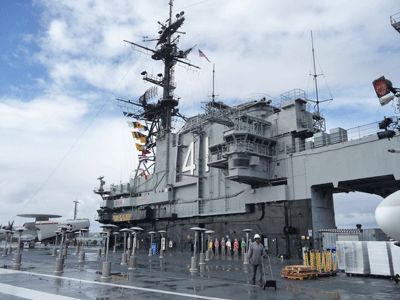 The harbor is a busy place. Here's a catamaran going one way, a Navy destroyer going the other way with a battleship moored in the background.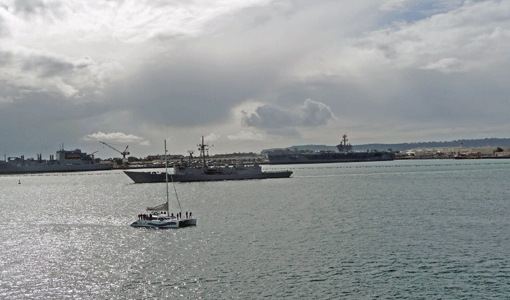 Here's a great manikin pointing the way for the planes to take off. I love the fierce teeth on the plane behind him.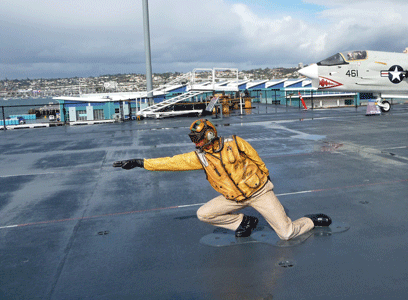 And here's Walter stopping to play with the bombs on the plane with the teeth, of course.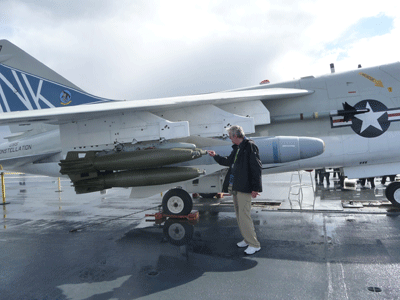 We had a great time and plan to go back again sometime with the idea of staying longer. Maybe next time we'll actually listen to the whole Audio Tour.
The next morning we got up early to go to the Padres Fanfest. Tracy had special early entry tickets for us so we could avoid the crowds but that meant being downtown at 8:30 am. We made it without a hitch and had great fun exploring the stadium, walking on the field, watching kids catch fly balls and visiting the garage sale where you could buy old jerseys and pants and banners--even used folding chairs. Tracy waited in line for autographs while we sat in the stands and watched all that was going on.
From there we went and had lunch at a wonderful hot dog place not far from the stadium whose name I've forgotten. Then we went into the Gaslight district to William Heath Davis House, an old historic landmark that is open to the public for tours. It comes complete with an old bootleg still and other cool stuff.
We still had some time and energy left so we drove over to Balboa Park and took a walk. There were lots of folks out in the park including this standard poodle complete with sun glasses and visor.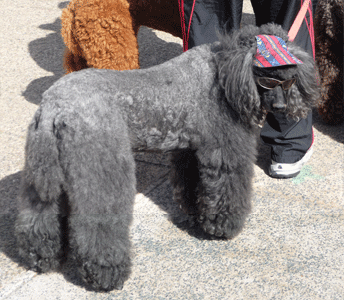 We came to the overlook of the new Japanese Friendship Garden and decided we'd go in and see what we could see. It's still under construction but there was enough open to keep us amused.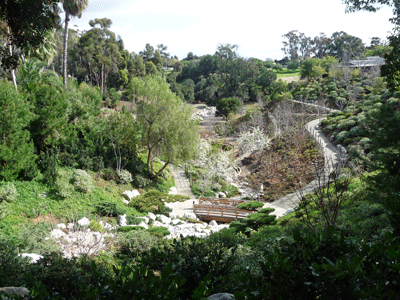 We wandered around and stepped into a lovely little building with an art exhibit and discovered there was a concert going on. The fellow on the left was playing a Shakuhachi flute while the lady on the right is playing a Koto.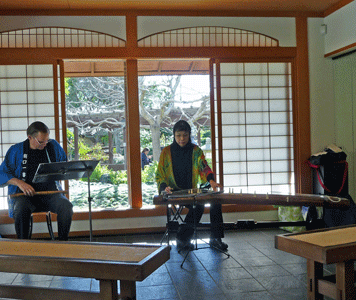 The Koto is a pretty amazing looking instrument and she was an excellent musician. While we came in late so we didn't get to hear the whole concert, what we heard was lovely. It was a nice unexpected bonus to an already great day.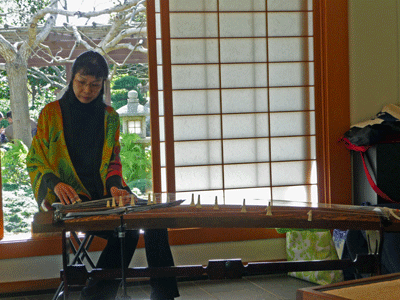 The camellias were in bloom to give just a spot of color here and there in the garden.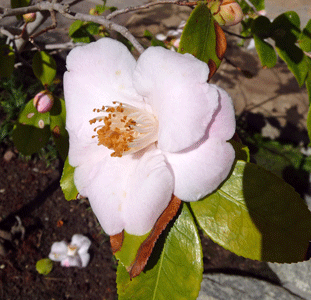 There's a lovely little pond with HUGE koi.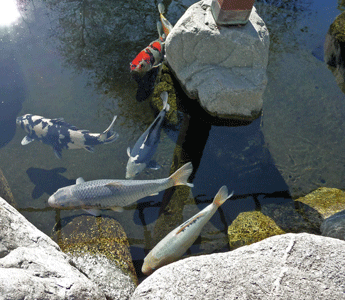 This guy looked as if he were ready to climb right out onto the rocks.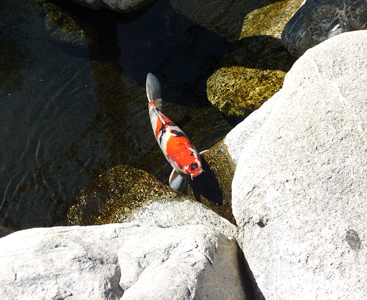 I especially liked this stone lantern up against the bamboo wall and the bunny who came out of the bushes to greet us. He's over on the left near the wall.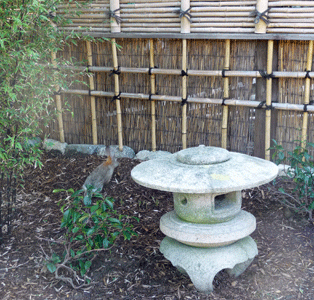 The next day was Sunday and we gave ourselves time to just hang out a bit before setting out to go hiking at Torrey Pines Regional Park just north of La Jolla. It was a beautiful day—sunny but cool—and perfect hiking weather. We had warmed up nicely by the time we reached the first viewpoint and spied some paragliders to the south.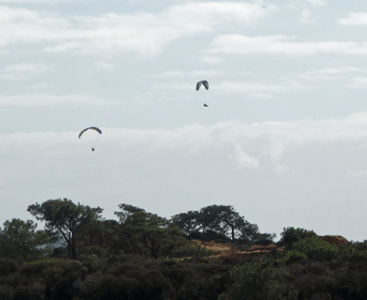 We continued on along the trail and I stopped to get a photo of the wonderful erosion patterns that have developed over the eons along the arroyos coming off of the cliffs.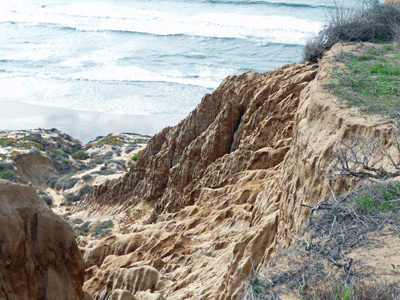 By the time we got to the next view point there were a ton of paragliders out.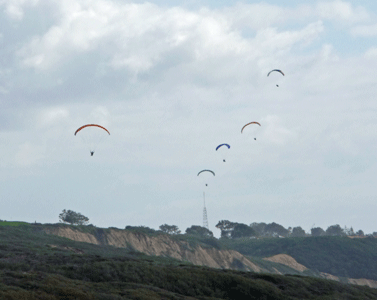 They all took off from the Torrey Pines Gliderport just south of the reserve. The steep cliffs create the perfect updraft for gliding. The hills in the background are part of La Jolla.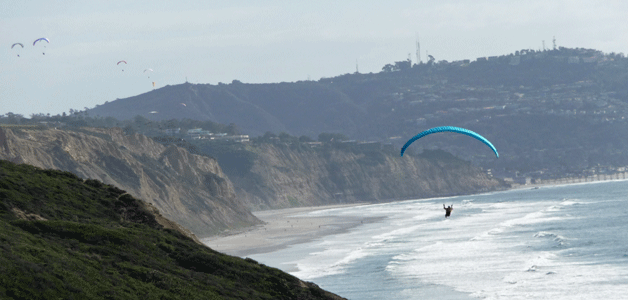 To add to the fun there were a bunch of fighter jets from Mira Mar Naval Air Station flying over us. Trust me, it took a lot of photos to finally catch a pair together like that.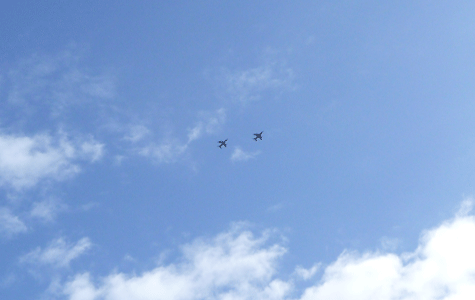 The number of paragliders just kept increasing. At one point we counted over 25 of them.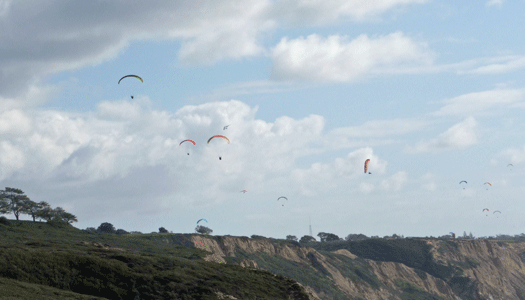 And they kept getting closer to us too.
Then a hang glider joined in.
Can you imagine the wonderful views that these folks get as they fly--with the cliffs, the Torrey Pines and the ocean and surf?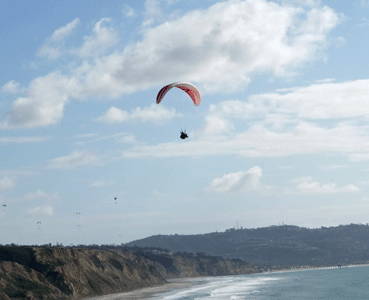 It was quite an air show because we had several single engine planes including a bi-plane go by too. I happily shot pictures trying to catch the rainbow of colors as they swooped by.
Several people we talked to as we stood and watched, voiced interest in paragliding. I looked up the details on the internet when we got home. You can do a tandem flight (with a flight instructor) for $150. If you want to learn to fly alone at Torrey Pines you have to go through 3 levels of flight school ($3200 worth plus equipment) but that still a whole lot cheaper than learning to fly a plane. And since everything fits in a backpack all you have to do is hike to the top of a likely cliff and jump off.
After we had our fill of the air show we hiked back UP the trail to the car and had a picnic lunch down at the beach.
In
Part III
edition we'll be taking you to the San Diego Zoo: baby panda, baby jaguars and all sort of other wonderful critters.