On July 17th, Walter and I set off on a 3-week trip to Glacier, Waterton Lakes and Yellowstone National Parks.
It was sunny and warm for the whole trip with just an occasional thunderstorm to break up the sunshine. It was just plain hot the first day as we drove across eastern Washington to Spokane. We stayed at the Spokane Valley KOA which was a good thing since we could use the air conditioner to cool the trailer off once we arrived. However, I wouldn't recommend this campground unless you are especially fond of listening to trains and train whistles. There are at least 2 sets of tracks nearby and they were active all night long.
The next day we made our way across the Idaho panhandle and into Montana. We stopped for lunch at a rest area overlooking Flathead Lake.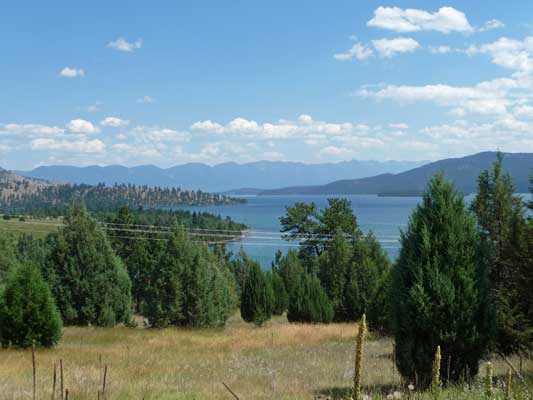 We had reservations to camp at Fish Creek Campground in Glacier National Park. It's a great campground complete with showers that you don't have to feed quarters or tokens into with plenty of hot water. A few of the campsites even have a view of Lake McDonald, but not ours. We did have shade though, which was very welcome because it was 89 degrees when we set up camp. No electricity here, so we sat in the shade to cool off. Our first wildlife sighting was a native red squirrel. They look a lot like our native Douglas Squirrels but their coloring is a bit different.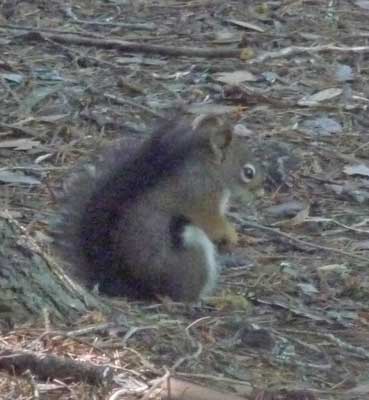 Late in the afternoon the people behind us began running about warning people that there was a bear in the campground. It was a very small black bear—so small several folks thought he might be a large dog. It turned out there was a mamma bear and 2 yearlings in the area eating berries. After dinner, we went out to walk the campground loop and stopped to talk to some folks from Michigan who had a 1998 17 ft. Casita (probably the first year they made the 17 ft. model like ours). It was so old the typeface on the logo was different than ours. They had seen the bear and had thought at first it was a large black lab.
Between losing an hour for the time change (Montana is in Mountain Time) and moving slow because of two days on the road, we made a bit of a slow start the next morning. Normally this wouldn't have been an issue, but in Glacier (and Waterton and Yellowstone for that matter) it matters in the summer. The number of people in the parks is near maximum and most of them move slowly too and begin to hit the sights in the late morning and early afternoon, so it gets CROWDED, like no place to park.
We drove down into Apgar which is the developed area on the west end of Lake McDonald. We found a parking spot (wonders of wonders) near the boat launch and I took this shot of Lake McDonald. There is a web cam on the Glacier National Park website that has almost this exact same view. When I'm longing to be on the road I often check it out.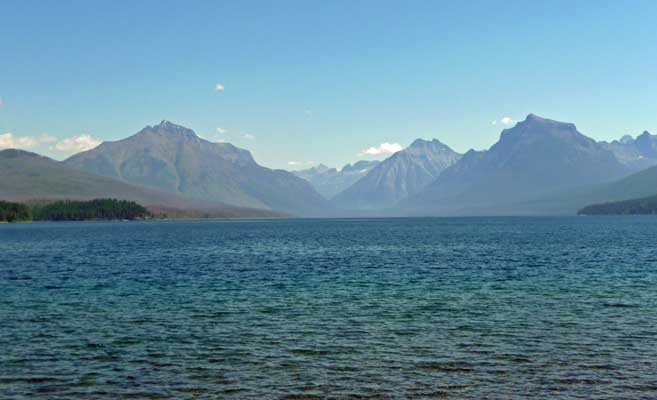 There was also a load of tourists and their bright red tour bus. These classic touring cars provide narrated tours of the park and the signature Going to the Sun Road. Their roofs roll back so you can stand up and take un-obscured photos when the touring car slows down.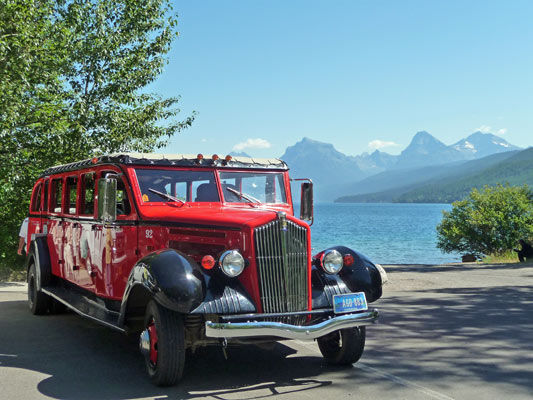 We walked to the Visitor's Center and got the basic info we needed and asked directions to the Transit Center where we could catch one of the free shuttle buses that go up Going to the Sun Road all the way to the top at Logan Pass. We got to the Transit Center at 11:45 and the next bus was already full. We got in line for the next available bus (12:30) and settled into to talk with a very interesting geologist from Helena.
The shuttle bus finally left at 12:45 and made it's way towards Avalanche. There were multiple stops along the way and by the time we got to the Avalanche stop there was standing room only. At Avalanche we all piled out of the bus to wait for a smaller shuttle that could easily maneuver the twists and turns of the very narrow final leg of the Going to the Sun Road. Going to the Sun is a National Historic Road (you didn't know there was such a thing did you?) and as such they can't make any substantial changes to it's original design (construction began in 1921 and was completed in 1932). It twists and turns as at clings to the mountainside with those lovely classic National Park low stone walls to keep you from falling off the edge. The road has been under construction (to replace the road bed and redo many of those lovely low walls) for 7 years. They have 3 more years to go.
This summer the construction was centered around Avalanche which meant that the traffic was backed up before we got there, in the parking lot and after we got back on the road, slowing down the process of getting up the mountain considerably. We got on the 3rd shuttle that came into Avalanche and immediately got to sit in more traffic. Shortly before 3 pm I shot this photo out of the bus window.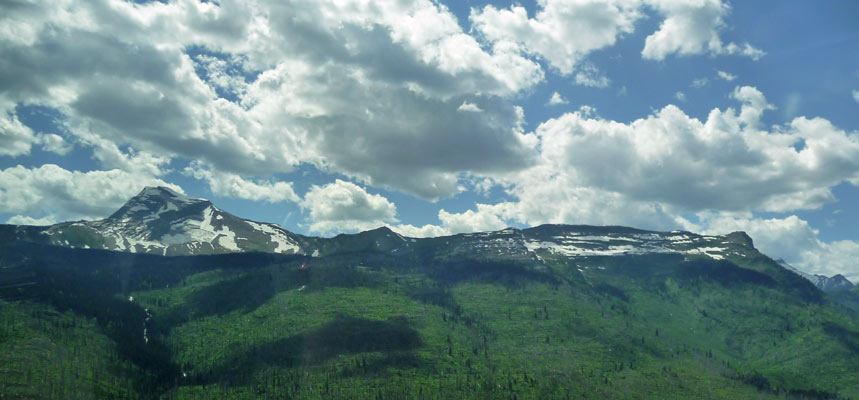 The views were spectacular and the ride was wonderful even with the traffic jams and construction waits. We finally arrived at Logan Pass at a little after 3 pm (over 3 hours after we'd gotten in line for the bus). We found a nice rock wall to sit on for lunch and slapped at bugs as we ate. Then we walked out a ways on the Hidden Lake Overlook Trail. Normally, the trail goes all the way to to Hidden Lake but it was closed past the Overlook because of bear activity. This is a boardwalk that climbs steadily upward as it makes it's way across a gorgeous alpine meadow.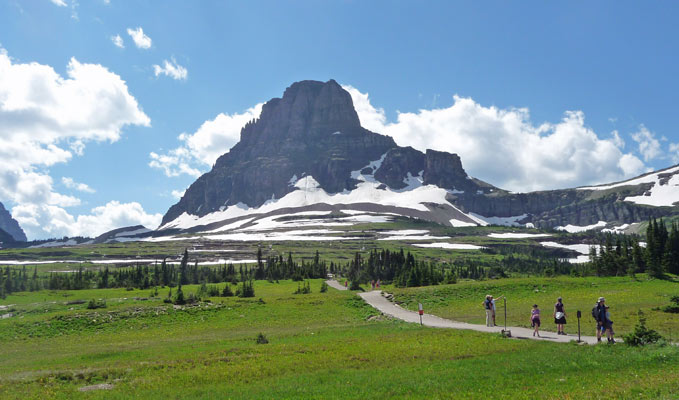 Logan Pass is 6,647 ft. so for a first day of hiking at altitude we took it easy and didn't hike the whole trail. This is the view to the left of the view above.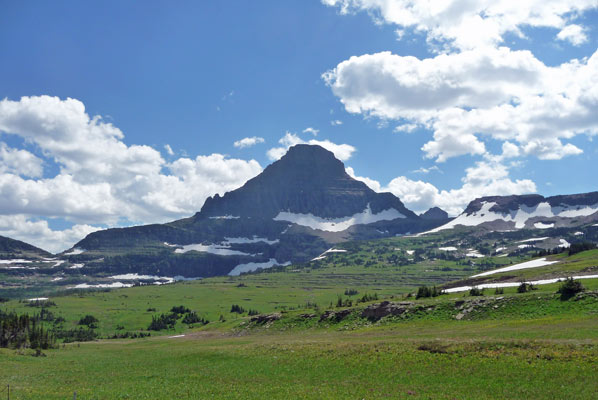 The meadows were in full bloom. There were tons and tons of glacier lilies but none of the close ups I took came out. The sun was really bright and the camera insisted that all the yellow flowers were NOT flowers.


But it didn't have trouble with Alpine Veronica (Veronica wormskjoldii)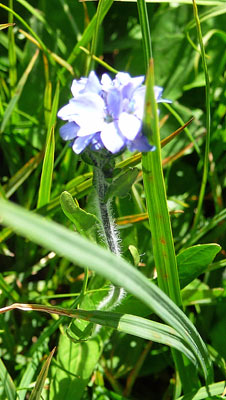 Or Sitka Valerian (Valeriana sitchensis)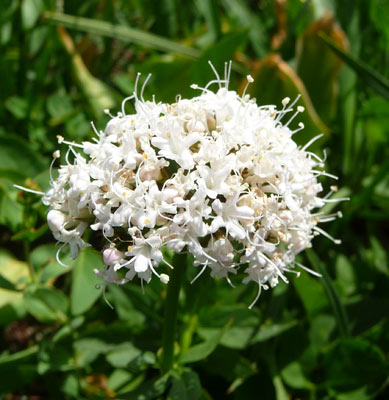 Or Leafy Aster (Aster foliaceus).




There was a waterfall cascading down out of the mountains on the right side of the boardwalk.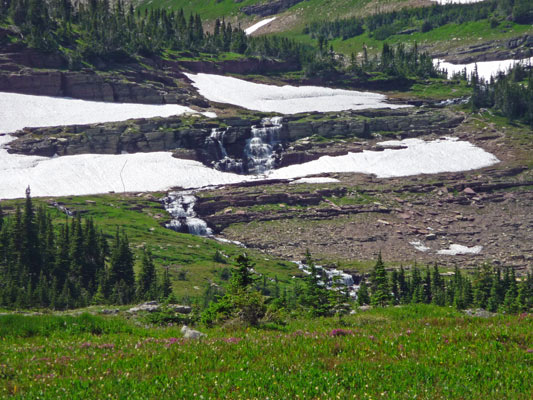 And the seas of Glacier Lilies stretched out to across the meadows towards the towering peaks that surround the pass.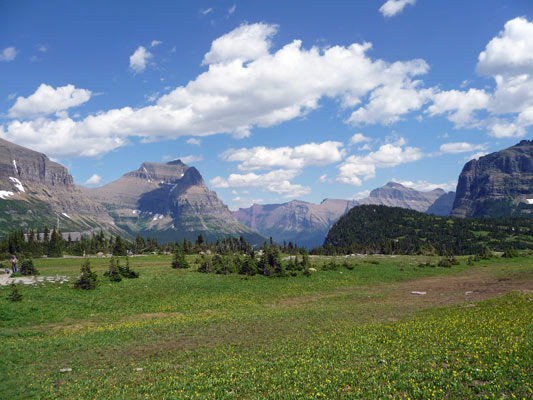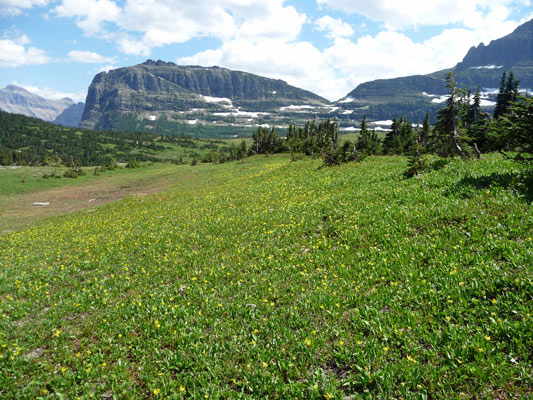 There was magenta colored Alpine Paintbrush (Castilleja rhexifolia)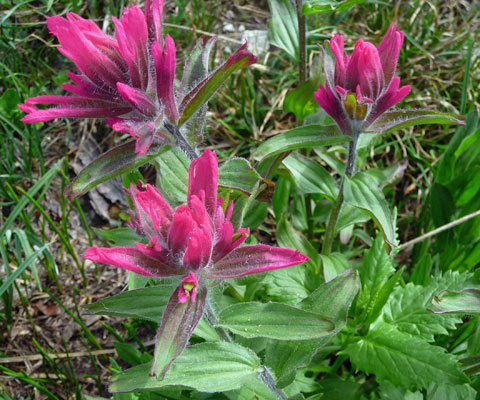 And a ground squirrel who sat in the exact same spot chirping at us both when we went up the trail and came back down again. Those are Glacier Lilies all around him.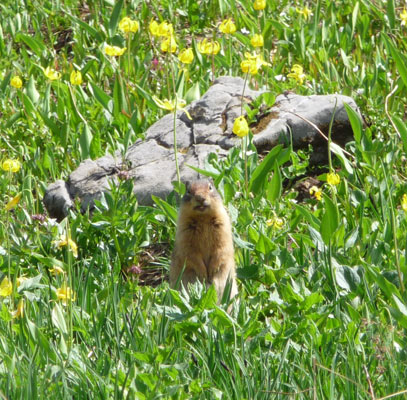 Here's Walter on the trail with one of the peaks behind him.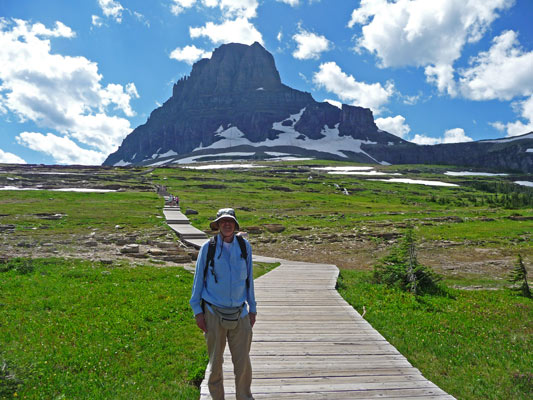 At each level of the trail, the flowers changed. There were Mountain Buttercups ( Ranunculus escholtzii)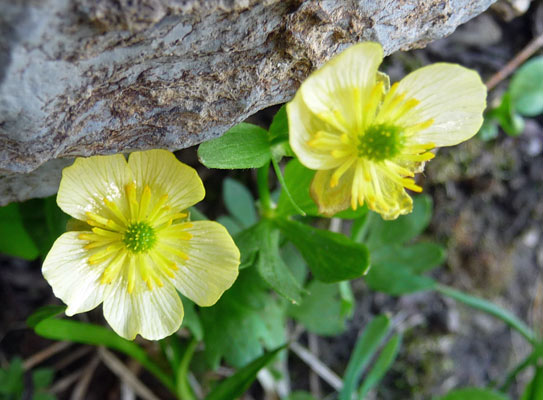 and Spring Beauty (Claytonia lanceolata).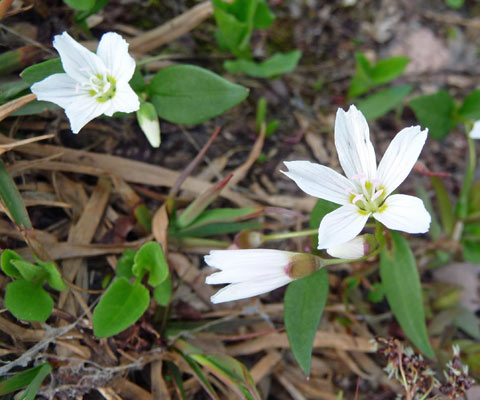 Here's a panorama shot I took on our way back down the trail.





I saw more Alpine Paintbrush (Castilleja rhexifolia).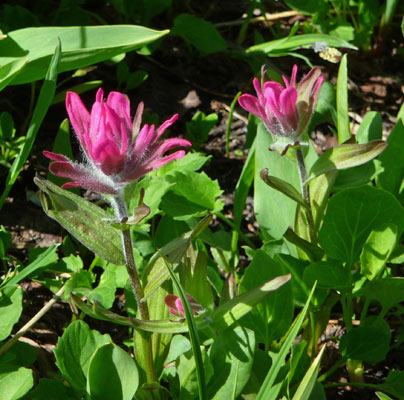 And there were Western Pasqueflowers (Anemone occidentalis) in bloom too.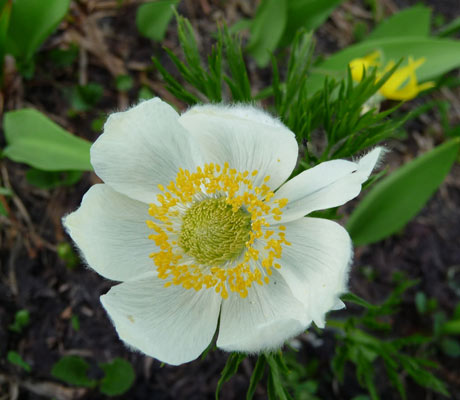 Down near the Visitor's Center there was a patch of Shrubby Cinquefoil (Pentaphylloides fruticosa) which was something we saw tons of in Alaska and the Yukon last summer and would continue to see just about everywhere we went on this trip too.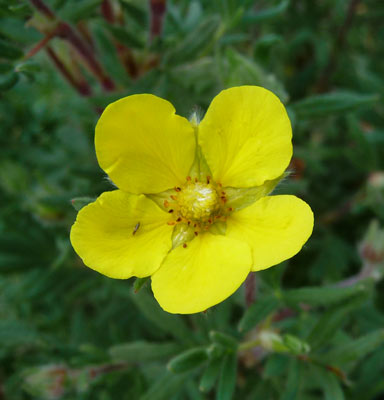 But even better there were Explorer's Gentian (Gentiana calycosa) in bloom too. I just love this color blue.


When we got down to the shuttle bus stop we noticed a huddle of folks over where the parking lot met the road. Where there are groups of people there are usually critters. Sure enough! We had big horn sheep.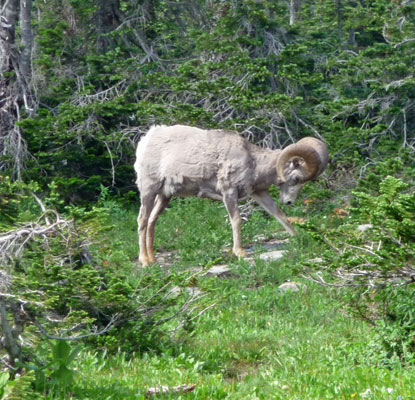 This guy decided it would be fun to come down and see what all the ruckus was about.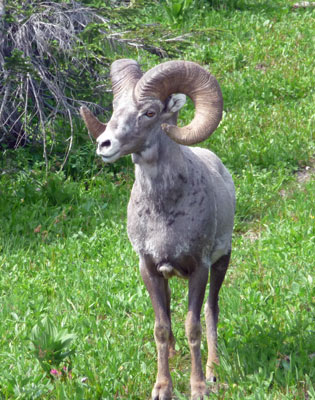 When he got too close the rangers came over and waved a paper bag at him. And he and his buddies (who had started to follow him) high tailed it back up the rise.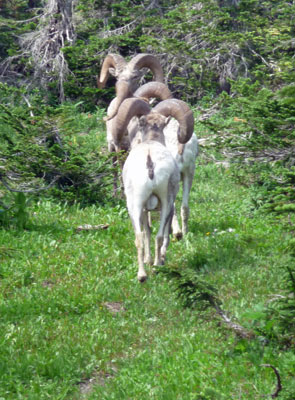 They posed and elbowed each other like they actually wanted to have their pictures taken.

When I got done with my photos I found Walter waiting at the bus stop.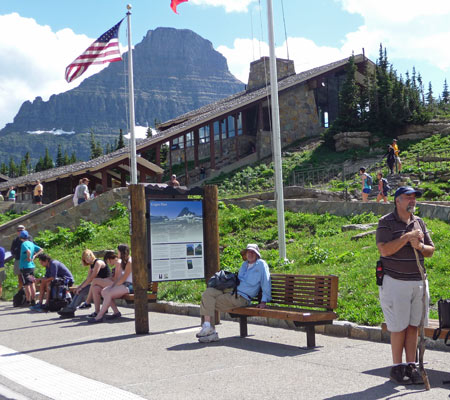 It was a long wait but then a whole bunch of buses came at once (that's what construction delays will do for you) and we all managed to get seats on the bus back down to Avalanche. Just as we were coming around the curve down from Logan we spotted a pair of Mountain Goats on the snow by the road. We'd been barely able to see them coming up but this time they were easier to spot. Please excuse the fuzzy spot in the photo, it was taken through the bus window. He's at least a whole lot bigger than the white dots I took photos of in Alaska.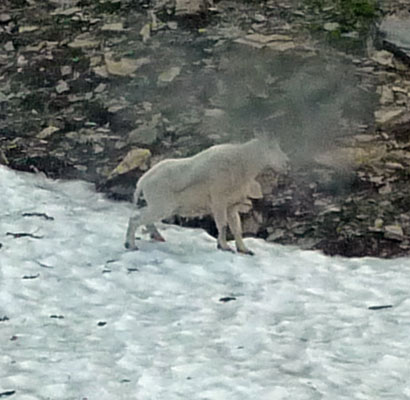 We got to wait in traffic again just outside of Avalanche but at least this time there was a nice view of Avalanche Creek. There is clearly no glacial melt in this creek since it is crystal clear and you can se the rocks on the bottom.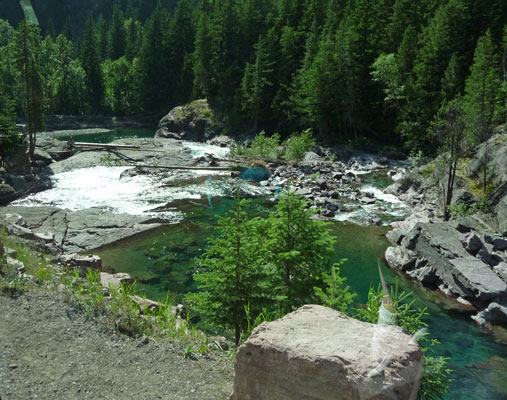 We got to wait for the bigger bus again at Avalanche. Traffic in the parking area was nuts. Someone was being towed because they had parked illegally and blocked the turn around for the buses. There were BIG tour buses picking up tour groups of high school kids parked where the shuttles belonged. You get the picture: semi-organized chaos.

We did eventually get on a bus and actually go seats to go back down to Apgar. It was after 6 pm when we got back to our truck—a long time for a bus ride that normally would only be an hour or so each way. But hey, it's high season and that means lots of people and construction.

As we pulled into the campground we spotted a doe munching on the bushes just before the check-in station.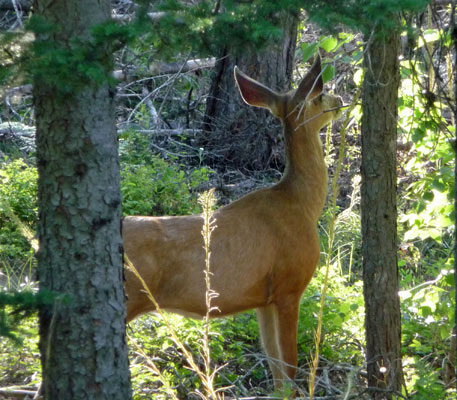 She was a nice finish to a great day full of wildlife, flowers, beautiful views and interesting people.

The next day we decided that we really didn't have any desire to ride the shuttle again so we set out to drive the Inside North Fork Road to the trailhead for the hike to Howe Lake. However, after a very short distance we discovered that the road was closed. So we parked and walked a ways up the road through an old burn (2003 I think) that now had trees that were about waist high. It got hot in the sun so we turned around and took the Rocky Point trail instead. The trail wanders through the woods and over Fish Creek, crystal clear and beautiful.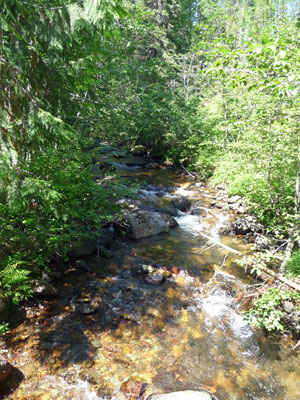 There were lots of butterflies along the trail and this Northern Checkerspot (Chlosyne palla) even sat still long enough for me to take a photo.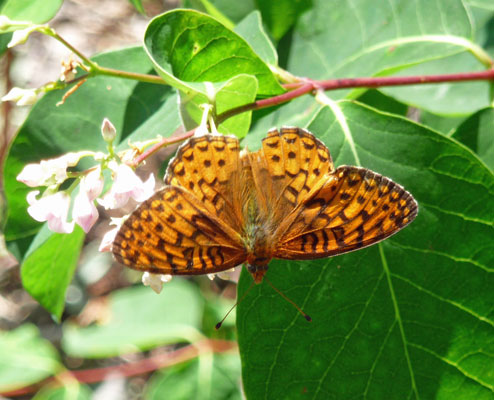 There were lots of flowers, though not as many as up in the meadows at Logan Pass. Instead of early flowers we had later ones like White Angelica (Angelica arguta).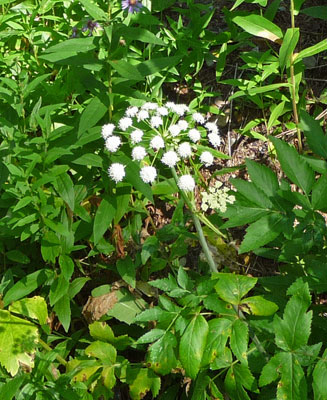 Twinflowers (Linnaea borealis) like those we saw in Alaska in July,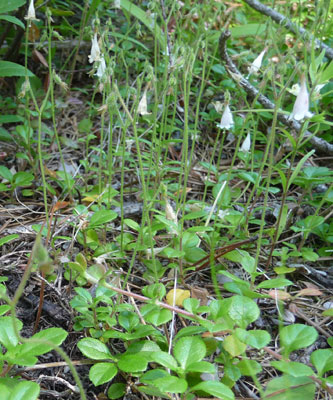 and Harebells (Campanula rotundifolia) which we continued to see the whole rest of the trip.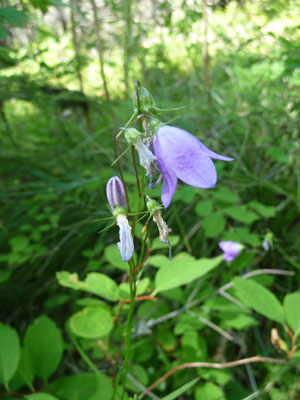 Eventually the trail actually took us out along the shore of Lake McDonald with a great view eastward to the mountains.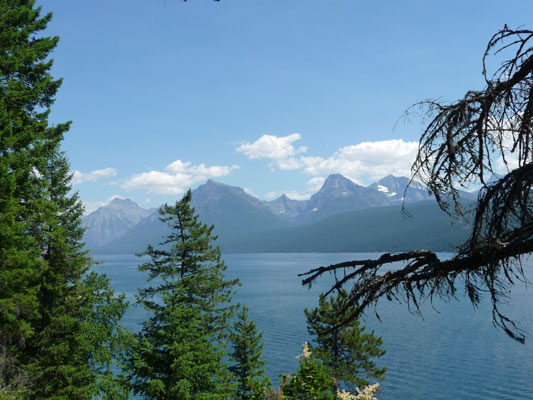 It then circled back into the burn we'd hiked through along the road to give us a great panorama view.





Out in the sun in the old burn there was Canada Goldenrod (Solidago canadensis)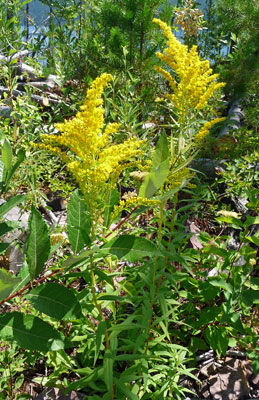 Birch-leaved Spiraea (Spiraea betulifolia)—there's tons of this along all the trails in Glacier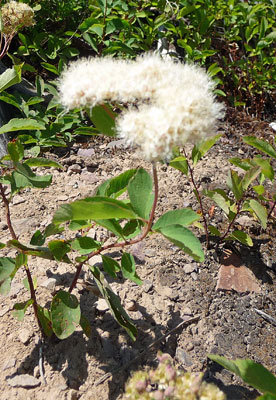 And Pipsissewa (Chimaphila umbellata) a first for me.




We were hot and tired by the time we were done. We're just not used to hiking when the temperature is in the mid to high 80's. We went back to the trailer and had lunch and showers and a nap. On the way to the showers, I saw a doe who was totally unimpressed with my presence as she munched away on the bushes in the campsite next to the bath house.

When I came back there was this buck who wandered through several campsites looking for choice morsels. He didn't even move on when people parked their trailer in the campsite next to him.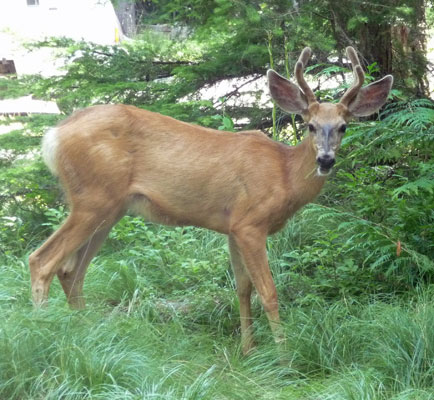 In Part II we'll drive to the eastern side of Glacier to visit Two Medicine and then on to set up camp at St Mary and do some hiking on the other side of the Continental Divide.