On August 6th Walter and I finally succeeded in completing the hike that led to our interesting misadventure two weeks ago. This time we took the right trail which is actually a gravel road.
It climbs about 800 feet in elevation in a little over a mile taking you through a pretty stand of young alders right where we came up the cliff face after we'd been bushwhacking along Trout Creek last time. The it levels out for about 3/4 of a mile.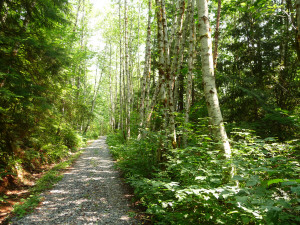 After you've gone about 1.75 miles you come to the remains of the old Sunset Mine Stamp Mill.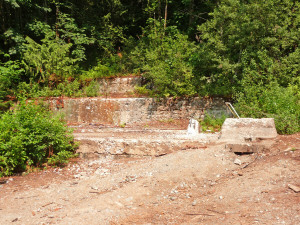 It was clearly a big operation once upon a time. In fact, the Sunset Mine was the largest copper mine in Washington state.
A side trail a little ways on leads to Adit 1, the lowest entrance into the mine. This was used to drain water out of the mine and at this point there's a small creek flowing out of it. If you look carefully at the bottom of the photo you can see the water.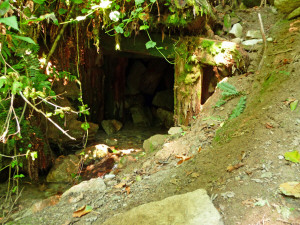 The trail leads on past a small turn-off to the upper entrances of the mine. We saw it but weren't sure if it was what we were looking for so we walked on a ways. To this big rock--so now you know, if you get to the boulder in the middle of the trail you've gone too far!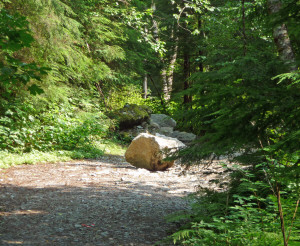 To the right of the rock is Trout Creek--you see if we'd been able to find a way we could have hiked up along the creek all the way to the mine last time--it's just not easy!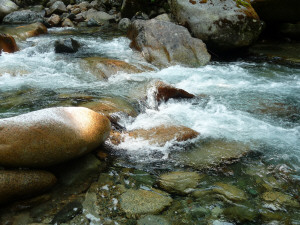 From the creek you can see this wonderful old bridge made from enormous old growth Douglas Fir trunks. There are small trees growing out of it and it's clearly rotten.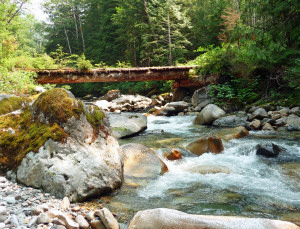 Needless to say they've blocked it off so that the folks in four wheel drive vehicles and ATV's who drive this far can't drive across it. We hiked a little ways on the road that parallels the creek until we were pretty sure that this was not the trail we were looking for. Then we turned around and went back to the first trail turn off we'd seen before the bridge.
Our trail guide had said this was an old road and it sure didn't look like one to us since it takes off straight up the hill!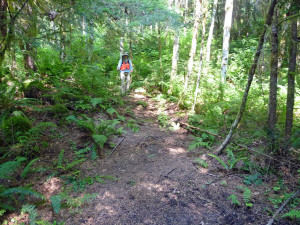 It's pretty steep and winds it's way up the hillside first to what looks like part of a tailings pile and then very steeply up to Adit 2. We were wearing day-glow orange vests because it's bear hunting season and neither of us wanted to be mistaken for a bear (a hiker got shot last year during bear season)!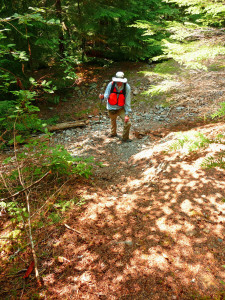 Adit 2 is hidden back amongst the ferns.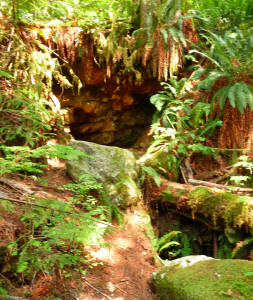 If you climb over the logs you can look down in.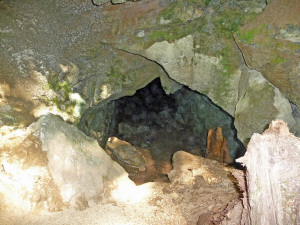 It's pretty clear that it's collapsed pretty badly.
From here the trail continues UP the hill...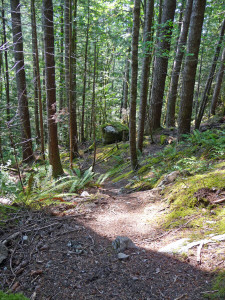 Past a huge piece of logging cable that was wound around this old stump and then strung out way down the slope.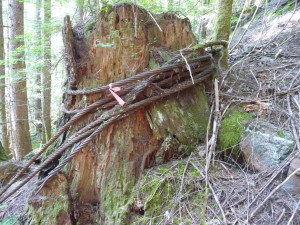 The trail leads through a really pretty moss garden too where we sat and rested for a while to catch our breath.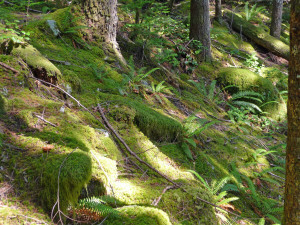 At long last we came to Stope 1--the real reason we were doing this hike. A stope is a section of a mine where they hit ore and clawed out everything they could find creating basically a large cavern. Over time this stope has collapsed creating a big long oval hole in the ground. On one end you could see the mine tunnel and the walls were colored green and turquoise--evidence of copper ore. The orange and brown indicate the presence of iron.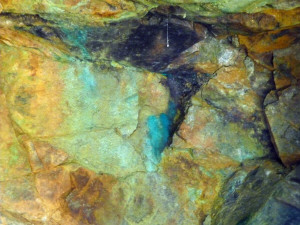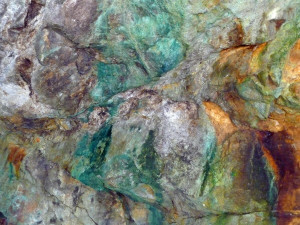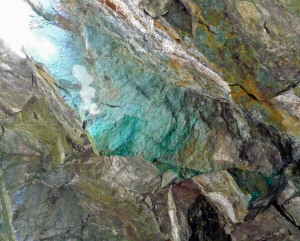 A fern grotto had formed at this end of the stope too with a very nice little trickle of water.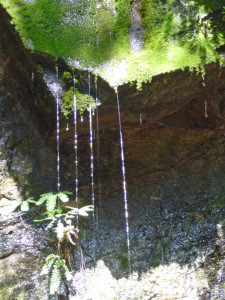 The bottom of the stope was littered with pieces of interesting rocks like this one.
The shiny gold stuff on the tip of this is pyrite while the greenish stuff is malachite. Pretty, huh?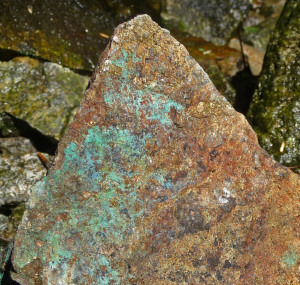 This photo can give you a bit of an idea of how big the stope was. This is just one end of it. The walls are about 50 feet high and it's about 100 feet long at least. Climbing down into it was a little dicey because it was steep but it was worth it.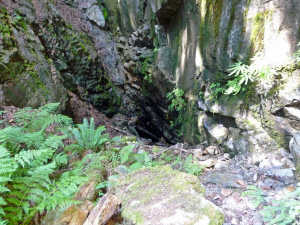 Some folks climb on down into the mine here. We've read about there being old wood structures inside but neither of us are drawn to clambering around in the dark in dangerous places so we took a pass.
There's a second collapsed stope that's further to the west of where we were, but we'd seen enough so instead of following the loop trail we went back the way we'd come.
On the way back on the gravel road we saw a frog leap and I pulled out the camera when he paused to hide in the wet leaf litter. He sure is well camouflaged.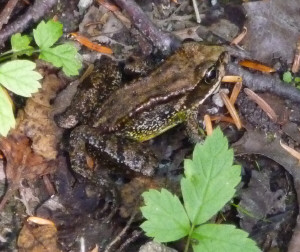 All in all, this hike is about 4 1/2 to 5 miles round trip with an elevation gain of about 1000 feet if you go up to Stope 1. It's a good workout and you get to see a lot of cool rocks and pretty country too.