In Part I
, we left off as we were driving south through Anza Borrego State Park towards Agua Caliente, a San Diego County Park with hot springs!
We camped for two nights at Agua Caliente. It has great camping spots for tents, rigs that only need water and electricity and big rigs that want the full hook up deal (complete with views). It's crowded most weekends but had lots of space on Monday when we arrived where we got a nice spot with water and electricity not far from the hot springs pools.
After settling in and having lunch on the first day we set out to explore one of the trails in the park. The trail followed a ridge where we found our first cactus in bloom for the trip.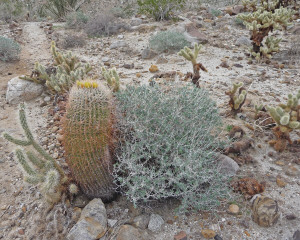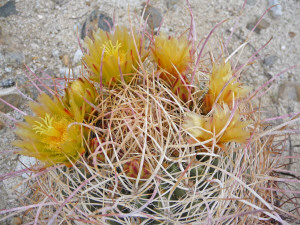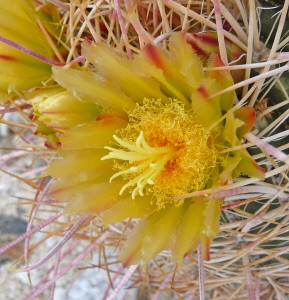 There were also really bushy/curly ocotillos in bloom too. I've never seen ocotillos that were so bushy or that curled like these.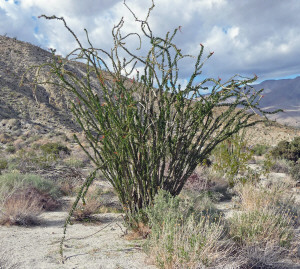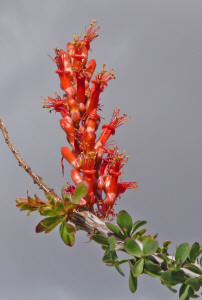 There were also these really cool rocks with very round indentations in them. The smaller ones look like grinding stones except for the fact that they point sideways!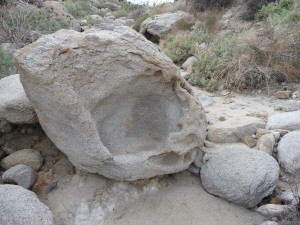 Near the end of the trail we came across this great yucca sending up it's future flower stock. I love the purple color of it especially against it's blue leaves.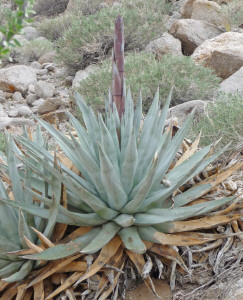 The next day we set off for the Mountain Palm Springs Trail that's about 8 miles south of Agua Caliente. It's a 5 mile loop trail that visits 5 palm groves.
The trailheads weren't well marked but we found one and thought that we were proceeding counter clock-wise on the loop. First we came to a nice little grove of palms with water seeping along amongst the rocks! This turned out to be Pygmy Grove (you can see some of the palms in the foreground and background are shorter than usual) but we didn't know that at the time.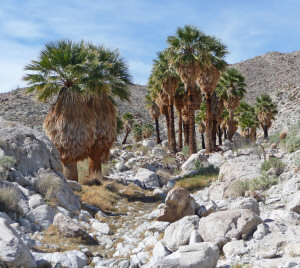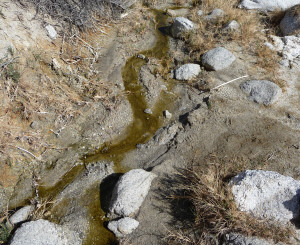 We hiked on looking for a side trail to a grove called Mary's Grove but no luck. Instead we came upon this lovely little cluster of palms.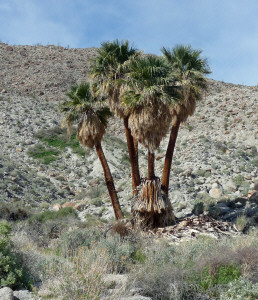 And lots of this shrub that's called chuparosa (Justicia californica) that the hummingbirds really love.
The trail climbed out of the canyon and along a ridge and we got this great view looking east out over Anza Borrego. It's harsh dry country but it has it's own special beauty.
Click to see a full size photo.

Turning west along the trail, a wonderful large palm grove came into view. By this point we had decided our trail map was totally wrong because this grove didn't look like Palm Bowl Grove, the very large one that we thought should be there.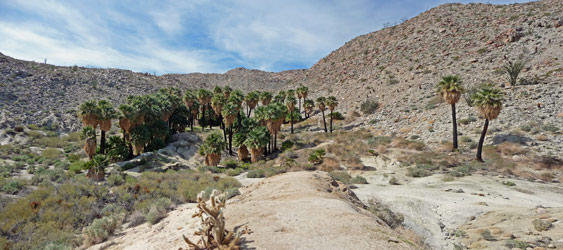 We followed the trail down into the green grassy oasis with it's trickle of water. It was truly a wonderful place. If we'd had our lunch with us I'd have insisted on having a picnic there since there was green grass, the tiny creek and a gentle breeze rustling the palm fronds.
While we were there we came across a couple of hikers from the Netherlands who had a different hiking book. They told us we were at Southwest Grove and that they had just hiked down the hill from Palm Bowl Grove to the north. Suddenly it dawned on us the map wasn't wrong-- we were going CLOCKWISE on the loop! The first grove we'd come to was Pygmy Grove--even if the palms weren't that short anymore like they had been back when it was named. We hadn't missed the trail to Mary's Grove! We hadn't gotten there yet. Duh. Cheered on by their comments about how huge and wonderful Palm Bowl Grove was we decided to soldier on and finish the loop.
As we were getting ready to move out another hiker came down the ridge pointing out a pair of desert big horn sheep crossing the hillside. They were too far away for a decent photo (they blend in with rocks really well) but it sure was fun to watch the big ram and smaller ewe pick their way along amongst the rocks. It's always cool to see endangered species!
We hiked up the steep rocky trail and found desert poppies (Eschscholzia parishii) in bloom here and there amongst the rocks.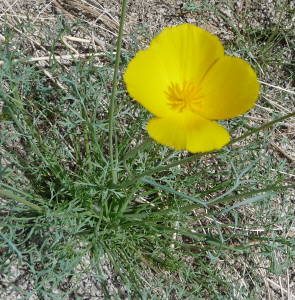 There were more of the yellow barrel cactus like the ones we'd seen the day before too. And nestled next to a rock there was this little cactus with these cream white flowers just opening along its crown. I don't know it's name but it sure was sweet.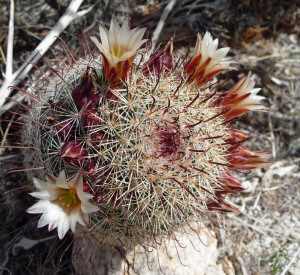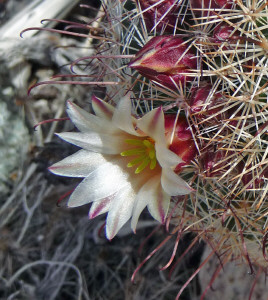 We stumbled on along the rocky trail and as we crested the ridge and started to come back down a new cluster of palms appeared down in the canyon below.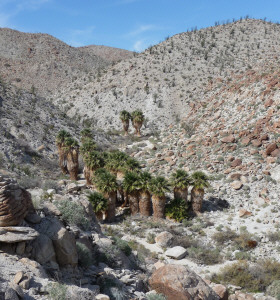 We picked our way down the steep hillside into Surprise Canyon. Once again there was a nice little trickle of water in amongst the very large palms.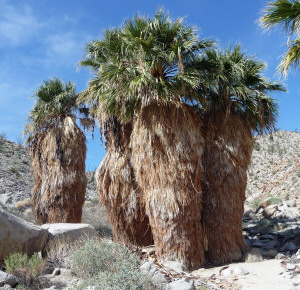 All the palms on the trail are the native California Fan Palms that grow anywhere in the desert where there is water close to the surface. They have fruit like little dates that hang down in clusters that the birds and squirrels enjoy. I suspect the native people of the area gathered them too.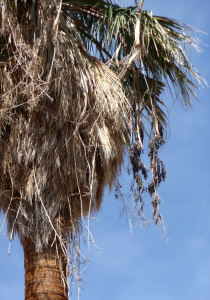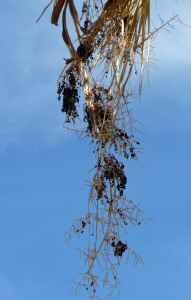 The palms start out small and just grow steadily taller. Clearly the Pygmy Grove that we visited early on was named when the palms were young like this one but now have grown taller to nearly match those in the other oases.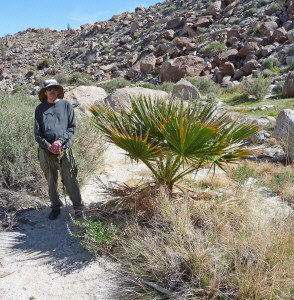 A side trail leads out of Surprise Canyon out to Palm Bowl Grove.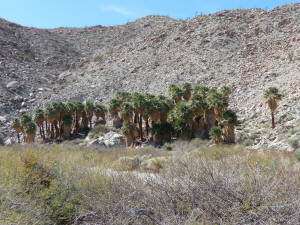 The palms range across the bottom of the natural bowl forming one of the largest collections of palms in the area--nearly a hundred of them!
As we worked our way down the canyons to finish the loop we came to a little cluster of flowers growing amongst the rocks. These are red monkey flowers (Mimulus rubellus). I was amazed to find monkey flowers in the desert since they mostly only like growing in wet places along streams and in bogs. But mother nature seems to enjoy amazing me so here's a desert variety.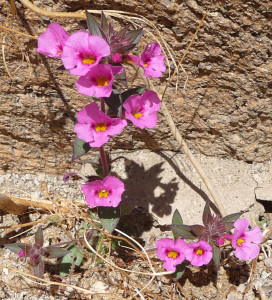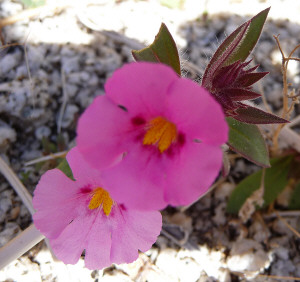 Finally as we were nearing the end of the hike we found the spur trail leading off to Mary's Grove--the one we thought we'd find FIRST along the trail. We were tired and hungry by this point so we didn't hike out to it. But you could get a glimpse of it from the trail. Just before the end of the trail we came across this wonderful bushy green area full of these lovely blue flowers. They're Blue Phacelia (Phacelia distans).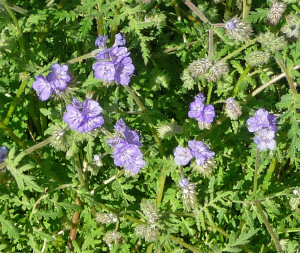 And just past them we came to a cluster of HUGE ant hills just crawling with ants. We'd seen others earlier in the hike but the ants hadn't been out on them.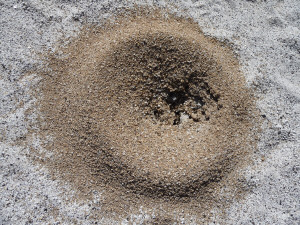 Tired but happy we got back to the truck, pulled out our chairs and cooler and had lunch sitting in the shade with a view of the valley spread out before us. When we got back to our campsite we changed into our swimsuits and hiked up to the hot springs. Later in the season they have a couple of outdoor pools open. But in February all that was open was the giant indoor hot tub that is about the size of a motel swimming pool all at the same hot tub depth. We soaked our tired bodies in the 102 degree water in the glassed in pool with a breeze blowing through the open sliding glass doors. Then went back and had a nap. Ahhhh.
The next day we packed up and drove to Santee Lakes Park just outside of San Diego where we camp each year. It's a great campground on a series of lakes with lots of birds and good services. The first day we took a hike in Tecolote Canyon in San Diego itself. It was a pretty day and we saw a few wild flowers as we hiked this urban greenbelt but I didn't find anything to photograph.
In
Part III
, we'll go to the San Diego Zoo where we saw lots of wonderful critters!