In Part II
, we left off in San Diego as we got ready to go to the zoo! Our daughter, Tracy, is a member of the Zoological Society so she has passes to the zoo. Since we all love the zoo and the wild animal park we make it a practice to go to one or the other every year when we visit her.
It was a perfect day for it--partly cloudy and in the 60's. We actually got it together to get there at mid-morning and as always took the tram ride around the zoo to get the tour and all the latest news.
It's also a wonderful time to take some great photos.
This tiger was awake when we went by on the tram. But later when we visited him on foot he was sound asleep.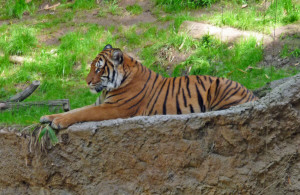 This pair of hippos was lounging together too. Later they were out swimming.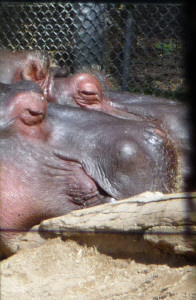 When we went past the grizzly bear enclosure this pair of twins were having a great wrestling match/mock fight. But when we went back later in the day on foot they were asleep.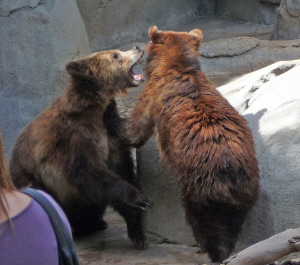 I caught a nice pose of a baby giraffe from the tram too.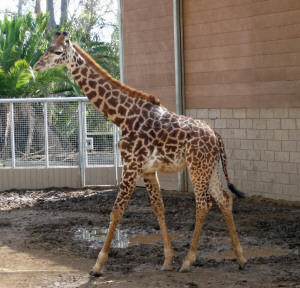 After the tram tour we hiked down through the rain forest, past the monkeys to the line to see the pandas. Two years ago this line was so long we didn't go near it. It wasn't long this year since it was fairly early on a weekday. We only waited a few minutes before we could see Su Lin, a female adolescent, pacing in her enclosure. She was really covering ground! Turns out she was entering estrus for the first time and they pace when that happens. She'll be going back to China soon to fine a mate.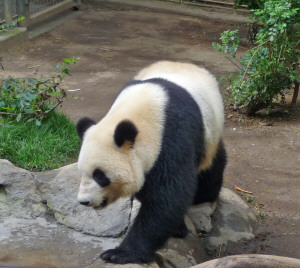 In the next enclosure the baby panda, Yun Zi (born August 5, 2009) was sitting up on a rock playing with some panda cookies they'd left out for him. After a while his mom, Bai Yun, arrived to curtail consumption (we were told she was being a good mom) and ate all the cookies and then started to wrestle with the baby.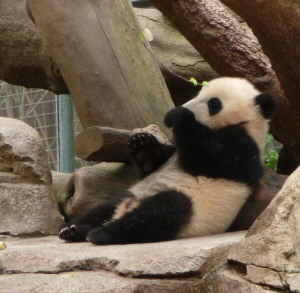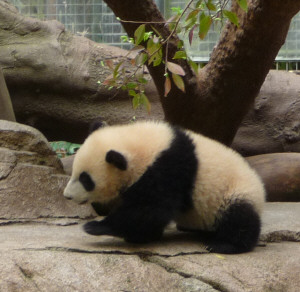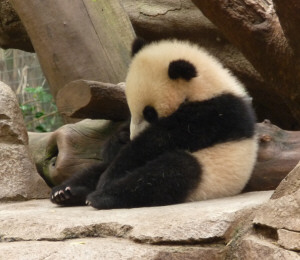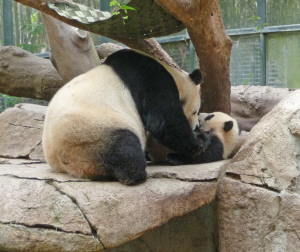 After a bit of fun, Mom went about her business and Baby continued to explore.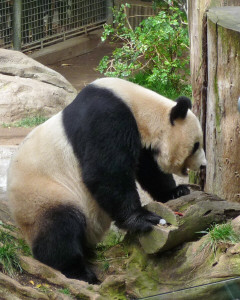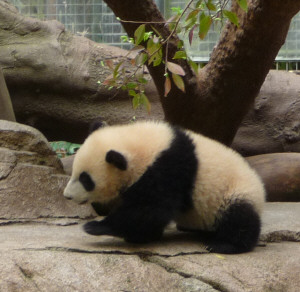 On our way to Elephant Odyssey, the new elephant exhibit, we passed the guanacos. I just think they're gorgeous. They're smaller than llamas but bigger than alpacas and just pose wonderfully for the camera.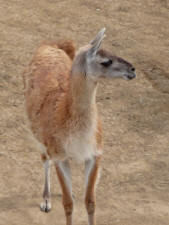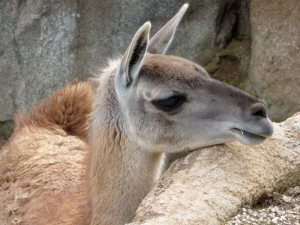 The camels did a good job posing too, showing off their great jaw action.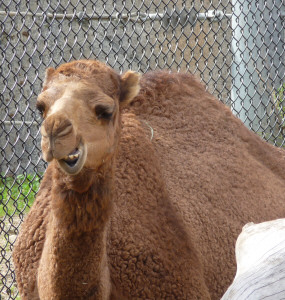 Elephant Odyssey, the new elephant exhibit, is a cross between a zoo exhibit and trip to the Museum of Natural History. They introduce you to the prehistoric animals (like mammoths and saber tooth tigers and giant falcons) that roamed Southern California thousands of years ago. They've got fossils and big statues (kid friendly for climbing on and having your picture taken) and lots of these goofy cutouts to have your picture taken with. Here's Walter posing as Harold the Over Hunting Theorist referring to the scientists who think the mammoths disappeared in North America because of overhunting.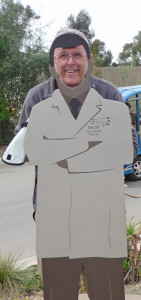 The zoo's 6 elephants have two huge enclosures to ramble through plus bathing pools and really cool open-air but under cover elephant care building where we got to watch an elephant get a pedicure. I took way too many photos of the elephants but this one seems to be the best since there's no fencing between us and the big beast showing. I love heffelumps!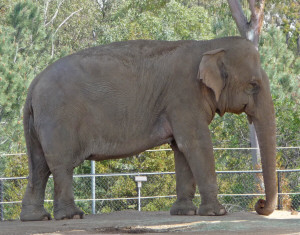 This is Ranchipur their only male.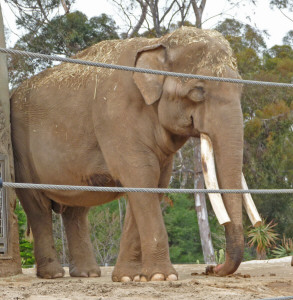 There was a cool creek-side display in amongst the elephants and there were turtles and lizards basking in the sun. Some of them were brass and some of them were real. Here's a Pacific Pond Turtle posing for us.
And here are three of them lined up and with one of them standing on a brass lizard.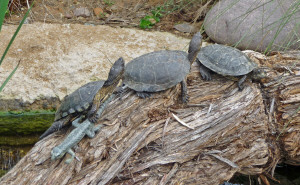 There were also cinnamon teals taking a bath. I don't know if they actually belong to the zoo or are free loaders. Who cares? They're pretty!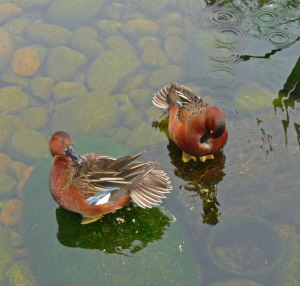 After lunch we wandered on through the zoo and visited the California Condors. The two on the right are a year or two old. The guy on the left is reaching maturity.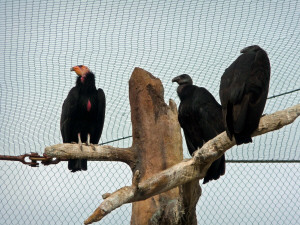 You can see from his coloring that he's probably in his fourth summer. They aren't fully mature until their are 6 years old. Then they get this big red goiter under their chins and their beaks turn white. The breeding program at the zoo is helping with the process of bringing these big birds back from the brink of extinction.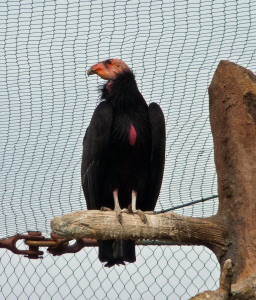 We stopped and visited most of the cats but in the afternoon they were doing what they do best, sleeping on the top shelf of their enclosures.
On our way out of the zoo we stopped by to pay homage to the koalas and actually found some of them awake! They sleep something like 20 hours a day so catching any of them awake is a real treat.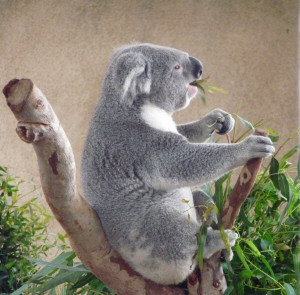 This is not a two headed koala. That's a baby sticking it's head out of it's mother pouch to check out the world! I think mom is asleep but it sure was fun to get to see the baby.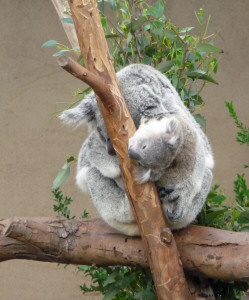 Are your feet tired yet? Ours were, so we headed for the car. Outside of the main gates I saw this big topiary elephant and got Tracy and Walter to pose for me. "Daddy took us to the zoo and we stayed all day." (last line of an old Peter Paul and Mary song)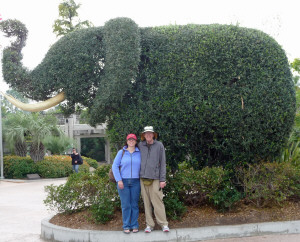 The next day it rained pretty much all day. And in typical California fashion this was not a gentle rain--it came down in buckets. So we went to the Science Museum in Balboa Park to see a couple of IMAX films--Arabia and The Greatest Places. Both were really cool even if both Tracy and I ended up a little motion sick when we were done.
My thought had been to spend a couple of hours in the Science Museum. But Saturday on a rainy day at a kids oriented museum is pretty intense--as in loud and frenetic--so we didn't last that long. The rain let up so we wandered through Balboa Park and stopped at the Botanical Garden. It's actually a very large shade house full of orchids and ferns and other tropicals. From there we hiked over to The Prado (the only sit down restaurant in the park) and had a late lunch. This is the fountain in the courtyard by The Prado.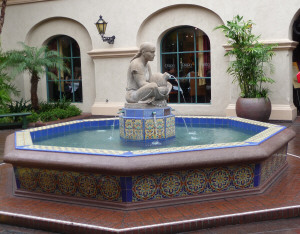 As usual in California, the next day had blue skies with puffy white clouds. We went for a 5 mile hike around Miramar Lake. Here's the panorama view from the west end of the lake.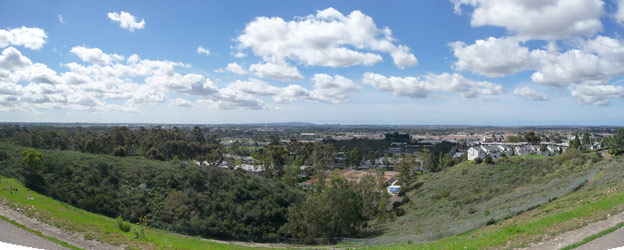 And a close-up of La Jolla and the UCSD campus there.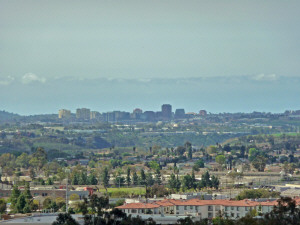 There were a few wildflowers in bloom like these Blue Dicks (Dichelostemma capitatum).
And these cool grasses.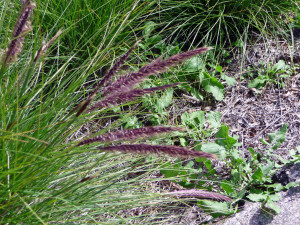 The next day dawned clear and warm and perfect for a trip to La Jolla, my favorite beach town. The surf was up from the storm that had just come through and Walter decided he needed to take a photo of me out on the rocks with the water.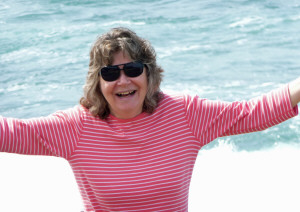 The harbor seals that took over the Children's Bathing beach years ago were in the process of having babies and the beach was full of mom's and pups ranging from 12 hours to about a month old. Here's a mom and the pup that had been born at about 1 am the night before.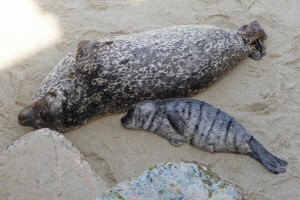 When we went out onto the breakwater that forms the beach you could see the beach full of seals and the rocks full of pelicans.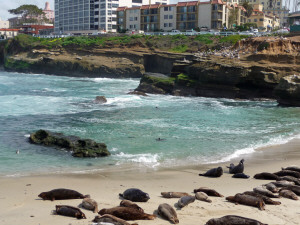 This mom was escorting her pup out for a swim. She always made sure she was between the deeper water and the baby.
We saw more California Brown Pelicans this year than I've ever seen--well over 75 of them in two separate flocks. Brown Pelicans were listed as an endangered species in 1970 but the banning of DDT has allowed them to recover and they've been off the list since Nov. 2009. It's good to see actual personal evidence that they really are recovering.
Here are a group of them in mating plumage on the rocks near the Children's Pool.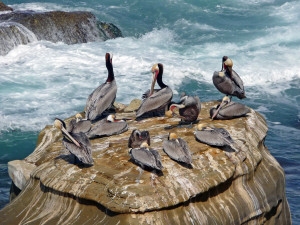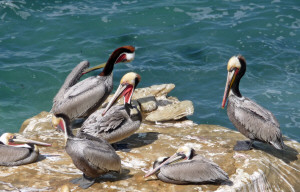 And here's a wonderful close-up. The red under their beak is their pouch.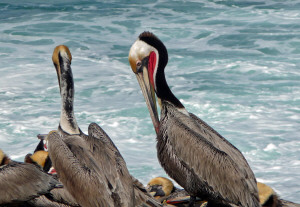 As we came around the curve in the coastal walkway on our way to The Cove, we spied a California Sea Lion posing on top of a rock. There were a large group of them asleep farther up the rock and it looked like this one was on guard, but who knows? I was just happy to get him, the rocks and surf all in one photo.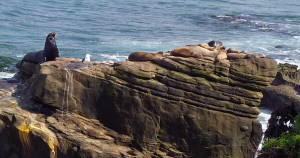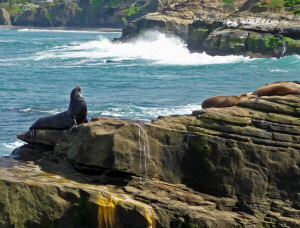 Here's a close-up of him basking in the sun. Doesn't he look blissed out?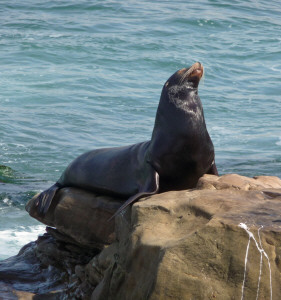 We had a picnic lunch sitting on a bench watching the surf on the rocks in our own little slice of heaven.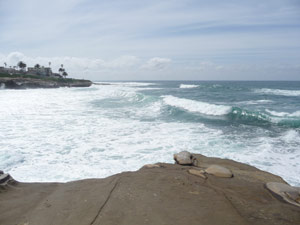 The next day we set out north on our way to Death Valley. We camped the night at Calico just outside of Barstow. At sunset, I watched the hills behind us light up and climbed up the embankment to catch them as the setting sun turned them red.
Click on the photo to see a full size picture.

And then I took a few shots of the sunset itself. Here's Rosita Casita and the sunset.
And a few minutes later when it was nearly dark I took one more. Sunset in the desert, yum, yum, yum.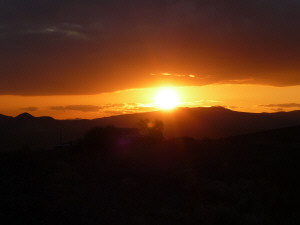 In
Part IV
, we'll be heading into Death Valley. I hope you're ready to do some hiking because we're going to take you on some great hikes but you'll need to be sure you've got your boots on--you'll need to be ready to clamor on some rocks and trek a ways through rocks and gravel.