In late July, Walter and I packed up the trailer and took off for 4 days in the North Cascades. We camped for two nights at Baker Lake, a beautiful place with LOTS of mosquitoes.

In fact, there were swarms of mosquitoes that kept us holed up inside most of the time we were there. Just setting up the trailer was an adventure because there are stages of the process where you're standing still and the mosquitoes were settling down for lunch even in the middle of the afternoon! Still after we'd gotten settled in we did go out for a walk and shot some pictures and took a drive along the lake.

The next day we did a wonderful hike up the Park Butte Trail from Schriebers Meadow to Morowitz Meadow on the east face of Mt. Baker. As we drove from Baker Lake to the trail head we crossed a bridge and caught a great view of Mt. Baker.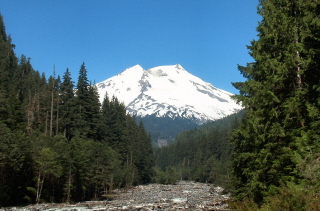 The Park Butte trail is a trail that many climbers use to reach the Easton Glacier and then the summit of Mt. Baker so the trail head had a lot of cars on it and yet we really didn't see many people.
First it winds through the woods and across a creek over a very nice big bridge.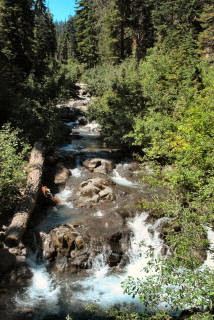 Then you enter a meadow where there were spirea, heather, lupine, valerian and asters in bloom.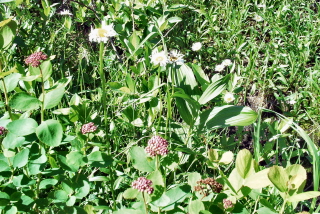 As we passed an old tree stump I saw a wonderful patch of bunch berries (also called creeping dogwood). When Walter first saw these he described them as looking like they were made out of plastic they were so perfect.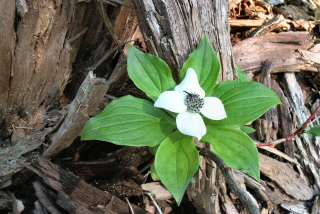 Off and on through the meadow (and on up the trail) we caught glimpses of Mt. Baker.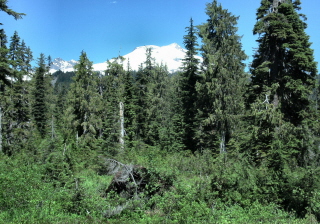 After the meadow we moved into the trees and started crossing little rocky creeks. The trail guide we had said that some years there were bridges and some years there weren't so we should expect some boulder jumping. After climbing up through this section of trail we thought we surely were past the worst of it.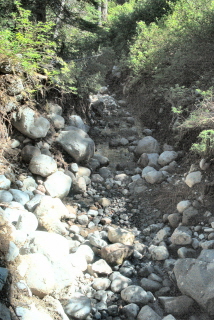 Boy were we wrong! It went on and on and there were times when we had a tough time finding the trail for all the rocks. We crossed a few more streams and were sure that we'd dodged the last bullet. And then we came to this sign.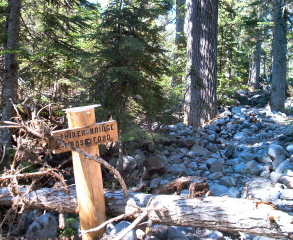 It points to a hikers bridge in one direction and horse ford the other.
And there's a small sign sitting on top of the pole that says, "Bridge out use ford".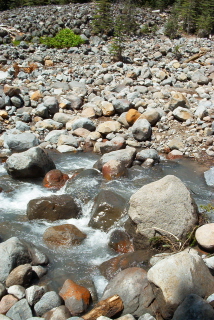 Okey, dokey, I'm a horse I thought. And then we came out to the ford.
Hop from boulder to boulder and then clamber your way across the field of rocks looking for the trail. Surprise, surprise this is called Rocky Creek!
We sat for a while and studied the rocks and then I went for it. Walter decided to try an alternate route and went down stream to find many many smaller rocks to walk across--not easy enough that he tried it again coming back--that time he tried walking on fallen tree trunks and almost fell! We made it and only wandered around a bit before we found the trail again.
The back packers behind us had a lot of fun boulder hopping with their packs on and one ended up with wet feet and bruised pride.
Surely that would be the worst of it. And it was, except that for the next mile we wound our way up switch backs gaining 1,000 feet of elevation.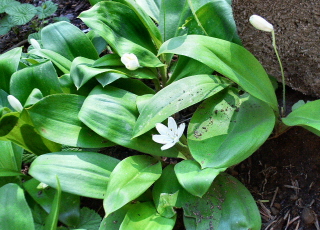 There were flowers here and there to give me an excuse to stop and catch my breath and take a photo including a lot of what's called Queen's Cup.
The guidebook calls it a 'long mile' and they're right. And it was worth ever blessed step. We came out into a meadow (no flowers here--the early ones were over and the late ones hadn't started). And the views! To the south the ranges still had patches of snow that made them gorgeous and photogenic.

And to the north there was Mt. Baker where Walter found a rock to rest on for a bit.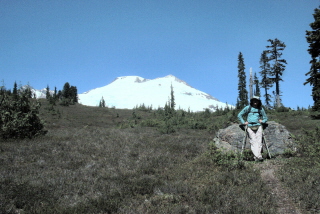 We stopped and had our lunch in the meadow talking about how perfect it would be to camp here and watch the sun light up the mountains--but neither of us is interested in hauling our gear up there.
The trail continues on up stairs (yes, rock stairs) and we decided that while we'd love to get the even better view of Mt. Baker you'd get from higher up that we really didn't have enough energy left in the tank to go higher AND deal with all those rocks on the way back.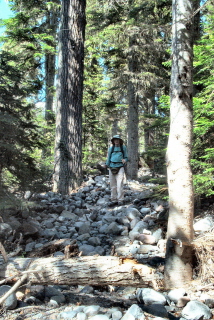 We were right. We were both very happy and VERY tired when we got back to the car.
The next day we packed up and moved to Newhalem campground in the North Cascades National Park Complex. The campground is in the National Recreation Area that includes Ross, Diablo and Gorge Lakes. It was nearly empty on Thursday when we got there and filled up almost entirely on Friday afternoon and evening as the weekend crowd arrived. So Thursday we relaxed in the warm shade and read our books.
And on Friday, we took the kayak up Thunder Arm on Lake Diablo.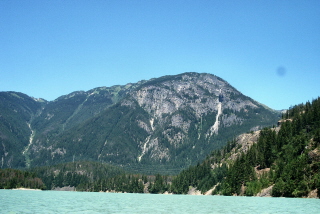 Yes, the water really is that strange milky green color. The lakes here are fed by over 100 glaciers in the area and so the water has tons of rock flour in it that makes the water milky green. It was a little windy as we paddled out the arm and when we turned around we could use our paddles as 'sails' and ride the wind most of the way back rather than paddling the whole way. There was a little moisture in the air that made the mountains a little hazy but they're still gorgeous.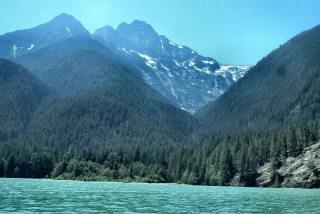 After our picnic lunch on the beach (it was a lovely warm day and there were kids wading in the very cold water) we drove up to the Diablo Lake viewpoint.
This is looking west down the lake with the wind blooming to beat the band so that no one could keep their hat on. It looks kind of fake but it really does look that way!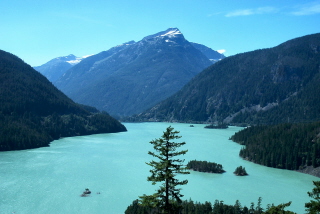 Below is Thunder Arm. You can see the wind patterns on the water.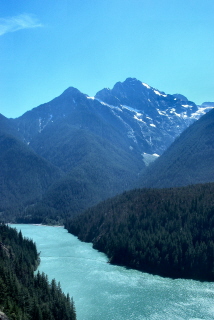 There's a dim line running diagonally across the arm mid-picture. We kayaked out that far just past the line which is a log boom and then turned around. The water looked like it does at the floating bridges here at home. On one side it was fairly smooth and on the other it was wild and choppy with the wind.