We left off in
Part II
in Anza Borrego State Park ready to go looking at the sculptures arrayed around the town of Borrego Springs. Borrego Springs is located smack dab in the middle of the park and includes hotels and golf courses and high end RV parks. It's a small desert town with no galleries or anything like that so we didn't know what to expect.
Multimillionaire Dennis Avery (think Avery labels and office supplies) bought a HUGE block of land called Galleta Meadows in the 1990's. He eventually built a resort, country club and golf course there along with a winter home for himself. He decided not to fence the property and instead marked it here and there with signs. Some look like they are for some future housing development—the kind made of stone and brass letters that say Galleta Meadows Estates. And others look like historical landmark signs like this one.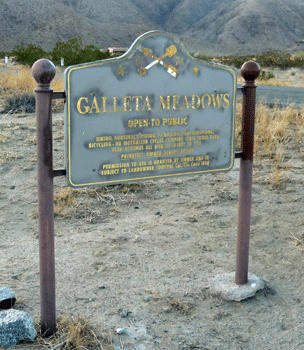 The date between the crossed shovels at the top is 1774, the year that Juan Bautista de Anza with the help of Chochimi Indian guide, Sebasian Tarabal, made the first expedition across the valley and on up California to San Francisco Bay. We'd seen the signs the last time we were in Borrego Springs but we didn't know what they were about.
This time we heard about the sculptures when we were at the state park Visitor's Center where they gave us a map so we could visit them. We really had no idea what we were getting into! There are 27 installations of these sculptures scattered around the edges of town. The sculptures were all commissioned by Avery and are all made of sheet metal by Mexican artist Ricardo Arroyo Breceda. They started with the pre-historic animals that lived in the area millions of years ago inspired by a book called Fossil Treasures of the Anza-Borrego Desert.
They range from critters like this Gomphothere (notice the enormous scorpion behind him).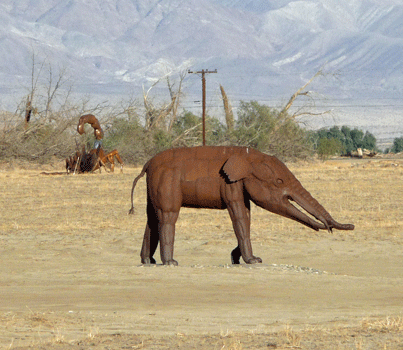 to things like these Camelops.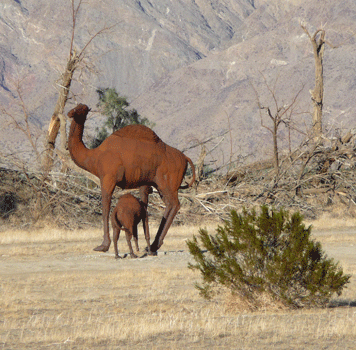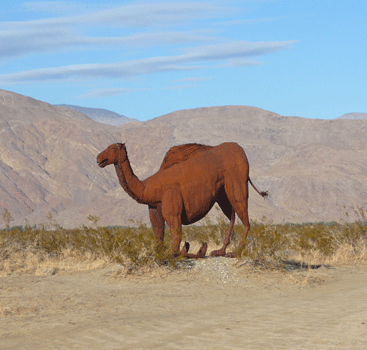 There are also gracile saber tooth cats,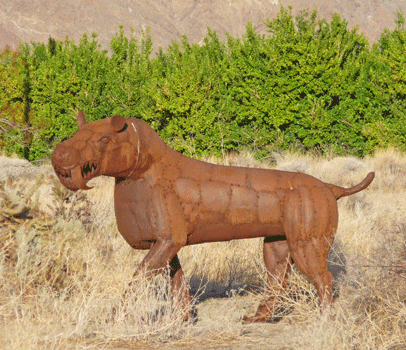 extinct horses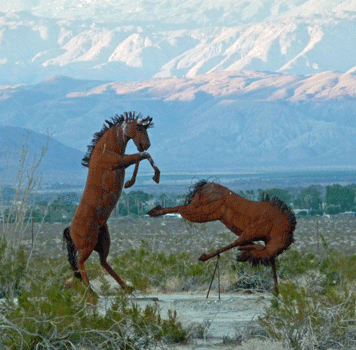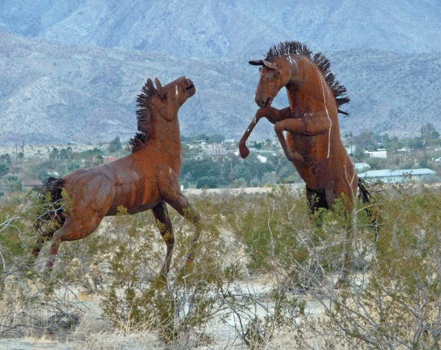 and giant tortoises.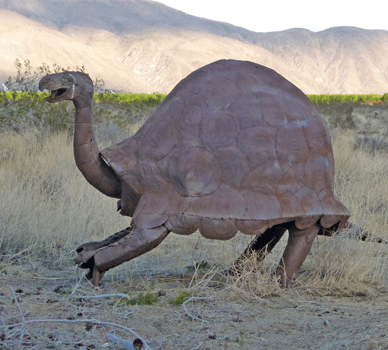 They've continued to add to the collection over the years including Merriam's Tapirs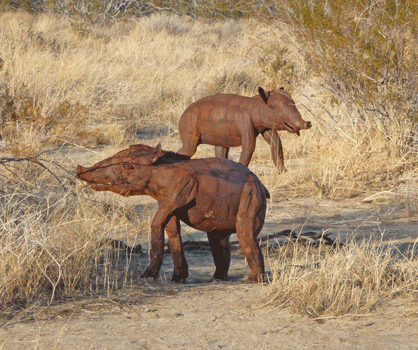 and Peccaries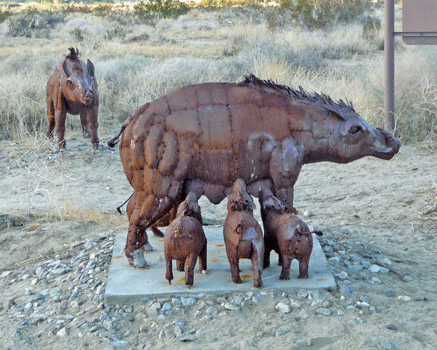 And even this fantastic Incredible Wind God Bird in his nest and with his prey.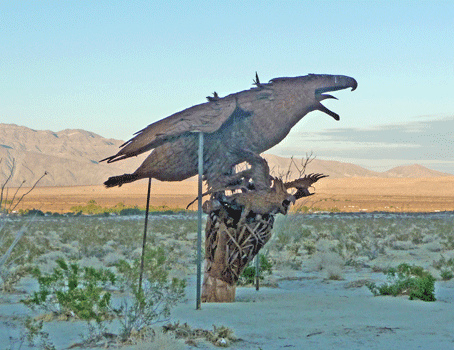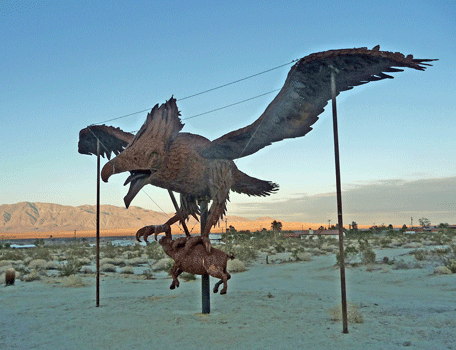 There are also African Elephants (I'm not sure how they fit in but they're swell).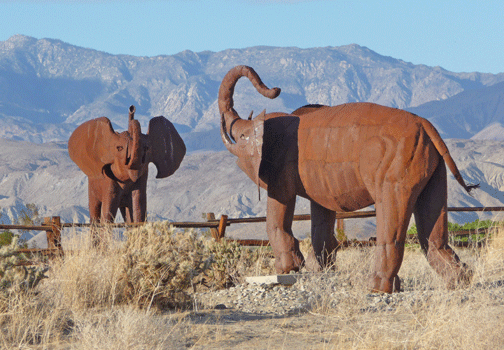 Things get more fantastic as you go along. There are Velociraptor's (I love the little curly toes and the implied motion in these).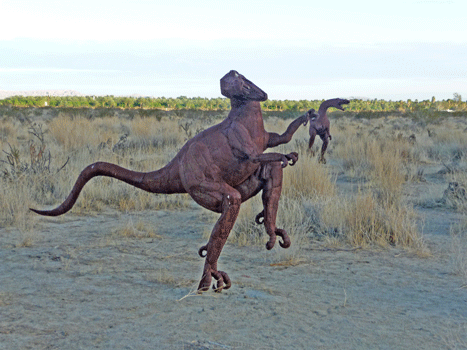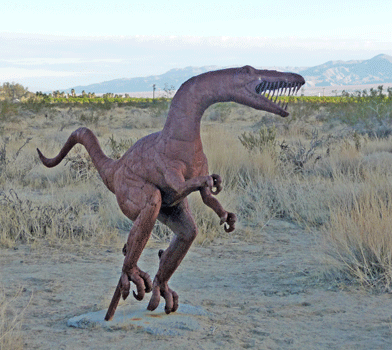 And this huge serpent stretches from one side of the road to the other. You can see how huge this sculpture is by comparing it to the SUV and the three people on the road next to it.

He was my favorite bar none. Yes, that's Fernando off in the distance on the road.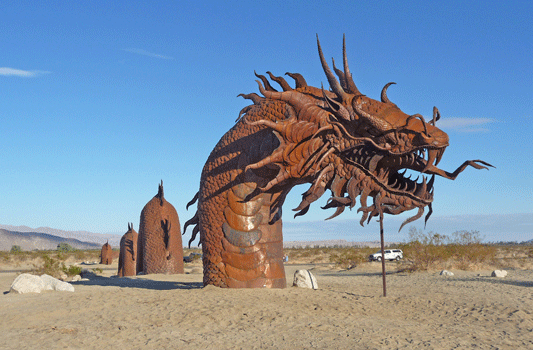 They've also included some historical figures for the area like this Indian Head in honor of Juan Bautista de Anza's Chochimi Indian guide, Sebasian Tarabal.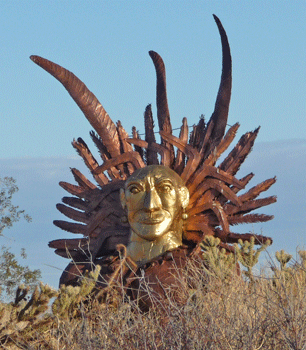 And a 1946 Willy's Jeep.
Out near Avery's Resort there's an old miner and his mule.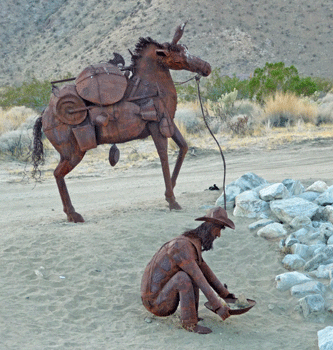 Just past him there is a collection of the critters that Borrego is named after: Desert Big Horn Sheep (Borrego in Spanish).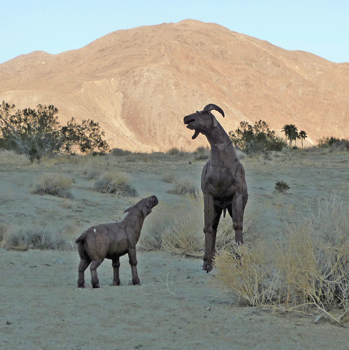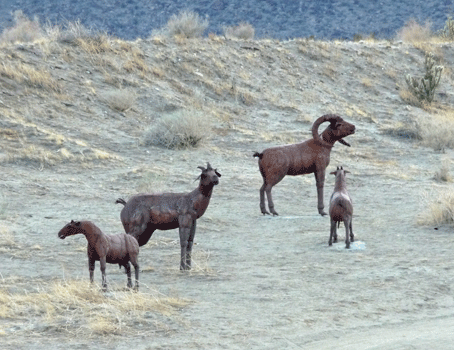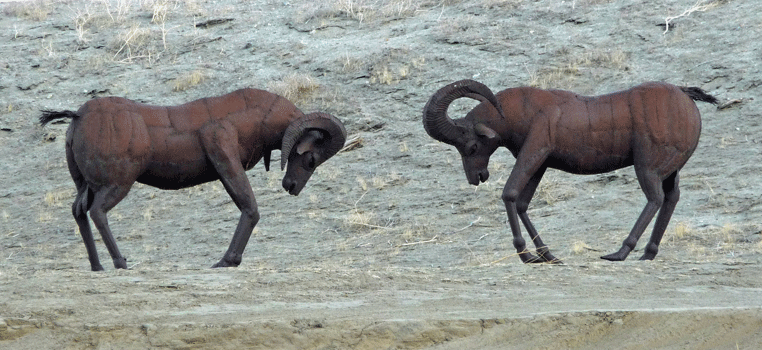 My favorites were these two rams silhouetted on the ridgeline in the late afternoon light .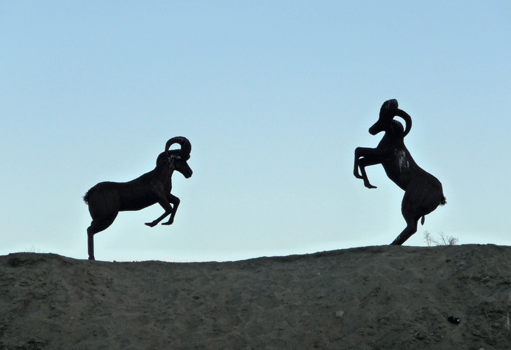 By the time we'd stopped and gotten out of the truck to look at all of these, the shadows were lengthening and the sun was nearly over the mountains. And we were tired.

The next morning we packed up our gear and headed east to Phoenix. You drive out towards Salton Sea where there are heat heaves in the road that make it feel like you are skiing through moguls.
For Christmas our daughter, Leslie, got us a Garmin GPS. Walter set it up with a female voice and by the time we got to Anza-Borrego, he'd decided that her name should be Carmine Garmin. So Carmine tells us where to drive Fernando who pulls Rosita along the way. Carmine wanted us to take the shortcut through Mecca to join up with I-10 but we've done that before. It's a dirt road and once was enough thank you very much. So we turned her off so we wouldn't have to listen to her tell us to turn around over and over again.
We rolled into Goodyear, AZ (a Phoenix suburb west of downtown) late in the afternoon. We got checked in and set up in time to join my sister, Kathy and her husband, Mike, for dinner that night. In
Part IV
, we'll go with them on a hike to a sometime waterfall in White Tank County Park.