On January 29th, after nearly a year and a half of sticking close to home recovering from our accident, Walter and Sara set out on a camping trip to California and Arizona. We drove Fernando, our new F-150 pickup truck towing Rosita, our Casita trailer. We set off south on I-5 and discovered at the end of 300 miles that sitting in the pickup for 6 or 7 hours is hard work! By the time we got to Eugene we were both exhausted and barely got the trailer set up before falling sound asleep for a nap.
The next day we weren't as tired when we got to Redding. And by Day 3 when we arrived in Santa Nella, CA down in the middle of the Central Valley, we were doing pretty well. We learned we needed to take longer breaks and move around more on them than we used to since we both tend to get pretty stiff when we sit for hours in the truck. Walter's limp even comes back after driving all day. But it disappears again once he gets moving.
On Day 4 we were lucky enough to get to have dinner with our daughter, Leslie, and her husband Al in Lancaster, CA, where they're now living. We had a great visit with them, got to see their beautiful new home and even spent the night in their lovely guest suite! Day 5 found us motoring on down to San Diego and Santee Lakes Regional Park where we camp each year. If you're ever looking for a place to camp in the San Diego area, Santee Lakes is a great choice—nice lakes, full hookups, free Wi-Fi, nice grounds, and decent showers all for a reasonable price (especially for San Diego).
The weather is San Diego was wonderful! On Friday (Day 6) we packed up a picnic and drove with our daughter, Tracy, to La Jolla. It was sunny and clear and about 75 degrees. What more could you ask for? How about the tide being out and the surf up?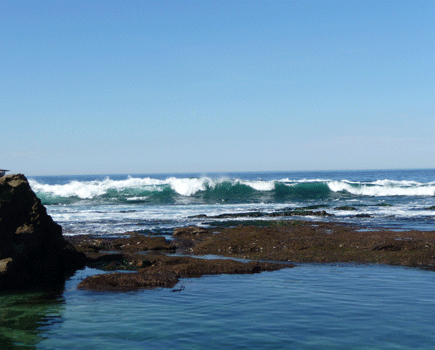 The pelicans were out sunning themselves.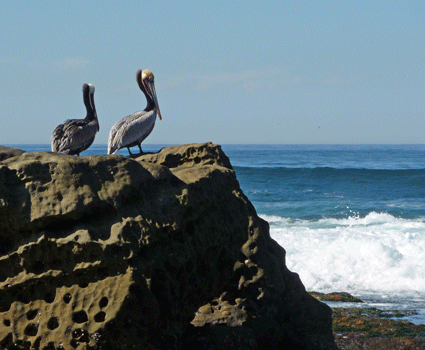 And so were the Harbor Seals.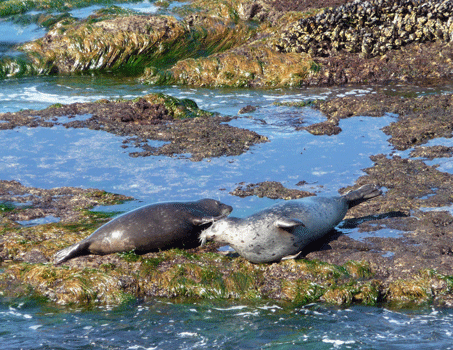 Usually the seals are on the beach of the Children's Bathing Beach but with the tide out they were out basking on the rocks and playing in the surf. Instead, down along the waterline of the Children's Beach there was a lone scuba diver digging in the sand. All sorts of folks were on the breakwater of the beach watching him, making up stories about what he was looking for. He was still at it when we came back from our walk all the way out past The Cove and back and still no one we asked knew what his story was.
This is the view from the walkway along the cliff near the Children's Pool. Those are Pelicans down on the big rock.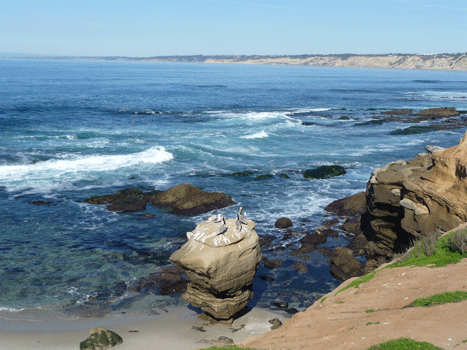 In amongst the pelicans there were a few of these interesting black birds with white crests over their eyes—talk about gaudy eye-lashes!
They turn out to be Double Crested Cormorants. Cool, huh?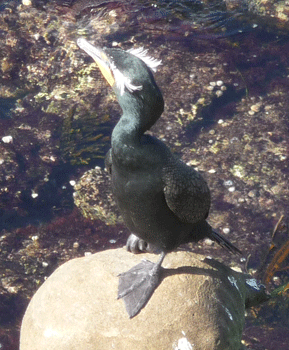 I have spent many happy hours of my life climbing on the rocks and watching the surf in La Jolla. Clearly the pelicans enjoy it too. I just love the red and black stripes with the touch of yellow on their heads. Very classy birds, don't you think?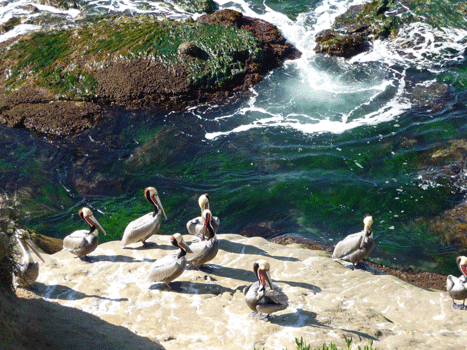 As we walked north out past the La Jolla Cove you could see the sea lions had taken over a different section of the rocks than they have in past years.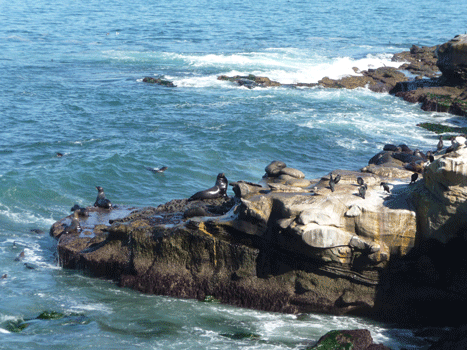 Here's big daddy lording it over everyone. Some years we've seen males here with entire harems to protect.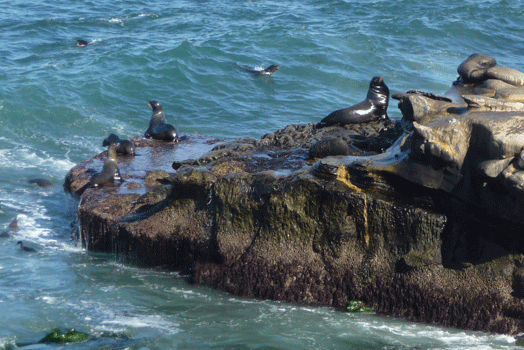 Out past the sea lions there were a bunch of large black birds building nests. When we got closer you could tell that they had blue patches on their necks. They turn out to be Brandt's Cormorants.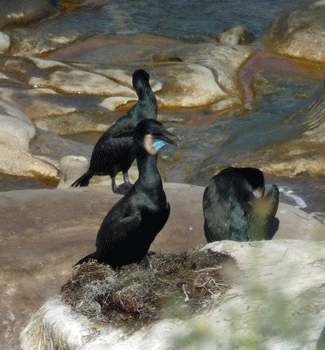 While we were walking we saw a group of 3 or 4 dolphins playing in the surf and then we spotted a whale spouting--something new for us in this part of La Jolla.
We found a great park bench to have our picnic lunch and after just a few minutes we spotted another whale. This one stayed in the same spot for well over 1/2 hour spouting and diving and breaching. We oohed and aahed and had a wonderful time watching him and talking to the other folks who stopped to watch. The Life Guard came by and confirmed that it was only one whale (we'd wondered if there were two putting on such a show) and solved the mystery of the scuba diver at the Children's Beach. He's a retired Life Guard who is searching for 'treasure' like someone with a metal detector on the beach, except he does it digging in the sand under water. We've never seen him before but the Life Guard said he's out most days using up a tank or two of air as he digs.
All that sea air and sunshine made us sleepy so we went back to Tracy's house and Walter had a good long nap while Tracy and I caught up on life.
On Saturday (Day 7) (which was just as gorgeous and warm as Friday) Tracy took us for a nice long walk around Balboa Park in San Diego proper. Balboa Park is where the San Diego Zoo is and mostly that's all we see when we visit. This time we made the circuit of everything BUT the zoo. Here's the Botanical Building which has a nifty display of ferns and shade plants. You all should know by now that I can't pass up a good reflection photo.
And next to it is this wonderful covered walkway.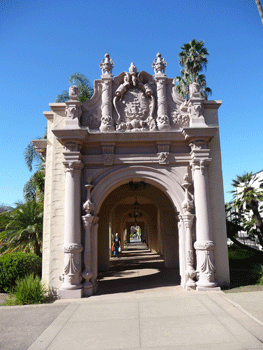 Many of the buildings in Balboa Park were constructed for the San Diego World's Fair in 1915 so they're approaching 100 years old. There's lots of lovely ornate stuff with Spanish flavors. We walked through the International Cottages which are left over from the fair—each one still representing a different country and its culture with displays and events on the weekends. Then we made the curve on down through the museums and theaters and back up past this wonderful kid-friendly sculpture of a dragon.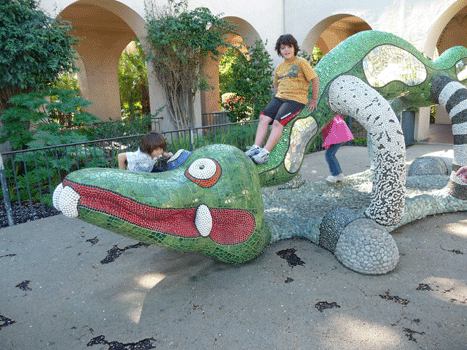 I don't know who the kids are but the cooperated with my photo taking. Here's a close-up of the mosaic work. He really tickled my fancy.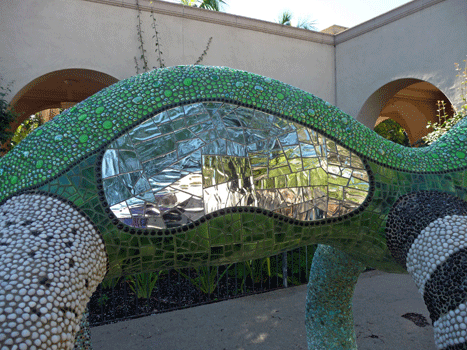 I posed Walter and Tracy in front another mosaic sculpture and then got distracted and didn't push the button! At least that's what I think happened since there's no evidence of the photo in my camera.
We took a little break by the Globe Theater where they have outdoor Shakespeare productions each summer—Tracy makes sure she gets tickets every year. Then we went on up through the Spanish Village Art Center. These lovely ladies dance in the center of the village.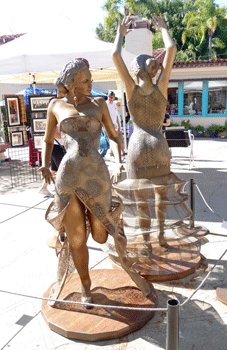 We finished up our visit with a picnic in the park. And had time later that afternoon for Walter to have yet another nice long nap.
On Sunday (Day 8), we opted to take a hike around Lake Poway, not far from Tracy's home. We did this hike a number of years ago and I picked it since it was only 2.75 miles long which sounded better than the 5 miles around Lake Miramar. Oops, I forgot that Lake Poway had hills and lots of ups and downs while Miramar is perfectly flat. Ah well, it was a good workout and we were proud of ourselves when we made it all the way around having gained and lost and gained and lost more altitude than we'd expected. It was another beautiful day and lots of folks were out fishing on the lake.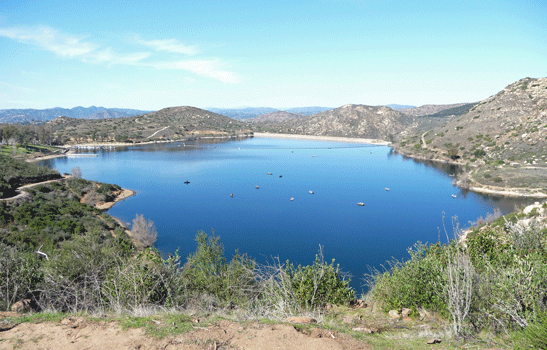 Once we stumbled back to the car, Tracy was kind enough to drive us to the picnic area since we were bushed. And needless to say, Walter had another great nap that afternoon.
In
Part II
, we'll be taking you to the San Diego Wild Animal Park—now called the San Diego Safari Park—don't you just love marketing? I took tons of wonderful photos so it'll get a report all to itself!