2011 was a very different year for us. In late October 2010, just two weeks after we got home from our 3-week trip to Arizona we were in a serious injury automobile accident.
We were out doing errands in Redmond, WA when a driver crossed the double yellow line (to avoid rear-ending someone in his lane) and smashed into our left side/front. We were micro-seconds from having a true T-bone which Sara might not have survived since she was driving.
Here's our totaled PT Cruiser. That's the car that hit us on the left.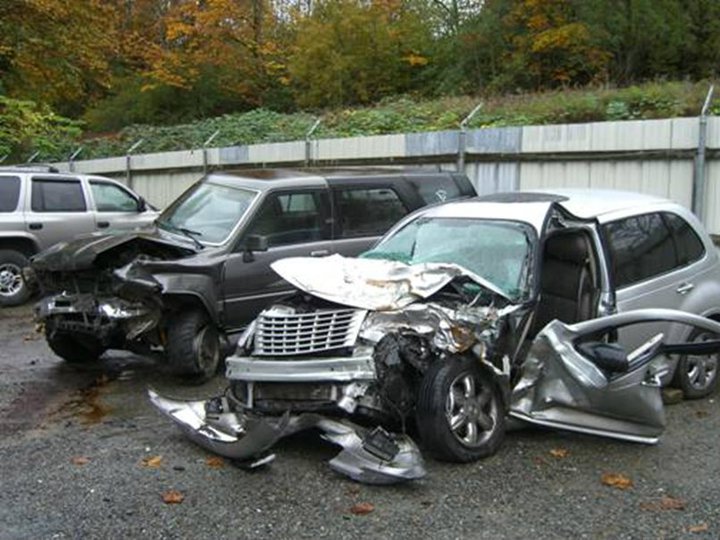 The car that hit us impinged on our car over 16 inches and as a result our PT accordioned, moving the steering wheel towards the driver (Sara) until it had her pinned in her seat. They had to cut the door off to get her out.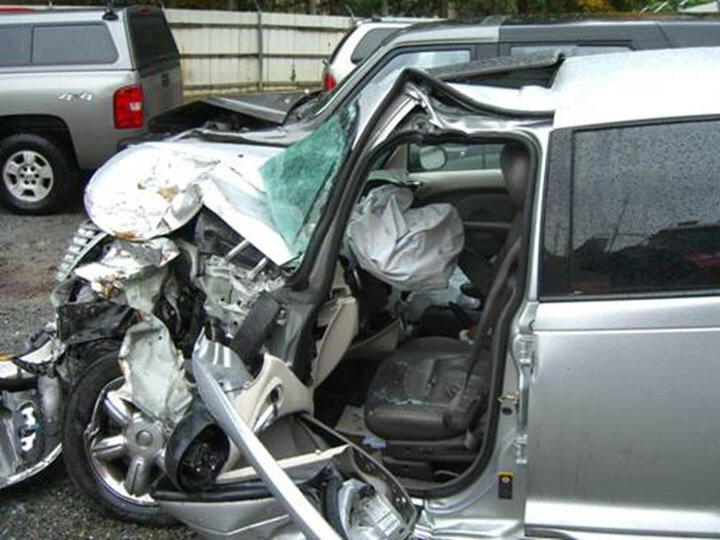 Walter broke his left arm a few inches below his elbow and fractured the left side of his pelvis in four places. He had to be lifted out of the car since he couldn't move his left leg. He was in Harborview Medical Center for 10 days and had over 8 hours of surgery. Both his arm and his pelvis are held together by plates and screws. He then spent 2 weeks in a convalescent hospital before coming home to spent 9 weeks in a wheel chair.
Sara broke her left elbow and her right knee cap and got a very severe whiplash on her left shoulder and neck. She was in Overlake Hospital for 4 days where they did surgery to put her elbow back together and wire her knee cap back into one piece. She then spent 10 days in a convalescent hospital before coming home to spend 8 weeks in a leg brace.
We were lucky enough to not only be in the same convalescent home but to be roommates for 4 days before Sara was sent home. After being separated for 10 days we were REALLY happy to see each other.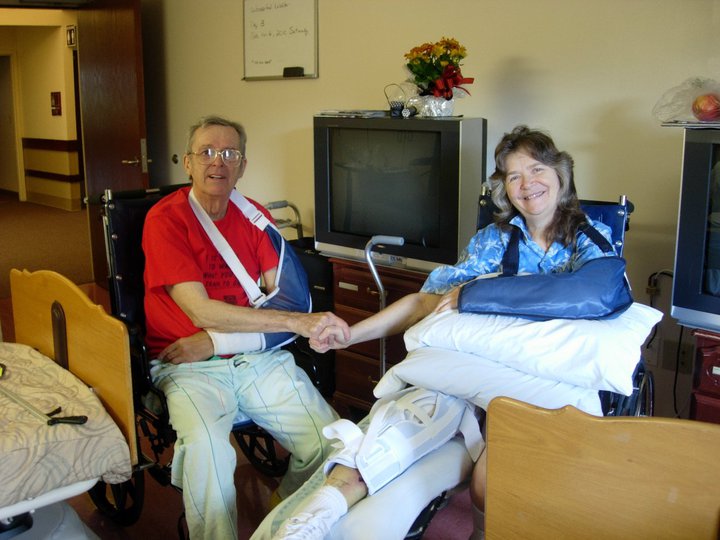 Upon hearing that we'd be out of casts and braces by Christmas we both thought we'd be getting our lives back for the new year. Silly us! Recovery from these kinds of injuries doesn't work that way. We sent the first half of 2011 going to doctor's and physical therapy appointments, doing PT exercises and going to the gym.
When we weren't doing that we were either asleep or on the phone talking to insurance companies. What an adventure.
We were released from physical therapy in June 2011 but that didn't mean we were really recovered, just functional. The rest of the year was spent working out at the gym to get our strength and fitness back.
Our insurance claims were finally settled in November (just a little over a year after the accident). This is very fast for this kind of accident, but boy did Sara put in the hours on the phone to move it along. All the insurance companies (both auto insurance and health insurance) treated us very fairly and generously. Even though the fellow who hit us wasn't very well insured we did all right.
As a result of all this we didn't leave the greater Seattle area in 2011. We had lots of company though. Sara's sister, Kathy, came to help out for 12 days when Sara first came home from the hospital. And then after Walter came home, our daughter, Tracy, came and spent 10 days with us.
Lots of friends came out to help us and made sure we were well taken care of. Then Kathy's whole family came up for a visit over the Thanksgiving 2011 holiday.
In
2012
we intend to make up for lost time with lots of traveling!