In case you got here by a search engine or luck alone, the crazy people pictured here are Walter Cooke and Sara Schurr and this is their website.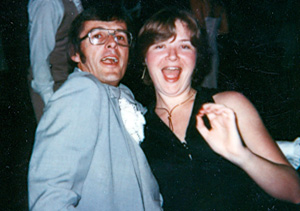 We used to live on 2 acres about 5 1/2 miles south of the town of Monroe, WA. Monroe is about 40 miles northeast of Seattle. We lived in our home there from the spring of 1987 until late May of 2014 when we sold it and bought a
2014 Airstream Flying Cloud 25FB
. We full-timed it for 3 1/2 years until we bought a winter home in the Tucson area in December 2017. In the summer of 2019 we bought at lot at Juniper Ridge Resort in Show Low, AZ. In 2020, we had a park model installed and an addition built so that we'll have a summer home there where we'll spend May through October and we'll spend our winters in our home near Tucson. In June 2020, we sold the Airstream and for the first time in over 20 years are without a recreational vehicle of one sort or another.
We hope to resume our travels once the Covid-19 pandemic is over but in the meantime we continue to enjoy life in Arizona.
If you click on
Adventures
you'll find photos of our various travel adventures. If you click on
Camp Hosting
you'll learn about our experiences as camp hosts. Belo
w are
links to our other websites: