June was an exceptionally full and exciting month for us. We had some outings. The construction on the addition to our new park model began and we sold our Airstream, Genevieve, the Silver Palace. In addition, Juniper Ridge Resort began opening up and the pottery studio became available so I've been wedging time in the studio in between everything else. Since I had so much to share with you, I needed to split my missive in half so this will only take you through
Covid-19 cases here in Arizona are rising rapidly. This week for the first time more than 50% of the people at the grocery store were actually wearing masks. Navajo County (where Show Low is) is also seeing increasing cases. Because the northern portion of the county is in the Navajo Nation and the southern portion is in the White Mountain Apache Nation they count cases both for the entire county and then give us cases off tribal lands. The outbreak in Navajo Nation has been very serious for a long time. And tribal lands in White Mountain Apache country have been closed to visitors since May. Now cases off tribal lands are growing rapidly (up 159% in 30 days) and the hospital in Show Low is nearing capacity. Aside from going to the grocery store (I wear a mask and Walter stays in the car) and making the rare trip to the Ace Hardware in town, we are staying home. I work in the pottery studio in the late afternoon when it is often empty or only has a person or two. We all wear masks or face shields in the studio.
My concern is that many people here do not take the outbreak seriously and are socializing without masks or distancing. At this point, there hasn't been a case at the resort and we can only hope that continues. There have been two cases at Rancho Resort where we spend our winters but those folks didn't make contact with anyone in the resort so all is well there (and once again the gym and pool are closed there leaving just the pickleball and tennis courts open).
I don't know how bad it can get before our republican governor finally orders another shut down. They have already closed the bars, gyms and waterparks. No doubt more is to come.
We are well. We are keeping safe and staying home.
Back on June 4th we set out to do an outing to a lake in the White Mountains to the south. But the road to the lake was closed because it was in the White Mountain Apache Tribal lands.
The Rocky Mountain Iris (Iris missouriensis)were in bloom in all the fields that were still marshy from the winter snows.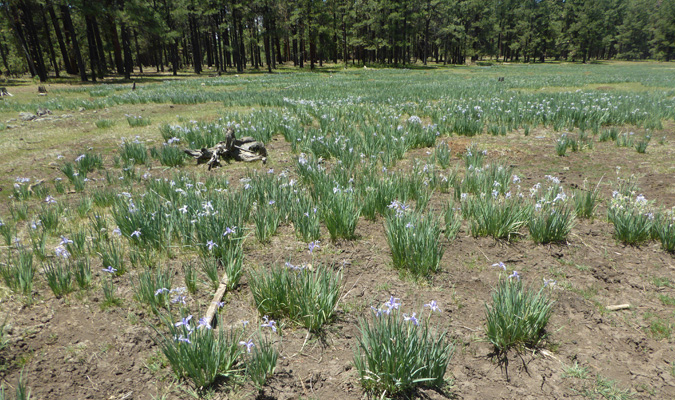 These were in a field next to the road where we had planned to turn for our outing. They're very lovely flowers.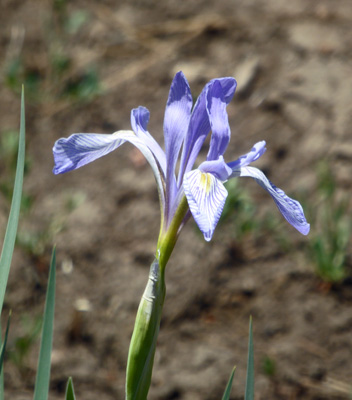 There were a few Wood's Roses (Rosa woodsii) in bloom there too.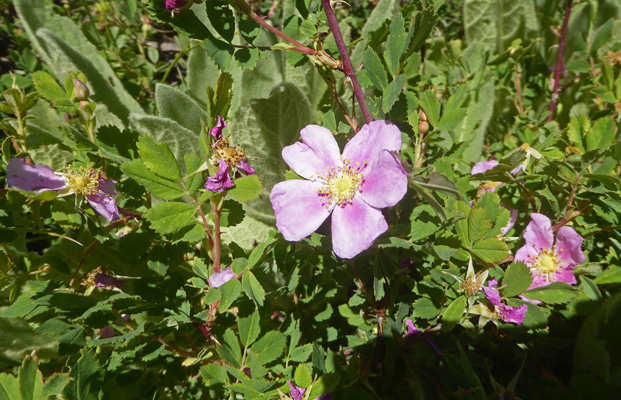 So we drove on only to find the road to the other lovely lakes in the area was closed too. But we got a nice view of the mountains and the clouds.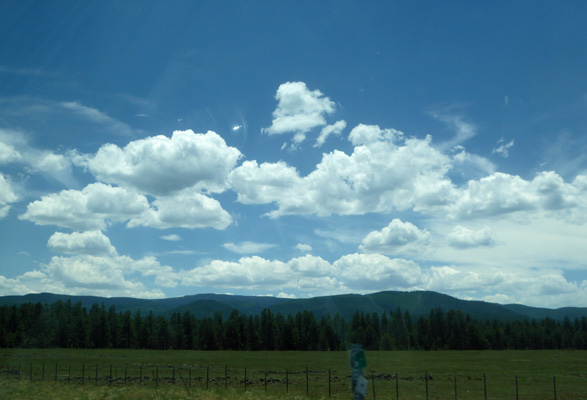 Since it wasn't much farther to go, we continued on to the little town of Greer because we knew it would be cool and pretty there. They'd just cancelled their big festival for the weekend and the public bathrooms were even closed at the library (which just wasn't open that day normally). But there was a little garden with some nice dianthus in bloom.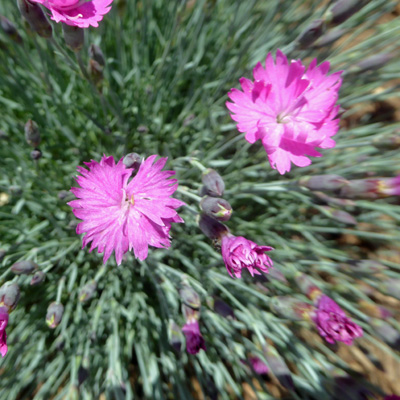 And another big field of Rocky Mountain Iris.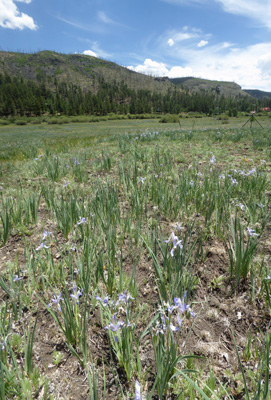 When you drive south out of town you go through wonderful stands of Ponderosa Pines.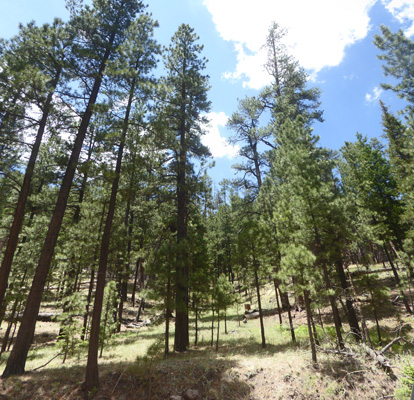 We drove on out the Forest Service road until we found a turn out with a parking spot (we were not the only folks out for a drive on this lovely day). And I took a photo from the parking area.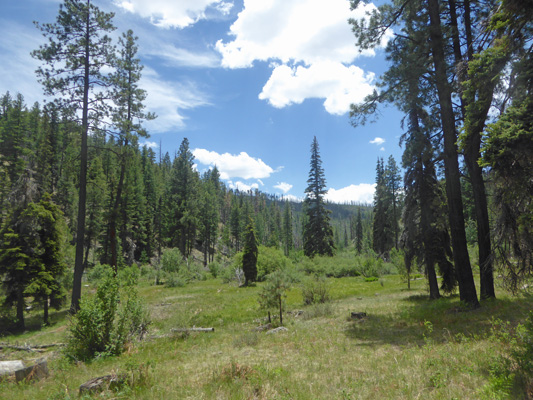 There was a little trail down to the Little Colorado River and I took it just to stretch my legs.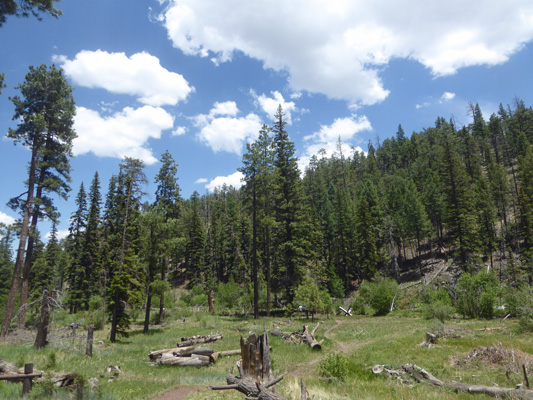 And of course to take some photos of the river.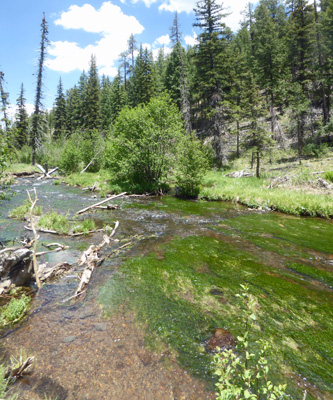 I could hear people up river screeching so I figured they were getting wet and that the water was still pretty cold.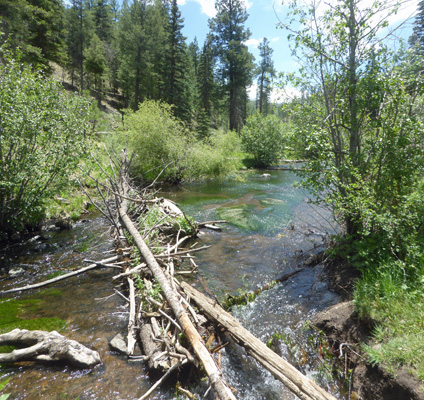 Along the trail I spied some Whiplash daisies (Erigeron flagellaris).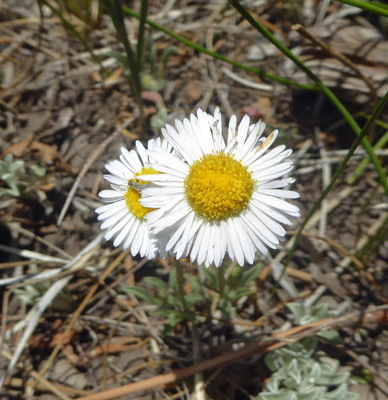 And some Alpine False-Springparsley (Pseudocymopterus montanus).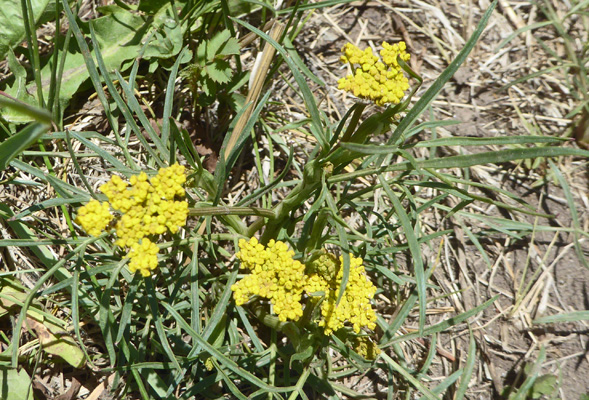 That evening we had a nice sunset while the sprinklers ran.

And I stopped to take a photo of our next door neighbor's hollyhocks which were just coming into bloom.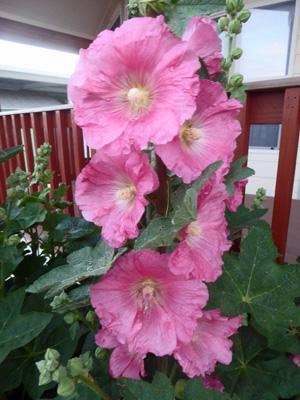 When I got back into the house I noticed there was pretty color through the top window in the front of the house.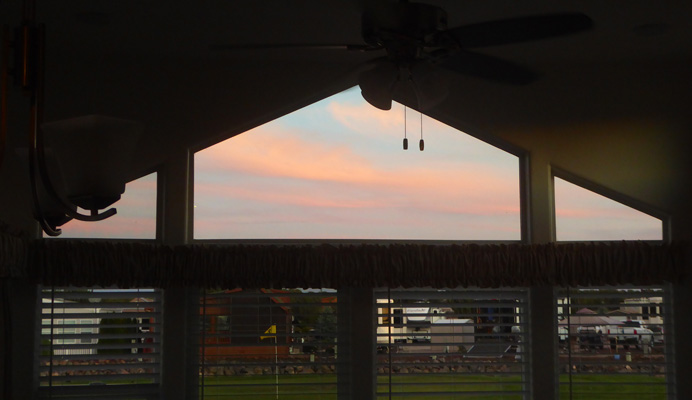 Between our neighbors and us the golf ball fishing was really good on June 5th. One of the neighbors added a dried up lemon to the collection.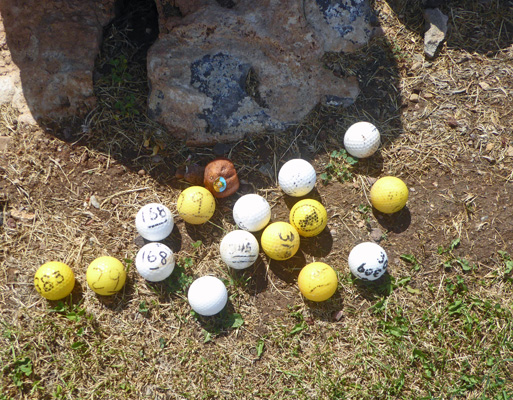 That afternoon there was a commotion out on the street. I went out to see and discovered that there was a new park model coming in just across the street and two houses down. This time they didn't use the semi to park it. Instead, they unloaded this cool radio-controlled bobcat and hooked it up to the house. As you can see, we weren't the only folks out to watch the festivities.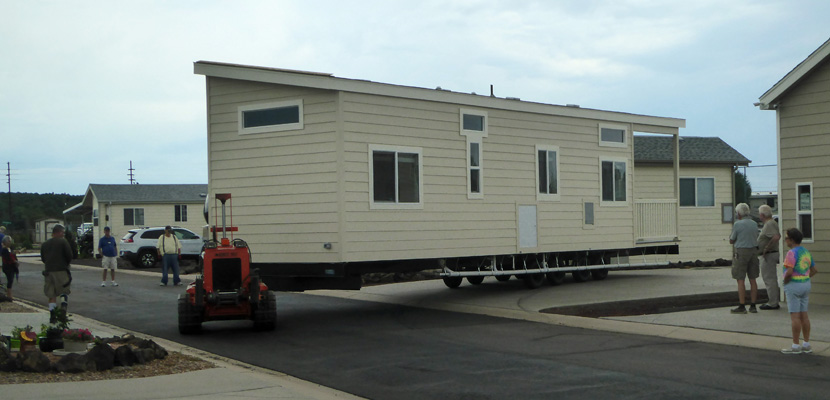 The driver just stood there and used the joy stick to put her in.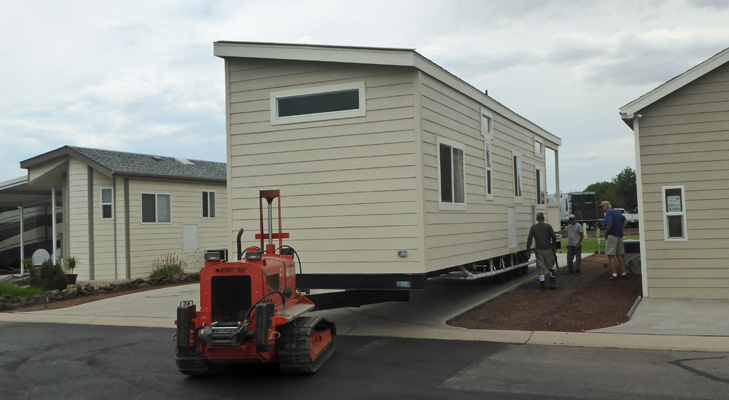 When I'd gone out to start with, I'd seen our contractor, Phillip Spires, standing over there and I went to ask him when he might be starting work on our addition. He grinned and said, "We'll be there next Thursday or Friday." Really? "Yep. It's possible the concrete cutters will be there on Tuesday but more likely they'll be there on Friday." Whoo hoo!
The full moon that night was mostly obscured by clouds but later in the evening it gave us the ghostly galleon treatment through the upper window in the dining area.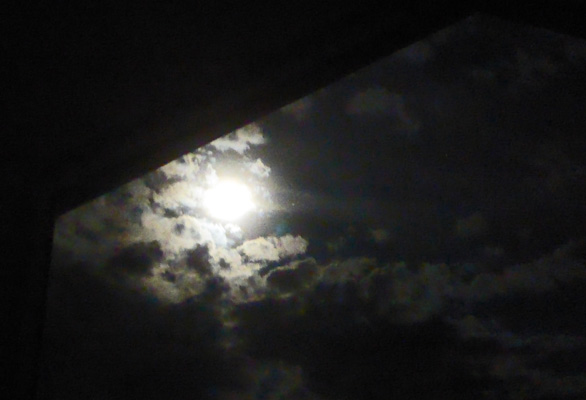 Sunday June 7th, Walter made his wonderful waffles with his new waffle iron (bought especially for this house). Yum as always.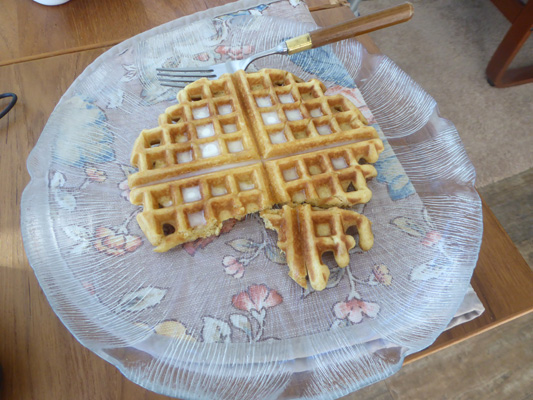 Tuesday June 9th, we had a pastel sunset.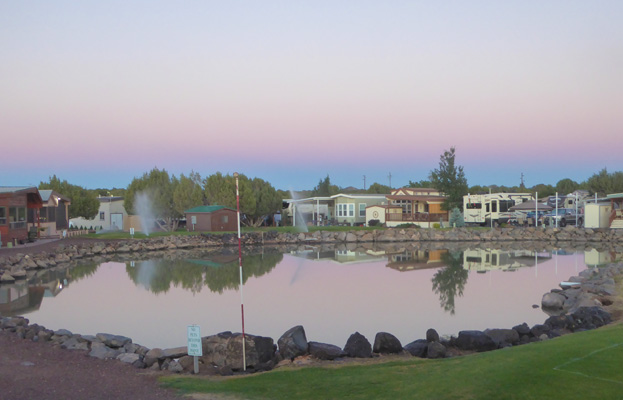 June 10th, Walter made a huge haul golf ball fishing!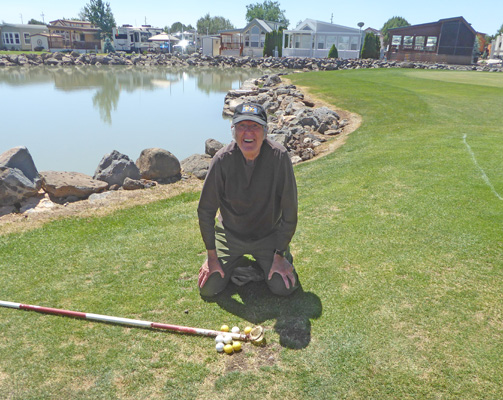 Thursday June 11th we took the drive (it's about 50 miles west) to Willow Springs Lake (about halfway between Heber and Payson). The last time we were there, it was nearly empty but not on this lovely warm day. Folks were up from the Phoenix area to avoid the heat (it was up above 110 down there) and things were hopping. There were kayaks and canoes and fisherman galore. We felt lucky to get a place to park.

We found a rock to sit on and watch the festivities. This guy caught a good sized fish—it looks like a trout to me.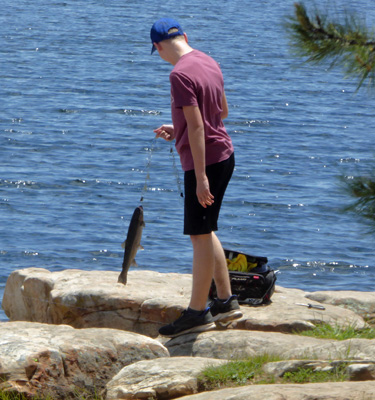 This dad and his little girl pedaled by in a pedal boat. They were making pretty quick time.
There were lots of kayaks.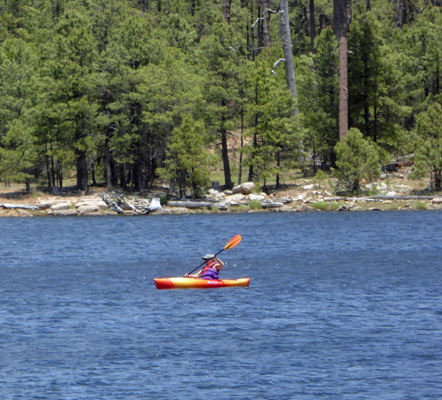 And a whole raft of canoes set out together from the boat launch toward the north end of the lake.
We walked on and found a nice picnic table with a view so I hiked back to the truck to get our lunch.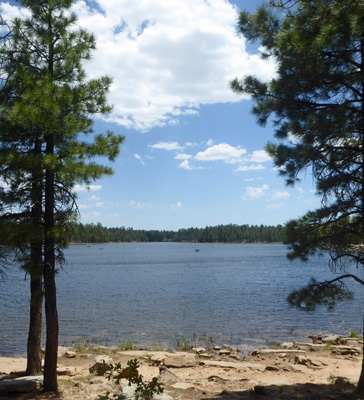 There were Wood's Roses (Rosa woodsia) in bloom along the lake's shore.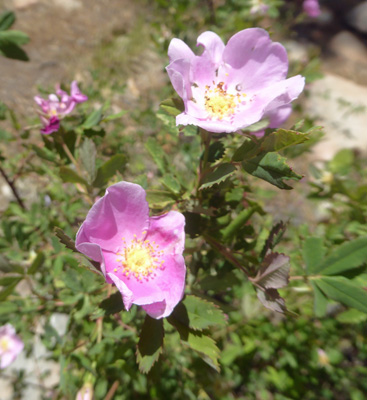 And a few Foothill Paintbrush (Castilleja integra) scattered here and there.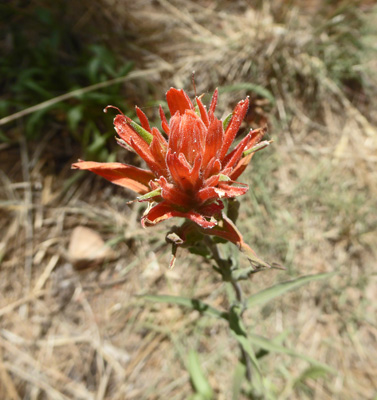 The clouds started to make pretty patterns in the sky as we started to head back to the truck.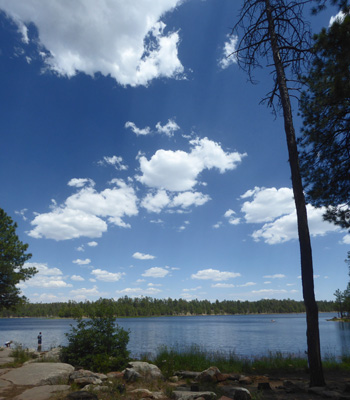 And I had to stop and take a photo of these tiny little flowers that turned out to be Pygmy Bluets (Houstonia wrightii).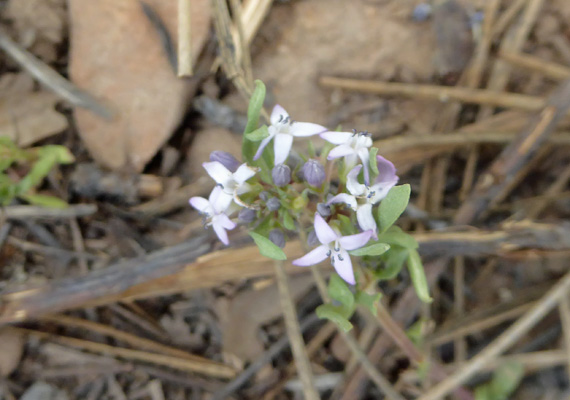 When we got home, we found the first evidence that indeed, work was going to begin on our addition the next day. They'd marked where all the cuts in the concrete pad were to go.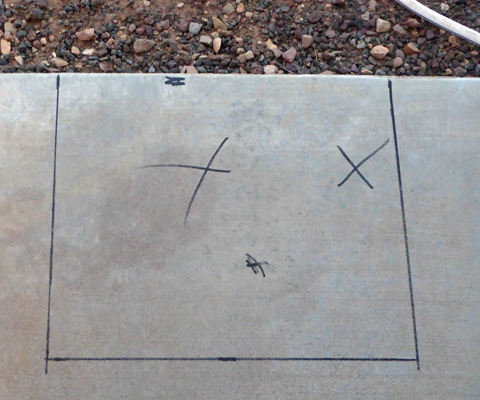 The concrete pad is about 4 ½ inches thick. There's no code for RV parking pads (or for placing a park model). But to build an stick built addition you need to cut the concrete out and dig down 2 feet and then pour concrete into the holes. Our addition includes a deck, a large room, a car port and a shed all of which are stick built. So there were 14 holes marked on our pad. Lots of work ahead!
To follow the full story of the addition
click here
.
Saturday evening, I got it together to put an ad for the Airstream on the Airstream Classifieds. I didn't know what to expect given that Show Low is in the middle of nowhere but I thought I'd give it a try. My oh my! I had serious buyers by early Sunday morning. I spent the morning making YouTube video tours of the inside and outside of the trailer for people who were in California and Texas! I continued to get emails and phone calls all week until on Friday we had a good offer for very close to our asking price. We took the offer and began the process of figuring out how you close a deal with someone who lives in LA! In the end they came and picked her up on Tuesday June 30th so the whole process start to finish only took 17 days.
Sunday June 14th we had another lovely sunset. There were fires to the west of us and the smoke made things interesting.

On Wednesday June 16th, while I was at the grocery store the delivery guys called to say that they were available early to deliver the bed we had ordered 7 weeks before. Walter was home so they went ahead and did it. But minor detail, they delivered the wrong frame, the right box springs and the wrong mattress. When I got home I looked at the mattress (which was wider and longer than the box springs) and said, something is not right. I got on the phone and sure enough, the delivery guys had figured it out. And would return soon with the right pieces.
I went off to the pottery studio for a class and when I got back at about 3:30 the bed had still not arrived. I made yet one more call and was promised they were just minutes away. But by this point it was after 4 and our gate hosts go off duty so there was no one to let them in. So Walter drove down to the gate and met them and let them in. In no time flat they had removed the mattress, switched out the frame (which belonged with someone's queen bed) put in the right frame, put our box springs on it and delivered the right mattress. At last! It's a Doctor's Choice from Denver Mattress and Victoria Bunny approves. Walter immediately put it to the test by taking a nap on it and called it good.
We like it because it's very firm but has a foam layer on top that makes it also nice and yielding. Such luxury after sleeping on an inflatable mattress for 7 weeks.
The next day Victoria curled up for a nap giving it her final approval.
So while it was a bumpy day it all turned out well and we got to sleep in a REAL bed which was a big win.
Thursday June 18th, we took a drive up to Show Low Lake to check it out. It's a little reservoir with a county park on it. There's a small campground there with mostly dry camping.
They rent kayaks from this side of the lake. And people clearly fish here.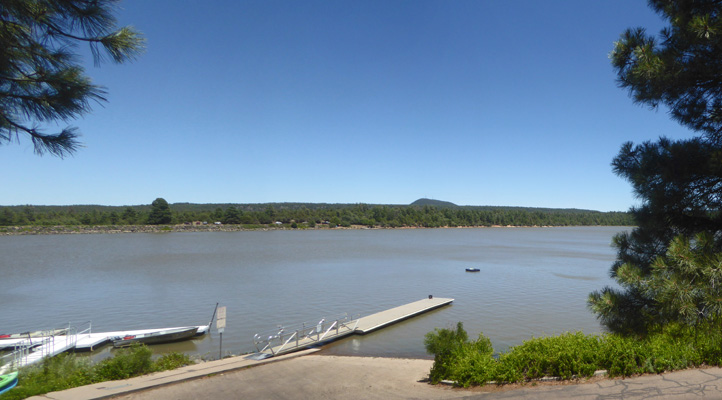 We drove to the far side of the lake where there were folks down on the banks fishing.

There really wasn't much of a place for us to have a picnic so we drove on up to Woodland Lake Park in the Lakeside/Pinetop area. We found a parking spot on the end of the lake with the fishing pier and then found a nice bench to sit on for our lunch.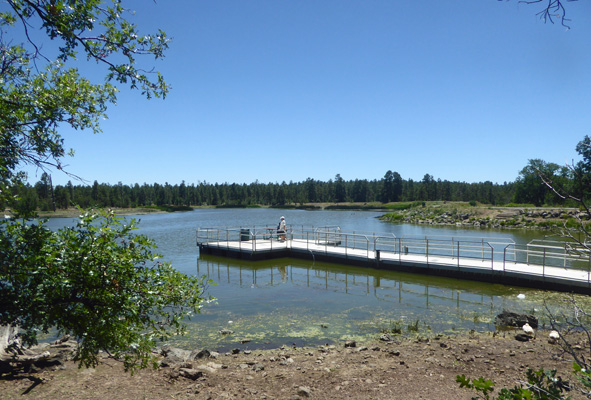 There were ducks.
And we had a nice view through the trees. There's a trail that goes all the way around the lake. We hiked it 2 years ago in the fall when the lake was pretty empty.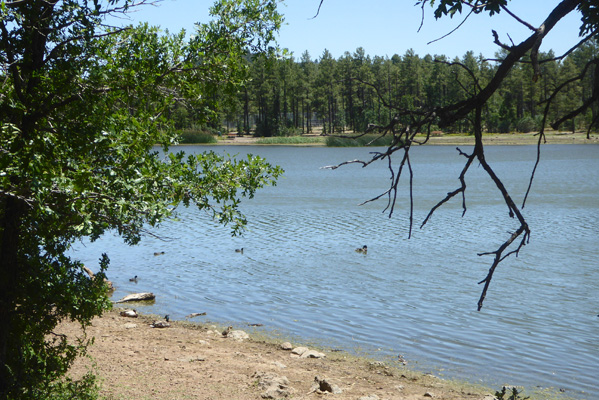 There were even a few ducklings down along the shoreline.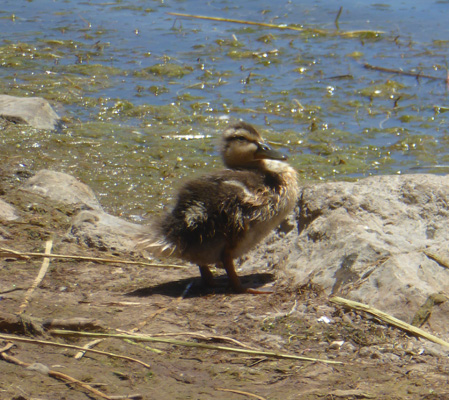 At one point a mixed flock of ducks paddled by, went under the pier and came back again.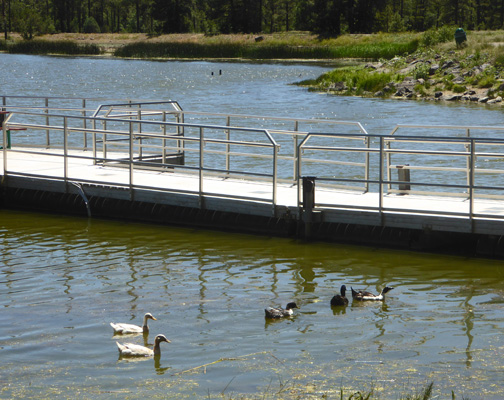 Besides the lake there are great stands of Ponderosa Pines.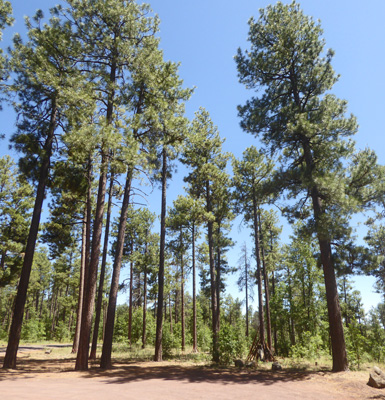 And there were lots of Scarlet Penstemon (Penstemon barbatus) in bloom among them.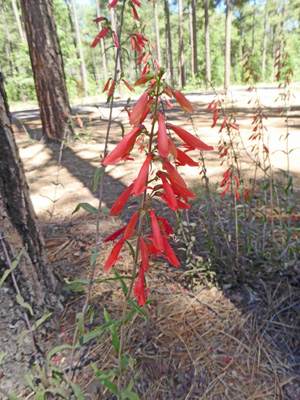 The winds shifted late in the day and we had a lot of smoke come in from the huge Bush Fire over west of Payson and east of Phoenix. The smoke made for a very spooky weird sunset.

By this point the hollyhocks next door were fully in bloom.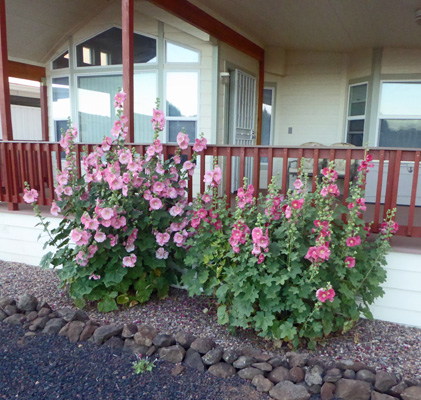 Aren't they fun?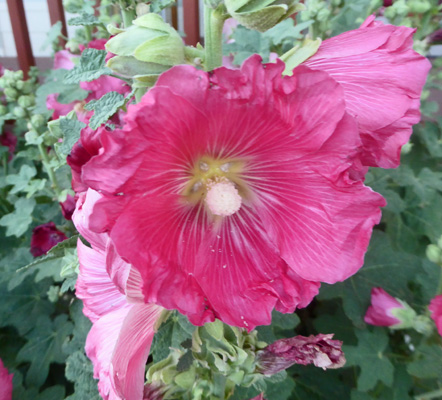 Friday afternoon, June 18th, I got the call from our eventual buyer for the Airstream and by the time I came back from the pottery studio in the afternoon we had an offer in hand that we accepted. Whoo hoo! That evening, Mother Nature helped us celebrate with another sunset to the west.

And to the northeast.
We spent the weekend answering 10,000 questions from the buyer (who had never had a trailer, let alone an Airstream, before). He was a quick study and we could tell by his questions that not only was he a serious buyer but that he would be very well prepared by the time he arrived a week later.
We spent much of the following week doing things to get the trailer all ready for him and his lovely family.
June 23rd, in the evening a mountain bluebird came and landed on one of the signs next to the lake outside our front windows.
Thursday June 25th, we took off with a picnic lunch to go to Fool's Hollow Lake State Park. But when we got there (it was a hot day in the low 90's) the day use areas of the park were full! So we punted and went back up to Woodland Lake Park for lunch.
We had no trouble getting a place to park there and even found our same bench ready and waiting for us. This time I went down to the lake shore and took a photo of the whole lake.

There were ducks and geese again.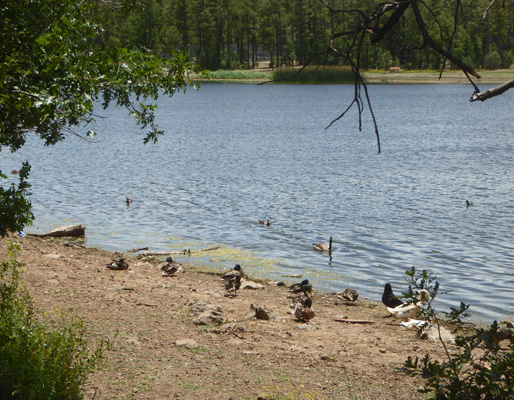 With great emphasis on ducks—many of them not fully grown and working on their feathers.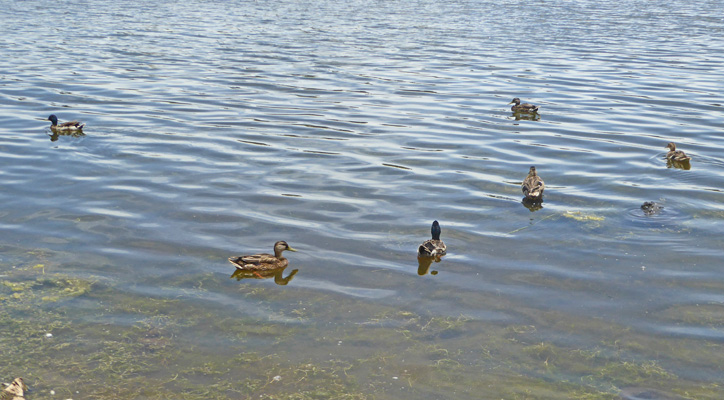 The next afternoon, when all the booming and banging stopped for the day, a white winged dove came by to visit.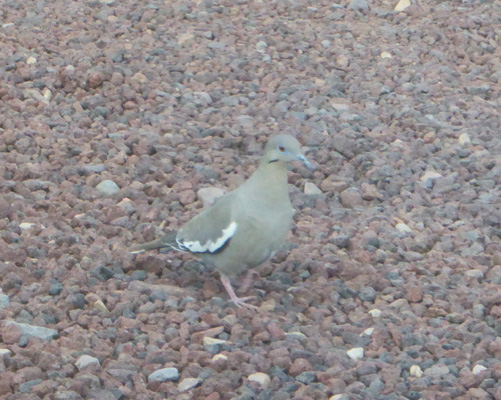 For the weekend, we got a break from the construction noise and a juvenile barn swallow came and sat on the window frame of the addition.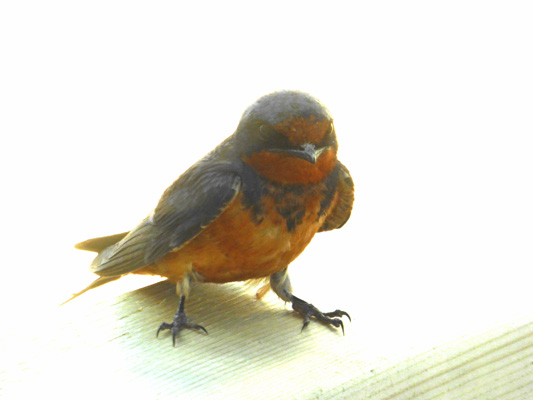 On Sunday June 27th, my first pottery piece for the season came out of its glaze firing. This started out as simply a test to see if I could make a heart shaped box. But one thing led to another and I experimented with a few things on the black swirls on the sides that caused some problems that led to some interesting solutions that weren't entirely successful. But on the whole it's not too bad.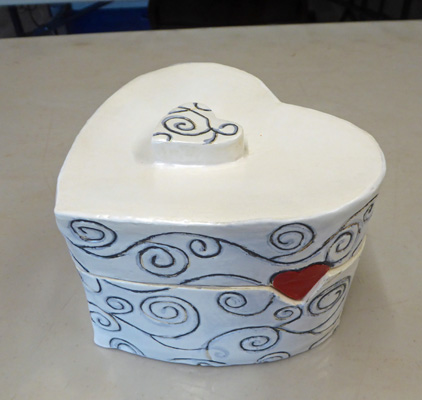 That evening we had a fantastic 360 degree sunset. I went out on the 15th green and took a photo to the west.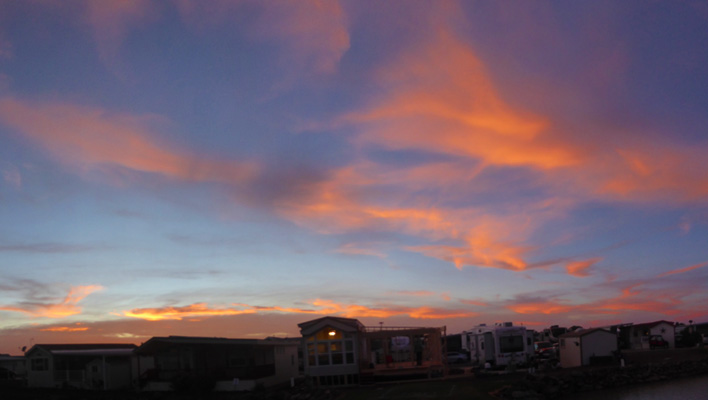 And one to the north and east.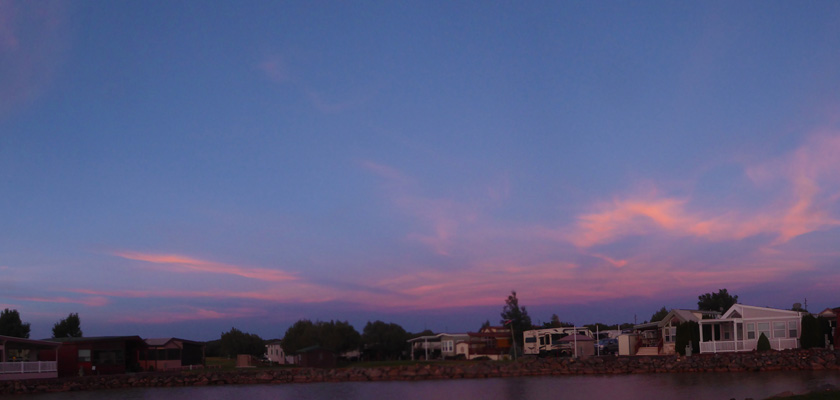 And another looking off across the lake to the south.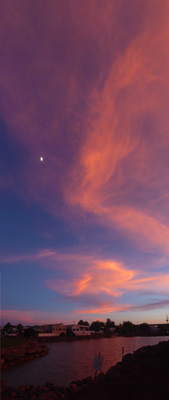 The view to the west got even better so I had to go back out onto the green to capture it.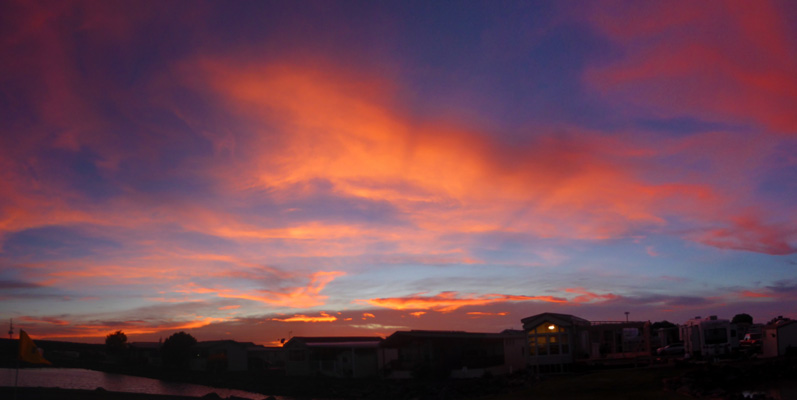 Monday June 29th it was ferociously windy. But the rabbits didn't seem to be bothered by the wind at all. This pair were doing a mating dance all afternoon. He'd sneak up on her as she was nibbling the grass and then she'd turn around a give him a look. Once he tried to mount her and she literally kicked him away. He just sat and watched. He didn't nibble grass. He just stared at her.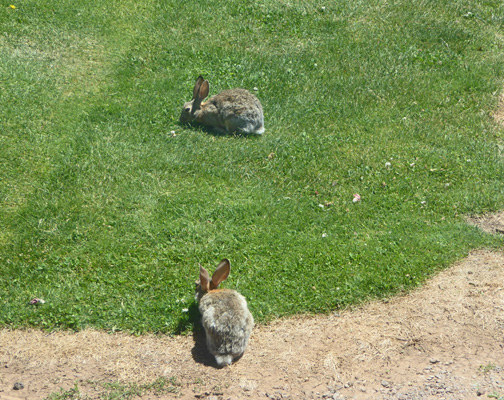 Tuesday June 30th, the grounds crew came and dumped what we think is Methyl Blue into the lake to treat the algal bloom that was turning it brown and stinky.
They put it in right in front of our house and the lake's pump system moves it throughout all the water. But at this minute you can see the dark blue on the right of the rocks where they dumped it in and that one side of the lake is blue and the other is still brown.
We did our gate host stint from noon to 2 and then went and hung out at the trailer until our buyers arrived at 2:30. We spent the next 2 1/2 hours showing them all the ins and out of the trailer, doing the sales paperwork and helping them get hitched up. At 5:00 pm, they were all hooked up and ready to go and I shot this photo of Genevieve hooked up to their truck ready to ride off into the sunset with them (to Fool's Hollow Lake State Park where they had a reservation to camp for a few days).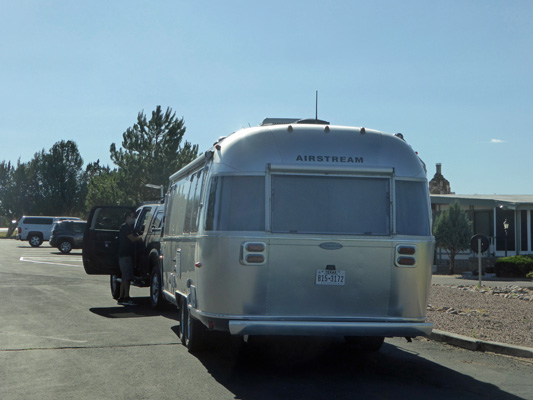 Bye bye, Genevieve. We loved all our adventures with you. And we were definitely ready for you to move on. Your new family is wonderful and will take you on many more wonderful adventures.
By the end of the day on June 30th, the addition had come a long long way. We not only had joists and floors and walls, we had rafters and a roof!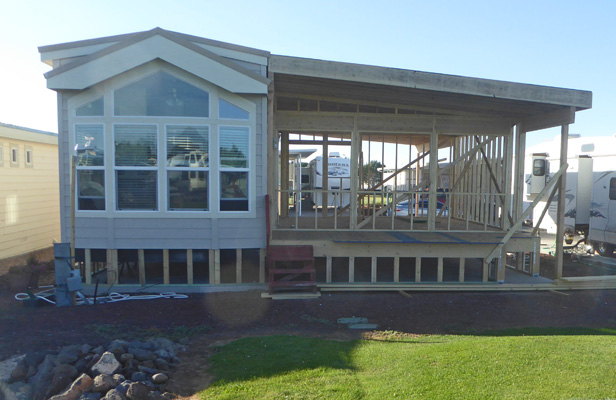 With a shed and a carport.